June, 16, 2011
6/16/11
9:51
AM ET
Recent developments in NFL labor negotiations have created a dramatic spike in optimism the lockout could be over soon. The football community and media are buzzing. Many believe the whole mess could be over in a couple of weeks.
New York Jets
cornerback
Darrelle Revis
isn't in that group.
"You hear stuff, but I think it's people just talking, like rumors," Revis said in a story by New York Post reporter Brian Lewis.
Revis said at a charity event Wednesday night he remains skeptical about the latest hype and still
considers it possible the entire 2011 season could be wiped out
.
"It's really tough. It could go a lot of ways," Revis said. "They could think about just sitting this whole year and get ready to do the offseason thing and start it off like that and go into the next year. It's so late right now, and stuff is just getting pushed back so much."
I'm not buying into the excitement either, but I would bet my last dollar there will be football this year. I covered the NHL lockout that erased the 2004-05 season from beginning to end. I know it can happen, especially when the man who oversaw the NHL's labor negotiations, Bob Batterman, is working for the NFL now.
Even so, my prediction from the beginning has been that the entire 16-game regular-season schedule will be played. Maybe the lockout lasts into the first part of training camp and nibbles off a preseason game or two.
But reading that Revis still is contemplating a lost season does make you pause.
March, 18, 2011
3/18/11
4:51
PM ET
NFL Players Association leaders
Drew Brees
,
Mike Vrabel
,
Jeff Saturday
,
Brian Dawkins
and
Domonique Foxworth
sat down with ESPN reporter George Smith to discuss the players' thoughts on labor negotiations, rookies attending the draft and an 18-game schedule.
Saturday called NFL commissioner Roger Goodell's recent letter sent directly to players an "attempt to divide us as a group of men."
March, 14, 2011
3/14/11
4:40
PM ET
For the next few weeks -- and possibly months -- NFL players won't have much to do. The work stoppage could turn insufferable.
Players will work out while they're motivated. Some will assemble in groups for informal practices. But without coaches or contract incentives to motivate them, enthusiasm will be difficult to uphold.
Boredom will be an issue. Athletes, used to being told where to go, when to be there and what to do, will be on their own. It could feel like an interminable period until they put on their practice uniforms and take orders from their head coaches again.
This in uncharted territory for NFL players, but those around the NHL know all about the lamentable process that's about to unfold.
[+] Enlarge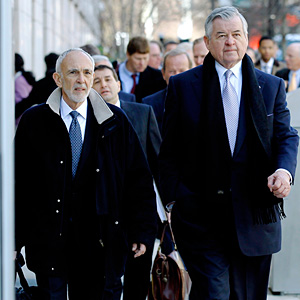 AP Photo/Alex BrandonNFL outside labor counsel Bob Batterman, left, and Carolina Panthers owner Jerry Richardson arrive at labor negotiations. Batterman also orchestrated the NHL owners' strategy during their lockout.
The NHL became the first major North American sports league to wipe out a full season with their 2004-05 lockout. The man who oversaw the NHL owners' strategy, Bob Batterman, now is helping NFL owners get what they want.
What advice do NHL players have for their football counterparts to endure purgatory?
"Know what the plan is going to be, not only with your money, but physically and emotionally,"
New York Rangers
goaltender
Martin Biron
said. "Keep yourself ready. But if you're in March and thinking about all that right now, you're probably too late and you're going to be scrambling."
From this point forward, NHL players insist diversions are crucial. Group workout sessions, travel, hobbies, college courses ... Whatever it takes to keep your mind off being out of work.
"You've got to find a way to stay busy,"
Philadelphia Flyers
center Daniel Briere said. "Staying at home, waiting by the phone for something to happen, probably is the worst thing. You'll drive yourself crazy.
"That's also easier said than done when you have a career and you're used to going to the field or the rink."
Practically the moment Biron stepped out of bed, he logged online in search of the latest labor developments. He scrolled through his e-mail for official union updates. Biron visited the NHL Players Association site. He checked legitimate news sources for rare developments. He'd even settle for rumors, searching through fishy blogs and message boards.
Biron went through this maddening cycle several times each day until he went back to bed.
"That, for a while, drove me absolutely bonkers," said Biron, a
Buffalo Sabres
teammate of Briere's during the lockout. "My everyday life was consumed, which I regret. I wasn't able to step away."
Union solidarity will be imperative for NFL players. The rank and file must make worthwhile use of their time to maintain an overall well-being.
"If you're bored and sitting at home, those were the guys that put the pressure on, were calling their union reps constantly," Briere said. "That's when things turn ugly."
Said Biron: "It became very negative and frustrating for a lot players because we were all told to be stay prepared and be educated, but you had a lot of guys who are between 20 and 30 years old and were having a good old time."
Retired forward
Kevyn Adams
, the
Carolina Hurricanes
' union representative during the lockout, emphasized ongoing communication will be important for NFLPA executive director DeMaurice Smith.
"Make sure you know exactly what the pulse of the league is," Adams said. "Don't let a few players' voices be the ones that carry everyone.
"It's very, very important that the director goes around and is talking to every player -- 'How are you feeling?' -- not just in front of a group where players are nervous to say things. Make sure you take the pulse of all the players."
Granted, it was much easier for NHL players to occupy themselves during their lockout than it will be for NFL players this year.
Unlike football, hockey is an established international sport with a minor league system. Unemployed NHLers could go off to Russia, Czech Republic, Finland, Switzerland or myriad other destinations to play. Some dropped down to the minors and skated in the American Hockey League.
NFL players have three possible options: the United Football League, Arena Football League and the Canadian Football League. None of them are too viable, though.
Playing in another league comes with significant risk. An NFL player under contract who suffers a serious injury elsewhere could get cut, be forced to repay bonus money or not get paid while on the physically unable to perform list.
The same would go for
Miami Dolphins
receiver
Brandon Marshall
, who said last summer
if the 2011 lockout lasted long enough he would try the NBA
.
Another issue would be negotiating individual walkout clauses to leave an alternative league and rejoin the NFL once the lockout ends. Players could be stuck once the NFL starts up again.
CFL and UFL schedules overlap with the NFL. The CFL doesn't offer walkout clauses and probably wouldn't make exceptions because of its working affiliation with the NFL. The UFL might be reluctant to cater to players in light of ESPN reporter Chris Mortensen's story the financially
troubled league is seeking investment dollars from the NFL
.
The most likely football defectors would be free agents at the bottom of an NFL roster or practice squad players. They have no guarantees of making a team in 2011 anyway and need paychecks the most.
Like the NHL players who went overseas, however, injuries always are possible.
"When I evaluated the pros and cons I found it was better for my game to keep playing," Briere said. "I was willing to risk an injury to come back and be in hockey shape. But everybody has a different decision to make. It might be safer not to play for some."
Biron decided not to play. He still bemoans that decision because it would have kept his mind focused on the next game, training, fixing competitive flaws and not lockout minutiae.
Instead, Biron worked out with a group of players at a rink in suburban Buffalo.
"The first month, we were on the ice five days a week," Biron said. "The second month, four days. The third month, three. After Christmas it was a couple times to make an appearance.
"You saw a lot of the guys who kept themselves in the game and played in the American Hockey League or even Europe were some of the stronger players coming out of the lockout."
Adams' trick to prevent slacking was teaming up with workout warriors. Adams couldn't play in Europe because of his role with the union. But he didn't have trouble staying in hockey shape -- not even in Raleigh, N.C. -- because one of the NHL's legendary training fiends.
"The secret weapon I had was
Rod Brind'Amour
," Adams said. "He was one of the guys I'd meet every day to stay ready. You don't take days off when you're working out with Rod.
"If you have trouble working out or staying self-motivated, then you better get around people. It doesn't take much to get passed by. There's such a fine line between being an elite level athlete at the highest level and not playing. If you let your conditioning slip or don't work as hard as the guys trying to take your job you'll be out of the league."
Perhaps it's no coincidence Adams and the Hurricanes emerged from the lockout and hoisted the next Stanley Cup.
In the NFL, players are entering the great unknown. Some will work on finishing their degrees.
Baltimore Ravens
safety
Tom Zbikowski
boxed on the undercard of a big Las Vegas show over the weekend.
New York Jets
inside linebacker
Bart Scott
participated in a pro wrestling event.
Again, whatever it takes to cope.
"My goal," Briere said, "was to be able to look back at it and say 'At least I didn't waste it. At least I did something good with the wasted year.' "
February, 21, 2011
2/21/11
12:45
PM ET
For the past year, separating NFL labor unrest from the AFC East blog has been easy. The looming tumult was on the margin, away from the game and not obviously associated with what we saw on the field. We had plenty of actual football news to preoccupy ourselves.
The season has been over for weeks. Lockout talk can't be avoided anymore. The collective bargaining agreement expires at the end of business March 3.
That's T-minus 10 days and counting.
With the
NFL labor situation clearly the game's dominant issue
, the AFC East blog can't remain a total sanctuary from CBA talk. While I've routinely made references to how the uncertainties could affect free agency and roster decisions, it's time to start sharing regular updates on the actual wrangling between the owners and the union.
I won't bombard you with constant updates on labor negotiating minutiae, but I will occasionally post links and ESPN.com videos that help provide an understanding of the critical issues as they evolve, particularly when they pertain to AFC East clubs.
All four AFC East teams will be impacted in different ways. For example, Sports Business Journal writer Daniel Kaplan reported Monday that the
New York Jets
will impose
furloughs on front office employees not connected to football operations
if a new CBA isn't reached.
It's not a fun time for anyone -- players, coaches, executives, and especially fans. I covered perhaps the ugliest labor battle in North American sports when the NHL locked out its players for 2004-05.
A whole season was erased, and while I'm more optimistic the NFL will avoid a similar travesty, the man who oversaw the NHL owners' strategy, Bob Batterman, aides the NFL these days. Contrary to folklore, Batterman doesn't attend meetings in a cloak and hold a scythe. But I suspect he keeps a mini-sickle in his briefcase.
Unfortunately, there won't be enough purely football distractions until there's a new CBA.
April's draft and all of the events that lead up to it -- the NFL scouting combine, pro days, Wonderlic tests, et al -- essentially are the only offseason diversions on which we can depend.
Let's hope labor season doesn't drag on.