February, 2, 2011
2/02/11
4:30
PM ET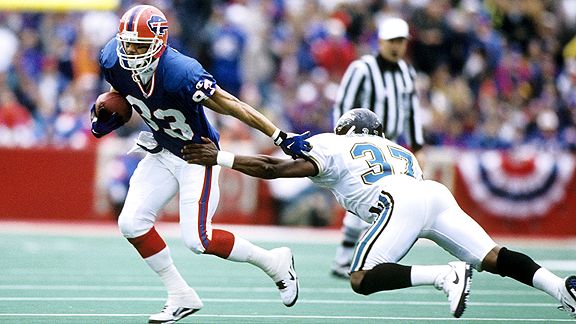 US PRESSWIREFormer Bills receiver Andre Reed finished his career with 951 catches for 13,198 yards and 87 TDs.
Receptions come a lot cheaper these days.
The game has changed, and all you need for proof is a glance at Paul Warfield's career stats. He caught more than 50 passes once. He gained more than 1,000 yards once. In some of his Pro Bowl seasons, his numbers wouldn't have justified a roster spot in your 10-team fantasy league.
Yet Warfield is considered one the most dangerous receivers NFL history, a first-ballot Pro Football Hall of Famer.
"Our game is beginning to resemble baseball in which everyone is looking at numbers," Warfield said this week from his home in Rancho Mirage, Calif. "Numbers tell the story to a degree, but I like to look at one's full body of work.
"I'm from the old-school generation. You might be termed a wide receiver, but you should be a football player first."
Steve Largent is another example of how stats don't quantify a receiver's worth like they used to. Largent retired after the 1989 season as the NFL's all-time leading receiver with 819 catches. He, too, was a first-ballot Hall of Famer.
Twenty-one years later, Largent ranks 20th in receptions behind such names as
Derrick Mason
,
Torry Holt
,
Keenan McCardell
,
Muhsin Muhammad
and fullback
Larry Centers
.
In 1985, only four players had caught 600 passes. The list is 55 players long now.
"It doesn't necessarily undermine a player's ability to get into the Hall of Fame because he had great stats or doesn't have great stats," Largent said Monday from his office in Washington D.C. "You're looking for a guy who was the total package."
With that in mind, you might consider
Andre Reed
's stats if you choose when deciding if he belongs in the Hall of Fame. They're sterling -- if a little outdated and discounted by time.
To both Largent and Warfield and other legendary receivers, Reed qualifies for Canton without even looking at the numbers.
"I saw the value Reed had to that team not only as a receiver, but also as a leader," Largent said. "There are some attributes you don't keep statistics of, but you become aware of as one player watching another play the game."
Reed is Largent's "total package" and Warfield's unequivocal embodiment of "football player."
"It's long overdue for Andre," Warfield said.
Reed is among the 15 Pro Football Hall of Fame finalists who will learn Saturday whether they will be included in this year's induction class.
The star
Buffalo Bills
receiver has been a finalist five times. There's a belief this year offers his best chance yet. In previous years, he has shared the ballot with at least one receiver who took precedence because they were icons (
Jerry Rice
,
Michael Irvin
) or had been waiting longer (
Art Monk
).
Reed could become the sixth Hall of Famer from a team that went to four straight Super Bowls but failed to win one.
Already enshrined are Bills quarterback
Jim Kelly
, running back
Thurman Thomas
, defensive end
Bruce Smith
and head coach Marv Levy. Wide receiver
James Lofton
also is in Canton, but he didn't play on all four Super Bowl teams, and is more closely associated with the
Green Bay Packers
.
"I was a part of something special, and I'll take that to my grave," said Reed, 47. "We were a family. But the Hall of Fame, I don't know how I would react. It would be a validation of your work and what you did.
"Hopefully on Saturday I can be in that fraternity with them, but every year it's a tough ballot."
The other finalists include running backs
Marshall Faulk
,
Curtis Martin
and
Jerome Bettis
, receivers
Tim Brown
and
Cris Carter
, tight end
Shannon Sharpe
, center
Dermontti Dawson
, tackle
Willie Roaf
, defensive ends
Richard Dent
,
Charles Haley
and
Chris Doleman
, defensive tackle
Cortez Kennedy
, cornerback
Deion Sanders
and NFL Films patriarch Ed Sabol.
The Hall of Fame's 44-member selection committee will decide Saturday. The group includes NFL writers, one representative per franchise, 11 at-large voters and one from the Pro Football Writers Association. The committee will pare the group of 15 finalists down to 10 and then to five. At that point, a vote will be held, with 80 percent agreement needed for induction.
Up to five modern-era candidates may be elected each year. First-time nominees Faulk and Sanders are virtual locks to get inducted. That leaves three spots available for Reed and the other finalists to get in.
Buffalo News reporter Mark Gaughan will make the case for Reed's induction. It's a compelling one.
"He certainly had a great career, one of the great clutch receivers," Warfield said. "He was consistent, one Jim Kelly could always go to and always find open in a situation where they're trying to make a big play. He's an all-encompassing receiver."
Reed was third on the NFL's all-time receptions list when he retired after the 2000 season with 951 catches, behind only Rice and Carter. Reed was a seven-time Pro Bowler and a superstar on a team that won four conference championships in a row.
"He was as dangerous a receiver as there is," former Bills quarterback
Frank Reich
said. "Versus press coverage, he was almost impossible to stop, coming off the ball. We always felt if they tried to play tight man on Andre it didn't matter who was guarding him. Any shutdown corner in the league in press coverage, Andre was going to beat him."
Reed was a force on the big stage. In 19 postseason games he had 85 receptions for 1,229 yards and nine touchdowns. He didn't score any Super Bowl touchdowns, but he did have 27 receptions for 323 yards.
In the Bills' epic comeback against the Houston Oilers in the 1992 postseason, he made eight catches for 136 yards and three touchdowns.
Reed is known as tremendously durable. He played 253 games, counting playoffs. He often darted into traffic to make plays in a crowd of defenders.
"No fear," Reich said.
Reed was one the greatest ever when it came to yards after the catch, second perhaps only to Rice.
[+] Enlarge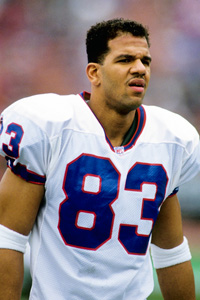 US PresswireAndre Reed, on playing for the Bills: "I was a part of something special, and I'll take that to my grave,"
"Most people that were on that team or played against us will remember how explosive he was in run-after-the-catch," said Reich, now
Peyton Manning
's position coach with the
Indianapolis Colts
. "He rivaled Jerry Rice in that category. Like Jerry Rice, his 40 time was good and probably not great. But there was nobody faster with the ball in his hands."
What put Reed's production in even greater context is a closer look at Buffalo's offense in the 1990s.
Many fans, even those who closely followed the Bills then, recall a prolific aerial attack. They remember Kelly running the no-huddle, K-Gun offense and slinging the ball all over the field to Reed and Lofton.
As Gaughan will point out again Saturday, the Bills ranked 17th in passing offense throughout Reed's career. In Reed's six prime seasons from 1988 through 1993, the Bills passed 51 percent of the time. By comparison, the
Washington Redskins
' famed "Hogs" offense passed 50 percent of the time when Monk was there.
Reed didn't have much receiving help either. He played with Lofton for four seasons, but Lofton was 33 years old when he joined Buffalo. In 1988, for instance, Reed's second and third receivers were Trumaine Johnson and
Chris Burkett
.
So far, the chief impediment for Reed's induction hasn't been his resume, but the other names on the ballot.
A wide receiver has been inducted each of the past four years, and in seven classes out of the past decade.
Gaughan noted there is room in Canton for at least two more receivers from the 1990s. A breakdown of membership shows seven receivers who predominantly played in the 1960s, four from 1970s, four from the 1980s and two from the 1990s.
Reed, Carter and Brown are the worthiest receiver candidates to join Rice and Irvin from that decade.
There's a velvet rope. This is Reed's fifth year as a finalist. Carter has been a finalist four times, Brown twice.
Reed apparently jockeyed to the head of the receiver line last year. In the selection process, Carter and Brown didn't make the top-10 stage, but Reed did.
That development has raised Reed's hopes for 2011.
"I'll be more nervous because of the way the voting went last year," Reed said. "I feel I'm more deserving of it. It was pretty close. The anticipation is enhanced this year."
But there are no guarantees. Several legendary receivers have waited longer than five years to get the Canton call. Don Maynard, John Stallworth and Monk got in on their eighth time as finalists. Lynn Swann was a finalist 14 times. The Seniors Committee was necessary to induct Bob Hayes 34 years after his last NFL game.
Reed admitted he has fantasized about the phone call too many times to count. He's even tried to research the moment.
"I've talked to a bunch of Hall of Famers who say when they get the call they're at a loss for words," said Reed, who plays a lot of golf and sells his own line of barbeque sauce in the San Diego area. "They don't know how to react.
"I'll just have to wait and see."
And hopefully not have to wait some more.
September, 8, 2010
9/08/10
10:45
PM ET
It was
Tom Brady
's turn to throw bouquets at
Randy Moss
.
On Monday,
Moss said he felt unwanted and underappreciated
by the
New England Patriots
. In the past 48 hours,
coaches and teammates have been heaping praise
on him.
The man who will benefit most directly from a happy Moss had his say Wednesday.
"There's only one Randy Moss that would ever play this game," Brady said. "He's probably the greatest downfield receiver in the history of the NFL.
"I mean, those catches that he makes when he runs 65 yards down the field and you throw it and he just runs and catches it. That's impossible to do. I've asked him 'How do you do that?' And he says 'I don't know, man. I've been doing it for a long time.' He has some special skills that nobody is really gifted with."
Greatest downfield threat in NFL history? That's quite a statement.
With that in mind, I wanted to open the floor for a discussion on the subject in the comments section below.
Here are some alternatives who popped into my head.
Jerry Rice: automatically comes to mind in any receiver debate.
Warren Wells: John Madden calls him one of the greatest players he coached. In 1969, Wells averaged 26.8 yards per catch with 14 touchdowns on only 42 catches.
James Lofton: averaged over 20 yards a catch five times in his Hall of Fame career.
Bob Hayes: Olympic gold-medal sprinter revolutionized the game. He averaged 26.1 yards a catch in 1970 and is said to have been the reason bump-and-run coverage came to be.
Willie Gault: Olympic-caliber sprinter averaged 20.0 yards a catch for his career.
Harold Carmichael: at 6-foot-8, the four-time Pro Bowler was a basketball player in cleats.
Best of the AFC East teams ...
Paul Warfield, Dolphins: averaged a franchise-record 21.5 yards a reception in five seasons.
Wesley Walker, Jets: averaged more than 20 yards a catch eight times, twice as many seasons as Don Maynard did with Joe Namath slinging it.
Stanley Morgan, Patriots: first six NFL seasons had averages of 21.1, 24.1, 22.8, 22.0 and 23.4 yards.
Lee Evans, Bills: aside from Lofton, biggest deep threat in Buffalo of the past 20 years even if the numbers don't show it.
Again, this isn't a definitive list. I've done this off the top of my head to get us going. Maybe Moss is the greatest deep threat of all-time. Maybe not. Let's talk about it.
August, 9, 2009
8/09/09
12:11
AM ET
| | |
| --- | --- |
| | |
| | US Presswire |
| | Bills legends Ralph Wilson Jr. and Bruce Smith were inducted into the Hall of Fame on Saturday night. |
CANTON, Ohio -- There was little doubt what anyone who stepped to the microphone needed to do to get a reaction from the crowd at the
Pro Football Hall of Fame induction ceremony
Saturday night in Fawcett Stadium.
Roger Staubach is no dummy. When he wanted to generate more applause for Bob Hayes' family, he announced they were from Buffalo. They aren't, but Staubach knew his audience.
Carl Peterson, the former
Kansas City Chiefs
executive who spoke for the late
Derrick Thomas
, made it a point to remind everyone Marty Schottenheimer played for the
Buffalo Bills
back in the day. Schottenheimer, already an emotional mess from listening to the memories of the great linebacker, trembled even more when the fans cheered.
And when Rich Eisen tried to tell some jokes about
Rod Woodson
and heard crickets, he should have just pumped his fist into the air and screamed "Buffalo!" Then he would have gotten a response. A big one.
Canton is the new South Buffalo this weekend.
Fans made the four-hour drive to watch two more of their Bills -- founder Ralph Wilson Jr. and defensive end Bruce Smith -- get inducted.
On Sunday night, the current Bills will play the
Tennessee Titans
in the annual Hall of Fame Game. It will be the Bills debut for future Hall of Fame receiver
Terrell Owens
.
Of the 12,695 fans in attendance Saturday night, a third reportedly hailed from the 716 area code.
| | |
| --- | --- |
| | |
| | AP Photo/Tony Dejak |
| | Buffalo fans were in full force at Saturday's Hall of Fame inductions. |
Not even a steady afternoon rain would deter them. Diehards wearing jerseys of almost every former Bills star you could imagine streamed into town to hear Wilson and Smith deliver speeches in their yellow jackets.
"Certainly feels like a home game," Smith said with a smile after he walked to the lectern. Calls of "Bruuuuuuuuuce" cascaded from the concrete bleachers.
Wilson and Smith bookended the evening
. Wilson's presenter, ESPN's Chris Berman, played to the crowd by asking them to recite their favorite catchphrase with him: "No one circles the wagons like the Buffalo Bills."
After Randall McDaniel, Hayes, Woodson and Thomas were honored, Smith went last.
His presenter, former Bills defensive coordinator Ted Cottrell, asked all the Bills who played on those Super Bowl teams to stand. Of course, Jim Kelly, Thurman Thomas, James Lofton and Marv Levy were on the stage. Mixed among the crowd were Darryl Talley, Andre Reed, Steve Tasker, Kent Hull, Will Wolford and others.
Bills fans, who haven't seen their team in the playoffs since the 1999 season, wistfully cheered each name as it was announced.
Smith's speech was wonderfully paced. He paid homage to his family and his mentors. He thanked the
Washington Redskins
and his agent. He mentioned each of his doctors by name.
Then, about 12 minutes into his speech, when he was supposed to be wrapping it up, he really got started, heaping praise on Buffalo.
"What a ride it was," Smith said before ticking off the accomplishments: four straight AFC titles, the K-Gun offense, the Comeback Game.
"And the record-breaking attendance set by the greatest fans in the NFL," Smith said.
Fawcett Stadium erupted.
"Thurman Thomas, you're undoubtedly the most complete running back of our era," Smith said while lauding his former mates. "My life would be a little less right if I didn't have you to laugh and joke with.
"P.S. I hid your helmet."
Fawcett Stadium erupted again. Without so many Bills fans in attendance, the crickets probably would have resumed chirping.
August, 8, 2009
8/08/09
3:22
PM ET
Posted by ESPN.com's Tim Graham
CANTON, Ohio -- What a night it should be at the Pro Football Hall of Fame.
The class of 2009 will be inducted in Fawcett Stadium, and I'll be on scene to chat with you live, beginning at 6:30 p.m. and staying on until the final tear has been shed. Perhaps by me.
I like to think of the format we're using tonight as a mosh chat.
I'll be joined by AFC West blogger Bill Williamson, AFC North blogger James Walker, NFC South blogger Pat Yasinskas and ESPN.com NFL editor John Banks in what should turn into a chaterrific free-for-all that will include live Q&A, on-site reports, polls and remembrances about the greatest players football has known.
Here is the scheduled order of enshrinement (with presenter in parentheses):
Ralph Wilson (Chris Berman)
Randall McDaniel (O.K. Fulton)
Bob Hayes (Roger Staubach)
Rod Woodson (Tracy Foster)
Derrick Thomas (Carl Peterson)
Bruce Smith (Ted Cottrell)
August, 6, 2009
8/06/09
5:31
PM ET
Two more
Buffalo Bills
are entering the Pro Football Hall of Fame this weekend. The club's only owner, Ralph Wilson, and all-time sacks leader Bruce Smith will have their busts unveiled Saturday in Canton.
| | |
| --- | --- |
| | |
| | Getty Images |
| | Steve Tasker went to seven Pro Bowls as a special-teams ace. |
What other Bills from those Super Bowl years deserve inclusion?
Andre Reed
is an obvious response. His candidacy was
debated on this blog
when he was passed over again this year.
Now, let us consider
Steve Tasker
.
His listed position when he played from 1985 through 1997 was wide receiver. He finished with 51 receptions for 779 yards and nine touchdowns. That's one serviceable season's worth of numbers spread out over 13 years.
How Tasker contributed, however, couldn't be illustrated with stats. The 5-foot-9 missile was such an explosive special-teams player that the NFL created a position so it could send him to the Pro Bowl. He went seven times.
"Without a doubt, the greatest special-teams guy ever," said
New York Jets
linebacker
Larry Izzo
, who has been the special-teams selection to three Pro Bowls -- once for the
Miami Dolphins
and twice for the
New England Patriots
. "Steve Tasker revolutionized the game.
"We still watch tapes of him. [Jets special-teams coach Mike Westhoff] will throw on a clip of him as a gunner or on a kickoff team or blocking punts. You name it. He was a very unique player to be a player that put that kind of speed that he had and also the aggressiveness and style he played with."
I had the chance to speak with Tasker this week for a Smith retrospective that will run Friday. At the end of our talk, I asked Tasker if he thought he would get into the Hall of Fame.
"I probably will get considered again and probably won't get in again," Tasker said. "That's fine."
Special-teamers can't get into the Hall of Fame. Only one kicker, Jan Stenerud, is in. Ray Guy, considered the greatest punter of all-time, has been a finalist seven times but can't get voted into Canton. (I wrote a post in February about
kickers and the Hall of Fame
.)
"If anybody deserves to go into the Hall of Fame as a special-teams player, it's Steve Tasker," Izzo said.
What I found refreshing in listening to Tasker talk about his Hall of Fame prospects was his humility. So often when a Hall of Fame's latest induction class has been announced we hear the snubbed whine about not getting honored.
Tasker won't be one of those.
"It's an honor to be considered," Tasker said. "It's awesome I'm even in the conversation.
"When my friends go in, Jim Kelly, Thurman Thomas, James Lofton, Bruce Smith, Ralph Wilson ... You watch them get inducted and there's no doubt any of them deserve to be there. It's hard for me to sit there and say 'You know what? I belong in there.' I can't sit there and say that. If the voters vote me in, I would be thrilled. But I can't say I deserve it."
The NFL Network compiled a list of the top
10 players not in the Hall of Fame
. Tasker made the list. Reed did not.
The list also included Ken Anderson, Cris Carter, Bob Hayes, Alex Karras, Jerry Kramer, Jim Marshall, Ken Stabler, Derrick Thomas and Ricky Watters. Hayes and Thomas are going in this year. Carter's induction will happen soon.
"Every player who ever put on a helmet would like to be in the Hall of Fame," Tasker said. "Who wouldn't?
"But I enjoyed my career so much. I was on a great team. I don't get caught up in it too much because -- Hall of Fame or not -- I enjoyed every bit of it. I don't feel slighted at all because I didn't make the Hall of Fame. I just feel blessed to have been a part of the NFL."
Tasker's ego never would allow him to say he belongs in the Hall of Fame.
What do you think?
August, 5, 2009
8/05/09
3:01
PM ET
Posted by ESPN.com staff
The Pro Football Hall of Fame will welcome six new members Saturday when the Class of 2009 is enshrined.
2009 Hall of Fame Induction Coverage
Saturday in Canton, Ohio, six men will be hailed as the latest members of the Pro Football Hall of Fame. Bruce Smith, Rod Woodson, Ralph Wilson, Randall McDaniel, and posthumous honorees Derrick Thomas and Bob Hayes form the Class of 2009. The ceremonies will air live, beginning at 7 p.m. ET, on ESPN and ESPNHD. Follow ESPN.com's coverage.

• Our future HOF nominees: Story | Podcast


• Chat: Hall of Fame inductee Rod Woodson
• Chat: Hall of Famer Warren Moon
• Wickersham: Wilson valued for impact
• Scouts Inc.: Top 5 CBs in the NFL today


• Walker: Is Rod Woodson the best CB ever?
• Graham: Bruce Smith, Sackmaster
• Blogs: More Hall of Fame coverage

Honorees Bruce Smith, Rod Woodson, Derrick Thomas, Ralph Wilson Jr., Randall McDaniel and Bob Hayes will be hailed for their accomplishments during the ceremonies in Canton, Ohio.
Defensive standouts Smith -- who starred primarily with the Buffalo Bills -- and Woodson -- who excelled with the Pittsburgh Steelers among other teams -- are first-ballot inductees.
At 90, Buffalo Bills owner and American Football League pioneer Wilson is the oldest person ever inducted; former Minnesota Vikings star guard McDaniel is the only offensive lineman in this class; former Kansas City Chiefs linebacker Thomas and former Dallas Cowboys receiver Hayes are receiving posthumous honors.
Wilson chose ESPN anchor Chris Berman, a longtime friend, to present him. Former Bills defensive coordinator Ted Cottrell will present Smith. Woodson has chosen Tracy Foster, a business partner, as his presenter.
McDaniel picked high school athletic director O.K. Fulton as his presenter.
Former Cowboys quarterback Roger Staubach will honor Hayes, and former Chiefs president Carl Peterson will salute Thomas.
2009 HALL OF FAME CLASS
BOB HAYES

Position: Wide receiver
Team: Cowboys/49ers
Years: 1965-1975
Seasons: 11
Honors and Achievements:
• Seventh-round choice in 1964
• Four-time all-NFL performer
• Cowboys-record 71 TDs
RANDALL MCDANIEL

Position: Guard
Teams: Vikings/Buccaneers
Years: 1988-2001
Seasons: 14
Honors and Achievements:
• First-round pick in 1988 draft
• Blocked for six 1,000-yard rushers
• Selected to 12 consecutive Pro Bowls
BRUCE SMITH

Position: Defensive end
Teams: Bills/Redskins
Years: 1985-2003
Seasons: 19
Honors and Achievements:
• No. 1 overall pick in 1985 draft
• NFL's all-time leader in sacks (200)
• Member of four consecutive AFC championship teams
DERRICK THOMAS

Position: Linebacker
Teams: Kansas City Chiefs
Years: 1989-1999
Seasons: 11
Honors and Achievements:
• Finished career with 126.5 sacks
• Member of the NFL's all-decade team in 1990s
• Selected to nine Pro Bowls
RALPH WILSON

Position: Founder/Owner
Teams: Buffalo Bills
Years: 1960-present
Seas
ons: 50
Honors and Achievements:
• One of the original founders of American Football League
• Formed Bills in 1959
• Served on NFL pension committee among others
ROD WOODSON

Position: Cornerback/Safety
Teams: Steelers/49ers/Ravens/Raiders
Years: 1987-2003
Seasons: 17
Honors and Achievements:
• Member of NFL's 75th anniversary team
• Selected to 11 Pro Bowls
• 71 career interceptions
August, 1, 2008
8/01/08
11:12
AM ET
Posted by ESPN.com's Tim Graham
FOXBOROUGH, Mass. -- Last week I posted an item that generated healthy debate about whether former Buffalo Bills special teams stalwart Steve Tasker belongs in the Pro Football Hall of Fame.
I was having a conversation with New England Patriots' uber-specialist Larry Izzo Thursday, and he mentioned Tasker's name in passing. With Hall of Fame induction weekend upon us, I asked Izzo to share his thoughts about Tasker's place in Canton.
"He's someone who certainly deserves to be there," Izzo said. "He definitely revolutionized the game as far as putting the focus on individuals on special teams were it hadn't been there before.
"He took the game to another level. I know from playing against him he was a challenge. I just remember watching him on film and thinking 'This guy is (expletive) great.' "
The NFL Network this week named the top 10 players not in the Hall of Fame. Tasker was ranked No. 9 ahead of Ken Anderson and behind (in order from the top) Jerry Kramer, Derrick Thomas, Cris Carter, Jim Marshall, Bob Hayes, Ken Stabler, Ricky Watters and Alex Karras.
Tasker had so much impact the NFL instituted a special-teams position for the Pro Bowl, an honor Izzo has earned three times.
"He's the best ever in my opinion," Izzo said. "He could run. He was tough. He had a nose for the football. He was a playmaker. You put him in different roles, as a gunner, as a penetrator on the kickoff.
"He was a finisher. A lot of guys you see can run down the field really fast, and that's nice if you're outside. But do they finish the play? He was one of those guys who would make those plays."
Watch this Tasker video clip from NFL.com and tell us if you agree with Izzo or not.
July, 23, 2008
7/23/08
7:58
PM ET
Posted by ESPN.com's Tim Graham
| | |
| --- | --- |
| | |
| | Andy Lyons/Getty Images |
| | Does former Buffalo Bills special teamer Steve Tasker belong in the Hall of Fame? |
One of the all-time great Buffalo barroom debates -- right up there with "Is Zubaz acceptable to wear to work on Casual Fridays?" -- is whether Steve Tasker deserves to be in the Pro Football Hall of Fame.
Based on a list the NFL Network will unveil next week, he probably does belong in Canton.
As part of its coverage to promote enshrinement weekend, the NFL Network will break out "The NFL's Top 10 Players Not in the Hall of Fame" at 8 p.m. Tuesday.
The names have been released; the order has not.
In addition to Tasker, the list includes Ken Anderson, Cris Carter, Bob Hayes, Alex Karras, Jerry Kramer, Jim Marshall, Ken Stabler, Derrick Thomas and Ricky Watters.
But the most intriguing mention is Tasker. He was listed as a wide receiver, finishing his career with only 51 catches and nine touchdowns.
The fact Tasker's mentioned as worthy of consideration is testament to his crazy special teams acumen for a club that went to four straight Super Bowls.
He was 5-foot-9 and 185 pounds (maybe) but a fearless hitter. He could change a game with the way he torpedoed down a field, so much so that he went to seven Pro Bowls on that alone. He was Pro Bowl MVP in 1993.
In 2000, the Hall of Fame electors voted him onto the NFL's all-time team.
But is being a special-teams superduperstar enough to qualify for Canton? And, perhaps more importantly, do you still wear Zubaz? In public?