September, 22, 2013
Sep 22
6:00
AM ET
Some quick thoughts and observations on the Jets as we head into Week 3:
1. Arms race:
The perception that
Geno Smith
was the Jets' slam-dunk quarterback preference going into the 2013 draft isn't accurate. Smith and
EJ Manuel
, whom they face Sunday at MetLife Stadium, were "very close" on the Jets' draft board, according to former scout Joe Bommarito. "We had both guys up there high," he said.
Bommarito declined to divulge anything more specific than that, except to say both quarterbacks were grouped together on the same line on their board, meaning they probably had similar grades. If Smith hadn't been available in the second round, Bommarito said, they would've happily picked Manuel at No. 39 overall. Manuel took a pre-draft visit to the Jets' facility and felt the coaches liked him enough to take him.
As it turned out, the Jets passed twice on both quarterbacks (with the ninth and 13th picks). By the time they got to 39, Manuel was long gone, picked 16th by the Bills.
Bommarito's take on the two rookies: Smith has the stronger arm, Manuel gets the edge in accuracy. So far, you'd have to give the early lead to Manuel, who has made fewer mistakes than Smith. But we'll learn more about Manuel by the way he handles his first road game.
[+] Enlarge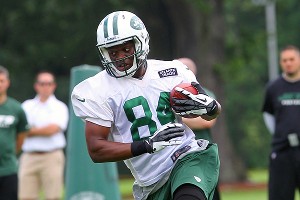 Ed Mulholland/USA TODAY SportsA former Jets scout said that the team considers WR Stephen Hill, a 2012 second-round draft choice, a "four-year project."
2. The Hill Project:
Bommarito, whose contract wasn't renewed after the draft, spent a dozen years as a Jets scout. One draft pick that caused a considerable amount of angst among fans (and some in the organization) was WR
Stephen Hill
, whose inconsistency is maddening. Bommarito is a Hill fan, but he acknowledged, "One minute, you're excited about the guy. Other times, you're like, 'Oh, really?' He's a four-year project. You have to be patient with him." He was alluding to Hill's limited background in the passing game. But four years? That's a lot of waiting in the NFL, especially for a second-round draft pick in 2012.
For more Jets-related insights from Bommarito, check him out on Twitter. His handle is @AskTheScout.
3. Rex's coaching tree
: Both Rex Ryan and Bills defensive coordinator Mike Pettine insist everything is cool between them, and that there was no falling out at the end of last season. Ryan told me he wants Pettine to succeed in his new gig. Another former Ryan assistant, Chiefs defensive coordinator Bob Sutton, is off to a great start. Before Thursday night, the Jets and Chiefs were ranked first and second in total defense, respectively, among AFC teams.
"I'm proud of Bob Sutton, too," Ryan said. "Somehow, maybe I helped a little bit. I'm proud to have a little bit of a coaching tree."
4. Nate (Can) Hackett:
Speaking of coaching trees, what's better than a father-son deal? Bills offensive coordinator Nate Hackett is the son of former Jets OC Paul Hackett, who served under Herm Edwards from 2001-04. Hackett, a Bill Walsh disciple, was a lightning rod for criticism. He got beat up pretty badly in this town, so much so that he resigned under pressure after the Jets' playoff run in Jan. 2005. The tabloids cranked out plenty of "Paul Can't Hack-it" headlines.
His son, 33, the second-youngest coordinator in the NFL, is a rising star in the business. Bills coach Doug Marrone, the offensive line coach on that same Edwards staff, hired Nate at Syracuse. That's where they developed the up-tempo offense they're using in Buffalo, and it happened almost by accident. About two weeks before the 2012 opener, the Syracuse offense was getting dominated by the defense in practice. They needed to shake it up, so Marrone and Hackett junked their old offensive system and developed a hurry-up attack on the fly. That's what you call a true hurry-up.
5. The big trade
: Jets OT
Ben Ijalana
, a former second-round pick of the Colts, was "excited," but not surprised his old team made the blockbuster trade for RB
Trent Richardson
. Ijalana said, "This is now for the Colts. There's no later. They have Lombardi aspirations. It's no secret. They talk about it all the time."
It's great to have an aggressive organization, but I think this was a panic move by the Colts, who surrendered a first-round pick to the Browns. Richardson gives them a legitimate running back to help QB
Andrew Luck
, but he won't be a game changer behind that offensive line. Luck is only a second-year player, so the window of opportunity will be open for many years. Like I said, they panicked.
6. Impact on the Jets:
The Colts/Browns trade could affect the Jets in 2014. Clearly, the Browns are in the market for a franchise quarterback, and now they have two first-round picks to wheel and deal their way to the top passer in the '14 draft, presumably Teddy Bridgewater of Louisville. The Browns own five picks in the first three rounds, plenty of ammunition to make trades. If the Jets don't like what they see from Geno Smith and want to draft another quarterback, it'll be really hard to move ahead of the Browns.
Then again, after trading their best player, the Browns could up with the No. 1 pick without having to trade up.
7. Rex and Marty Show:
Mark my words, you'll be hearing the phrase "run-pass ratio" a lot throughout the season. The chatter already has started. Ryan is saying all the right things, claiming he's all-in with Marty Mornhinweg's pass-heavy approach, but this bears watching. Ryan is a defensive-minded coach and defensive-minded coaches have "ball control" in their DNA, especially when there's a rookie quarterback involved. Under Mornhinweg, they're running the ball in only 37 percent of the plays. In 2009,
Mark Sanchez
's rookie year, they ran 59 percent of the time.
8. Class of '13
: GM John Idzik is getting a lot of bang out of his first draft, at least in terms of playing time. Smith and FB
Tommy Bohanon
have played in 100 percent and 43 percent of the offensive snaps, respectively. For DT
Sheldon Richardson
and CB
Dee Milliner
, it's 90 percent and 78 percent of the defensive snaps, respectively. Milliner, benched at halftime last week, will be part of a rotation against the Bills.
9. The Iron Man
: LT
D'Brickashaw Ferguson
has started every game in his career (114) and has missed only one play. There have been 7,330 offensive plays since his rookie year, 2006, according to ProFootballReference.com
10. Keeping up with Mr. T
: Former GM Mike Tannenbaum is off to a fast start in the agent business, having signed at least 20 new clients from the coaching and media ranks. Sports Business Journal
catches up with Tannenbaum
to see how he's enjoying his new gig.
June, 16, 2010
6/16/10
2:18
PM ET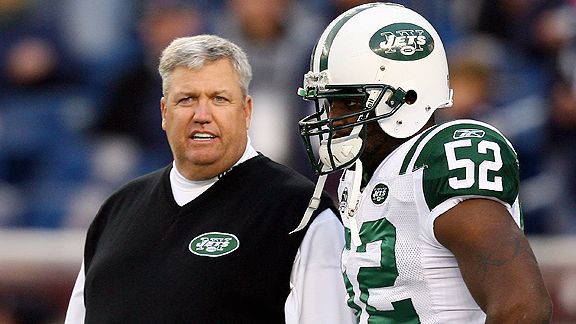 Jim Rogash/Getty ImagesCoach Rex Ryan has fielded plenty of inquires from other teams regarding the availability of unheralded linebacker David Harris in trade. Ryan's response: 'How about no?'
FLORHAM PARK, N.J. -- When thinking of the
New York Jets
' defense, the first person that probably comes to mind is Rex Ryan. If not him, then
Darrelle Revis
or
Bart Scott
or
Kris Jenkins
.
The Jets added a couple of more prominent names in the offseason, trading for
Antonio Cromartie
and signing
Jason Taylor
.
Often overlooked is the man who led the NFL's top-rated defense in tackles in 2009.
David Harris
is so discreet, casual fans don't know who he is. They might not even know what position he plays.
Pssst.
He's an inside linebacker. And he's pretty good.
"With the spotlight on us and people knowing how good our defense performed last year," Scott said, "if they search for why our defense is successful, they'll realize he's a huge part of it."
It's amazing how inconspicuous Harris is. Before January's wild-card playoff game,
Cincinnati Bengals
running back
Cedric Benson
claimed he was baffled by Harris. Benson claimed this after the Bengals played the Jets a week earlier in the regular-season finale, mind you. Said Benson regarding Harris: "I'm not a big names guy or who's playing.
I don't even really know who that is.
"
Harris is a crucial component of the Jets' defense. He never leaves the field because he can stuff the run, blitz and cover on passing downs. Mismatches don't happen with him. He wears the defensive headset, relaying the play calls to his teammates.
"He really has a complete game, and he's getting better and better," Jets linebackers coach Bob Sutton said. "His arrow is pointing up."
Harris, entering his fourth NFL season, is on the verge of barging into the group of elite inside linebackers. He was a second-team All-Pro last year, but didn't make the Pro Bowl.
His numbers last season were gaudy: 142 tackles (by the team's count), 5.5 sacks for a team-high 50 yards of losses, 12 quarterback hits, two interceptions and two forced fumbles.
In the postseason, Harris led the Jets with 25 tackles and two sacks on a sore ankle.
"He's a very dependable, consistent guy," Sutton said. "You're getting the same player every single game right on through the season."
[+] Enlarge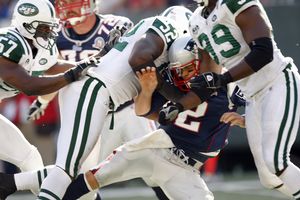 Aristide Economopoulos/The Star-Ledger/US PresswireDavid Harris had 5.5 sacks in 2009.
While fans might pay more attention to Revis' scintillating coverage skills, Scott's histrionic chatter or Jenkins' massiveness at nose tackle, Harris is a known -- and precious -- commodity among GMs and scouts.
When the Jets checked in with the
Denver Broncos
about receiver
Brandon Marshall
's availability, Harris was who the Broncos coveted. The trade, of course, didn't happen.
Ryan learned of Harris' value around the league before he coached his first game with the Jets. Harris was coming off a 2008 season in which he was limited by a hamstring injury, missed five games with a torn groin and suffered a broken leg in the season finale. Yet opposing teams wanted him on their roster.
"Any move that we looked to do that first year when I got here," Ryan said, "it was trading up to get [Mark] Sanchez, all this and that ... Every single time it was, 'How about David Harris as the player?' He was the player to be named. 'Oh, and by the way, we'll take ... How about David Harris?' How about, no way? There's no chance. Think I'm going to give up a great defensive player like him? No way."
Harris has remained under the radar partly because he's so soft-spoken. He's mute compared to Scott, his inside linebacking partner. Scott calls them "The Odd Couple."
There's a reason why a Harris quote hasn't appeared yet in this story.
"I keep quiet, try to stay humble and keep to myself," Harris said with a grin.
Harris is one of the Jets' so-called "Core Four" players who want new contracts. Revis, center
Nick Mangold
and left tackle
D'Brickashaw Ferguson
are the others. Revis has taken an aggressive approach to making his demands known. Mangold has been more diplomatic, but hasn't been reluctant to speak.
True to form, Harris has declined to make his contract an issue.
"I'm just worried about playing football," he said.
Scott knows a side of Harris the media and fans don't get to see. Scott said it takes a while to break down the wall around Harris and get to know him.
"He's a loyal guy, back to his family," Scott said. "All he cares about is playing video games or going back to Grand Rapids (Mich.) to hang with his high school buddies. It's low profile."
That's a significant reason Harris received little Pro Bowl consideration last year. Scott received many more votes in fan balloting.
It's not like Harris has emerged out of nowhere, an undrafted player from a Division III train stop somewhere in the Midwest. The former University of Michigan star and Butkus Award semifinalist was the 47th overall draft choice in 2007. He recorded five sacks as a rookie.
But his injury-plagued 2008 season interrupted his rise as much as his reluctance to talk about himself -- or anything else.
"That's part of football," Harris said of 2008. "Each and every one of us has a war story, and that was mine."
Sure, it's a war story. Good luck hearing Harris tell it.
February, 9, 2009
2/09/09
8:11
PM ET
Posted by ESPN.com's Tim Graham
New York Jets rookie head coach Rex Ryan is placing the final touches on his staff.
The club on Monday announced the expected hire of quarterbacks coach Matt Cavanaugh and assistant quarterbacks coach John DeFilippo.
The Jets also promoted Ben Kotwica from defensive quality control coach to assistant special teams coach and switched Brian Smith from offensive quality control to defensive.
There aren't any major openings left to fill. Ryan retained offensive coordinator Brian Schottenheimer and previously hired Baltimore Ravens linebackers coach Mike Pettine as defensive coordinator. Ryan brought Mike Westhoff back to run special teams.
Cavanaugh spent the past four seasons as offensive coordinator for the University of Pittsburgh. He has been offensive coordinator for the Ravens (1999-2004) and Chicago Bears (1997-98). He played 14 seasons as a quarterback for the New England Patriots, San Francisco 49ers, Philadelphia Eagles and New York Giants.

DeFilippo spent the past two seasons as quarterbacks coach of the Oakland Raiders. He was offensive quality control assistant for the Giants two years before that.
Jets Staff: Who's In, Who's Out?
Position
Who's in?
Where from?
Who's out?
Where to?
Quarterbacks
Matt Cavanaugh
Pitt

Brian Daboll
Browns
Asst. quarterbacks

John DeFilippo
Raiders
--
--
Special teams

Ben Kotwica

Jets

Kevin O'Dea

Unattached

Running backs
Anthony Lynn
Browns
Jimmy Raye
49ers

Receivers
Henry Ellard
Rams
Noel Mazzone
Unattached
Defensive coordinator
Mike Pettine
Ravens
Bob Sutton
Jets
Defensive line
Kerry Locklin

Fresno State

Dan Quinn
Seahawks
Asst. D-line
--

--
Bryan Cox
Browns
Linebackers
Bob Sutton
Jets
Jim Hermann
Giants
Secondary
Dennis Thurman
Ravens
Jerome Henderson
Browns
Asst. secondary
Doug Plank
Falcons
--
--
Defensive quality
Jim O'Neil
E. Michigan
Andy Dickerson
Browns
Defensive asst.
Jeff Weeks
Raiders
--
--
January, 29, 2009
1/29/09
7:25
AM ET
Posted by ESPN.com's Tim Graham
Buffalo Bills
Miami Dolphins
New England Patriots
New York Jets

January, 28, 2009
1/28/09
8:16
PM ET
Posted by ESPN.com's Tim Graham
New York Jets head coach Rex Ryan's maiden staff continued to take shape Wednesday. As expected, four assistants were officially announced and last season's defensive coordinator, Bob Sutton, was retained, but demoted to linebackers coach.
The new confirmed staffers were receivers coach Henry Ellard, running backs coach Anthony Lynn, secondary coach Dennis Thurman and assistant secondary coach Doug Plank.
Quarterbacks and defensive line are Ryan's most significant vacancies. He retained offensive coordinator Brian Schottenheimer, offensive line coach Bill Callahan and special teams coach Mike Westhoff.
Jets Staff: Who's In, Who's Out?
Position
Who's in?
Where from?
Who's out?
Where to?
Quarterbacks
Open
--

Brian Daboll
Browns
Running backs
Anthony Lynn
Browns
Jimmy Raye
49ers

Receivers
Henry Ellard
Rams
Noel Mazzone
Unattached
Defensive coordinator
Mike Pettine
Ravens
Bob Sutton
Jets
Defensive line
Open
--
Dan Quinn
Seahawks
Assistant D-line
Open
--
Bryan Cox
Browns
Linebackers
Bob Sutton
Jets
Jim Hermann
Giants
Secondary
Dennis Thurman
Ravens
Jerome Henderson
Browns
Assistant secondary
Doug Plank
Falcons
--
--
Defensive quality
Jim O'Neil
E. Michigan
Andy Dickerson
Browns
Defensive assistant
Jeff Weeks
Raiders
--
--
January, 21, 2009
1/21/09
11:24
AM ET
Posted by ESPN.com's Tim Graham
Where's my helmet?
New York Jets head coach Rex Ryan delivered his introductory remarks at a Wednesday morning news conference in Florham Park, N.J.
| | |
| --- | --- |
| | |
| | AP Photo/Mike Derer |
| | Rex Ryan inherits a Jets team that started 8-3 but fell short of the playoffs. |
If you're a Jets fan, you already have to be panting for the 2009 season to start. Even if you're not a Jets loyalist, you have to be intrigued to see what Ryan will do.
Compared to Eric Mangini's taciturn demeanor, Ryan came off as the second coming of Knute Rockne in his first public comments since signing a four-year contract Monday worth a reported $11.6 million.
Four of the first six questions were about Brett Favre and whether Ryan wanted the legendary quarterback to return. Ryan was diplomatic in his responses, praising Favre while not making any declarations.
Ryan announced Baltimore Ravens linebackers coach Mike Pettine has been hired as the Jets' defensive coordinator to replace Bob Sutton.
"You're going to see he's a star in this league," Ryan said of Pettin.
Ryan also mentioned special-teams coach Mike Westhoff and offensive line coach Bill Callahan had committed to staying and said he's "very excited to meet with" offensive coordinator Brian Schottenheimer.
Here are my favorite Ryan comments from his first Jets news conference:
1. On what Ryan expects to Jets' reputation to be:
Rex Ryan: The message to the rest of the league is "Hey, the Jets are coming. We're going to give you everything we got, and that's going to be, I think, more than you can handle." We're going to try to put pressure on everybody that we play. We want to be known as the most physical football team in the NFL.
We're going to take care of each other. The players are going to have each others' backs, and if you take swipe at one of ours, we'll take a swipe at two of yours. That's just the way this game is going to be played.
2. On what changes Jets fans will notice:
RR: The exciting thing is that this team won nine football games. This is a good football team. There really doesn't have to be a drastic change. But I think you're going to see a drastic change in maybe some of the style of play, in particular on defense.
Read and react is for somebody else. We're going to be attacking from the whistle and not to the whistle but through the whistle. We're going to turn the heat up and let the fur fly and see what happens.
3. On home-field advantage at the Meadowlands:
RR: I want to challenge our fans. They're obviously a part of our whole football team, but you can see the value in your fans of how you play defense at home.
I'm excited about this opportunity. I know the Jet fans. This is going to be great, man. This is going to be a great marriage. I can honestly say the style of defense we play, with our fans ... Whoo, it's going to be rough on people.
Baltimore was pretty rough on people. Nobody scored more than 13 points against us at home, and I think that was the first time that's been done in 40 years in the NFL. The expectations for me are high as a head football coach. I have high expectations of our fans. We're not going to let them score at home.
4. On how he's different than what Jets fans have gotten used to:
RR: I'm not a one-hit wonder. When you look at my background, I think I've been successful at all stops along the way. ... It gets done at all levels. Obviously, at Baltimore, we've been consistent.
I know the kind of responsibility it is to be a head football coach. You got the right guy. I plan on proving that each week.
5. On Brett Favre timetable:
RR: There's a million decisions that need to be made, and obviously Brett will be a huge decision. Whether he's going, he might make that decision for us. We'll look at that when the time comes.
I plan on talking to all the players. I'm excited about getting to know all our players. I'll start knocking off about four or five a day, and when it gets down to the F's I'll talk to Brett.
6. On operational policy:
RR: You've heard of the KISS philosophy, which is Keep It Simple Stupid. That's for somebody else. Ours is a KILL philosophy. We're going to Keep It Likeable and Learnable. We're going to make mistakes, but we're going to make those mistakes full speed. You're going to see an attack team here.
7. On approach to practice:
RR: As far as our aggressive mentality, you're going to see it through our preparation. You're going to see that on the practice field. We're going to get after it. We either go at walkthrough speed or full speed. That's how you do things here. You can't expect a guy to know how to play on Sunday when he hasn't seen it throughout the week.
8. On offensive philosophy:
RR: We want to have an all-weather offense. That starts with a running game. You've got to be able to run the ball. That's important. You've got to win when the snow flies to get to where you want to go, and that's to win Super Bowls.
9. On his coaching style and reputation as a player's coach:
RR: I'm going to be myself, and that's been pretty successful for me. I'm not going to paint a false picture of myself. I'm a guy that's very confident. I'm not just confident in my abilities. I'm confident in my coaches' abilities, and I'm confident in my players' abilities.
January, 20, 2009
1/20/09
8:43
PM ET
Posted by ESPN.com's Tim Graham
The only problem I see with Rex Ryan being hired as head coach is the fact the New York Jets made the decision.
Ryan's credentials are impeccable. With the Baltimore Ravens for the previous 10 years, he has worked on and conducted the gold standard of NFL defenses. He is beloved by his players and considered a motivator by trusting his men rather than berating them. His former bosses are amazed he hasn't gotten a top gig sooner.
So when looking for a reason to be skeptical, the only one I can come up with is the Jets' track record in hiring head coaches.
Ryan will be introduced Wednesday morning as the club's 17th head coach. Only two walked away with winning records. Bill Parcells went 29-19. Al Groh went 9-7 in his lone season as Parcells' replacement and left for a college job.
Jets owner Woody Johnson took control in 2000, Groh's first year. He oversaw the Herm Edwards and Eric Mangini appointments as well as their sloppy departures.
Unlike Edwards and Mangini, Ryan arrives as a known coaching quantity.
Edwards had never been a head coach and coordinator at any level and Mangini still can go four days between shaves. Ryan perhaps was the NFL's most respected defensive coordinator and was believed to be ready to call the shots for a few years.
Ryan also is the first new head coach under general manager Mike Tannenbaum, who has made many more shrewd moves that goofs.
You can't argue with Ryan's résumé. You can get an eyeful of the Ravens' stats while he coached them right here. They rank first more often than Mariah Carey on Billboard.
Ryan brings a refreshing arrogance and calls-it-like-he-sees-it approach. He's Buddy Ryan's son, after all. The Jets' new coach will preach gang tackling, hard hits, ball hawking, aggressive blitzes.
Now if he could just find another Ray Lewis and get Vernon Gholston to play like Bart Scott. Or maybe he can persuade free agents Lewis and Scott to join him at the Meadowlands.
Ryan's already working on a staff. Ravens outside linebackers coach Mike Pettine reportedly is the frontrunner to replace defensive coordinator Bob Sutton. Brian Schottenheimer might stay as offensive coordinator. If not, Ravens quarterbacks coach Hue Jackson is a possibility.
But the Jets will be a reflection of their head coach, and that should get fans excited, especially after the Mannequini era produced its share of uninspired Sunday efforts.
Right now, there's no reason to be critical of what appears to be a can't-miss hire. The only caveat is that the Jets have missed more often than not.
November, 2, 2008
11/02/08
1:24
PM ET
Posted by ESPN.com's Tim Graham
ORCHARD PARK, N.Y. -- The Buffalo Bills on their first possession made the New York Jets look clueless.
Jets defensive coordinator Bob Sutton better make some quick adjustments. The Bills exploited the Jets on two big plays to score a touchdown and take a 7-3 lead in Ralph Wilson Stadium.
On the Bills' first offensive play, Marshawn Lynch slipped out of the backfield unnoticed to catch a Trent Edwards dump-off. Lynch turned around to find not a soul within 20 yards of him, and he lumbered for a career-long 42-yard gain to the Jets' 15.
Two plays later, tight end Derek Fine slipped into the end zone and practically did jumping jacks until Edwards spotted him for the 9-yard touchdown, the first of his career in his second NFL game.