August, 28, 2010
8/28/10
9:46
PM ET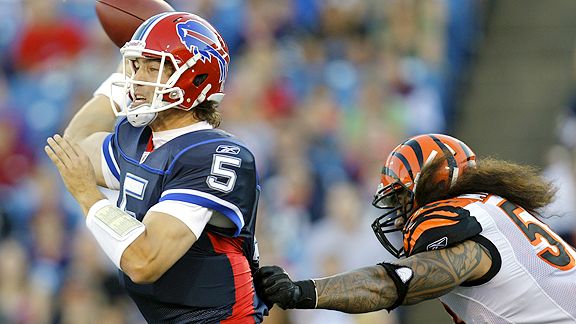 AP Photo/ David DupreyTrent Edwards has the starting quarterback job locked up after another solid preseason performance.
ORCHARD PARK, N.Y. -- Thoughts from the press box at Ralph Wilson Stadium, where the
Buffalo Bills
beat the
Cincinnati Bengals
on Saturday night
35-20
:
If there was any doubt before -- or if Bills fans were in denial and still clinging to hope Brian Brohm would win the gig -- Trent Edwards is Buffalo's quarterback.

On the first possession, Buffalo had minus-12 yards aside from a pass interference penalty. The Bengals sacked Edwards the only time he tried to pass. But Edwards rebounded on the second drive, methodically taking the Bills down the field. He completed all five of his passes for 48 yards and connected with Roscoe Parrish for a 12-yard touchdown.

Edwards' stat line: 13-of-17 for 153 yards and one touchdown with no interceptions. He had a 122.9 quarterback rating.

C.J. Spiller had another brilliant game. He ran 12 times for 52 yards and two touchdowns and two receptions for 33 yards in a half of work. He had a 20-yard run and a 26-yard reception.

As mentioned in my notes column following the Bills' victory over the Indianapolis Colts last week, Spiller is going to have a lot of negative-yardage runs because of his style and the Bills' offensive line. He had runs of minus-7 and minus-11 yards. But he's a threat to break away every single time.

The Bills showed off a little Wildcat. Spiller took a direct snap and ran 6 yards for a first down. In case you were wondering, Edwards remained on the field, split wide right. In the fourth quarter, rookie running back Joique Bell also took a direct snap and ran for 4 yards.

Parrish is one of those players fans always want to see more of, but size always seemed to be an impediment to increased involvement. Think Leon Washington with the New York Jets. Maybe new Bills head coach Chan Gailey has been able to figure something out. Parrish caught all four balls thrown to him for 56 yards and a touchdown.

Maybe the Bills were showcasing Ryan Fitzpatrick for a potential trade (hello, Arizona?). Otherwise, Brohm can't like the fact he quarterbacked only two series late in the fourth quarter. Brohm threw one pass, an incompletion.

Buffalo's secondary didn't have the same success against Carson Palmer that it did against Peyton Manning. Palmer completed all but two of his 11 passes for 95 yards and two touchdowns for a 142.2 rating.

Second-year outside linebacker Aaron Maybin, the 11th overall draft choice last year, may have gotten some traction. He didn't start even though Reggie Torbor was out with an undisclosed injury. Chris Ellis started instead. But Maybin did force J.T. O'Sullivan into an intentional grounding call with some heavy pressure in the third quarter and sacked Jordan Palmer twice in the fourth quarter.

James Hardy, a second-round draft pick in 2008, didn't make much of an impression in his bid to stay on the roster. He had one catch for 30 yards (great pass from Fitzpatrick) and a drop. That was all.

Undrafted rookie receiver David Nelson had another strong game: two receptions for 34 yards, including a 20-yard touchdown.

Third-year cornerback Reggie Corner looked like he might be on the roster bubble in a deep defensive backfield. He helped himself in the fourth quarter by intercepting Jordan Palmer and dashing 20 yards for a touchdown.

Reserve cornerback Ellis Lankster, meanwhile, had another rough night. Quan Crosby beat him for a 44 yard pass play one series after Corner's touchdown. Lankster broke up a pass on fourth-and-goal from the 6, but he got away with pulling on Dezmon Briscoe's collar. Lankster was called for illegal hands to the face to wipe out an Arthur Moats 9-yard sack.

The Bills strength in recent years has been their special-teams play. Special teams coordinator Bobby April bolted for Philadelphia, and the transition to Bruce DeHaven has not been smooth. Their kickoff coverage unit has been awful. The Bengals averaged 32.7 yards per return and rarely started a drive inside their own 30-yard line.
August, 14, 2010
8/14/10
11:54
AM ET
Some observations from the
Buffalo Bills
'
42-17
loss to the
Washington Redskins
at FedEx Field on Friday night ...
You can see why the Bills hotly pursued Mike Shanahan to be their overlord. The Redskins went 4-12 last season, but looked like a far more polished team under Shanahan than the Bills did under their new coach, Chan Gailey.
Buffalo was sharp on its opening drive, despite losing running backs Fred Jackson (hand) and Marshawn Lynch (ankle) to injuries. Trent Edwards completed all but one of his five passes for 44 yards. Every throw was to a different target. A 20-yard Lynch run was wiped out by a penalty.
That was about all that went right for the Bills' starters or second-stringers. It seemed unfair to watch veteran quarterback Rex Grossman hook up with prospect Devin Thomas on a 44-yard touchdown in the third quarter. The Bills don't nearly have that kind of depth.
This is how Buffalo ended a span of seven straight possessions, beginning with its second and lasting deep into the third quarter: interception, punt, punt, punt, punt, punt, punt.
Of those seven series, only one began inside the Bills' own 20-yard line. None went farther than their own 38. Five of those six punts were of the three-and-out variety. They had another in the fourth quarter.
It didn't matter what Redskins offensive unit was on the field when it came to figuring out the Bills' new 3-4 defense. Not helping was inside linebacker Paul Posluszny being scratched. He missed the first part of training camp while recovering from groin surgery and should be OK.
The Bills were destroyed in every phase. The first game without special teams coordinator Bobby April, and Bruce DeHaven's return to Buffalo, was ugly. The Bills allowed a 77-yard punt return for a touchdown. Ellis Lankster fumbled away a punt return.
Outside linebacker Aaron Maybin played deep into the fourth quarter and appeared to get pushed around. He finished with two tackles and was called for roughing the passer on what should have been an incomplete pass on third-and-6 in the first quarter. The Redskins eventually scored a touchdown.
But Maybin did record his third sack in an NFL uniform, getting to Miami Dolphins castoff John Beck in the fourth quarter. All three of Maybin's sacks have been in preseason games.
For you Dolfans out there, Beck struggled with his third team. He completed two of seven attempts for 27 yards, fumbled once and was sacked twice.
On a positive Bills note, backup quarterback Ryan Fitzpatrick closed out a drive late in the third quarter with a 5-yard touchdown pass to David Nelson. The score capitalized on a 43-yard Chad Simpson run two snaps earlier.
Nelson finished with a game-high five catches for 47 yards.
With Jackson and Lynch sidelined, Simpson and undrafted rookie Joique Bell had their moments. Bell ran five times for 52 yards, including a 28-yard touchdown.
Brian Brohm didn't play. Many Bills fans hoped Brohm would win the starting job, because he presents unknown possibilities that Edwards and Fitzpatrick don't. Seventh-round draft choice Levi Brown completed three of seven passes for 28 yards and an interception.
Gailey said Brohm will play Thursday night against the Indianapolis Colts, while Fitzpatrick sits out.
January, 14, 2010
1/14/10
9:11
PM ET
The
Buffalo Bills
have had two months to interview candidates and hire a new head coach.
In that span -- unless they held some more stealth meetings -- the Bills have formally interviewed one candidate who's still available.
Getting antsy, Bills fans?
The
New York Giants
announced Thursday that Perry Fewell will be their defensive coordinator. Fewell was the Bills' interim head coach and interviewed for their permanent job last week.
Fewell wasn't going to return to the Bills anyway, but the fact he and other
members of their fired staff
are finding work within two weeks (special teams coordinator Bobby April joined the
Philadelphia Eagles
, and
offensive line coach Sean Kugler
joined the
Pittsburgh Steelers
) while the Bills are spinning their wheels doesn't look good.
Since the regular season ended, two NFL clubs have fired their head coaches and hired replacements.
With Fewell off the market, that leaves
Minnesota Vikings
defensive coordinator Leslie Frazier the lone applicant to have interviewed that we know about. The Bills met with Frazier on Thursday.
Since then, we've learned
New York Jets
offensive coordinator Brian Schottenheimer and
San Diego Chargers
defensive coordinator Ron Rivera have rejected overtures from the Bills.
Arizona Cardinals
assistant head coach Russ Grimm reportedly has agreed to a Bills interview request, but he isn't expected to sit down with them until after the playoffs.
The Bills
interviewed Mike Shanahan in November
. He accepted the
Washington Redskins
' gig. ESPN's Chris Mortensen reported the
Bills held a "stealth meeting" with Bill Cowher
two weeks ago. The Bills reportedly
approached former Notre Dame coach Charlie Weis
, who took a job as
Kansas City Chiefs
offensive coordinator.
Maybe this process is going exactly the way the Bills envisioned, but somehow I doubt it.
January, 11, 2010
1/11/10
5:32
PM ET
There have been a few dispatches about the Buffalo Bills coaching search since I left Cincinnati this afternoon.
Here are the highlights:
Dave Hutchinson of the Newark Star-Ledger reports the Bills have been granted permission to interview New York Jets
offensive coordinator Brian Schottenheimer this week
. Hutchinson, citing an unnamed source, writes the interview must be conducted at the Jets' leisure and not interfere with preparations for Sunday's playoff game against the San Diego Chargers.
I wrote a blog earlier about
Schottenheimer's thoughts on becoming a head coach
.
After Saturday's victory over the Cincinnati Bengals, I asked Jets coach Rex Ryan about Schottenheimer's performance. Ryan responded by suggesting Schottenheimer was destined to be a head coach in a few weeks.
"I really don't want to be honest what I think of Schotty because I want him here," Ryan said. "Realistically, what a job, an amazing job, kept them off balance. We were getting a million [defenders in the box]. He did a good job of mixing in the run and the pass. He called the game like a head coach. Yeah, we could've probably made more passes, more plays down the field. But we wanted to move the clock.
"He's just doing a tremendous job. I realize we're probably only going to have him for as long as we're in this tournament, but we're enjoying it right now."
Fox Sports senior writer Jay Glazer adds the
Bills have reached out to the Arizona Cardinals
about talking to assistant head coach Russ Grimm.
San Diego Union-Tribune reporter Kevin Acee, citing multiple sources, writes about Chargers
defensive coordinator Ron Rivera turning down the Bills'
and Seattle Seahawks' requests to interview during the bye week.
As NFC North blogger Kevin Seifert reminds us, Bills
interim coach Perry Fewell interviewed
Monday for the defensive coordinator opening with the Chicago Bears. Seifert thinks Fewell is the frontrunner for the Bears job. Fewell appears to be a long shot to return to Buffalo.
Ed Bouchette of the Pittsburgh Post-Gazette reported the
Steelers interviewed special teams coordinator Bobby April
, who triggered an out clause in his Bills coaching contract last week.
January, 5, 2010
1/05/10
11:07
AM ET
There are no word games to play with this
Buffalo Bills
coaching staff update:
Bobby April is gone
.
ESPN's John Clayton reports April, the highly respected special-teams coordinator, has exercised a clause to terminate his contract with two years remaining.
The Bills on Monday either
fired their entire coaching staff
or advised them to
start looking for new jobs
, depending on which side was telling the story. Semantics aren't needed with April. He's sprung.
If there was any one member of the Bills' coaching staff to retain, it's April. He is considered the best special-teams coach in the NFL, with the possible exception of
New York Jets
coordinator Mike Westhoff.
In three of the previous five seasons, April's units finished No. 1 in the Dallas Morning News' annual special teams rankings.
April's final season with Buffalo was tumultuous. Their special teams didn't fare nearly as well as their track record.
Leodis McKelvin
fumbled a kickoff return on opening night to blow a near-certain victory over the
New England Patriots
in Gillette Stadium. Top punt returner
Roscoe Parrish
wound up in former head coach Dick Jauron's doghouse.
Bills punter
Brian Moorman
did have the best season in franchise history, and kicker
Rian Lindell
made the fifth-most field goals in the NFL.
When the Bills fired Jauron, they passed over April for the interim job even though he had the title of assistant head coach. April was livid over the snub. The Bills gave the job to defensive coordinator Perry Fewell instead.
December, 11, 2009
12/11/09
3:36
PM ET
In three of the past five years, the
Buffalo Bills
finished first in the Dallas Morning News' respected special-teams rankings.
Rest assured, they're not going to repeat.
Bills assistant head coach and special-teams guru Bobby April has
overseen an uncharacteristically tough season
.
Rochester Democrat & Chronicle reporter took a look at the Bills special teams. He pointed out they ranked 10th in kickoff returns, 23rd in punt returns, 13th in kickoff coverage and ninth in punt coverage.
Not bad, but not great either. Special teams have been one of the few elements Buffalo could rely on in recent years. Extract that and you can see why they're headed for a 10th straight season out of the playoffs.
In a post about special-teams penalties, AFC South nabob Paul Kuharsky notes the
Bills are tied for third with 18
, but at least they haven't been flagged their past two games.
The Bills have been blessed with great return men.
Terrence McGee
,
Roscoe Parrish
and
Leodis McKelvin
have made their marks in the NFL.
And none of them is a factor. McGee doesn't return kicks anymore. Parrish has been in the doghouse all year. McKelvin was done for the season after three games.
"We haven't gotten set on offense, defense, and special teams all year because of the rotation of people going in and out," Bills interim head coach Perry Fewell said. "Especially for Bobby because you have to cross-train so many different people in so many different places, and so he doesn't have any consistency.
"But I will give them a lot of credit. These past three weeks they've really performed well and they're getting better each week."
November, 25, 2009
11/25/09
10:05
PM ET
At a time when out-of-work coaches have been stiff-arming the
Buffalo Bills
, and the
one coach who has accommodated
isn't believed to be truly enamored, it's significant when we learn of
a notable coach who's actually interested
.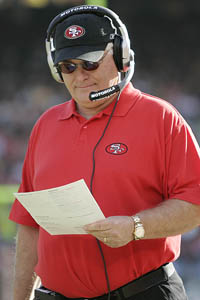 AP Photo/Paul SakumaFormer NFL coach Mike Martz is interested in the open Bills head coaching job.
A league source informs me former
St. Louis Rams
head coach and longtime offensive coordinator Mike Martz would be thrilled to become the Bills' next coach.
Martz won a Super Bowl ring as the Rams' offensive coordinator in 1999. He was head coach when they went 14-2 and won the NFC championship in 2001.
There's a widespread belief Buffalo's quarterback situation will deter most candidates, but the source said Martz isn't turned off by
Trent Edwards
or
Ryan Fitzpatrick
.
Martz, an offensive guru known for helping salvage
Kurt Warner
's career, drafted Fitzpatrick out of Harvard in 2005 as head coach of the Rams. The source also said Martz was a fan of Edwards when he left Stanford in 2007.
Another dynamic that could be appealing to the Bills is the fact Martz has worked with interim coach Perry Fewell before. If the Bills want to keep Fewell around, bringing in somebody he's familiar with and has worked under could make a difference. Fewell was the Rams' secondary coach for two seasons under Martz.
Martz fired Bills special teams coordinator Bobby April after three seasons in St. Louis. But there has been some speculation around the Bills that April won't be back next year anyway because they passed him over for the interim head coach job despite holding the title of assistant head coach.
Martz gave Bills linebackers coach Matt Sheldon his first NFL job with the Rams in 2001. Sheldon worked with Martz for five seasons.
Bills rookie safety
Jairus Byrd
, the NFL's interceptions leader, also knows Martz. Byrd's father, Gill Byrd, was a defensive assistant for three years in St. Louis.
November, 18, 2009
11/18/09
9:40
AM ET
Perry Fewell's greatest pupil was pleased to receive news the
Buffalo Bills
had promoted Fewell to be their interim head coach.
"I'm not surprised at all that he's got an opportunity," eight-time Pro Bowl defensive back Aeneas Williams told me soon after learning the Bills had fired head coach Dick Jauron. "There's a number of coaches on that staff, but for him to be pegged -- whether it's interim or not -- to be head coach and lead those men and have that staff going forward in a difficult situation, I'm not surprised."
Williams has two direct links to the Bills through his relationship with Fewell and rookie safety
Jairus Byrd
.
Williams played under Fewell with the
St. Louis Rams
. Fewell joined the Rams as defensive backs coach in 2003, the same year Williams' old friend, Gill Byrd, arrived as a defensive assistant. It was then that Williams became a full-fledged mentor for Byrd's son, Jairus, a rookie of the year candidate who leads the NFL with eight interceptions.
Fewell's familiarity with Jairus Byrd played a significant role in Buffalo's decision to draft him in the second round, one of few successful decisions that transpired while Jauron was head coach and perhaps a factor in selecting Fewell over special teams coach Bobby April.
Williams said he was impressed with Fewell from the moment he joined the Rams, who had gone to Super Bowls two of the preview four seasons.
"I remember when he came in he wasn't in awe of anything," Williams said. "He was very professional. He knew how to get guys to play the defense and assimilated very well into a winning culture.
"Coach Fewell knew how to relate to the guys to get the veterans as well as the younger guys to play together. He commanded the respect of the players -- not demanded, but he commanded the respect of us players by his professionalism and his ability to help us be successful."
Fewell spent two seasons with the Rams. He coached defensive backs for a season with the
Chicago Bears
under Lovie Smith before Jauron hired him to be the Bills' defensive coordinator in 2006.
"He's been a part of organizations where we've won and we've lost, but we still were able to make it through it," Williams said. "He was always calm and always set the tone of the expectation that, 'Even though we're 0-6, this week we're going to do what it takes to get better.'"
November, 17, 2009
11/17/09
6:49
PM ET
Now that the
Buffalo Bills
have fired Dick Jauron, who are the candidates to be their head coach in 2010?
Here are some thoughts on a few potential candidates in no particular order: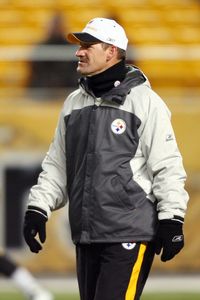 Jason Bridge-US PRESSWIREHiring former Pittsburgh Steelers coach Bill Cowher would be a splashy move for the Bills.
Bill Cowher:
It would take a gigantic change of philosophy for Bills owner Ralph Wilson to sign off on a larger-than-life coach such as Cowher. Wilson's modus operandi has been to pursue coaches who don't command a high salary and don't expect organizational control. Cowher essentially has his choice of any openings and will need to be dazzled by an offer the Bills have no history of making.
Mike Holmgren:
See Cowher.
Mike Shanahan:
See Holmgren.
Jon Gruden:
See Shanahan.
Tony Dungy:
See all of the above. Plus, he seems to enjoy retirement. He had peace of mind in leaving one of the NFL's elite franchises. It would be a colossal stunner if he would consider joining one of the decade's least successful clubs.
Marty Schottenheimer:
The former
Cleveland Browns
,
Kansas City Chiefs
and
San Diego Chargers
head coach has a reputation for getting his teams into the playoffs but not Super Bowls. Bills fans certainly would settle for that. Schottenheimer spent four seasons playing linebacker for Buffalo, winning an AFL championship his rookie year.
Jim Haslett:
Many observers see the former
New Orleans Saints
and
St. Louis Rams
head coach as the perfect choice. Teams often like to go with a coach that has a different personality from the one they just fired. Haslett would be that. He's fiery. He also has a history with Buffalo. He played linebacker for the Bills from 1979 through 1985 and got his start in coaching as an assistant for the University of Buffalo.
Brian Billick:
If the Bills wanted a coach with an offensive background, Billick is available. He was
Baltimore Ravens
coach for nine seasons, winning the Super Bowl in 2000.
Mike Martz:
Similar to Billick, he's an offensive coach with Super Bowl credentials and currently works for the NFL Network. He coached The Greatest Show on Turf with the Rams for six seasons.
Jim Fassel:
Fassel likely would be reasonably priced. He has been eager to get back into the NFL since he was fired as the Ravens' offensive coordinator in 2006. Fassel was head coach of the
New York Giants
from 1997 through 2003, winning one NFC title.
Perry Fewell:
The Bills' defensive coordinator has been named interim head coach. He never has been a head coach at any level, but when clubs look for an interim coach from within, they generally look to the offensive or defensive coordinator. Offensive coordinator Alex Van Pelt was installed 10 days before the regular season and hasn't exactly done a bang-up job.
Bobby April:
Buffalo's assistant head coach and special-teams coordinator would seem to be a candidate based on how highly he's respected around the league. But it doesn't bode well that Wilson bypassed him for Fewell.
Other names to consider:
Todd Bowles (
Miami Dolphins
secondary), Ted Cottrell (former Bills defensive coordinator), Jason Garrett (
Dallas Cowboys
offensive coordinator), Turner Gill (University of Buffalo head coach) Leslie Frazier (
Minnesota Vikings
defensive coordinator), Mike Leach (Texas Tech head coach), Paul Pasqualoni (Dolphins defensive coordinator), Brian Schottenheimer (
New York Jets
offensive coordinator), Marc Trestman (Montreal Alouettes head coach).
November, 11, 2009
11/11/09
12:00
PM ET
Power Rankings:
Preseason: 21. This week: 24.
2009 Schedule/Results
| | |
| --- | --- |
| | |
| | Kevin Hoffman/US Presswire |
| | Terrell Owens has just 23 receptions in eight games this season. |
Where they stand:
The Bills are 3-5 and tied for last place in the AFC East with the
Miami Dolphins
-- but not in the same class. The Bills would need to darn near run the table and then hope for help along the way to make the playoffs for the first time in a decade, and that's not happening. Their offense is anemic, with a line that was weak from the start and has been decimated by injuries. They have the worst run defense in the NFL, and esteemed special-teams coach Bobby April's units are playing well below what we're used to seeing.
Disappointments:
When kick returner
Leodis McKelvin
fumbled away a near-certain victory over the
New England Patriots
on opening night, it was a harbinger of the season. Bills fans were borderline euphoric over the possibilities of an offense with receivers
Terrell Owens
and
Lee Evans
and a potent backfield with
Marshawn Lynch
and
Fred Jackson
. Third-year quarterback
Trent Edwards
could have been looking at a breakout campaign with those weapons and a new no-huddle offense. The Bills woefully underestimated their talent on the line. The first string failed to score a touchdown in five preseason games. The Bills fired offensive coordinator Turk Schonert 10 days before the season opener, have Owens on pace for his worst season since he was a rookie and scrapped the no-huddle.
Surprises:
The biggest surprise is that head coach Dick Jauron still has a job, but the spirit of this category is to recognize pleasant developments. There haven't been many, but rookie safety
Jairus Byrd
has been awesome. The second-round draft choice from Oregon has seven interceptions, tying him with defensive player of the year candidate
Darren Sharper
for the league high. Buffalo's secondary as a whole has played well, especially considering three-fourths of the original starting quartet has been sidelined. McKelvin is out for the season and safeties
Donte Whitner
and
Bryan Scott
have missed several games.
Outlook:
After 10 years of not making the playoffs, the organization should have completed the rebuilding phase from its last postseason game, which ended with the Music City Miracle. Many teams have rebuilt, imploded and rebuilt again in that span. But the Bills likely are facing an offseason of further transition. In addition to Jauron's job being in jeopardy, the Bills still don't have a reliable quarterback -- a veteran or a viable understudy -- on the roster. With word they're considering
Michael Vick
, one has to wonder if the Bills have any organizational plan whatsoever or if they're content to wing it year after year.
October, 30, 2009
10/30/09
11:23
AM ET
Posted by ESPN.com's Tim Graham

New York Jets
Buffalo Bills
Miami Dolphins
New England Patriots

July, 21, 2009
7/21/09
11:12
AM ET
Posted by ESPN.com staff
Buffalo Bills
Miami Dolphins
New England Patriots
New York Jets
January, 13, 2009
1/13/09
7:39
AM ET
Posted by ESPN.com's Tim Graham
New York Jets
New England Patriots
Buffalo Bills

Miami Dolphins