April, 12, 2011
4/12/11
11:01
AM ET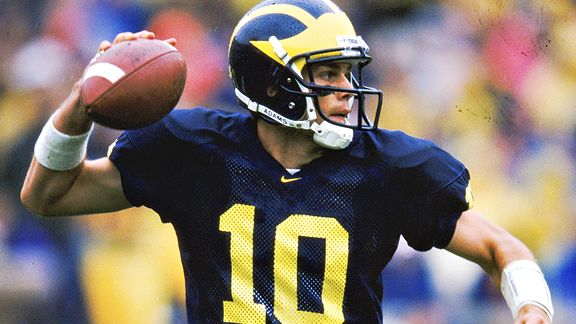 Harry How/Allsport Tom Brady threw for 5,351 yards and 35 touchdowns during his time at Michigan.
BUFFALO -- Bobby Grier hasn't been embraced by
New England Patriots
fans.
Bill Parcells left the Patriots in large part because owner Robert Kraft sided with Grier, the vice president of player personnel, on the selection of Ohio State receiver
Terry Glenn
in 1996. The rift led to Parcells' infamous "buy the groceries" comment.
Bill Belichick fired Grier in May 2000 to install his vision of the front office.
Two weeks before Belichick dumped him, however, Grier played a role in helping the Patriots draft their greatest player.
ESPN's documentary, "The Brady 6," will debut Tuesday night. The hour-long film looks back at how
Tom Brady
went from the 199th draft choice to a first-ballot Hall of Famer, while the six quarterbacks taken ahead of him didn't come close to measuring up.
One of the more surprising revelations comes from Lloyd Carr, Brady's head coach at Michigan.
[+] Enlarge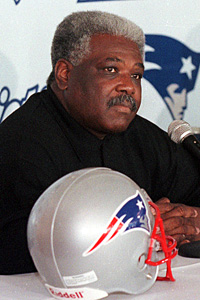 AP Photo/David KamermanBobby Grier was the only NFL executive who contacted Lloyd Carr about Tom Brady.
With scouts presumably examining all imaginable minutia while grading prospects -- the
Carolina Panthers
reportedly have requested
Cam Newton
game film from Blinn Junior College -- only one NFL executive contacted Carr about Brady.
"Bobby Grier, who was with the Patriots at the time, talked about they were going to draft a quarterback late," Carr said in the documentary. "I just said, 'Bobby, I guarantee you you'll never regret drafting Tom Brady.'"
Dick Rehbein, the late quarterbacks coach, gets a lot of credit for Brady ending up with New England. Rehbein's glowing report of a Brady workout in Michigan was significant. But Grier apparently was the lone NFL executive to check with the coach who knew Brady best.
The Patriots were hesitant to draft Brady because of circumstances that caused the Wolverines to force
Drew Henson
onto the field. But that had more to do with trying to keep Henson from playing baseball than feeling Brady wasn't good enough.
"One of the real troubling parts was the Michigan situation -- the fact that, really, they were trying to replace him as their starting quarterback," Belichick said in the film. "You say, 'OK, they don't really want this guy as their starting quarterback. They want another guy. What's the problem here?' It was a little bit of a red flag there."
Grier's call to Carr was wise to find out the true story of what transpired at Michigan.
In the Buffalo Sabres' locker room at HSBC Arena (of all places), I had a chance Monday to ask one of Grier's sons about the Brady pick. Mike Grier is a Sabres forward getting ready to play the Philadelphia Flyers in the first round of the NHL playoffs.
"He deserves a lot of credit," Mike Grier said. "He was always doing everything he could, never left any stone unturned when evaluating players. As a kid growing up, he was always coming in the door at 10 or 11 o'clock at night. He was spending all those hours in the office. I know he put in the time and cared about what he was doing."
Mike Grier said his father is too reserved to revel in his successful moves. But Grier's sons can read him and are knowledgeable enough about sports to figure it out for themselves. Chris Grier is the
Miami Dolphins
' director of college scouting.
"He'll never let me or anyone else know about it or talk about it," Mike Grier said, "but just being around him and talking with my brother, I know that he's pretty proud of that draft class and Tom in particular.
"He did his homework, and for me personally, it's something every time Tom does something and plays the way he does, it puts a smile on my face the way things ended for my dad there in New England. But I think he did a pretty good job. I'm very proud of him for what he did there."
Mike Grier grew up a Patriots fan. He was born in Detroit while his father was running backs coach at Eastern Michigan. The family moved to Massachusetts when Grier took a job at Boston College in 1978 and joined the Patriots three years later.
Mike Grier starred on the ice for St. Sebastian's School in Needham, Mass., and then Boston University. He was an All-American and finalist for the 1995 Hobey Baker Award, college hockey's version of the Heisman Trophy.
But Mike Grier can't root for the Patriots anymore, not given his dad's departure and his brother's role with the AFC East rival Dolphins.
"It's hard for me," Mike Grier said with a laugh. "I grew up hating those guys. But I root for them every Sunday."
So what does a Dolphins fan with connections to the front office think they'll do with the 15th pick?
"I don't know," Mike Grier said. "But I'd like to see them get a quarterback or a running back."
February, 2, 2011
2/02/11
3:44
PM ET
In the days leading up to the Pro Football Hall of Fame election, Curtis Martin mostly has been recalled as one of the greatest ever to wear a New York Jets uniform.
New England Patriots fans consider the rugged running back differently.
ESPNBoston.com reporter Mike Reiss takes a look at
Martin's all-too-brief stay with the Patriots
before Bill Parcells emigrated with him to the Jets in 1998.
[+] Enlarge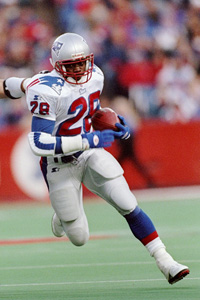 Rick Stewart /AllsportCurtis Martin racked up 3,799 rushing yards during his three seasons in New England.
Reiss called Martin "The Greatest Patriot to Get Away."
The Patriots drafted Martin in the third round in 1995 and lost him three years later as a restricted free agent. The Jets drew up a clever offer sheet the Patriots couldn't match.
"I'm a very loyal person," Martin said Tuesday on a conference call. "I was totally open to staying in New England. I wanted to stay in New England.
"It's funny, because of all the teams that I may have had the opportunity to go to, the Jets were one in particular that I didn't want to go to."
Martin's loyalty changed when Parcells left for the Jets and the Patriots didn't actively try to re-sign their star running back.
The Patriots were awarded first- and third-round picks as compensation for not matching the offer sheet. Those players turned out to be running back Robert Edwards and fullback Chris Floyd.
Edwards rushed for 1,115 yards and nine touchdowns as a rookie but blew out his knee in an ill-conceived beach football game during Pro Bowl weekend and never played another down for New England. Floyd lasted three NFL seasons.
Reiss wrote of the Patriots losing Martin:
It was one of the key decisions that doomed the "triangle of power" regime of [head coach Pete] Carroll, vice president of player personnel Bobby Grier and salary-cap man Andy Wasynczuk.
Martin played eight seasons for the Jets and amassed 10,302 more yards and 58 more touchdowns before he retired.
Some, including Parcells, are
promoting Martin as a first-ballot Hall of Famer
when votes are cast Saturday.
Martin said he received a phone call from Patriots owner Robert Kraft this week, wishing him luck on the Hall of Fame.
"I've always respected the Kraft family and I always respected the Patriots organization," Martin said. "The Patriots organization was the best foundation that I could have had as an NFL player.
"Looking back on it, there is no other team I would have rather spent those first three years with."
What if the Patriots had done the right thing and kept Martin?
It's a fun question to consider because the repercussions likely would have been dramatic.
The Patriots would have been a better team, of course, and the Jets might not have been as competitive. That could have been enough of a swing for Carroll to keep his job. That means the Patriots might never have hired Bill Belichick.
What do you think would have happened?
April, 14, 2010
4/14/10
1:00
PM ET
»
NFC decision-makers
:
East
|
West
|
North
|
South
»
AFC
:
East
|
West
|
North
|
South
»
Draft Watch
:
Biggest needs
(2/17) |
Busts/gems
(2/24) |
Schemes, themes
(3/3) |
Recent history
(3/10) |
Needs revisited
(3/17) |
Under-the-radar needs
(3/26) |
History in that spot
(3/31) |
Draft approach
(4/7) |
Decision-makers
(4/14) |
Dream scenario/Plan B
(4/21)
Each Wednesday leading up to the NFL draft (April 22-24), the ESPN.com blog network will take a division-by-division look at key aspects of the draft. Today's topic: The decision-makers.

Buffalo Bills
Several key members of the Bills' front office will be in unfamiliar roles for the draft. Rookie general manager Buddy Nix has been a consigliere for decades, but he has never overseen a draft. Assistant general manager Doug Whaley will be in Buffalo's war room for the first time after handling pro personnel for the
Pittsburgh Steelers
. Chan Gailey hasn't gone into a draft as the head coach for 11 years. The most prominent holdover is vice president of college scouting Tom Modrak. The Bills fired pro personnel chief John Guy after last season.

Miami Dolphins
This will be the third Dolphins draft for football operations boss Bill Parcells, general manager Jeff Ireland and head coach Tony Sparano. There's little doubt whose voice is most authoritative in the command center. Parcells handpicked Ireland and Sparano. Each is beholden to him. But that doesn't mean they're "yes" men. One of the qualities Parcells values most from his support staff is the ability to proffer a dissenting opinion. With that in mind, it's interesting Miami's director of college scouting is Chris Grier, son of former Patriots and Texans executive Bobby Grier. Parcells eventually left the Patriots after a disagreement with Bobby Grier about drafting receiver Terry Glenn. Parcells didn't want Glenn. Grier did. Patriots owner Robert Kraft sided with Grier, instigating Parcells' infamous "buy the groceries" lament.

New England Patriots
Patriots overlord Bill Belichick is entering his second draft without right-hand man Scott Pioli, who is now running the show in Kansas City. Belichick manages every personnel move within the organization. He receives help from senior football adviser Floyd Reese (the former
Tennessee Titans
general manager) and director of player personnel Nick Caserio, but Belichick has the first, second and final say. We've already noted Kraft reserves the right to get involved. But he won't go against a coach who has brought him three Lombardi trophies.

New York Jets
Parcells protégé Mike Tannenbaum is entering his fifth draft as general manager and his second with Rex Ryan. The opinionated coach has considerable say on whom the team selects, especially when it comes to defensive players. Tannenbaum isn't afraid to make moves on the fly, executing several trades to move up and select key players: quarterback
Mark Sanchez
, running back
Shonn Greene
, tight end
Dustin Keller
, cornerback
Darrelle Revis
and linebacker
David Harris
. Tannenbaum and Ryan lean on top college scout Joey Clinkscales, who interviewed to be Dolphins general manager before Ireland got the gig.
April, 2, 2010
4/02/10
2:59
PM ET
Might the
Miami Dolphins
actually draft Oklahoma State receiver
Dez Bryant
with their 12th pick?
Bryant visited the Dolphins on Friday. Fans would love to see him in aqua and orange. He would fill a long-standing need.
Yet he doesn't seem like the type of player Dolphins football operations boss Bill Parcells would go after. Bryant is one of the more controversial players in this year's draft class, and he doesn't value receivers greatly.
A Parcells-led team has drafted only one receiver earlier than 28th, and that was against his will.
New England Patriots
owner Robert Kraft sided with head scout Bobby Grier and took
Terry Glenn
seventh overall in 1996, an event referenced in Parcells' infamous line "If you're going to cook the meal, they ought to let you shop for the groceries."
The report from Scouts Inc., citing multiple unnamed NFL scouts, notes Bryant "comes with some emotional baggage" from a tough upbringing. The NCAA suspended him 10 games last year for lying in an investigation related to whether he broke agent rules in his dealings with mentor
Deion Sanders
.
But Bryant is an elite prospect. Maybe the Dolphins are more willing to take a chance on a dynamic player with a checkered past.
Parcells, general manager Jeff Ireland and head coach Tony Sparano are entering their third season together. They've established an organizational template, identified their core leadership in the locker room and now might be ready push the limits with a player who hasn't fit their profile in the past. They recently signed notorious hothead guard
Richie Incognito
.
The Dolphins have needed a receiver since they shipped
Chris Chambers
to the
San Diego Chargers
at the 2007 trade deadline.
They especially need a downfield option now that
Chad Henne
has become their starting quarterback. Last year, Henne threw to a group assembled with
Chad Pennington
in mind. Henne's arm is much better than Pennington's. Henne can utilize a deep threat much more effectively.
Bryant looks like he should be a weapon who can open up the offense.