AFC East:

Brendon Ayanbadejo
January, 17, 2012
1/17/12
12:30
PM ET
Unlike the NFC, the AFC playoff bracket went according to form and has the top two seeds meeting in the conference title game Sunday. The
New England Patriots
(14-3) and
Baltimore Ravens
(13-4) have been the best two teams in the conference from start to finish.
But only one team can advance to Indianapolis to play in Super Bowl XLVI. That is where AFC East blogger James Walker and AFC North blogger Jamison Hensley come in to examine the matchups and pressing issues with the Patriots and Ravens.
James Walker:
Let's start with the quarterbacks, Jamison, because I think this is where the Patriots have the biggest advantage.
Tom Brady
is playing at an unbelievable level. He tied an NFL postseason record with six touchdown passes against a pretty good
Denver Broncos
defense. I'm not sure Baltimore -- or any defense -- has an answer for the Patriots' passing game right now. Behind Brady, the Patriots are averaging 40.5 points in their past four games. New England's offense is peaking at the right time. If New England scores early, that puts an enormous amount of pressure on Ravens quarterback
Joe Flacco
to respond. I doubt a Brady versus Flacco shootout is a game Baltimore wants to play.
[+] Enlarge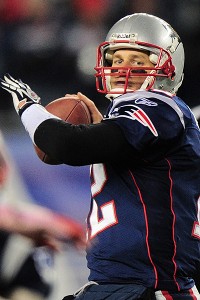 Michael Ivins/US PresswireTom Brady was masterful in the Patriots' playoff rout of Denver.
Jamison Hensley
: You're definitely right about that, James. Flacco has thrown for fewer than 175 yards in his past three games. That's like one half for Brady. Flacco gets a lot of criticism because he isn't consistent -- and that's true. He has flashes when he looks like he's a top-10 quarterback, guiding a last-minute touchdown drive at Pittsburgh and leading the Ravens back from a 21-point deficit against Arizona. Then, there are times when he looks like he is among the league's worst, like when he doesn't complete a pass in two quarters against the Jets. But the Ravens have never had to rely on Flacco in the playoffs. That's the time of the season when the Baltimore defense thrives. There's a huge disparity between Brady and Flacco. But there is an even bigger one between the defenses of the Patriots and Ravens, who are ranked No. 3 in the NFL in fewest yards and points allowed.
James Walker:
We've both watched Baltimore's defense up close for years, and I've always marveled at its consistency. The biggest thing is you know what you're going to get from Baltimore's defense on Sunday. I really have no idea what to expect from the Patriots' defense. I did see with my own eyes last week a group that is capable of playing well. The Patriots actually have the top-rated defense in the playoffs, although it's just for one game. I won't go overboard with the Patriots stopping
Tim Tebow
. Any playoff team not named the
Pittsburgh Steelers
could do that. (I had to jab your AFC North brethren.) But I've seen too many weeks in which New England looked awful defensively and gave up tons of yards. The Ravens' offense should have the advantage as long as they stick with tailback
Ray Rice
, who has killed New England in the past. Speaking of the past, Jamison, how much stock do you put in Baltimore's previous playoff victory against the Patriots in January 2010?
Jamison Hensley
: Just like you can't go overboard on one game for the New England defense, you can't go overboard with that playoff game. Both teams are different from that game two years ago. The Patriots didn't even have
Wes Welker
for that one. The biggest lingering effect is that the Ravens have confidence that they can win in New England. Few teams have ever beaten Brady on his home turf in the playoffs, and
Ray Lewis
and the gang know they can do it, because they did it before. Of course, that game turned on the first offensive play from scrimmage when Rice ran 83 yards for a touchdown. And that's something that hasn't changed for the Ravens. Rice is key to the Ravens winning. Baltimore is 9-0 when Rice carries the ball at least 20 times. He has to be on the mind of every New England defender.
James Walker:
There's no denying Rice is to Baltimore what Brady is to New England. The performance of both players will probably determine the outcome of this game. You astutely pointed out Welker's absence from the January 2010 playoff game. Two additional players not in that game were tight ends
Rob Gronkowski
and
Aaron Hernandez
, who were drafted the following April. Two seasons later, the pair completely change the dynamics of New England's offense. The Ravens' defense is great. But I'm looking down their roster and I'm having a lot of trouble finding linebackers who are fast enough and defensive backs who are strong enough to stop New England's star tight ends. The Ravens might opt to double one -- usually Gronkowski -- but I don't think they have an answer for both. After watching the Ravens' defense all season, Jamison, what strategy do you think they will employ?
Jamison Hensley
: The Ravens played mostly zone against Texans rookie quarterback
T.J. Yates
, but they can't do that against Brady. He would pick them apart. Baltimore has to go to man coverage to be successful. The defender to watch is linebacker
Brendon Ayanbadejo
. He's known as the team's special-teams ace, but he plays an important role in the nickel defense. The Ravens have contained some of the top tight ends they've gone against in San Diego's
Antonio Gates
(two catches for 31 yards) and San Francisco's
Vernon Davis
(four for 38 yards). The problem is, the Ravens haven't faced a team with two quality tight ends like Gronkowski and Hernandez. Baltimore's best bet is to get pressure on Brady. That starts with
Terrell Suggs
, who will test both of the Patriots' offensive tackles.
James Walker:
Suggs has been a monster this season. I also think Brady might be Suggs' least-favorite quarterback, so there won't be any lack of motivation there. But I noticed something important in both AFC divisional games that should be mentioned. Baltimore didn't get a single sack against Yates and Houston, and New England held Denver without a sack, despite facing a defense with two of the league's top pass-rushers in
Von Miller
and
Elvis Dumervil
. Maybe that was more scheme last week on Baltimore's part, because defensive coordinator Chuck Pagano usually gets after it. But New England legitimately stuffed Denver's pass rush for four quarters with an up-tempo offense that used a lot of half-huddle/no-huddle and quick throws to Gronkowski, Hernandez and Welker. I think you're going to see the Patriots speed up the tempo again against Baltimore, especially at home where the crowd is quiet and communication on offense is easier.
[+] Enlarge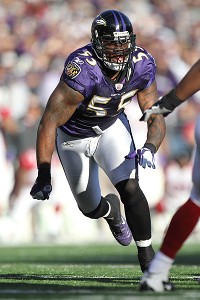 Mitch Stringer/US PresswireKeeping Terrell Suggs away from QB Tom Brady will be a priority for New England on Sunday.
Jamison Hensley
: As we've seen so far in the playoffs, home field has really been an advantage. Only one home team (Green Bay) has lost so far this postseason. The Ravens have had their trouble on the road this season, losing at Seattle and Jacksonville -- teams they should've beaten. But Baltimore has a great track record of winning on the road in the playoffs. The Ravens have won at Miami, Tennessee, Kansas City and, of course, New England under coach John Harbaugh in the postseason. How the Ravens handle the atmosphere on the road will be one of many keys in this matchup.
James Walker:
The Patriots and Ravens played all season for this gigantic opportunity. New England just won one more game to force the road to Indianapolis to go through Gillette Stadium. But I think either club would represent the conference well and has a great chance to win the Super Bowl. Either way, Jamison, just make sure one of us brings that Lombardi Trophy back to the AFC side, where it belongs. I was kind of tired of that "Discount Double-check" thing NFC North blogger Kevin Seifert kept doing in front of us for the past year.
Jamison Hensley
: I hear you. We'll just have to wait until Sunday to see whether Bill Belichick's hoodie or Flacco's Fu Manchu mustache will be advancing. History says this will be a close game. Three of the past four meetings between the Ravens and Patriots have been decided by six points or fewer. For coverage leading up to the AFC Championship Game, everyone can check back to the AFC East and AFC North blogs all week. And, James, it will be just a little colder in New England than Miami, so remember to pack a jacket.
December, 11, 2008
12/11/08
3:59
PM ET
Posted by ESPN.com's Tim Graham
Fan balloting for the Pro Bowl is over, and they don't think any New England Patriots or Buffalo Bills belong in the Pro Bowl.
Although the coaches and players still need to add their input before the rosters are announced Dec. 16, the popularity contest counts for one-third of the process and is fun to track.
Five AFC East representatives finished atop their positions, including three Miami Dolphins, two of them rookies: outside linebacker Joey Porter, tackle Jake Long and kicker Dan Carpenter.
The other two were New York Jets: quarterback Brett Favre and guard Alan Faneca.
Here are some highlights gleaned from the final voting:
Patriots receiver Randy Moss finished 18 votes behind Broncos wideout Brandon Marshall.
Titans rookie Chris Johnson made a late chare to overtake Ronnie Brown, who had led every previous week in voting.
Favre finished with the second-most votes in the NFL.
The Carpenter campaign was a success.
Jets kick returner Leon Washington nearly caught Darren Sproles, who had been way out in front.

Quarterback
1. Brett Favre, Jets (880,833)
Comment: Favre finished with the most votes of any AFC player and second to only Saints quarterback Drew Brees. Peyton Manning was second among AFC quarterbacks, nearly 300,000 votes behind Favre.
Running back
2. Ronnie Brown, Dolphins (481,293)
4. Thomas Jones, Jets (311,784)
5. Marshawn Lynch, Bills (245,694)
Comment: Titans rookie Chris Johnson came from behind to eclipse Brown by a healthy margin with 543,170 votes.
Fullback
3. Tony Richardson, Jets (159,459)
5. Heath Evans, Patriots (80,596)
Comment: LeRon McClain finishes on top with 192,854 votes.
Wide receiver
2. Randy Moss, Patriots (416,773)
Comment: Moss fans made a superb push, but their man came up an amazing 18 votes short of catching Broncos receiver Brandon Marshall.
Tight end
None.
Comment: No AFC East tight end broke the top five in any given week.
Center
3. Nick Mangold, Jets (207,609)
Comment: Mangold couldn't catch Kevin Mawae or Jeff Saturday.
Guard
1. Alan Faneca, Jets (343,531)
5. Logan Mankins (117,639)
Comment: Faneca had almost twice as many votes as second-place Eugene Amano.
Tackle
1. Jake Long, Dolphins (207,114)
2. D'Brickashaw Ferguson, Jets (200,304)
3. Matt Light, Patriots (160,819)
Comment: Long led from the start and pulled away.
Defensive end
None.
Comment: No AFC East representative ever cracked the top five.
Defensive tackle
3. Kris Jenkins, Jets (184,745)
5. Richard Seymour, Patriots (124,308)
Comment: Seymour makes his debut in the top five in the final week. Jenkins topped out at No. 2. Albert Haynesworth finished 61 votes shy of 400,000.

Outside linebacker
1. Joey Porter, Dolphins (328,619)
Comment: Porter finished ahead of second-place James Harrison by about 46,500 votes.
Inside linebacker
4. Tedy Bruschi, Patriots (90,063)
5. Jerod Mayo, Patriots (81,318)
Comment: Ray Lewis was untouchable with 315,738 votes.
Cornerback
None.
Comment: No AFC East corner appeared in the top five -- not even Darrelle Revis -- because it's a loaded position.
Strong safety
4. Yeremiah Bell, Dolphins (36,021)
5. Brandon Meriweather, Patriots (28,922)
Comment: Troy Polamalu's 393,211 votes were more than three times as many as second-place Bob Sanders.
Free safety
4. Kerry Rhodes, Jets (66,582)
Comment: Ed Reed won in another runaway election with 279,083 votes.
Kicker
1. Dan Carpenter, Dolphins (171,312)
Comment: Stuffing the ballot box worked for the undrafted rookie's supporters.
Punter
5. Brian Moorman, Bills (61,965)
Comment: Shane Lechler won with 108,116 votes.
Kick returner
2. Leon Washington, Jets (124,657) Washington pulled down roughly 13,000 more votes than Darren Sproles over the past week but still came up short by less than 4,000.
Special teamer
3. Patrick Cobbs, Dolphins (85,821)
4. Larry Izzo, Patriots (82,653)
Comment: Ravens specialist Brendon Ayanbadejo finished first with 160,423 votes.

AFC EAST SCOREBOARD
Friday, 8/22
Saturday, 8/23