January, 20, 2011
1/20/11
5:40
PM ET
If the Jets advance to the Super Bowl, would Rex Ryan be the best coach in the NFL?

FLORHAM PARK, N.J. --
Peyton Manning
in Lucas Oil Stadium,
Tom Brady
in Gillette Stadium and
Ben Roethlisberger
at Heinz Field.
[+] Enlarge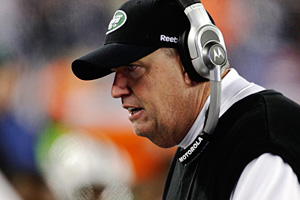 AP Photo/Stephan SavoiaIf Rex Ryan completes another improbable playoff run, is he the league's best coach?
That's the gauntlet
New York Jets
coach Rex Ryan must traverse.
And if he makes it through still alive and advances to the Super Bowl, then Bill Belichick, Lovie Smith, Todd Haley or anybody else who wins a 2010 Coach of the Year Award ought to ship it on over to One Jets Drive.
The sixth-seeded Jets can accomplish a rarity if they defeat the
Pittsburgh Steelers
on Sunday for the AFC Championship. Wild-card teams have reached the Super Bowl before, but only one team ever has knocked off the first, second and third seeds to do it.
The 2005 Pittsburgh Steelers were the first, but the quarterbacks they faced in those playoffs were
Carson Palmer
, Manning and
Jake Plummer
. Not exactly a Murderer's Row.
Manning, Brady and Roethlisberger have won six Super Bowls and played in eight. They have a combined 32-17 postseason record.
"That's a pretty strong task when you mention guys like that," said Tom Flores, who coached the first wild-card champions, the 1980
Oakland Raiders
, in Super Bowl history. "They've been there before. They've experienced being in big games before and winning big games before.
"You're going against the best. There's no unknowns there."
In addition to the superstar opposing quarterbacks, the Jets are venturing into some of the most difficult venues in any sport.
Flores got past an impressive group of quarterbacks for his first Super Bowl (he won another two years later as a division champ): Ken Stabler, MVP Brian Sipe and future Hall of Famer Dan Fouts.
But that lineup isn't as tough as what the Jets are facing. Flores sees Sunday's game being less intimidating than their showdown against the Patriots.
"Their biggest hurdle was in New England," Flores said. "That was almost impossible to beat them there."
Unfortunately for Ryan, awards like coach of the year are based on regular-season results.
He led the Jets to a 11-5 record, but they faded down the homestretch. Their lopsided 45-3 loss to the Patriots in Week 13 followed the next week by an ugly home loss to the
Miami Dolphins
erased any chance of Ryan winning honors.
But if Ryan can navigate this rugged playoff stretch and make it to the Super Bowl, then we'll know who really deserves to be considered the best.
"Well, I can say this: It's not easy," Ryan said. "I don't know who's next. [Terry] Bradshaw?
"Clearly, we have a ton of work to do to pull this off. But we think we're the men for the job, and we're going to find out Sunday."
December, 4, 2010
12/04/10
2:00
PM ET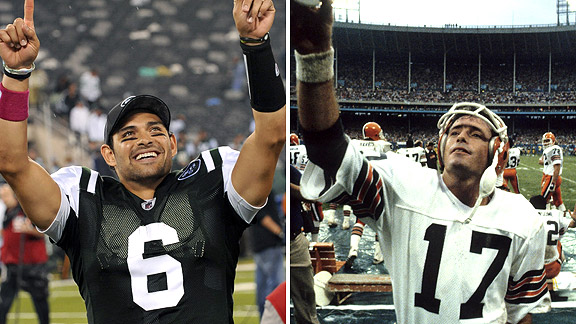 AP Photo/Getty ImagesMark Sanchez has shown the same uncanny ability to win games in the fourth quarter that Browns QB Brian Sipe had with the "Kardiac Kids" in 1980.
Dave Logan was hunkered down with some work notes two weeks ago, looked up at the television and traveled back 30 years.
The
Denver Broncos
' radio play-by-play man was preparing for their Monday night game against the
San Diego Chargers
in Week 11 and noticed old friend Gary Kubiak was about to score a big victory as head coach of the
Houston Texans
.
The Texans led the
New York Jets
by a point at the Meadowlands and had a first down at the two-minute warning because
Mark Sanchez
threw an interception. The Texans tacked on a field goal with 55 seconds left. That should've been that.
But then Logan watched Sanchez make "just a perfect throw" to
Braylon Edwards
down the right sideline for 42 yards. Logan remarked "There's just no way he's supposed to hit that route" based on the Texans' coverage. On the next play, Sanchez connected with
Santonio Holmes
in the left corner of the end zone to win.
"When they do stuff like that, it does remind me of a pretty good year," Logan said.
In 1980, Logan played wide receiver for a
Cleveland Browns
team known as the Kardiac Kids for their defibrillator finishes.
Win or lose, the Browns seemed to take it to the wire each week. Brian Sipe slung the ball around to five different targets who caught at least 50 passes. The Browns dropped their first two games, but won 11 of the remaining 14. Their three losses in that span were white knucklers that should've been victories.
The upstart Browns won the AFC Central after years of
Pittsburgh Steelers
dominance and back-to-back appearances by the Houston Oilers in the AFC Championship Game. The Browns lost in the divisional round of the playoffs that year, but that's not the part that Logan finds familiar when he considers the Jets.
The Jets have strung together an obnoxious number of stunning victories this year. They're riding a wave of confidence few teams get to experience.
"L-O-S-E is no longer in your vocabulary," said Sam Rutigliano, head coach of the 1980 Browns.
Invincibility becomes a weapon, and it might be necessary if the Jets are to stand up to the
New England Patriots
on Monday night in Gillette Stadium, where quarterback
Tom Brady
has won 25 straight games.
The Patriots have won with relative ease and seem to be in command of their opponents compared to the Jets' high-wire act of the past seven weeks.
[+] Enlarge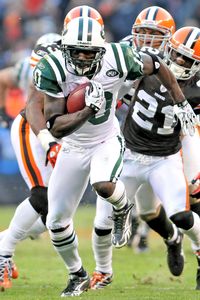 Jason Miller/US PresswireSantonio Holmes has come through several times in the clutch for the Jets this season.
The Jets routinely have trailed late or allowed a team to come back and tie the game.
Many look at what the Jets have done and call it blind luck. Regardless of how they're winning, however, the experience almost becomes a tangible, powerful asset.
"Now I know we have a chance no matter what," Sanchez said.
The Jets became the first team in NFL history to go into overtime on the road and win two weeks in a row. Tack on the miraculous Texans victory, and the Jets became the first team since the 2006
Tennessee Titans
to score their winning points inside the final 10 seconds of a game three straight times.
"When you win in that fashion you become really difficult to beat," Logan said. "Even if you get down in a game, you never feel like you're out. So you're still battling. You still have guys making plays.
"You get behind in a big game in the fourth quarter and you've never been there before, then maybe guys start to grip a little bit. But when you've had that kind of success like the Jets this year and we did in 1980, it's in the back of your minds that 'Listen, we've been here before. We know we're going to go down and score. How much time's left? Two minutes? OK. Where's the ball? Minus-30. OK, we got 70 yards in two minutes. No problem.' "
Logan called another one of the Jets' crazy victories. In Week 6, Sanchez threw a fourth-down desperation heave down the left sideline to Holmes. Broncos safety
Renaldo Hill
got his fingers accidentally tangled in Holmes' facemask near the goal line. Pass interference was called. One play later,
LaDainian Tomlinson
scored a touchdown. The Jets won by four points.
That was the start of the daredevil Jets dodging defeat.
"Don't think other teams around the league aren't aware of it, either," Logan said. "In tight games, late and the Jets have the ball with the chance to win, in the back of the other teams' minds, they're thinking 'Here it comes again.' "
Rutigliano was a Jets defensive assistant when Joe Namath was the quarterback. Rutigliano notices that Sanchez is developing the same ability Namath and Sipe (league MVP in 1980) had of turning teammates into believers.
"A quarterback is like a tea bag," Rutigliano said. "You don't know what you got until you put him in hot water.
"What's happening to Sanchez right now, the best quarterback coaches in the world can't teach him. He's learning it himself. Now he expects to win and is starting to empower people to play at a level they never thought they could play at."
Sanchez recently explained he'd never led a fourth-quarter comeback victory at any level until Denver. His teams at Mission Viejo High and USC were so dominant the opportunities were rare.
Now Sanchez has four fourth-quarter comebacks in his past six games.
"It's always been something that I've wanted," Sanchez said. "I know that that was kind of a knock coming out of college, that 'He's never had a come back in a game. They've been up. He hasn't played a lot of football.' To me, that was 'All right, give me a chance to come back. I'm going to win it, not making a miraculous play, but just making the plays we know how to make.' That's what we've done."
April, 10, 2010
4/10/10
1:33
PM ET
I have a few problems with the NFL's attempt to determine the
75 most valuable draft picks of all-time
.
The project was created to celebrate the 75th draft, which will begin April 22. Fans can vote through April 18.
On Thursday, the NFL provided a rundown of the
20 who've received the most votes so far
. The list indicated a popularity contest, not an actual consideration for draft value. One player among the list of 20,
New England Patriots
quarterback
Tom Brady
, was taken later than 82nd overall.
Not in the top 20? Pro Football Hall of Famers Deacon Jones, Roger Staubach, Ken Houston or Rayfield Wright, who were selected in the 14th, 10th, ninth and seventh rounds.
Also absent were former league MVPs Mark Moseley (14th round), Brian Sipe (13th round), Larry Brown (ninth round) and Terrell Davis (sixth round). Six-time Pro Bowler L.C. Greenwood (10th round), five-time Pro Bowler Tom Nalen (seventh round) and Bo Jackson (seventh round) weren't there either.
So I set out to post my own list on the blog.
I didn't get far.
Soon after I began sketching out my list, I noticed the ballot doesn't offer Wright as an option to begin with.
NFL.com set up the project by creating the pool
, 10 players from each team. Wright didn't make the cut. Another omission was Steve Largent, a fourth-round selection who retired as the all-time receptions leader.
The Houston Oilers drafted Largent. The Oilers/Tennessee Titans' list did, however, include Derrick Mason. And for those who might think Largent shouldn't qualify because he didn't play for the Oilers, know that kicker Gary Anderson is listed for the Buffalo Bills, tackle Leon Gray for the Miami Dolphins and punter Craig Hentrich for the New York Jets.
I gave up on the endeavor, but needed to expunge that draft-ranking jones from my system.
Thankfully,
I found an outlet at BuffaloBills.com
. It's running a satisfactory all-time draft poll that instructs visitors to "Select the 10 players you feel provided the team with the most value." So Anderson isn't an option.
Here's my Bills list:
1. Thurman Thomas, second round
2. Andre Reed, fourth round
3. Bruce Smith, first round
4. Jim Kelly, first round
5. O.J. Simpson, first round
6. George Saimes, sixth round (AFL)
7. Tom Sestak, 17th round (AFL)
8. Howard Ballard, 11th round
9. Darryl Talley, second round
10. Joe Ferguson, third round
Now I feel better.
The Bills' official list will be revealed April 22 at a season-ticket holder draft party.