AFC East:

Brian Westbrook
March, 10, 2011
3/10/11
3:23
PM ET
Football Outsiders have a warning for the
Miami Dolphins
: Don't draft
Mark Ingram
.
That's a contrarian viewpoint, to be sure. Everyone from Mel Kiper Jr. to my Aunt Kathy thinks the Dolphins will use their 15th pick on Ingram if the 2009 Heisman Trophy winner still is on the board.
[+] Enlarge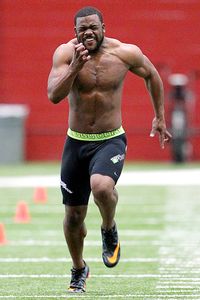 Marvin Gentry/US PresswireMark Ingram improved on his 40 time at Alabama's pro day, clocking in at 4.55 seconds.
But Football Outsiders managing editor Bill Barnwell asserts that
drafting Ingram would be a bad idea,

even though the Dolphins probably will need a running back and Ingram is considered the best in this year's draft class.
Barnwell compiled 40-yard dash times from the NFL scouting combine and plugged them into Football Outsiders' metric known as Speed Score. The formula takes a 40 time and puts it into context with the player's weight to determine a more usable figure.
The average Speed Score for a first-round running back is 112. Ingram's 4.62 time and 215-pound frame worked out to a 94.4 Speed Score, ranking 20th among the running backs at this year's combine. Ingram did run the 40-yard dash in about 4.55 seconds at his pro day this week.
Barnwell noted that some star running backs have posted numbers below 100, but they add versatility when it comes to receiving or blocking.
Brian Westbrook
scored a 91.7.
Ray Rice
registered a 99.7.
Since 1999 -- the earliest year of Football Outsiders data on Speed Scores -- no running back drafted in the first round had a lower Speed Score than the 96.9
Denver Broncos
running back
Knowshon Moreno
posted two years ago.
"While Moreno was seen as a supremely versatile back, Ingram is being lauded primarily for his abilities as a runner," Barnwell wrote. "In fact, the only two backs to emerge as viable pro starters since 1999 with a Speed Score below 95.0 are Westbrook and
Ahmad Bradshaw
. The odds are certainly against Ingram being the third."
Barnwell mentioned a few examples of how Speed Score has identified value.
William Green
scored a 98.7 before the
Cleveland Browns
drafted him 16th in 2002.
Trung Canidate
came in at 99.3 before the
St. Louis Rams
took him 31st in 2000. The jury's still out on
Buffalo Bills
running back
C.J. Spiller
, but he had a below average 107.5 score before getting drafted ninth.
Examples of good value from last year:
Green Bay Packers
sixth-round pick
James Starks
at 106.3 and undrafted
Tampa Bay Buccaneers
rookie
LeGarrette Blount
at 105.8.
June, 14, 2010
6/14/10
8:17
AM ET
NFL.com columnist Bucky Brooks recently
produced an interesting look
at tricenarian running backs who can contradict the dictum running backs of that age don't have anything left to give.
The piece featured a chart of all the 30-plus tailbacks, and five of the oldest seven play in the AFC East.
The NFL's three oldest backs --
Fred Taylor
,
Kevin Faulk
and
Sammy Morris
-- are
New England Patriots
.
Next is
Miami Dolphins
back
Ricky Williams
. Fifth is
Michael Bennett
of the
Oakland Raiders
, followed by former
New York Jets
workhorse
Thomas Jones
, now of the
Kansas City Chiefs
. Jones' roster replacement for the Jets,
LaDainian Tomlinson
, is seventh oldest.
Williams and Jones were the only two thirtysomethings to rush for 1,000 yards last year.
The
Buffalo Bills
' incumbent feature back,
Fred Jackson
, turned 29 in February.
Brooks compiled a list of five backs in their 30s who still could thrive this year.
Chester Taylor, Bears: "Given [offensive coordinator Mike] Martz's desire to involve his running backs in the passing game, Taylor, who has caught at least 40 passes in four of the last five seasons, will be a multidimensional threat."
Tomlinson, Jets: He "still has the vision, cutback ability and hands to be effective as a complementary back in New York."
Larry Johnson, Redskins: "Johnson's hard-charging running style is an ideal fit in the team's zone-based system, and the presence of Donovan McNabb will eliminate some of the eight-man fronts that defensive coordinators have used to clog up his running lanes in recent years."
Williams, Dolphins: "He has seemingly retained the power and burst that made him a dynamic runner between the tackles. ... With [Ronnie] Brown poised to return, Williams should continue to produce as a part-time playmaker."
Brian Westbrook, free agent: "Although he's contemplating retirement due to a series of concussions, Westbrook's skills as a runner and receiver would make him an intriguing third-down back in the right offense."
Not included on the NFL.com list were fullbacks. Had they been, the AFC East would have been even more prominent. Jets fullback
Tony Richardson
is the oldest running back of any type. He turned 38 in December.
February, 24, 2010
2/24/10
3:56
PM ET
ESPN's Adam Schefter advises
New York Jets
fans to be prepared for the possible release of running back
Thomas Jones
.
Even though Jones rushed for 1,402 yards and 14 touchdowns, he could join
LaDainian Tomlinson
and
Brian Westbrook
as unemployed thirtysomethings.
Jones is scheduled to receive a $3 million roster bonus on March 9, and the Jets might not want to pay that kind of money to a running back who will turn 32 in training camp.
October, 7, 2008
10/07/08
4:43
PM ET
Posted by ESPN.com's Tim Graham
Preseason rumors floated around that the Miami Dolphins were interested in unloading Ronnie Brown.
The injury-prone running back screwed up his thumb in an exhibition game, further delaying his return to total health. Questions lingered about his recovery from a season-ending right knee injury seven games into 2007, and now this.
An early Miami exit for Brown seemed plausible. Everyone is well aware of Bill Parcells' disdain for players who repeatedly get hurt.
Meanwhile, Ricky Williams was asserting himself and looking more like the former NFL rushing leader he was in 2002 and less like the head case that plagued so many front offices before. Williams projected as the feature back until Brown (if he stayed) could regain his stride. So many sports-medicine experts insist a player can't fully recover from ACL surgery for about 18 months.
With all that in mind, Brown never left and he is back. The Dolphins are thankful.
"Ronnie's getting more confident each week," Dolphins head coach Tony Sparano said after Sunday's 17-10 victory over the San Diego Chargers. "You're starting to see him run with power now, some confidence."
Brown ran 24 times for 125 yards and a touchdown against the Chargers. The week before he turned in an epic performance on the New England Patriots: 17 carries for 113 yards and four touchdowns and one passing touchdown.
His production coincides with Miami's unveiling of their Wildcat offense, in which he accepts a direct shotgun snap. But the Dolphins have called Wildcat plays only 17 times in their two victories over last year's AFC title game teams.
However, don't be fooled into thinking his stats are Wildcat-driven. Brown's recent play merely is a reminder of how great he is.
Many forget Brown was the NFL's leader in yards from scrimmage when he suffered his knee injury in Week 7. Take away that partial game and he has rushed for more than 100 yards in six of his past eight games.
By the Numbers: Runs for 1st Downs
Running Back
Runs for 1st Down
Ronnie Brown
59
Marion Barber
50
Edgerrin James
47
Clinton Portis
47
Joseph Addai
47
LaDainian Tomlinson
46
Adrian Peterson
46
Brandon Jacobs
41
Marshawn Lynch
40
Larry Johnson
39
Brian Westbrook
39
Note: These numbers are specific to weeks where Ronnie Brown was in action (Weeks 1-7 last season and all weeks thus far in 2008).
Scouting the past two seasons and removing the time Brown missed, ESPN researchers Jonathan Costa and Puneet Nanda compiled some staggering numbers.
The stats show that when Brown's healthy he's as productive as fantasy football superstars such as LaDainian Tomlinson, Brian Westbrook, Adrian Peterson, Marion Barber and Clinton Portis.
For those with a minimum 10 games, Brown leads all running backs in touchdowns per game at .91, a fraction ahead of Tomlinson. Brown is second to Westbrook in yards from scrimmage at 121.9 yards per game.
Brown ranks seventh with 80.7 rushing yards a game and third with 41.2 receiving yards per game. Westbrook and Peterson are the only others who rank among the top seven backs in both categories.
Brown also ranks seventh in yards per carry at 5.0 and third in yards per catch at 9.8.
Specific to the weeks Brown has played the past two seasons (Weeks 1 through 7 last year and Weeks 1 through 5 this year), Brown has the most rushing first downs of anybody -- by far. He has 59 first-down runs, nine more than Barber, known as the ultimate smashmouth back.
Over those same games, Brown is third behind Peterson and Barber with 25 runs of 10 yards or more.