September, 20, 2013
9/20/13
5:00
AM ET
Despite not playing each other in the regular season since 2009, the
New England Patriots
and
Tampa Bay Buccaneers
are very familiar foes. That's due in part to the relationship between head coaches Bill Belichick and Greg Schiano, who have grown close since Belichick's son Stephen, now a Patriots assistant coach, was at Rutgers, where Schiano previously served as the head coach.


Passing along some other connections between the two organizations, highlighted by former Patriots who are now members of the Bucs:
Players
Running back Jeff Demps.
It was just this past offseason that the Patriots traded Demps to Tampa Bay in a draft-day exchange that also sent
LeGarrette Blount
to New England. Demps is not currently on the Bucs' active roster, as they have an exemption for his spot that expires Monday as he continues his track endeavors.
Defensive end Trevor Scott.
A key reserve for the Patriots last season, Scott found work with Tampa Bay late in training camp and has stuck around. He has played 31 snaps in two games thus far, logging two tackles.
Center Ted Larsen.
A 2010 sixth-round pick of the Patriots, Larsen has settled in with the Bucs after being claimed by them in September 2010. He has played in 46 career games with 27 starts.
Coaches
Pass-rush specialist Bryan Cox.
The former Patriots linebacker has found a post-playing-career niche in coaching. He's currently in his second season working with the Bucs' front seven.
Defensive-line coach Randy Melvin.
Melvin was a member of the Patriots coaching staff in 2000-2001, serving as a defensive-line coach. He had two stints at Rutgers under Schiano and reunited with his former boss in Tampa Bay.
Offensive assistant Ben McDaniels.
The younger brother of Patriots offensive coordinator Josh McDaniels, Ben is in his first season with the Buccaneers and assisting on the offensive side of the ball. The elder McDaniels told reporters Tuesday that this is the first time the two have coached against each other in regular-season action.
August, 18, 2011
8/18/11
9:24
AM ET
By
ESPN.com staff
| ESPN.com
Buffalo Bills
The Bills are
negotiating a potential contract extension
for defensive lineman Kyle Williams, who had 5.5 sacks and 77 tackles last season.
Count special-teams coach Bruce DeHaven among those who expect
a major impact from the new rule
that requires kickoffs to be taken from the 35-yard line instead of the 30. "Everybody I hear is talking about how there's going to be more touchbacks because they're kicking from the 35. The thing I don't hear people talking about is how much further down the field the coverage team is going to be when you're trying to bring the ball out," DeHaven said.
Miami Dolphins
Reggie Bush is out to prove he can do something he has never really done before:
be a featured back in the NFL
.
The South Florida Sun-Sentinel's Dave Hyde takes a look at
the journey Bryan Cox took to get back to Miami
, this time as a pass-rushing coach.
New England Patriots
Could this be
Wes Welker's last season
in New England?
Even reigning MVPs get frustrated. At one point Wednesday, Tom Brady grew so disappointed with a red zone drill that
he punted the ball into the stands
.
New York Jets
Injury updates: Offensive lineman Robert Turner broke his right leg in the preseason game against the Texans and the injury will require surgery. Running back Joe McKnight got a concussion in the Texans game.
Bills first-round bust Aaron Maybin gets
a second chance
with the Jets.
Mark Sanchez doesn't need to worry about fighting Rex Ryan -- he needs to
fight inconsistency in his play
, writes the Star-Ledger's Steve Politi.
July, 20, 2011
7/20/11
9:37
AM ET
By
ESPN.com staff
| ESPN.com
Buffalo Bills
Buffalo Rumblings continues its countdown of the 10 Bills who will impact what happens in 2011. Coming in at
No. 7 is running back C.J. Spiller
. Brian Galliford: "Opposing defenses paid more attention to Spiller last season than any other Bill aside from Lee Evans. Speed alone makes Spiller a player that teams must account for on every snap, and his versatility makes that all the more difficult."
Miami Dolphins
Quarterback
Tyler Thigpen hasn't ruled
out a possible return to Miami.
Former Dolphins linebacker Bryan Cox is
ready to make an impact
as an assistant coach.
New England Patriots
ESPNBoston.com's Mike Reiss
caught up with safety Brandon Meriweather
on Tuesday at former teammate Ellis Hobbs' football camp.
After missing all of last season, Leigh Bodden is
anxious to start hitting
. "I'm ready for contact. No red jersey. I don't plan on wearing that when I get there," Bodden said last week when asked about the state of his shoulder. "I'm definitely ready. I've been working out. I feel great. I'm just ready to play."
New York Jets
If the Jets want to be active in free agency, they are going to have to
create some room
to get under the salary cap.
Cornerback Antonio Cromartie made it clear Tuesday that he
plans to test the free-agent waters
. "I'm not giving anybody a hometown discount," Cromartie said during an interview with Sirius XM Radio. "I'm definitely going to see what the organization says and also let them know I want to go out and test the market and see where my value is."
Bart Scott isn't a fan
of the reported elimination of two-a-day practices during training camp.
March, 31, 2011
3/31/11
1:53
PM ET
Miami Dolphins
head coach Tony Sparano felt it was important to add former NFL players to his coaching staff.
I posted a story Wednesday that
looked into the importance of assistants with playing experience
. To follow up, I wanted to share Sparano's thoughts on his three new position instructors: assistant wide receivers coach Ike Hilliard, tight ends coach Dan Campbell and pass-rush coach Bryan Cox.
[+] Enlarge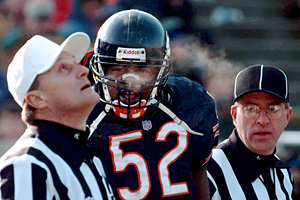 AP Photo/Beth A. KeiserBryan Cox played for the Dolphins, Jets, Bears, Saints and Patriots over a 12-year career.
Cox is the most familiar player to fans who follow the AFC East. He was a lightning-rod linebacker who played for the Dolphins,
New York Jets
and
New England Patriots
in a 12-year career. He recorded 51.5 sacks, 22 forced fumbles and a nice double-bird salute to
Buffalo Bills
fans.
Cox never played for Sparano, but former Dolphins vice president of football operations Bill Parcells -- the man who hired Sparano -- coached Cox for two seasons with the Jets. Cox's entire coaching career has been working as Eric Mangini's defensive line assistant for the Jets and
Cleveland Browns
.
"Since I came into the league with Bill Parcells, Bryan is a guy I've always talked to Bill about in different ways," Sparano said at the NFL owners meeting in New Orleans last week. "Bryan's a unique guy. His passion for the game is tremendous, and that's something that really intrigues me. Putting him in the role I have him in now gives me great luxury."
Former Dolphins defensive coordinator Paul Pasqualoni often would pull pass-rushers out of defensive drills to work with them individually. But current coordinator Mike Nolan doesn't like to leave the group much for one-on-one work -- although outside linebacker
Cameron Wake
didn't appear to suffer from a lack of instruction last season.
Cox "gives me the ability to split the pass-rushers up and get them away from the inside drills and exclusively work on pass-rush with a guy that's going to be able to help them," Sparano said.
Sparano was a
Dallas Cowboys
tight ends coach when Campbell was there. Sparano promoted him from intern to tight ends coach, replacing George DeLeone.
Sparano said Campbell, a 10-year veteran with three clubs, is "a guy I think an awful lot of" and called him "one of the toughest players I ever coached" and "fundamentally really good."
Hilliard was a receivers coach for the UFL's Florida Tuskers the past two seasons. He played a dozen NFL seasons for the
New York Giants
and
Tampa Bay Buccaneers
. He caught 546 passes and scored 35 touchdowns. He'll help first-time NFL position coach Steve Bush.
"Ike Hilliard comes highly recommended to me from a lot of people that I respect in this business, guys that he played for," Sparano said. "Steve Bush is very good from a mental standpoint, scheme, how he attacks people. But Ike Hilliard would be a guy from a fundamental standpoint that would help those guys, particularly with the man-to-man stuff and how he played the position.
"It's unique to have a guy that has played the inside position as well as Ike has played it in our league, to be able to bring some of those details to the table for a guy like [Davone] Bess or [Brian] Hartline or even
Marlon Moore
. These guys can learn a lot from him."
March, 30, 2011
3/30/11
10:39
AM ET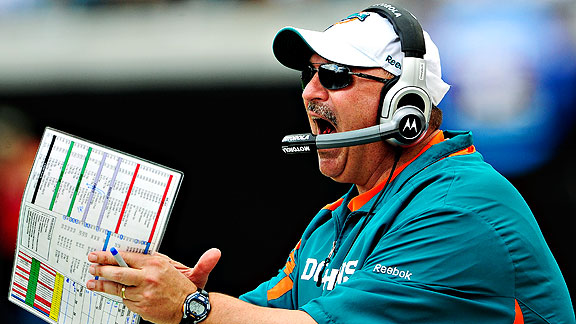 Sam Greenwood/Getty ImagesDolphins coach Tony Sparano felt it was necessary to add former players to his coaching staff.
Miami Dolphins
receiver
Brandon Marshall
scoffed in September that broadcast analyst Sterling Sharpe had no right to judge him.
Marshall claimed Sharpe didn't do enough on the field
to earn the privilege.
Imagine, then, how much disdain Marshall would harbor for criticism from those who didn't play in the NFL at all.
When you consider Marshall's logic and the sort of position coaches he has worked with, you get a sense of how unstable a situation can be.
As a rookie, he learned from former Pro Bowl receiver Steve Watson. But since 2007, Marshall's coaches have been Jeremy Bates, Jedd Fish and Adam Gase with Denver and Karl Dorrell last year with Miami. None of them played in the NFL. Neither Fisch nor Gase played in college.
Probably not the kinds of guys you'd expect to make a connection.
Dolphins head coach Tony Sparano rearranged his coaching staff after last season. He moved Dorrell into the quarterbacks vacancy and promoted Steve Bush from a quality-control role -- usually considered entry-level -- to receivers coach. Bush hasn't been an NFL position coach before. In 2008, the Dolphins hired the one-time Syracuse assistant away from West Genesee High in upstate New York.
Some help was in order, and not just for Bush.
Sparano made it a point to add former players to his coaching staff because he identified a deficiency. He needed more voices to reach his players.
Although the Dolphins parted ways with running backs coach James Saxon, they hired Ike Hilliard to assist Bush and Bryan Cox to coach pass rushing and promoted Dan Campbell from intern to tight ends coach.
"I feel good about the way we were able to put the staff together with the infusion of ex-players onto the staff," Sparano said last week at the NFL owners meeting in New Orleans.
"A little bit of that flavor and that knowledge on your coaching staff helps a lot. Sometimes, as coaches, we can get tunnel vision and forget about what the players' needs are. When you get an ex-player on your staff -- somebody that's really not far removed -- it helps you a lot."
A breakdown of AFC East coaching staffs shows there are multiple philosophies on former NFL players as assistants.
The Dolphins went into last season with two position coaches who played in the NFL: assistant head coach and secondary assistant Todd Bowles and Saxon. They now have four assistants with a combined 557 games.
Buffalo Bills
head coach Chan Gailey has one former NFL player on his staff, but none coaching a position. Former defensive back Adrian White, a veteran of seven seasons, handles quality control.
New England Patriots
defensive line coach Pepper Johnson is the lone member of Bill Belichick's crew to have experienced NFL action. Johnson played linebacker for four teams over 13 years.
Then there's Rex Ryan's staff, populated by six former NFL players with 62 seasons and 829 games. Matt Cavanaugh coaches quarterbacks, Anthony Lynn running backs, Henry Ellard receivers, Mike Devlin tight ends, Mark Carrier defensive line and Dennis Thurman defensive backs.
I reached out to three former coaches who played in the NFL -- Tom Flores, Herm Edwards and Ted Cottrell -- to get their opinions on the significance of having on-field experience on staff.
"It's always been a thing with the players," said Cottrell, an
Atlanta Falcons
linebacker and successful defensive coordinator for the Bills, Jets,
Minnesota Vikings
and
San Diego Chargers
, "where they think in the backs of their minds, 'Well, you haven't played this game. You don't know what we're going through. You haven't done this, Coach.' But if you have some playing experience on your staff, it helps offset that."
As valuable as those players-turned-coaches are, they're difficult to find. The best players don't necessarily make the best coaches because what came to them naturally can't always be conveyed through instruction.
[+] Enlarge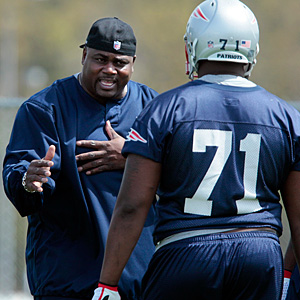 AP Photo/Elise AmendolaPatriots defensive line coach Pepper Johnson is the only member of Bill Belichick's staff with NFL playing experience.
Flores found a way to make it work. He and Mike Ditka are the only two in NFL history to win a Super Bowl ring as a player, assistant coach and head coach. Flores played quarterback for the Bills,
Oakland Raiders
and
Kansas City Chiefs
before guiding the Raiders to pair of Super Bowl titles.
"Some of the young kids coming out have no idea," Flores said. "They think they invented the game. Sometimes you have to bring them back to reality.
"But you also don't want somebody who keeps saying, 'Well, when I played ... When I played ... When I played ...' The player thinks, 'I don't give a damn when
you
played.
We're
playing now.'"
The transition from player to coach is difficult. Many players focus so much on their specific jobs when they're active that they don't become students of the overall game or learn how their roles fit into the overall puzzle. Others find it difficult to stop acting like a player when their careers are over.
Still, the ex-player element can be crucial in various instances.
"Sometimes you need a bridge with a former player," said Edwards, who played cornerback for the
Philadelphia Eagles
and was head coach for the Jets and Chiefs. "His voice is going to speak volumes, especially during the rough times because he's done it; he's been through it. He can give them, 'OK, this is what we gotta do' speech.
"He's going to respect because he played, but can he teach? That's the whole key. Players will figure that out."
Not all coaches are comfortable hiring former players, particularly those fresh off the field. Cottrell claimed there's a fear of subversion, that the former player will relate better to the locker room than the man in charge.
"Who do you think the players on the roster will gravitate towards more?" Cottrell asked. "The guy who played in the NFL and is young, or the older guy who didn't play?"
The former player, I responded.
"Damn right they would," Cottrell said. "That's why some coaches are intimidated to hire them. That's the truth. They don't want that guy around."
Added Edwards: "I've seen that happen. There's no doubt about that. That's when you're paranoid, but there are coaches like that."
Even so, Edwards conceded insurrections aren't an unfounded conspiracy theory.
"If you've got a former player in his positional meeting room, saying, 'Man, the coach doesn't know what he's talking about,' then you've got no shot as a head coach," Edwards said. "That's why you've got to be particular on who you hire."
The Patriots have a more institutional coaching staff. Their message is easy to deliver when players consider Belichick has won three Super Bowls and four conference championships in the past decade.
Rather than rely on former players, Belichick has core assistants such as offensive line coach Dante Scarnecchia (28th season with New England) and running backs coach Ivan Fears (15th season).
Belichick grooms assistants from gophers into coordinators and even head coaches. A steady stream of his acolytes -- Eric Mangini, Josh McDaniels, Brian Daboll, Bill O'Brien, Matt Patricia -- got their NFL starts under Belichick with no pro playing experience.
New England's cyclical process protects organizational doctrine from outside influences. Johnson, the lone ex-player on the staff, played 10 of his 13 seasons under Belichick.
"Belichick has a certain philosophy, and you want everybody to be on the same page," Flores said. "Sometimes, when you bring in guys that have been too many other places, they're not going to be on your page because they've been trained someplace else.
"If you bring up assistants through the ranks, then they'll be trained the way you want them to be. Everybody has to buy into the same program."
At the other end of the spectrum are the Jets.
Ryan obviously values former players. Their presence on the staff contributes to the Jets being an attractive destination for free agents, and Cottrell surmises the Dolphins have noticed.
"From a coaching standpoint, he looks at the Jets and wants to catch them in the division," Cottrell said. "He thinks, 'Rex has six guys that have played the game who are coaching. Uh oh. Rex has got an advantage on me.'
"That's got to be in the back of his mind. You've got to win your division to get into the playoffs, and when you look at your coaching staff, you see you don't matchup in that area."
Or, in the case of adding Hilliard at least, maybe it was as simple as noticing the Dolphins didn't match up with Marshall.
February, 21, 2011
2/21/11
4:54
PM ET
After two years in exile, Bryan Cox is back where he belongs: the AFC East.
The
Miami Dolphins
on Monday announced they've hired the outspoken former linebacker to be their pass-rush coach.
Cox spent nine of his 12 NFL seasons in the AFC East. The Dolphins drafted him in the fifth round in 1991. He went to three Pro Bowls in his five years with them. He played two seasons for the
Chicago Bears
, three for the
New York Jets
and one with the
New England Patriots
, helping them win their first Super Bowl.
Cox infamously delivered the double-bird salute to fans of the only AFC East team he didn't play for, gesturing to
Buffalo Bills
faithful before a 1993 game in Orchard Park. The act was shown live on national television. The NFL fined him $10,000.
He finished his playing career with the
New Orleans Saints
in 2002 and broke into coaching in 2006 as a Jets defensive line assistant under Eric Mangini. Cox handled the same position for Mangini with the
Cleveland Browns
the past two seasons.
February, 17, 2011
2/17/11
9:10
AM ET
By
ESPN.com staff
| ESPN.com
Buffalo Bills
Defensive end
Marcus Stroud wasn't surprised
when he learned he was released by the team on Wednesday.
Replenishing the defensive line
remains a priority for the Bills heading into the offseason.
Miami Dolphins
Former Dolphins linebacker Bryan Cox
interviewed with the team
this week for a position on coach Tony Sparano's staff.
Armando Salguero offers an update on the
Paul Soliai contract situation
.
New England Patriots
Shalise Manza Young is of the mindset that the Patriots
need to get younger on offense
, especially along the offensive line.
Mel Kiper's
latest mock draft

has the Patriots selecting California defensive end Cameron Jordan at No. 17 and Maryland wide receiver Torrey Smith at No. 28.
New York Jets
Are the Jets willing to let
cornerback Antonio Cromartie walk away
via free agency?
The Jets' official site looks back on the team's
success running the ball
in 2010.
February, 9, 2009
2/09/09
8:11
PM ET
Posted by ESPN.com's Tim Graham
New York Jets rookie head coach Rex Ryan is placing the final touches on his staff.
The club on Monday announced the expected hire of quarterbacks coach Matt Cavanaugh and assistant quarterbacks coach John DeFilippo.
The Jets also promoted Ben Kotwica from defensive quality control coach to assistant special teams coach and switched Brian Smith from offensive quality control to defensive.
There aren't any major openings left to fill. Ryan retained offensive coordinator Brian Schottenheimer and previously hired Baltimore Ravens linebackers coach Mike Pettine as defensive coordinator. Ryan brought Mike Westhoff back to run special teams.
Cavanaugh spent the past four seasons as offensive coordinator for the University of Pittsburgh. He has been offensive coordinator for the Ravens (1999-2004) and Chicago Bears (1997-98). He played 14 seasons as a quarterback for the New England Patriots, San Francisco 49ers, Philadelphia Eagles and New York Giants.

DeFilippo spent the past two seasons as quarterbacks coach of the Oakland Raiders. He was offensive quality control assistant for the Giants two years before that.
Jets Staff: Who's In, Who's Out?
Position
Who's in?
Where from?
Who's out?
Where to?
Quarterbacks
Matt Cavanaugh
Pitt

Brian Daboll
Browns
Asst. quarterbacks

John DeFilippo
Raiders
--
--
Special teams

Ben Kotwica

Jets

Kevin O'Dea

Unattached

Running backs
Anthony Lynn
Browns
Jimmy Raye
49ers

Receivers
Henry Ellard
Rams
Noel Mazzone
Unattached
Defensive coordinator
Mike Pettine
Ravens
Bob Sutton
Jets
Defensive line
Kerry Locklin

Fresno State

Dan Quinn
Seahawks
Asst. D-line
--

--
Bryan Cox
Browns
Linebackers
Bob Sutton
Jets
Jim Hermann
Giants
Secondary
Dennis Thurman
Ravens
Jerome Henderson
Browns
Asst. secondary
Doug Plank
Falcons
--
--
Defensive quality
Jim O'Neil
E. Michigan
Andy Dickerson
Browns
Defensive asst.
Jeff Weeks
Raiders
--
--
January, 28, 2009
1/28/09
8:16
PM ET
Posted by ESPN.com's Tim Graham
New York Jets head coach Rex Ryan's maiden staff continued to take shape Wednesday. As expected, four assistants were officially announced and last season's defensive coordinator, Bob Sutton, was retained, but demoted to linebackers coach.
The new confirmed staffers were receivers coach Henry Ellard, running backs coach Anthony Lynn, secondary coach Dennis Thurman and assistant secondary coach Doug Plank.
Quarterbacks and defensive line are Ryan's most significant vacancies. He retained offensive coordinator Brian Schottenheimer, offensive line coach Bill Callahan and special teams coach Mike Westhoff.
Jets Staff: Who's In, Who's Out?
Position
Who's in?
Where from?
Who's out?
Where to?
Quarterbacks
Open
--

Brian Daboll
Browns
Running backs
Anthony Lynn
Browns
Jimmy Raye
49ers

Receivers
Henry Ellard
Rams
Noel Mazzone
Unattached
Defensive coordinator
Mike Pettine
Ravens
Bob Sutton
Jets
Defensive line
Open
--
Dan Quinn
Seahawks
Assistant D-line
Open
--
Bryan Cox
Browns
Linebackers
Bob Sutton
Jets
Jim Hermann
Giants
Secondary
Dennis Thurman
Ravens
Jerome Henderson
Browns
Assistant secondary
Doug Plank
Falcons
--
--
Defensive quality
Jim O'Neil
E. Michigan
Andy Dickerson
Browns
Defensive assistant
Jeff Weeks
Raiders
--
--
January, 21, 2009
1/21/09
8:15
AM ET
Posted by ESPN.com's Tim Graham
Here's one colossal reason why I'm a fan of the New York Jets' decision to hire Baltimore Ravens defensive coordinator Rex Ryan:
The Jets' long-running rivalry with the New England Patriots might actually be about football from here on out.
Now that Eric Mangini has been dislodged and with many of his Jets assistants cast adrift, much of the catty Jets-Patriots story lines also should fade away.
Spygate, finger-pointing, tampering, whining ...
I'll admit, some of those plots were interesting for a while. When you have two high-profile coaches who despise each other as much as Mangini and Bill Belichick, feuds can produce fascinating material.
But the pettiness grew tiresome. Staring at the field after the final gun to see how long Belichick would shake Mangini's hand was never my idea of captivating football talk.
Also out of New York is quarterbacks coach Brian Daboll, a supporting character in the soap opera. Mangini plucked Daboll off Belichick's staff, much to New England's displeasure, forcing them to change their offensive terminology.
Mangini named Daboll the Cleveland Browns' offensive coordinator. Jets linebackers coach Bryan Cox, who played for Belichick with the Patriots and Jets and spent almost as many years in the AFC East as the Indianapolis Colts did, might head to the Browns, too.
Ryan, however, is not from the Bill Parcells coaching orchard or the Belichick tree. Ryan enters the division his own man, not beholden to any patriarch-turned-peer and not carrying a grudge.
Here's to the bad blood from the Jets-Patriots rivalry flowing from hardcore football, not soap operas, anymore.
That's why I'm excited about Ryan and his defensive approach being a part of the AFC East. Rest assured, Ryan wants to inject that wicked Ravens personality into the Jets' defense.
Stop and think how beautifully brutal that Ravens-Steelers series has become.
Let's hope the Jets and Patriots can move towards that and away from high theater.
November, 4, 2008
11/04/08
5:00
PM ET
Posted by ESPN.com's Tim Graham
I think it's safe to say AFC East quarterbacks want Brandon Marshall to shut up.
Most Sacks By a Dolphin Through
First 8 Games (Since 1982)
Through the first eight games of the 2008 season, Joey Porter has the most sacks by a Dolphins player. Here's how he ranks in team history:
Player
Year
No.
Total
1. Joey Porter
2008
11.5
?
2. Trace Armstrong
2000
11.0
16.5
3. Bryan Cox
1992
10.0
14.0
4. Jeff Cross
1990
9.0
11.5
Adewale Ogunleye
2003
9.0
15.0
Most Sacks In the NFL Through
First 8 Games (Since 1982)
Player, Team
Year
No.
Total
1. Michael Strahan, NYG
2001
14.0
22.5
2. La'Roi Glover, N.O.
2000
12.0
17.0
Kevin Greene, Carolina
1998
12.0
15.0
4. Joey Porter, Miami
2008
11.5
?
Now.
The Denver Broncos receiver was a verbal target for Miami Dolphins outside linebacker Joey Porter on Sunday. The Dolphins won 26-17, holding Marshall without a catch in the first half and to just two for the game.
Marshall publicly responded to Porter on Tuesday. The Broncos and Dolphins won't play each other again (unless they both make the playoffs), but given the fact Porter converts trash talk to into fuel, upcoming opponents can't be too thrilled.
Porter is having an epic campaign and, with a strong homestretch, could wrangle defensive player of the year honors.
Porter leads the NFL with 11.5 sacks,
already a career-high for the three-time Pro Bowler. He is on pace to break Michael Strahan's NFL season sacks record of 22.5.
Since sacks became an official NFL stat, Porter is off to the best start among any Dolphins player through eight games. That's saying something for a franchise that's featured such defensive stars as Jason Taylor, Trace Armstrong, Bryan Cox, Doug Betters and Bill Stanfill.
Even when including Miami's unofficial sack leaders before 1982, Porter is on pace to obliterate the franchise record. Stanfill and Taylor share it with 18.5 sacks.
Porter has at least a half-sack in each of his past six games and a full sack in four straight games.