November, 5, 2012
11/05/12
10:00
AM ET
With two teams on the bye, the AFC East is shorting its progression.
Here are five notes and observations on Week 9 in the division:
[+] Enlarge

Darron Cummings/AP PhotoDolphins tackle Jake Long runs the ball after catching a forced fumble against the Colts on Sunday.

The Miami Dolphins (4-4) have a tough decision to make with left tackle Jake Long. It is clear the pending free agent and former No. 1 overall pick is not the player he used to be. Long has battled injuries and played below his usual level for a couple of seasons. He struggled again against defensive end Dwight Freeney in a 23-20 loss to the Indianapolis Colts (5-3). Long spent a lot of time on the ground, getting penalized and trying to stay in front of Freeney. Coming off his rookie contract, Long may aim to be the highest-paid lineman in the NFL. But it's been more than a year since he's consistently played at an elite level. Miami must decide whether to pay Long for what he's done in the past or what he will be the next few years. Miami doesn't have a viable replacement unless rookie Jonathan Martin can eventually switch to the left side.

Miami's loss puts the team in a tough spot. They have two games in a five-day stretch against the Tennessee Titans (3-6) and Buffalo Bills (3-5). On paper, both opponents are struggling. But the Dolphins could quickly go from 4-4 to 4-6 if they're not focused. Miami also has the potential to be 6-4. I asked Miami coach Joe Philbin about this quick turnaround in Indianapolis. "We have to be smart," Philbin said. "We're going to have to take a look at the injury situation and get through this thing and look at our practice time, how much time we can spend on the field, those types of things. We've given it some thought already. ... But it's a challenge for anybody."

I don't get what the Bills are doing with tailback C.J. Spiller. He is clearly Buffalo's best playmaker and doesn't get nearly enough touches. Six carries? The Bills lost to the Texans, 21-9, and it was a close game until the fourth quarter. I don't understand why the Bills would have a pass-to-run ratio of 38-16, more than 2-to-1, with Spiller touching the ball sparingly. The Bills had two weeks to figure out what works offensively. Maybe they will never figure out.

Buffalo's season is over if it can't win next Sunday in Gillette Stadium. The Bills (3-5) will travel to face the New England Patriots (5-3) with their season on the line. The Bills will be huge underdogs in this game but are desperate and need to pull out all the stops.

The Patriots (5-3) and New York Jets (3-5) are both coming off their bye weeks. That means each team has two weeks to rest and get healthy. For the Jets, I want to see if they have figured out their identity on offense. Is this a ground-and-pound team, or will they let quarterback Mark Sanchez fling the ball. It's been a different formula each week. For the Patriots, the pass defense is key. They acquired cornerback Aqib Talib in a trade but can't get him on the field for another week due to a suspension.
November, 5, 2012
11/05/12
7:00
AM ET
Here are the most interesting stories Monday in the AFC East: Morning take: Colts quarterback Andrew Luck (433 yards) is very good, but the Dolphins' secondary didn't offer much resistance. Teams are figuring out that it's much better to throw against Miami than to run it against a tough front seven.
Morning take: Johnson returned to the game but played on it hurt. His status could be in question this week in a big game against the New England Patriots.
Morning take: It was a quality bye week for New England. The Patriots didn't have to play and widened their lead in the division.
Morning take: Whoa! Whoa! Not with Mark Sanchez just starting a big extension and a big Tim Tebow acquisition. The Jets are stuck with who they have. Sanchez or Tebow probably have to play next year.
November, 1, 2012
11/01/12
2:00
PM ET

The
New England Patriots
are 5-3 at the midpoint of the season. They now have two weeks to correct their mistakes.
Here are three things the Patriots should accomplish during the bye:
1. Fix the pass defense
This has been an issue for years in New England. The Patriots are 28th in pass defense, and that number was improved after a 45-7 thrashing of the
St. Louis Rams
. New England is allowing too many big plays in the passing game. Two weeks ago,
New York Jets
quarterback
Mark Sanchez
lit up New England for a career-high nine passing plays of 15 yards or more. The Patriots' defense is doing well stopping the run, but opponents won't have to worry if they can just throw it over the top. The secondary must be more consistent in the second half of the season.
2. Get Aaron Hernandez healthy, productive
It's hard to find fault in New England's top-rated offense. But Hernandez has not been very involved. He only has 17 receptions for 143 yards this season. The bye week is the perfect time to get Hernandez's bad ankle healthy again so he can be a dangerous part of the offense. Perhaps Hernandez came back too soon in Week 7 against the Jets. He had to sit the following week against the Rams. With two weeks off, Hernandez should be healthier. The Patriots need him the rest of the way.
3. Nurse other injuries
The Patriots left London with several injuries. Pro Bowl receiver
Wes Welker
hurt his ankle and didn't return. Starting cornerback
Kyle Arrington
suffered a head injury against the Rams. Pro Bowl guard
Logan Mankins
(calf) also didn't play. The Patriots are proving they have enough depth to withstand injuries, but they need some of these players back for their Week 10 matchup against the
Buffalo Bills
.
November, 1, 2012
11/01/12
12:00
PM ET
The struggling
New York Jets
are 3-5 entering their bye week and have lost four of their past five games.
Here are three things the Jets should aim to accomplish during their time off:

1. Improve the offense
If the Jets are truly a "ground-and-pound" offense, why is quarterback
Mark Sanchez
throwing the football 54 times against Miami? New York lacks an identity and direction at the midpoint of the season. Some weeks, the Jets focus on the running game. Other weeks, they try to outscore their opponents through the air. Neither option has been consistent. New York is 25th in the NFL in passing and 16th in rushing. Jets head coach Rex Ryan and offensive coordinator Tony Sparano have a lot of work ahead these next two weeks to figure out what they do best.
2. Figure out Tim Tebow dilemma
Ryan said he's standing behind Sanchez. But the Jets still have not figured out what to do with popular backup quarterback Tim Tebow. The much-hyped acquisition has been mostly a bust in the first half of the season. Outside of a few successful trick plays on special teams, Tebow has been a non-factor. I like the idea of using Tebow as a pure running back. Tebow has natural running ability and strength that could boost New York's running game. But the Wildcat is more of a distraction than an asset so far.
3. Get healthy
The Jets entered the Dolphins game banged up. Ironman linebacker
Bart Scott
(toe) didn't play. Players like center
Nick Mangold
(ankle) and tailback
Joe McKnight
(ankle) are also ailing. The Jets need these two weeks to get better and return closer to full strength. New York will need it when it travels to play the
Seattle Seahawks
.
October, 26, 2012
10/26/12
8:00
AM ET
Here are the most interesting stories Friday in the AFC East: Morning take: Keller did not play in the first meeting and the Jets still won. Expect Jets quarterback Mark Sanchez to look to Keller a lot in this game, especially without much depth at receiver.
Morning take: There seems to be growing opinion that the Jets should do it. But Jets owner Woody Johnson says Tebow will be on the team for the duration of his contract. That's enough confirmation that it won't happen.
Morning take: Ninkovich has a high motor and seems to have a knack for making big plays. His versatility also is valuable for New England.
Morning take: This is a chance for the Bills to reflect on what happened in the first half of the season. I think Buffalo's next two games -- visits to Houston and New England -- will define its season.
October, 19, 2012
10/19/12
1:30
PM ET
»
NFC Final Word
:
East
|
West
|
North
|
South
»
AFC
:
East
|
West
|
North
|
South
Here are five nuggets of knowledge about Week 7:
Rivalry renewed:
First place in the AFC East is on the line when the
New England Patriots
(3-3) face the rival
New York Jets
(3-3). The Patriots swept the Jets last year and will try to go for three straight wins against New York. The Jets have had a lot of success against the AFC East. They already own wins this season over the
Miami Dolphins
and
Buffalo Bills
. But beating New England at home is the toughest test to date for New York.
[+] Enlarge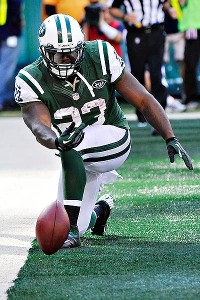 AP Photo/Bill KostrounShonn Greene, coming off a big game against the Colts, will be called upon to get yards against the Patriots this week.
Gang Greene:
The Patriots will face a hot Jets running back in
Shonn Greene
. He is coming off a season-high 161 rushing yards and three touchdowns in New York's Week 6 win over the
Indianapolis Colts
. The Jets will try to impose their will and "ground and pound" the Patriots. But New England has an improved front seven and is sixth against the rush, allowing 82.7 yards per game. Expect a very physical battle at the line of scrimmage.
Should Jets back off Brady?
The Jets are known to have an aggressive, blitzing defense under head coach Rex Ryan. But New York statistically is better this year when not bringing pressure. According to ESPN Stats & Information, the Jets are second in the NFL in opponent passing percentage (54.1) when bringing four or fewer rushers. New York's base defense also has created six interceptions. The Jets have blitzed Patriots quarterback
Tom Brady
in the past. But New York has done so well bringing three and four rushers this season that the team might want to consider mixing it up more.
Spilling over:
If there were not enough reasons already to get Buffalo Bills tailback
C.J. Spiller
the football more, here's another one: Spiller leads the NFL with 3.9 yards per carry after contact. Spiller has rushed for 226 yards this season after the initial hit, according to ESPN Stats & Info. Spiller is the most dynamic offensive talent the Bills have. Yet he continues to share a lot of carries (too many?) with teammate
Fred Jackson
. We will continue to monitor how many carries Spiller gets Sunday against the
Tennessee Titans
.
Getting healthy:
The Dolphins are on a bye week. This is a great time for the team to get healthy. Miami doesn't have many big injuries, but a few players are banged up. Starting cornerback
Richard Marshall
plans to return in two weeks from a back injury. Running backs
Reggie Bush
(knee) and
Daniel Thomas
(concussion) are also getting healthier. The Dolphins should be close to full strength when they face the Jets on Oct. 28.
October, 31, 2011
10/31/11
4:30
PM ET
It was not a great weekend for the AFC East. The division lost two of its three games in Week 8.
Here is how those results could impact this week's NFL Power Rankings:

New England Patriots (5-2)
Last week:
No. 2
Results:
L, 25-17 against Pittsburgh
Analysis:
The Patriots were outplayed
by another AFC contender in the
Pittsburgh Steelers
. New England won't drop far. There is no shame in losing to Pittsburgh on the road. But the game continues to confirm New England's biggest flaw. If quarterback
Tom Brady
is slowed or kept off the field, the defense isn't good enough to carry the Patriots. Brady will have great games more often than not. But counting on him every week to be superb is a big burden, especially come playoff time.
Projected ranking:
No. 3-5

Buffalo Bills (5-2)
Last week:
No. 7
Results:
W, 23-0 against Washington
Analysis:
The Bills are in first place near the midpoint of the season and control their own destiny. They played one of
their most complete games
in Week 8 with a 23-0 shutout of the
Washington Redskins
. Yes, Washington was banged-up, but it is hard to keep any team from scoring in the NFL. Buffalo also registered nine sacks. The Bills will be hard to beat when the defense plays like this. But here is the million-dollar question: Should the Bills be ranked higher than the Patriots? Buffalo has the same record and won the head-to-head battle in Week 3. I have an idea of what I'm going to do. But I'm interested to see how the overall voting turns out Tuesday.
Projected ranking:
No. 4-6

New York Jets (4-3)
Last week:
No. 13
Results:
Bye
Analysis:
The Jets were inactive in Week 8 but come off the bye on a two-game winning streak.
New York has a huge game
Sunday against the rival Bills which could be elimination games for one of these teams. I don't expect much movement for the Jets this week. Maybe the Jets will move up a spot or so, because teams tend to climb a little during the bye.
Projected ranking:
No. 11-13

Miami Dolphins (0-7)
Last week:
No. 31
Results:
L, 20-17 against Giants
Analysis:
You kind of feel sorry for Miami now that the team is putting forth maximum effort. The Dolphins
blew a fourth-quarter lead
for the second week in a row to lose to the Giants. A strong case can be made that Miami played well enough to win its last two games against the Giants and
Denver Broncos
. But this team simply isn't good enough to finish games, and it deserves its power ranking near the bottom of the league. The Dolphins have now lost 10 in a row dating to last season.
Projected ranking:
No. 30-32
October, 31, 2011
10/31/11
12:15
PM ET
Here are several notes and observations from Week 8 in the AFC East:
[+] Enlarge

Tom Szczerbowski/Getty ImagesRunning back Fred Jackson has become a favorite of Buffalo Bills fans.

Now that the Buffalo Bills gave quarterback Ryan Fitzpatrick $59 million, it's time to pay tailback Fred Jackson. He's done everything right in Buffalo and is popular with the fans. Yet, Jackson has never been treated very well by the Bills' organization. There's always a player put in front of Jackson (Marshawn Lynch) in Buffalo or nipping at his heels (C.J. Spiller). Still, Jackson continues to produce and is on pace for more than 1,600 yards rushing this season. He is my pick for Buffalo's Most Valuable Player thus far. Buffalo has Jackson under contract through next season at a bargain rate. Jackson's age (30) probably is the biggest deterrent.

Bills first-round pick Marcell Dareus looked phenomenal making his first start at nose tackle. With Kyle Williams (foot) injured and the defense struggling, Buffalo's coaching staff experimented with Dareus during the bye week and changed his position. The result was his best performance of the season. Dareus fought off various double teams to record four tackles and 2.5 sacks. Williams will be out for an extended period and possibly the season. Therefore, Dareus should get comfortable in his new role.

The New York Jets traditionally struggle after bye weeks under head coach Rex Ryan. New York is winless (0-2) under Ryan after byes since 2009, and the offense has been the biggest issue. Ryan's Jets have come out rusty after two weeks off and average just 11 points per game. New York was shutout last season by the Green Bay Packers, 9-0, in one of the Jets' ugliest games of 2010. The Jets have to come out much sharper Sunday against Buffalo.

The blueprint on beating the New England Patriots is clear. It involves pummeling the defense and trying to keep Patriots quarterback Tom Brady from having a monster game. In New England's two losses, Fitzpatrick of Buffalo and Pittsburgh Steelers quarterback Ben Roethlisberger threw for 734 combined yards. Brady was turnover-prone against Buffalo and didn't get many big plays against Pittsburgh -- leaving New England defenseless. Not every team can follow this blueprint. But any team with a quality quarterback and a defense that plays well enough now has a shot against the Patriots.

Expect the focus now to shift to Belichick's personnel decisions. ESPNBoston.com's Mike Reiss put it best: Belichick might have lost his fastball defensively. New England's drafts have not been consistent. Belichick also has made some curious roster decisions recently, including the release of cornerback Leigh Bodden and putting fellow corner Ras-I Dowling on injured reserve this early. There is no doubt Bodden could've helped the Patriots against Pittsburgh. Also, Dowling cannot help New England, even if he's healthy later in the season. Belichick knew his secondary was struggling and intentionally killed the depth of one of his weakest units. Bbelichick has no one to blame but himself.

I saw some good and bad this week with Miami Dolphins head coach Tony Sparano. Starting with the bad, I've seen too many games, like Sunday's loss against the New York Giants, where Sparano coaches not to lose. Miami had control of the game for three quarters but took its foot off the pedal in the fourth in an effort to not make the big mistake. Instead, Eli Manning and the Giants gradually climbed back into the game with 10 straight points after Miami's offense shut it down and the Dolphins' defense played so far off receivers it was easy to make completions. Sparano's in-game decisions are not the best and a big reason why he's lost 10 in a row.

Now for the good: Even in defeat, Sparano is making a case to continue coaching out the season. The Dolphins played their best games the past two weeks. Miami isn't winning, but the team certainly hasn't quit. That is a tribute to Sparano, who isn't letting his shaky job status impact the team. He is not Miami's long-term solution at head coach. That much is clear. But he is a likable coach and his players continue to fight for him.
October, 28, 2011
10/28/11
1:30
PM ET
»
NFC Final Word
:
East
|
West
|
North
|
South
»
AFC
:
East
|
West
|
North
|
South
Here are five nuggets of knowledge about Week 8:
Chasing history:
New England Patriots
coach Bill Belichick and starting quarterback
Tom Brady
can make NFL history Sunday. With a win against the
Pittsburgh Steelers
, Brady and Belichick will set a record for the most regular-season wins for a quarterback-head coach duo in the Super Bowl era. The Patriots' pair is tied with former
Miami Dolphins
quarterback Dan Marino and former coach Don Shula with 116 victories.
[+] Enlarge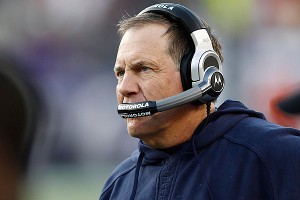 Mark L. Baer/US PresswireThe Patriots have won eight straight games following a bye under coach Bill Belichick.
Bye-week blues:
But don't book that win for New England yet. The Patriots and
Buffalo Bills
could be primed for upsets. According to the Elias Sports Bureau, teams coming off the bye are an abysmal 3-9 (.250 winning percentage) this season. That is a significant turnaround from the 20-12 (.625) mark in 2010. Although there is no clear explanation, the lengthy NFL lockout might have something to do with it. Practice reps are important, especially during the first half of the season. Most teams practice a little, then take several days off during the bye. That has led to some sloppy play for teams following the bye. But the good news for New England is that Belichick has won
eight consecutive games after byes.
Fitz factor:
It is no coincidence the Bills have lost two of their past three games at the same time starting quarterback
Ryan Fitzpatrick
has cooled off. Fitzpatrick threw for 841 yards and nine touchdowns during Buffalo's 3-0 start. He was an early MVP candidate. But Fitzpatrick has thrown for 636 yards, three touchdowns and three interceptions in his past three games. Fitzpatrick is known to be streaky. He's living up to that reputation so far this season. Buffalo needs Fitzpatrick to be consistently good the rest of the season to make the playoffs.
Miami's pass rush a fluke?
Here is a key question for the Dolphins: Was
Tim Tebow
that bad, or is Miami's pass rush suddenly that good? Winless Miami had just eight sacks in its first five games. But the Dolphins exploded against Tebow and the
Denver Broncos
with six sacks last week. Tebow
struggled mightily for 55 minutes
until making a stunning comeback from 15 points down. Too often Tebow failed to recognize blitzes and held the ball too long in his first start of the season. Miami is a big underdog against the
New York Giants
. But if the Dolphins can get to Giants quarterback
Eli Manning
with the same proficiency, maybe they have a chance for the upset.
Get some rest:
The next month for the
New York Jets
could be the biggest stretch of their season. New York plays three division games in that span, which includes a home game against the division-leading Patriots and two contests against the Bills. The two Buffalo games could have a lot of say in the AFC wild-card race. It's rare that three teams get in from the same division. So, New York and Buffalo have to treat these meetings in November as elimination games.
October, 27, 2011
10/27/11
2:21
PM ET
The
New York Jets
(4-3) are enjoying their bye week following a two-game winning streak. Overall, the Jets have underachieved in their first seven games, but remain in the postseason hunt.

Here are three issues facing the team:
Can the Jets win on the road?
The Jets are a stellar 4-0 at Met Life Stadium. That's keeping the team afloat. But New York has looked awful on the road, where the team is 0-3. The Jets have to play much better away from home to make a push for the playoffs. The biggest surprise is the Jets haven't "packed their defense" when they travel. New York has allowed an average of 32.7 points per game on road. The Jets are not built to win shootouts and have little chance when the defense allows that many points. Three of New York's next five games are on the road.
Is ground and pound here to stay?
Jets running back
Shonn Greene
had his first 100-yard game of the season in last week's win against the Chargers. That's a good sign, but certainly not enough to say the Jets' ground-and-pound offense is officially back. New York rushed for a season-high 162 yards against the Chargers. The Jets' much-maligned offensive line had its best game of the season. But I need to see this group dominate the line of scrimmage for three or four games in a row before I feel comfortable saying New York's offense has turned the corner.
Will New York stay together, play together?
It is no secret the Jets can be a volatile bunch. Maybe it's the collection of personalities. Maybe it's the pressure of playing in New York, or a combination of both. But things were very close to imploding during the Jets' three-game losing streak. Players began pointing fingers and lacked focus. The Jets are a talented bunch when they have their act together. They need to do a better job of staying together, especially during rough times. It's a long season.
October, 24, 2011
10/24/11
3:04
PM ET


No team roots for injuries. But the impact of players getting hurt in the NFL is undeniable.
With that said, the
Buffalo Bills
(4-2) will host a banged-up
Washington Redskins
(3-3) team missing several key players Sunday. Redskins leading rusher
Tim Hightower
and second-leading receiver
Santana Moss
will both sit out against Buffalo.
ESPN's Adam Schefter reports
Hightower has a torn ACL and will be out for the year. Moss broke a bone in his hand Sunday against Carolina and will miss 5-7 weeks.
Washington's offensive line also is hurting.
ESPN.com's NFC East blogger
Dan Graziano has the full rundown of Washington's various injuries.
Buffalo, coming off its bye, had two weeks to get healthy and is trying to rebound
from a tough loss
to the
New York Giants
. The Bills have a tough stretch of games upcoming. They could do themselves a big favor if they take advantage of a depleted Washington team and improve to 5-2.
October, 21, 2011
10/21/11
1:30
PM ET
»
NFC Final Word
:
East
|
West
|
North
|
South
»
AFC
:
East
|
West
|
North
|
South
Five nuggets of knowledge about Week 7:
Cross-country advantage:
The
New York Jets
are slight underdogs against the
San Diego Chargers
. But one big advantage New York will have is playing against a team traveling across the country. According to ESPN Stats & Information, teams traveling at least two time zones are 9-13 this season. The Chargers are traveling three time zones to New York, which is one of the longest road trips in the NFL. New York struggled with a similar trip in Week 3, when it lost to the
Oakland Raiders
.
[+] Enlarge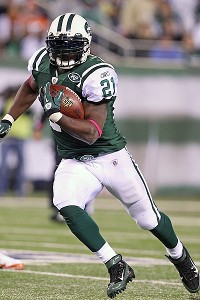 Ed Mulholland/US PresswireLaDainian Tomlinson is expected to start Sunday for the Jets against his former team, the Chargers.
Familiar faces:
Expect Jets running back
LaDainian Tomlinson
and starting cornerback
Antonio Cromartie
to have extra motivation this week. Both are playing the Chargers for the first time since leaving the team two seasons ago. Tomlinson was one of the best players in franchise history but was released unceremoniously. He is
expected to start Sunday
. Cromartie had other issues, including a claim that Chargers doctors withheld injury information about a cracked hip during his tenure.
Don't forget Marshall:
Consider it "Reunion Week" in the AFC East. Another player facing his former team is receiver
Brandon Marshall
of the
Miami Dolphins
, who will host the
Denver Broncos
Sunday at Sun Life Stadium. Marshall is coming off one of his best games of the season against the Jets. He caught six passes for 109 yards. The Dolphins need Marshall to be consistent for backup quarterback
Matt Moore
to have a chance to win this season.
Move the chains:
Miami is the worst team in the NFL on third downs. The Dolphins convert on just 24 percent of third downs and were an abysmal 2-for-13 in last week's loss to the Jets. Moore, making his second start for the Dolphins, has to do a better job on the most important down in football. Moore has the ability to scramble on broken plays, but he rarely used it last week.
Tough road after byes:
The
New England Patriots
(5-1) and
Buffalo Bills
(4-2) are getting healthy on their bye weeks. But both teams have rough stretches coming up. New England will travel to play the
Pittsburgh Steelers
(4-2) in Week 8, followed by games against the
New York Giants
(4-2) and Jets (3-3). The Bills (4-2) will host the
Washington Redskins
(3-2), then play the Jets and
Dallas Cowboys
(2-3) in their next three games.
October, 17, 2011
10/17/11
11:00
AM ET
The
New England Patriots
enter their bye week an impressive 5-1. It's the perfect time to reflect and improve on the team's weaknesses.

Here are three questions facing New England during its time off:
1. Can the defense continue to improve?
Analysis:
The Patriots' defense is gaining momentum at the right time. New England has allowed just 37 points the past two games, is starting to sack the quarterback and has improved on third downs. This group doesn't need to be elite. The Patriots' offense is clearly the strength of the team. But signs of progress and two weeks to make further improvements make New England an even more dangerous group.
2. Can WR Chad Ochocinco get involved?
Analysis:
It's clear the Patriots do not need Ochocinco to be successful. His playing time has fluctuated and the Patriots keep winning. According to Mike Reiss of ESPNBoston.com, Ochocinco
played just seven snaps
against the
Dallas Cowboys
. Ochocinco also had zero receptions in the game. The two-week break should provide Ochocinco a chance to get up to speed. The Patriots might need a big game from the Pro Bowler eventually.
3. A look ahead to a tough slate
Analysis:
The Patriots are in sole possession of first place in the AFC East for the first time this season. But to hold it, they have to survive a tough, three-game stretch after the bye. New England plays two of its next three games on the road. The Patriots will play at the
Pittsburgh Steelers
(4-2) on Oct. 30, the
New York Giants
(4-2) at home on Nov. 6, and at the Jets (2-3) on Nov. 13. Winning out in this stretch could create distance from the Bills (4-2) and Jets entering the second half of the season.