April, 9, 2012
4/09/12
12:13
PM ET
By
ESPN.com staff
| ESPN.com
Patriots tight end Rob Gronkowski is at it again, posting his second YouTube home video promoting his candidacy for "Madden NFL 13" cover boy. This time, he's calling out Lions receiver Calvin Johnson (aka Megatron), whom he is matched up against in the quarterfinals of the Madden 13 cover vote.
ESPNBoston.com has the rest of the story
here
.
May, 31, 2011
5/31/11
1:53
PM ET
Next up in ESPN.com's Power Rankings series were the
best offensive players who aren't quarterbacks
.
I was surprised to see only three offensive linemen appear on the ballots of our eight panelists:
Miami Dolphins
left tackle
Jake Long
,
Cleveland Browns
left tackle
Joe Thomas
and
New York Jets
center
Nick Mangold
.
Only four voters, including me, mentioned more than one lineman. AFC South blogger Paul Kuharsky and NFC South blogger Pat Yaskinkas must have been assembling fantasy teams because they didn't name a single grunt.
My ballot:
Adrian Peterson, Vikings running back
Larry Fitzgerald, Cardinals receiver
Andre Johnson, Texans receiver
Chris Johnson, Titans running back
Calvin Johnson, Lions receiver
Jake Long, Dolphins left tackle
Antonio Gates, Chargers tight end
Nick Mangold, Jets center
Roddy White, Falcons receiver
Jason Witten, Cowboys tight end
Nobody can argue against how crucial offensive linemen are to a team's success. And since we removed quarterbacks from the equation, they make even more sense to appear on this list. If a team has an established quarterback, then the next thing to do is protect him.
Without offensive linemen, there's not enough time for the star receivers to get open or lanes for running backs to bolt through.
The importance of left tackles was underscored when the Dolphins selected Long first overall in 2008. Long has lived up to the expectations at a critical position by making the Pro Bowl each of this three seasons. He was voted All-Pro last year.
Mangold is the best center in the game. While centers aren't necessarily viewed as prominent enough to draft early, Mangold's dominance is indisputable. He has been an All-Pro the past two seasons and a Pro Bowler three straight. That's why he made my list.
March, 8, 2011
3/08/11
1:00
PM ET
I'm pretty sure I have some explaining to do.
ESPN.com's blog network
began its series of positional power rankings
Tuesday with wide receivers. I included only one AFC East target on my ballot, omitting some big names readers will disagree with.
Although
Brandon Marshall
earned enough votes to crack the top 10, he didn't appear on my list. Neither did
Wes Welker
,
Steve Johnson
or
Braylon Edwards
.
My ballot:
Nine of my 10 nominees comprised the consensus top 10. The lone discrepancy was the last slot.
I almost didn't vote for Holmes. I originally had
Pittsburgh Steelers
burner
Mike Wallace
on the list, but I couldn't deny the direct impact Holmes had in closing out colossal victories for the Jets.
Holmes' stats weren't staggering, but he started the season with a four-game suspension that kept him out of the lineup and off the practice field. Once the NFL activated Holmes, it took him a couple weeks to get back into the offense. Then he was sensational. He had eight touchdowns in his last 11 games, including two out of three postseason games.
I couldn't bring myself to include Marshall. He had a nice reception total, but he scored only three touchdowns (one by December) and averaged the fewest yards per catch of any wide receiver with at least 850 yards. The
Miami Dolphins
had one of the NFL's weakest red-zone offenses, and a top 10 receiver should be able to help in that regard.
Welker didn't make the cut because he had a terrible season when it came to drops. ESPN Stats & Information charted a league-leading 11 drops. Welker averaged fewer yards than Marshall despite nearly half of his total (848 yards) coming after the catch (410 yards). That's a lot of long handoffs.
March, 4, 2011
3/04/11
2:51
PM ET
New York Jets
cornerback
Darrelle Revis
has no problem with head coach Rex Ryan declaring them the next Super Bowl champs -- again.
Revis stopped by the "First Take" set at Disney's Hollywood Studios in Orlando, Fla., and was asked about the
title guarantee Ryan made last week
at the NFL scouting combine in Indianapolis.
"It's always motivational," Revis said. "Rex, man, if you really know him, he's a very passionate guy and a player's coach. We like the energy. We like what he talks about.
"What he said, winning the Super Bowl, that's why we play this game. You play this game to get a ring. If you're not playing for that, then you shouldn't be in the NFL."
Revis talked about lobbying the Jets to acquire receiver
Chad Ochocinco
and cornerback
Nnamdi Asomugha
.
"You're always trying to better your team and trying to get over that hump," Revis said. "We lost the last two AFC championship games. We need to get over that hump."
Revis also discussed
Bart Scott
's foray into professional wrestling,
Hines Ward
on "Dancing With the Stars" and the NFL's toughest three receivers to cover.
February, 1, 2011
2/01/11
1:57
PM ET
Pro Football Weekly recently assembled its "
Super 50" rankings for the 2010 season
.
You might be surprised by the dearth of highly placed AFC East names. You can guess who earned the top spot, but there's a large gap until the next one and an even larger drop until the third.
Two
New England Patriots
made the top 50 and another pair appeared among 25 honorable mentions. The
New York Jets
had three players total, the
Miami Dolphins
two. No
Buffalo Bills
made the cut.
The list, which appears in the Feb. 6 edition, was compiled "with the help of coaches and evaluators from around the NFL."
Here are the AFC East representatives with a comment from Pro Football Weekly's staff:
1. Tom Brady, Patriots quarterback:
"Brady was exceptional in the regular season, completing 324 of 492 passes for 3,900 yards with 36 touchdowns and a mere four interceptions. Including the postseason, Brady went 339 passes without throwing a pick."
13. Darrelle Revis, Jets cornerback:
"His statistics don't show it -- no sacks, interceptions or forced fumbles this season -- but Revis remains one of the best cover corners in the league. During a stretch in the middle of the season, the Jets' corner limited
Greg Jennings
,
Calvin Johnson
,
Andre Johnson
and
Terrell Owens
to a combined nine catches for 74 yards."
45. Cameron Wake, Dolphins outside linebacker:
"The former CFL star finished third in the league with 14 sacks. He helped the Dolphins' defense improve from 22nd in 2009 to sixth in '10. He is a relentless pass-rusher, using his speed to get past tackles to the quarterback."
46. Jake Long, Dolphins left tackle:
"Long has established himself among the elite at his position. Despite knee and shoulder injuries, he started all 16 games for the third consecutive season."
48. Nick Mangold, Jets center:
"The Jets' offensive line is one of the NFL's best, and Mangold is the team's most important player up front. He hasn't missed a start in five NFL seasons."
49. Jerod Mayo, Patriots linebacker:
"Mayo seemed to always be around the ball in 2010, leading the league with 175 tackles and adding three fumble recoveries. ... With injuries on the defensive line and lots of youth, Mayo picked a good year to have his best season."
Listed among the 25 honorable mentions (in alphabetical order): Jets left tackle
D'Brickashaw Ferguson
, Patriots receiver
Wes Welker
, Patriots nose tackle
Vince Wilfork
.
December, 30, 2010
12/30/10
8:15
PM ET
The blockbuster acquisition of star receiver
Brandon Marshall
failed to make the
Miami Dolphins
better.
In fact, they got worse. The Dolphins won the AFC East two years ago. They went 7-9 last season but still had playoff hopes entering their finale.

Marshall
The best they can do this year is 8-8. They were eliminated from playoff contention two weeks ago.
At his weekly news conference,
Marshall was asked for his thoughts on the team's direction
. He didn't hesitate to endorse head coach Tony Sparano's return for next year, but withheld any praise for quarterback
Chad Henne
or offensive coordinator Dan Henning.
Marshall said he came to Miami with aspirations he and Henne would achieve greatness.
"I'm not sure," Marshall said. "We had some opportunities this year to do that, and we didn't get it done. I guess we have to evaluate what we've done this year and see if we can improve and see if can become good before we become great."
Marshall joined the Dolphins with three straight 100-reception campaigns and 10 touchdowns last year.
With one game left, he has 81 catches and three touchdowns.
Marshall advised Henne to chuck the ball around
more often and trust him to make the catch. In talking about Marshall's previous quarterbacks, he said "
Jay Cutler
was my guy. He threw it up."
"Just got to let it go, you know?" Marshall said in a story by South Florida Sun-Sentinel reporter Mike Berardino. "Don't worry about the consequences. Just throw it up and see what happens. Throw a pick or whatever. Let's live and die by it.
"We want to play smart football, and we want to be consistent, but at the same time if you look at what teams do with
Roddy White
,
Calvin Johnson
, that's something I'm used to in the past, just guys believing in me.
"You make plays like that, you build confidence in each other. You get a little snowball effect. We didn't get that this year, and it's disappointing."
November, 24, 2010
11/24/10
3:50
PM ET
The
New England Patriots
and
Detroit Lions
will play at 12:30 p.m. for your Thanksgiving enjoyment.
Here are five questions to consider for the Patriots:


Can the Patriots win three games in 11 days?
The
Cleveland Browns
, of all teams, pummeled the Patriots in Week 9, creating plenty of concern about the defending AFC East champs. Since then, however, the Patriots merely knocked off the
Pittsburgh Steelers
and
Indianapolis Colts
-- the past two AFC champions and the only other two teams in the conversation when discussing the greatest team of the past decade. Now the Patriots face the lowly Detroit Lions. Should be a piece of pumpkin pie, right? In many ways, this will be the toughest of the three games. The Patriots are on the road with four days to prepare for a tradition the Lions consider their Super Bowl. It will be a test. Legitimate contenders close these games out.
Can the Patriots put together a 60-minute defensive performance?
The Patriots' defense had its moments Sunday versus the Colts. They intercepted
Peyton Manning
three times, including the game-clinching pick snagged by safety
James Sanders
with 31 seconds left. But the Patriots were clinging to a three-point lead because they'd been dominated by Manning for much of the second half. The Patriots rank 30th in total defense, 17th in run defense and 31st in pass defense.
How do the Patriots cover Calvin Johnson?
With injuries hampering the Lions backfield, they'll need to rely heavily on their superstar receiver. The Patriots have struggled in defending the pass, but they have done well against specific receivers, namely
Randy Moss
in Week 8 (one catch for 8 yards). Johnson presents a more multidimensional problem.
New York Jets
cornerback
Darrelle Revis
held Johnson to one catch for 13 yards in Week 9. But the Patriots don't have a Revis, and that's the only game "Megatron" hasn't scored a touchdown since Week 3.
Will DanJarvus Green-Woodhead control the game again?
This could be another big day for New England's effective backfield combo of
BenJarvus Green-Ellis
and
Danny Woodhead
. The Patriots have been successful on the ground against 4-3 defenses, including Sunday's victory over the Colts. The Lions feature a rugged defensive line that's anchored by rookie defensive tackle
Ndamukong Suh
and right end
Kyle Vanden Bosch
. Even so, the Lions rank 26th in run defense and 28th in average allowed per carry.
Which Patriots rookie tight end will have honors this week?
Tom Brady
has been alternating back and forth between
Rob Gronkowski
and
Aaron Hernandez
almost by the week. Hernandez had two touchdown receptions against Cleveland. Gronkowski had three against Pittsburgh. Hernandez had one against Indianapolis. Thanksgiving was supposed to be a big day for the Gronkowskis, but the Lions traded brother
Dan Gronkowski
to the
Denver Broncos
in September.
Dallas Cowboys
fullback
Chris Gronkowski
will play the
New Orleans Saints
at 4:15 p.m.
November, 17, 2010
11/17/10
7:07
PM ET
The
Darrelle Revis
Recovery Tour will resume Sunday against
Houston Texans
stud
Andre Johnson
.

Revis
Revis ended last season as maybe the brightest in the NFL's defensive galaxy. The
New York Jets
shutdown cornerback dominated elite receivers. He was considered the best player on a team that reached the AFC championship game and carried Super Bowl aspirations into 2010.
But the season didn't start well for Revis. First a contract standoff and then an injured hamstring knocked him down several pegs. He didn't always guard the other team's best receivers.
Antonio Cromartie
took on added responsibility to compensate.
Revis looks like he's returning to last year's form. He was masterful against
Detroit Lions
behemoth
Calvin Johnson
two weeks ago, keeping him to one catch for 13 yards.
Revis will face another challenge with Andre Johnson at the Meadowlands.
Jets head coach Rex Ryan said Wednesday that Revis either will be heads up on Andre Johnson or on the same side of the field, depending on the coverage scheme.
"They have one of the best receivers -- if not the best -- in the game," Ryan said of Andre Johnson. "How do you just sit back and say, 'Hey, we have one-on-one coverage over there [and not throw to him]?'
"Everything you're programmed to do says to throw it over there. Well, we've got the best corner. It ought to be a great match-up over there."
Last year, Revis allowed 2.9 receptions and 26.4 yards a game to a schedule that included
Randy Moss
twice,
Terrell Owens
twice, Andre Johnson,
Roddy White
,
Chad Ochocinco
,
Reggie Wayne
,
Marques Colston
,
Steve Smith
and
Mike Sims-Walker
.
Andre Johnson had four catches for 35 yards when they played on opening day last year.
"When you go out and play against anybody, you always want to get the best of them," Andre Johnson said. "Last year, when we played against each other, they executed the game plan, and they were very successful doing it. That's pretty much it. They took it to us.
"You definitely look forward to the challenge when you go against a player of Darrelle's caliber. ... He's very technique-sound as a defensive back. He's very patient. He can mix it up with you. He can be physical at times. At times he doesn't have to be physical. He has the all-around game. He's great at what he does."
November, 12, 2010
11/12/10
3:38
PM ET
ESPN analyst Herm Edwards dissents from colleague
Darren Woodson
and emphatically declares "It's time for the
Buffalo Bills
!" to get their first victory of the season. The Bills host the
Detroit Lions
in Ralph Wilson Stadium on Sunday.
Woodson points to Lions receiver
Calvin Johnson
and rookie defensive lineman
Ndamukong Suh
as the difference-makers.
November, 10, 2010
11/10/10
9:07
AM ET
This is my usual weekly installment of "Stock Watch." On Wednesday afternoon, ESPN.com will run a team-by-team "Midseason Stock Report" that reviews the first eight games and looks ahead to the second half of the season.
FALLING
1. Patriots' run defense:
Browns running back
Peyton Hillis
left cleat marks all over the Patriots on Sunday. He rushed for 184 yards and two touchdowns. Quarterback
Colt McCoy
and receiver
Chansi Stuckey
also ran for touchdowns. Patriots nose tackle
Vince Wilfork
is one of the NFL's great run-stuffers, but the Patriots rank 21st defending the ground.
2. Chad Henne, Dolphins quarterback:
In an ugly loss to the Ravens, Henne threw three interceptions and no touchdown passes. The Dolphins were forced to kick a field goal after Henne misfired badly on a point-blank toss to tight end
Anthony Fasano
in the end zone on third-and-goal. Over the past three games, Henne has one touchdown and five interceptions.
3. Bills' pass defense:
The Bills had a glorious opportunity to make plays against a mistake-prone offense. The Bears lead the NFL in sacks allowed. Bears quarterback
Jay Cutler
threw four interceptions his previous game. The Bills recorded zero sacks, just one quarterback hit and zero interceptions in a 22-19 loss.
[+] Enlarge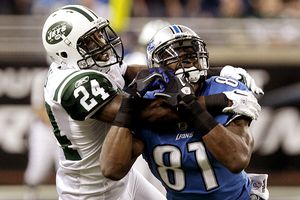 AP Photo/Carlos OsorioDarrelle Revis was on top of his game Sunday against the Lions.
RISING
1. Darrelle Revis, Jets cornerback:
His contract squabble and subsequent hamstring injury kicked open the door for criticism. Revis clearly wasn't healthy enough when he returned in Week 5. But he looked superb in limiting star receiver
Calvin Johnson
to one catch for 13 yards.
2. Ronnie Brown, Dolphins running back:
It's not his fault the Dolphins stopped giving him the ball. On the first two snaps Sunday in Baltimore, he rushed for 12 yards and 14 yards. He polished off the opening drive with a 12-yard touchdown run. Brown had six carries for 45 yards on the series. He ran once more in the first half, twice in the second half.
3. Nick Folk, Jets kicker:
He had a costly miss in the Week 8 shutout loss to the Packers, but he was perfect in Sunday's rollicking comeback victory in Detroit. Folk sent the game into overtime with a 36-yard field goal as the fourth-quarter clock struck 0:00. He added a 30-yard field goal in sudden death.
November, 7, 2010
11/07/10
5:47
PM ET
DETROIT – A look at the
New York Jets
'
23-20
win against the
Detroit Lions
.


What it means:
For the second time in three games, the New York Jets escaped near-certain defeat, scoring on their final three possessions (once in overtime) to defeat the Detroit Lions. This time, it wasn't a pass-interference penalty that saved them. It was lousy clock management by the Lions and clutch play by
Mark Sanchez
& Co. that allowed the Jets to overcome a 10-point deficit in the final three minutes of regulation. Coupled with New England's loss, the Jets moved into a first-place tie.
Analysis:
The Jets were stunned when the Lions decided to pass the ball on a third-and-6 with two minutes remaining. The pass by backup
Drew Stanton
(in for the injured
Matthew Stafford
) was incomplete and the Jets got the ball with 1:40 to play with no timeouts left. If the Lions had run, they would've given the Jets about a minute -- and chances of a game-tying field goal would've been just about nil.
Kicker
Nick Folk
is having a tremendous year, and he came up huge, kicking a 36-yard field goal at the end of regulartion and winning it with a 30-yarder in OT. It's an amazing comeback story by a kicker who was on the street almost a year ago.
For the second time in three games, Mark Sanchez led a fourth-quarter comeback win -- the only two of his career. He was mediocre for 56 minutes, but he perked up as soon as the offense went into a hurry-up mode. He likes the two-minute offense, and had been asking to do it earlier. He showed poise and patience in the pocket, leading three scoring drives.
There's something wrong with the Jets' offense. For the second straight week, they were undermined by dropped passes (two more by
Jerricho Cotchery
), penalties and turnovers. Sanchez threw an interception on an underthrown deep ball to
Santonio Holmes
, and
Braylon Edwards
was stripped of the ball after a short reception early in the third quarter. What is it with the Jets' receivers and their butter fingers? They can't even hold on to the ball after they make the catch. (See last week's two strip interceptions.)
Of the 11 penalties, the costliest was Trevor Pryce's roughing-the-kicker infraction on a 21-yard field-goal attempt. Pryce stumbled into
Jason Hanson
, cutting him down at the knees, but it's still a penalty even if it's not intentional. The Lions took the points off the board because it gave them a first down and they scored on Stafford's 1-yard bootleg. By the way, Hanson was injured, so rookie defensive tackle
Ndamukong Suh
had to kick the PAT – and he missed. As if that mattered.
The low point of the day for the defense was a 90-yard touchdown drive in the fourth quarter. Nickel back
Drew Coleman
gave up two completions for 38 yards to
Nate Burleson
, including the two-yard touchdown on the fade route. But the most damning sequence occurred before the touchdown, in goal-line, when the Jets had to burn two defensive timeouts because of confusion. That rarely happens to their defense, usually a well-coached unit. But it seems like the overall lack of discipline has spread like a virus to the defense.
Where was Ground and Pound? Facing the NFL's 27th-ranked run defense, the Jets were absolutely convinced they'd be able to run all over the Lions. Didn't happen. They tried everything, using "heavy" packages, featuring
Shonn Greene
(for a change) and sticking with it for as long as possible. No matter. They rushed for only 110 yards.
Want something positive? Sanchez' bomb to Edwards with one minute remaining in the first half. Until that play, which gave the Jets a 10-7 lead, the offense had gone 86 minutes, 27 seconds without a touchdown (nearly six quarters), dating to the Week 6 win in Denver. There was nothing fancy about the play. On third-and-9, Edwards ran a 'go' route on cornerback
Alphonso Smith
. He caught the ball at the 21 and was home free, Sanchez' pass traveling about 65 yards in the air. Going into the game, the Jets' coaches felt the Lions' cornerbacks were vulnerable. It took the Jets 29 minutes before they capitalized.
Here's another positive: Revis Island is back. Cornerback
Darrelle Revis
delivered a vintage performance on
Calvin Johnson
, holding the Lions' star receiver to one catch for 13 yards. Revis made a statement on the first play of the game, breaking up a deep sideline pass to Johnson. Clearly, Revis is over his hamstring injury, which affected him for about five weeks. The Lions stayed away from Revis and picked on Coleman throughout the game.
What's ahead:
Get ready for the Mangini Bowl. The Jets face their former coach for the first time since he was fired after the 2008 season, as they visit the
Cleveland Browns
. Another storyline is the battle of the Ryan brothers. Rex Ryan's twin brother, Rob, is the Browns' defensive coordinator. It'll be a week of family trash talking.
August, 21, 2010
8/21/10
8:30
AM ET
The decision was pretty obvious when it came to the best quarterback in the 2009 draft. The
Detroit Lions
had their choice of any player, and they selected
Matthew Stafford
.
The
New York Jets
traded up to get
Mark Sanchez
fifth overall.
When it comes to fantasy football, however, the decision isn't so clear.
ESPN.com fantasy experts Tristan H. Cockcroft and AJ Mass debated the
merits of drafting Stafford or Sanchez in your league
. Neither quarterback should be your regular starter, but as a backup?
Cockcroft goes with Stafford:
Sanchez's Jets ran 58.9 percent of the time in 2009, by far most in the league, and no matter how much of that was an attempt to protect the learning quarterback, it's clear this isn't an offense in which he's the focal point. Stafford's Lions, meanwhile, ran 39.4 percent of the time, and figure to again spend much of their games playing from behind. Another point in Stafford's favor: The Jets lack a receiving talent close to
Calvin Johnson
's equal.
Mass sides with Sanchez:
the view that this is a running team is far from accurate.
Shonn Greene
will definitely get his share of touches, but the addition of
LaDainian Tomlinson
will give Mark Sanchez a target that will be utilized far more often than the 10 measly catches recorded by
Thomas Jones
last season. ... No, there isn't a Jets receiver who can provide as solid a downfield threat as Calvin Johnson -- not even close. But the Lions' supporting cast of
Nate Burleson
and
Bryant Johnson
is still a significant drop in talent from whichever of the Jets' receiving trio of
Braylon Edwards
,
Jerricho Cotchery
and
Santonio Holmes
you deem to be the weakest two options.
June, 22, 2010
6/22/10
6:30
PM ET
The latest edition of Sporting News features
New York Jets
quarterback
Mark Sanchez
and cornerback
Darrelle Revis
on the cover to represent
the magazine's "25 Under 25" list for 2010
.
Pittsburgh Penguins superstar Sidney Crosby tops the list. My first reaction was "I can't believe he's still under 25." Crosby has played six seasons already but
won't turn 23
until August.
Revis is No. 9 on the list. Sanchez is No. 16. The
Detroit Lions
have the only other teammates of any sport on the list. Defensive lineman
Ndamukong Suh
is No. 14, and receiver
Calvin Johnson
is No. 24.
Astonishingly, Washington Nationals phenom Stephen Strasburg didn't make the cut, but does appear on a
list of the top 10 to watch for next year
.
Sanchez and Revis also are the only AFC East players on the list, which includes a total of seven NFL players and one college football player.
Each AFC East team was represented on the
under-25 all-pro squad Sporting News assembled
. But the
Miami Dolphins
placed only kicker
Dan Carpenter
on the squad
despite having the division's youngest roster
.
Thanks to Boston Globe reporter Shalise Manza Young, who blogged the roster:
Offense
Quarterback: Mark Sanchez, Jets.
Running backs: Chris Johnson, Titans; Ray Rice, Ravens.
Receivers: Calvin Johnson, Lions; DeSean Jackson, Eagles.
Tight end: Jermichael Finley, Packers.
Tackles: Ryan Clady, Broncos; Michael Oher, Ravens.
Guards: Louis Vasquez, Chargers; Mike Iupati, 49ers.
Center: Alex Mack, Browns.
Defense
Special teams