May, 2, 2013
May 2
11:09
AM ET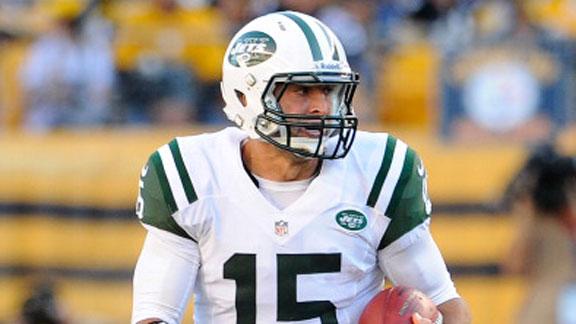 The NFL future of former
New York Jets
quarterback
Tim Tebow
remains cloudy. But Tebow could play in another league this year, such as the CFL, if he so desires. His rights have already been claimed by the Montreal Alouettes.
But would Tebow also be a major bust in the CFL? Former quarterback Warren Moon, who is well respected with Hall of Fame credentials, doesn't believe
Tebow has what it takes
to thrive in the league north of the border.
"If you can't throw the football, it doesn't matter where you play quarterback," Moon said. "You have to be able to throw it. That's his biggest problem, just being able to complete passes, be an accurate passer. I think he's a really good athlete playing the position, but I don't think that's enough sometimes."
Moon, who played in the CFL, brings up a good point: Other places like the CFL and Arena Football League are wide-open, high-scoring passing leagues. Tebow's biggest weaknesses are his shoddy mechanics and throwing accuracy.
The more Tebow throws, the worse it is for him and his team. An NFL quarterback may need to throw 30 times a game to be successful. A CFL or Arena Football League quarterback may need to throw 40 to 60 times per game. It's hard to imagine Tebow thriving in that scenario, even against easier competition.
The best move for Tebow is to simply switch positions, the best way to prolong his football career. Tebow has the athleticism to play H-back, tight end, running back or special teams. Some teams would probably be interested if Tebow was more open-minded about a position change. But the more Tebow tries to be a throwing quarterback, the closer he gets to retirement.
Tebow would be wise to wait as long as possible for his next NFL shot. Going to the CFL right now would be a major risk. If Tebow fails in Canada, as Moon predicts, he may never make it back to the league where he won a playoff game as quarterback of the
Denver Broncos
.
January, 27, 2013
Jan 27
8:00
AM ET
Here are the most interesting stories Sunday in the AFC East: Morning take: If the Jets can get that kind of value, they should jump at it. Revis is the best corner in football, but he wants a huge extension in 2014 that the rebuilding Jets cannot afford. I'm skeptical a first-round pick will be involved, but we will see.
Morning take: This is bad news for the Jets and Buffalo Bills. Both teams need quarterbacks, and this year's class isn't close to the rookie talent we saw last year.
Morning take: If that's the case, it should only happen in the middle or later rounds. The Dolphins have clearly defined needs and quarterback is not one of them. Ryan Tannehill has potential to be the long-term solution.
Morning take: This is the second defensive end the Patriots landed from Canada. The Patriots are going far and wide to add to their pass rush.
February, 16, 2012
2/16/12
8:00
AM ET
Here are the most interesting stories Thursday morning in the AFC East:
Morning take: The Jets have been avoiding the Manning topic. They won't say they will pursue Manning, but they won't say they won't. Either way, I doubt the Jets would have a great chance.
Morning take: Kiper has the Patriots choosing Marshall outside linebacker Vinny Curry and defensive tackle Kendall Reyes of Connecticut. I would prefer New England to address the secondary at least once in the first round.
Morning take: This pick improved from a sixth-rounder based on Lynch's production. Every bit in the draft helps.
Morning take: Miami doesn't really need help at running back, but depth at this position is always needed. Messam will join a talented group that includes Reggie Bush and Daniel Thomas.
January, 19, 2009
1/19/09
12:01
AM ET
Posted by ESPN.com's Tim Graham
NFL teams were frothing over the workouts of Canadian Football League pass-rush specialist Cameron Wake, and the Miami Dolphins had to fork over a nice sum to land him.
The Dolphins signed Wake to what's believed to be the richest CFL-to-NFL contract: four years worth as much as $4.9 million and nearly $1 million in guaranteed money.
Wake, who is 260 pounds and amassed 39 sacks over the past two seasons for the B.C. Lions, will play outside linebacker in the Dolphins' 3-4 scheme and could be a dangerous force opposite Joey Porter.
Wake generated interest from 17 teams and received offers from eight, his agent, Paul Sheehy, said.
"Overall, the Dolphins were the best fit for his skill set," Sheehy said. "[Dolphins general manager] Jeff Ireland and [assistant director of player personnel] Brian Gaine did a great job of explaining what his role would be and came up with a great starting proposal out of the gate that got the deal done swiftly."
Wake narrowed his choices to four teams, including the Buffalo Bills, before choosing the Dolphins.
"Buffalo really put a great package together," Sheehy said. "They did a wonderful job recruiting him."
Wake is a two-time CFL defensive player of the year. He was a hybrid linebacker-defensive end at Penn State. He went undrafted and signed with the New York Giants as a rookie free agent but didn't make it to training camp.
He joined the B.C. Lions in 2007 and became a full-time defensive end. He twice led the CFL with 16 sacks his first year and 23 sacks last season.
Wake also had worked out with the Denver Broncos, Indianapolis Colts and Arizona Cardinals among several other clubs.
December, 3, 2008
12/03/08
8:14
PM ET
Posted by ESPN.com's Tim Graham
Miami Dolphins running back Ricky Williams has been a media hermit for the past nine weeks, occasionally speaking after games.
But Williams on Wednesday was happy to talk about Toronto, the city that embraced him while he was trying to put his football career back together amid positive drug tests and flights of fancy.
| | |
| --- | --- |
| | |
| | Photo/Frank Gunn |
| | Dolphins running back Ricky Williams will be back at his old stomping ground when Miami plays Buffalo in Toronto this Sunday. Williams played for the Toronto Argonauts in 2006. |
Williams played for the Toronto Argonauts in 2006. A broken arm limited him to 11 games, but he ran for 526 yards in the pass-happy Canadian Football League.
Williams held a conference call with the Buffalo and Toronto media to talk about Sunday's game against the Buffalo Bills in the Rogers Centre, the same stadium the Argos call home.
What are your thoughts on going back to Toronto?
Williams: Well, I'm looking forward to it. I really enjoyed my time in Toronto, and it will be nice to meet up with some old friends.
How does playing in Toronto affect home-field advantage for the Bills?
Williams: I don't know. I mean, it's pretty tough to go and play in Buffalo. I'm not sure if the room is going to be open or closed. I mean, it's usually tough for us to come up there and deal with the cold. So if I think that the room is closed, it's not as big of a home field advantage for them.
How important was Toronto was to getting your career back on track?
Williams: Well, I guess I didn't look at it like that. I just had a really good time. I got to meet a lot of great people, and I just really enjoyed myself in Toronto.
How important is the CFL to Canada?
Williams: I don't know. I'm an American, so I'm not sure how important it is to Canada, but I know that each town we went to, including the hometown fans, when you went to a game, the people there, they're true fans. Sometimes, especially in Miami, you get people who only come when you're winning and they're not necessarily big football fans. But going to places, especially like Hamilton and Regina, Calgary ... Just really, really huge football fans, and it was just a lot of fun being in that environment week in and week out.
What has the Dolphins' turnaround been like?
Williams: It's nice. I wasn't really here much last year, so I didn't have to deal with that so much. And coming in with the whole new coaching staff and a new philosophy, they've really done a good job to get the bitter taste from last year out of everyone's mouth. And we've just been focused, and we work hard everyday. We're a hard working team, and it's paying off for us.
What have been the keys to the Dolphins' success?
Williams: I think just really how we work hard. I mean one of the first things coach [Tony] Sparano wanted to convey to us is that if you work hard, then you get results. And so far he's been right, and no matter what happens, as we go through so much adversity, we just keep on working and we've been able to win a lot of games that way.
Is it hard to overlook the fact Tony Sparano is just a first-year coach?
Williams: Whether he is a first-year coach or a 10 year coach, he still yells everyday. We still have to listen to him. So it doesn't affect us too much.
Have you kept in touch with the Toronto Argonauts' front office?
Williams: Well, [Argos owner David Cynamon] was down in Miami a few weeks ago, and he came to the game and our families had dinner together after the game, and that was nice. And I actually had a dream last night about [former Argos president] Keith Pelley. So they're definitely in my thoughts, and anytime I get a chance I'm definitely in contact with them.
What was the dream was about?
Williams: Somehow he was working in New Orleans, and he was complaining about how hot it was in New Orleans. So that was pretty much the whole dream. But it was nice to see him.
Would you return to Toronto after you're done playing?
Williams: If I had the opportunity and it worked well for my family and myself, I would definitely jump at the opportunity. I mean David and I joked about it when he was down here a couple weeks ago.
What could you see yourself doing in Toronto?
Williams: Playing, coaching ... You know, wherever I am in my career and I feel like doing.
What did you enjoy most about being a CFL player?
Williams: Well, I think I was very fortunate to play for "Pinball" [Argos head coach Michael Clemons], and I mean everyday we came to work. It was fun. It was exciting. I think the biggest thing is not the shorter workday, but it seemed like everyone was having fun win, lose or draw. We'd go out there and we worked hard, but we had a good time and we really liked each other. And for me it was just a different experience, and I really enjoyed that.
Are you having fun this year?
Williams: Yeah, we're having fun. We're having a good time. I think that's one of the reasons why we're playing so well because everyone here likes each other and we work hard, but we have guys like [Jason] Ferguson and Joey Porter and Ronnie [Brown], and they keep things really light and we have a lot of fun.
Are your teammates asking about Toronto?
Williams: Yeah, it comes up a lot. Even before this week guys are curious about what it's like and, of course, I only have positive things to say because I really did have a good time. In general, I just like Canadians. They all seemed very nice and honest. And one thing that I talk to people about as far as Canadians versus Americans is I think in America ... I think people sometimes are frowned at when you try to be an individual, and from my experience that's something that's appreciated in Canada. Obviously, I don't really fit in everywhere I go. I really enjoyed it up there for that reason.
Do you keep in touch with your former Argonaut teammates?
Williams: So many guys up there have been in and out, and a lot of the guys I played with are not even there anymore and so not this year. But I've tried to keep in touch with a couple guys. I'm still in touch with some of the staff up there.
Will the NFL coming to Canada impact the CFL?
Williams: I think so. I think people's first reaction is to think that the CFL is an inferior league, and I wouldn't subscribe to that. I think playing up there is different -- a different game -- and I don't think the NFL players are necessarily better than that of the CFL; they're
just different. They're quicker, they're smaller, they don't spend as much time at work. There we had four-and-a-half-hour workdays, and here we're eight sometimes nine hours. Coaches are sometimes here even longer.
Did you think you would have a bigger impact when you played in Canada?
Williams: Before I broke me arm, we were wide open. We had five receivers, and we weren't really a running team. But as soon as Adam Rita took over, things started to change, and when I came back from having my broken arm, with John [Avery] and myself, we were running the ball and doing a good job, and we were winning and we were close to going to the Grey Cup. So it was a little frustrating at first. Breaking my arm wasn't great, but when I came back we started to jell and it became even more fun.
Is there anything about living in Toronto that you miss?
Williams: When I was living in Toronto I was living downtown, and I could walk pretty much anywhere. There was a nice homeopathic shop on the boulevard I used to walk to, and that was nice. Right where I lived there was a lot of good restaurants. There was a good Thai food place. Across the street was a little corner store, where people were really nice. And our neighbors became really close friends. So I kind of just miss the community feel and all the great people that I got to meet that lived around where I got to live.
What type of reaction do you expect from the Toronto fans?
Williams: I assume they'll be happy because there is some kind of connection, and the only team I've played for in the CFL is the Argonauts. So they have no reason to boo me.
July, 29, 2008
7/29/08
10:26
PM ET
Posted by ESPN.com's Tim Graham
Not everybody in Canada is gung-ho about the NFL poking around.
A Canadian parliament member hopes to ward off the NFL with a repellant stronger than garlic to a vampire: legalized sports gambling.
Hisssss!
Joe Comartin, a New Democratic Party representative from Windsor, Ontario, is proposing a bill that would allow sports books throughout Canada. His aim is to compete with the ever-increasing number of U.S. casinos.
Legal sports books would be detrimental to NFL expansion there because, as David Naylor of the Globe & Mail lays out in Wednesday morning's print edition, "there is ample evidence to believe the NFL might take a hard stand."
The Buffalo Bills agreed to play five regular-season and three preseason games in the Rogers Centre (formerly the SkyDome) through 2012. They are being paid $78 million so Toronto investors can showcase their city as NFL-worthy.
"I'm on that side that's opposed to having the NFL in Canada," Comartin told Naylor. "I think it would be the death knell of the CFL, and I'm strongly in favor of keeping the NFL out.
"The eight teams we've got now across the country have a more substantial value, economically and culturally, than one or two or three NFL teams would have."
Comartin didn't say whether NFL teams would be more attractive to him if they all agreed to change their names to the Roughriders.
This sports-betting bill won't pass easily. That the NFL is interested in doing business across the border -- Toronto would be the fourth-largest city in the U.S. -- might be making politicians apprehensive.
The NFL "might be one of the concerns they have, that they're worried it would dissuade the NFL from coming to Canada," Comartin said. "But I see that as a positive."
Anxious Bills fans would agree.