November, 28, 2012
11/28/12
2:00
PM ET
It's tough being
Buffalo Bills
(4-7) and
New York Jets
(4-7) fans. Both teams are out of the playoff picture in the AFC East and there's still five games left to play.
With that in mind, let's answer some questions and complaints on the Bills and Jets from
our AFC East inbox.

Silas Atwood from Buffalo
writes: All year long you've said that
Ryan Fitzpatrick
needs to be more consistent for the Bills to win. What Buffalo REALLY needs to do is keep the ball away from him as much as possible. The more he controls the ball, the more likely we are to lose. Hand it off and get out of the way, Fitz.
James Walker:
This sounds great in theory, Silas. But this is the NFL. Eventually you have to throw the football. The Jets, for example, would love to run the football 40 times every game and allow quarterback
Mark Sanchez
to throw only when needed. But that's too predictable and easy to stop. The Bills are trying to hold Fitzpatrick's hand but that hasn't worked and now players are frustrated. The good teams have balance.
Bruce Johnson from Deland, Fla.,
writes: The Bills should fire Chan Gailey- if he hasn't learned solid play-calling and game management by now, he never will. My question for you is, do you think that the Bills would entertain hiring Perry Fewell if he were willing to come back? The Bills were trying to emulate the Giants' defensive philosophy with their front four. Fewell could elevate the Bills' D to a whole other level with existing personnel and a decent draft. What do you think?
JW:
Good question, Bruce. I'm so caught up in this season that I haven't thought about potential coaching hires. Gailey isn't out the door yet. Let's see what happens in Buffalo over these next five games. The Bills have an easy schedule and general manager Buddy Nix seems committed to Gailey. As far as Fewell, he's been a solid candidate for a while but has yet to land a head post. I think there will be so many jobs available this year that Fewell will land someone. But it's too early to say if Buffalo would be at the top of the list.
Jason from Athens, Ala.,
writes: Do you think
Jairus Byrd
is underrated? He is tied with
Ed Reed
for third most interceptions since 2009 when he came into the league, and when he make's plays the Bills tend to win. Does not seem like anybody gives him any credit.
JW:
Byrd is underrated, largely due to where he plays. But he will get plenty of credit in a few months when he becomes an unrestricted free agent. The Bills need to pay up or another team will.
---

Sam Ditch from Mexico
writes: You said it, James: It's not Tebow, it's the Jets. "They have no idea what to do with him." The Jets are out of control. The Jets are in a tailspin.
JW:
Yes, Sam, the Jets have no idea what to do with Tebow, who has a unique set of skills. It takes innovation to get the most out of Tebow, and Jets head coach Rex Ryan and offensive coordinator Tony Sparano are not offensive innovators. It's simply a bad fit, and I think Tebow should request a trade in the offseason.
Jared from New York
writes: While I agree with you that Rex Ryan at least deserves another season in NY, I wanted to get your take on other changes to the Jets coaching staff: namely offensive coordinator. I think it's fairly clear that the Tony Sparano hire hasn't worked out as expected.
JW:
This is something that must be worked out with Ryan and ownership. Most of the time, head coaches have control over their staff. They do the hiring and firing among the assistants. If that's the case, Sparano isn't going anywhere. The two have a lot of mutual respect and it's only been one year. But sometimes there is intervention from the general manager or ownership in these kinds of matters. Occasionally the head coach is told he can stay, as long as alterations are made on the staff. It's too early to say what direction the Jets are headed.
August, 1, 2012
8/01/12
10:30
AM ET
PITTSFORD, N.Y. -- Remember
Kyle Williams
?
The Bills defensive tackle was on an island in Buffalo not long ago. Williams was a stud on an otherwise thin defense. When Bills general manager Buddy Nix arrived three years ago, Williams was the only Pro Bowl-caliber defensive player to build around.
[+] Enlarge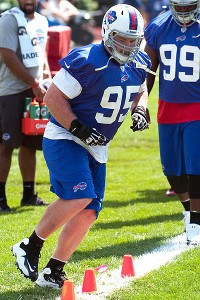 Mark Konezny/US PresswireKyle Williams (95) is part of what is expected to be a strong Buffalo defensive line.
Fast forward to this season and Williams suddenly has become the forgotten Bill. Williams missed nearly the entire 2011 season with a foot injury, and Buffalo has beefed up its defense so much that you may not mention Williams' name until fourth on its defensive line.
"Nah, that doesn't bother me; I don't care," Williams told the AFC East blog. "I hope people talk all about them so teams can go [double-team] them."
Williams doesn't have the $100 million contract that free-agent defensive end
Mario Williams
has. Kyle Williams wasn't the third overall pick in the NFL draft like fellow defensive tackle
Marcell Dareus
. Kyle Williams also didn't garner 10 sacks last year for the
New England Patriots
like new teammate
Mark Anderson
.
The Bills have made it a point of emphasis to build the roster from the inside out. It starts with the defensive and offensive lines, and that's where a lot of their high draft picks and free-agent dollars have gone.
"[GM] Buddy [Nix] and I both believe the game, a major part but not the whole part, is won in the trenches," Buffalo coach Chan Gailey said. "It is won on both sides of the line and who can control that part of the game. It's hard to find those guys. So when you get the opportunity to get them, you take that opportunity."
This is a boon for Kyle Williams, who says he expects Mario Williams, Dareus and Anderson will all help simultaneously take each other's game to the next level. If healthy, Buffalo could have one of the most dominant defensive lines in the NFL.
Kyle Williams said he is feeling good after foot surgery. He missed 11 games last season, while the Bills struggled defensively and finished last in the AFC East at 6-10.
"I've never been a guy who needed to be reminded of what I was blessed with -- to be able to play football for a living in Buffalo," Williams said. "So it was hard, especially when the team was going through a tough time. I know I could've provided some leadership and some play that would've helped on and off the field. So it was tough, but I'm excited to come back this year."
Kyle Williams isn't the most recognizable name on Buffalo's defensive line anymore. But if he becomes the dominant defensive tackle that he was two years ago, Kyle Williams won't be the forgotten Bill for long.
January, 6, 2012
1/06/12
7:00
AM ET
Here are the most interesting stories Friday morning in the AFC East: Morning take: I smell a Josh McDaniels reunion in New England. He most likely would come back to the Patriots after a poor year in St. Louis.
Morning take: If Miami can't get Jeff Fisher, the team will have to start looking at assistants. Philbin has done a great job with Green Bay's offense and may be able to lure pending free-agent quarterback Matt Flynn.
Morning take: Buffalo is still a young team learning how to win. I think talent and adding impact players are bigger issues.
Morning take: Sanchez is being criticized for a lot of things. But I'm not sure the photo shoot has much to do with anything. But I agree Sanchez could have been more vocal internally to get things under control, at least on offense.
September, 14, 2011
9/14/11
8:09
PM ET
By
ESPN.com staff
| ESPN.com
Buffalo Bills
quarterback
Ryan Fitzpatrick
on The Doug Gottlieb Show
talked about

Chan Gailey's offense,
Steve Johnson
, Buffalo's upcoming game against the
Oakland Raiders
,
C.J. Spiller
and more.