April, 7, 2011
4/07/11
12:00
PM ET
»
NFC Draft Watch
:
East
|
West
|
North
|
South
»
AFC
:
East
|
West
|
North
|
South
Each Thursday leading up to the NFL draft (April 28-30), the ESPN.com NFL blog network will take a division-by-division look at key aspects of the draft. Today's topic: history in that spot.

Buffalo Bills
The Bills' top pick is No. 3 overall. Here are the past seven players taken in that spot, with their NFL teams in parentheses:
2010:
DT
Gerald McCoy
(Buccaneers)
2009:
DE
Tyson Jackson
(Chiefs)
2008:
QB
Matt Ryan
(Falcons)
2007:
T
Joe Thomas
(Browns)
2006:
QB
Vince Young
(Titans)
2005:
WR
Braylon Edwards
(Browns)
2004:
WR
Larry Fitzgerald
(Cardinals)
ANALYSIS:
Some sexy picks have been made in this spot. None of the players have been out-and-out busts, although character concerns have overshadowed a couple. Only McCoy and Jackson haven't been selected for at least one Pro Bowl. Fitzgerald is an elite receiver, arguably the best in the business. Edwards can be a dangerous playmaker when not dropping passes, which he didn't do last year. Ryan is an emerging star. Young has been a lightning rod, but he did win rookie of the year and has gone to a pair of Pro Bowls. Thomas is a star blocker with four Pro Bowls on his résumé already.

Miami Dolphins
The Dolphins' top pick is No. 15 overall. Here are the past seven players taken in that spot, with their NFL teams in parentheses:
2010:
DE
Jason Pierre-Paul
(Giants)
2009:
LB
Brian Cushing
(Texans)
2008:
G
Branden Albert
(Chiefs)
2007:
LB
Lawrence Timmons
(Steelers)
2006:
CB
Tye Hill
(Rams)
2005:
LB
Derrick Johnson
(Chiefs)
2004:
WR
Michael Clayton
(Buccaneers)
ANALYSIS:
This is a region of the first round where picks can break either way. There have been solid players drafted here, but no superstars. Cushing was a rookie of the year, but his career has been tainted by performance-enhancing drug usage. Clayton made an immediate impact with 80 catches for 1,193 yards and seven touchdowns as a rookie but hasn't caught more than 38 passes since. Johnson has been a solid linebacker for Kansas City, while Timmons has been an influential member of Pittsburgh's defense the past two seasons. Hill has been the biggest disappointment. He has been with four teams, starting 25 games.

New England Patriots
The Patriots' first-round picks are Nos. 17 and 28 overall. Here are the past seven players taken in those spots, with their NFL teams in parentheses:
2010:
G
Mike Iupati
(49ers) and DE
Jared Odrick
(Dolphins)
2009:
QB
Josh Freeman
(Buccaneers) and G
Eric Wood
(Bills)
2008:
T
Gosder Cherilus
(Lions) and DE
Lawrence Jackson
(Seahawks)
2007:
DE
Jarvis Moss
(Broncos) and T
Joe Staley
(49ers)
2006:
LB
Chad Greenway
(Vikings) and TE
Marcedes Lewis
(Jaguars)
2005:
LB
David Pollack
(Bengals) and DE
Luis Castillo
(Chargers)
2004:
LB
D.J. Williams
(Broncos) and CB
Chris Gamble
(Panthers)
ANALYSIS:
Results have been mixed with these slots, but the 28th pick actually has found more starters than the 17th in recent years. Freeman showed signs of developing into a future star last year, and Cherilus has started 40 of his 43 games at right tackle. Williams and Greenway have been regular starters. But Moss and Pollack didn't work out. In the 28th slot, Odrick is the only one who hasn't been a regular starter. Injuries detonated his rookie season.

New York Jets
The Jets' top pick is No. 30 overall. Here are the past seven players taken in that spot, with their NFL teams in parentheses:
2010:
RB
Jahvid Best
(Lions)
2009:
WR
Kenny Britt
(Titans)
2008:
TE
Dustin Keller
(Jets)
2007:
WR Craig Davis (Chargers)
2006:
RB
Joseph Addai
(Colts)
2005:
TE
Heath Miller
(Steelers)
2004:
RB
Kevin Jones
(Lions)
ANALYSIS:
What strikes me is that all seven selections not only are offensive players but also ball handlers. Perhaps teams in the back of the draft feel they can gamble a little bit and try to hit big on a skill position. Whatever the reasoning, it seems to have worked. This has been a successful spot. Jones and Addai rushed for 1,000 yards as rookies. Best appears to be the Lions' running back of the future. Miller and Addai have gone to Pro Bowls. Britt was the Titans' leading receiver last year. Keller is one of the NFL's better tight ends.
December, 16, 2009
12/16/09
10:25
AM ET
Condemnation is rampant regarding
Randy Moss
' effort level.
Opponents, pundits and former players have been disparaging in their remarks after Sunday's game against the
Carolina Panthers
.
[+] Enlarge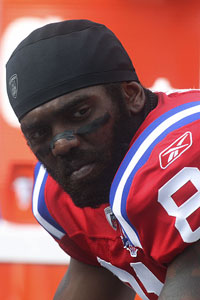 Ronald C. Modra/Getty ImagesRandy Moss has taken some heat for his perceived lack of effort in Sunday's game against Carolina.
The Patriots won, but Moss caught only one pass and fumbled it away. He also appeared to give up on a pass the Panthers intercepted. Critics have been piling on since.
Boston Herald reporter Ian R. Rapoport has found a dissenting voice, a man known as one of the preeminent game film breaker-downers.
Greg Cosell, a 31-year veteran of NFL Films and executive producer of ESPN's "Edge NFL Matchup," watches more film than Gene Shalit and Leonard Maltin combined.
Cosell examined the tape from Sunday and
didn't notice anything troublesome
about Moss' effort.
"The general answer to your question is, I thought it was no different from Randy Moss than in any other game," Cosell told Rapoport. "In fact, early on, I thought his effort on run blocking was very good. I think you have to see this game in the context of how the Panthers chose to play defense. Before the snap, the Panthers removed Randy Moss from the game. That's why he wasn't targeted, not because he 'shut it down.' That had nothing to do with anything."
Cosell explained the Panthers played zone with a safety over Moss to remove him from the game and leaving
Wes Welker
one-on-one.
In Rapoport's story, Cosell also gives his take on Moss' effort on each of the most disconcerting plays: the fumble, the interception and a key drop. It's highly recommended reading.
In writing this entry, I came across this 2003
New York Times profile on Cosell
. The story explains what makes him more of an expert than most players.
"How do I say this without coming off as too arrogant or dismissive?'' Cosell told the New York Times. ''The players are in the loop their whole careers, but then they leave for TV and slowly they stop looking at films and rely on their memories.
''Here, every week, we get the coaches' tapes, the ones the coach and his assistants study. I look at them over and over every week for 'Matchup.' If I need to, I call the coach, too. It is like going to school in pro football every week. And I love pro football.''
December, 14, 2009
12/14/09
2:38
PM ET
In a classic maneuver that could swing sentiment in the
New England Patriots
' locker room at just the right time, Bill Belichick unleashed a couple of uncharacteristically colorful salvos at
Carolina Panthers
defensive backs
Chris Gamble
and
Chris Harris
for ridiculing one of his guys.

Belichick
Gamble and Harris were critical of Patriots receiver
Randy Moss
, essentially claiming they got him to quit on plays Sunday in Gillette Stadium. The Patriots beats the Panthers 20-10, but Moss had one catch for 16 yards and a lost fumble.
"My response would be that's a lot of conversation coming from a team that just lost another game," Belichick said at his Monday news conference.
ESPNBoston.com's Mike Reiss attended
Belichick's Q&A session
, which included defense of Moss and another shot at Gamble and Harris later.
"I have a lot of respect for Randy," Belichick said. "I think he's one of our best players, and I think if you watch other teams defend him and watch other teams play against him, they think the same way -- other than these two guys from Carolina after they lost another game. I guess they don't think that way. They haven't won a lot of games now."
So the message that will resonate with the younger players in the Patriots' locker room is this:
Bill might be tough on us, but when an outsider wants to make an example of us, he'll have our backs.
Next up for the Patriots: the
Buffalo Bills
, who won't be sending Gamble or Harris a Christmas card this year.
AFC EAST SCOREBOARD
Thursday, 10/16
Sunday, 10/19