August, 13, 2014
Aug 13
8:00
AM ET
LATROBE, Pa. -- The
Buffalo Bills
and
Pittsburgh Steelers
will hold two days of joint practices this week at St. Vincent College, which hosts the Steelers' training camp.
Wednesday's session will kick off at 2:55 p.m. ET, followed by a practice Thursday (5:30 p.m. ET) and a preseason game Saturday (7:30 p.m. ET) at Heinz Field.
To preview the joint practices, ESPN.com NFL Nation reporters Mike Rodak (Bills) and Scott Brown (Steelers) answer three questions on their teams.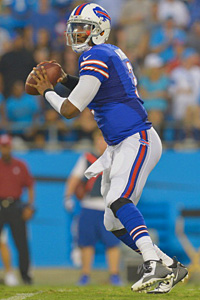 Grant Halverson/Getty ImagesBuffalo Bills fans will take note of how EJ Manuel practices against the Pittsburgh Steelers.
What has been your biggest storyline of camp?
Rodak:
Far and away it's been the development of
EJ Manuel
. Entering his second season, the pressure is on Manuel to take the Bills to the playoffs. He has more help this season than he did as a rookie. The Bills, as we all know by now, traded their 2015 first-round pick to move up for
Sammy Watkins
, who has been everything as advertised so far. Watkins has been Manuel's best friend on the practice field, snagging everything thrown his way and stretching the defense vertically. While Watkins hasn't necessarily lit it up in preseason action (three catches for 21 yards in two games), there are no worries about him. The questions remain with Manuel and his abilities as a pocket passer. He took a step forward in last Friday's preseason win in Carolina, but he's been inconsistent in camp. Manuel can find Watkins for a big gain on one play, but then drive onlookers mad by patting the ball and taking a sack on the next play.
Brown:
I'd have to say it is how much younger the Steelers have gotten, particularly on defense. Eight projected starters on that side of the ball are 27 years old or younger, and rookie
Ryan Shazier
has already won the starting job alongside
Lawrence Timmons
at inside linebacker. Shazier headlines a draft class that has created quite a buzz. Second-round pick
Stephon Tuitt
will start sooner rather than later at left defensive end. Third-round pick
Dri Archer
is an electric and versatile playmaker who will line up all over the field. Fourth-round pick
Martavis Bryant
, Watkins' teammate at Clemson, has a chance to develop into a big-time wide receiver, and could help right away. I have eight of the nine Steelers' 2014 draft picks making the 53-man roster, and the rookies have indeed shown that much promise during camp.
What is one important question that your team could answer in these joint practices?
Rodak:
Is the offensive line's struggles simply a matter of practicing against their own, ferocious defensive line? The Bills' front line hasn't done a great job protecting Manuel in practices this summer. Outside of center
Eric Wood
, a team captain, there a question marks abound. Seventh-round pick
Seantrel Henderson
has filled in nicely for
Cordy Glenn
at left tackle, but he's been prone to rookie mistakes. Left guard
Chris Williams
is out with a back injury, while right guard
Kraig Urbik
-- a former Steeler -- is being pushed for his job by rookie
Cyril Richardson
. Finally, right tackle
Erik Pears
looks to have kept his starting job, but only by default, as second-round pick
Cyrus Kouandjio
has been a disappointment so far. The offensive line has been dominated at times by the Bills' defensive line, which had three Pro Bowlers last season (
Mario Williams
,
Kyle Williams
, and
Marcell Dareus
). If they have breakdowns against the Steelers' defensive line, which will bring a different 3-4 look, then their protection issues extend beyond the talent across the ball in Buffalo.
[+] Enlarge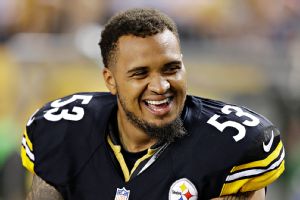 AP Photo/Gene J. PuskarCenter Maurkice Pouncey is one of the high draft picks the Pittsburgh Steelers have used on the offensive line in recent years.
Brown:
How much improvement the Steelers have made along the offensive line. I can't remember the last times hopes were this high for the Steelers' offensive line, and that is due to the investment they have made in a unit that general manager Kevin Colbert used to be accused of neglecting. Since 2010 the Steelers have used two first-round draft picks and two second-rounds selections on their offensive line and three of those players will start this season. The Steelers also hired offensive line coach Mike Munchak last January, and he is expected to bring everything together up front. The first-team offensive line played well in limited snaps in the Steelers' preseason opener last Saturday night. Now the coaches get to see how it fares against a Bills team that is stout up front and plays a different scheme than what the offense is used to practicing against. The two practices should give the Steelers a better gauge of where they are up front.
Who are a few players on your team that the opposing club might be looking down on the roster to say, "Who is that?"
Rodak:
He's been a star of "Hard Knocks," but wide receiver
Chris Hogan
has been rising steadily since OTAs. At 6-foot-1, Hogan is a former college lacrosse player who brings some toughness to the Bills in the slot. He's not as short and shifty as a prototypical slot man like
Wes Welker
, but Hogan's hands are among the surest on the team. He also has some speed and can stretch the field vertically. He's been running with the first team and should continue to be in the mix this week. On defense, I'd look out for cornerback
Nickell Robey
. At 5-foot-8, 165 pounds, he's the smallest player on the team but plays as tough as any defensive back on the roster. Robey went undrafted last season but won the Bills' nickel cornerback job and was part of an underrated defense led by former coordinator Mike Pettine. You might see Robey disrupt the pocket as a blitzer, but he also has a knack for being around the ball, and should make for a compelling, competitive match-up with
Lance Moore
in the slot.
Brown:
The No. 1 player would probably have to be inside linebacker
Sean Spence
. It was, after all, a preseason game against the Bills almost two years ago when Spence ripped up his left knee and had to be carted off the field. His career hung in the balance in the aftermath of a devastating injury and even his own position coach,
Keith Butler
, later said it would be a miracle if Spence over played again. But watching Spence during his first camp since that injury you would never be able to tell he had torn several ligaments, dislocated his knee cap and sustained nerve damage. Spence has emerged as one of the storylines of camp, and the 2012 third-rounder could really help the Steelers this season. Bills coaches may also be asking about
Jordan Dangerfield
even though the hard-hitting safety spent training camp with Buffalo last season. Dangerfield as consistently flashed in practice, and he is among the longshots who appears to be putting themselves in position to make the 53-man roster. The separation among the contenders and pretenders as far as making the team has started this week, and the two practices against the Bills will help the Steelers' coaches in their evaluations.
July, 30, 2014
Jul 30
8:00
PM ET
PITTSFORD, N.Y. -- A daily review of the hot topics coming out of
Buffalo Bills
training camp:
Thunderstorms in the area caused a rain delay about in hour into practice. That lasted about an hour before players came back onto the field to complete the full-length session. Players were in full pads for the seventh consecutive practice, highlighting what has been a physical training camp for the Bills. It will be interesting to see if coach Doug Marrone dials it back at all in the final two practices before the preseason opener in Canton, Ohio.
The offensive line carousel continued to spin Wednesday with Chris Hairston leaving practice with a back injury. Hairston had been in the mix at right guard, where there is an open competition that includes incumbent Kraig Urbik. That battle added another participant Wednesday when fifth-round rookie Cyril Richardson received some reps with the first team. Urbik continues to get the majority of reps in team drills, but for a player whom the Bills signed to a four-year extension in 2012, he can't feel comfortable lining up alongside younger players on the second team, as he did at one point Wednesday.
The Bills have picked up the pace in the red zone. Marrone has implemented a 7-on-7 period at the end of practice dedicated to red-zone work, and results were impressive Wednesday. Although it was against the second-team defense, EJ Manuel completed four touchdowns in his five reps. Two went to Robert Woods, and tight ends Chris Gragg (returning from a week-long absence) and Lee Smith snagged the others. Jeff Tuel then stepped in and completed his first two passes for touchdowns. With some success in the 7-on-7 look, it might be time for Marrone to switch to an 11-on-11 drill and add a pass-rush element for Manuel to face in the red zone.
Tight end Scott Chandler (groin) remained out of practice for a second straight day, as did tight end Tony Moeaki (hamstring). Their injuries don't appear to be serious, but it has thinned the position for practices. The key for both players -- Moeaki especially, given his injury history -- will be to stay healthy once the regular season begins.
Chris Hogan continues to get significant playing time with the first-team offense and has become a reliable player in the slot. The Bills got in some 11-on-11 third-down work Wednesday and Hogan cut across the middle of the field for Manuel's biggest gain of the drill. Secondary coach Donnie Henderson, always vocal from behind the play, made it a point for his safeties to keep an eye out for No. 15.
September, 14, 2013
9/14/13
5:00
AM ET
ORCHARD PARK, N.Y. -- Ask most sports fans in the Northeast, especially the mid-Atlantic, and they'll tell you this much: Lacrosse is a big deal.
It doesn't come as much of a surprise, then, that
Buffalo Bills
receiver
Chris Hogan
-- a native of Wyckoff, N.J. -- chose lacrosse over football. The two-sport athlete, an all-state selection in football at Ramapo High School in Franklin Lakes, was also the 2006 New Jersey Midfielder of the Year in lacrosse.
But after four seasons on Penn State's lacrosse team, it was time for a change. Hogan transferred to Monmouth University, back home in New Jersey, to play football, and later entered the NFL as an undrafted free agent.
Hogan is just one of a few to make the switch from college lacrosse to an NFL career. Former
Atlanta Falcons
and
Seattle Seahawks
defensive end Patrick Kerney (who played lacrosse at Virginia) was a two-time Pro Bowler, while
Miami Dolphins
guard
Will Yeatman
(Notre Dame and Maryland lacrosse) and Seahawks kicker
Steven Hauschka
(Middlebury lacrosse) have also found a home in the NFL.
[+] Enlarge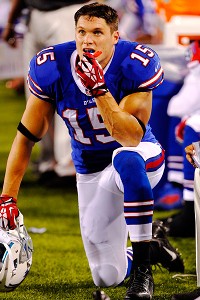 AP Photo/Bill WippertChris Hogan played four years of college lacrosse before transferring and switching back to football.
After a strong preseason that earned him a spot on the active roster, Hogan has settled into Buffalo. Here is his full Q&A with ESPN.com this week:
Early roots in football:
"I started playing soccer when I was little. The coaches told me I was too aggressive, so I started to play football. I started when I was in sixth grade, playing Pop Warner. I played running back, quarterback, cornerback ... all over the place. With soccer, I was out there just kicking a ball around on the field. Football was more fun for me."
Favorite memory at Ramapo High School:
"We went to the state championship my sophomore year. We played at Giants Stadium. I got my first start that game and was player of the game. I had four catches for 100-plus yards, and a touchdown that won the game. That was one of my best memories from high school."
Family attending Bills at Jets in Week 3:
"Everyone's down there. There'll be about 50 people at the game. I'll have a good crowd there."
Role models growing up:
"When I grew up I was a huge Michael Jordan fan. That's not very unusual for people to like him, but I just liked reading his books, especially where he came from, getting cut from his high school team. I thought he was a good person, a good role model to look up to."
Choosing lacrosse over football:
"I had offers from Rutgers, Temple, UConn, Akron. Lacrosse was my bigger thing. I had offers from Maryland, Penn State, Syracuse. I was looking at North Carolina, and all those other schools. That was a tough decision I had to make. I chose lacrosse just because no one was telling me, 'Hey, five years from now you'll be playing football in the NFL.' Penn State was an awesome school. When I went and visited there, I was like 'Alright, I want to spend four years of college here.'"
Transferring to Monmouth University:
"When I decided to play football again, I had a redshirt year. I was kind of tired of lacrosse. I had done it for four years. Someone stuck the idea in my head to play football. I ran with it, did all I needed to do. Transferring was a pain, but Monmouth was the end result, which was awesome."
Favorite memory at Monmouth:
"My first play, first catch was a touchdown. We played Colgate. Just being back out there was awesome. I was playing both sides of the ball again. It was like I was back in high school."
Choosing to pursue an NFL career:
"Professional lacrosse isn't very lucrative. I was done with lacrosse. I obviously have ties to that, coaching and doing stuff in the summer, but football is my main focus and I put all my energy towards trying to do this."
Making the 53-man roster:
"There's no other feeling like that, especially after going to San Francisco, the Giants, then Miami, now here. All on the practice squad. Making the 53 is a pretty unbelievable achievement for me, from where I came from. It's just something I'm working hard at, and have to continue to work hard at it, because it's not like I'm a starter. I have to keep going."
Experience on HBO's "Hard Knocks" last summer:
"It was cool. I tried not to pay attention to it. Obviously it's hard not to when they're there every single day. But the "Hard Knocks" thing was a good experience for me. It obviously gave me a lot of exposure going forward, after I got cut. I look at it as a positive thing, because teams had a good idea of who I was already just from the show."
If teammates still call him "7-11:"
"Yeah. It's not a bad nickname. It's not like it's dissing my game at all. I'll take it. It's my first nickname."
August, 22, 2013
8/22/13
11:00
AM ET
The third preseason game typically serves as the final tune-up for any NFL team's starters. The few dozen players who are locks to make the 53-man roster figure to see action into the third quarter, before taking it easy in the preseason finale.
For those players still battling for roster spots, the extended action for starters leaves them with their last, limited opportunity to make an impression.
The
Buffalo Bills
play their third preseason game on Saturday against the
Washington Redskins
. That will lead into a hectic final week of August, with the 75-man cutdown (Aug. 27), preseason finale (Aug. 29) and 53-man cut-down (Aug. 31) rapidly approaching.
Here's a look at three players on offense for the Bills who are squarely on the roster bubble and may need a strong performance Saturday to survive final cuts. On Friday, we'll take a look at three defensive players in the same situation:
Marcus Easley
The fourth-year receiver led all Bills receivers with 43 snaps in last Friday's preseason win over the
Minnesota Vikings
. The top four receivers for the Bills are set, but Easley could still earn a joint role on offense and special teams. He did his part on special teams on Friday night, playing 12 snaps in that phase of the game. However, the Bills could still choose to go with
Brad Smith
(who projects to have a larger role on special teams) or
Chris Hogan
(who has shown good route running and catching ability), leaving Easley off the roster.
Dorin Dickerson
Dickerson is a bit of an enigma, having spent parts of his career as a wide receiver, H-back/fullback and tight end. The Bills' new coaches tried him at wide receiver this offseason, but he approached the staff with concerns about shedding weight to play that position. He later returned to tight end and has been in the mix for a roster spot. Dickerson's best hope for making the squad, though, is his versatility. A strong showing on Saturday could put him in line for a role as a "utility player" on offense.
Kendall Gaskins
An undrafted rookie from Richmond, Gaskins is a "tweener." At 238 pounds, he played fullback in college but has taken snaps at running back this preseason. He showed some burst last Friday against Minnesota, gaining 16 yards on just three carries. Similarly, he'll have to make the most of the few carries he'll likely see on Saturday. Gaskins is battling
Frank Summers
, who is a true blocking fullback, and
Zach Brown
for the final spot in the Bills' backfield. Getting involved on special teams on Saturday would help Gaskins' case to make the roster.
August, 18, 2013
8/18/13
2:15
PM ET
The
Buffalo Bills
put a heavy emphasis on skill positions in April's draft, injecting more youth and speed into their group of receivers by adding
Robert Woods
(second round) and
Marquise Goodwin
(third round).
Woods projects to join holdovers
Steve Johnson
and
T.J. Graham
in what essentially will be a three-receiver starting package this season. Goodwin, who already has shown big-play ability this preseason, could provide a spark both on offense and on special teams.
Beyond that, the Bills have one or two roster spots to play with at the position, depending if they want to keep five or six receivers. One of those spots could go to
Brad Smith
, who head coach Doug Marrone called a "core" special teams player earlier in training camp.
After the draft, the Bills signed
Da'Rick Rogers
, a standout receiver at Tennessee who was dismissed from the team last summer after multiple failed drug tests. He played last season at Tennessee Tech, and had it not been for his off-the-field issues in college, likely would have been drafted.
Because of that, Rogers was expected to compete for a roster spot this preseason, but instead saw his playing time tail off on Friday night against the
Minnesota Vikings
, seeing just 10 snaps on offense, all late in the game. Unless the Bills want to hold a roster spot for Rogers based off his potential, his chances to crack the 53-man roster look slim.
Instead, the competition for the fifth receiver job looks to come down to either
Marcus Easley
or
Chris Hogan
, although if the Bills release Smith, it could open the door for both players to make the cut.
Through the first two preseason games, here is a snapshot look at each player battling for a roster spot at receiver:
Marcus Easley
*20 offensive snaps vs. IND (7 targets, 7 catches)
*43 offensive snaps vs. MIN (5 targets, 3 catches)
*16 total special teams snaps
Chris Hogan
*22 offensive snaps vs. IND (3 targets, 2 catches)
*37 offensive snaps vs. MIN (7 targets, 4 catches)
*16 total special teams snaps
Brad Smith
*did not play vs. IND (injury)
*11 offensive snaps vs. MIN (2 targets, 2 catches)
*2 total special teams snaps
Da'Rick Rogers
*23 offensive snaps vs. IND (1 target, 1 catch)
*10 offensive snaps vs. MIN (2 targets, 1 catch)
*7 total special teams snaps
August, 17, 2013
8/17/13
5:00
AM ET

Revisiting Friday night's win over Minnesota by highlighting those
Buffalo Bills
players whose performance was "up," and those who fell into the opposite end of the spectrum:
UP
Chris Hogan
: Continues to show up on offense, targeted a team-high seven times and finishing with a game-high four catches. Is docked, however, for a face-mask penalty early in the first quarter.
Jerry Hughes
: Starting in place of
Mario Williams
, has two sacks and a forced fumble, leading a four-sack effort from the Bills.
EJ Manuel
: Enters the game at the start of the second half and leads the Bills on an 80-yard touchdown drive. Isn't spectacular, but continues to avoid making critical mistakes.
Garrison Sanborn
: Long snapper -- yes, the long snapper -- has two special-teams tackles (both on punts).
Robert Woods
: Has a key 22-yard catch on a scoring drive late in the first half, and adds a 34-yard punt return in the second quarter.
DOWN
Colin Brown
: Starts at left guard for a second straight game, but commits costly holding penalty in the red zone late in the first half.
Kevin Kolb
: Has his first chance to outplay Manuel in a game, and finishes with a 55.9 quarterback rating, including an interception.
Nickell Robey
: Undrafted rookie starts at cornerback but is flagged for defensive pass interference to extend a Vikings scoring drive in the first quarter, and is penalized for being offside in the second quarter.
Da'Rick Rogers
: Rookie receiver is stuck at bottom of the depth chart, remaining on the sideline as
DeMarco Sampson
and others see late-game action.
August, 16, 2013
8/16/13
10:35
PM ET
Observations from the
Buffalo Bills
'
20-16 preseason win
over the
Minnesota Vikings
on Friday night:
Kolb gets his chance, plays full half:
In his first action of the preseason,
Kevin Kolb
played the entire first half, finishing 13-of-21 passing for 111 yards and an interception. The Bills always have said they would give both Kolb and rookie
EJ Manuel
a fair shot at the starting job, and tonight might have been Kolb's best chance to prove himself. The results weren't overly positive, although Kolb led the Bills offense on two scoring drives late in the first half, looking more comfortable than he did in the early stages of the game.

Manuel again solid, but not spectacular:
Manuel entered the game at the start of the second half and led the Bills on an 80-yard touchdown drive, completing all six of his passes for 44 yards. More importantly, Manuel did not throw an interception for a second consecutive game. However, the Bills (or Manuel) opted not to take any shots downfield, something they are expected to incorporate into their offense this season. Instead, many of Manuel's throws were in the short range, but he did complete a 27-yard pass to rookie receiver
Brandon Kaufman
in the third quarter. Manuel also had the benefit of playing against the Vikings' second-team defense.
Penalties becoming a major issue:
The Bills were flagged 14 times for 106 yards in the contest, one week after being penalized nine times against the
Indianapolis Colts
. The flags have to be a growing concern for head coach Doug Marrone, especially considering nine of them came in the first half, when many of his starters were still in the game. Among the flags was a key holding call in the red zone against
Colin Brown
, who made his second consecutive start at left guard. In what remains an open battle, that won't help his case.
Defense generating pressure:
The Bills' defense kept the pressure on Vikings quarterbacks throughout the game, finishing with four sacks for 38 yards. Outside linebacker
Jerry Hughes
had two sacks, including a sack and forced fumble of
Matt Cassel
in the second quarter.
Hogan, young receivers making strides:
First-year receiver
Chris Hogan
continued to stand out for the Bills, playing nearly the entire game. Hogan was the team's leading receiver with four catches for 34 yards and was targeted a team-high seven times. Meanwhile, Kaufman and
Marcus Easley
continue to be second-half standouts, with five catches for 91 yards between them. Undrafted rookie
Da'Rick Rogers
had a quiet night, being targeted twice and making one catch for six yards. On special teams, second-round pick
Robert Woods
returned a punt 34 yards, one week after third-round pick
Marquise Goodwin
had two long kickoff returns.
Mario sits out:
Defensive end
Mario Williams
(foot) dressed but was announced as an inactive for the game. He played in two series in the preseason opener, and the Bills continue to manage the health this preseason of their highest-paid player.
What's next:
The Bills return to St. John Fisher College for their final four practices of training camp, beginning Sunday. They travel to face the
Washington Redskins
in the third preseason game next Saturday.
August, 16, 2013
8/16/13
9:00
PM ET
After not playing in the preseason opener,
Kevin Kolb
got back into the
Buffalo Bills
' quarterback competition on Friday night, starting and playing the entire first half against the
Minnesota Vikings
.
Kolb
Kolb's results were mixed. He finished the first half 13-of-21 passing for 111 yards, but many of his completions came on check-downs to tight ends and running backs. Kolb also scrambled out of the pocket frequently, often throwing on the run.
The Bills were 2-for-9 on third down, and at one point in the second quarter Kolb was booed by some fans at Ralph Wilson Stadium after his pass to wide receiver
Chris Hogan
on third-and-8 fell incomplete.
Kolb also threw an interception in the first quarter, although his pass, intended for rookie receiver
Marquise Goodwin
along the sideline, was tipped by the defender in coverage before it was caught by Vikings safety
Jamarca Sanford
.
Late in the first half, Kolb began to look stronger, leading the Bills on a 13-play drive that was stunted in the red zone by a holding penalty on guard
Colin Brown
. But Buffalo was forced to punt after Kolb couldn't connect with running back
Tashard Choice
on third-and-12.
After the Bills regained possession with 38 seconds left in the half, Kolb had his best drive of the game, completing back-to-back passes to push the Bills into field-goal range.
Kolb finished the first half with a 55.9 quarterback rating. He was replaced by rookie
EJ Manuel
at the start of the second half.
August, 11, 2013
8/11/13
6:00
AM ET

The
Buffalo Bills
open their preseason on Sunday at the
Indianapolis Colts
. In a rare afternoon preseason game, kickoff is at 1:30 p.m ET.
Here's what to watch for:
Manuel's first chance to shine. With veteran Kevin Kolb dressing but serving only as the emergency quarterback, rookie EJ Manuel has a prime opportunity to get a leg up on the quarterback battle through the rest of the preseason. The biggest question is how much he'll play. Coach Doug Marrone refused to tip his hand on Friday night, but it wouldn't be surprising to see Manuel take the first half and another rookie, Jeff Tuel, take over for the second half.
Who steps up among rookie wideouts? With Stevie Johnson (hamstring) out for at least this game, second-round pick Robert Woods and third-round pick Marquise Goodwin will get live game reps with Manuel. The Bills began their first practice of training camp with a long-ball drill; expect them to take some deep shots early on Sunday. With Brad Smith and Kevin Elliott also not expected to play due to injury, look for Chris Hogan, who has stood out thus far in camp, to see extensive action. Finally, it's worth monitoring when undrafted receiver Da'Rick Rogers enters the game; if it isn't until late, it won't help his chances of making the final cut, which is less than three weeks away.
Does Hackett put his stamp on offense early? At 33, Nathaniel Hackett is one of the younger offensive coordinators in the NFL. His up-tempo, energetic personality has left its mark on the Bills' offense, which aims to wear down defenses with a speed-oriented, no-huddle approach. But if Hackett reveals too much of his strategy in preseason contests, it will give opponents an opportunity to dissect the scheme on film, so expect something more toned-down on Sunday. With Manuel seeing his first game action in the NFL, it may be best to slow the offense down until he gets comfortable.
Where does the pass rush come from? Marrone said Friday that defensive end Mario Williams (foot) will be a game-time decision. At this point in the preseason, it seems unlikely the Bills would risk putting Williams on the field. After Williams, there is a significant drop-off among proven pass-rushers, something that has arguably flown under the radar in training camp. The Bills seem to be expecting big things out of Jerry Hughes, who will be returning to Indianapolis, where he was a former first-round pick. The team also appears high on Jamie Blatnick, who should see significant playing time Sunday. The first time the Colts are in a third-and-long situation, it will be worth noting who is on the field and what pressure they generate against an improved Colts offensive line.
Left guard another battle to monitor: Beyond the obvious competition at quarterback, the Bills have an open left guard spot that is far from being decided. The focus will be less on who starts -- it could be Colin Brown, Doug Legursky, or someone else -- and more on how they perform when in the game. Marrone hasn't seemed satisfied with the battle so far and has been working closely with the offensive line in practice. You can bet that he will be taking a close look at the film for that position on Monday morning.
August, 9, 2013
8/09/13
4:17
PM ET
Through nearly two weeks of training camp, much of the national talk surrounding the Buffalo Bills has been about the quarterback battle and the development of rookie
EJ Manuel
.
But with the team's first preseason game looming Sunday, buzz has picked up this week around a pair of players who flew under the radar entering training camp.
Let's dig deeper into each one:
WR Chris Hogan
[+] Enlarge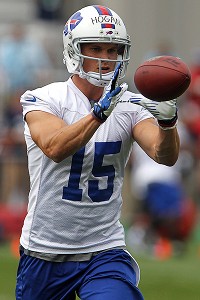 Icon SMIChris Hogan is on his fourth NFL team in three seasons, but is turning heads in Bills camp.
The top of the Bills' depth chart at receiver is virtually set: Once
Steve Johnson
returns from a hamstring injury, he's the unquestioned leader of the group. Beyond that,
T.J. Graham
and rookies
Robert Woods
and
Marquise Goodwin
are all locks to make the roster, although their exact roles have yet to come into focus. While
Brad Smith
could earn the No. 5 receiver job based on special-teams contributions, the back end of the receiver picture is blurry.
Now with his fourth NFL team in three seasons, Hogan is beginning to emerge as a serious candidate for the 53-man roster. He has yet to play in an NFL game, played at a small college (Monmouth University) and doesn't possess freakish size or athleticism. Other than an appearance on HBO's "Hard Knocks" series with the Dolphins last season, when running back
Reggie Bush
dubbed him "7-Eleven" because he's "always open," Hogan is just another name on the roster.
Yet Thursday's practice was another positive step for Hogan in making the team, with Manuel connecting with Hogan on several passes during the session,
according to the Buffalo News' Mark Gaughan
. Moreover, WGR 550's Joe Buscaglia named Hogan
his MVP of Thursday's practice
, saying that Hogan has looked the best among the handful of receivers who are fighting for jobs.
The key for Hogan will be sustaining that success through the preseason. His competition at wide receiver includes
Da'Rick Rogers
, an undrafted free agent who likely would have been selected in April had it not been for failed drug tests and other issues in college. The Bills could decide that they want to keep Rogers on their 53-man roster and try to get Hogan onto their practice squad, but a solid preseason from Hogan would make that decision more difficult.
DL Alex Carrington
A third-round pick in 2010 by Buddy Nix, Carrington has arguably underperformed through his first three seasons. Drafted as a 3-4 defensive end, the Bills tweaked their defensive scheme last season, transitioning into a 4-3 look in which Carrington lined up inside. He went from starting six games in 2011 to none in 2012, although he was more productive, recording two sacks and forcing a fumble. He also blocked three field goals, but expectations for a third-round selection are higher than just making plays on special teams.
This season, Carrington has been one player who has benefited from defensive coordinator Mike Pettine's new scheme. While Pro Bowl defensive linemen
Kyle Williams
and
Mario Williams
have been limited by injuries so far in camp, Carrington is setting himself up to earn a role alongside both those players once they fully return.
"He's probably been our most consistent player on the grade sheets, very rarely gets a minus," Pettine said Thursday. "He's probably our most technically sound guy up front, plays at great pad level."
According to Buscaglia
, Carrington had two sacks in Monday night's scrimmage.
"As you saw in the scrimmage, he's a guy that usually quiet. But when it's a live situation like that, he gets pretty fired up," Pettine said. "Our guys fed of his energy a little bit and made some plays. It was fun to watch."
August, 31, 2012
8/31/12
11:05
PM ET
Click
here
for a complete list of
Miami Dolphins
' roster moves.

Most significant move:
Dolphins general manager Jeff Ireland, head coach Joe Philbin and the rest of his coaching staff warned their wide receivers that they needed to step up. This is Miami's weakest area, and week after week, receivers dropped balls and failed to make plays. Still, it was surprising that Miami cut two receivers of significance:
Clyde Gates
and
Roberto Wallace
. Both were on the bubble, but at least one was expected to make the cut -- especially on a receiver-deprived team. The Dolphins also released fellow receivers
Chris Hogan
,
B.J. Cunningham
and
Jeff Fuller
. The Dolphins said in the spring that they liked their receivers group; clearly, those opinions changed after training camp and the preseason.
Onward and upward:
Miami made two free-agent additions to help the team's depth at linebacker this offseason:
Jamaal Westerman
and
Gary Guyton
. Both players had starting experience and had played in the AFC East. But neither fit well with Miami's new 4-3 defense. The Dolphins decided to cut their losses and not take either on their 53-man roster. There's a good chance other teams will be looking for veteran linebackers, and due to their experience, both have a chance to land elsewhere.
What's next:
Miami should be one of the busiest teams in free agency and scanning waivers. The Dolphins are rebuilding and need a lot of upgrades and depth. Wide receiver and safety are two positions Miami certainly will have its eye on. The Dolphins have a long way to go to make their roster into a contender. Rookie quarterback
Ryan Tannehill
needs some assistance in his first season. So expect more changes in Miami before its Week 1 game against the
Houston Texans
.
August, 12, 2012
8/12/12
10:14
PM ET
The
Miami Dolphins
released the best receiver in their training camp
Sunday night, cutting six-time Pro Bowler
Chad Johnson
after he was charged with domestic abuse. He was on pace to be the No. 1 receiver in Miami's new West Coast offense.
So what's next for Miami's passing game? That is the big question facing first-year Dolphins head coach Joe Philbin.

Here is a look at Miami's remaining receivers:
It's not a star-studded group -- but it's what the Dolphins are left with after cutting Johnson. The Dolphins clearly didn't feel the 34-year-old veteran was worth the headache and distraction he brought to the locker room.
But someone from this group must step up. Hartline, Naanee and Bess are the most proven; they will get the first chance. After that, younger receivers like Wallace, Pruitt and Gates have a chance to finally live up to their potential.
The Dolphins set an example of character over talent by cutting Johnson. But it's a decision Miami also has to live with on the field.