January, 23, 2014
Jan 23
5:00
PM ET
One of our first instincts following the NFL draft is to assess how teams fared in the process.

Following last year's draft, ESPN NFL draft expert Mel Kiper Jr. graded the Patriots' class as a C+, noting at the time: "I don't see a starter out of this draft in the short-term, but they added players with some really good traits. It's just a matter of development now."
With a full season of tape study under his belt, Kiper has re-graded each team's draft class, and the Patriots' mark improved to a B.
"Is there a star in this draft, or even a Pro Bowl-caliber player? Maybe not," Kiper writes. "But that doesn't mean the Patriots didn't do an incredible job of plugging gaps with rookies they drafted and those they picked up as undrafted free agents to keep the ship afloat as long as they did."
"Bill Belichick deserves a lot of credit for utilizing these guys to the best of their ability, but there isn't anyone who wows you in this class," Kiper also writes. "Still, the grade definitely jumps."
He also notes that the Patriots had the second most snaps played by a rookie class in the NFL, according to ESPN Stats & Info, while the team used 13 rookies in total.
Each of the seven drafted players made the active roster for the Patriots, with
Logan Ryan
,
Aaron Dobson
,
Jamie Collins
and
Duron Harmon
as the primary contributors.
Defensive tackle
Chris Jones
, a sixth-round pick of the Texans, and undrafted defensive tackle
Joe Vellano
also played extensively.
To see Kiper's full take on the draft re-grades (Insider content), click
HERE
.
November, 7, 2013
11/07/13
12:00
PM ET
The
New England Patriots
have received significant contributions from their rookie class this season. In Bill Belichick's 14 years as head coach, this season ranks near the top of the list, if not at the top, in this area.
Following up Field Yates'
progress report
on second-year players from this morning, here is a rookie breakdown (alphabetical order):
Allen
Punter Ryan Allen:
The undrafted free agent ranks 10th in the NFL with a 46.4 average and 16th in net punting (39.9) as he's proven to be up to the task of replacing veteran
Zoltan Mesko
. He's also the holder on field goals, and
Stephen Gostkowski
is 22 of 23 this season. Allen's eight touchbacks are tied for the NFL high, which is an area for improvement.
Guard Chris Barker:
Claimed on waivers from the Dolphins at the final roster cutdown, the undrafted free agent from Nevada dressed for the first three games of the season as veteran backup
Will Svitek
was working his way back from a knee injury, but hasn't played on offense. This looks like a red-shirt year for him as the Patriots have avoided the risk of another team claiming him on waivers (Dolphins?) should they try to move him to the practice squad.
Linebacker Steve Beauharnais:
The seventh-round draft choice from Rutgers has dressed for three games, but hasn't played on defense. This appears to be more of a red-shirt year for him.
Receiver Josh Boyce:
The fourth-round draft choice from Texas Christian played in the first five games (1 catch, 24 yards) but has been inactive for the past four as veteran
Austin Collie
was viewed as a more consistent option. Boyce is one of the fastest receivers on the team, but appears to need a little more time to put it all together.
Defensive end Michael Buchanan:
The seventh-round pick from Illinois opened the season as the primary right defensive end in sub packages, but a few struggles with rush-lane integrity (Oct. 6 vs. Bengals and Oct. 20 vs. Jets) led to the signing of veteran
Andre Carter
, who has since taken over that role. Buchanan contributes on special teams and is now No. 4 on the overall defensive end depth chart, with obvious upside.
Linebacker Jamie Collins:
The second-round pick from Southern Mississippi has been a core special teams player and was integrated a bit more defensively after linebacker
Jerod Mayo
was lost to a season-ending injury Oct. 13. But after flashing a bit Oct. 20 vs. the Jets, he was pushed around in the first half against the Dolphins on Oct. 27 and has played sparingly on defense since. He has all the tools, but appears to need a bit more time.
Dobson
Receiver Aaron Dobson:
The second-round pick from Marshall has come on strong in recent weeks, elevating to the top spot on the depth chart as the X outside target. He has 31 receptions for 454 yards with four touchdowns, and at 6-foot-3 and 200 pounds gives the Patriots a combination of size and speed that they haven't had at the position since Randy Moss.
Safety Duron Harmon:
Considered a reach as a third-round pick, the Rutgers product has been a top backup behind starters
Devin McCourty
and
Steve Gregory
, playing in some sub packages. He also filled in on special teams when core player
Tavon Wilson
was out with a hamstring injury. Teammates have talked about his smarts and his professional approach.
Defensive tackle Chris Jones:
Claimed on waivers from the Buccaneers on Sept. 11, he earns our vote for Patriots "rookie of the first half" with five sacks in six games played. At 6-foot-1 and 309 pounds, his quickness has been an asset as an interior rusher, and he's been competitive from a strength/physical standpoint on run plays. Waived by the Texans, who drafted him in the sixth round, he briefly landed in Tampa before the Buccaneers let him go and the Patriots pounced. He has proven to be a steal.
Ryan
Cornerback Logan Ryan:
The third-round pick from Rutgers has made some big plays, such as an interception return for a touchdown against the Jets on Oct. 20, as he's been thrust into a top reserve role in recent weeks with
Aqib Talib
out. At 5-foot-11 and 195 pounds, he has mostly been competitive in coverage and shown a willingness to play the run.
Receiver Kenbrell Thompkins:
The undrafted free agent from Cincinnati has slid down the depth chart the past two weeks after serving mostly as the primary X option on the outside (23 catches, 334 yards, 4 TDs) through the first seven games. He made the big game-winning catch against the Saints on Oct. 13, but has since been passed on the depth chart by Dobson.
Defensive tackle Joe Vellano:
The undrafted free agent from Maryland is one of the surprises of the season. After opening the season as the No. 3 option behind
Vince Wilfork
and
Tommy Kelly
, he has been thrust into a starting role as both veterans have been lost to season-ending injuries. At 6-foot-2 and 300 pounds, he might be viewed as undersized by some, but he wins with technique and scrappiness.
October, 24, 2013
10/24/13
6:00
PM ET
FLORHAM PARK, N.J. -- Special teams coordinator Ben Kotwica, commenting for the first time on the
New England Patriots
' illegal "push" play, refused to confirm or deny he warned the officials beforehand to watch out for the tactic. Kotwica was more expansive on Bill Belichick's accusation that the
New York Jets
used it, too.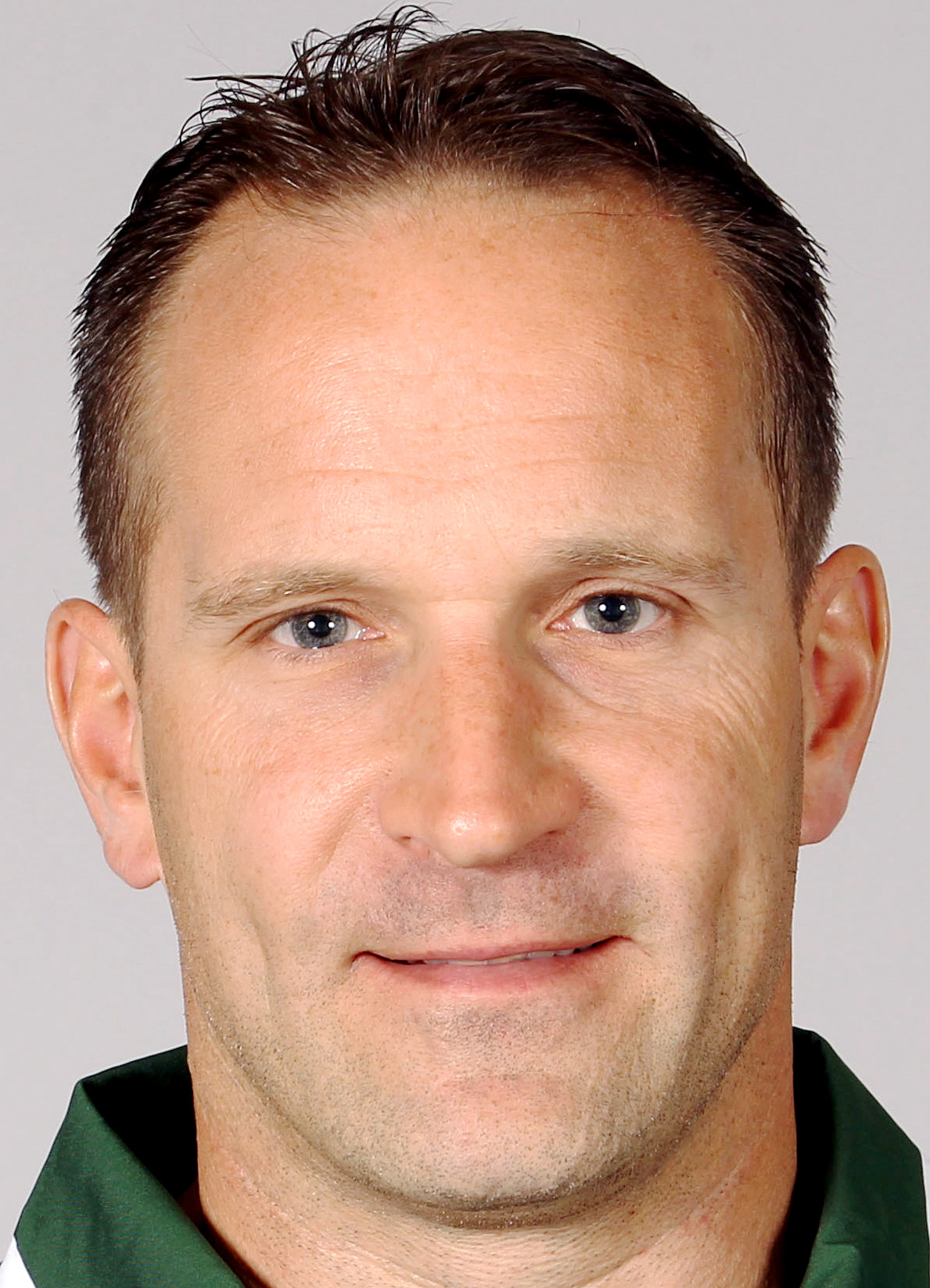 Kotwica
No way, Kotwica said.
"We don't coach pushing or anything along those lines," said Kotwica, adding: "I don't know what they were trying to do. I just know this: We teach a technique and a scheme on how to block field goals and it's within the regulations of the game."
Kotwica echoed Rex Ryan, who fired back at Belichick Wednesday by saying the allegation is "not true." It appeared that
Quinton Coples
gave teammate
Muhammad Wilkerson
a one-armed push on
Stephen Gostkowski
's field goal at the end of regulation. It was "incidental contact," according to Kotwica.
Kotwica said he took no offense to Belichick calling out the Jets.
"No, I don't take it personally," he said. "I've got a lot of respect for Coach Belichick and what he's done for the game. That's his opinion. I wouldn't take it personally."
On Tuesday, ESPN.com reported the Jets' sidelined tipped off the officials during the game. It probably was Kotwica, who routinely speaks with officials during the week and before each game. Publicly, the Jets haven't confirmed that they alerted officials to the Patriots' previous use of the push play.
Kotwica cleverly danced around questions, saying he always communicates with the league office during the week to discuss rules and points of emphasis. He also speaks with the umpire before every game to discuss "different formations you have, different guys that are eligible ... and anything else that might happen during the game."
Asked point-blank if he brought up the subject last Sunday, Kotwica he preferred to keep those conversations private.
Everybody knows what happened.
Nick Folk
's field-goal miss from 56 yards in overtime was nullified because the Patriots'
Chris Jones
was penalized 15 yards for pushing a teammate into the Jets' formation. On his second try, from 42 yards, Nick was successful, lifting the Jets to a 30-27 upset.
"My initial reaction (to the penalty) was, 'I hope it's on them,'" said Kotwica, claiming he had no idea it would for pushing.
October, 21, 2013
10/21/13
6:15
PM ET
Rex Ryan probably didn't want to come off as a tattletale, but the
New York Jets
coach left little doubt Monday that he knew about the
New England Patriots
' previous use of the illegal pushing technique on field goal blocks, and he didn't deny blowing the whistle on them.
In fact, the Jets sideline alerted the officiating crew during the game to watch out for it, a person familiar with the situation said late Monday.

Ryan
While he wouldn't answer directly on whether he was aware the Patriots had used it once the previous week against the
New Orleans Saints
, Ryan said, "The coaches watch every single play of every single game, so we're aware of the opponents' tendencies and everything else."
In other words, he knew.
Ryan declined to say if that information was shared with his players ("I'll leave that in-house"), and he also avoided the question of whether he tipped off officials before Sunday's game.
"Again, you know what? My comments with the officials, I'll just leave that way," he said.
The Jets were well-schooled on the new "push" penalty, players said Monday. In addition to the mandatory tutorital in training camp from officials, who travel the country to educate teams on new rules, the players were "reminded" as recently as early last week, said
Damon Harrison
, a member of the field-goal unit.
They were reminded because the Patriots got away with it last week.
Chris Jones
pushed teammate
Will Svitek
on
Garrett Hartley
's 39-yard field goal late in the fourth quarter. Jones and Svitek ran the same technique against the Jets, but the umpire saw it and threw a flag -- 15 yards for unsportsmanlike conduct. It nullified a field-goal miss by
Nick Folk
, who followed up by nailing one from 42 yards in overtime, lifting the Jets to a 30-27 win.
The "push" penalty, on the books this season for the first time, is designed to improve player safety. This was the first time it was enforced.
Former Jets special-teams coach Mike Westhoff, an ESPN Radio analyst, studied a tape of the play and said it was "very, very evident" that it was orchestrated. He said Jones "cheated back in his stance," allowing him to get in position to push Svitek from behind.
"I watched the tape. You don't have to be Sherlock Holmes," Westhoff told ESPNNewYork.com. "I can't prove this -- I don't know what they teach -- but those guys are pretty sharp up there [in New England]. I can't imagine them running a technique and not being aware of it. In my opinion, it was coached, taught and implemented that very way. I think they did it on purpose and got caught."
Westhoff said he "blocked a lot of kicks with that same technique," but it was legal up until this season. He said it's an unsafe practice because of "the force it generates," a big body pushing another big body into a blocker.
Demario Davis, another special-teams contributor, said he was "very aware of the rule." Patriots coach Bill Belichick admittedly wasn't, acknowledging Monday his postgame interpretation was wrong. Rule 9, Section 1, Article 3 from the rule book is pretty straight-forward: "Team B players cannot push teammates on the line of scrimmage into the offensive formation."
Willie Colon
, another interior blocker on the field-goal unit, said "all coaches should have knowledge of the rules." But he admitted he didn't know what was going on until after the game.
How could a head coach make such an oversight? Ryan didn't want to go there.
"I'm not worried about that," he said, bristling after several questions about the controversy. "The focus is going to be wherever you guys want it to be, but I think we outplayed New England, and I think that's why we won the game."
October, 21, 2013
10/21/13
1:00
PM ET
A review of four hot issues from the
New York Jets
' 30-27
overtime win
against the
New England Patriots
.
The "push" heard 'round the world:
There's no doubt that
Chris Jones
pushed teammate
Will Svitek
into blocker
Damon Harrison
on
Nick Folk
's 56-yard field goal miss, violating a new rule on the NFL books. On Monday, Patriots coach Bill Belichick came clean, admitting his postgame interpretation of the rule -- that it's illegal only if the push comes from a second-level defender -- was wr ... wr ... wr ... wrong. Yes, he actually said the word. Asked why he had the notion that second-level pushing was illegal but pushing at the line was within the rules, Belichick replied, "Because obviously we are wrong. What else is there to say? We're wrong." Jets fans might want to tape that quote to the refrigerator.
[+] Enlarge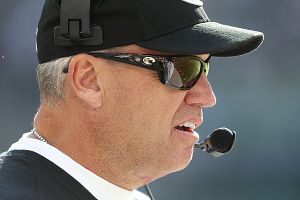 AP Photo/Peter MorganDespite having to employ a trio of new coordinators, Rex Ryan has the Jets contending in the AFC East.
Now there's a new wrinkle: I checked the tape of the Patriots-
New Orleans Saints
game from the previous week, and the Patriots ran the exact same technique on the Saints' 39-yard field goal late in the game. Same technique, same two players, Jones pushing Svitek. There was no penalty flag.
But wait, there's more to this story: The Jets might have been guilty, too. On
Stephen Gostkowski
's 44-yard field goal at the end of regulation, the Jets'
Quinton Coples
appears to shove a teammate into the Patriots' formation. It's hard to get a clear view from the TV tape. The coaches' tape, which should be released later Monday, will have a better angle.
Yep, another chapter in the Jets-Patriots rivalry.
Ground & Pound & Pound:
Did Rex Ryan call the plays in this game? I say that jokingly, but there's no denying the game plan had Ryan's fingerprints on it. The Jets ran 52 times, their most rushing attempts since a 57-attempt day against the
Cincinnati Bengals
in the 2009 season finale. This was a radical departure for coordinator Marty Mornhinweg, who averaged 26 rushes per game last season with the
Philadelphia Eagles
. The game-winning drive was way out of character for Mornhinweg, who ran on 11 of 12 plays. He got conservative at the end, calling an inside handoff on a third-and-5 from the Patriots' 36. The message was clear: Mornhinweg/Ryan had more faith in Folk from around 50 yards than they did in
Geno Smith
dropping back to pass. They almost got burned. The "push" play saved them from heavy criticism.
Crazy Legs Geno:
Smith has rushed for 146 yards, already surpassing
Mark Sanchez
's career season high by 40 yards. Smith was at his best against the Patriots, with six runs for 32 yards. His 8-yard touchdown run was a thing of beauty, as he cut and slashed his way through three defenders. He made former Jets cornerback
Marquice Cole
look silly with an open-field move. Smith should run more often. If the Jets continue to see a lot of man-to-man coverage, meaning the defenders' backs are turned to the quarterback, it makes sense for Smith to take off if no one is open.
Defense rocks:
Ryan called off the blitz, sending five or more rushers on only six of 49 dropbacks by
Tom Brady
, according to ESPN Stats & Information. It was a highly unusual approach by the aggressive coach, but it worked. Confident in the front four's ability to generate pressure, Ryan emphasized coverage. Part of the reason was because the secondary was healthier than it had been in several weeks, with the return of rookie cornerback
Dee Milliner
. It turned out to be one of the most impressive defensive days of the Ryan era. It's hard to believe, but the Jets held the Patriots to only two field goals on their final 10 possessions.
October, 21, 2013
10/21/13
12:30
PM ET
FOXBOROUGH, Mass. -- A review of four hot issues following the
New England Patriots
' 30-27
overtime loss
to the Jets:
[+] Enlarge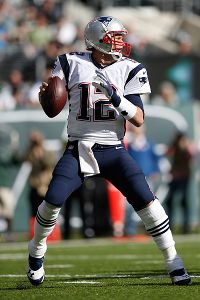 AP Photo/Kathy WillensTom Brady's struggles came at a bad time for the limping Patriots.
Tom Brady and offensive struggles:
We led off the "Upon Further Review" feature last week with the subtitle "Tom Brady magic" after he led the team's game-winning touchdown drive against the Saints. But the magic act did a disappearing act against the Jets. Credit, first and foremost, to a tough Jets defense that held the Patriots to 1-of-12 on third down. It was a day when the undermanned defense needed Brady and Co. to step up and carry the day, and the quarterback didn't deliver. It isn't all on him, but one of the defining characteristics of his play -- accuracy -- isn't showing up consistently.
Special teams coaching:
Bill Belichick often says that his opinion on NFL rules isn't important; what's truly important is that everyone understands them and they are coached accordingly. This is a topic to revisit after the Patriots were penalized for unsportsmanlike conduct on
Nick Folk
's 56-yard field goal in overtime when rookie defensive tackle
Chris Jones
was flagged for pushing teammate
Will Svitek
into the formation. After the game, Belichick shared his viewpoint that he didn't think it was a penalty because Jones wasn't on the second level, meaning he initially aligned on the line of scrimmage. The league's vice president of officiating, Dean Blandino, said otherwise. This was the first time the penalty has been called since the rule was implemented this season. On Monday, Belichick took accountability, saying: "Obviously we are wrong."
Injuries on defense show up:
The Patriots have lost defensive tackle
Vince Wilfork
and linebacker
Jerod Mayo
to season-ending injuries, and with cornerback
Aqib Talib
(hip) missing Sunday's game, that left them without three of their best players. It showed at times, as the Jets were 6-of-6 on third down to open the game. In the end, the defense made enough plays to give the team a chance to win, but the personnel losses make one wonder if they can sustain it.
Inconsistent offensive line:
Returning all five starters along the offensive line, it seems fair to say that the unit should be the strength of the offense. But when the game swung in the third quarter, a big part of it was because of protection breakdowns up front. Better play is needed on a more consistent basis from the big guys up front: left tackle
Nate Solder
, left guard
Logan Mankins
, center
Ryan Wendell
, right guard
Dan Connolly
and right tackle
Sebastian Vollmer
.
October, 21, 2013
10/21/13
8:00
AM ET
EAST RUTHERFORD, N.J. -- A few minutes after the
New York Jets
' 30-27 overtime win over the
New England Patriots
, I received a text from an old friend in Rhode Island -- yes, a Patriots fan.
"Fix. [B.S.] call," it read.
I'm guessing that pretty much captures the sentiment of the entire New England region.
It was, in fact, the correct call. We're referring, of course, to
Chris Jones
' unsportsmanlike-conduct penalty, the result of a new and obscure "pushing" rule. Rule 9, Section 1, Article 3 from the NFL rule book states: "Team B players cannot push teammates on the line of scrimmage into the offensive formation."
Jones pushed
Will Svitek
into Jets blocker
Damon Harrison
, resulting in the flag. This particular penalty never had been called before, according to the NFL. You know what happened next:
Nick Folk
, who missed from 56 yards, got another shot from 42 yards. He drilled it, lifting the Jets to a crazy and impressive win.
Bill Belichick argued it's only a penalty when a second-level defender does the pushing. That's not the rule, according to the game officials. Obviously, this became a huge national story. Tony Dungy, a studio analyst for NBC's "Football Night in America," said the call was correct.
"This is a new rule and a rule that the players asked for, a rule for safety," he said on the air. "You cannot push in the middle of the line of scrimmage. Chris Jones comes in from behind and pushes his teammate. This should be called and it had to be called. … It doesn't say anything about second level. ... It says you cannot push into the line of scrimmage. The officials did a good job calling it."
So maybe this should be remembered as the "Rule 9-Section 1-Article 3" win for the Jets.
When push comes to shove, they have a knack for pulling out improbable victories.
In Week 1, Tampa Buccaneers linebacker
Lavonte David
shoved
Geno Smith
late out of bounds, resulting in a 15-yard penalty. It set up a makeable field goal for Folk from 48 yards with two seconds left. Jets 18, Bucs 17.
How can one team get so lucky twice? In Week 1, it was a dumb play by David; the Jets almost certainly would've lost without that penalty. This time, it was a really dumb play by Jones, who admitted after the game he was aware of the rule. So, basically, he knowingly tried to pull a fast one on a 56-yard field-goal try, which is akin to fouling a shooter on a 35-foot shot in basketball. If he had kept his hands to himself, the Patriots would've been 15 to 20 yards from their own game-winning field-goal try.
A message to my friend: Consider this the response to your text.
ICYMI:
Geno Smith did it again, orchestrating his
fourth game-winning drive in fourth quarter/overtime.
Only four quarterbacks have done that in their first four wins; the others are Bruce Gradkowski, Troy Aikman and Lynn Dickey. ... The Jets are wildly unpredictable, but it's
time to take them seriously
. ...
Chris Ivory
hinted last week that he wasn't happy in his role.
He's happy now
. ...
Jeremy Kerley
dominated on third down
. He resembled former Jet Wayne Chrebet, who was an honorary captain. ...
Josh Cribbs
contributed in a
variety of ways
in his Jets debut. ... S
Antonio Allen
made the
defensive play of the year
.
October, 20, 2013
10/20/13
5:40
PM ET
EAST RUTHERFORD, N.J. -- Patriots defensive tackle
Chris Jones
, who was flagged for an unsportsmanlike penalty on a missed field goal by the Jets in overtime, said after the game that the rule he violated was one he was aware of but slipped his mind at the time.
"Yeah, it was something we talked about probably during camp and stuff, and it just slipped out of my mind," he said. "So I just, it was just my mistake, nobody else's. I've just got to man up and fix it next time."
Jones was flagged because he appeared to push teammate
Will Svitek
, a violation on a field goal block attempt that gave the Jets 15 yards and a first down. They kicked the winning field goal four plays for a
30-27 overtime win
.
Jones indicated that he knew what he was going to do before the play.
"Yeah, yeah," he said. "Just try to get that extra little oomph in there."
When a flag was thrown on the play, Jones admitted that he was confused by the call.
"I was confused at first and didn't know what was going on, and I figured out what it was and I was like 'that was my fault,' " he said. "I just had to get -- we still had more football to play after that -- so I just had to, you know, get rid of it real quick."
Losing the game after committing the penalty was difficult for Jones.
"Yeah, it's tough," he added. "Any time you lose, it's hard on the team. You never want to lose, being a competitor, you never want to lose a game."
The rookie, who also had two sacks during the game, shouldered sole responsibility for the mistake.
"The mistake was mine," he said. "I take it, I put it on my shoulders, it was all my fault and it was nobody else's."
October, 11, 2013
10/11/13
11:10
AM ET
FOXBOROUGH, Mass. -- Veteran defensive tackle
Tommy Kelly
wasn't at Friday's practice, marking the third straight day he hasn't been on the field with his teammates, which puts his status in doubt for Sunday's game against the Saints.
Kelly left Sunday's 13-6 loss to the Bengals with a right knee injury.
Should the
New England Patriots
be without Kelly, it would be a double-barreled blow because they also lost starting defensive tackle
Vince Wilfork
to a torn Achilles on Sept. 29. So they could be down to their third-, fourth- and fifth-string options at defensive tackle -- rookies
Joe Vellano
and
Chris Jones
and four-year veteran
Andre Neblett
, who was signed Wednesday.
On Neblett, Patriots coach Bill Belichick said, "He has some experience, played at Carolina and Tampa in preseason; we played against him. He has good playing strength and he's played a decent number of plays over the past three years, couple hundred plays a year, so he has some experience."
Belichick said the 6-foot-0, 310-pound Neblett has played both three-technique (outside shade on guard) and nose tackle.
Elsewhere on the injury front, veteran running back
Leon Washington
was the other player not spotted at Friday's practice. He's been absent all week after injuring his ankle in Sunday's loss to the Bengals and is unlikely to play against the Saints.
October, 7, 2013
10/07/13
1:20
PM ET
CINCINNATI -- A review of four hot issues following the
New England Patriots
'
13-6 loss
to the
Cincinnati Bengals
:
[+] Enlarge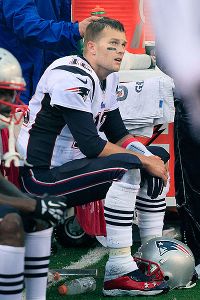 AP Photo/Tom UhlmanPatriots QB Tom Brady finished Sunday's Week 5 game in Cincinnati with 197 yards, no TDs and one interception.
Offensive struggles:
In a script that has been flipped from recent years, it's the defense carrying the offense at this point. Quarterback
Tom Brady
was held to fewer than 200 yards passing for the second time this season, as the Bengals defense controlled the game at the line of scrimmage. "We scored six points; I don't even remember the last time we've done that," Brady said Monday morning on sports radio WEEI. The last time the Patriots scored fewer points was a 21-0 shutout loss at Miami on Dec. 10, 2006. Looking for a place to start when it comes to turning around the fortunes of the offense? Start up front with the offensive line, where all five starters return and a better performance than what was put forth Sunday in Cincinnati is expected.
Rob Gronkowski's potential return:
The tight end has missed the first five games of the regular season, but he could return Sunday against the Saints. The Patriots couldn't convert in their one trip inside the red zone Sunday, and Brady threw incomplete to left tackle-turned-eligible tight end
Nate Solder
in the end zone. Gronkowski, who figures to be managed upon his return to the field, could at least help in the red zone.
Tommy Kelly and defensive tackle depth:
The veteran defensive tackle left Sunday's game with a right knee injury in the fourth quarter and didn't return. Kelly said after the game that "everything was good" with the knee, and he wasn't walking with a limp or with the aid of crutches, although it's still a bit unclear what that means. The Patriots are thin at defensive tackle after losing
Vince Wilfork
to a season-ending Achilles injury, and if Kelly is sidelined for any period of time, it would further deplete the ranks. Rookies
Joe Vellano
and
Chris Jones
are the only other defensive tackles on the roster, while
Marcus Forston
and A.J. Francis are on the practice squad.
Banged-up running back group:
With veteran
Leon Washington
leaving Sunday's game with an ankle injury and not returning,
Shane Vereen
on short-term injured reserve, and
Stevan Ridley
sidelined Sunday with a knee injury, the Patriots were down to just two running backs --
LeGarrette Blount
and
Brandon Bolden
. Both had miscues that hurt the team -- Blount a second-quarter fumble and Bolden two drops. As the passing game struggles to produce consistent results, it would help to be able to turn to the running game. But it's a depleted group and we'll be interested to see if Washington's injury leads the team to consider injured reserve as an option.
September, 21, 2013
9/21/13
4:00
PM ET
We've talked throughout the week about the sheer size of the
Tampa Bay Buccaneers
' offensive line, led by left tackle
Donald Penn
and left guard
Carl Nicks
, each of whom is a mountain of a man.

One of the considerations when facing a hulking offensive line is to dress four defensive tackles, which the
New England Patriots
did not do last week against the Jets after they had acquired
Chris Jones
just the day before.
At the same time, even if the Patriots do dress four defensive tackles to provide depth for starters
Vince Wilfork
and
Tommy Kelly
, one intriguing changeup the team could turn to on Sunday would be an extended use of their three-defensive-end package, something we've seen during each of the first two games.
With
Rob Ninkovich
and rookie
Michael Buchanan
manning the edge, the Patriots have reduced
Chandler Jones
into a "3 technique" role that aligns him on the outside eye of a guard, rather than at the end of the line of scrimmage where he is normally accustomed to playing.
The results against the Jets were particularly impressive, as Chandler Jones and Buchanan totaled three sacks for the evening just four days after the Patriots were shut out as a team from a sack standpoint against Buffalo.
There isn't a week where the Patriots rely on just a single front or scheme to generate pressure against an opposing offensive line, but when taking on a powerful group like the one the Bucs present, it's important to attack their strength with a strength of your own.
It could be that the Patriots turn to their conventional pairing of Wilfork and Kelly on first and second downs in anticipation of a steady dose of
Doug Martin
. But if the team is able to generate a lead or deploy its sub packages, perhaps the three-defensive-end group will provide the right touch to work through – or around – the powerful Bucs line.
September, 21, 2013
9/21/13
11:00
AM ET
Before the New England Patriots play a game, we'll attempt to predict the team's inactive players.

Our best guess on the list for Sunday's home game against the
Tampa Bay Buccaneers
:
Danny Amendola
-- Receiver was listed as doubtful on the injury report (groin) and doesn't look like he's ready to play at this point.
Steve Beauharnais
-- Linebacker was a healthy scratch last week, as his primary contributions would come on special teams at this point.
Brandon Bolden
-- Running back has missed the first two games and is questionable with a knee injury. The Patriots could use his special-teams presence with
Matthew Slater
, out but he might need a little more time. He said Friday that he was unsure of his status.
Dan Connolly
-- Starting right guard has been limited all week with a finger injury, which raises questions about his availability. Could mean
Marcus Cannon
steps in.
Rob Gronkowski
-- If this was a playoff game, or even the Super Bowl, the feeling is that the tight end would be ready to play. But no need to rush things in Week 3 of the regular season.
Chris Jones
-- Defensive tackle was claimed on waivers last week from the Buccaneers and is still being integrated into the system.
Matthew Slater -- Special-teams captain has already been declared out with a wrist injury.
Extra point:
With Slater out, safety Kanorris Davis could be in line for a promotion from the practice squad. If that happens, tight end
Matthew Mulligan
and defensive tackle Chris Jones would be candidates to potentially create a spot for Davis.
September, 1, 2013
9/01/13
8:20
PM ET
FOXBOROUGH, Mass. -- The
New England Patriots
put in waiver claims on rookie cornerback
Marcus Cooper
(49ers) and rookie defensive tackle
Chris Jones
(Texans), but were not awarded the players because they were claimed by other teams that had priority in the waiver order.
Cooper, a seventh-round draft choice (252nd out of 254 picks) out of Rutgers, ended up with the Chiefs. Jones, a sixth-round draft choice out of Bowling Green, ended up with the Buccaneers.
Between these two claims, plus the four players the Patriots were awarded on waivers (center/guard Braxston Cave, linebacker Chris White, guard Chris Barker and defensive tackle A.J. Francis), the team was more aggressive on the waiver wire than the norm in recent years.
Part of the reason the Patriots were so aggressive likely was to address areas on the roster where depth was thin.