March, 22, 2011
3/22/11
12:00
PM ET
Seven weeks ago,
I disagreed with the notion some readers supported
, that
Miami Dolphins
outside linebacker
Cameron Wake
deserved to be considered a legitimate candidate for the Associated Press 2010 Defensive Player of the Year Award.
I don't believe he was a complete enough defender for that prestigious accolade. But the one thing Wake does supremely well is rush the passer.
Even so, Wake barely cracked this week's ESPN.com positional power rankings -- for pass-rushers. We didn't rank players based on run-stuffing or pass-coverage. Just pass-rushing.
Wake didn't get as much respect as I thought he should've.
Wake came in 10th in our power rankings because I rated him fourth. Three panelists didn't put him on their ballots at all. One ranked him ninth. Three ranked him 10th.
For the record, this was my ballot:
DeMarcus Ware, Dallas Cowboys outside linebacker
Tamba Hali, Kansas City Chiefs outside linebacker
Clay Matthews, Green Bay Packers outside linebacker
Cameron Wake, Miami Dolphins outside linebacker
Jared Allen, Minnesota Vikings defensive end
John Abraham, Atlanta Falcons defensive end
Julius Peppers, Chicago Bears defensive end
Dwight Freeney, Indianapolis Colts defensive end
Terrell Suggs, Baltimore Ravens outside linebacker
Chris Long, St. Louis Rams defensive end
Wake finished third in the NFL with 14 sacks. He was the most dangerous edge rusher in the AFC East by a big margin. Opponents had to game plan to stop him.
While I don't lean too heavily on stats while putting together my weekly positional power rankings, there are a handful of numbers you want to look for when it comes to pass-rushers. Sacks are the NFL's only official stats that are applicable. Other figures such as quarterback hits and hurries must be tracked by analytical outfits such as Football Outsiders.
Football Outsiders charted Wake third in the NFL with 15 quarterback hits (not counting sacks) and fourth with 38 hurries.
What more can you say?
Other divergences on my ballot included rating Freeney lower than any other panelist, omitting both Steelers outside linebackers,
James Harrison
and
LaMarr Woodley
, and being the lone voter to include Long.
The reason Long made my list was because he was always around the quarterback last year. He had a respectable 10 sacks, but he led the NFL with 41.5 hurries and was tied for sixth with 14 QB hits in the Football Outsiders data.
October, 8, 2010
10/08/10
2:49
PM ET
The
Buffalo Bills
have made some controversial personnel moves over the past two weeks.
They dumped quarterback
Trent Edwards
, their opening-day starter.
They traded
Marshawn Lynch
, their leading rusher, for a fourth-round draft pick.
They're perhaps the worst team in the league, but their top prospects can't get on the field.
[+] Enlarge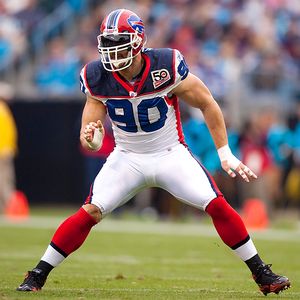 Tim Steadman/Icon SMIChris Kelsay's contract extension takes him through the 2014 season.
They didn't feel rookie quarterback
Levi Brown
was worthy of their practice squad but re-signed him to the active roster.
One of the moves that really flummoxed Bills followers had nothing to do with the lineup. The Bills last week signed outside linebacker
Chris Kelsay
to a four-year contract extension worth about $24 million. In addition to the extension, he received an immediate $2 million bonus.
Kelsay has been a nice player for the Bills, but nothing phenomenal. He's a standup guy in the locker room. He has been a starter for seven seasons and has missed only two games since the Bills drafted him 48th overall in 2003. He has 22 sacks in 114 career games.
Readers have asked for my take on the contract, but I decided to hold off until I could gather enough information on how the deal was broken down.
With help from NFL Players Association documents and the Elias Sports Bureau, I can give you a look at Kelsay's deal with league-wide context and then ask: How would you choose to spend $5 million a year on a defensive player?
The way the math is done, Kelsay's per-year average works out to $5 million. The average consists of base salaries plus what the league calls "likely to be earned bonuses" divided by the length of the deal.
"Likely to be earned bonuses" are incentives that are easy to reach or that a player has a history of achieving. "Unlikely to be earned bonuses," such as winning the Super Bowl MVP or leading the league in kickoff return yardage (don't laugh; these types of things actually appear in some deals), are not factored into the annual average.
To determine whether Kelsay was worth the new contract, I did what a lot of agents would do when it's time to negotiate a contract for a specific client. They research for comparable players, using key criteria such as age, games played, statistics and team success.
I asked the Elias Sports Bureau to run a crosscheck of its data base to find all of the 4-3 defensive ends and 3-4 outside linebackers who are 30 or 31 years old (Kelsay will turn 31 on Halloween) and have played at least 100 games.
The list is surprisingly small. The attached chart gives the complete rundown of 10 players who fit the description with their sack totals and average annual salary.
Of that group, Kelsay is the highest-paid 3-4 outside linebacker and fourth overall, behind superstar defensive ends
Julius Peppers
and
Dwight Freeney
and three-time Pro Bowl defensive end
Kyle Vanden Bosch
. All three have at least twice as many sacks as Kelsay.
"The thing you don't want to do is take your core guys and your leaders out of your system," Bills general manager Buddy Nix said Thursday, the first time he commented on Kelsay's extension. "We decided, obviously, that we've got four, five or six guys like that. They maybe are not great players, but good players that set the tone for what you want everybody else to be.
"Chris Kelsay is a good player. He exemplifies what we want players to do and how we want them to be. So that's the reason he's here."
Strange as it might seem, Kelsay's average per year actually went down with his new deal. The NFLPA still had him categorized as a defensive end heading into 2010 because that's the position he played his entire career before the Bills switched to a 3-4 scheme.
His average salary was $5.75 million, making him the 15th highest-paid defensive end regardless of age or experience. He was listed ahead of
Robert Mathis
,
Shaun Ellis
,
Trent Cole
and
Chris Long
, who received a gaudy contract as the second overall draft pick in 2008.
With all that in mind, I ask again why the Bills needed to sign Kelsay to an extension, and why now? Who else would have paid Kelsay this much? Did the Bills feel like they would be in danger of losing him as a free agent?
I think those are good questions.
April, 22, 2009
4/22/09
8:30
AM ET
Posted by ESPN.com's Tim Graham
There's no official stat for sacks allowed, which shouldn't be a surprise because NFL teams can't even agree on how to credit players with tackles.
Yet left tackle Jason Peters has been tagged with a figure that has been accepted as fact. Reports hither and yon have him guilty of surrendering 11.5 sacks in his 13 games with the Buffalo Bills last year.
Bills fans have been scratching their heads over where this sack number, which would be among the worst in the league, comes from.
STATS Inc. came up with the number and charged him with losses of 106.5 yards, according to the Philadelphia Inquirer in reports since Peters was traded to the Eagles.
But as Tom Curran of NBCSports.com points out:
"The sack stat -- who gets them and who gets blamed for them -- is one of the most bogus in football since they can be the by-product of so many things. They can be attributed to excellent coverage, a skittish quarterback, miscommunication, a teammate's pressure. Sacks are like snowflakes, people. Each one different."
I went searching for corroborating evidence. Elias Sports Bureau doesn't tally sacks allowed like it tracks dropped passes, so that option was out.
But old reliable, KC Joyner, was quick with a response. Yes, the Football Scientist records sacks allowed when he breaks down film.
Joyner's number for Peters was 12. Close enough for my statistical satisfaction, if not Trent Edwards' health.
Joyner elaborates:
"The good news is that five of those were some variant of the coverage sack (i.e. either a pure coverage sack or a coverage sack that was combined with another sack variant such as scheme, pursuit, blown block, etc.).

"The bad news is that 5.5 of those sacks were of the one-on-one variety, but even that negative has a silver lining in that only the best pass-rushers seemed to beat Peters in a one-on-one. For example, he gave up three of his one-on-ones to Chris Long and Joey Porter, so it typically took a talented defender to get past him."