AFC East:

Colin Kaepernick
January, 13, 2013
1/13/13
11:59
PM ET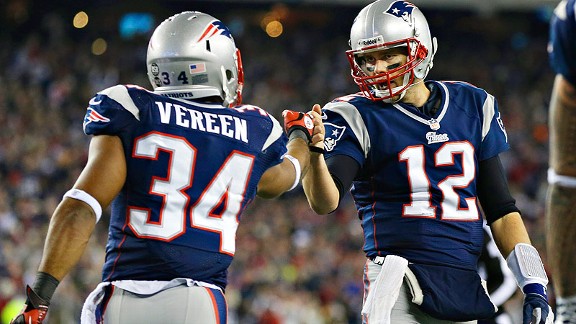 AP Photo/Elise AmendolaTom Brady threw for 344 yards and three scores as New England beat Houston in the divisional round.
FOXBOROUGH, Mass. –
Joe Flacco
. …
Matt Ryan
. …
Colin Kaepernick
.
Tom Brady.
If you're looking for a clear-cut favorite among the NFL's final four teams, look no further than the quarterbacks. The disparity between Brady and his counterparts makes the
New England Patriots
the hands-down favorite to win Super Bowl XLVII in New Orleans.
Brady was once again masterful in the Patriots'
41-28 divisional playoff victory
Sunday over the
Houston Texans
. Brady threw for 344 yards, three touchdowns and had a 115.0 passer rating.
Brady has a way of consistently making good defenses look ordinary. Houston's seventh-ranked group allowed 83 points in two games against Brady this season.
Sorry,
Baltimore Ravens
,
Atlanta Falcons
and
San Francisco 49ers
, but there is only one elite quarterback left in the NFL playoffs -- and he resides in New England. No one is going to stop a focused and determined Brady from capturing his fourth Super Bowl title, which would tie an NFL record with Hall of Fame quarterbacks
Joe Montana
and Terry Bradshaw.
The Ravens are up first for the Patriots in the conference title game, and Brady vividly remembers the controversial loss earlier this season.
Let's just say Brady doesn't plan on going the
Peyton Manning
route next week.
"I think the two best teams are in the finals," Brady said. "Baltimore certainly deserves to be here, and so do we. It's very fitting. We played them earlier in the year and they got us. We blew a pretty good lead there at the end, and we're going to have to play our best game this week."
Baltimore, Atlanta and San Francisco all deserve to be in the conference finals. But are Flacco, Ryan and Kaepernick ready for this big stage? That is the bigger question.
Brady is one game away from his sixth Super Bowl appearance and fourth championship. Flacco, Ryan and Kaepernick have zero combined Super Bowl appearances and zero combined championships. In a one-game scenario, you have to like Brady's chances. Brady's 17 career playoff wins are nearly double the nine combined postseason wins for Flacco, Ryan and Kaepernick.
Brady was winning Super Bowls when Flacco and Ryan were high school teenagers. Kaepernick was 14 when Brady won his first title in February 2002. Brady is the ultimate gatekeeper among these three green quarterbacks still trying to get over the hump and make a name for themselves. It's not going to happen on Brady's watch this year.
New England safety
Steve Gregory
has been on both sides of the Brady ledger. Gregory played against Brady several times as a member of the
San Diego Chargers
and became Brady's teammate for the first time this season after signing as a free agent. Gregory learned quickly that it's better to be with Brady than against him.
"His ability to get to the line, recognize defenses and get the offense in the right play is pretty amazing," Gregory explained. "I love having him on my side now."
The Patriots lost Pro Bowl tight end
Rob Gronkowski
for the season
after he broke his forearm for a second time
, but it doesn't matter. The Patriots proved they are adaptable. New England was 4-1 this year without Gronkowski and didn't miss a beat Sunday against Houston when Gronkowski missed more than three quarters. The high-scoring Patriots have more than enough offensive weapons at their disposal.
The only irreplaceable Patriot is Brady.
"He's our leader and we all follow him," Patriots coach Bill Belichick said. "We all respect him and he led the team today. … There's no quarterback I'd rather have than Tom Brady."
Brady began his day at Gillette Stadium when he came out the tunnel for pregame warm-ups. He jogged to one corner of the end zone and pumped up the home crowd. Brady was intense the entire game and stayed on his teammates, even as the Patriots led by as many as 25 points in the second half.
By the time Brady carved up the Texans and went to his postgame news conference, he was subdued. Brady, 35, gave the Patriots all he had. He is playing as though there is no tomorrow.
"I'm tired, man. All the emotional energy spent," said Brady, who is the third player in NFL history with at least 40 postseason touchdowns. "The big buildup to the week with four days of practice. You're up and you're down, you're up and you're down. I'm tired and ready to go home."
When Brady left the news conference, he ran into Patriots owner Robert Kraft. Brady embraced Kraft by putting one arm around New England's owner, and the two chatted on the way out the stadium.
Kraft had a smile on his face during his talk with Brady. Kraft knows he has the one player who separates the Patriots from the rest of the Super Bowl field.
Brady won his first title in New Orleans versus the
St. Louis Rams
11 years ago to begin his storybook career. Flacco, Ryan and Kaepernick simply aren't good enough to stop Brady from winning his fourth championship in the same place where it all started.
December, 7, 2012
12/07/12
11:00
AM ET

The
Miami Dolphins
, losers of four of five games, have a tall task ahead when they travel to play the
San Francisco 49ers
. Their biggest challenge defensively is slowing down dynamic 49ers quarterback
Colin Kaepernick
.
Miami's defense has struggled mightily against mobile quarterbacks this year. Rookie
Russell Wilson
of the
Seattle Seahawks
threw for 224 yards, two touchdowns and averaged 7.6 yards a carry against Miami on quarterback scrambles. Others like
Andrew Luck
and
Jake Locker
, who aren't running quarterbacks but have good mobility, also had success using their legs to extend broken plays for first downs.
But Kaepernick's athleticism is on another level compared to Luck, Locker and Wilson. Kaepernick rushed for 84 yards and averaged 9.3 yards per carry last week against the
St. Louis Rams
. He is as dynamic running the football as he is passing. That is the reason San Francisco head coach Jim Harbaugh made the bold move to stick with Kaepernick over veteran
Alex Smith
.
The best way for Miami to attack Kaepernick is by blitzing him. According to ESPN Stats & Information, the inexperienced Kaepernick is completing just 55.6 percent of his passes against five or more rushers. Smith, by contrast, completed 72.2 percent of his passes against the blitz this season.
Miami did a good job last week pressuring
New England Patriots
quarterback
Tom Brady
, who is a pocket passer. The Dolphins recorded four sacks against Brady and held New England to its lowest point total (23) since Week 6.
Although Kaepernick is a much different quarterback, the stats show Miami needs to keep up the pressure this week. That is the best way for the Dolphins to have a chance for a road upset.
August, 12, 2012
8/12/12
12:18
PM ET
CORTLAND, N.Y. -- The Jets have been criticized for their plans to use the Wildcat, with some people saying the gimmicky offense has lost its luster. Rex Ryan responded Sunday, revealing he was interested in taking quarterback
Colin Kaepernick
in last year's draft as a replacement for
Brad Smith
to run the Wildcat.
[+] Enlarge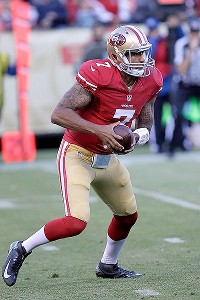 AP Photo/Paul SakumaColin Kaepernick's 78-yard TD scamper for the 49ers caught Rex Ryan's attention.
"I was really intrigued by him coming out, knowing we might lose Brad," said Ryan, who ended up losing Smith to the Bills in free agency.
The 49ers drafted Kaepernick, a running quarterback in college, near the top of the second round. (The Jets didn't have a second-round pick.) On Friday night, Kaepernick scored on a 78-yard run, a designed play out of the shotgun. Ryan, of course, couldn't resist mentioning that.
"Guys, the Wildcat is tough to defend," Ryan said. "Are we going to do it? Of course. At some point, we're going to do it. Some people think the Wildcat has come and gone. No it hasn't. If anything, it's just the opposite."
Ryan clarified a conversation he had last Thursday with Bengals coach Marvin Lewis, who called the Jets' coach wondering if he was planning to use the Wildcat in Friday night's game -- at least that's the version Ryan told after the game. Somehow, it got reported that Ryan agreed not to run it. Not true, he said, adding that it never was in the Jets' game plan for the game.
The Jets didn't use any Wildcat plays in the game with
Tim Tebow
. Of his 22 snaps, only one came in shotgun. He scrambled four times for 34 yards, but none were designed runs. On Sunday, Ryan went out of his way to say he was pleased with Tebow's passing (4-for-8) even though he threw an interception.
Ryan absolved him of the interception, saying TE
Jeff Cumberland
ran a "poor route. He kind of drifted on it. With that being said, Tim has to make a better throw."
June, 3, 2011
6/03/11
11:02
AM ET
A couple days ago, we took a gander at whether an AFC East club would be interested in grabbing besieged Ohio State quarterback
Terrelle Pryor
in the supplemental draft.
Chances would be slim anybody would want him at quarterback.
But ESPN analyst Todd McShay offered
another perspective: What about as a wide receiver
?
McShay isn't convinced Pryor could develop NFL-level passing accuracy or interpretive skills despite tremendous speed and elusiveness. We saw how far that combination took
Pat White
.
But Pryor is 6-foot-6 and 233 pounds and is athletic enough to become a decent target.
McShay wrote for ESPN Insider:
Because of his size, I still think Pryor is a better prospect at wide receiver than quarterback at this point, and he would have been the No. 8 quarterback on my board -- behind Blaine Gabbert, Cam Newton, Jake Locker, Andy Dalton, Christian Ponder, Ryan Mallett and Colin Kaepernick -- had he chosen to enter the 2011 draft.

Pryor carried a third-round grade following last season (and remains in that area now) based mostly on his potential to move to receiver if he does not make significant progress as a quarterback early in his NFL career, and the odds are stacked heavily against him doing so.
As a couple readers mentioned, maybe Pryor could evolve into the type of player
Brad Smith
was for the
New York Jets
, a versatile player who can take snaps out of a pistol formation, return kicks or line up at receiver.
April, 30, 2011
4/30/11
12:01
AM ET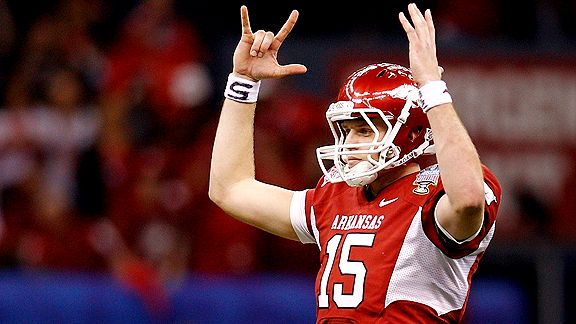 Chris Graythen/Getty ImagesThe New England Patriots were willing to take a risk on Arkansas quarterback Ryan Mallett.
We'll find out what
Ryan Mallett
is all about.
No setting would have provided a truer test than New England, where the coach runs a tight operation and the quarterback provides the perfect template for a youngster to follow.
Team after team saw Mallett's name on the draft board and ignored it. Seventy-three picks were made, including four by the
New England Patriots
, before they finally added the quarterback many analysts called the most NFL-ready quarterback in this year's class.
"When I got that call," Mallett said, "it was a great feeling just to know that somebody wanted me."
Mallett's humiliation couldn't have cut as deeply as what
Tom Brady
felt 11 years ago, when the future Hall of Famer squirmed through five-plus rounds of rejection.
Memories of that day recently made Brady cry. The anger and bitterness and appreciation for his parents' support bubbled over during an interview for "The Brady 6," an ESPN documentary about the quarterbacks taken before him.
Perhaps "The Mallett 6" already is playing on a loop inside the rookie's head.
If not, you can imagine Brady whispering constant reminders in Mallett's ear about being driven to prove all the doubters wrong and to show the world he's better than
Cam Newton
and
Jake Locker
and
Blaine Gabbert
and
Christian Ponder
and
Andy Dalton
and
Colin Kaepernick
.
Mallett can do that in New England.
If he wants it badly enough.
"It's an opportunity for me to learn from him and further my knowledge under that coaching staff," Mallett said of Brady late Friday night. "It was something I'm really excited about when I got the call. I can't wait to get started."
When the Patriots make a selection such as this one, it's perceived as brilliant. Bill Belichick earned that presumption with three Super Bowl rings and a steady stream of AFC East championships.
Had the
Oakland Raiders
,
Cincinnati Bengals
or
San Francisco 49ers
drafted Mallett, we would be ridiculing them right now.
Mallett, in the eyes of most, would be dooooooomed to failure.
After all, Mallett clearly was more toxic than asbestos and ready to contaminate all he came into contact with. The passing skills he demonstrated in Arkansas' pro-style offense were undeniable. And although his mobility resembles that of a drowsy turtle, the damning issues were away from the field. Vague drug accusations hovered, and while still not detailed in public, teams apparently were convinced he wasn't worth the risk.
"Obviously, we're comfortable with him," Belichick said. "We took him."
Now AFC East opponents dread the prospect of Mallett emerging as a well-tutored prodigy with a cannon arm and a Dante Scarnecchia-coached offensive line to keep harassing defenders away.
But Mallett's real advantage in this scenario is Brady.
Mallett won't need to play right away -- not this year or next and probably not the year after that. He can learn from one of the supreme overachievers of NFL history.
That's the type of competitor Mallett will be exposed to in Foxborough. Every day, he'll get to observe, extract, probe and scrutinize the actions of a genuine winner.
"He's definitely a football guy," Belichick said of Mallett. "He is a great kid to talk to. He's very into football. You can't wear him out. If you want to talk about it, he'll be there. However many hours it is, he's ready to go watch the next film. He'll talk about a new technique or a route or a read, whatever.
"His father is a football coach. He's grown up in a football family, which I can definitely relate to that. Either you get sick of it or you marry into it and love it. It's one of the two. I think he's very much of a football person.
"He's a kid that's eager to learn and has a great thirst for knowledge for his position, which there's a lot going on there. He'll certainly get an opportunity to receive a lot of knowledge at that position around here."
On the surface, the payoff for New England seems minimal. Brady should have five more good years in him. He will turn 34 in September but is at the top of his game. He's the reigning MVP and a unanimous All-Pro selection, guiding the Patriots to a 14-2 record last season and posting phenomenal efficiency numbers.
Brady is signed through 2014. Mallett might flame out before then, but even if he doesn't, he could become a free agent before Brady is ready to yield the job.
What then?
If the Patriots' highly favorable atmospheric conditions allow Mallett to grow into a young star, the Patriots will have the ability to convert him into more future assets -- a groom-and-trade exercise similar to what they pulled off with
Matt Cassel
.
In the meantime, Mallett would provide backup services. Brady has gotten banged up over the past few years. An insurance policy is wise.
There's always a chance disaster will strike. Another season-ending injury could befall Brady. In between serenity and panic, a broken bone could sideline Brady for a couple of games.
Then Mallett would get his chance to show everybody what he's all about.
He might very well fall flat on his facemask. But it's much easier to picture him pulling it off in a Patriots jersey, isn't it?
April, 5, 2011
4/05/11
4:56
PM ET
BUFFALO -- The
Buffalo Bills
own the third and 34th picks in this month's draft and have been looking hard at quarterbacks. They've spent time with
Cam Newton
,
Blaine Gabbert
and
Christian Ponder
.
[+] Enlarge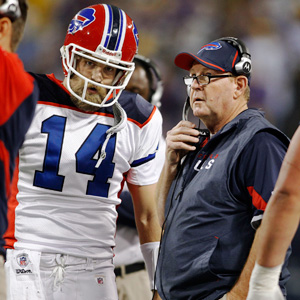 Bruce Kluckhohn/US PresswireBills quarterback Ryan Fitzpatrick is known for his football IQ.
What is head coach Chan Gailey looking for?
Gailey, a noted quarterback connoisseur, gave some insight Tuesday afternoon. He explained his chief criteria for a successful quarterback.
"The two most important things about playing quarterback in this league: accuracy and decision-making," Gailey said at a luncheon held by the Monday Quarterback Club at the Adam's Mark hotel.
"Would you like to have a guy that's mobile? Yes. Would you like to have a guy that is extremely intelligent and is smarter than the coach and can make good decisions on the field? You bet you would like that."
But Gailey continued to reiterate throwing the ball on target and making the correct reads.
Among the top quarterbacks in this year's draft class,
here are some 2010 completion percentages
:
Gailey elaborated on what goes into being a sharp decision-maker.
"Knowledge is part of decision-making," Gailey said. "Speed in making that decision is important because you don't have a lot of time, standing back there. And then how fast can you give back the information that you've been given.
"If it takes a guy four days to absorb it all and finally get it, that doesn't help us on a Wednesday practice if I gave it to him Tuesday. ... If I give [information] to them Tuesday, they've got to be able to give it back Wednesday."
Bills starter
Ryan Fitzpatrick
is known for his grasp of complex NFL concepts. The Harvard grad is entering his seventh season.
Speculating about a college quarterback's judiciousness and whether or not he's worth a third or 34th pick requires a leap of faith at some point.
"There are some things we can teach," Gailey said. "There are some things where a guy has a feel for the game and he understands what you're trying to get done."
April, 4, 2011
4/04/11
12:15
PM ET
February, 25, 2011
2/25/11
12:23
PM ET
INDIANAPOLIS -- Auburn quarterback
Cam Newton
announced last week he would do all the throwing drills at the NFL scouting combine.
ESPN draft analyst Todd McShay, here with us at Lucas Oil Stadium, gave his take on how Newton's decision has impacted what other quarterbacks do at the combine.
McShay noted Missouri's
Blaine Gabbert
and Florida State's
Christian Ponder
aren't following Newton's lead and will not throw. But eight of the last 12 first-round quarterbacks didn't throw at the combine either.
McShay considers this year's quarterback crop to be bountiful, although without a surefire opening day starter. Still, he predicted eight quarterbacks could be taken within the first two rounds: Newton, Gabbert, Ponder, Washington's
Jake Locker
, Iowa's
Ricky Stanzi
, TCU's Andrew Dalton, Nevada's
Colin Kaepernick
and Arkansas'
Ryan Mallett
.
Mallett is under the most scrutiny of the QB class over growing concerns over ambiguous character issues.
The
Buffalo Bills
and
Miami Dolphins
are the likeliest AFC East teams to pick a quarterback early.