December, 9, 2010
12/09/10
5:22
PM ET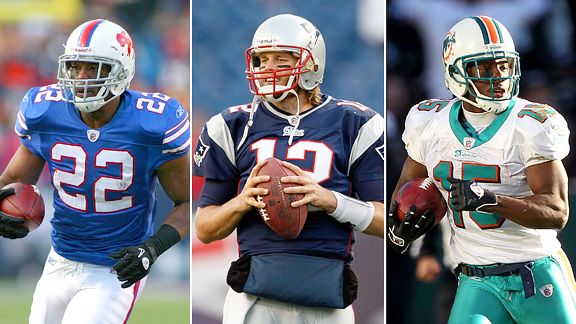 Getty ImagesFred Jackson, Tom Brady and Davone Bess came into the league as unheralded long shots but have made the most of their chances.
It's no mystery why we love underdogs.
Respected football minds who get paid to assemble NFL teams dismissed them out of hand, scratched them from their draft lists, cut them in training camp.
Yet these players survive. They're too driven to give up. Not all of them become stars, but that's not necessary to become a precious asset on a team.
"As a coach, you love those stories," said former
New York Jets
and
Kansas City Chiefs
head coach Herm Edwards. "They don't let you down."
Said
Buffalo Bills
head coach Chan Gailey: "You have to have them. There's no way to play the game without them."
Overachievers have dominated the AFC East this year. Late-round draft picks, players who weren't drafted at all and castoffs from other teams have starred for every team, including the MVP favorite (
Tom Brady
), two leading rushers (
BenJarvus Green-Ellis
and
Fred Jackson
), three leading receivers (
Wes Welker
,
Steve Johnson
,
Davone Bess
) and three sack leaders (
Cameron Wake
,
Mike Wright
and
Kyle Williams
).
These thriving underdogs are a substantial reason why the AFC East has been so compelling this year.
"It's
football
," said Jim Jensen, the ultimate survivor with the
Miami Dolphins
. They drafted the Boston University quarterback in the 11th round in 1980, and he stuck around until 1992 as a receiver/wedge buster/long snapper/third-down fullback/holder/tell me where to go, Coach, and I'll hit them.
"I like to watch guys that are working hard and working for the team," Jensen said. "They're working for a goal. They're not selfish. Wes Welker is a great example. He just loves to win. He's unselfish. Davone Bess is another one who's an inspiration to watch."
There's a reason the conquering underdog is such a common theme in Hollywood.
"These guys have something to prove," said film producer Mark Ciardi. "There's enough of these stories where these guys just survive and climb over players teams have a lot of money invested in. It's just a different thing when you've got to prove people wrong. They know they've got to check way more boxes than other people to succeed."
Ciardi pitched for the Milwaukee Brewers despite being a 15th-round draft choice in 1983.
"I got no money to sign," Ciardi said. "I was the last guy on the pitching squad of 17 guys in rookie ball. I had no chance."
Four years later, Ciardi made it to the majors. He started three games and pitched another in relief. He defied the odds, which is why he finds stories about unlikely heroes so appealing.
Among his true-story films: "Invincible" (about
Philadelphia Eagles
walk-on Vince Papale), "Miracle" (about the 1980 U.S. Olympic hockey team), "The Rookie" (about 35-year-old rookie pitcher Jim Morris) and "Secretariat."
All of those motion pictures portrayed an undeniable will to win, a theme that has carried Ciardi throughout his career. He sees it in such players as Brady and Patriots running back
Danny Woodhead
.
"What I realized was you've got to work extra hard," Ciardi said. "Nothing will be given to you, but you have an opportunity. The only way you're going to succeed is to snatch it and force them to keep you. If they don't have money invested in you, chances are you're not going to get the same kind of shot."
But having overachievers on the roster means more than a compelling storyline and increased jersey sales.
They often become team leaders and examples for other players to emulate. Underdogs help manage the salary cap because they're cheaper (at least in the beginning). They make draft mistakes much more bearable. They help a front office sell the team to future free agents.
"They're so coachable," former
Baltimore Ravens
head coach Brian Billick said. "Once they get into it, they realize how tenuous it is to stay in the NFL. Nothing came easy for them. You love having guys like that on your team."
Inquiring about a coach's favorite player is like asking a parent to name his favorite child. But it's easy to guess what type they admire most: the relentless survivors.
"You know what they have done to get to where they are," Gailey said. "As a competitor, you appreciate that. Everybody doesn't end up with a bunch of God-given talent. Guys have to go fight for what they want in life. When those guys get it, it's very satisfying to see it for those guys to make it."
[+] Enlarge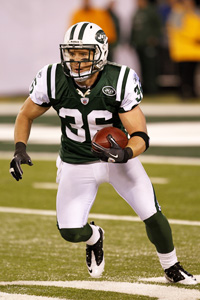 Chris Trotman/Getty ImagesJim Leonhard went from the NFL scrapheap to being a vital player on defense and special teams for the Jets.
Two players New York Jets head coach Rex Ryan identified as critical to his establishing his defense last year were inside linebacker
Bart Scott
and safety
Jim Leonhard
. Neither was drafted. Leonhard had been waived by the Bills, re-signed and then cast adrift in free agency because the Bills viewed him as no more than roster filler. When Leonhard suffered a season-ending shin injury last week, Jets fans got nervous because he was integral to the secondary and special teams.
The NFL-leading
New England Patriots
are loaded with examples of perseverance. Brady has been such a superstar in the league for so long, it's sometimes strange to think of him as an underdog. But as the 199th pick in the 2000 draft, Brady might be the game's greatest overachiever.
Wake, the Miami Dolphins outside linebacker, leads the league with 12 sacks. He wasn't drafted and went five years between his last down at Penn State and his first in the NFL. Pro Bowl safety
Yeremiah Bell
was a sixth-round pick who got waived as a rookie and placed on the practice squad.
Buffalo's offense features late-round picks or undrafted players at the three marquee spots. Quarterback
Ryan Fitzpatrick
was a seventh-round draft choice and a career backup. Jackson didn't start a game for his high school team and came up through Division III and the arena leagues before emerging in NFL Europa. Top receiver Johnson was a seventh-round draft choice.
As inspirational as these players are, they also make slackers look that much worse. Those healthy first-, second- and third-round players who can't get on the field unfortunately aren't wired to battle that way.
"A lot of these guys think it's a right that they have to play," Gailey said. Overachievers "realize it's a privilege to play this game.
"When you got a guy who knows how to fight and understands the fight, understands competition, understands working through adversity and he becomes a good player on your team, then that helps set a tone."
Billick and Edwards emphasized the impact of undrafted players and late-round successes on a roster's overall well-being. Edwards, an undrafted player who started for the Eagles from the opening day of his rookie season, said unearthing overlooked gems are "like getting a free draft pick." Billick noted that they're instrumental to managing the salary cap.
"The residual effect is you don't have to spend those resources," Billick said, "whether they be draft choices or a procurement through free agency to go fill that spot.
"You pick Tom Brady up in the sixth round. Are you kidding me? What that does for your organization ... Even the difference between that and having to draft
Matt Ryan
third in the draft, the resources you have to spend is just a gift from above."
Heaven-sent is how Patriots fans must view a good chunk of their division-leading team. Dolfans can't be more thrilled with Wake or Bess. The Jets will depend on undrafted starters such as right guard
Brandon Moore
, defensive end
Mike Devito
and Scott down the home stretch while certainly missing Leonhard.
And about the only pleasure Bills fans have had this season is watching their unlikely stars because they're such gripping characters.
"An underlying factor to all these stories," Ciardi said, "is the will and the heart that makes them extraordinary on the field."
December, 8, 2010
12/08/10
3:49
PM ET
ORCHARD PARK, N.Y. -- The
Buffalo Bills
can only draw a deep breath and trudge forward.
Injuries continue to pile up like lake-effect snow, but they still need to field a team Sunday.
The biggest concern is their offensive line. A knee injury will sideline center
Geoff Hangartner
against the
Cleveland Browns
in Ralph Wilson Stadium and force the Bills to juggle positions and play more backups.
Kraig Urbik
, Hangartner's replacement in Sunday's loss to the
Minnesota Vikings
, went on injured reserve with a knee injury. Left tackle
Demetrius Bell
missed Wednesday's practice with a knee injury.
"You're putting your head in the sand if you sit there and say 'It doesn't matter. They'll just pick up where everybody left off,'" Bills coach Chan Gailey said. "You have to think 'How much communication can go on? What can they handle? What can't they handle?' And you have to adjust from there.
"But you can't be so simple that you walk out there and you diminish what you can do with the other people on your team. So there's a balance that you try to reach between all of that."
Eric Wood
, one of the nation's top collegiate centers in the 2009 draft before the Bills converted him to right guard, will handle the snaps. A couple of rookie tackles who've gotten reps at guard,
Cordaro Howard
and
Ed Wang
, will handle Wood's usual spot.
The interior changes likely will impact the run game more than pass protection. The Bills rank 17th in rushing yards per game. The Browns rank 20th in run defense, but 12th in yards per carry allowed.
The Browns rank 17th in sacks with 24. Outside linebacker
Marcus Benard
leads them with 6.5 sacks.
October, 25, 2010
10/25/10
11:17
AM ET
Compare the offenses of the
Miami Dolphins
and
Buffalo Bills
.
If you were putting a unit together, how many Bills -- position for position -- would you select ahead of Dolphins?
The Dolphins have what appear to be franchise players all over the place: quarterback
Chad Henne
, receivers
Brandon Marshall
and
Davone Bess
, running backs
Ronnie Brown
and
Ricky Williams
, tackles
Jake Long
and
Vernon Carey
.
A lot of those players were on fantasy rosters this weekend. I doubt there were many Bills active in your league.
But the
winless Bills have put together a vibrant offense
that has been unnoticed by a lot of people outside Western New York. They nearly shocked the
Baltimore Ravens
on Sunday before falling in overtime 37-34.
The Bills can't win because their defense is terrible, but their offense has scored 10 more points than the Dolphins have.
Buffalo has 121 points through six games, not exactly the 2001
St. Louis Rams
but more points than three clubs that have played seven games. More impressively, the Bills started with just 17 points over their first two games.
Since
Ryan Fitzpatrick
replaced
Trent Edwards
at quarterback in Week 3, the Bills are averaging a reasonable 24 points a game and have scored at least 30 points in two of their past four games.
Hey, it's a start, and Dolphins offensive coordinator Dan Henning should be envious.
The Dolphins haven't posted more than 23 points in any game because they can't score touchdowns and settle for field goals far too often. They kicked five field goals in a 23-22 loss to the
Pittsburgh Steelers
on Sunday.
Competition has been similar between the Bills and Dolphins. They've played three common opponents and each other.
The Bills' different opponents have been the Ravens and
Jacksonville Jaguars
, while the Dolphins have played the Steelers and
Minnesota Vikings
.
The average defensive ranking for Buffalo's opponents is 17.5 compared to 15.7 for Miami's opponents.
September, 5, 2010
9/05/10
1:01
PM ET
You can tell a lot about a team by the number of undrafted rookies who make the roster.
Undrafted rookies are essential
, but they are a case of good news, bad news.
They are pleasant finds for the scouting department and indicate a keen eye for overlooked gems. That said, too many undrafted rookies usually are a sign the front office hasn't hit on a high percentage of draft picks or a team is in full-scale rebuilding mode.
With that in mind, I thought it would be worthwhile to take a look at how many each AFC East club kept on their 53-man rosters Saturday.
Buffalo Bills (5)
Miami Dolphins (3)
New England Patriots (2)
New York Jets (2)