AFC East:

Cornelius Bennett
March, 16, 2011
3/16/11
12:00
PM ET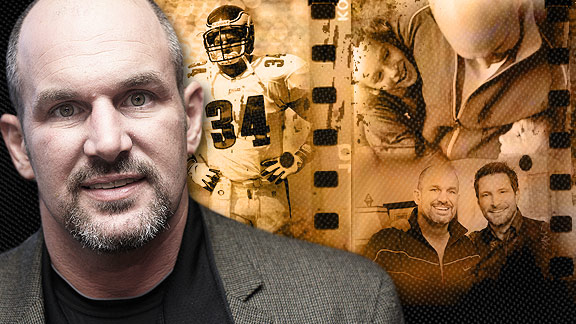 Mike Cellucci/ESPN.comKevin Turner, who played fullback in the NFL for eight seasons, was diagnosed with an incurable neuromuscular disorder 10 months ago.
Kevin Turner
couldn't sit still on that April afternoon in 1992. The Alabama fullback tried to watch the NFL draft for as long as he could, but a combination of tension and monotony increased with each pick. Every 15 minutes another name that wasn't Kevin Turner was announced.
Turner stepped into the backyard of his parents' Prattville, Ala., home for some fresh air and hopefully a diversion. He still laughs at the memory of what happened next. His father bolted out the door and blurted the big announcement: "The Boston Patriots!"
Turner gently corrected him. Actually, it was the
New England
Patriots. They selected him 71st overall, the second fullback off the board.
The moment was exhilarating for a father and his only child. Raymond Turner coached Kevin from 5 years old until junior high and nearly wept the first time he saw his son enter Bryant-Denny Stadium decked in crimson and white.
Now his son was headed to the National Football League. He loaded up his maroon 1991 Ford Bronco and, with Guns N' Roses blaring, headed off to Massachusetts, where he began an eight-year, $8 million NFL career, met his future wife and scored some touchdowns.
Yet if he knew then what he knows today, he'd be torn about pulling out of Prattville.
"If they would have come to me and said, 'I've seen the future. This is what happens.' Of course, I would stop playing immediately," Turner said. "But, as we all know, nobody can see the future. For me, it just falls into a long line of bad decisions."
Turner is divorced. He went bankrupt on bum real estate investments. He was addicted to painkillers for a couple of years. None of those problems are the worst of it.
Ten months ago, the 41-year-old father of three was diagnosed with amyotrophic lateral sclerosis (ALS), the incurable neuromuscular disorder commonly known as Lou Gehrig's disease.
Turner's arms don't work well, his hands even less. His pinch strength, a measurement of the strength generated by the thumb and forefinger, is one pound. That's comparable to an infant. He doesn't have enough might to squeeze toothpaste out of a tube.
Forget about buttoning a shirt. It can take him half an hour to wiggle into his blue jeans with nobody there to help, but he said, "socks are the worst."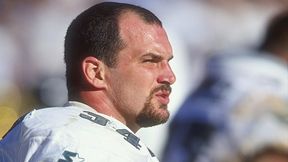 Todd Warshaw/Allsport The Eagles made Kevin Turner the NFL's second-highest-paid fullback in 1995.
The body that produced 30-plus receptions five times for the Patriots and Philadelphia Eagles, made him the second-richest fullback in the NFL and impressed then-Patriots coach Bill Parcells as a prototypical West Coast fullback is failing.
"It's quite a different way of life," Turner said. "It's pretty embarrassing, but cleaning yourself after going to the bathroom becomes very difficult when you can't use your hands. These are just things you don't think about.
"You have to be very creative. I can't pull down my zipper. I got what I call zipper-getters. It's a little hook with some fishing wire that goes around the zipper of my pants so you can go to the bathroom."
Doctors have told him his speech probably will be the next to go. His throat and jaw muscles cramp, reminding him ALS is as relentless as he was on the football field.
Eventually, it will kill him. Maybe within another year or two. ALS is undefeated.
Recent scientific data strongly suggests
repeated head trauma can cause a condition that mimics ALS
. The neuromuscular disorders are virtually identical -- so alike the difference is detectable only by autopsy.
"Football had something to do with it," said Turner, who has no family history of ALS. "I don't know to what extent, and I may not ever know. But there are too many people I know that have ALS and played football in similar positions. They seem to be linebackers, fullbacks, strong safeties. Those are big collision guys."
To raise research funds and awareness about sports-related head injuries and ALS,
he formed the Kevin Turner Foundation
.
Dr. Ann McKee said Tuesday the latest information shows NFL players have eight to 10 times the likelihood of being diagnosed with ALS than the average citizen. McKee was the lead neuropathologist for the study that linked head trauma in collision sports to the ALS variant.
The effects of head trauma are a hot-button NFL issue. The league has included
ALS as an automatically qualified condition under the 88 Plan
, which assists former players with medical expenses related to head injuries.
Cases continue to emerge about retired players experiencing early dementia, memory loss, depression, aggression or erratic behavior. Last month,
four-time Pro Bowl safety Dave Duerson
committed suicide after complaining of severe headaches, vision impairment and an increasing inability to form coherent sentences.
Parcells said he was "sick" to hear about Duerson's death. Duerson played for Parcells on the
New York Giants
' 1990 championship team. Parcells coached Turner for two years in New England.
"Look, we all know that this is hazardous to your health," Parcells said in a somber tone last weekend. "We do know that. And fullback is a very high-collision position. It's not like playing wide receiver or corner. He's either running the ball and getting tackled, catching the ball and getting tackled or blocking somebody.
"I've seen a lot of big collisions in football. We all know when we sign up for this that there's an element of risk involved."
'A special kid'
Turner wasn't a superstar in terms of decorations. He didn't go to Pro Bowls. But he was far from an NFL commoner.
"He had a heart that just wouldn't stop," Raymond Turner said of his son. "From the time he put the gear on to the time he took it off, he was a competitor. Never once in my lifetime did I have to tell him to hustle. It was there. It was built in. He knew what he wanted to do."
The Eagles loved Turner enough that they signed him to a three-year, $4.125 million offer sheet with a $1.5 million signing bonus when he became a restricted free agent in 1995 after two seasons with the Pats. They outbid the
Washington Redskins
.
Daryl Johnston
of the
Dallas Cowboys
was the only fullback with a bigger contract.
The bemused Patriots couldn't match the Eagles and settled for a third-round draft choice as compensation. New England fared well with the transaction. The draft pick turned out to be running back
Curtis Martin
.
[+] Enlarge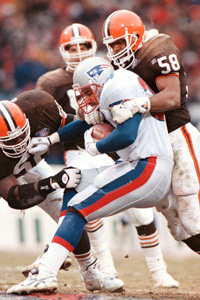 Stephen Dunn/Getty Images"There's nobody out there who wouldn't like [Turner] as a person, player, practice habits, versatility," former Patriots coach Bill Parcells said.
But at the time, Parcells didn't want to lose Turner.
"There's nobody out there who wouldn't like [Turner] as a person, player, practice habits, versatility," Parcells said. "This kid had everything. He was a special kid.
"He was a first-down player and was capable of playing on third down because he had such great hands. He really was an all-purpose back. And you don't see those fullbacks anymore. Kevin was a traditional, old-time, versatile, run-block-and-catch fullback."
Turner's best season was 1994 with the Patriots. When not blocking for
Marion Butts
, Turner made 52 receptions, gained 582 yards from scrimmage and scored three touchdowns -- all career highs. Turner scored an overtime touchdown in Week 11 to beat the
Minnesota Vikings
. His catch in the left corner of the end zone was
Drew Bledsoe
's 45th completion on his 70th attempt, a record that stands by one throw.
Whatever glory Turner experienced came with a price. He absorbed punishment. That's how players often win their team's Ed Block Courage Award, as Turner did with Philadelphia in 1996. They're admired for their perseverance.
Turner knows of only two concussions he suffered in the pros. One came with the Patriots in 1994 against the
Cincinnati Bengals
. He twisted awkwardly while trying to catch a pass near the goal line, and his head struck Riverfront Stadium's hard artificial turf.
The other known concussion happened with the Eagles in 1997, while Turner was running the wedge on a kickoff return against the
Green Bay Packers
at Veterans Stadium.
"The next thing I remember," Turner said, "I was asking our backup quarterback,
Bobby Hoying
, 'You're going to think I'm crazy, but are we in Green Bay or are we in Philly?' I was looking around that stadium and could not figure it out.
"I stayed out for two, maybe three series of downs, got my senses back and finished the game. It was a fairly significant injury to my brain, and I just kept pounding on it."
Turner's father is aware football probably contributed to the ALS diagnosis. He often wonders what hit wrecked his son's brain.
Was it the wedge? Was it the time Turner collided with
Atlanta Falcons
linebacker
Jessie Tuggle
so violently at the goal line he knocked Tuggle out? Was it his final NFL play in 1999, when he barely got a piece of
Indianapolis Colts
linebacker
Cornelius Bennett
but both arms went numb for 15 seconds?
The probable answer is all of them contributed amid an accumulation of other hits that didn't register.
"I never thought about my head, the way I was abusing my head, the pounding my head was taking and the long-term consequences," Turner said. "Playing the position I did, I leveled my head every time I was on a lead block. It was part of the three points: my two hands and my head. That's how I was taught to do it."
A wicked game
McKee is director of the VA Brain Bank at the Center for the Study of Traumatic Encephalopathy at Boston University School of Medicine. The center has studied 46 brains of athletes who sustained repeated, sports-related head trauma. Research indicates concussions aren't necessary to induce frightening symptoms.
Many retired NFL players, such as Turner,
Miami Dolphins
linebacker
Zach Thomas
,
Buffalo Bills
guard Conrad Dobler and Patriots cornerback Mike Haynes, have
pledged to donate their brains for research
.
[+] Enlarge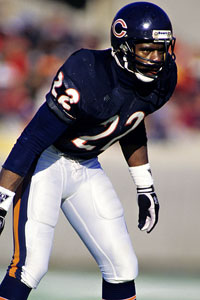 Al Messerschmidt/Getty ImagesDave Duerson, who committed suicide, reportedly asked that his brain be examined.
"It's very tough now to look at the sport and not listen to the voices inside your head that are very, very much aware this game is associated with significant risks," McKee said. "And we may not fully understand the depths of those risks.
"Every month, we've been getting more cases into the brain bank and seeing more cases of [chronic traumatic encephalopathy] and some with this [ALS] variant. It's more and more difficult to embrace this sport as it's currently being played. With each month of this work, it just seems worse."
McKee isn't some fuddy-duddy intellectual, trying to undermine football's place in society. She was raised in a football household just outside Green Bay. Her father played for Grinnell College. She attended every game her brothers played.
"Football is a way of life there," McKee said. "It's huge. It's how we define ourselves. I'm sure I would have played if I'd have been born a boy. Football is an enormous part of my heritage. I do understand that football is so much more than a sport to people. It's what we do."
But is football evolving into a culture of regret?
Hall of Fame quarterback
Troy Aikman
, who has a long history of concussions, recently told HBO's "Real Sports" that if he had a son, the boy wouldn't be allowed to play football. Four-time Pro Bowl safety
Blaine Bishop
didn't make an edict but showed off his scars until his son decided not to play, which suits dad just fine.
Turner's jovial patter quickly switched to an agonized sputter when asked whether his two sons should play football. Nolan, 13, has been playing for a while. Cole, who will turn 8 next month, started last year.
Turner doesn't let his kids (10-year-old Natalie is a cheerleader) drink sodas because he doesn't think it's good for them, yet football maintains a powerful influence in their family. Turner hinted he won't let Cole play this year because he's perhaps too young. Nolan's situation sounded more complicated.
"It's something I struggle with every day, whether to just lay the law down and say, 'No, we're not playing,'" Turner said. "Or do I let him live his life and take a chance? But, God, I can't tell you how hard a question that is, especially in Alabama. I'm still not sure that I'm going to let him."
Turner was 5 years old when his dad began coaching him. In many ways, it turned out well.
Colleges began recruiting him as a high school sophomore. Florida State coach Bobby Bowden came to their house, but Alabama won out. The Crimson Tide chose Turner for their commitment to excellence award his junior season. He was a captain his senior season. He left with a finance degree and lived a fantasy some folks would give a limb to experience.
"If they'd have told me when I was 23 years old, in the best shape of my life and just got the dream chance of my life to play in the NFL -- first week of practice in New England, I'm in awe of
Andre Tippett
,
Irving Fryar
-- but in 17 years, you're not going to be able to pull up your pants ... you could not imagine it," Turner said.
"Most people would say, 'If there's a 10 percent chance of that happening, I'll take my chances.'"
'You know it's coming'
Chances are, Turner doesn't have long to live. One of his doctors gave him two years. That was almost a year ago.
ALS has no cure. There are no treatments to stop or reverse it. Fifty percent of ALS patients do not live three years beyond their first symptoms. Only 20 percent reach five years.
One by one, motor neurons steadily shut down. As they do, muscles wither. Although Turner's brain will remain sharp, he will lose his ability to walk, speak and swallow.
ALS eventually reaches the muscles of the chest wall and diaphragm. Suffocation and pneumonia are the most common causes of death.
"There are still times, and let me say it's not very often, in the past year where I'll sit there and become completely overwhelmed and break down and cry," Turner said. "Every now and then I'll let myself think about it. I'll see something or hear something that reminds me of the inevitable. You know it's coming."
Turner said he intends to immerse himself in his children's lives and his foundation's cause. He travels the country for speaking engagements to raise funds. Country-gospel singer Ty Herndon dedicated the title track of his Grammy-nominated album, "Journey On," to the Kevin Turner Foundation.
Turner and his children appear in the poignant video
.
Turner's father, meanwhile, can't help but worry. He admitted he and his wife, Myra, feel helpless -- a disconcerting sentiment when it comes to any child, let alone an only child. Raymond is 67 years old, and he's dealing with the likelihood he'll outlive his once-vigorous son. The unavoidability hit home the day a packet arrived in the mail, detailing the process of donating his son's organs.
Turner's mom and dad are considering moving from Prattville closer to Birmingham, Ala., where their grandchildren live, about 85 miles away. Raymond wants to make sure they have a father figure nearby.
"The fact that I'm healthy lets me think I'll be around to see the kids through," Raymond said. "This is not supposed to be this way. Just things you've got to think about and don't want to think about, but you've got to be realistic."
So much has transpired in the 19 years since Turner drove that Ford Bronco from Prattville to the NFL. He made it a point to swing through Manhattan on the way, getting a slice of New York-style pizza and some cheesecake from Carnegie Deli just in case his ride didn't last very long.
The possibilities were infinite. Today, they're decidedly limited. But Turner insists he will make the most of the time he has left and maybe -- just maybe -- be the first person who beats ALS.
On Tuesday night, Turner's father pondered how amazed he was the first time he glimpsed at his son in an Alabama uniform and saw "Kevin Turner" scroll across the bottom of his television screen on draft day.
And then, he considered how pleased he is with Turner today. The feeling doesn't pertain to football at all anymore.
"I swell up and tell him so often about how proud I am of him, most part for being a man of good character," Raymond said. "That's meant more to me than anything."
February, 4, 2011
2/04/11
3:05
PM ET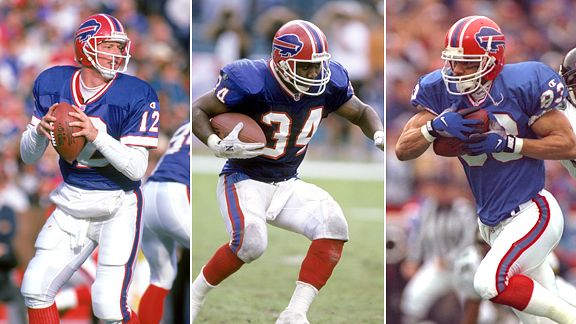 Getty ImagesJim Kelly, Thurman Thomas and Andre Reed were key cogs in four Bills Super Bowl teams put together by former Bills GM Bill Polian.
Can a team put too many players into the Pro Football Hall of Fame?
Bill Polian doesn't think so.
Polian assembled the
Buffalo Bills
teams that went to four straight Super Bowls. Five members of those teams already have bronze busts in Canton: quarterback
Jim Kelly
, running back
Thurman Thomas
, receiver
James Lofton
, defensive end
Bruce Smith
and head coach Marv Levy. Bills owner Ralph Wilson has been enshrined, too.
"It seems like every second or third year somebody gets inducted into the Hall of Fame and we have a reunion and get to reflect on it," Polian told me Thursday night. "It's a big family that has stuck together and still stays in touch.
"It's a blessing. To be associated with guys like that? It's a special, special group."
Polian insisted more Bills belong in the Hall of Fame and is bothered that wide receiver
Andre Reed
hasn't gotten in yet.
Reed could get the Canton call Saturday
. He is among the 15 finalists who will be evaluated by the selection committee for five openings on the 2011 class.
"It's shocking to me that he's not viewed as a shoo-in Hall of Famer," Polian said. "Andre Reed was our biggest big-play player on a team that went to four Super Bowls. How he could not be included in the Hall of Fame when he's one of two guys who dominated is beyond me.
"Go with the facts. Don't go with perception. Go with reality because if you go with reality, you have to say Andre Reed belongs, without question. To me, it's just baffling."
That would give the Bills five Hall of Famers
who played or coached all four Super Bowl teams. Lofton played on only three of them. Bills owner Ralph Wilson also has been inducted.
Put that group up against the
New England Patriots
, who won three Super Bowls in four years.
"The teams are comparable," Polian said.
There
aren't that many slam-dunks
from all three of New England's championship rosters.
Head coach Bill Belichick and quarterback
Tom Brady
are surefire Hall of Famers. Beyond that,
Adam Vinatieri
has a strong case for his heroics, but there are no guarantees for kickers. Jan Stenerud is the only Hall of Fame kicker or punter. Maybe defensive end
Richard Seymour
or cornerback
Ty Law
will be considered.
Beyond that, much of the Patriots' roster was comprised of semi-stars such as linebackers
Tedy Bruschi
and
Mike Vrabel
, who went to one Pro Bowl apiece, and transients.
That the 1990s Bills will send more players to Canton than the 2000s Patriots is fascinating to me. It shows how incredible the Patriots have been at navigating free agency and the draft to maintain a consistent winner with a fluctuating roster -- and how truly magnificent that collection of talent was for Buffalo.
"That'll never happen again," Reed told me last week. "You won't see an assemblage of players like that -- at least not in Buffalo. I know that."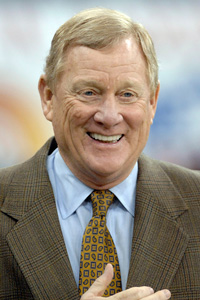 Al Messerschmidt/Getty ImagesFormer Bills GM Bill Polian thinks seven players from Buffalo's 1990s Super Bowl teams should be Hall-of-Famers.
Those Bills teams also featured offensive linemen
Kent Hull
and
Jim Ritcher
, linebackers
Cornelius Bennett
,
Shane Conlan
and
Darryl Talley
and special-teams star
Steve Tasker
.
Polian is an advocate of Tasker's induction into Canton, too.
"Steve Tasker was, pound-for-pound, the greatest special-teams player ever to play," Polian said. "If you value special teams, then Steve Tasker belongs in the Hall of Fame. I am also an unabashed Ray Guy fan.
"I've seen every player that's played in this game since 1977, and I can tell you Ray Guy literally changed the game -- as did Steve Tasker."
So that would make at least seven Hall of Famers from the 1990s Bills if Polian had his way.
When you consider how much talent Polian gathered with the Bills -- and his success with the
Carolina Panthers
and
Indianapolis Colts
since then -- there's no way you can't consider Polian himself.
But for now, Andre Reed is on deck.
"Andre is clearly, clearly, clearly deserving to be inducted," Polian said. "By any measure in the era he played, Andre Reed is a Hall of Famer."
June, 30, 2010
6/30/10
12:30
PM ET
Notable players:
QB
Jim Kelly
, RB
Thurman Thomas
, WR
Andre Reed
, WR
James Lofton
, C
Kent Hull
, DE
Bruce Smith
, OLB
Cornelius Bennett
, OLB
Darryl Talley
, ILB
Shane Conlan
, CB
Nate Odomes
, ST
Steve Tasker
.
[+] Enlarge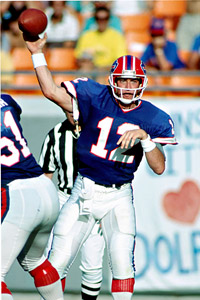 US PresswireJim Kelly threw 24 touchdown passes and just nine interceptions in 1990.
Analysis:
The
Buffalo Bills
went to an unprecedented four straight Super Bowls in the 1990s and lost them all.
Buffalo's best shot was its first, and not merely because it came down to a last-second field goal attempt that went wide right. That squad was its most complete on both sides of the ball.
The 1990 Bills are known as one of the best teams not to win the Super Bowl. Their 13-3 record is tied for the best in franchise history. They ranked first in scoring offense and sixth in scoring defense. Kelly led the NFL in passer rating, Thomas led in yards from scrimmage and Smith was voted defensive player of the year.
The Bills rolled through the regular season. They went undefeated at home and seemed to be surging down the homestretch. They outscored their first two playoff opponents 95-37, but went up against the NFL's best defense when they met the
New York Giants
in the Super Bowl.
The Bills led the Giants by nine points in the second quarter and held a two-point lead in the fourth quarter. But the Bills trailed by a point when Scott Norwood lined up from 47 yards away for what would have brought Buffalo its first major championship. The kick sailed wide of the upright.
Most impressive win:
The Los Angeles Raiders went into the AFC Championship Game at Rich Stadium with only four losses while allowing an average of 16.4 points. The Bills annihilated the Raiders 51-3 with the help of six interceptions. The score was 41-3 at halftime.
Norwood not to blame:
Did Norwood really choke? To claim he did is to suggest a successful kick was probable. The fact is, Norwood never had made a field goal longer than 49 yards in his six NFL seasons. That meant 47 yards was about the limit of his range. He made 6 of 10 attempts from 40-plus yards that season. The fateful attempt also was on grass, a surface he was kicking on for only the fourth time.
Honorable mention
1964:
The Bills won their first of back-to-back AFL championships with a squad that ranked first in total offense and defense. They outscored opponents by an average of 11 points a game.
1991:
The Bills rebounded from their "Wide Right" heartbreak, repeating their 13-3 record and reaching the Super Bowl again. They scored at least 34 points nine times.
1993:
Buffalo won the AFC championship a fourth straight time. The offense ranked sixth in total yards, while the defense ranked fifth in yards allowed and had a league-high 47 takeaways.
November, 12, 2009
11/12/09
1:11
PM ET
| | |
| --- | --- |
| | |
| | Kirby Lee/Image of Sport/US Presswire; Christopher Hanewinckel/US Presswire |
| | Who would you rather have running your team: Bill Polian or Bill Belichick? |
The running debate every time the
New England Patriots
play the
Indianapolis Colts
centers on the two great quarterbacks of this generation and which one you'd rather have to run your offense.
But what about the bigger picture?
Sunday's game in Lucas Oil Stadium also will be a rematch of organizational masterminds bound for the Pro Football Hall of Fame.
Patriots coach Bill Belichick and Colts president Bill Polian are among the all-time best franchise managers.
If given a choice between the two, which would you rather have running your club?
Here are some notes to help you decide:
Bill Belichick
Bill Polian
22 seasons as general manager or president (Buffalo Bills, Carolina Panthers, Colts)
Regular-season record: 222-137 (.618)
Regular-season record minus start-up seasons: 207-89 (.699)
Playoff record: 16-14 (.533)
Four Super Bowls
One championship
11 division titles
Key moves: Hired head coaches Marv Levy in Buffalo and Tony Dungy in Indianapolis. ... Drafted Hall of Fame running back Thurman Thomas in the second round. ... Traded for Cornelius Bennett. ... Drafted quarterback Peyton Manning first overall, wide receiver Reggie Wayne, defensive end Dwight Freeney and safety Bob Sanders.
January, 31, 2009
1/31/09
8:40
AM ET
Posted by ESPN.com's Tim Graham
Don in Rye, N.H., writes: After the pre-season games .The fan and sports casters would have cut Cassel and made O'connell the Brady back up. .However BB went with Cassel when Brady went down. Why not trade Cassel and get some picks and use O'connell as the back up. He played better than Cassel in the PRE. Nobdy these days even mentions O'connell .Why did they draft him if not to use him.
Tim Graham: You bring up an interesting point that really hasn't been explored in regard to Kevin O'Connell. If Tom Brady's patched up left knee is sturdy enough, the Patriots probably will try to trade Matt Cassel. But we don't really know much about O'Connell's development after one season on the sidelines. The Patriots liked him enough to use a third-round draft choice on him, but that doesn't necessarily mean they think he's ready to take over the team if Brady's not ready.
---
Stevie in Indianapolis writes: Some of these questions are completely ridiculous, I feel for Tim Graham having to answer some of them. Mike Shanahan as O-coordinator in NE? Rodney Harrison and Tedi Bruschi in the HOF? Terrell Suggs going to the Jets? A Bills fan thinking that Robert Royal is the answer at TE? Ron Meeks on Dick Jauron's staff? Torry Holt, his 32 year old body, declining skills, and his $10 million contract to Buffalo? Dwayne in Ohio...you personally think the Dolphins should dump one of their starting tackles? Who would replace him? You? Their O-line played phenomenal this year (especially taking last year into account). The O-line averaged less than 2 sacks a game given up. Pretty good stuff. Here's a question for Mr. Graham. Will their be any changes to the Patriots O-line this year? They gave up the 5th most sacks this year. Is this a result of personnel or missing Tom Brady's quick release and pocket presence?
Tim Graham: Thanks for feeling my pain from last week's mailbag, Stevie.
Nobody can be sure what the Patriots plan to do because their front office guards information so well. They're also in transition. Offseason strategies probably still are being formulated with Scott Pioli's departure and Floyd Reese's arrival.
But you raise a valid point about the offensive line because there are multiple ways to buy insurance for Brady. The most talked-about method is bringing back Cassel, but shoring up the right side of the line would be a wise investment.
---
Rob in Palm Coast, Fla., writes: Hey Tim, my question is one more out of sentimentality, but I was wondering. What are the possibilities of Zach Thomas ending his career where he started it. I do realise the Dolphins are pretty heavy at linebacker and have a lot of money tied up there as well. But, he would make a solid backup.
Tim Graham: Bringing back Zach Thomas would be counterproductive. The Dolphins are building from a new foundation, and they already decided a year ago when they cut Thomas that he wasn't what they were looking for at linebacker. Now he's a year older. Not a good fit.
---
Dale in Buffalo writes: Seems to be a lot of talk about future HOF Patriots. How about some former Bills players. Do you think Reed will ever get in and does he deserve it? How about Cornelius Bennett? He was a five time pro bowl selection. Two time AFC Defensive player of the year. He played in five Super Bowls and when he retired he had the third most fumble recoveries in NFL history. All this along with nearly 1,200 tackles and 71 sacks. HOF worthy?
Tim Graham: Andre Reed will be inducted, but not this year. He deserves to get in. Cornelius Bennett won't be a Hall of Famer. You listed some impressive nuggets from Bennett's career. He was a very good player, but not elite. It can be argued he was the sixth- or seventh-best player on those Super Bowl teams. That many Bills won't get into Canton.
---
Mauricio from Mexico City writes: Hi Tim i love your blog, my comment is about Bruschi being a hall of famer. Why to some positions lets say like qbs, its a important matter in order to reach a hall of famer status, how many super bowls you won? If Ben R or eli keep averaging the same stats every season as they do know in my book they are not hall of famer but 2 more super bowl wins i am sure will make them hall of famers. My point is while pro bowl its a important category in reaching greatness (overrated its a popularity contest) i think the super bowl should to... and here is where bruschi is a machine he has been to 5 super bowls i bet not many players have do that, he won 3, he have been to 6 AFC championships games that is awsome if you thin about that he have a nice career. your thoughts?
Tim Graham: My thoughts are that Tedy Bruschi has enjoyed a very nice career, but he's not a Hall of Famer. This isn't a perfect comparison, but since you brought up Super Bowls ... Pittsburgh Steelers defensive end L.C. Greenwood won four of them and started in six AFC Championship Games. He went to six Pro Bowls. He was an All-Pro twice. He's not in the Hall of Fame, and his credentials blow Bruschi's away. Maybe a better comparison is Ken Norton. He was a linebacker who won three straight Super Bowls with the Dallas Cowboys and Pittsburgh Steelers, was a three-time Pro Bowler and a one-time All Pro. There's no campaign to get Norton into the Hall of Fame.
---
Alex from Pennsylvania writes: Hi Tim. I'M BACK! Hehehe...never stopped reading , only posting. Now ya got me doin that again. Anyway: You get to pick if the Dolphins go with a top notch WR or a top notch need on D at #25. Who do you go with first(disregarding FA's)? Peace.
Tim Graham: Always good to hear from you, Alex. I'd go after the best inside linebacker available. Some good ones still should be available at No. 25. Channing Crowder was serviceable when it came to making tackles, but he wasn't a difference-maker. Players such as Patrick Willis, Jerod Mayo and Jon Beason have proved young linebackers can make a major impact.
---
STI in Danbury, Conn., writes: Tim--there seems to be some sort of disconnect between your point of view and Reese's and Lombardi's. After all, if they're claiming Cassel will get the Patriots a "high first," then that means he has to be traded *before* the draft, while you're saying they won't be able to. Have you talked to them about this? Personally, I think the bigger question is whether or not O'Connell's ready--after all, the Pats were willing to have Cassel as Brady's only backup in 2006. Also, on a minor note from your recent chat, Morten Anders
en isn't eligible for the HOF yet--he just retired in December--so his not being there says nothing about Vinatieri's chances.
Tim Graham: Thanks for reading so closely, STI. In the original story for which I interviewed Michael Lombardi and Floyd Reese about how a Cassel trade could go down, Reese explained the Patriots would be at no disadvantage waiting until training camp to make a deal.
Here is Reese's response to my question about the Patriots waiting until late summer to pull the trigger:
It's definitely a seller's market. A team like New England can sit back and bide their time.

If you take the actual number of franchise quarterbacks in the NFL, there's maybe 15. Who's Detroit's starting quarterback? You can go down a long list. All of those teams would be in the bidding.

You don't have to be in a hurry. There's always teams out there in need of a quarterback, teams who'll think "We don't like this guy. We can't win with him."
As for Morten Andersen not being eligible for the Pro Football Hall of Fame yet, you're absolutely correct in noting that fact, which I failed to do. The point I was trying to make, however, is that in the 90-year history of the NFL, only one pure kicker or punter is in Canton.
It's difficult to imagine a kicker floodgate opening for Adam Vinatieri. Andersen -- and Gary Anderson -- will get in before Vinatieri. Not only might that take several years, especially when they're competing with a mounting backlog of worthy position players each year, but it might not ever happen. Kickers simply haven't been valued by the Board of Selectors. There will need to be a significant philosophical shift.
---
John in Garner, N.C., writes: One thing I do not believe Joe Namath gets enough credit for is that he called the plays. He guarenteed victory yet saw that Baltimore could not stop Matt Snell. How many would have tried to win the game themselves? Agree or disagree?
Tim Graham: I'm sure you're responding to my ranking of the six Super Bowl MVPs from the AFC East (although I bent the definitions a little to include the Jets' landmark victory even though they still were in the AFL). I do agree with you that Namath deserves credit for running the offense in a restrained and highly efficient manner. But Snell was the best player on the field in Super Bowl III.
---
Mr. Anonymous from Birmingham, Ala., writes: After the whole fiasco with Mcnabb this season, and how he didn't know about a tie situation, I found myself wondering about overtime and a tie situation in the playoffs. Could you shed some light on this? And thanks for the great blog you always write. Go Pats!
Tim Graham: From the NFL rule book ...
Following a three-minute intermission after the end of the regulation game, play will be continued in 15-minute periods or until there is a score. There is a two-minute intermission between subsequent periods. The teams change goals at the start of each period. Each team has three timeouts, and all general timing provisions apply as during a regular game. Disqualified players are not allowed to return.
---
Stephen from Nashville writes: What Will the Patriots do with the running back situation? Will they draft another back or go into free agency .
Tim Graham: The Patriots don't need to stress about it. They have done a fine job establishing the concept of running backs as interchangeable parts. BenJarvus Green-Ellis, an undrafted rookie who was cut before the season and came off the practice squad, can run for 100 yards. But to answer your question, the Patriots probably will look to the draft and free agency. They're wily that way.
---
Algonquin from Parts Unknown writes: How many NFL quarterbacks have taken 2 different teams to the Super Bowl?
Tim Graham: Kurt Warner is the third quarterback to lead two franchises to the Super Bowl, joining Craig Morton (Cowboys, Broncos) and Earl Morrall (Colts, Dolphins). But Morton was the first to start both Super Bowls. Bob Griese came back from injury in time to start Super Bowl VII in place of Morrall.
January, 14, 2009
1/14/09
7:26
PM ET
Posted by ESPN.com's Tim Graham
Earlier, we explored the likelihood more members of the Buffalo Bills team that lost four Super Bowls would make the Pro Football Hall of Fame than the three-time champion New England Patriots.
But how many of those Bills will make it?
I asked ESPN's John Clayton what he thought. Clayton is in the Hall of Fame writer's wing and an influential voice on the Hall of Fame's Board of Selectors.
Head coach Marv Levy, quarterback Jim Kelly and running back Thurman Thomas already are enshrined. So is receiver James Lofton, who played in two of the Bills' four Super Bowls. Defensive end Bruce Smith, receiver Andre Reed and owner Ralph Wilson are finalists this year.
Clayton predicted Smith would be a first-ballot Hall of Famer, but Reed will keep waiting for the call. Clayton also claimed Steve Tasker doesn't belong in the Hall of Fame.
Although some Bills fans bang the drum for guys like Kent Hull, Jim Ritcher, Cornelius Bennett and Darryl Talley, none are anywhere near the Hall of Fame radar and won't be getting in. Ever.
This is the third year Reed is a finalist. Most players who become finalists eventually are inducted. Exceptions, however, include Miami Dolphins guard Bob Kuechenberg (eight times), Oakland Raiders cornerback Lester Hayes (four times) and Raiders quarterback Ken Stabler (three times).
"Reed probably will get there," Clayton said. "But when Jerry Rice or Tim Brown [become eligible], he'll get pushed back another spot. The fact is, Reed's maybe four or five years away from getting in."
Clayton disagrees with legions of Bills fans who believe Tasker should be inducted. The NFL Network ranked the special-teams maven ninth on its list of the top 10 eligible players not in the Hall of Fame.
"How can you put Tasker in when a guy like Derrick Thomas isn't?" Clayton asked.
September, 21, 2008
9/21/08
1:24
PM ET
Posted by ESPN.com's Tim Graham
ORCHARD PARK, N.Y. -- The Buffalo Bills will put DE Bruce Smith on their Wall of Fame at halftime of today's game against the Oakland Raiders.
The 11-time Pro Bowler holds the official NFL sack record with 200 over his 19-year career. He set the Bills season sack record with 19 in 1990. He recorded double-digits in 12 of his 15 seasons with Buffalo.
Smith is the greatest non-QB No. 1 draft pick in NFL history.
And he's not afraid to declare himself the best DE that ever was. Here's the response to the first question at a pregame news conference.
"I've had a considerable amount of time to take a step back and actually think about it. Having studied the game over the last 19 years and from the outside watching in now over the last five years, the one thing that sticks out more and more like a sore thumb is what was accomplished in this 3-4 defensive scheme that I played in for so long. It's unprecedented.

These are facts that the best defensive end and pass rusher that played in this game played for the Buffalo Bills. The reason I'm saying that is the fact that by design, by the scheme a 3-4 defensive end gets double-teamed far more often than a 4-3 defensive end, and that's a fact. These are not hearsays.

The defensive ends in a 3-4 system gets double-teamed by the center-the guard, the guard-the tackle, the tackle-the tight end, the tackle-the running back. So there's so many possible combinations, and there's nowhere to hide. A 4-3 defensive end always lines up on the edge. He only gets a double team typically from slide protection or they may chip with a back."
Smith went on to describe how Reggie White thrived in Buddy Ryan's system, which was designed to eliminate double teams, and with Sean Jones and Clyde Simmons. Smith also noted how Deacon Jones played on the most dominant D-line.
Smith didn't play with another Pro Bowl lineman. He did, however, get help from such LBs as Shane Conlan, Cornelius Bennett and Darryl Talley.
"You can't double-team these two individuals consistently because there are so many other forces on that defensive line that they had to recognize and pay attention to. But in a 3-4 defensive scheme, you cannot hide.

This gives me an opportunity to explain to individuals, students of the game to educate people what has actually taken place, playing in this 3-4 defensive system. I look back upon it now and I realize why I had 11 surgeries because I was taking a beating. I certainly was. But, all in all, having played in front of these fans in this stadium, it's just an incredible feeling to come back and be put on the Wall of Fame with some of my other teammates."