August, 4, 2012
8/04/12
10:45
PM ET


CANTON, Ohio -- Curtis Martin won his bet to make it through his Pro Football Hall of Fame speech without crying.

Did anyone else?

Martin, in accepting his enshrinement to the Pro Football Hall of Fame, shared details about his life that would wrench the hardest heart: the murders of his grandmother and aunt; the manner in which his father tortured his mother; the time someone held a gun to his head and pulled the trigger seven times, only to have a bullet discharge on the eighth pull, when the gun was pointed elsewhere.

This was as moving a speech as I can recall hearing.

That Martin would survive all this and grow into a man with the wherewithal to nurture his mother to health? That, together, they would forgive his father?

It's a good thing Martin's speech came last. No one could have followed him.

Martin closed by saying he hoped his daughter, when delivering his eulogy years from now, would speak not of the yards he gained, but of the man he became. He hoped she would speak of having sought a man of similar character. He hoped she would, in closing his eulogy, leave mourners with a footnote.

"Oh yeah," she would say, "he was a pretty good football player."

Martin's presenter, retired coach Bill Parcells, spoke of his former player's great balance. Martin's speech showed the same quality. He balanced those emotional reflections with humor. And he showed great wisdom.

Martin busted on fellow enshrinee Willie Roaf for suggesting the Class of 2012 go for pedicures this week. He joked about Cortez Kennedy speaking for so long that God decided to turn off the lights.

Martin again found the right balance when discussing player safety issues, particularly whether he'd feel OK about his own child playing the game, were Martin to have a son.

Two previously enshrined Hall of Famers -- I could not identify them from a distance -- rose and applauded when Martin provided a thoughtful answer. Martin said he never sought football or loved it, but he learned life lessons from it through Parcells, through his former high school coach and through experiences on the field.

"If kids can learn what I learned from playing the game," Martin said in words to that effect, "I'd let him play. It would be worth the risk."

Martin rushed for 102 yards and the winning touchdown in his first regular-season NFL game. Parcells, upon seeing reporters gather around Martin's locker for postgame interviews, let it be known Martin was merely a "one-game wonder."

Before too long, "one-game wonder" would give way to "Boy Wonder" as Parcells' preferred nickname for Martin. The more flattering moniker survives to this day, for good reason. Martin opened his career with 10 consecutive 1,000-yard seasons, an NFL record shared by another Hall of Famer, Barry Sanders.

Martin turned out to be a pretty good football player, all right, and so much more.


August, 4, 2012
8/04/12
9:22
PM ET
CANTON, Ohio -- Dermontti Dawson, the fifth of six Pro Football Hall of Fame enshrinees to speak Saturday night, thanked his parents for the guidance they provided over the years.

The other modern-day finalists preceding Dawson at the podium -- Willie Roaf, Chris Doleman and Cortez Kennedy -- made similar comments.

Curtis Martin, the final enshrinee scheduled to speak, will tell a different story. He'll surely pay tribute to his mother, but so many other factors in his life worked against him. His father left the family when Martin was 4. His grandmother was stabbed to death in brutal fashion when Martin was 9.

Martin never dreamed of the Hall of Fame; at one point, his goal while growing up in a rough Pittsburgh neighborhood was simply reaching age 21. The speech he delivers Saturday night has the potential to pack a different type of emotional punch.
August, 2, 2012
8/02/12
4:00
PM ET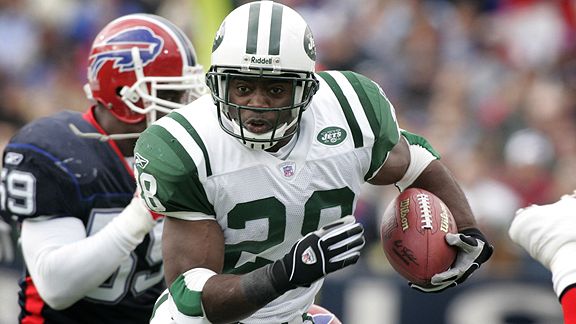 Craig Melvin/US PresswireRunning back Curtis Martin finished his Hall of Fame career with 14,101 rushing yards.
Every NFL player could learn from Curtis Martin.
The former third-round draft pick was never the fastest player, nor the biggest nor the most athletic. But it was Martin's heart, work ethic, character and dedication that made him the NFL's fourth all-time leading rusher with 14,101 yards.
Martin's football journey will end this weekend in Canton, Ohio. He is part of the 2012 Hall of Fame class that also includes Willie Roaf, Cortez Kennedy, Dermontti Dawson, Chris Doleman and Jack Butler.
Martin overcame any physical deficiencies with intangibles. He was smart and very durable. Martin also had longevity and was consistent, which are all key elements to get into the Hall of Fame. Martin put together 10 consecutive 1,000-yard seasons. In 2004, he became the oldest player to lead the NFL in rushing with 1,697 yards at age 31, when most running backs hit a wall. That season cemented Martin's legacy and made him a lock for Canton.
Martin is also on a very short list of Bill Parcells' favorite players. Parcells was notoriously demanding and difficult to play for. Yet, the Super Bowl-winning coach calls Martin one of the greatest players he's ever coached. Parcells made it a point to have Martin on his team in both New England and New York. Naturally, Parcells will be Martin's presenter on Saturday during his enshrinement. The two would have it no other way.
Martin set a great example that the NFL is not all about draft status or pure athletic ability. Martin got the most out of himself every year, and it landed him in Canton.
February, 2, 2011
2/02/11
4:30
PM ET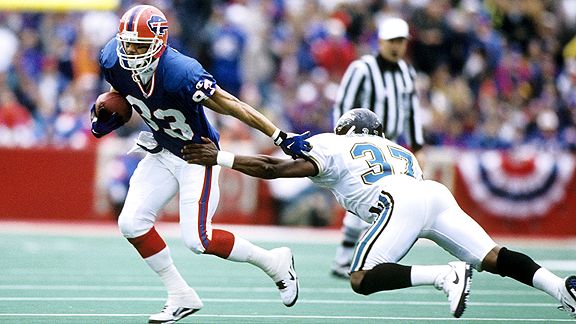 US PRESSWIREFormer Bills receiver Andre Reed finished his career with 951 catches for 13,198 yards and 87 TDs.
Receptions come a lot cheaper these days.
The game has changed, and all you need for proof is a glance at Paul Warfield's career stats. He caught more than 50 passes once. He gained more than 1,000 yards once. In some of his Pro Bowl seasons, his numbers wouldn't have justified a roster spot in your 10-team fantasy league.
Yet Warfield is considered one the most dangerous receivers NFL history, a first-ballot Pro Football Hall of Famer.
"Our game is beginning to resemble baseball in which everyone is looking at numbers," Warfield said this week from his home in Rancho Mirage, Calif. "Numbers tell the story to a degree, but I like to look at one's full body of work.
"I'm from the old-school generation. You might be termed a wide receiver, but you should be a football player first."
Steve Largent is another example of how stats don't quantify a receiver's worth like they used to. Largent retired after the 1989 season as the NFL's all-time leading receiver with 819 catches. He, too, was a first-ballot Hall of Famer.
Twenty-one years later, Largent ranks 20th in receptions behind such names as
Derrick Mason
,
Torry Holt
,
Keenan McCardell
,
Muhsin Muhammad
and fullback
Larry Centers
.
In 1985, only four players had caught 600 passes. The list is 55 players long now.
"It doesn't necessarily undermine a player's ability to get into the Hall of Fame because he had great stats or doesn't have great stats," Largent said Monday from his office in Washington D.C. "You're looking for a guy who was the total package."
With that in mind, you might consider
Andre Reed
's stats if you choose when deciding if he belongs in the Hall of Fame. They're sterling -- if a little outdated and discounted by time.
To both Largent and Warfield and other legendary receivers, Reed qualifies for Canton without even looking at the numbers.
"I saw the value Reed had to that team not only as a receiver, but also as a leader," Largent said. "There are some attributes you don't keep statistics of, but you become aware of as one player watching another play the game."
Reed is Largent's "total package" and Warfield's unequivocal embodiment of "football player."
"It's long overdue for Andre," Warfield said.
Reed is among the 15 Pro Football Hall of Fame finalists who will learn Saturday whether they will be included in this year's induction class.
The star
Buffalo Bills
receiver has been a finalist five times. There's a belief this year offers his best chance yet. In previous years, he has shared the ballot with at least one receiver who took precedence because they were icons (
Jerry Rice
,
Michael Irvin
) or had been waiting longer (
Art Monk
).
Reed could become the sixth Hall of Famer from a team that went to four straight Super Bowls but failed to win one.
Already enshrined are Bills quarterback
Jim Kelly
, running back
Thurman Thomas
, defensive end
Bruce Smith
and head coach Marv Levy. Wide receiver
James Lofton
also is in Canton, but he didn't play on all four Super Bowl teams, and is more closely associated with the
Green Bay Packers
.
"I was a part of something special, and I'll take that to my grave," said Reed, 47. "We were a family. But the Hall of Fame, I don't know how I would react. It would be a validation of your work and what you did.
"Hopefully on Saturday I can be in that fraternity with them, but every year it's a tough ballot."
The other finalists include running backs
Marshall Faulk
,
Curtis Martin
and
Jerome Bettis
, receivers
Tim Brown
and
Cris Carter
, tight end
Shannon Sharpe
, center
Dermontti Dawson
, tackle
Willie Roaf
, defensive ends
Richard Dent
,
Charles Haley
and
Chris Doleman
, defensive tackle
Cortez Kennedy
, cornerback
Deion Sanders
and NFL Films patriarch Ed Sabol.
The Hall of Fame's 44-member selection committee will decide Saturday. The group includes NFL writers, one representative per franchise, 11 at-large voters and one from the Pro Football Writers Association. The committee will pare the group of 15 finalists down to 10 and then to five. At that point, a vote will be held, with 80 percent agreement needed for induction.
Up to five modern-era candidates may be elected each year. First-time nominees Faulk and Sanders are virtual locks to get inducted. That leaves three spots available for Reed and the other finalists to get in.
Buffalo News reporter Mark Gaughan will make the case for Reed's induction. It's a compelling one.
"He certainly had a great career, one of the great clutch receivers," Warfield said. "He was consistent, one Jim Kelly could always go to and always find open in a situation where they're trying to make a big play. He's an all-encompassing receiver."
Reed was third on the NFL's all-time receptions list when he retired after the 2000 season with 951 catches, behind only Rice and Carter. Reed was a seven-time Pro Bowler and a superstar on a team that won four conference championships in a row.
"He was as dangerous a receiver as there is," former Bills quarterback
Frank Reich
said. "Versus press coverage, he was almost impossible to stop, coming off the ball. We always felt if they tried to play tight man on Andre it didn't matter who was guarding him. Any shutdown corner in the league in press coverage, Andre was going to beat him."
Reed was a force on the big stage. In 19 postseason games he had 85 receptions for 1,229 yards and nine touchdowns. He didn't score any Super Bowl touchdowns, but he did have 27 receptions for 323 yards.
In the Bills' epic comeback against the Houston Oilers in the 1992 postseason, he made eight catches for 136 yards and three touchdowns.
Reed is known as tremendously durable. He played 253 games, counting playoffs. He often darted into traffic to make plays in a crowd of defenders.
"No fear," Reich said.
Reed was one the greatest ever when it came to yards after the catch, second perhaps only to Rice.
[+] Enlarge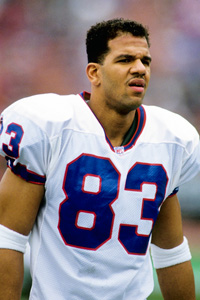 US PresswireAndre Reed, on playing for the Bills: "I was a part of something special, and I'll take that to my grave,"
"Most people that were on that team or played against us will remember how explosive he was in run-after-the-catch," said Reich, now
Peyton Manning
's position coach with the
Indianapolis Colts
. "He rivaled Jerry Rice in that category. Like Jerry Rice, his 40 time was good and probably not great. But there was nobody faster with the ball in his hands."
What put Reed's production in even greater context is a closer look at Buffalo's offense in the 1990s.
Many fans, even those who closely followed the Bills then, recall a prolific aerial attack. They remember Kelly running the no-huddle, K-Gun offense and slinging the ball all over the field to Reed and Lofton.
As Gaughan will point out again Saturday, the Bills ranked 17th in passing offense throughout Reed's career. In Reed's six prime seasons from 1988 through 1993, the Bills passed 51 percent of the time. By comparison, the
Washington Redskins
' famed "Hogs" offense passed 50 percent of the time when Monk was there.
Reed didn't have much receiving help either. He played with Lofton for four seasons, but Lofton was 33 years old when he joined Buffalo. In 1988, for instance, Reed's second and third receivers were Trumaine Johnson and
Chris Burkett
.
So far, the chief impediment for Reed's induction hasn't been his resume, but the other names on the ballot.
A wide receiver has been inducted each of the past four years, and in seven classes out of the past decade.
Gaughan noted there is room in Canton for at least two more receivers from the 1990s. A breakdown of membership shows seven receivers who predominantly played in the 1960s, four from 1970s, four from the 1980s and two from the 1990s.
Reed, Carter and Brown are the worthiest receiver candidates to join Rice and Irvin from that decade.
There's a velvet rope. This is Reed's fifth year as a finalist. Carter has been a finalist four times, Brown twice.
Reed apparently jockeyed to the head of the receiver line last year. In the selection process, Carter and Brown didn't make the top-10 stage, but Reed did.
That development has raised Reed's hopes for 2011.
"I'll be more nervous because of the way the voting went last year," Reed said. "I feel I'm more deserving of it. It was pretty close. The anticipation is enhanced this year."
But there are no guarantees. Several legendary receivers have waited longer than five years to get the Canton call. Don Maynard, John Stallworth and Monk got in on their eighth time as finalists. Lynn Swann was a finalist 14 times. The Seniors Committee was necessary to induct Bob Hayes 34 years after his last NFL game.
Reed admitted he has fantasized about the phone call too many times to count. He's even tried to research the moment.
"I've talked to a bunch of Hall of Famers who say when they get the call they're at a loss for words," said Reed, who plays a lot of golf and sells his own line of barbeque sauce in the San Diego area. "They don't know how to react.
"I'll just have to wait and see."
And hopefully not have to wait some more.
January, 31, 2011
1/31/11
2:45
PM ET
Curtis Martin
has the credentials to justify induction into the Pro Football Hall of Fame.
[+] Enlarge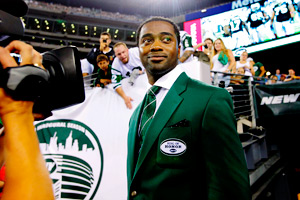 Tony Kurdzuk/US PresswireDo Curtis Martin's credentials qualify him for the Hall of Fame in his first year on the ballot?
But does the popular
New York Jets
and
New England Patriots
running back belong to an even more elite group that that?
Martin is on the Hall of Fame ballot for the first time and will find out Saturday whether he will join the 65 other legends who've gone straight to Canton without delay.
New York Daily News writer Gary Myers examines the
possibility Martin will get the Hall of Fame call Saturday
. Martin's beloved coach, Bill Parcells, asserted Martin should coast into Canton.
"If the idea is to separate yourself, you got the case right there, you can't dispute it," Parcells told Myers. "Come on. That is roller skates."
Martin played 11 seasons and led his team in rushing every time. He finished with 14,101 yards (fourth all-time behind
Emmitt Smith
, Walter Payton and
Barry Sanders
) and 90 touchdowns. Martin added 484 receptions for 3,329 yards and 10 more touchdowns, giving him an even 100.
Martin was Offensive Rookie of the Year in 1995 and made five Pro Bowl teams.
Up to five modern-era candidates will be inducted. But with fellow first-timers running back
Marshall Faulk
and cornerback
Deion Sanders
almost certain to gain approval, essentially three spots are left.
The other 15 finalists include running back
Jerome Bettis
, receivers
Andre Reed
,
Tim Brown
and
Cris Carter
, tight end
Shannon Sharpe
, center
Dermontti Dawson
, tackle
Willie Roaf
, defensive ends
Richard Dent
,
Charles Haley
and
Chris Doleman
, defensive tackle
Cortez Kennedy
and NFL Films patriarch Ed Sabol.
"I haven't been an individual accolades type person," Martin told Myers. "But I have found myself thinking about the Hall of Fame more. I think that it speaks to the intangible qualities that I like to be associated with my name.
"To even be in consideration for the Hall of Fame, you've done a little more than just performed on the football field. It speaks to your dedication, to hard work, the level of competition, the way you compete. Even being mentioned is very humbling to me."
January, 9, 2011
1/09/11
1:10
PM ET
May, 7, 2010
5/07/10
3:50
PM ET
In honor of the
Oakland Raiders
dumping quarterback
JaMarcus Russell
three years after they drafted him No. 1 overall, I've put together a list of each AFC East team's biggest busts.
These are my picks, and they're open for debate. Add your picks in the comments section below.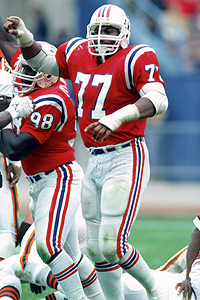 George Gojkovich/Getty ImagesNew England drafted Kenneth Sims with the first overall pick in 1982.
Buffalo Bills
1. Walt Patulski, defensive end
(first overall, 1972): Who? Exactly the point. He played four uninspiring years for the Bills and one more for the St. Louis Cardinals.
2. Mike Williams, tackle
(fourth overall, 2002): A good case can be made for Williams to be at the top of this list. He spent four mediocre seasons at right tackle, not even making it over to the blindside.
3. Tony Hunter, tight end
(12th overall, 1983): In arguably the greatest first round in NFL draft history, the Bills managed to find a dud two slots ahead of the pick they used on
Jim Kelly
. Hunter lasted two seasons in Buffalo, starting 12 games and catching 69 passes.
4. Terry Miller, running back
(fifth overall, 1978): It's tough to replace O.J. Simpson, but the Bills thought they had their man with Miller. He rushed for 1,060 yards and seven touchdowns as a rookie. Over his next -- and final -- three seasons combined, he rushed for 523 yards and one touchdown.
5. Perry Tuttle, receiver
(19th overall, 1982): In two seasons with the Bills, he managed four starts and 24 receptions. Taken one slot after him was Mike Quick.
Miami Dolphins
1. Eric Kumerow, defensive end
(16th overall, 1988): Three seasons, zero starts, five sacks.
2. Billy Milner, tackle
(25th overall, 1995): He lasted two NFL seasons, starting nine games at right tackle as a rookie. In his second season, the Dolphins traded him to the
St. Louis Rams
for
Troy Drayton
. The Rams cut Milner, who retired.
3. Sammie Smith, running back
(ninth overall, 1989): He showed promise here and there, rushing for 831 yards and eight touchdowns in his second season. But he was hated by Dolfans for his costly fumbles.
4. Jason Allen, defensive back
(16th overall, 2006): He has made a dozen career starts and contributes most of his time to special teams.
5. Yatil Green, receiver
(15th overall, 1997): I nearly listed Ted Ginn here, but he added value as a return specialist and actually won a game for the Dolphins last year. Green's career lasted eight games.
New England Patriots
1. Kenneth Sims, defensive end
(first overall, 1982): Sims played a full season just once in his eight seasons and played three games or fewer three times. He recorded 17 sacks
2. Eugene Chung, offensive lineman
(13th overall, 1992): Chung started 14 games as a rookie and all 16 as a sophomore, but that was all. Chung played three games in 1994 and was gone.
3. Chris Singleton, linebacker,
and
Ray Agnew, defensive tackle
(eighth and 10th overall, 1990): I couldn't pick one without the other. The Pats traded the third overall pick to the
Seattle Seahawks
for these two. The Seahawks took future Hall of Famer
Cortez Kennedy
. In between Singleton and Agnew, the Dolphins drafted potential Hall of Fame tackle
Richmond Webb
.
4. Hart Lee Dykes, receiver
(16th overall, 1989): Two seasons, 18 starts, 83 receptions, seven touchdowns, out of football.
5. Andy Katzenmoyer, linebacker
(28th overall, 1999): A neck injury was at issue, but he left the team without permission and was cut after his second season. He made 14 starts.
New York Jets
1. Blair Thomas, running back
(second overall, 1990): Over four seasons with the Jets, he rushed for five touchdowns.
2. Johnny "Lam" Jones, receiver
(second overall, 1980): He finished his career with 138 receptions for 2,322 yards and 13 touchdowns.
Art Monk
might've been the better choice.
3. Dave Cadigan, guard
(eighth overall, 1988): He spent six seasons with the Jets, but he totaled 13 starts through his first three seasons. The
Minnesota Vikings
found Hall of Fame guard
Randall McDaniel
with the 19th pick.
4. Reggie Rembert, receiver
(28th overall, 1990): A triple whiff. The Jets couldn't sign Rembert and were forced to deal him. They sent him to the
Cincinnati Bengals
for offensive lineman Scott Jones and linebacker
Joe Kelly
. Rembert finished his career with 36 catches and one touchdown.
5. Alex Van Dyke, receiver
(31st overall, 1996): I considered
Vernon Gholston
here, but went with Van Dyke based on his 26 career catches and three receivers taken soon after him.
Amani Toomer
,
Muhsin Muhammad
and
Bobby Engram
did OK.