December, 17, 2010
12/17/10
12:00
PM ET
Tom Brady
is the NFL's version of Prince Caspian, the dashing hero with the cleft chin and flowing mane. He valiantly slays
New England Patriots
foes.
A deeper look at the stats shows Brady also can be Vlad the Impaler.
[+] Enlarge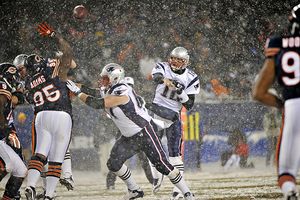 Rob Grabowski/US PresswireTom Brady continued to play against the Bears even though the Patriots already had a commanding lead.
Brady isn't bashful about getting medieval against overmatched opponents. Some would call it a killer instinct. Others might call it mercilessly running up the score.
Football Outsiders executive editor Bill Barnwell examined
how much Brady accumulates stats in out-of-hand games
. Brady rarely comes out in the fourth quarter and continues to throw when he feels it's necessary.
Barnwell found his research to be inconclusive. He determined 16.6 percent of Brady's attempts and 17.7 percent of his yardage came in garbage time (defined as up by at least 18 points any time in the second half or 14 points in the fourth quarter).
The league average for quarterbacks with a minimum 200 throws is 12.4 percent attempts and 12.2 percent yardage in garbage time. Barnwell noted other top NFL quarterbacks such as
Michael Vick
,
Peyton Manning
,
Aaron Rodgers
and
Philip Rivers
have gone below the league average numbers in these situations.
So there's a case to be made, just not a persuasive one based on that criteria.
The
most interesting numbers pertaining to Brady's production
with a commanding lead came from the "You Can't Play Here" blog via the top-notch Indianapolis Colts fan site
18to88.com
.
I asked for verification of the numbers from the Elias Sports Bureau, and with two minor tweaks, here are the official lists ...
Most career touchdowns ahead by at least 17 points:
Most career touchdowns while up at least 28 points:
Tom Brady 10

Sid Luckman 8

Norm Van Brocklin 8

Len Dawson 6

Craig Morton 6
Most career touchdowns while up at least 28 points in the fourth quarter:
Jacky Lee 5

Pete Beathard 4

Tom Brady 4

Craig Morton 4
Should numbers like these belittle Brady's accomplishments? I don't believe they should. He always has been judged more on his championships than his statistics anyway.
Besides, this is the NFL, and if teams have a problem with getting rolled, then they should find a way to stop it.
But the numbers certainly are worthy of debate. What do you think?
February, 16, 2010
2/16/10
12:35
PM ET
Everybody loves a
good quarterback argument
.
[+] Enlarge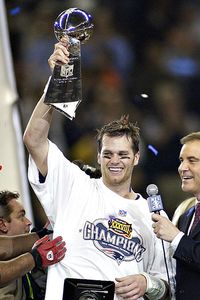 MPS/US PresswireTom Brady is a two-time Super Bowl MVP -- but he hasn't reached legendary status yet, according to one analyst.
Here's a list that endeavors to provide a definitive answer to the following question, but probably will get folks yapping at each other: Who is the greatest Super Bowl quarterback of all time?
Cold, Hard Football Facts kingpin Kerry J. Byrne rolls out all the statistical data from the
20 quarterbacks who've played in more than one Super Bowl
and ranks them purely on how they performed on the biggest stage.
Reputation doesn't matter one iota. That's why Jim Plunkett is slotted waaaaaaaaaaay ahead of John Elway.
Byrne breaks them down into four categories -- Legends, Champions, Cling-ons and Gimps -- and backs up the ranking, complete with a spreadsheet that lists all of their stats.
Legends
1. Joe Montana
2. Terry Bradshaw
3. Jim Plunkett
4. Troy Aikman
5. Bart Starr
Champions
6.
Tom Brady
7.
Brett Favre
8. Roger Staubach
9. Kurt Warner
10. Len Dawson
11.
Peyton Manning
Cling-ons
12. Bob Griese
13.
Ben Roethlisberger
14. John Elway
15. Joe Theismann
Gimps
16. Jim Kelly
17. Fran Tarkenton
18. John Unitas
19. Earl Morrall
20. Craig Morton
January, 31, 2009
1/31/09
8:40
AM ET
Posted by ESPN.com's Tim Graham
Don in Rye, N.H., writes: After the pre-season games .The fan and sports casters would have cut Cassel and made O'connell the Brady back up. .However BB went with Cassel when Brady went down. Why not trade Cassel and get some picks and use O'connell as the back up. He played better than Cassel in the PRE. Nobdy these days even mentions O'connell .Why did they draft him if not to use him.
Tim Graham: You bring up an interesting point that really hasn't been explored in regard to Kevin O'Connell. If Tom Brady's patched up left knee is sturdy enough, the Patriots probably will try to trade Matt Cassel. But we don't really know much about O'Connell's development after one season on the sidelines. The Patriots liked him enough to use a third-round draft choice on him, but that doesn't necessarily mean they think he's ready to take over the team if Brady's not ready.
---
Stevie in Indianapolis writes: Some of these questions are completely ridiculous, I feel for Tim Graham having to answer some of them. Mike Shanahan as O-coordinator in NE? Rodney Harrison and Tedi Bruschi in the HOF? Terrell Suggs going to the Jets? A Bills fan thinking that Robert Royal is the answer at TE? Ron Meeks on Dick Jauron's staff? Torry Holt, his 32 year old body, declining skills, and his $10 million contract to Buffalo? Dwayne in Ohio...you personally think the Dolphins should dump one of their starting tackles? Who would replace him? You? Their O-line played phenomenal this year (especially taking last year into account). The O-line averaged less than 2 sacks a game given up. Pretty good stuff. Here's a question for Mr. Graham. Will their be any changes to the Patriots O-line this year? They gave up the 5th most sacks this year. Is this a result of personnel or missing Tom Brady's quick release and pocket presence?
Tim Graham: Thanks for feeling my pain from last week's mailbag, Stevie.
Nobody can be sure what the Patriots plan to do because their front office guards information so well. They're also in transition. Offseason strategies probably still are being formulated with Scott Pioli's departure and Floyd Reese's arrival.
But you raise a valid point about the offensive line because there are multiple ways to buy insurance for Brady. The most talked-about method is bringing back Cassel, but shoring up the right side of the line would be a wise investment.
---
Rob in Palm Coast, Fla., writes: Hey Tim, my question is one more out of sentimentality, but I was wondering. What are the possibilities of Zach Thomas ending his career where he started it. I do realise the Dolphins are pretty heavy at linebacker and have a lot of money tied up there as well. But, he would make a solid backup.
Tim Graham: Bringing back Zach Thomas would be counterproductive. The Dolphins are building from a new foundation, and they already decided a year ago when they cut Thomas that he wasn't what they were looking for at linebacker. Now he's a year older. Not a good fit.
---
Dale in Buffalo writes: Seems to be a lot of talk about future HOF Patriots. How about some former Bills players. Do you think Reed will ever get in and does he deserve it? How about Cornelius Bennett? He was a five time pro bowl selection. Two time AFC Defensive player of the year. He played in five Super Bowls and when he retired he had the third most fumble recoveries in NFL history. All this along with nearly 1,200 tackles and 71 sacks. HOF worthy?
Tim Graham: Andre Reed will be inducted, but not this year. He deserves to get in. Cornelius Bennett won't be a Hall of Famer. You listed some impressive nuggets from Bennett's career. He was a very good player, but not elite. It can be argued he was the sixth- or seventh-best player on those Super Bowl teams. That many Bills won't get into Canton.
---
Mauricio from Mexico City writes: Hi Tim i love your blog, my comment is about Bruschi being a hall of famer. Why to some positions lets say like qbs, its a important matter in order to reach a hall of famer status, how many super bowls you won? If Ben R or eli keep averaging the same stats every season as they do know in my book they are not hall of famer but 2 more super bowl wins i am sure will make them hall of famers. My point is while pro bowl its a important category in reaching greatness (overrated its a popularity contest) i think the super bowl should to... and here is where bruschi is a machine he has been to 5 super bowls i bet not many players have do that, he won 3, he have been to 6 AFC championships games that is awsome if you thin about that he have a nice career. your thoughts?
Tim Graham: My thoughts are that Tedy Bruschi has enjoyed a very nice career, but he's not a Hall of Famer. This isn't a perfect comparison, but since you brought up Super Bowls ... Pittsburgh Steelers defensive end L.C. Greenwood won four of them and started in six AFC Championship Games. He went to six Pro Bowls. He was an All-Pro twice. He's not in the Hall of Fame, and his credentials blow Bruschi's away. Maybe a better comparison is Ken Norton. He was a linebacker who won three straight Super Bowls with the Dallas Cowboys and Pittsburgh Steelers, was a three-time Pro Bowler and a one-time All Pro. There's no campaign to get Norton into the Hall of Fame.
---
Alex from Pennsylvania writes: Hi Tim. I'M BACK! Hehehe...never stopped reading , only posting. Now ya got me doin that again. Anyway: You get to pick if the Dolphins go with a top notch WR or a top notch need on D at #25. Who do you go with first(disregarding FA's)? Peace.
Tim Graham: Always good to hear from you, Alex. I'd go after the best inside linebacker available. Some good ones still should be available at No. 25. Channing Crowder was serviceable when it came to making tackles, but he wasn't a difference-maker. Players such as Patrick Willis, Jerod Mayo and Jon Beason have proved young linebackers can make a major impact.
---
STI in Danbury, Conn., writes: Tim--there seems to be some sort of disconnect between your point of view and Reese's and Lombardi's. After all, if they're claiming Cassel will get the Patriots a "high first," then that means he has to be traded *before* the draft, while you're saying they won't be able to. Have you talked to them about this? Personally, I think the bigger question is whether or not O'Connell's ready--after all, the Pats were willing to have Cassel as Brady's only backup in 2006. Also, on a minor note from your recent chat, Morten Anders
en isn't eligible for the HOF yet--he just retired in December--so his not being there says nothing about Vinatieri's chances.
Tim Graham: Thanks for reading so closely, STI. In the original story for which I interviewed Michael Lombardi and Floyd Reese about how a Cassel trade could go down, Reese explained the Patriots would be at no disadvantage waiting until training camp to make a deal.
Here is Reese's response to my question about the Patriots waiting until late summer to pull the trigger:
It's definitely a seller's market. A team like New England can sit back and bide their time.

If you take the actual number of franchise quarterbacks in the NFL, there's maybe 15. Who's Detroit's starting quarterback? You can go down a long list. All of those teams would be in the bidding.

You don't have to be in a hurry. There's always teams out there in need of a quarterback, teams who'll think "We don't like this guy. We can't win with him."
As for Morten Andersen not being eligible for the Pro Football Hall of Fame yet, you're absolutely correct in noting that fact, which I failed to do. The point I was trying to make, however, is that in the 90-year history of the NFL, only one pure kicker or punter is in Canton.
It's difficult to imagine a kicker floodgate opening for Adam Vinatieri. Andersen -- and Gary Anderson -- will get in before Vinatieri. Not only might that take several years, especially when they're competing with a mounting backlog of worthy position players each year, but it might not ever happen. Kickers simply haven't been valued by the Board of Selectors. There will need to be a significant philosophical shift.
---
John in Garner, N.C., writes: One thing I do not believe Joe Namath gets enough credit for is that he called the plays. He guarenteed victory yet saw that Baltimore could not stop Matt Snell. How many would have tried to win the game themselves? Agree or disagree?
Tim Graham: I'm sure you're responding to my ranking of the six Super Bowl MVPs from the AFC East (although I bent the definitions a little to include the Jets' landmark victory even though they still were in the AFL). I do agree with you that Namath deserves credit for running the offense in a restrained and highly efficient manner. But Snell was the best player on the field in Super Bowl III.
---
Mr. Anonymous from Birmingham, Ala., writes: After the whole fiasco with Mcnabb this season, and how he didn't know about a tie situation, I found myself wondering about overtime and a tie situation in the playoffs. Could you shed some light on this? And thanks for the great blog you always write. Go Pats!
Tim Graham: From the NFL rule book ...
Following a three-minute intermission after the end of the regulation game, play will be continued in 15-minute periods or until there is a score. There is a two-minute intermission between subsequent periods. The teams change goals at the start of each period. Each team has three timeouts, and all general timing provisions apply as during a regular game. Disqualified players are not allowed to return.
---
Stephen from Nashville writes: What Will the Patriots do with the running back situation? Will they draft another back or go into free agency .
Tim Graham: The Patriots don't need to stress about it. They have done a fine job establishing the concept of running backs as interchangeable parts. BenJarvus Green-Ellis, an undrafted rookie who was cut before the season and came off the practice squad, can run for 100 yards. But to answer your question, the Patriots probably will look to the draft and free agency. They're wily that way.
---
Algonquin from Parts Unknown writes: How many NFL quarterbacks have taken 2 different teams to the Super Bowl?
Tim Graham: Kurt Warner is the third quarterback to lead two franchises to the Super Bowl, joining Craig Morton (Cowboys, Broncos) and Earl Morrall (Colts, Dolphins). But Morton was the first to start both Super Bowls. Bob Griese came back from injury in time to start Super Bowl VII in place of Morrall.
January, 24, 2009
1/24/09
9:00
AM ET
Posted by ESPN.com's Tim Graham
Mack from Waverly writes: Hey Tim I have a couple of questions regarding the patriots defense. Alot of people are counting on the pats to draft a corner high or get one in free agency. I really felt like the defense improved down the stretch after Jonathan Wiilhite was injected into the starting lineup. Do you think he might be the answer at corner? Also do you think the pats might ask Junior Seau back for depth since he has bailed them out for three straight years?
Tim Graham: I'm with you on Jonathan Wilhite. I thought he played well opposite Ellis Hobbs late in the season and may have convinced the Patriots they're OK at cornerback for next year. Junior Seau was an emergency replacement late in the season. He won't be back in 2009 unless disaster strikes -- repeatedly.
---
Brian in Fort Myers, Fla., writes: I do not see Buffalo taking the TE from OSU, he is unpolished and has too many off the field issues in his past. I actually think he could be a bust and we need help at DE and LB, who do you see the Bills looking at with their first two picks. Thanks--Go Bills!
Tim Graham: You're correct that defensive end and linebacker are needs. The Bills also need a center, but that's not a position you take in the top third of the first round unless he's elite, and there are no elite centers in this year's draft class. That said, Bills fans should be happy if Oklahoma State tight end Brandon Pettigrew is the pick.
---
Matthew in Wichita, Kan., writes: There Rumor going on net that Pats hired Romo back to staff. That Pats going after Free agents in nfl as well look at draft because of Jared Mayo.And look at May talking Ray Lewis.
Tim Graham: See what I deal with here? I get about 47 questions like this in my chat every week and another dozen in my mailbag.
---
Mr. Anonymous in Phoenix writes: tim, i seem to be the only bills fan that doesn't blame dick jauron for yet another losing season (bills seem to have a history of it). do you think he can get the bills to 9 wins or should i wait until the team is sold to another town to see a winning season.
Tim Graham: I've written in my chats and mailbags before I think Jauron is a satisfactory coach. Buffalo's problems are systemic, not coach-oriented. When the Bills decided to retain Jauron and make few front-office changes, Bills fans must hope they've at least decided to adopt a new philosophy on spending money and obtaining players.
The free-agency period hasn't begun yet, so it's too early to tell for sure, but fact the Bills went hard after CFL sackmaster Cameron Wake -- they lost out to the Dolphins -- could indicate they'll be active in pursuing free agents.
---
Josh in Norfolk, Va., writes: Mr. Graham -- do you think the Phins will pursue Julius Peppers?
Tim Graham: It wouldn't appear the Dolphins would be hot for Peppers, whose agent recently announced the Carolina Panthers defensive end would like to play linebacker in a 3-4 scheme. The Dolphins already have Joey Porter, and last week they spent a healthy chunk (by CFL standards) on Wake. They also gave an exorbitant sum to Charlie Anderson last year.
---
Doug in Memphis, Tenn., writes: Kurt Warner will QB a second team in the Super Bowl. How many other QB's have done that?
Tim Graham: Kurt Warner is the third quarterback to lead two franchises to the Super Bowl, joining Craig Morton (Cowboys, Broncos) and Earl Morrall (Colts, Dolphins). But Morton was the first to start both Super Bowls. Bob Griese came back from injury in time to start Super Bowl VII in place of Morrall.
---
George in Wilmington, Del., writes: The last time the Jets drafted an offensive weapon in the 1st round was in 2001 (Santana Moss) and before that it was Keyshawn. Do you think this has contributed to gang greens woes? Was sticking with Tannenbaum over Mangini (or sticking with him at all) a bad choice? Is there a roadmap for the Jets to make a play-off run next season? I am not looking forward to another 5 or more years of having my heart broken.
Tim Graham: Great football teams are about the organization, the culture, the system. Mike Tannenbaum has made more moves that contribute to establishing a winner than he has made mistakes.
The Rex Ryan hire was a great one, even though he is another in a line of defensive-minded coaches. That's where their affinity for taking defensive players in the first round stems from.
Ryan will establish his tone and begin to weed out the players who don't fit his mind-set while adding players who do. But the Jets aren't in need of a major overhaul. They won nine games last year and have talent on the roster. If the Dolphins can go from one victory to 11 in one year's time, then the Jets certainly can make the playoffs next year.
---
Mark in Danville writes: With McCoy and Bradford electing to return to school does that increase the potential trade value for Matt Cassel should the Pats look to move him before the draft?
Tim Graham: Fewer available prospects will affect Cassel's value somewhat. It's about supply and demand. But the Patriots won't be able to trade Cassel before the draft because they won't know enough about Tom Brady's rebuilt left knee by then. The primary reason they'll franchise Cassel is to provide insurance in case Brady's not ready.

---
TK in Brooklyn, N.Y., writes:
Hey Tim, this seems like a no brainer to me, but is there any chance the Bills go after former Colts defensive cooridinator Ron Meeks? Buffalo runs that Tampa 2 defense he ran under Dungy, and he would be a great help in improving their defense; plus he knows how to defend Brady and the Patriots. The Bills would be foolish not to try and get this guy on their staff in some capacity or another. Please tell me this is going to happen.