August, 31, 2013
8/31/13
5:00
AM ET
Despite making the bulk of their roster cuts on Friday, the
Buffalo Bills
could still be in for a busy weekend.

Nearly 100 players hit the waiver wire or open market Friday evening, giving the Bills a chance to comb the free-agent landscape for help.
Buffalo's roster stands at 55 players entering Saturday, and while they must get down to 53 players by 6 p.m., it may not be as straightforward as releasing two players. Waiver claims, signings and trades all could be in the forecast.
At what positions might the Bills need a boost? Here's a look:
Cornerback: The Bills have battled injuries at this position since the start of training camp, and their most recent loss is their biggest. Top cornerback Stephon Gilmore is out six to eight weeks with a fractured wrist, creating a gaping hole in the secondary the Bills will try to fill. Outside of Gilmore, the Bills have veterans Leodis McKelvin, Justin Rogers and Ron Brooks under contract -- Brooks has been exclusively playing the slot -- while undrafted rookie Nickell Robey has also been retained to this point. It would be surprising if the Bills go into Week 1 with just those four players healthy. With Crezdon Butler released on Friday, they could use another option to try out at the position.
Interior offensive line: There hasn't been any word on the exact nature of Doug Legursky's leg injury in Thursday night's preseason finale that required him to be carted off the field. The Bills did not place Legursky on injured reserve on Friday, but perhaps that's only because they're waiting for more tests. If it's a season-ending injury, the Bills would be down to just two backups along their offensive line: Thomas Welch and Sam Young. Both play primarily tackle, but could slide inside to guard in an emergency. Still, the Bills are likely on the lookout for interior offensive line help, particularly a player who, like Legursky, can play both guard and center.
Quarterback: Quarterback was the biggest story of the Bills' preseason, and even with EJ Manuel closer to returning to play, they could still be in the market for a veteran backup. They released Matt Leinart on Friday after he posted a dismal 0.0 quarterback rating in Thursday's finale. Thad Lewis, acquired in a trade on Sunday, looks to have earned the No. 3 job, if only by default. The Bills would probably like a player with more experience than Lewis to join Manuel and fellow rookie Jeff Tuel in their quarterback meeting room.
August, 30, 2013
8/30/13
7:15
PM ET
Click
here
for a look at the Buffalo Bills' latest roster moves.

Most significant move:
The
Buffalo Bills
were expected to start fourth-year cornerback
Crezdon Butler
in Week 1 in place of an injured
Stephon Gilmore
. However, Butler played 54 defensive snaps in the preseason finale Thursday night, a sign that his roster status was in doubt. Slotting Butler as the starter was more out of necessity than anything else; with
Leodis McKelvin
and
Justin Rogers
hampered by injuries this preseason, the Bills found themselves extremely thin at the position. Butler did not help his cause by struggling against the
Detroit Lions
in Thursday's loss. Expect the Bills to turn to Rogers as their opening-day starter alongside McKelvin.
Quarterback shuffle continues:
Besides Butler, the most notable player to be released was quarterback
Matt Leinart
. The Bills signed Leinart and traded for
Thad Lewis
last Sunday, one day after
Kevin Kolb
suffered a serious concussion. As it turned out, the preseason finale was a competition between Leinart and Lewis for the Bills' third quarterback job. Leinart threw two interceptions in the first five possessions of the game, ending his night. Lewis fared better in the turnover category, but still only completed 44 percent of his passes, going 7-for-16 in the game.
What's next:
The Bills released 18 players and placed another three -- Kolb, wide receiver
Brad Smith
, and running back
Drew Smith
--
on injured reserve
. With 76 players on their roster entering Friday, the Bills are now down to 55. Safety
Jairus Byrd
's roster exemption has expired, meaning that they will, at a minimum, need to two more moves by Saturday's 6 p.m. ET deadline. Linebacker
Bryan Scott
could be one of those cuts; Byrd
had a tweet
earlier Friday that suggested Scott had been released.
Bills cuts:
QB Matt Leinart, RB
Zach Brown
, RB
Kendall Gaskins
, WR
Brandon Kaufman
, TE
Dorin Dickerson
, TE
Nick Provo
, T
Zebrie Sanders
, G
Antoine Caldwell
, G
Zack Chibane
, C
David Snow
, DL
Jarron Gilbert
, OLB
Kourtnei Brown
, OLB
Keith Pough
, ILB
Brian Smith
, CB Crezdon Butler, CB
T.J. Heath
, CB
Kip Edwards
, S
Jordan Dangerfield
.
August, 29, 2013
8/29/13
5:00
AM ET
The
Buffalo Bills
conclude their preseason on Thursday night, returning home to face the
Detroit Lions
. Kickoff is set for 7 p.m. ET.
Here's what to watch for:
All eyes on Tuel: At the start of the preseason, rookie EJ Manuel was the focus at quarterback. Two weeks later, attention turned to Kevin Kolb. And now, with both Manuel and Kolb out with injuries, it's Jeff Tuel's chance in the spotlight. The undrafted rookie has been named the opening-day starter in the event Manuel is not ready to return from a minor procedure on his left knee. Tuel will face more national scrutiny on Thursday night than arguably any other player across the NFL. It's unlikely pressure for a preseason finale, and it will be worth monitoring how Tuel handles being thrust onto the main stage.
How much time for starters? Normally, this is a game that starters either play minimally or sit out entirely. Does the Tuel situation change that? Beyond running back C.J. Spiller, who will not return to the team until this weekend after an excused absence, do the Bills dress their other top offensive players to get them in a rhythm with Tuel? The best guess from this perspective: Yes. The odds are against Manuel being able to return for Week 1, and if you're the Bills, opening against the New England Patriots, you want to make Tuel as comfortable as possible.
Can the defense bounce back? After an encouraging outing against the Minnesota Vikings, the Bills defense laid an egg against the Washington Redskins last Saturday. The run defense was particularly suspect, allowing 208 yards on 43 carries. It's worth noting that the Bills' offensive struggles allowed the Redskins to control the time of possession in that game, but it was hardly a positive performance by Mike Pettine's unit. Even if starters play minimally, getting back on track will be important.
Can corners lock it down? The Bills defense took a big blow on Monday when coach Doug Marrone announced that cornerback Stephon Gilmore would miss 6-to-8 weeks with a fractured wrist. Expect Crezdon Butler to start in his place on Thursday night. He'll be a player worth following during the game. If he struggles, the Bills will be scrambling for another option in their secondary.
Injuries, injuries, go away: After emerging from the preseason opener in Indianapolis with no significant injuries, Marrone probably should have knocked on wood. His squad's health took some major blows over the next two weeks, with Manuel, Kolb, and Gilmore all going down. Another hit to either side of the ball would be crushing heading into the opener. And of course, the Bills probably don't even want to think about what they would do if Tuel was injured Thursday.
August, 16, 2013
8/16/13
6:35
PM ET

With three of their top cornerbacks not playing in tonight's preseason game against Minnesota, the
Buffalo Bills
will be digging down their depth chart to find healthy bodies at the position.
Cornerbacks
Leodis McKelvin
,
Justin Rogers
, and
Crezdon Butler
all will sit out the contest. Undrafted rookie
Nickell Robey
will start opposite
Stephon Gilmore
.
The Bills started
Ron Brooks
in that spot in last Sunday's win over Indianapolis, but Brooks projects to man the slot cornerback position this season for Buffalo, and the team wants to keep him there.
Robey, 21, is one of the youngest players in the NFL, having left USC after his junior campaign. He is also the smallest player on the Bills' roster, at 5-foot-8, 165 pounds. He should see extensive action tonight.
Otherwise, here is how the Bills' depth chart in the secondary could shake out tonight:
First team
Cornerback: Gilmore, Robey
Slot: Brooks
Safety:
Aaron Williams
,
Da'Norris Searcy
Second team
Cornerback:
T.J. Heath
,
Jumal Rolle
Safety:
Duke Williams
,
Jonathan Meeks
Third team
Cornerback:
Don Unamba
,
Kip Edwards
Safety:
Dominique Ellis
,
Jordan Dangerfield
,
Mark LeGree
August, 16, 2013
8/16/13
6:15
PM ET

Buffalo Bills
defensive end
Mario Williams
(foot) will not play in tonight's preseason game against the
Minnesota Vikings
, the team announced.
Williams played two series in the Bills' preseason opener last Sunday, and has been limited throughout training camp with a foot injury.
"He keeps getting treatment to take care of his body," coach Doug Marrone said Wednesday. "Again, we're just trying to be smart up and down, resting him for some time, just so he can make sure he just gets ready. Especially coming off this short week."
The Bills said Williams will dress for the game, meaning he would be available to play in an emergency.
Other Bills not playing tonight:
Not listed among the inactives are quarterback
Kevin Kolb
, wide receivers
Brad Smith
and
Kevin Elliott
, tight end
Scott Chandler
, and linebacker
Keith Pough
. All missed Sunday's win over Indianapolis.
August, 13, 2013
8/13/13
9:36
AM ET
The
Buffalo Bills
are back on the practice field Tuesday morning.
Here are some morning news and notes:
The Bills released punter Brian Stahovich on Tuesday morning, essentially locking in Shawn Powell for the job. Stahovich had been signed in April to compete with Powell, who replaced long-time punter Brian Moorman last season.
With cornerback Leodis McKelvin (groin) and Justin Rogers (hamstring) remaining out of practice Monday, the Bills turned to Crezdon Butler at one of their top cornerback spots in practice. The Bills started Ron Brooks across from Stephon Gilmore on Sunday, but head coach Doug Marrone said the team wants to focus on Brooks playing the slot in their nickel package. Marrone said he is "rotating guys through" and Butler getting first-team reps is "really nothing more than that."
Tight end Dorin Dickerson, who had a 17-yard touchdown catch in the preseason opener, was not on the practice field Monday due to an ankle injury. Meanwhile, Marrone said wide receiver T.J. Graham and Kourtnei Brown both suffered groin injuries during Monday's practice.
After starting Sunday's game, Colin Brown continued to take first-team reps at left guard on Monday, WGR 550's Joe Buscaglia reported.
Wide receiver Kevin Elliott and linebacker Keith Pough were back on the practice field, according Mark Gaughan of the Buffalo News. Both missed Sunday's preseason opener with injuries.
July, 31, 2013
7/31/13
12:22
PM ET
PITTSFORD, N.Y. -- The
Buffalo Bills
were back on the practice field Wednesday morning, holding their second full-padded session of training camp.
Passing along some observations:
Williams back, but does not participate
: Defensive end
Mario Williams
was back in uniform after leaving training camp to have his sore foot evaluated. Williams worked with the strength and conditioning staff on the sidelines, and did not participate in practice. Meanwhile, tight end
Scott Chandler
(ACL) and defensive lineman
Kyle Williams
(Achilles) continued to be held out of team drills. Head coach Doug Marrone said the team has built in rest days for Chandler, who had knee surgery in January.
[+] Enlarge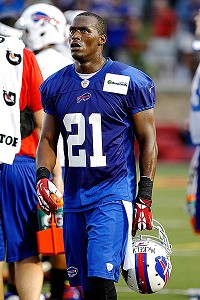 Kevin Hoffman/USA TODAY SportsBills coach Doug Marrone came away impressed with the play of defensive back Leodis McKelvin on Wednesday.
Rogers sits out; McKelvin gets bumped up
: Cornerback
Justin Rogers
was not in uniform on Wednesday after suffering a right hamstring injury in Tuesday's session. Marrone said after practice that Rogers will be out "for a short period of time." Rogers began training camp with the first team and was replaced by
T.J. Heath
on Tuesday. However, veteran
Leodis McKelvin
ran with the first team on Wednesday, with Heath and
Crezdon Butler
playing cornerback for the second group.
"He made a heck of a play on a comeback [pattern]," Marrone said of McKelvin after practice. "When you're out for that long, it takes some time. He's really coming along nicely. We're excited about that."
Elliott carted off
: Second-year receiver
Kevin Elliott
was carted off the practice field with a right shoulder injury. Elliott made an impressive diving catch during 11-on-11s against top cornerback
Stephon Gilmore
, but came down hard on his shoulder and looked to be in pain on the sideline. Elliott is the mix for a back-end roster spot.
Other injuries
: Marrone said a pair of running backs were hobbled with ankle injuries on Wednesday. Veteran
Tashard Choice
came up slow during a punt drill and talked to trainers, but later came back onto the field for 11-on-11 work. Meanwhile,
Zach Brown
suffered an ankle injury that Marrone said doctors will examine.
Manuel gets first-team action
: Rookie quarterback
EJ Manuel
ran the first-team offense during the initial 11-on-11 period of practice after spending most of his time with the second team to begin training camp. Veteran
Kevin Kolb
led the top group for the final two 11-on-11 periods. For the second consecutive practice, Manuel avoided making any critical mistakes while in the pocket, but looked to face more blitz pressures than he has in previous sessions.
Kolb was intercepted during an early 7-on-7 drill by Gilmore, who undercut rookie running back
Kendall Gaskins
on a short pattern. Kolb was later intercepted by safety
Da'Norris Searcy
on a pass intended for rookie receiver
Marquise Goodwin
, and also had some throws that sailed behind receivers
T.J. Graham
and
Robert Woods
. On the plus side, it was Kolb who lofted a well-thrown ball to Elliott on the play where he was injured.
Dime package gets work
: The Bills had six defensive backs on the field for a stretch of their final 11-on-11 period. Safety
Duke Williams
was one of the players coming on, with
Bryan Scott
replacing
Nigel Bradham
at linebacker. Along the defensive line,
Manny Lawson
and
Alex Carrington
provided the pass rush. On the second unit, rookie
Nickell Robey
manned the slot, intercepting quarterback
Jeff Tuel
late in the period.
Punters look even
: The punt unit returned to action Wednesday, with
Shawn Powell
and
Brian Stahovich
both impressive during both special-teams periods. However, returners had issues during the first period, with Woods and Graham both muffing catches, drawing the ire of special-teams coordinator Danny Crossman.
Good day at the office for
: McKelvin. The changes at cornerback continue for the Bills, and McKelvin was the latest to take reps with the first team. He didn't disappoint, showing tight coverage and breaking up a throw from Kolb to Woods during 11-on-11s.
Bad day at the office for
: Kolb. It's tough to compare him side-by-side to Manuel since Kolb is usually seeing the best unit from the defense, but Kolb continues to struggle at times with his accuracy and decision making. He's in the spotlight given the quarterback situation, so his mistakes are more magnified than those of other players.
What's next
: Players are off Thursday before returning to practice Friday morning from 8 to 11:10.
July, 30, 2013
7/30/13
4:47
PM ET
PITTSFORD, N.Y. -- After practice Tuesday,
Buffalo Bills
cornerback
Stephon Gilmore
stayed on the field as a JUGS machine fired footballs at him from about 10 yards away.
The 10th overall pick in 2012 is arguably the AFC East's best cornerback entering this season, and is uncontested at the top of the depth chart in Buffalo.
But who will line up across from Gilmore, as the team's other starting cornerback?
[+] Enlarge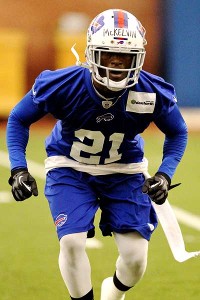 Timothy T. Ludwig/USA TODAY SportsVeteran CB Leodis McKelvin returns to the Bills' lineup following a groin injury that curtailed the end of his 2012 season.
The Bills have invested high draft picks at the position, including a first-round pick in 2008 (
Leodis McKelvin
) and a second-round pick in 2011 (
Aaron Williams
). At this point, McKelvin remains in the hunt for the job, while Williams is settling into the free safety spot left vacant by the absence of a franchise-tagged
Jairus Byrd
.
While it's always possible that Williams could slide back to cornerback once Byrd returns, the Bills had
Justin Rogers
as their top cornerback across from Gilmore to begin training camp Sunday.
Here's a look at the candidates for No. 2:
Rogers
-- A seventh-round pick in 2011, Rogers has started one game in each of his first two seasons. In 2012, he played in 49 percent of defensive snaps, according to Football Outsiders, while also providing a presence on special teams (38 percent of snaps). The 25-year old who played at Division 1 FCS contender Richmond appears to be the frontrunner for the job. At 5-foot-11, 181 pounds, he has sufficient size for an NFL cornerback.
T.J. Heath
-- Entering the league in 2011 as an undrafted free agent with the
Jacksonville Jaguars
, Heath spent most of last season on the Bills' practice squad. He didn't appear in a game for Buffalo, and has not started an NFL contest. When Rogers sat out team drills for unknown reasons on Tuesday, it was Heath who stepped in with the first team. The 25-year old Jacksonville State product has good size at 6-feet, 188 pounds, but appeared thin through his midsection during practice Tuesday. His ability to press receivers off the line will be something to watch during live game action.
McKelvin
-- The most experienced player in Buffalo's secondary, McKelvin has started 33 games over his career with the Bills. His contributions on defense have tailed off in recent seasons, though, and he played in just 32 percent of defensive snaps last season. McKelvin is a threat on special teams, returning two punts last season for touchdowns, and at 5-10 and 185 pounds is slightly undersized for his position. McKelvin missed OTAs and minicamp this offseason recovering from a groin injury that ended his 2012 season, and head coach Doug Marrone hinted Tuesday that McKelvin is still getting back up to speed, which could explain his position on the depth chart at this point.
Other candidates include
Ron Brooks
, who has exclusively lined up in the slot so far this training camp, and
Crezdon Butler
, who is with his fourth NFL team.
Whoever earns the starting job, it's important to remember one thing: proven pass-catchers in the AFC East are relatively scarce.
Here's a breakdown of which receivers the Bills' No. 2 cornerback will square off against for six of the team's 16 games this season:
Miami Dolphins
-- If Gilmore matches up against speedy free-agent signing
Mike Wallace
, then the other cornerback will be tasked with defending
Brian Hartline
. He's coming off a career season with the Dolphins, and the biggest problem could be his size. At 6-foot-2, Hartline presents match-up problems for Rogers, Heath, or McKelvin. This will be the biggest challenge on the division slate.
New England Patriots
-- The Patriots will likely use
Danny Amendola
in the slot, which could draw Gilmore into an inside role. The Patriots are still searching for answers on the outside. Whether it's veterans
Michael Jenkins
or
Kamar Aiken
, or rookies
Aaron Dobson
,
Josh Boyce
, or
Kenbrell Thompkins
-- and yes, the competition in New England looks to be that wide open -- the problem in almost any case is still size, especially with Jenkins (6-foot-4) and Dobson (6-foot-3).
New York Jets
-- The Jets' struggles at receiver from recent seasons look to carry over into 2013. Top target
Santonio Holmes
is injured, and the Jets need more out of 2012 second-round pick
Stephen Hill
. In any case, the No. 2 receiver in New York shouldn't be a major issue for whoever earns the starting role at cornerback in Buffalo.
January, 23, 2011
1/23/11
5:27
PM ET
PITTSBURGH -- Here are the inactives for Sunday night's AFC Championship Game between the
New York Jets
and
Pittsburgh Steelers
at Heinz Field:
New York Jets
Pittsburgh Steelers
November, 28, 2010
11/28/10
12:53
PM ET
ORCHARD PARK, N.Y. --
Aaron Maybin
will wear shoulder pads on Sunday.
Maybin, the struggling
Buffalo Bills
outside linebacker, doesn't appear on the inactive list for Sunday's game against the
Pittsburgh Steelers
in Ralph Wilson Stadium. The 11th pick in last year's draft has been a healthy scratch the five previous games.
These players have been deactivated:
Pittsburgh Steelers
Buffalo Bills
October, 24, 2010
10/24/10
12:07
PM ET