AFC East:

cyril richardson
November, 9, 2014
Nov 9
10:05
AM ET
ORCHARD PARK, N.Y. -- Welcome to Ralph Wilson Stadium, where the
Buffalo Bills
(5-3) host the
Kansas City Chiefs
(5-3) at 1 p.m. ET Sunday.
Weather conditions:
Another great fall day for football. Temperatures are in the low 40s and skies are partly cloudy. There is a slight chance of a shower Sunday morning, but no precipitation is expected in the afternoon. Winds are forecast at 13 mph.
Jackson
Watkins
Monitoring Sammy Watkins and Fred Jackson:
The expectation is that the Bills will put both Watkins and Jackson, who each have groin injuries, through a pre-game workout. Of the two players, Jackson would seemingly have the better chance to be active. He practiced all week -- albeit on a limited basis -- while Watkins didn't practice after leaving Wednesday's session.
No players declared out:
The Bills do not have any players declared out for the game, meaning they are relatively healthy across the roster. One position to watch with the inactives is the offensive line, where backup
Cyril Richardson
did not practice this week because of a death in the family. He could be a healthy scratch, paving the way for
Cyrus Kouandjio
to be active for the first time this season.
Allen gets the call:
Brad Allen, a first-year NFL official, is the referee for Sunday's game. He also officiated the Bills' season opener in Chicago.
October, 22, 2014
Oct 22
1:10
PM ET
ORCHARD PARK, N.Y. -- For now, the
Cyril Richardson
experiment appears to be over for the
Buffalo Bills
.
Urbik
The rookie fifth-round draft pick, who started the last four games at left guard after
Chris Williams
was lost for the season with a back injury, ran with the second team at the start of Wednesday's practice.
Kraig Urbik
stepped in with the first team at left guard.
Urbik started all 16 games at right guard last season for the Bills and began training camp in that spot. However, several personnel shifts along the offensive line in the preseason resulted in Urbik losing his starting job.
It appears he'll now have another chance.
October, 11, 2014
Oct 11
4:25
PM ET
The
Buffalo Bills
placed starting left guard
Chris Williams
(back) on injured reserve Saturday, ending his season.
Williams
Williams, who has been dealing with a nagging back injury since the preseason, started the first three games of the season at left guard before leaving the game in a Week 3 loss to the
San Diego Chargers
.
After missing the next two games, Williams returned to practice this week, participating on a limited basis Wednesday and Thursday. He did not practice Friday and was declared out for Sunday's game against the
New England Patriots
.
In his place, the Bills will continue to turn to rookie
Cyril Richardson
, a fifth-round pick, as their starter at left guard. Richardson was flagged for three penalties in Sunday's 17-14 win against the
Detroit Lions
.
Williams signed a
four-year, $13.5 million
free-agent contract in March that included $4 million in guaranteed money.
To replace Williams on the 53-man roster, the Bills promoted rookie safety
Kenny Ladler
from the practice squad.
October, 6, 2014
Oct 6
9:00
AM ET
DETROIT -- A look at which players are "up" and which players are at the opposite end of the spectrum after the
Buffalo Bills
' 17-14
win
over the
Detroit Lions
:
Up
K Dan Carpenter
-- Can't overlook Carpenter, whose 58-yard game-winning field goal was the second longest in Bills history, behind a 59-yarder from Steve Christie in 1993.
Dareus
DT Marcell Dareus
-- With
Kyle Williams
out for the first time this season, Dareus stepped up and led a six-sack onslaught of
Matthew Stafford
. Dareus set a career high with three sacks and added a forced fumble on his final takedown.
DE Jerry Hughes
-- Not to be overshadowed by Dareus, his teammate along the defensive line added two sacks, one forced fumble and three tackles for a loss.
RB Fred Jackson
-- I'm just copying and pasting at this point. Jackson's consistency and reliability keep the Bills' offense moving even when its other elements are struggling. He had 50 of the Bills' 49 rushing yards (yes, that's correct) and was the team's second-leading receiver with seven catches for 58 yards.
Down
G Cyril Richardson
-- The rookie left guard was flagged twice for false starts and once for offensive holding, accounting for three of the Bills' 11 penalties.
RB C.J. Spiller
-- The dynamic running back's performances fall along a wide spectrum. Some days he can be incredible, others he can be downright ineffective. Sunday was much closer to the latter. He gained only seven yards on nine carries. From early in the second quarter until late in the third quarter -- nearly half the game -- Spiller didn't receive a touch.
WR Mike Williams
-- One of the follow-ups this week will be Williams' playing time, which continues to slip from his standing in the preseason. The Bills turned to
Marquise Goodwin
and
Chris Hogan
as their third receiver for parts of the game, leading to Williams seeing only 26 snaps. He had one catch for eight yards.
October, 3, 2014
Oct 3
7:00
PM ET
ORCHARD PARK, N.Y. -- The
Buffalo Bills
(2-2) look to snap a two-game losing streak when they travel to face the
Detroit Lions
(3-1) on Sunday.

Here is what to watch for:
1. Calvin Johnson questionable:
For a second consecutive week, the best offensive player for the Bills' opponent is questionable for the game. Last week it was
Arian Foster
, who ended up playing. This week, it's Johnson. He was limited in practice Friday after not practicing Wednesday and Thursday, the same sequence that led to him playing last Sunday against the
New York Jets
. He was kept to two catches for 12 yards in that game and even if Johnson plays against the Bills, he might not be his usual self. That, of course, is a huge break for Buffalo.
2. Replacing Kyle Williams:
Chances are against Williams playing Sunday. He's listed as doubtful after not practicing Wednesday and Thursday and riding an exercise bike at the start of Friday's practice. Williams has been a big part of a run defense that ranks second in the NFL, so his absence would naturally be a hit to a strong defensive group. Still, it's worth noting that the Bills have used a heavy rotation at defensive tackle this season.
Corbin Bryant
has played in 35 percent of snaps and
Stefan Charles
has been in for 24 percent of snaps. It's a downgrade from Williams when either is on the field, but the Bills haven't exactly been exposed when Dareus or Williams have rotated out, either.
3. As for that other Kyle:
I should probably mention
Kyle Orton
at some point, huh? He'll be the biggest story Sunday for a Bills team that was strong across the board in the first four games but needed better quarterback play. This is our first chance to see if Orton can provide it. He'll have to knock some rust off; Orton doesn't have the benefit of training camp or the preseason and hasn't seen any regular-season action to this point. Players spoke this week of a focused Orton who was vocal about how he wanted things done. It's the right attitude for the situation. Orton is no stranger to success at Ford Field, completing 24 of 34 passes for 334 yards and two touchdowns in his last appearance there. In terms of passer rating, it was the fourth-best game of his career.
4. He'll need help, though:
If Orton steers the Bills' ship back on course, he won't be able to do it alone. The Bills' offensive line is coming off its worst performance of the Doug Marrone era, a loss to the Texans in which J.J. Watt couldn't be slowed down. Lions defensive tackle
Ndamukong Suh
isn't likely to give the Bills a reprieve. Suh has just one sack this season but could be licking his chops at a Bills offensive line that has shown holes early. Analytics website ProFootballFocus.com has graded right guard
Erik Pears
among the league's worst linemen, and rookie
Cyril Richardson
must learn on the fly as he continues to fill in for an injured
Chris Williams
at left guard.
September, 25, 2014
Sep 25
1:10
PM ET
August, 12, 2014
Aug 12
4:30
PM ET
The
Buffalo Bills
received a slight reprieve from practice Tuesday, as their morning session was shortened to a walk-through because of rain in the area.
With three remaining preseason games following joint practices this week with the
Pittsburgh Steelers
, let's take a look at some of the unanswered questions about the Bills' roster:
Woods
What will be Robert Woods' role?
The Bills' second-round pick has been in the headlines ever since he played into the third quarter of the Hall of Fame game earlier this month. Coach Doug Marrone telling Woods to play more with a "chip on his shoulder" certainly didn't quell the speculation about Woods' role, and the questions continued Friday night when
Mike Williams
and
Sammy Watkins
were the top pairing on the outside. The remaining three preseason games could determine how Woods fits into the offense this season after starting 14 games and catching 40 passes from three sub-par quarterbacks last season. We've seen the Bills use various combinations of Woods,
Chris Hogan
, Watkins, and Williams dating back to early in organized team activities. While game-specific pairings at receiver could continue into the regular season, most teams settle on a top group. At this point, there is little assurance Woods is among the top trio.
What's next for Henderson?
Following
Cordy Glenn
's return to practice over the weekend, Marrone pumped the brakes on any possible position switch for seventh-round pick
Seantrel Henderson
, who has been starting in Glenn's place at left tackle. Marrone stressed Glenn is being eased back into the lineup and until that happens, Henderson is holding down the fort -- and doing it well. Still, unless Glenn suffers a setback, Marrone will need to make a decision about Henderson. Does he join the competition at right tackle? Does he get a run at right guard? If the Bills want to have their five best offensive linemen on the field, then what we've seen from Henderson thus far suggests he should be part of that group.
Who starts at right guard?
The competition at this position continues to churn. Incumbent
Kraig Urbik
has rotated with rookie
Cyril Richardson
through two preseason games, with others (
Chris Hairston
,
Antoine McClain
, and
J.J. Unga
) waiting on deck. An injury to left guard
Chris Williams
postponed the battle this weekend, as both Urbik and Richardson ran with the first team in practice. If Williams remains out as the preseason continues, then the Bills may not have an answer about a starter until later this month. Even then, there are no guarantees. Last season, left guard
Colin Brown
started five games before he was released and replaced in the starting lineup by
Doug Legursky
. This question could linger into the fall.
Who starts for Bradham?
Through the first few practices of training camp, there wasn't much of a competition at weak side linebacker.
Nigel Bradham
seemed to have won over the coaching staff after a rocky 2013 season and was the favorite to replace
Kiko Alonso
. That changed when Bradham lost his appeal of a one-game suspension. As a result, the Bills will be without Bradham for the season opener in Chicago. Who starts in his place? From a depth chart standpoint, it would be
Stevenson Sylvester
, a four-year veteran who has been the second-team Will linebacker in the preseason. Yet rookie
Preston Brown
has drawn praise for his work at middle linebacker, where he's played almost exclusively in training camp. Between now and Sept. 7, the Bills will need to decide who starts in Bradham's place. It's not a major question, but one that could factor into the defense's performance on that first Sunday of the season.
August, 5, 2014
Aug 5
9:45
PM ET
PITTSFORD, N.Y. -- A daily review of the hot topics coming out of
Buffalo Bills
training camp:
Tuesday night's practice saw the return of tight ends Scott Chandler and Tony Moeaki, as well as wide receiver Marquise Goodwin. None had played in Sunday's preseason game due to injury. Moeaki left practice about halfway through and came back without pads. Word after practice was that Moeaki didn't suffer a new injury and that the team only planned on having him participate in individual drills. Goodwin, meanwhile, was limited in team drills.
There was a heavy emphasis on the red zone in Wednesday's practice. The results weren't spectacular. In his second set of 11-on-11 reps, Manuel was sacked on his first two plays. The second play featured Manny Lawson pulling up in front of Manuel (no contact is allowed on quarterbacks) and standing there as Manuel continued to move his feet and read the defense for another second or two. It was an odd sight. Manuel found Lee Smith on the next play for a touchdown, one of just two we logged for Manuel in red zone drills. Some of Manuel's past problems cropped up Tuesday night, as he appeared to hold the ball too long on some plays while making questionable decisions (e.g. targeting Scott Chandler in double coverage in the end zone) on others. Overall, it was one of Manuel's poorer practices of camp.
Robert Woods' place in the offense has become a topic of conversation since he wasn't on the field with the first team offense Sunday night. Marrone said the Bills played Woods into the third quarter to get a look at him in the slot, although it may still be troubling for the second-round pick that Chris Hogan was the slot receiver with the first team Sunday night. On Tuesday night, Woods' snaps with Manuel continued to be limited. For one stretch in a red zone drill, it was Hogan, Sammy Watkins, and Mike Williams as the top combo.
Cyril Richardson saw more time with the first team in 11-on-11 drills Tuesday night. For now, it looks to be him and Kraig Urbik battling for that job. We haven't seen Chris Hairston in that spot in over a week.
Cornerback Leodis McKelvin did not participate in the practice. His case becomes more curious, as he began training camp participating in team drills and has seen his workload decrease ever since. McKelvin had offseason hip surgery which is apparently still affecting his ability to practice. Fellow cornerback Stephon Gilmore, who also had hip surgery and did not play in Sunday's game, participated in team drills Tuesday.
More injury updates: offensive lineman Edawn Coughman left practice with a strained oblique. Center Doug Legursky (back) and safety Derek Brim (hip) did not practice.
The Bills will practice Wednesday afternoon at 2 p.m. ET before traveling to Charlotte on Thursday. They play the Carolina Panthers on Friday night.
August, 5, 2014
Aug 5
10:40
AM ET
Before the
Buffalo Bills
kicked off their preseason in the Hall of Fame game, we identified six offensive players to
keep an eye on
during the contest.
Let's circle back on their playing time and performances Sunday against the
New York Giants
:
T.J. Graham
-- As they've done lately in camp, the Bills gave Graham plenty of action Sunday night. He played in 25 snaps -- second-most of any Bills receiver -- entering late in the first quarter and playing through the end of the first half. The same deficiencies that the Bills have seen from Graham the past two seasons cropped up again. On his first play,
Jeff Tuel
targeted Graham down the left sideline. The ball was slightly underthrown but at 5-foot-11, Graham didn't have the catch radius to haul it in, instead batting it down to prevent an interception. In the second quarter, Graham had a pass on a quick slant go through his hands. On a similar play later in the quarter, a Giants cornerback reached in front and deflected a pass into the air, causing an interception. Graham's hands and concentration need improvement.
[+] Enlarge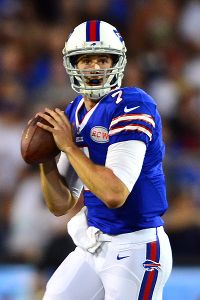 Andrew Weber/USA TODAY SportsJeff Tuel had a decent showing against the Giants, going 12-of-17 for 74 yards.
Jeff Tuel
-- Played 26 snaps, entering late in the first quarter and playing through the end of the first half. Tuel has arguably had a stronger training camp than
Thad Lewis
, the top backup last season, which may have earned him the No. 2 job on Sunday night. He had the Bills' highest QB rating of the night (74.1) and completed 12 of 17 passes for 74 yards. His best throw came on a 3rd-and-15 in the second quarter, when a pass protection breakdown forced him to scramble. On the run, he fired an accurate pass to Graham along the sideline. Graham came up a yard short of the first down, but it was the right throw. Tuel also showed off his underrated wheels on a 13-yard scramble. Not a bad night, and one that puts Tuel in the lead for the No. 2 QB job.
Seantrel Henderson
-- As expected, Henderson started in place of
Cordy Glenn
at left tackle. He played 30 snaps, exiting before the final drive of the second quarter. Henderson held up well against
Jason Pierre-Paul
on the first two drives, with the exception of a second-and-11 play where there looked to be a mix-up with running back
Fred Jackson
, leading to Pierre-Paul getting in
EJ Manuel
's face to bat down a ball. Pierre-Paul then beat Henderson on the first play of the third drive to pressure Tuel. As a run-blocker, Henderson was solid. Overall, it wasn't a flawless night, but an encouraging one from a seventh-round pick in his first NFL game against one of the league's better pass-rushers.
Chris Gragg
-- He played in 46 snaps, more than any player on either team. That was expected, as the Bills were without top tight ends
Scott Chandler
and
Tony Moeaki
, while Gragg is very much on the roster bubble. Gragg was in the game from start to finish, playing with all three quarterbacks. His four catches for 24 yards all came in the second half, from Thad Lewis. One of those catches came when Gragg was lined up in the backfield and flared into the flat. He wasn't used much in pass protection and didn't have any breakdowns in run blocking that we noticed.
Cyrus Kouandjio
-- He played in 41 snaps, second-most of any Bills offensive lineman. He entered the game late in the second quarter and played the remainder of the contest. Kouandjio's struggles from training camp carried over quickly, as he was caught off-balance on his second play, leading to
Damontre Moore
sacking Tuel. On the next play, Moore beat Kouandjio inside to force a scramble. Kouandjio also allowed a sack in the fourth quarter when
Kerry Wynn
used a double-move to shake Kouandjio and take down a hurried Lewis. Kouandjio held up better as a run-blocker. Overall, Sunday night was a reminder that the 21-year old is a young, raw prospect who needs a lot of technique coaching.
Cyril Richardson
-- The fifth-round pick played in 29 snaps, entering the game for
Kraig Urbik
at right guard late in the first quarter. Urbik came back into the game for the final two drives of the second quarter and again for one drive in the third quarter. Richardson was then replaced by J.J. Unga in the fourth quarter. The rotation indicates that there is a battle between Urbik and Richardson (and potentially
Chris Hairston
) for the starting right guard job. He generally showed well in the running game, especially as a drive blocker, but had a breakdown on a third-and-1 in the third quarter that led to a run being stopped in the backfield. Richardson could also improve his blocking in space, especially when pulling for outside runs and screen passes. Yet it was an encouraging night for Richardson, who wouldn't look out of place as the opening day starter at right guard.
July, 30, 2014
Jul 30
8:00
PM ET
PITTSFORD, N.Y. -- A daily review of the hot topics coming out of
Buffalo Bills
training camp:
Thunderstorms in the area caused a rain delay about in hour into practice. That lasted about an hour before players came back onto the field to complete the full-length session. Players were in full pads for the seventh consecutive practice, highlighting what has been a physical training camp for the Bills. It will be interesting to see if coach Doug Marrone dials it back at all in the final two practices before the preseason opener in Canton, Ohio.
The offensive line carousel continued to spin Wednesday with Chris Hairston leaving practice with a back injury. Hairston had been in the mix at right guard, where there is an open competition that includes incumbent Kraig Urbik. That battle added another participant Wednesday when fifth-round rookie Cyril Richardson received some reps with the first team. Urbik continues to get the majority of reps in team drills, but for a player whom the Bills signed to a four-year extension in 2012, he can't feel comfortable lining up alongside younger players on the second team, as he did at one point Wednesday.
The Bills have picked up the pace in the red zone. Marrone has implemented a 7-on-7 period at the end of practice dedicated to red-zone work, and results were impressive Wednesday. Although it was against the second-team defense, EJ Manuel completed four touchdowns in his five reps. Two went to Robert Woods, and tight ends Chris Gragg (returning from a week-long absence) and Lee Smith snagged the others. Jeff Tuel then stepped in and completed his first two passes for touchdowns. With some success in the 7-on-7 look, it might be time for Marrone to switch to an 11-on-11 drill and add a pass-rush element for Manuel to face in the red zone.
Tight end Scott Chandler (groin) remained out of practice for a second straight day, as did tight end Tony Moeaki (hamstring). Their injuries don't appear to be serious, but it has thinned the position for practices. The key for both players -- Moeaki especially, given his injury history -- will be to stay healthy once the regular season begins.
Chris Hogan continues to get significant playing time with the first-team offense and has become a reliable player in the slot. The Bills got in some 11-on-11 third-down work Wednesday and Hogan cut across the middle of the field for Manuel's biggest gain of the drill. Secondary coach Donnie Henderson, always vocal from behind the play, made it a point for his safeties to keep an eye out for No. 15.
May, 21, 2014
May 21
8:00
AM ET
How much does size matter?
To the
Buffalo Bills
, quite a lot. On Tuesday, we noted how the Bills have the
NFL's tallest group
of receivers. That's just one position, but it's not the only spot where the Bills top the league's charts -- at least on paper.
The Bills also have the NFL's heaviest offensive line, and it's barely even a contest. The average weight of their 15 offensive linemen is 325.2 pounds, far and away the biggest group in the league. Only the
Oakland Raiders
, at 320.3 pounds, come close.
Unlike at receiver, where most of the team's height is concentrated in players at the bottom of the depth chart, the Bills have both starting linemen and developmental blockers who break the scales.
Left tackle
Cordy Glenn
, who has started 29 games since being drafted in the second round two years ago, is listed at 345 pounds, making him the fourth-heaviest offensive lineman currently on an NFL roster. He's tied with rookie
Seantrel Henderson
, the Bills' seventh-round pick, who also checks in at 345 pounds.
In addition to Henderson, the Bills added 343-pound
Cyril Richardson
in the fifth round earlier this month. Ideally, Richardson and Henderson will both stick on the 53-man roster and could have eventually have potential to start.
The two draft picks are the latest in a pipeline of massive offensive linemen that general manager Doug Whaley has brought to Buffalo. They're projects for coach Doug Marrone, a former offensive line coach, as well as Pat Morris, the Bills' current offensive line coach.
The Bills ended last season with a trio of developmental guards who are on the larger side:
Antoine McClain
(336 pounds),
Mark Asper
(325 pounds), and
J.J. Unga
(320 pounds). Whaley plucked Unga off the
Baltimore Ravens
' practice squad, while McClain was claimed off waivers from the Raiders. All three may have an uphill battle to make the cut this season.
No matter who the Bills keep of their current bunch of 15, the size of the group will be striking. It's Whaley's vision to beat his opponents with superior size, and he'll have plenty of it along his offensive line this season.
But will it make the difference? Much like the Bills' ongoing expedition to find a productive, tall wide receiver, the Bills' super-sized offensive line will need to show that their eye-opening height and weight figures printed on the roster are more than just numbers.
The results will need to come on the field before Whaley's strategy can be given the stamp of approval. Take last season for instance. The Bills gave
Colin Brown
-- a mountain of a man, at 6-foot-7 and 326 pounds -- the nod at left guard to start the regular season. He struggled in five starts and was finding new work by October, replaced by an undersized
Doug Legursky
.
The Bills should be leery of a similar outcome with
Chris Williams
, a free agent whom they signed to a four-year deal in March. Williams, who is 6-foot-6 and 326 pounds, has a shaky track record as an NFL starter. He'll slide in at left guard. Could Buffalo be a good fit for him? Of course. But if it isn't, Legursky will be the likely fallback option.
Pass protection will be another consideration. Size and brute strength work well in the running game, especially in power blocking schemes, but technique and athleticism come more into play in the passing game. Glenn handled
EJ Manuel
's blindside well last season but there were breakdowns elsewhere. With new starters possible at both left guard and right tackle, keeping Manuel upright will be key this season.
In the meantime, the Bills have another distinction to celebrate. With rosters nearly complete after the draft, the Bills have emerged with the NFL's premier size at both receiver and offensive line.
Now they have to show why that matters, on the field -- where it counts.