April, 7, 2011
4/07/11
12:00
PM ET
»
NFC Draft Watch
:
East
|
West
|
North
|
South
»
AFC
:
East
|
West
|
North
|
South
Each Thursday leading up to the NFL draft (April 28-30), the ESPN.com NFL blog network will take a division-by-division look at key aspects of the draft. Today's topic: history in that spot.

Buffalo Bills
The Bills' top pick is No. 3 overall. Here are the past seven players taken in that spot, with their NFL teams in parentheses:
2010:
DT
Gerald McCoy
(Buccaneers)
2009:
DE
Tyson Jackson
(Chiefs)
2008:
QB
Matt Ryan
(Falcons)
2007:
T
Joe Thomas
(Browns)
2006:
QB
Vince Young
(Titans)
2005:
WR
Braylon Edwards
(Browns)
2004:
WR
Larry Fitzgerald
(Cardinals)
ANALYSIS:
Some sexy picks have been made in this spot. None of the players have been out-and-out busts, although character concerns have overshadowed a couple. Only McCoy and Jackson haven't been selected for at least one Pro Bowl. Fitzgerald is an elite receiver, arguably the best in the business. Edwards can be a dangerous playmaker when not dropping passes, which he didn't do last year. Ryan is an emerging star. Young has been a lightning rod, but he did win rookie of the year and has gone to a pair of Pro Bowls. Thomas is a star blocker with four Pro Bowls on his résumé already.

Miami Dolphins
The Dolphins' top pick is No. 15 overall. Here are the past seven players taken in that spot, with their NFL teams in parentheses:
2010:
DE
Jason Pierre-Paul
(Giants)
2009:
LB
Brian Cushing
(Texans)
2008:
G
Branden Albert
(Chiefs)
2007:
LB
Lawrence Timmons
(Steelers)
2006:
CB
Tye Hill
(Rams)
2005:
LB
Derrick Johnson
(Chiefs)
2004:
WR
Michael Clayton
(Buccaneers)
ANALYSIS:
This is a region of the first round where picks can break either way. There have been solid players drafted here, but no superstars. Cushing was a rookie of the year, but his career has been tainted by performance-enhancing drug usage. Clayton made an immediate impact with 80 catches for 1,193 yards and seven touchdowns as a rookie but hasn't caught more than 38 passes since. Johnson has been a solid linebacker for Kansas City, while Timmons has been an influential member of Pittsburgh's defense the past two seasons. Hill has been the biggest disappointment. He has been with four teams, starting 25 games.

New England Patriots
The Patriots' first-round picks are Nos. 17 and 28 overall. Here are the past seven players taken in those spots, with their NFL teams in parentheses:
2010:
G
Mike Iupati
(49ers) and DE
Jared Odrick
(Dolphins)
2009:
QB
Josh Freeman
(Buccaneers) and G
Eric Wood
(Bills)
2008:
T
Gosder Cherilus
(Lions) and DE
Lawrence Jackson
(Seahawks)
2007:
DE
Jarvis Moss
(Broncos) and T
Joe Staley
(49ers)
2006:
LB
Chad Greenway
(Vikings) and TE
Marcedes Lewis
(Jaguars)
2005:
LB
David Pollack
(Bengals) and DE
Luis Castillo
(Chargers)
2004:
LB
D.J. Williams
(Broncos) and CB
Chris Gamble
(Panthers)
ANALYSIS:
Results have been mixed with these slots, but the 28th pick actually has found more starters than the 17th in recent years. Freeman showed signs of developing into a future star last year, and Cherilus has started 40 of his 43 games at right tackle. Williams and Greenway have been regular starters. But Moss and Pollack didn't work out. In the 28th slot, Odrick is the only one who hasn't been a regular starter. Injuries detonated his rookie season.

New York Jets
The Jets' top pick is No. 30 overall. Here are the past seven players taken in that spot, with their NFL teams in parentheses:
2010:
RB
Jahvid Best
(Lions)
2009:
WR
Kenny Britt
(Titans)
2008:
TE
Dustin Keller
(Jets)
2007:
WR Craig Davis (Chargers)
2006:
RB
Joseph Addai
(Colts)
2005:
TE
Heath Miller
(Steelers)
2004:
RB
Kevin Jones
(Lions)
ANALYSIS:
What strikes me is that all seven selections not only are offensive players but also ball handlers. Perhaps teams in the back of the draft feel they can gamble a little bit and try to hit big on a skill position. Whatever the reasoning, it seems to have worked. This has been a successful spot. Jones and Addai rushed for 1,000 yards as rookies. Best appears to be the Lions' running back of the future. Miller and Addai have gone to Pro Bowls. Britt was the Titans' leading receiver last year. Keller is one of the NFL's better tight ends.
March, 5, 2011
3/05/11
11:17
AM ET
INDIANAPOLIS -- A couple days back I posted some
AFC East-related tidbits from defensive players
at the NFL scouting combine in Lucas Oil Stadium. Let's close the combine book with thoughts from the offensive prospects.
[+] Enlarge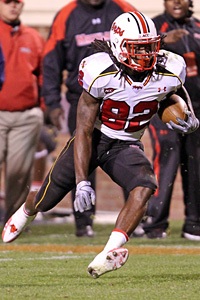 Andrew Shurtleff/US PresswireMaryland receiver Torrey Smith knows his transition to the NFL will be challenging.
Maryland receiver
Torrey Smith
on watching the
New York Jets
on "Hard Knocks:"
"It's tough. It's a grown man's league. You get that feel from watching it. I liked their coach. He has a lot of fun. He definitely gets his team ready. It's an eye-opener."
Pittsburgh receiver
Jonathan Baldwin
on his mentors:
"People from Aliquippa, Darrelle Revis and Ty Law. After the combine I'll be working with Darrelle, doing one-on-ones and press release and things like that. Darrelle Revis is one of the best corners in the game. So doing what I'm sure will help me get ready for the next level of cornerbacks."
San Diego State receiver
Vincent Brown
on the toughest cornerback he faced in college:
"My true freshman year, Sean Smith. He shut me down pretty good that game. I'm not going to lie. It was definitely a learning experience, and I definitely grew from that. His size [was difficult]. I'm a smaller receiver. He's a big dude. He's got a big wingspan. It was a little tough to get around him at times when I'm a true freshman and thrown in the fire like that."
Indiana receiver
Tandon Doss
on learning from former Bills second-rounder James Hardy's inability to make it in the NFL:
"He's a great player and athlete. He's a freak athlete. He had some things along the way that kept him down. Hopefully, he gets back into it. I'm going to learn from the experience and take as much out of it as I can."
Alabama quarterback
Greg McElroy
on
New England Patriots
quarterback Tom Brady:
"Coach [Nick] Saban doesn't ever say 'Here, let's watch No. 12 from New England,' but you watch him. He's the most fun guy to watch in the league right now. There's a lot of efficient quarterbacks, but as far as his control, his balance, the way he sets up in the pocket, the way he is so mechanically sound, it really is such a joy to watch. He's so fluid. He never gets flustered. Just his subtle movements, all of his subtleties, every little detail is addressed. Coach Saban would never let me watch another quarterback play. He thinks that's soft or something. But, yeah, I obviously have spent time watching Tom Brady. He's a hero of mine and a guy who I would love nothing more than to try to pattern my game off of."
McElroy on whether he'd like to be Brady's backup:
"In a heartbeat. Absolutely."
Texas Christian quarterback
Andy Dalton
on the Bills' coaching staff at the Senior Bowl:
"It was fun being able to get to play underneath the Bills and their staff. To be in a pro system and to be in a pro offense and to learn with a bunch of guys. It was a great experience and will help me with the transition."
Arkansas tight end D.J. Williams on being compared to Jets tight end Dustin Keller:
"You've got to like it because he's very successful in the NFL. I like watching him play, his style. He's that type of person who can get down field and run amazing routes. He can cause a mismatch against a slower linebacker or a smaller DB. And he has the ability to get on the line of scrimmage and block, too. I enjoy watching him play, and that's not a bad comparison at all. It's a very good one."
North Carolina receiver
Greg Little
on being teammates with New England Patriots receiver Brandon Tate:
"I was on the team with Brandon for about two years. I was a backup to Brandon, and I really grew as a player seeing him play and just taking notes from him. Just sitting alongside him in the meeting rooms and watching his play was very beneficial to my game as well. I don't talk to Brandon as much today. But it's definitely someone I learned from and grew from as well."
Pittsburgh tackle
Jason Pinkston
on his relationship with Bills assistant head coach Dave Wannstedt:
"I was pretty upset when Coach Wannstedt first got fired [from Pitt]. I had a different relationship with Coach Wannstedt than some of the other players on the team. I actually graduated from his high school [Baldwin] when he was recruiting me. I've known him for about six or seven years. So it was a different kind of relationship with me and him. He was like a father to me. My mother passed away two years ago from breast cancer, and he was there for me -- him and his family -- a lot. So I had a different kind of love for him. He was more than just a coach to me. He was like a father figure. So I was pretty upset and hurt when they fired him like they did."
Pinkston on Wannstedt's coaching style:
"Aggressive. He's smart and he plays to win. He's a great coach, and he does everything by the book. We always went by three words: trust, accountability, desire. If he couldn't trust you, you weren't going to play. He definitely had the backs of all his players, and now all his players respect him. We love him. I still love him to death."
February, 25, 2011
2/25/11
12:02
PM ET
April, 2, 2009
4/02/09
11:00
AM ET
Posted by ESPN.com's Tim Graham
If they hold onto their allocated first-round pick, what type of player can the New York Jets expect with the No. 17 selection?
I figured we might learn something by reviewing the level of talent each AFC East team's first-round draft slot has yielded over the past decade.

No. 17 has produced a mixed bag of standouts, reliable starters, journeymen and disappointments. Top guard Steve Hutchinson is the best of the lot, while receiver Bryant Johnson and defensive end Jarvis Moss have been the biggest mistakes.
1999 Damien Woody, C, Patriots: Two-time Super Bowl champion and one-time Pro Bowler has played center, guard and tackle.
2000 Sebastian Janikowski, K, Raiders: Productive, but isn't among the league's elite kickers.
2001 Steve Hutchinson, G, Seahawks: Six-time Pro Bowler and four-time All-Pro now stars for the Vikings.
2002 Phillip Buchanon, CB, Raiders: Recently signed with the Lions, his fourth team in a decent -- but unspectacular -- career.
2003 Bryant Johnson, WR, Cardinals: Never has caught 50 passes or gained 750 yards.
2004 D.J. Williams, LB, Broncos: Has been a solid starter since his rookie season.
2005 David Pollack, LB, Bengals: Started five games as a rookie before a spinal injury early in 2006 forced him into retirement.
2006 Chad Greenway, LB, Vikings: A preseason knee injury wiped out his rookie campaign, but he has started 31 of the past 32 games, recording 5.5 sacks last year.
2007 Jarvis Moss, DE, Broncos: The Broncos traded up to get him, but he has started one game in two seasons.
2008 Gosder Cherilus, T, Lions: Started 13 games at right tackle as a rookie.