January, 3, 2014
Jan 3
11:00
AM ET
One of the biggest criticisms on the 2013
Miami Dolphins
is the lack of production from their rookie draft class. The Dolphins drafted nine players – and each made the team out of training camp.
Here is a look at how each Miami rookie fared last season:
Jordan
DE Dion Jordan, first round, No. 3 overall
Stats:
26 tackles, two sacks
Analysis:
The bar was high for Jordan entering the year. Miami traded up to the No. 3 pick to get Jordan, which shows how much its front office thought of him as a player. Jordan never got his footing following offseason shoulder surgery. He wasn't 100 percent in training camp or the preseason and fell behind more productive players like
Olivier Vernon
and
Derrick Shelby
. Jordan must put on more weight and get stronger against the run in 2014. He will start next year as a backup.
CB Jamar Taylor, second round, No. 54 overall
Stats:
3 tackles
Analysis:
Similar to Jordan, offseason ailments stunted Taylor's growth. He had multiple health issues before and during training camp, which put Taylor behind. The Dolphins could certainly use their second-round pick at corner in 2014. The secondary is not deep and has some pending free agents. Taylor should get multiple opportunities to find a role next season.
OL Dallas Thomas, third round, No. 77 overall
Stats:
No stats
Analysis:
Thomas was a major disappointment as a rookie. Miami's offensive line had a plethora of issues on and off the field, and Thomas still was unable to see the field. Even undrafted rookie
Sam Brenner
took playing time from Thomas. Thomas appears to be a better guard than tackle, and the Dolphins will have a void with starters
John Jerry
and
Richie Incognito
as pending free agents.
Davis
CB Will Davis, third round, 93 overall
Stats:
8 tackles
Analysis:
Davis was an interesting case his rookie year. He was the talk of training camp after constantly picking off Miami quarterbacks
Ryan Tannehill
and
Matt Moore
in practice. Davis unofficially led the Dolphins in training camp interceptions and got one pick in a preseason game. Davis appeared on his way to finding a role on the team. However, a toe injury kept Davis out several weeks and he never got back into the rotation. Davis received spotty playing, but certainly not enough to find a groove. Davis should get another chance to get into the rotation in next year's camp.
LB Jelani Jenkins, fourth round, 104 overall
Stats:
17 tackles
Analysis:
Jenkins came to Miami as a raw product from the University of Florida. The Dolphins felt his athletic ability would translate well, and that got Jenkins on the field some in sub packages and special teams. Jenkins' biggest play was a crushing blow on
Buffalo Bills
quarterback
Thad Lewis
in October that resulted in an NFL fine. The Dolphins need to see more big hits – albeit legal ones – for Jenkins to get more playing time in 2014. But there were some flashes.
TE Dion Sims, fourth round, 106 overall
Stats:
Six receptions, 32 yards, one touchdown
Analysis:
Sims had a decent training camp and translated that into playing time this year. A season-ending knee injury to
Dustin Keller
moved Sims up the depth chart to the second tight end behind starter
Charles Clay
. However, Miami used a ton of three-receiver sets. Sims didn't get many reps, outside of being an extra blocker. Sims' biggest play was a game-winning touchdown catch against the
Atlanta Falcons
.
Gillislee
RB Mike Gillislee, fifth round, 164 overall
Stats:
Six carries, 21 yards
Analysis:
Despite Miami's inability to run the football consistently, Gillislee spent most of the year on the inactive list. He dressed on Dec. 1 against the
New York Jets
and rushed for 21 yards. The Dolphins could be looking for upgrades at running back this offseason via the draft or free agency. Next season could be make or break for Gillislee to prove himself.
K Caleb Sturgis, fifth round, 166 overall
Stats:
26-of-34 on field goals, 33-of-33 on extra points
Analysis:
Minus some rookie hiccups, Sturgis had a strong rookie season as Miami's new kicker. He replaced longtime Dolphins veteran
Dan Carpenter
and led the team in scoring with 111 points. Sturgis displayed a strong leg with field goals and kickoffs. The Dolphins appear set at the kicker position for years to come.
DB Don Jones, seventh round, 250 overall
Stats:
10 tackles, one tackle for loss
Analysis:
Jones came to Miami as a long shot to make the team. But his ability to play special teams earned him a roster spot and he stayed there all year. Jones was one of the Dolphins' best players in the third phase of the game. He made some big hits in kick coverage and that should help him find a roster spot again next season.
November, 14, 2013
11/14/13
11:00
AM ET
The
Miami Dolphins
took another tough blow on their offensive line this week. ESPN.com first reported that backup offensive lineman
Will Yeatman
suffered
a significant knee injury
in Wednesday's practice.
So where do the Dolphins go from here?
Yeatman was just beginning to earn playing time as an extra offensive lineman on running plays following the departures of starting right tackle
Jonathan Martin
and guard
Richie Incognito
.
Martin left the team on Oct. 28 following a lunchroom incident and later claimed Incognito bullied and harassed him over the past year and a half. The Dolphins suspended Incognito indefinitely.
With Yeatman also out, here is what is left at the offensive line on Miami's roster:
The offensive line has been a weak link for Miami all year. Losing Incognito, Martin and now Yeatman only makes it worse for the struggling Dolphins, who have lost five of their past six games.
Miami's starting five up front will remain intact. But Yeatman's injury may move rookie third-round pick Dallas Thomas to the forefront if there is an injury at offensive tackle in the final seven games. Thomas is green and has been inactive in every game this season.
October, 10, 2013
10/10/13
11:00
AM ET
DAVIE, Fla. -- The biggest weakness of the
Miami Dolphins
this season has been their struggling offensive line. The Dolphins are 28th in rushing and have allowed a NFL-high 24 sacks on quarterback
Ryan Tannehill
.
Although many Dolphins fans want changes right now, that is probably not going to happen during the bye week. Dolphins coaches said they're
sticking with the players
they have, and an outside trade is unlikely.
But based on their contracts, Miami's offensive line could be in for a major makeover in 2014. Three of the Dolphins' five starting offensive linemen -- tackle
Tyson Clabo
and guards
John Jerry
and
Richie Incognito
-- are all unrestricted free agents after the season. Backups
Will Yeatman
and
Danny Watkins
are restricted free agents.
With the group underperforming, it appears unlikely that all of these players will be brought back in the offseason. But that is looking too far ahead for Miami's coaches, who need to work with what they have for the rest of the season and make improvements.
"We are going to be looking at everything the next couple of days," Dolphins head coach Joe Philbin said. "We have already begun that process, but we are going to look at all different ways of improving our protection and productivity in the passing game."
There doesn't appear to be any quick fixes for Miami's offensive line. The group is struggling in all areas, and Miami must make it better for at least 11 more games.
October, 5, 2013
10/05/13
10:00
AM ET
The
Miami Dolphins
(3-1) have play Sunday against the defending champion
Baltimore Ravens
(2-2).
Here are the players who may not suit up for Miami this week.
Cornerback
Dimitri Patterson
: He is ruled out for the fourth straight game with a groin injury. The Dolphins are hopeful to get Patterson back before the bye week.
Running back
Mike Gillislee
: The Dolphins' No. 3 running back cannot seem to get ahead on the depth chart. The increased use of
Marcus Thigpen
only further moves Gillislee out of the rotation.
Quarterback
Pat Devlin
: He's the third quarterback and has been inactive all season.
Linebacker
Josh Kaddu
: Miami's backup linebacker was activated for the first time last week against the
New Orleans Saints
. But look for him to be back on the inactive list.
Guard
Dallas Thomas
: The rookie is still green and learning the system.
Guard
Danny Watkins
: He joined the team late but is making progress. With Miami's offensive line struggling, the team may add him in the rotation at some point after the bye week.
Wildcard: Miami Pro Bowl defensive end
Cameron Wake
's status has been up in the air all week. He will be a game-time decision for the second game in a row. If Wake plays, a banged-up special teamer like
Don Jones
(elbow) could sit.
September, 21, 2013
9/21/13
8:00
AM ET
The
Miami Dolphins
will try to improve to 3-0 Sunday when they host the
Atlanta Falcons
(1-1).
Here is a list of Dolphins you may not see at Sun Life Stadium:
Defensive tackle Paul Soliai and cornerback Dimitri Patterson:
Both defensive starters have been ruled out. Soliai has a knee injury and Patterson has a groin injury.
Quarterback Pat Devlin:
Miami's emergency quarterback is getting healthy again following an ankle injury. He's listed as questionable. But considering quarterbacks
Ryan Tannehill
and
Matt Moore
will be active, Devlin can afford to rest another week.
Running back Mike Gillislee:
The Dolphins' third running back was inactive in the first two games, and I don't see that changing. Miami finally showed signs of running the football with
Lamar Miller
and
Daniel Thomas
in Week 2 against the
Indianapolis Colts
.
Linebacker Josh Kaddu:
Miami hasn't been able to find him a spot on game days. Other backup linebackers contribute on special teams.
Guard Dallas Thomas:
The rookie third-round pick is still green and hasn't earned the trust of the coaching staff. With Miami's offensive line in good health, chances are he sits out another week.
Cornerback Jamar Taylor:
Miami's second-round pick is finally ready to return from a groin injury. But Taylor can use another week of rehab and practice to shake the rust. Taylor hasn't played since the preseason.
September, 15, 2013
9/15/13
12:03
PM ET
INDIANAPOLIS -- Here are the
Miami Dolphins
players you won't see in Sunday's game against the
Indianapolis Colts
:

Dolphins (1-0)
The biggest change on the lineup card this week is cornerback
Nolan Carroll
is listed as starting in place of
Dimitri Patterson
, who is active but injured. Patterson may be limited to nickel duty Sunday due to his groin injury. That could present a problem for Miami's defense against Indianapolis' passing attack led by quarterback
Andrew Luck
.
September, 14, 2013
9/14/13
12:00
PM ET
The
Miami Dolphins
(1-0) will look to remain undefeated Sunday when they travel to face the
Indianapolis Colts
(1-0) at Lucas Oil Stadium.
Based on this week's practices and injuries, here are the projected players you might not see Sunday for the Dolphins:
Quarterback Pat Devlin and cornerbacks Will Davis and Jamar Taylor:
All three players were ruled out for this weekend's game. Davis has a toe injury, but practiced this week. He's the furthest along of the three.
Running back Mike Gillislee:
The Dolphins are sticking with
Lamar Miller
and
Daniel Thomas
, despite their Week 1 struggles. Miami also needs a spot reserved for fullback
Tyler Clutts
.
Linebacker Josh Kaddu:
The backup was inactive last week against the
Cleveland Browns
. There is a good chance that's the case Sunday.
Offensive lineman Dallas Thomas:
The rookie is still green. He has some versatility, but needs to be solid enough at one position before the coaches can trust him in a game.
Offensive lineman Danny Watkins:
Miami signed the former first-round pick two weeks ago, and he's still learning the system. He should provide depth at some point. But Week 2 might be too early.
August, 16, 2013
8/16/13
8:00
AM ET
MIAMI -- The
Miami Dolphins
concluded their 2013 training camp on Thursday. Much of the focus has been on Miami's rookie class, which came in with hype but also had some early injuries.
How well have the Dolphins' rookies done so far? Let's examine.
Dion Jordan, DE, first round
Walker's update:
Miami's No. 3 overall pick has been somewhat of an enigma. Jordan had shoulder surgery in February that kept him off the field until several days into training camp. Jordan flashed a lot during a short time in camp and the preseason. He showed much of the athleticism and explosiveness that made Jordan Miami's top pick. But the shoulder remains an issue and the team shut him down again this week. The missed time most likely makes Jordan a backup defensive end to start the regular season behind
Olivier Vernon
, who
had a strong camp
. Right now Jordan's focus must be on getting healthy and developing a role as a third-down pass-rusher.
[+] Enlarge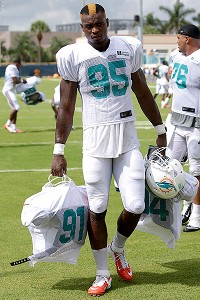 AP Photo/Lynne SladkyInjuries have slowed No. 3 overall pick Dion Jordan thus far.
Jamar Taylor, CB, second round
Walker's update:
Miami's second-round pick is another player who's had health issues this offseason. Taylor's injury was previously reported as a sports hernia. But according to a source, the rookie corner has been working to overcome three separate ailments: a double-hernia injury, an abductor muscle tear and most recently a strained groin. Taylor is improving and recently returned to practice, but the source said the corner is playing at about "70 percent." That's contributed to Taylor's slow start. It's going to take time for the rookie to get back to full health and make up for the lost time.
Will Davis, CB, third round
Walker's update:
So far Davis has been the pleasant surprise of Miami's 2013 rookie class. Perhaps no player from the first day of training camp to now has improved as much as Miami's third-round pick. Davis was getting beat fairly consistently three weeks ago when camp began. But the light has turned on for Davis the past couple of weeks and he's making plays. Davis has been a ball hawk and made at least a half-dozen interceptions in practice. He also recorded a leaping interception in the second preseason game against the
Jacksonville Jaguars
. Davis is currently the fourth corner in Miami's defense, but he is a fast-riser.
Dallas Thomas, OL, third round
Walker's update:
Thomas had a rough first training camp. He battled everyday against Miami's defensive line, which is probably the deepest and most talented area of the team. Thomas also has been moved around to various positions the past few weeks. The Dolphins' coaching staff already had Thomas at right guard, left tackle and right tackle in training camp. Yes, this is the time to experiment. But you also don't want to confuse a rookie early in his career and have him lose confidence. Thomas looked decent at guard early. He even made a brief appearance with the first team due to injuries. But the Dolphins need more help at offensive tackle and have since used Thomas on both sides. Thomas has been struggling ever since. Eventually, Miami must pick a position for Thomas. I think his best position is guard.
Jelani Jenkins, LB, fourth round
Walker's update:
Jenkins is a raw project with good athleticism. But he didn't make an impact in camp. Jenkins can move, especially sideline to sideline, and he brings the most value on special teams. The Dolphins don't have much depth at linebacker behind the starters, and general manager Jeff Ireland doesn't like to cut rookie draft picks. So look for Jenkins to make the team.
Dion Sims, TE, fourth round
Walker's update:
Sims is another pleasant surprise. He came to Miami with the reputation as a blocking tight end with good size. But Sims runs better than advertised and is showing good ball skills. Barring injury, Sims is almost a lock to make Miami's 53-man roster. Sims already is the best blocking tight end Miami has, and he's made more plays catching the ball than expected. Other bubble tight ends such as
Michael Egnew
and
Kyle Miller
haven't been as consistent.
Mike Gillislee, RB, fifth round
Walker's update:
Gillislee has been steady but not spectacular. He's not a home run hitter. But Gillislee is at his best between the tackles, has good vision and falls forward more often than not.
Lamar Miller
is the projected starter. But
Daniel Thomas
has been pushed by Gillislee and
Jonas Gray
for the No. 2 role. It's very possible that Miami could keep four tailbacks. Gillislee's spot most likely is safe considering his draft status.
Caleb Sturgis, K, fifth round
Walker's update:
As expected, Sturgis
won Miami's kicking job
. Sturgis' strong leg and low salary ($405,000 in 2013) made for an easy choice in Miami over high-paid veteran
Dan Carpenter
. What the Dolphins don't know is if Sturgis can make clutch field goals in big spots as a rookie. But that was the same issue last year for Carpenter, who was due to make $2.68 million this season. The Dolphins spent a lot of money this offseason on other positions, and it simply made sense to shave more than $2 million at kicker. Caleb seems to have a good, even-keeled mentality to handle the position.
Don Jones, S, seventh round
Walker's update:
As Miami's seventh-round pick, Jones came to Miami as a long shot. He's had a quiet camp and that certainly doesn't help his case. The Dolphins lack depth at safety and are searching for impact players on special teams. But so far Jones has not made an impression. Time is running out.
August, 9, 2013
8/09/13
8:00
AM ET
The
Miami Dolphins
will play their second preseason game in five days when they travel to face the
Jacksonville Jaguars
Friday at 7:30 p.m. ET. Miami lost to the
Dallas Cowboys
, 24-20, in the Hall of Fame Game last Sunday.
Here are three things to watch in Friday's exhibition game for Miami:

1. Offensive-line play:
The big men up front have been Miami's most-maligned unit since the start of training camp. The Dolphins still have more questions than answers on their offensive line entering their second preseason game. Left tackle
Jonathan Martin
, who is one of the keys to the season, played
mostly above the line
in limited snaps against the Dallas Cowboys. Martin must develop consistency and it starts in the preseason. Other players like right guard
Josh Samuda
and backups like
Dallas Thomas
and
Nate Garner
must also prove to the coaching staff that they can provide depth, as well.
2. Quarterback Ryan Tannehill:
Miami's starting quarterback had an underwhelming performance in the preseason opener. Tannehill was 2-of-5 passing for 11 yards. Despite a small sample size, Tannehill missed a couple of throws and wasn't accurate. He was also credited for a fumble during a botched hand off with running back
Lamar Miller
, although Miller probably deserved blame. Tannehill will get more playing time this week and needs to get in rhythm. He will have starting receiver
Brian Hartline
this week and possibly
Mike Wallace
, so there shouldn't be any excuses. Tannehill has been up and down in training camp, including five combined interceptions in practice on Tuesday and Wednesday.
3. Miami's tackling:
The Dolphins' coaching staff
did not go overboard
this week after the team's poor tackling display against Dallas. It is not the first time a team struggled with fundamentals in the first exhibition of the year. However, Miami's defense on all levels -- starters and backups -- must tackle better Friday night against Jacksonville or this will be considered a trend. The Dolphins must do much better against the run after allowing 170 rushing yards and 5.0 yards per carry against the Cowboys. Miami's run defense is usually disciplined and needs to begin rounding back into form.
August, 6, 2013
8/06/13
1:05
PM ET
MIAMI -- We are entering Week 3 of training camp for the
Miami Dolphins
, and the team already has one preseason game in the books.
Let's take an updated look at whose stock is up and down in Miami:

Falling
1. Dallas Thomas, tackle/guard:
Sunday's game was not a strong debut for Miami's rookie offensive lineman. He struggled mightily against Dallas in his audition for the backup left tackle spot. From my viewpoint in training camp, Thomas performed better the past two weeks as a guard. However, he has some versatility and Miami is thin at left tackle. So the Dolphins coaching staff wanted to provide Thomas a look in a game scenario. If the first preseason game is any indication, Miami may want to keep Thomas at guard going forward.
2. Dolphins' tackling:
I know it's just the first preseason game, but Miami's defense put on a poor tackling exhibition on all levels. Both the starters and backups showed poor form trying to stop Dallas ball-carriers. That was a major reason why Dallas' starters and backups rushed for 170 yards on 34 carries. The Cowboys averaged 5.0 yards per carry. Perhaps this was just early jitters. But tackling is an area to keep an eye on later in the preseason.
3. Philip Wheeler, linebacker:
Wheeler is having a good training camp, but he struggled in limited playing time in the Hall of Fame Game. On the opening drive, Wheeler was beat by Dallas tight end
Dante Rosario
for 18 yards. Wheeler also displayed some poor tackling and whiffed in the open field against Cowboys tailback
Lance Dunbar
. It almost looked as though Wheeler was playing too fast. But, again, this was a small sample size and there's no need to go overboard. I've seen more good than bad from Wheeler since the spring.
Rising
1. Young defensive ends:
Miami's defensive line from top to bottom has been dominant in training camp. The Dolphins showed some of that depth Sunday against Dallas with backup defensive ends
Derrick Shelby
and
Dion Jordan
both wreaking havoc. Shelby led the Dolphins with two sacks, and he also had two additional hits on the quarterback. Jordan, who played only on third down, also had a pair of tackles and two quarterback pressures. Miami's defensive-end rotation looks very strong with Pro Bowler
Cameron Wake
and
Olivier Vernon
currently the starters, and Jordan and Shelby as the backups. It's early, but Miami's pass-rush definitely looks improved.
2. Chad Bumphis, wide receiver:
I owe Bumphis an apology. He's been making plays with regularity in training camp. But I've mostly looked the other way and ignored Bumphis, because he's done it mostly against the third team. Bumphis showed up against Dallas and led the Dolphins in receiving with five receptions for 85 yards. The highlight was a 45-yard reception. Bumphis did have a big error when a dropped pass led to a pick six. But overall, it was a good night for the smallish receiver. He continues to push for a roster spot.
3. Lamar Miller, running back:
Similarly, Miller had mostly good plays but one big mistake. It was that kind of night for Miami. Miller botched a hand off from quarterback
Ryan Tannehill
on Miami's first offensive play. Tannehill got credited for the fumble, but it appeared Miller deserved most of the blame. Otherwise, Miller had a strong night. He looked explosive in his two carries for 21 yards. That was enough work for Miller, who has an important role replacing former starter
Reggie Bush
.
July, 26, 2013
7/26/13
2:00
PM ET
DAVIE, Fla. -- After one day off, the
Miami Dolphins
took the field on Friday for their fifth practice of training camp.

Here are some notes and observations:
The coaching staff made two significant changes on the starting offensive line Friday. First, starting right guard John Jerry wasn't at practice and Richie Incognito moved from left to right guard. Second, rookie Dallas Thomas was moved up to the first team and played left guard. Philbin didn't explain why Jerry missed practiced, but said he wanted to experiment with the offensive line. The group had a slow start to training camp this week. Philbin kept a close eye on the unit most of the morning in practice. "It's training camp and you want to get a look at different combinations of guys in different spots," Philbin said. "We're still in the teaching phase of the offense. So a young player like Dallas Thomas hasn't had experience throughout the whole install. So we don't want to be flipping him around quite yet. I will look at the tape, but I think he was good."
Miami starting quarterback Ryan Tannehill had his best practice of training camp. Tannehill was sharp, efficient and made quick decisions. More importantly, Tannehill made several really good throws to new No. 1 receiver Mike Wallace for first downs. The Tannehill-Wallace tandem also had their best connections of the week. Tannehill has received some early criticism for his slow start in camp. But he's had two good practices in a row on Wednesday and Friday without any turnovers.
There has been an interesting dynamic developing between rookie kicker Caleb Sturgis and veteran kicker Dan Carpenter, veteran punter Brandon Fields and long snapper John Denney. The veteran specialists have been together in Miami for several years, and Sturgis is the "new guy" in town trying to break up the trio and take Carpenter's job. As a result, the media has noticed there hasn't been much communication between the veterans and Sturgis during practices since he arrived. However, Sturgis didn't seemed bothered when asked about it Friday. "He's a good pro," Sturgis said of Carpenter. "He's nice to me, but he does his own thing and I do my own thing. There's definitely nothing between us." Also worth noting Friday is Carpenter missed two field goals, from 50 and 52 yards. He has been solid otherwise in camp.
First-round pick Dion Jordan (shoulder) had some contact Friday for the first time in one-on-one drills only. He has been limited without contact since being cleared to practice on Tuesday. "Anytime I get to go out there and compete with the guys, I feel like I'm getting better," Jordan said. "It's been a couple months before I've been able to come out here and get some natural football work. So it was great."
Finally, in other injury news, rookie cornerback Jamar Taylor and backup running back Cameron Marshall both sat out of practice. Philbin refuses to discuss injuries in training camp. But Marshall had a wrap on his left leg and Taylor has been trying to overcome a sports hernia injury all offseason.
June, 14, 2013
6/14/13
1:42
PM ET

The
Buffalo Bills
have signed first-round quarterback
EJ Manuel
to a five-year contract, the team announced. Manuel was the No. 16 overall pick of the Bills last April.
Manuel was the final unsigned draft pick for the Bills. Buffalo now has its entire 2013 draft class under contract before the team takes about a six-week break before training camp.
Manuel will compete with veteran
Kevin Kolb
for the starting quarterback job in Buffalo this summer. Kolb is the favorite in the short term, but the Bills expect Manuel to eventually become the long-term solution.
In other draft-related news, the
Miami Dolphins
also signed third-round pick and offensive lineman
Dallas Thomas
to a
four-year contract Friday.
April, 26, 2013
4/26/13
10:57
PM ET
It was a busy third round for the AFC East. Let's provide a brief recap of all the events.
It was another busy day in the AFC East. But the major story of Day 2 in the division is New York taking former West Virgina quarterback
Geno Smith
. Here is
my column on the move
.