January, 20, 2011
1/20/11
5:40
PM ET
If the Jets advance to the Super Bowl, would Rex Ryan be the best coach in the NFL?

FLORHAM PARK, N.J. --
Peyton Manning
in Lucas Oil Stadium,
Tom Brady
in Gillette Stadium and
Ben Roethlisberger
at Heinz Field.
[+] Enlarge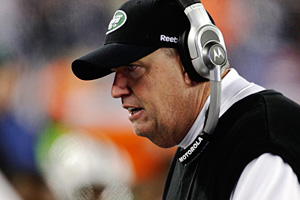 AP Photo/Stephan SavoiaIf Rex Ryan completes another improbable playoff run, is he the league's best coach?
That's the gauntlet
New York Jets
coach Rex Ryan must traverse.
And if he makes it through still alive and advances to the Super Bowl, then Bill Belichick, Lovie Smith, Todd Haley or anybody else who wins a 2010 Coach of the Year Award ought to ship it on over to One Jets Drive.
The sixth-seeded Jets can accomplish a rarity if they defeat the
Pittsburgh Steelers
on Sunday for the AFC Championship. Wild-card teams have reached the Super Bowl before, but only one team ever has knocked off the first, second and third seeds to do it.
The 2005 Pittsburgh Steelers were the first, but the quarterbacks they faced in those playoffs were
Carson Palmer
, Manning and
Jake Plummer
. Not exactly a Murderer's Row.
Manning, Brady and Roethlisberger have won six Super Bowls and played in eight. They have a combined 32-17 postseason record.
"That's a pretty strong task when you mention guys like that," said Tom Flores, who coached the first wild-card champions, the 1980
Oakland Raiders
, in Super Bowl history. "They've been there before. They've experienced being in big games before and winning big games before.
"You're going against the best. There's no unknowns there."
In addition to the superstar opposing quarterbacks, the Jets are venturing into some of the most difficult venues in any sport.
Flores got past an impressive group of quarterbacks for his first Super Bowl (he won another two years later as a division champ): Ken Stabler, MVP Brian Sipe and future Hall of Famer Dan Fouts.
But that lineup isn't as tough as what the Jets are facing. Flores sees Sunday's game being less intimidating than their showdown against the Patriots.
"Their biggest hurdle was in New England," Flores said. "That was almost impossible to beat them there."
Unfortunately for Ryan, awards like coach of the year are based on regular-season results.
He led the Jets to a 11-5 record, but they faded down the homestretch. Their lopsided 45-3 loss to the Patriots in Week 13 followed the next week by an ugly home loss to the
Miami Dolphins
erased any chance of Ryan winning honors.
But if Ryan can navigate this rugged playoff stretch and make it to the Super Bowl, then we'll know who really deserves to be considered the best.
"Well, I can say this: It's not easy," Ryan said. "I don't know who's next. [Terry] Bradshaw?
"Clearly, we have a ton of work to do to pull this off. But we think we're the men for the job, and we're going to find out Sunday."
August, 8, 2010
8/08/10
9:33
AM ET
Does
Drew Bledsoe
belong in the Pro Football Hall of Fame?
The numbers suggest he does.
The numbers, however, also show Hall of Fame milestones are changing.
[+] Enlarge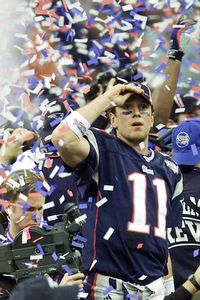 AP Photo/Beth A. KeiserDrew Bledsoe was the backup to Tom Brady in Super Bowl XXXVI.
In a piece for "The Fifth Down" blog at NYTimes.com, quarterback statistician Luis DeLoureiro takes a look at the traditional assurances for induction. In the past
multiple championships or 40,000 yards passing
have meant an automatic bronze bust in Canton.
All seven quarterbacks who've been eligible for the Hall and have thrown for 40,000 yards have gotten in. Two more are active and should enter on the first ballot:
Brett Favre
and
Peyton Manning
.
Dan Marino
,
Warren Moon
, Fran Tarkenton and Dan Fouts didn't win titles. Moon and Fouts never appeared in a Super Bowl.
So what about Bledsoe?
He threw for 44,611 yards and 251 touchdowns in 14 seasons with the
New England Patriots
,
Buffalo Bills
and
Dallas Cowboys
. He reached two Super Bowls with the Patriots, losing as a starter and winning as
Tom Brady
's backup.
But everyone knows the NFL has evolved. Passing numbers are prolific compared to 10 years ago.
New York Jets
and Patriots quarterback
Vinny Testaverde
is another example. He threw for even more yards than Bledsoe did. The Heisman Trophy winner rolled up 46,233 yards and 275 touchdowns, ranking among the top eight all-time in each category
DeLoureiro, who
also writes for NFLStatAnalysis.net
, noted the only two quarterbacks of the Super Bowl era to enter the Hall of Fame without 40,000 yards or multiple championships were
Steve Young
and
Jim Kelly
.
Both presented special cases. Young started only eight seasons and was a two-time league MVP. Kelly took the Bills to four straight Super Bowls.
Tom Donahoe, the former Bills general manager, use to refer to Bledsoe as a future Hall of Famer, a comment that always sounded ridiculous to me.
It still does.
December, 30, 2008
12/30/08
2:03
PM ET
Posted by ESPN.com's Tim Graham
In last week's AFC East mailbag, several folks asked how in the world Brett Favre could get into the Pro Bowl with so many interceptions. And that was before he threw three more in Sunday's 24-17 season-ending loss to the Miami Dolphins at the Meadowlands.
The short answer is Favre was awarded the honor for his legacy and certainly not his pedestrian season with the New York Jets.
He finished with 22 touchdown passes and a league-high 22 interceptions.
One reader wanted to know what the NFL record is for most interceptions in a Pro Bowl campaign. Some might be shocked to learn Favre's not even close.
Here is the rundown, courtesy of the Elias Sports Bureau, with asterisks to denote whether the interception total led the league:
27: Drew Bledsoe, Patriots, 1994*
26: John Hadl, Chargers, 1972*
25: Terry Bradshaw, Steelers, 1979
24: Dan Fouts, Chargers, 1979
24: Dan Fouts, Chargers, 1980
24: Dave Krieg, Seahawks, 1984*
24: Brett Favre, Packers, 1993*

December, 27, 2008
12/27/08
3:12
PM ET
Posted by ESPN.com's Tim Graham
Taylor in Virginia Beach, Va., writes: Tim, Throughout this entire season, I've hated you, then loved you, then hated you. And you know what I realize? You're a damn fine writer. I enjoy your columns (for or against my Jets) because quite frankly, you tell it like it is. I just wanted to let you know, you've got a fan here in Virginia Beach, VA. Best of luck to you and yours in the coming new year. As for my beloved AFC East: I see Miami wiping the floor with Gang Green this weekend. So for the Jets, season's over (wow, that actually hurt to type). It's odd the feeling I get when I see Chad excelling with the Fins. I love the guy, was sad to see him go, but with the way the Jets have been playing/coached, it's just salt in the wound to know Pennington will be the one to seal our fate.
Tim Graham: Taylor, this is the favorite e-mail I've ever received from a reader, and only a small fraction of my appreciation relates to your compliment. I can't thank you enough for a) getting it, and b) taking the time to share your thoughts.
When your team is playing well, you'll probably enjoy what I write. When your team is playing poorly, you'll probably dislike what I write. When your team is mediocre, you probably won't care what I write.
---
Mr. Anonymous from Boston writes: Tim..you are a buffalo guy and probably know a bit of what's going on in Buffalo. Do the insiders at OBD think the problem is in coaching, or the personnel or both. Firing everyone and starting over doesn't seem to make sense. What do you think Buffalo is going to do as they try and improve in the ever competitive AFC East.
Tim Graham: Your guess is as good as mine. It's difficult to gauge what's going on at One Bills Drive because, let's face it, they're making it up as they go. There's no general manager, and while chief operating officer Russ Brandon is handling that role, owner Ralph Wilson calls the shots. Two months ago, the Bills gave Dick Jauron a three-year extension. The season isn't over and Wilson is second-guessing the decision.
---
Mauricio in Mexico City writes: Why in the coach of the year award bill b. is not even mentioned what he has done this year with that team is amazing. I also believe that is way easier to coach when your team has no expectations (no pressure) at all thats case with the dolphins, ravens, and falcons. What greater expectation can you have that have a team that when 18-1 an lose the superbowl there is not tougher situation in sports i think, even the superbowl champs have the excuse if the lose that they won the superbowl (we you finally win a you super bowl you can play more free). And we are not talking yet about the major injuries and the ability to insert John Does into a team and make them compete , Benjarvus, Gary Guyton, Cassel how many thought that Cassel after a horrible preseason was going to be cut. Thanks
Tim Graham: I couldn't agree with you more, Mauricio. I have written several times over the past few weeks that Bill Belichick deserves at least to be in the conversation for coach of the year. I don't think he will be the consensus pick (there are many versions of the award). I predict most of the honors will go to Atlanta Falcons coach Mike Smith, with Miami Dolphins coach Tony Sparano also getting some love.
But Belichick's success this year despite myriad injuries has been nothing short of spectacular. If you don't think so, ask yourself this: How many wins would your favorite team have managed without its starting quarterback for the whole year, No. 1 running back for 13 games, No. 2 running back for eight games, No. 3 running back for three games, starting strong safety for 10 games, starting outside linebacker for seven games, and starting inside linebacker for three games?
---
Mack from Waverly, Tenn., writes: Hey Tim. Ive heard that Lawyer Milloy is in the last year of his contract with the Falcons. If thats true do you think he might possibly return to the pats to finish his career. They could defenitly use his veteran leadership back there since it looks like Harrison is done. Do u think its possible?
Tim Graham: A shortage of leadership won't be an issue for the Patriots because of their established, proven philosophy and the type of players they pursue. Once in the organization, younger players are molded by the veterans and the coaching staff. So adding Lawyer Milloy merely for leadership isn't necessary.
Besides, second-year pro Brandon Meriweather has a bright future. He's versatile. He plays in all the packages, can blitz and has four interceptions.
Here is a recent quote from Belichcik about how well Meriweather has filled in for Rodney Harrison:
I think in every area of Brandon's game he continues to get better. He's played a little bit more down closer to the line of scrimmage than he has in the past in sub situations or when he was in there with Rodney. He has shown to be a good tackler, good in run support and good around the line of scrimmage. He has done a good job in the deep part of the field and in some man-to-man coverage situations that he has been asked to play in, like the St. Louis game where we were facing four wide receiver personnel. He was playing the inside corner position on that.
Through the course of the season he has been asked to do a lot of different things. He has really improved in all of them. I think he's having a good year. He has certainly come a long way as a player in these two seasons and continues to get better. He is a really dependable guy. He's smart and makes very few errors back there in the secondary, not just himself, but also in terms of the overall communication back there with the group. He is playing with a lot of confidence, and we have a lot of confidence in him because of the way he's been playing.
---
Greg in Boston writes: With the Patriots playing at 1 the Jets could be elimated from the playoffs by the time their game starts. This allows Mangini to bench players in a game that means nothing to them if the Patriots win...securing the playoff spot to the Dolphins. The time change for that game could hurt the Patriots chances.
Tim Graham: No matter what, the Jets' postseason hopes will be alive when they take the field Sunday because they still have a shot at the second wild-card berth. The Jets must win, and the Jaguars would need to beat the Ravens in another 4:15 p.m. kickoff.
---
Isaac in New York writes: I don't know if I'm just missing something, but looking at the playoff scenarios for this weekend (http://sports.espn.go.com/nfl/news/story?id=3711069) I can't figure out what would happen if the Jets defeat the Dolphins, the Patriots lose to the Bills, and the Ravens lose to the Jaguars. I get that the Jets would win the AFC East, but with the Ravens, Patriots, and Dolphins all at 10-6, who would have the last wildcard spot?
Tim Graham: If the Dolphins, Patriots and Ravens each finish 10-6, then the Ravens would get in. In the case of a three-way tie, the first deciding factor is applying the division tiebreaker to determine the top
team from that division. The Dolphins have that edge based on a better conference record. Then the Ravens would get in because they beat the Dolphins head to head.
---
Warren in Syracuse, N.Y., writes: I have been trying to figure this out but I'm not good at this kind of stuff. My question is, if the Jets beat Miami this Sunday, can the Dolphins still make the playoff's?
Tim Graham: The Dolphins must beat the Jets to finish with 11 wins because the Jets would claim the division title on head-to-head record, and the Ravens (even if they lose to the Jaguars) would get the second wild-card berth because they beat the Dolphins on Oct. 19.
---
Igor in Brooklyn, N.Y., writes: I was wondering if you could tell me what the record for most INTs by a quarterback in a pro bowl year is. I feel like Farve could have another NFL record. Also on a similar topic I was wondering if the 2 quarterbacks with the highest passer rating in a season have ever both been left out of the pro bowl.
Tim Graham: Brett Favre has thrown 19 interceptions with one regular-season game left. I'm not sure what the record is, but Terry Bradshaw was an All Pro with 20 interceptions in 1978 and went back to the Pro Bowl the next year with 25 interceptions. Dan Fouts was an All Pro in 1979 and a Pro Bowler in 1980 despite throwing 24 picks both times.
Ken Stabler threw 20 interceptions in only 13 games but went to the Pro Bowl in 1977. Joe Namath played in the AFL all-star game despite throwing 28 interceptions in 1967 and went to the Pro Bowl with 21 interceptions in 1972.
---
JKato in Boston writes: If the Jets make the playoffs this year, would this be one of the most disappointing playoff scenerioes in recent memory for the AFC East? I'm not completely saying that they don't deserve to go if they win even after the Losman fiasco, but there are such great stories like Matt Cassel's emergence as a great starter or even...gulp...Chad Pennington's second chance at starting will a rival team.
Tim Graham: No matter what, the AFC East will be represented by a compelling tale in the playoffs. The Patriots are playing better than any other AFC East team heading into the season finale, and the Dolphins are pulling off one of the great single-year rebounds in NFL history.
But if the Jets can squeeze into the postseason, you have Brett Favre's last hurrah (potentially). If the Jets can figure out how to snap out of their malaise and play more like the team that knocked off the Patriots and undefeated Tennessee Titans in successive weeks, then they can do some damage in the playoffs.
---
Randy Barnes from Perryton, Texas, writes: I think that your comments about Farve being outperformed by Chad Pennington are just to inflame situations and stir up controversy. Get a life.
Tim Graham: You're absolutely correct, Mr. Barnes. I'm the only person discussing the fact Chad Pennington is playing better than Brett Favre this season. If not for me, football fans would be focusing on the scintillating Brandon Fields versus Reggie Hodges showdown that will transpire Sunday at the Meadowlands.
---
Mr. Anonymous from Parts Unknown writes: If the 3rd tiebreaker after overall record, and division record in common games and the only difference between Miami and NE (if they both win out) is a NE win over AZ, wouldn't NE be in over Miami?
Tim Graham: The first tiebreaker within a division race is head-to-head record, then division record, then record against common opponents. The Dolphins and Patriots split their games and would finish with identical 4-2 division and 11-3 common-opponent records.
But the fourth tiebreaker is AFC record, and the Dolphins would be 8-4, while the Patriots would be 7-5.
---
Dennis in Medford, Mass, writes: Win or lose on Sunday, every Dolphin fan should be proud of the turnaround and grit the team has shown this year.
Tim Graham: I couldn't agree with you more, Dennis. Although it would sting for Dolfans if their team can't finish the season with authority and make the playoffs, you can't dispute how special the season has been. The Dolphins clearly are on the right track.
---
J.R. in Florida writes: Tim, I have question about the Jets-Phins game this weekend. Which team is hungrier; who wants the win more?
Tim Graham: Based on what I've seen in recent weeks, I would have to say the Dolphins seem to be playing with more of an edge. The Jets' season has been on the line for three weeks, and they haven't responded like a playoff team should. The Dolphins, on the other hand, are taking care of business.
---
Al in Fredericksburg, Va., writes: Tim, I really enjoy reading everything you write about the AFC East and beyond. What do you think about the quarterback situation that will arrive in New England. With Tom Brady's knee back on track, is it for sure that the Patriots will franchise Matt Cassel and keep the quarterback who has lead them to a play off berth in the last 6 years?
Tim Graham: Thank you for the compliment, Al. Glad you enjoy the blog. My prediction is that the Patriots will put the franchise tag on Matt Cassel. To let a valuable asset like him get away, especially after all of the time and money the Patriots have invested to get him to the level he's playing, would be disheartening.
The Patriots would have to pay Cassel the average of the NFL's top five highest-paid quarterbacks. There are no guarantees Tom Brady will be completely healthy for next year. Once the Patriots are convinced Brady will be OK, then they could trade Cassel on their terms rather than lose him to free agency and get nothing in return.
---
Kelly in New Jersey writes:
Tim I just heard that the Denver-San Diego game will be flexed for the final Sunday night game of the year. WHY?!?!?!?! I could not think of any reason as to why this game is deserving of being moved to Sunday night in comparison to the Dolphins-Jets game. What is wrong with the NFL?!?!?
Tim Graham: While I disagree with the NFL's decision to pass over the Dolphins-Jets game for prime time, I understand why they chose Broncos-Chargers. It's the only game on the schedule in which the winner goes to the playoffs and the loser goes home. If the NFL had flexed Dolphins-Jets, there's a possibility the game would end with two teams not going to playoffs if the Patriots and Ravens win as expected and the Dolphins lose. That would make for a dud prime-time finale.
---
Dan in Boston writes: I want to know how it is fair that New England can go 11-5 and miss the playoffs. Does the NFL need to change its playoff format? I'd say yes. Its SO unfair how the Broncos and Cardinals can go 8-8 and get in, but the Pats can go 11-5 and miss it. If that does happen, the Pats will bge not 3, but FOUR games up on the Broncos because we beat them already this season. I think the NFL needs to go back to 3 divisions, or just let the REAL top 6 into the playoffs.
Tim Graham: I'm picking up what you're laying down, Dan. But if the N
FL sent the six teams with the best record to the playoffs, then divisions will be irrelevant. If divisions become irrelevant, then rivalries lose their meaning.
---
Joe from Parts Unknown writes: You ever play football Tim.
Tim Graham: Why, yes, I have. I'm sure the readers would love to hear about it. ... I started both ways for three years at my high school as a receiver, part-time quarterback and defensive back. I punted, returned kickoffs and held on extra points and field goals. We went to the playoffs my sophomore year and got knocked out in the quarterfinals by O.J. McDuffie's team. I received a Division I-AA scholarship offer, but decided to pursue my other love, high jumping, in college.
If you give me your address, Joe, I'll send you an autograph.
November, 23, 2008
11/23/08
5:47
PM ET
Posted by ESPN.com's Tim Graham
Consecutive 400-Yard Pass Games (Since 1970 Merger)
Matt Cassel becomes the 5th quarterback since the merger in 1970 to post consecutive 400-yard pass games and the first since Billy Volek in 2004. Otherwise, he's in good company with the three other QB on this list.
Year
Quarterback
2008
Matt Cassel
2004
Billy Volek
1985
Phil Simms
1984
Dan Marino*
1982
Dan Fouts*
*Pro Football Hall of Famers
MIAMI -- Matt Cassel has accomplished something only five other quarterbacks have done since the NFL-AFL merger 38 years ago.
Cassel has thrown for 400 yards in back-to-back games, joining Dan Fouts in 1982, Dan Marino in 1984, Phil Simms in 1985 and -- to add some levity to the list -- Billy Volek in 2004.
In addition to the 400-yard barrier, Cassel also has completed 30 passes and thrown for three touchdowns in consecutive games.
Cassel completed 30 of 41 attempts for 415 yards and three touchdowns in Sunday's 48-28 victory over the Miami Dolphins.
He was 30 of 51 for 400 yards and three touchdowns in an overtime loss to the New York Jets the previous week.
For the record, Tom Brady has one career 400-yard game. He threw for 410 yards against the Kansas City Chiefs in September 2002. The most he threw for in the Pats record-breaking 2007 campaign was 399 yards.