May, 24, 2010
5/24/10
3:54
PM ET
Buffalo Bills
quarterback
Trent Edwards
usually acts as though each negative word written or said about him bounces off his shoulder pads.
But what Bills icon
Jim Kelly
said about him in November clearly didn't go over well.
Edwards, during a break in
Drew Brees
' celebrity golf tournament this weekend, sat down with
XX Sports Radio 1090
hosts Scott Kaplan and Billy Ray Smith to discuss his status with the Bills.
[+] Enlarge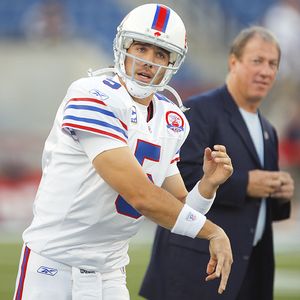 AP Photo/Stephan SavoiaFomer Bills quarterback Jim Kelly, right, has been critical of Trent Edwards.
Kaplan and Smith asked Edwards about comments Kelly made while imploring the Bills to draft University of Florida star
Tim Tebow
.
As a reminder, here's what Kelly had to say:
"I like Trent personally. He works hard. But he's had three years. It's time to find somebody who is the future of the Buffalo Bills. If I'm the owner, that's what I'm thinking.

"Whether it's Tim Tebow, whether they'll have a shot at him when draft time comes ... you have to look at the top three quarterbacks in the draft, really study them. And you look for a guy with good character, good leadership ability and good arm strength -- and a guy who doesn't come from California."
Edwards is from Los Gatos, Calif., about 40 miles away from where
Tom Brady
went to high school, and went to Stanford.
"It's definitely frustrating because I don't know how much time Jim has spent in California," Edwards said. "I love the state of California. Obviously, I'm very biased towards where I grew up in, but it's a little bit na´ve maybe that he makes comments like that.
"It's frustrating because I feel like there's a ton of great California quarterbacks out there that have played in the league for an extended period of time. I mean, we can go down the list right now. But he unfortunately said some things that aren't always the best things to say. But that's kind of the way he is, I guess."
But Edwards then tried to shrug the comments off by pointing out Kelly is a living legend among Bills fans and has earned the right to state any opinion on the organization.
"I understand that's the way it is," Edwards said. "You're just going to have to take that with a grain of salt and realize there's going to be people out there that aren't going to like the way you play and where you're from."
Edwards said he hasn't discussed the comments with Kelly.
The Bills, of course, didn't draft Tebow or
Jimmy Clausen
or
Colt McCoy
or
Dan LeFevour
. They didn't select a quarterback until
Levi Brown
in the seventh-round.
That means Edwards would have a clearer path back to winning the job in camp against holdovers
Ryan Fitzpatrick
and
Brian Brohm
.
"Was I happy to see that we didn't draft a first-round quarterback? Yes. That's a boost of confidence, yes," Edwards said.
Much thanks to
Jimmy Shapiro of SportsRadioInterviews.com
for passing along audio file.
April, 17, 2010
4/17/10
10:30
AM ET
Those who don't have ESPN Insider subscriptions have been missing out on
fantastic analysis by that Scouts Inc. squad on the NFL Draft Blog
.
I wanted to share some AFC East-oriented highlights from the past few days.
Steve Muench sketched out what the
New England Patriots
could do with their four picks in the first two rounds. He proposed USC pass-rusher Everson Griffen at No. 22, Arizona tight end Rob Gronkowski at No. 44, USC receiver Damian Williams at No. 47 and Penn State linebacker Sean Lee at No. 53. Muench shared his
reasoning for each pick and explained why it's a fit
. Check it out.
Muench also wrote an item the
Buffalo Bills
' options with the AFC East's earliest pick. Scouts Inc. is not high on Notre Dame quarterback Jimmy Clausen and believe he's a reach at No. 9.
If the Bills don't like the best offensive tackle still on the board
Muench's recommendation was Tennessee nose tackle
Dan Williams
. Muench then listed Indiana tackle Rodger Saffold, Citadel receiver Andre Roberts and Central Michigan quarterback Dan LeFevour as a solid draft for Buffalo.
Also on the NFL Draft Blog, Kevin Weidl adjusted the
New York Jets
' needs since they obtained receiver
Santonio Holmes
. Weidl wrote
Jets have no reason to draft an offensive player
. Top candidates with the 29th pick include Penn State defensive tackle Jared Odrick, Texas Christian defensive end Jerry Hughes and USC safety Taylor Mays.
But Weidl also suggested they could trade up -- Jets GM Mike Tannenbaum would do that? No way! -- and grab Texas safety Earl Thomas.
February, 15, 2010
2/15/10
11:06
AM ET
Buffalo Bills
fans are eager to learn how their team will address that enormous quarterback question mark and wonder whether they'll go after a hot shot with their ninth overall draft choice.
In
my recent rundown of mock drafts
, Notre Dame quarterback
Jimmy Clausen
appears in a few forecasts.
But ESPN draft analyst Todd McShay douses the optimism by daring to compare Clausen to Bills pariah J.P. Losman.
McShay and Mel Kiper recently broke down some of the bigger names -- and a name you might not know -- available in this year's class. McShay deemed Clausen the biggest risk of the lot.
"I'm not sure that he has as much room to grow," McShay said. "I think he may be maxed out both physically and from a coaching perspective because he is so well-coached. He's not going to get any better, I think, at the next level.
"And secondly, I have concerns about the intangibles. Maybe not the toughness or necessarily the in-game leadership, but how he carries himself, just the way he handles the quarterback position. Other guys like J.P. Losman have come into the league with similar immaturity and have struggled as first-round picks.
"If you're going to draft Jimmy Clausen high, and some team's going to in the top 10, 15 picks, you're talking somewhere around $15 million to $20 million guaranteed. I think that's an awfully big risk on Clausen."
Kiper makes another AFC East-flavored comparison. He views Central Michigan's
Dan LeFevour
as a Chad Pennington-type leader.