June, 30, 2010
6/30/10
1:30
PM ET
Notable players:
QB
Tom Brady
, RB
Corey Dillon
, WR
Deion Branch
, WR/DB
Troy Brown
, TE
Daniel Graham
, T
Matt Light
, DE
Richard Seymour
, OLB
Willie McGinest
, OLB
Mike Vrabel
, ILB
Tedy Bruschi
, CB
Ty Law
, CB
Asante Samuel
, S
Rodney Harrison
, K
Adam Vinatieri
, ST
Larry Izzo
.
[+] Enlarge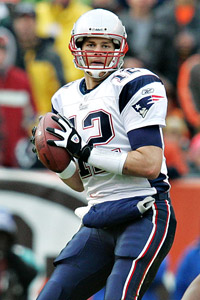 Matthew Emmons/uS PresswireTom Brady and the Patriots collected their third Super Bowl win in four seasons.
Analysis:
The
New England Patriots
are the only AFC East club with three championship seasons to consider, and one could argue with conviction their best team didn't win the Super Bowl.
But 2004 stands apart. The Patriots claimed their third Vince Lombardi Trophy in four seasons to establish themselves as one of the all-time great teams. Brady and head coach Bill Belichick ensured their place in Canton.
The Patriots picked up where they left off after winning Super Bowl XXXVIII the year before. They increased their win streak to an NFL record 21 games. They ranked fourth in scoring and second in points allowed. They lost two games all season, Week 8 at the
Pittsburgh Steelers
and Week 15 at the
Miami Dolphins
.
After beating the
Indianapolis Colts
for the second time and holding
Peyton Manning
's offense to three points in the divisional round of the playoffs, the Patriots scored 41 points to avenge their defeat in Pittsburgh.
In Super Bowl XXXIX, the Patriots beat the
Philadelphia Eagles
more comfortably than the 24-21 score indicates. Adam Vinatieri didn't need to drill a field goal in the closing seconds for a change.
Most impressive win:
The Patriots never were more dominant than they were in Week 10 against the
Buffalo Bills
, a borderline playoff team that won three out of four heading into Gillette Stadium and six straight afterward. The Patriots rolled up a season-high 428 offensive yards and limited the Bills to 125 yards to win 29-6.
What can Brown do for you?
Pretty much whatever you could ask of him. Brown caught only 15 passes in the regular season, but in Week 9 against the
St. Louis Rams
, he entered the game as an emergency defensive back when Samuel went down with an injury. Brown finished the season with three interceptions (one shy of the team lead) and broke the Super Bowl record for punt returns.
Honorable mention
2007:
It's the greatest NFL team not to win the championship. Brady,
Randy Moss
and
Wes Welker
rewrote a good chunk of the offensive record book, but the Patriots fell short of finishing the season undefeated, losing in the Super Bowl to the
New York Giants
.
2001:
New England won its first championship with an offense that ranked sixth in scoring and a defense that ranked sixth in points allowed. Belichick's controversial decision to stick with Brady when
Drew Bledsoe
returned to health created a superstar.
2003:
New England went 14-2 to win its second title in three years. The offense was pretty mediocre, but the defense posted three shutouts, gave up six points or fewer five times and averaged 11.9 points against over the final 10 weeks of the regular season.
1976:
Patriots fans thought a storybook season was unfolding in the bicentennial. Steve Grogan and Sam Cunningham led the Pats to an 11-3 record, but a controversial late-hit call helped them lose to the
Oakland Raiders
in the playoffs.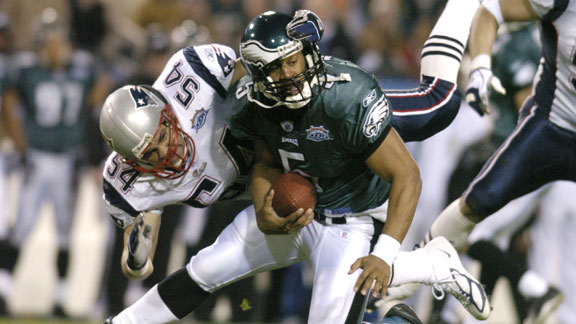 March, 16, 2010
3/16/10
2:48
PM ET
March, 3, 2010
3/03/10
12:00
PM ET
»
NFC Schemes/Themes
:
East
|
West
|
North
|
South
»
AFC
:
East
|
West
|
North
|
South
»
Draft Watch
:
Biggest needs
(2/17) |
Busts/gems
(2/24) |
Schemes, themes
(3/3) |
Recent history
(3/10) |
Needs revisited
(3/17) |
Under-the-radar needs
(3/26) |
History in that spot
(3/31) |
Draft approach
(4/7) |
Decision-makers
(4/14) |
Dream scenario/Plan B
(4/21)
Each Wednesday leading up to the NFL draft (April 22-24), the ESPN.com blog network will take a division-by-division look at key aspects of the draft. Today's topic: Schemes and themes.

Buffalo Bills:
As if the Bills didn't have enough holes to fill, they've chosen to overhaul their defense. New coach Chan Gailey and defensive coordinator George Edwards are converting a Tampa 2 defense into a 3-4. They're missing the keystone of that scheme, a blocker-absorbing nose tackle. Logic would suggest the Bills draft either a nose tackle or an offensive tackle with the ninth overall pick, but they had the need for a left tackle last year and selected pass-rusher
Aaron Maybin
with the 11th pick. The 3-4 switch is good news for Maybin because he was invisible as a rookie and projects better as an outside linebacker. Still, the Bills will need to infuse that position with more talent in this transformation.

Miami Dolphins:
Because quarterbacks coach David Lee and offensive coordinator Dan Henning were the Wildcat innovators, many look at their draft needs through that prism. They didn't disappoint the prognosticators last year when they reached to draft scat quarterback
Pat White
in the second round for the purposes of using him in their direct-snap offense. I'd be surprised if the Dolphins drafted for Wildcat purposes again this year. White's selection was a disappointment. He was no threat as a passer, and the coaches couldn't figure out a way to use him. Another theme to watch is how the Dolphins draft linebackers. They didn't like the way their linebackers performed under defensive coordinator Paul Pasqualoni, inside linebackers coach Edwards (now with the Bills) and outside linebackers coach Jim Reid. All three coaches are gone.

New England Patriots:
The Patriots have incredible flexibility entering the draft with four selections among the top 53 slots. They can go any direction they choose, but will Bill Belichick keep his picks or barter them? The Patriots have tweaks to make all over the place, particularly on defense. Fortunately for the organization, Belichick has a much better success rate when it comes to identifying defensive players early. Some of the Patriots biggest draft mistakes on Belichick's watch have been on offense. They found a keeper with left guard
Logan Mankins
, but didn't connect on such prospects as tight ends
Daniel Graham
and
Benjamin Watson
and receivers
Chad Jackson
and
Bethel Johnson
. Running back
Laurence Maroney
has been a contentious pick, too.

New York Jets:
General manager Mike Tannenbaum said at the NFL scouting combine Friday the organization isn't placing any extra importance on collecting draft picks, but the Jets need to sow young talent onto their roster. Over the past three years, the Jets have traded away most of their draft picks to move up in the order and select players such as cornerback
Darrelle Revis
, linebacker
David Harris
, quarterback
Mark Sanchez
and running back
Shonn Greene
-- all successes to date. But their ranks have been thinned with only three draft picks last year and 13 since 2007. The Jets have used undrafted free agents and castoffs from other teams to fill out their roster, a philosophy that's difficult to maintain for the long haul. The Jets also are affected by the "final eight" plan that prevents them from signing unrestricted free agents until they lose one. A plump draft class would do the Jets wonders.
February, 24, 2010
2/24/10
2:00
PM ET
»
NFC Busts/Gems
:
East
|
West
|
North
|
South
»
AFC
:
East
|
West
|
North
|
South
»
Draft Watch
:
Biggest needs
(2/17) |
Busts/gems
(2/24) |
Schemes, themes
(3/3) |
Recent history
(3/10) |
Needs revisited
(3/17) |
Under-the-radar needs
(3/26) |
History in that spot
(3/31) |
Draft approach
(4/7) |
Decision-makers
(4/14) |
Dream scenario/Plan B
(4/21)
Each Wednesday leading up to the NFL draft (April 22-24), the ESPN.com blog network will take a division-by-division look at key aspects of the draft. Today's topic: Busts and late-round gems.
Buffalo Bills

The Bills' drafts have been pockmarked, at best. They haven't reached the playoffs in a decade, which means they should have benefited from desirable draft position throughout the 2000s. Even so, the Bills haven't obtained much star power in that span. A perusal of their draft history should come with a warning to Bills fans that it shouldn't be done without antacids. Only four Bills draft picks in the 2000s went to the Pro Bowl. The lone first-round choice to wear a Bills helmet in the Pro Bowl has been running back
Marshawn Lynch
, who did so as an alternate and lost his job to
Fred Jackson
last year. Their biggest bust was tackle
Mike Williams
, the fourth overall selection in 2002. Williams simply didn't have the heart for football and lasted three full seasons, none of which could be deemed remarkable. Buffalo's best draft choices in the 2000s have been top cornerback
Terrence McGee
and solid defensive tackle
Kyle Williams
. McGee was a fourth-rounder in 2003 and went to the Pro Bowl as a return man. Williams was a fifth-round pick in 2006 and for the most part has started since his rookie year, but there might not be a fit for him when the Bills transform into a 3-4 defense.
Miami Dolphins

The first player who comes to mind when considering Miami's recent busts is receiver and return man Ted Ginn. The ninth overall pick has come to symbolize the lost 2007 season under former general manager Randy Mueller and one-and-done coach Cam Cameron. The Dolphins had 10 draft choices in 2007, including four in the top 71, but only Ginn, defensive tackle
Paul Soliai
and punter
Brandon Fields
remain on the team. That class was a collective bust. Is it possible, however, that 2006 was worse? The Dolphins drafted five players (albeit three of them in the seventh round) and only one is on the roster. Defensive back
Jason Allen
, the 16th overall choice, has started 12 games in four seasons. The Dolphins have been overhauled so much under football operations czar Bill Parcells, most players on their roster haven't been around long enough to label draft gems or duds. Discoveries from previous regimes aren't with the club any longer. The Dolphins drafted guard
Rex Hadnot
in the sixth round in 2004. Tight end
Randy McMichael
, selected in 2002, might be the best fourth-round pick in franchise history. The greatest find on Miami's roster -- by far -- has been safety
Yeremiah Bell
, a sixth-round long shot from Division I-AA Eastern Kentucky. Bell didn't make the team as a rookie, fought his way up from the practice squad, overcame early injury problems and played in the Pro Bowl a few weeks ago.
New England Patriots

Tom Brady
not only is the greatest Patriots' draft discovery, but also the best of his generation. The 199th pick of the 2000 draft -- 16 slots after
Spergon Wynn
-- went on to win four AFC championships, three Super Bowls and two Super Bowl MVP awards. He's a five-time Pro Bowler and owns a few records. More recently, center
Dan Koppen
has proven to be a nice acquisition in the fifth round of the 2003 draft. Koppen has been New England's starter since Week 2 of his rookie season. He was named to the Pro Bowl for 2007. The Patriots also were able to spin quarterback
Matt Cassel
, a 2005 seventh-round pick, into the 34th overall choice in last year's draft. As for busts, the Patriots haven't been immune. They have an impressive first-round track record, but tight ends
Daniel Graham
and
Benjamin Watson
were hiccups. New England took Graham 21st overall, but he was erratic and produced one good season before leaving via free agency. Watson's tenure will be remembered similarly, but with more injuries. Wide receiver
Chad Jackson
was another prominent pick who flamed out. The Patriots wanted him badly enough to trade up 16 slots to snag him 36th overall four years ago. He missed his entire rookie season with a hamstring injury and left New England after three seasons with a grand total of five receptions for 83 yards.
New York Jets

The Jets don't have a lot of recent picks to scan. Since Mike Tannenbaum took over as general manager in February 2006, the Jets have made only 23 selections. They've drafted 13 players over the past three years. Maybe it's too soon to be slapping the bust sticker on pass-rusher
Vernon Gholston
, but through two NFL seasons, the sixth overall pick from 2008 has started three games and has been a healthy scratch for three games. Gholston has yet to record a sack and has made only 10 solo tackles.
Kellen Clemens
also falls into the failure category. The Jets used the 49th pick on him. Second-round quarterbacks are supposed to play and get paid accordingly. The Jets were so down on Clemens, they made major gambles to keep him off the field, trading for
Brett Favre
and moving up to select
Mark Sanchez
fifth last April. The Jets have had success unearthing talent in the fourth round. The list includes running back
Leon Washington
(2006), safety
Kerry Rhodes
(2005) and receiver
Jerricho Cotchery
(2004). The Jets made a fine selection when they used a seventh-rounder on running back
Derrick Ward
in 2004. But Ward didn't make the roster. The
New York Giants
signed him off the Jets' practice squad. He won a Super Bowl with the Giants and rushed for 1,025 yards a year later.