August, 15, 2011
8/15/11
10:55
AM ET
By
ESPN.com staff
| ESPN.com
June, 22, 2010
6/22/10
1:00
PM ET
»
NFC Big Question
:
East
|
West
|
North
|
South
»
AFC
:
East
|
West
|
North
|
South
What's the worst call to have spoiled the result for an AFC East team?
In the past few weeks, Koman Coulibaly and Jim Joyce made two of the most infamous officiating blunders.
On a global stage,
Coulibaly's no-goal gaffe might cost the U.S. soccer team
a place in the knockout round of the World Cup.
Joyce spoiled baseball history when he blew a call
at first base on what should have completed a perfect game.
[+] Enlarge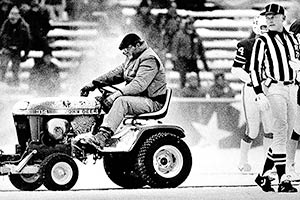 AP Photo/Mike KullenJohn Smith had better footing after a plow cleared away the snow for his game-winning kick.
At least they're not alone in sports history. Plenty of other officials have made dubious calls that have changed the outcome of a big game.
The AFC East has seen its share.
With help from my Facebook friends
, I came up with a short list of controversial calls to consider.
We'll steer clear of the calls that helped an AFC East team win. So forget the Tuck Rule or Vinny Testaverde's phantom touchdown plunge. We're looking for heartbreak here.
With 52 seconds left in their 1976 playoff game,
New England Patriots
defensive lineman Ray Hamilton was called for a highly questionable roughing penalty on
Oakland Raiders
quarterback Ken Stabler. The Patriots were up by four points. The Raiders faced a third-and-18 from New England's 27-yard line. Stabler's pass was incomplete, but the flag gave the Raiders a first down, and they eventually punched into the end zone.
The Patriots defeated the
Miami Dolphins
in the Snow Plow Game in 1982. On a winter wonderland of a field, Patriots coach Ron Meyer ordered a plow onto the field to clear kicker John Smith's placement for a 33-yard field goal with 4:45 to play. Officials didn't prevent it. Final score: Patriots 3, Dolphins 0.
In 1998, a questionable fourth-down conversion immediately followed by a wild penalty in the end zone as time expired infuriated the
Buffalo Bills
so much they didn't line up for the extra point in a vexing loss to the Patriots.
A Hail Mary pass interference
gave New England the ball on Buffalo's 1-yard line. Down by four points,
Drew Bledsoe
tossed to
Ben Coates
for the touchdown.
Bills fans bemoan the Music City Miracle
, one of the most controversial plays in NFL history. The
Tennessee Titans
pulled off what I believe was a perfect lateral to eliminate the Bills from the 1999 playoffs. Despite a video review that seemed to have more interpretations than a Salvador Dali painting, the touchdown stood. The Bills haven't returned to the postseason.
Last year, a Sports Illustrated photo
showed Dolphins receiver
Ted Ginn
stripped
New Orleans Saints
safety
Darren Sharper
shy of the goal line. The ball bounded out of the end zone for what should have been a Dolphins' touchback, but a review upheld Sharper's pick-six, a critical play in a dramatic Saints' victory. Had the Dolphins won, it might have helped them get into the playoffs.
There are so many others to choose from. Please share your thoughts in the comments section.
January, 4, 2010
1/04/10
9:46
AM ET
Buffalo Bills
rookie safety
Jairus Byrd
can exhale.
Nobody overtook him as the NFL's interceptions leader.
With two weeks left in the regular season, Byrd went on injured reserve because he opted to have groin surgery. He had a league-leading nine interceptions at the time, but was tied by
New Orleans Saints
safety
Darren Sharper
and
Philadelphia Eagles
cornerback
Asante Samuel
in Week 16.
Byrd held onto a piece of the title Sunday.
Green Bay Packers
cornerback
Charles Woodson
intercepted his ninth pass, but nobody snatched a 10th, leaving Byrd in a four-way tie for the honor.
Byrd's nine interceptions set Buffalo's rookie record. He had at least one interception in five straight games, also a club record.
On the topic of Bills milestones, here are some records they broke in 2009:
Fewest first downs in a season, 233 (234 in 2006).
Fewest fumbles recovered, five (seven in 1997).
Highest punting average, Brian Moorman at 46.58 yards (Moorman at 45.66 yards in 2005).
Most career punt returns, Roscoe Parrish with 118 (Jeff Burris had 100).
December, 12, 2009
12/12/09
9:08
PM ET
One of the bigger stories that lingered from last weekend was
Flozell Adams
' unsportsmanlike blindside hit.
The
Dallas Cowboys
left tackle was fined $50,000 for jacking
New York Giants
defensive end
Justin Tuck
from behind on a missed field goal. After the whistle, Adams and defensive end
Mathias Kiwanuka
tried to snap each other's heads off like dandelions.
So that got me to wondering who the AFC East's nasty boys have been this year.
I've been sharing overall penalty counts within the division every Saturday, but this week I wanted to outline who has been flagged for the most 15-yard penalties this year. The NFL rulebook outlines 19 penalties that draw 15 yards, including face mask, roughing the passer, chop blocks and such.
Of the 65 players who have been busted for more than one major penalty, eight hail from the AFC East.
Buffalo Bills
rookie safety
Jairus Byrd
and
New England Patriots
safety
Bret Lockett
, placed on injured reserve this week, lead the division with three apiece.
Byrd's penalties cost the Bills 28 yards on two unsportsmanlike conduct penalties. He also had an offsetting unnecessary roughness. Lockett's penalties were worth 26 yards on a face mask and a taunting. Lockett had an illegal blindside block declined.
Two other Bills, cornerback
Reggie Corner
and linebacker
Kawika Mitchell
, have been zapped for two 15-yarders.
The strangest name on the AFC East list is
New York Jets
rookie quarterback
Mark Sanchez
, the only offensive player. He has been cited twice for a low block on an interception return.
The rest of the rundown with two 15-yard penalties apiece: Patriots nose tackle
Vince Wilfork
, Jets safety
James Ihedigbo
(one of only four NFL players to be kicked out of a game this year) and
Miami Dolphins
linebacker
Channing Crowder
.
New Orleans Saints
safety
Darren Sharper
leads the NFL with five major penalties.
Houston Texans
defensive end
Antonio Smith
and
Cleveland Browns
nose tackle
Shaun Rogers
have four each.
December, 1, 2009
12/01/09
2:22
AM ET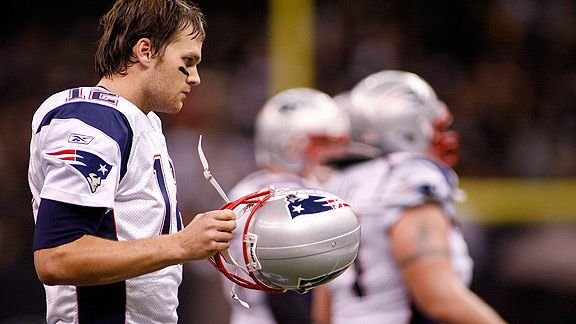 John David Mercer/US PresswireTom Brady and the Patriots needed a win over New Orleans to be considered an elite team.
NEW ORLEANS -- The
New England Patriots
confirmed what few had been thinking before Monday night.
They are not an elite NFL team. Not at this time. Maybe they can be again, but based on the way the
New Orleans Saints
pillaged them in the Superdome, the Patriots aren't in the conversation anymore about the best clubs in the game.
New Orleans thoroughly outclassed New England in a
38-17
laugher.
"There's obviously a big gap between us," Patriots quarterback
Tom Brady
said.
Drew Brees
made the Patriots' defensive backs, who had been thriving lately, look like a bunch of XFLers. He bombed them for five touchdowns, something that has never been done to a Bill Belichick-coached team.
"They were better than we were in every phase of the game," Belichick said in the postgame news conference. "I don't know any other way to put it. They were better coached. They played better on offense, defense, in the kicking game, they covered better than we did."
Belichick punctuated his response with incredulity at the questions about how his team failed to compete.
"They were obviously the better team," he said. "You guys
had to
see that. You were at the game."
It was a massacre. The 11-0 Saints made a deafening statement they're the NFL's best team. The Patriots merely whimpered in their final opportunity to record a signature victory before the postseason.
"They put it to us," Patriots receiver
Randy Moss
said. "We got our butts beat by 21."
New England (7-4), a team that likely will have to venture away from Gillette Stadium in the playoffs, is 0-4 in true road games and has come up short against two measuring sticks in the past three weeks.
They literally failed to measure up two weeks ago in Indianapolis. That heinous loss to the Colts resonates even more now.
"When we have expectations set high like we do, we take one game at a time," Moss said. "But we really see each week what teams are made of. I think we've shown we're up for a second, we're down for a second, we're up, we're down. It's kind of wavy right now."
At least now we know why Belichick went for it on fourth down from his own 28-yard line in the waning minutes at Indianapolis. His beloved former linebacker,
Tedy Bruschi
, criticized Belichick afterward for not showing enough faith in his defense to punt and force
Peyton Manning
to go 70 yards or so for the winning touchdown.
Belichick appears justified in the light of the bonfire Brees ignited here.
The game spiraled out of control so badly in the second half that Belichick raised the white flag, almost begging Saints coach Sean Payton to stop scorching his defensive backs. Belichick removed Brady from the game and inserted undrafted rookie
Brian Hoyer
, a signal to the Saints he'd seen enough carnage for one evening.
Nevada doesn't have as much open real estate as what Brees saw laid out before him.
To
Devery Henderson
for a 75-yard touchdown. To
Marques Colston
for 68 yards. To
Robert Meachem
for a 38-yard touchdown. To Henderson again for 33 yards.
"A lot of it had to do with us beating ourselves. A lot," Patriots nose tackle
Vince Wilfork
said. "Don't get me wrong. They came out and made plays and capitalized on [mistakes]. But it seemed like at times we couldn't stop them. That's a frustrating feeling.
"A lot of the plays we gave up out there, I could've completed the ball, or I could have ran the ball. Make an offense earn it, and we didn't do that at time. It cost us."
New England's defensive backs still had their eyebrows after the game, but you half expected to see them singed off. They looked like a quintet of
Deltha O'Neal
impersonators.
"We had several blown coverages defensively," Belichick said. "They took advantage of enormous mistakes on our part that they turned into huge plays. You can't make those kinds of mistakes against a good football team. We made too many of them."
Brees completed touchdown passes to five teammates. He finished with a 158.3 passer rating, nearly triple Brady's paltry 55.0 rating. Brady didn't have a touchdown. He threw two interceptions. A lot of his passes sailed.
More mystifying is that the Saints fielded a slapdash defensive backfield and Brady came into the game having thrown for 300 yards in five straight games, one shy of the NFL record.
His streak was snapped by a secondary that included Patriots castoff
Randall Gay
and rookie
Malcolm Jenkins
at cornerback, and
Mike McKenzie
, a street free agent two weeks ago, at nickel. Gay didn't play in the second half because of a leg injury.
The Patriots' chances to knock off the Saints seemed to get stronger when the inactive list was announced. On it were usual starting cornerbacks
Jabari Greer
and
Tracy Porter
, and dangerous running back
Reggie Bush
. Pro Bowl left tackle
Matt Light
and running back
Sammy Morris
returned from injuries for the Patriots.
"It wasn't nearly as competitive as we all were expecting," Brady said.
Where was
Wes Welker
? One week after Welker had the best game of his life, he had his worst of the season.
What about Moss? One reception for 9 yards in the first half, three catches for 67 yards all told.
New England's top target was
Sam Aiken
, mainly a special-teamer. He had seven catches for 90 yards, the best numbers of his career. But when Aiken is making your best plays and has two fewer receptions than Welker and Moss combined, chances are the Patriots will break your heart.
Belichick coached with conviction throughout the game. He kept his offense on the field for two fourth downs on their opening drive. They converted both, including
Laurence Maroney
's 4-yard touchdown run to put them up 7-3.
Yet, a fourth-down play doomed them. Belichick opted to go for it on fourth-and-4 from the Saints' 10-yard line with 4:12 left in the third quarter. A field goal would have put the Patriots a touchdown and a field goal behind. But Belichick knew his team needed a touchdown to keep pace with Brees.
Brady tried to force a pass to Moss in the left flat. McKenzie, out of football for 11 months before the Saints signed him, broke it up.
"That changed the momentum of the game," Saints safety
Darren Sharper
said.
The Patriots have a favorable schedule ahead. Just one of their final five opponents owns a winning record, the 6-5
Jacksonville Jaguars
.
Next up are the
Miami Dolphins
in Land Shark Stadium on a short week. If the Dolphins can pull out a victory, they would be one game behind the Patriots in the AFC East standings.
"We'll rally around each other," Wilfork said. "If not, it's going to be over real soon if we don't get it going. But I have faith in these guys that we're going to get it together."
October, 29, 2009
10/29/09
5:08
PM ET
Posted by ESPN.com's Tim Graham
I haven't had time to shuffle out to the mailbox yet, but curled up inside should be this week's issue of Sports Illustrated.
If you haven't seen it either, Edgar Thompson of the Palm Beach Post provides a glimpse of a photo that will be of particular interest to Dolfans -- and
probably make them a little ill
.
In Sports Illustrated's "Leading Off" photo section is a shot of
New Orleans Saints
safety
Darren Sharper
's game-changing interception return on the third play of the second half Sunday.
A
Chad Henne
pass bounced of Ted Ginn's hands, ricocheted off
Tracy Porter
and was caught by Sharper, who ran it in for a touchdown that swung momentum and propelled the Saints to a 46-34 victory after trailing by 21 points in the first half.
The photo proves Sharper didn't score a touchdown.
The play was ruled a touchdown on the field and reviewed. The ball came loose near the goal line and went out of bounds in the end zone. If the play wasn't a touchdown, it would have been ruled a touchback, with the Dolphins re-gaining possession at their own 20-yard line.
There wasn't a decisive video replay that could overturn the call.
But the Sports Illustrated photo provides no-doubt evidence the ball was coming out at the 1, and line judge Ron Marinucci is gazing right at the play.
Sharper's touchdown very well could be the difference between 2-4 and the Dolphins riding a three-game win streak at 3-3.
Sparano said he has seen the photo but declined to comment.
October, 28, 2009
10/28/09
4:30
PM ET
| | |
| --- | --- |
| | |
| | Doug Benc/Getty Images |
| | Buffalo rookie free safety Jairus Bird is determined to make receivers beat him to the ball. |
The phone chirped. "
Chicago Bears
" scrolled across the caller ID.
The voice on the other end was buoyant, a rumble of laughter detectable underneath each syllable.
"Hello, this is Gill Byrd.
Jairus Byrd
used to be my son. Now I'm Jairus Byrd's father."
For all of Jairus Byrd's life, he was identified as the younger boy of Gill Byrd, a two-time Pro Bowl cornerback for the
San Diego Chargers
and Bears assistant coach.
As dad acknowledged over the phone, that perception has changed over the past few weeks.
Jairus Byrd, a rookie free safety for the
Buffalo Bills
, has already made a name for himself. He's doing it emphatically.
Through the first seven games of his NFL career, he has been Buffalo's most valuable player.
"Clearly, he's got skills that are not ordinary even for this level," said Bills head coach Dick Jauron, "and he's using them."
Jairus Byrd ranks second in the NFL with five interceptions, one behind
New Orleans Saints
safety
Darren Sharper
. Byrd has snagged all of his interceptions over the past three games and has picked off a pair in two games straight.
Without his interceptions, the Bills wouldn't lead the NFL in takeaways and probably wouldn't have beaten the
New York Jets
or
Carolina Panthers
the past two Sundays. Each of his past three interceptions has set up a Bills touchdown.
In a season that has been rife with letdowns for Bills fans, Byrd has been a revelation.
"I think he can be an All-Pro consistently," said Jairus Byrd's more decorated mentor, eight-time Pro Bowl cornerback Aeneas Williams, a close friend of the Byrd family. "I think he has the ability.
"What makes you an impact player is when that offensive team, going into their game plan during the week, has to account for you. I believe he's definitely one of those guys that -- if they're not already accounting for him -- they're at least acknowledging 'You need to know where 31 is.'"
Jairus Byrd's uniform number is becoming fashionable in Buffalo, and you can already project his jerseys will be popular Christmas gifts.
Buffalo storylines this season have been dominated by
Terrell Owens
' lack of production, disgust over Jauron's continued employment,
Marshawn Lynch
's suspension, two invasions of players' homes, myriad injuries and game-losing fumbles in the final minutes.
Jairus Byrd has given Bills fans a reason to cheer.
"Everything's gone so fast," he said. "I haven't really had the chance think about where I am, what's going on. I try not to focus on that. It's just getting wins and helping the team."
Injuries to safeties
Donte Whitner
and
Bryan Scott
gave him his opportunity to start. When Whitner and Scott both are healthy, it's impossible to imagine the Bills removing Jairus Byrd from the lineup.
He's the first rookie to record five interceptions in a month since Bears safety Mark Carrier in December 1990 and the first rookie with two interceptions in consecutive games since
Dallas Cowboys
cornerback Everson Walls in 1981.
With nine regular-season games to play, Jairus Byrd is three interceptions away from Buffalo's rookie interceptions record (Archie Matsos) and halfway to its overall season record (Billy Atkins, Tom Janik). And he's already within two interceptions of matching his father's best season.
"I'm always trying to compete with him," Jairus Byrd said. "I tell him I'm going to get him."
When informed how close Jairus was to matching him, Gill groaned in near-defeat, "Aw, man."
Few expected Jairus Byrd to make such an immediate impact when the Bills drafted him in the second round out of Oregon. He missed minicamp because of Oregon's quarterly academic schedule. He missed much of training camp while recovering from sports hernia surgery and didn't sign his contract until the end of July.
"They got a first-round talent," Williams said, conceding that his fondness for Jairus might hurt the credibility of his assessment. "The only reason maybe he didn't go in the first round is he's not a blazer as it relates to his 40 time."
Jairus Byrd has phenomenal instincts when it comes to coming up with the ball. He never has had fewer than five interceptions in a season, leaving Oregon a year early with 17 of them. He led or tied for the Pac-10 lead in interceptions his sophomore and junior seasons. He also forced two fumbles and recovered four.
Ask him to explain how he keeps coming up with the ball, and he laughs. Then he delivers a pat answer about how his teammates deserve all the credit. You can sense he has been asked the question so frequently, but he's unable to put his knack into words.
"The guys have done a nice job of getting him ready," said Jauron, himself a Pro Bowl safety for the
Detroit Lions
. "But nobody's making those plays except Jairus. ... He's got qualities -- and a lot of them."
| | |
| --- | --- |
| | |
| | Doug Benc/Getty Images |
| | Former Chargers cornerback Gill Byrd is passing all his knowledge onto his son, Jairus. |
Williams can explain the secret to Jairus Byrd's intrinsic homing skills because Williams learned it from Gill Byrd nearly two decades ago.
Bills teammates claim Jairus Byrd demonstrates advanced football maturity, and it's easy to see why. He's a superb case study in determining whether nature or nurture determines a man's potential.
Yes, he has the bloodlines. Gill Byrd played 10 seasons for the Chargers and is in their Hall of Fame.
Perhaps more importantly, Jairus Byrd's nest was the NFL locker room. His father worked in the
Green Bay Packers
front office and has been an assistant coach for the
St. Louis Rams
and Bears. Gill also credited the "discipline and encouragement" from Jairus' mother, Marilyn, and the drive to compete with Gill Byrd II, the older son by two years who became a star defensive back at New Mexico State.
But it was in St. Louis where Williams took Jairus Byrd, then a high school student, under his wing. The two became so close that Jairus Byrd still calls him Uncle Aeneas.
"It wouldn't just be running and talking football," Gill Byrd said. "It'd be talking life. It'd be talking about what it takes to be a man of God, life lessons. On top of that, he learned football and techniques from one of the best."
Williams' involvement has been critical to Jairus Byrd's development because the rookie has no distinct memories of his father playing and never has seen a frame of game tape. He turned six during his father's final season. Old-school programming on the NFL Network or ESPN Classic haven't presented a glimpse.
The only footage Jairus Byrd has seen of Gill in action was grainy practice film somebody burned onto a DVD for a joke.
Williams' tutelage meant "having someone he did watch play and look up to show him 'Yes, this is what it's all about,'" Gill Byrd said. "As with any child, you need multiple voices to deliver the same message to get things across. That old saying, 'It takes a village to raise a child,' I think it's appropriate even in the athletic arena."
Williams simply is returning the love Gill Byrd showed him for years. Long before Gill Byrd joined the Rams' coaching staff, he'd been teaching Williams everything he knew.
Williams emerged from Southern University in 1991 hungry for information that could give him an edge. He sought out top defensive backs because he wanted to soak in their insight. He flew to Houston to meet Ken Houston, tracked down Michael Haynes and reached out to Gill Byrd.
For the next few summers, Gill Byrd and Williams worked out in San Diego. Soon after they met, Gill imparted some words that changed the way Williams played the game and sent him on his way to a career highlighted by 55 interceptions, 23 fumble recoveries and 12 defensive touchdowns.
Williams called it "that little, subtle change" in his attitude, and he's sure Gill ingrained it in Jairus, too.
"Most defensive backs play with a philosophy of 'I can't get beat,' or 'Nobody can beat me,' " Williams said. "Gill made me understand, no, my philosophy has to be 'They have to beat me,' which sounds like just words, but for me it really catapulted me to another level of understanding.
"Just think of all the defensive backs you see in a game that are right next to the receiver but never turn back to look for the ball. It's because all that guy's life he's been told 'Don't get beat.' "
A thirst for knowledge has splashed Jairus Byrd. He still texts Williams in search of any tip he can get on certain receivers (Williams shared one of
Randy Moss
' big tells) and will wheedle advice from the legends who hang around One Bills Drive. Hall of Fame running back Thurman Thomas already is a big fan.
"I try to absorb everything I can," Jairus Byrd said. "My father taught me how to be a pro in life, how to be man. He's always told me to be slow to speak and quick to hear. That's pretty much the biggest thing I learned from him."
Some might look at Jairus Byrd's interceptions and flick a dismissive wrist. He has been feasting on bad quarterback play --
Derek Anderson
,
Mark Sanchez
,
Jake Delhomme
. Passes have been overthrown. Balls are bouncing off receivers' hands and right to him.
Skeptics would say Jairus Byrd is a lucky duck.
"Is it luck when you study your opponent and know their tendencies?" Gill Byrd asked. "Is it luck when you play hard and hustle? Is it luck when you find the ball, track the ball and have nothing else in sight? Is it luck when you have the hand-eye coordination to catch the ball?
"I would say it's a lot of hard work, a lot of dedication. Not too many guys get lucky that often."
Or so quickly.
October, 6, 2009
10/06/09
11:00
AM ET
»
NFC Stock Watch
:
East
|
West
|
North
|
South
»
AFC
:
East
|
West
|
North
|
South

Posted by ESPN.com's Tim Graham
Falling
1. Trent Edwards, Bills QB:
The third-year quarterback was terrible in a 38-10 loss to the Dolphins, and it looks like the pressures surrounding the foundering organization -- a head coach headed to the gallows, a coordinator already axed, questionable personnel moves, offensive futility -- are consuming him.
Edwards threw three interceptions. Rookie cornerback
Vontae Davis
was laughing about the telegraphed throw he returned for a touchdown. Edwards was sacked six times. He completed three passes to
Terrell Owens
, giving them eight measly connections this year.
2. Mark Sanchez, Jets QB:
The rookie quarterback was the weak link Sunday against the Saints. His mistakes were the main reason the Jets lost their first game. Two of his turnovers were pounced on for touchdowns in a 14-point game.
Sanchez completed 14 of 27 passes for 138 yards and no touchdowns. He threw three interceptions. Saints safety
Darren Sharper
took one 99 yards for a touchdown. On Sharper's return, Sanchez made a juvenile decision to take out Saints linebacker
Jonathan Vilma
at the knees. Sanchez also lost a fumble the Saints recovered in the end zone for a touchdown.
3. Joey Galloway, Patriots WR:
Head coach Bill Belichick declined to explain why Galloway was a healthy scratch from Sunday's victory over the Ravens, but it doesn't take a master sleuth to figure it out.
Galloway essentially has been useless in the Patriots' offense. The 15-year veteran seems lost and unable to grasp the playbook for whatever reason. In his three games,
Tom Brady
has targeted him 19 times, but they've completed just six passes for 49 yards.
Rising
1. Cameron Wake, Dolphins LB:
The Canadian Football League phenom finally performed for Dolfans, who had forgotten what all the fuss was about when their team signed him in January. Loyalists were excited to learn Wake recorded 39 sacks in two seasons with the BC Lions, but they didn't see any evidence of that in four preseason exhibitions. Wake was inactive for the first two regular-season games.
In his second NFL game, Wake recorded three sacks against a Bills offensive line that was thoroughly outclassed because it has been trimmed to the bone by front-office decisions and injuries. But those are NFL players Wake competed against. Only three Dolphins had more sacks all of last year.
2. Sammy Morris, Patriots RB:
Some observers wondered if Morris would be cut at the end of training camp. The Patriots added free agent
Fred Taylor
to a backfield that included
Laurence Maroney
,
Kevin Faulk
and
BenJarvus Green-Ellis
.
Morris stuck around and has been involved. He's even getting snaps at fullback. Morris leads all Patriots running backs in receiving yardage with 95 on nine catches. In Sunday's triumph over the Ravens, he had a 12-yard touchdown run.
3. Chad Henne, Dolphins QB:
The second-year pro became only the fifth quarterback to win his first Dolphins start in the post-Dan Marino era. That might not sound too remarkable, but when you consider he was the 13th to start since Marino retired in 2000, it's an achievement.
Henne, pressed into service because
Chad Pennington
is done for the year, submitted a managerial performance that would make his mentor proud. Henne completed 12 of 22 passes for 115 yards and one touchdown with no interceptions against the Bills. Not dazzling, by any means. But good enough to help the Dolphins win their first game of the year.
AFC EAST SCOREBOARD
Sunday, 11/30
Monday, 12/1