March, 5, 2014
Mar 5
9:50
PM ET
Addressing cornerback depth before the start of free agency, the
New York Jets
re-signed backups
Ellis Lankster
and
Darrin Walls
, the team announced Wednesday night. Lankster was slated to become an unrestricted free agent, Walls a restricted free agent.
Lankster
Walls
The moves came on the same day in which they acquired cornerback
Johnny Patrick
on waivers from the
San Diego Chargers
. It means they have six experienced corners under contract, although the future of the No. 1 corner --
Antonio Cromartie
-- remains cloudy because of a $15 million cap charge.
Lankster is an underrated signing. In fact, he was ranked No. 6 on our list of the team's 16 unrestricted free agents. He didn't play much cornerback last season (only 29 snaps), but he was a core special teamer, finishing second on the team with 20 tackles. The Jets were concerned that he'd draw interest on the open market, so they made a preemptive strike.
Walls is coming off a weird year. He played a fair amount of football (three starts and a total of 289 snaps), starting opposite Cromartie whenever rookie
Dee Milliner
was in the doghouse. But when Milliner was in the lineup, Walls was the forgotten man. The Jets rarely used more than three corners in any package, so it turned into an all-or-nothing situation for Walls, who finished with no interceptions and four pass breakups.
Rex Ryan has plenty of bodies at corner, but he'll have a gaping hole if they cut Cromartie. Aside from Milliner, none of the others are starting-caliber players.
October, 3, 2013
10/03/13
6:58
PM ET
FLORHAM PARK, N.J. -- Rookie cornerback
Dee Milliner
did not practice again with his hamstring injury, and as far as playing on Monday in Atlanta,
New York Jets
coach Rex Ryan suggested the writing was on the wall.
"Not if he's not going to practice," Ryan said. "We'll see where he is tomorrow."
Milliner
The Jets have an extra day to get players ready for the game, given that they play Monday night. Did Milliner, who missed last Sunday's game in Tennessee, have a setback of some kind in his rehab?
"I don't think so, it's just that he never practiced," Ryan said.
Last week, the Jets played
Darrin Walls
in place of Milliner, and Walls struggled -- as Milliner had in Week 2 against the Patriots. During the Patriots game, Milliner was benched, but it doesn't look as though the Jets have found a permanent replacement. Still, Ryan said Walls would go if Milliner couldn't.
"We'll play our guys," Ryan said. "Darrin has accounted for himself very well up until (parts of last game). They made a few plays on him. They're going to make plays on anybody in this league. He's played well, particularly up until this last game."
Walls (shoulder) was in a red no-contact jersey Thursday.
Here's the rest of the injury report:
NEW YORK JETS
Did not practice:
T
Oday Aboushi
(knee), WR
Stephen Hill
(concussion), WR
Santonio Holmes
(foot, hamstring), RB
Chris Ivory
(hamstring), CB Dee Milliner (hamstring), TE
Kellen Winslow
(knee).
Limited:
WR
Clyde Gates
(knee), CB Darrin Walls (shoulder).
Full participation:
S
Antonio Allen
(finger), G
Willie Colon
(elbow), LB
Quinton Coples
(ankle), CB
Antonio Cromartie
(hip), DT
Kenrick Ellis
(back), LB
Garrett McIntyre
(shoulder), DT
Sheldon Richardson
(shoulder), QB
Geno Smith
(ankle).
ATLANTA FALCONS
Out:
T
Sam Baker
(knee), LB
Akeem Dent
(ankle)
Did not participate in practice:
RB
Steven Jackson
(hamstring), CB
Asante Samuel
(thigh), LB
Paul Worrilow
(knee).
Limited:
DT
Jonathan Babineaux
(foot), WR
Julio Jones
(knee), WR
Roddy White
(ankle).
Full participation:
WR
Drew Davis
(ankle).
September, 30, 2013
9/30/13
12:50
PM ET
Four hot issues that emerged from the New York Jets' 38-13 loss to the
Tennessee Titans
:
[+] Enlarge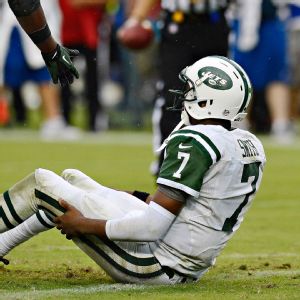 AP Photo/Mark ZaleskiDespite their 2-2 record, the Jets and quarterback Geno Smith are performing unevenly.
Who are these guys?
The Jets finished the first quarter of the season at 2-2, demonstrating many of the qualities we expected from this group -- a defense-minded team with a mistake-prone rookie at quarterback. For the most part, they've been terrific on defense, especially at the line of scrimmage. Other times, such as Sunday in Nashville, they've suffered from shaky coverage on the back end. Offensively, they've been what we expected for 12 out of 16 quarters -- a struggling unit. They were prolific against the
Buffalo Bills
, but was that a mirage? Sure looks like it. The lack of discipline (44 penalties) is uncharacteristic and alarming.
Help the kid:
Smith will remain the starter for the time being, so it's up to offensive coordinator Marty Mornhinweg to figure out a way to help him. On Sunday, he should've leaned more on the running game instead airing it out.
Bilal Powell
averaged 5.7 yards per carry in the first half, gashing the Titans on some first-down runs, but he carried it only three times in the third quarter, when it still was a game. Look, I'm not going to rip Mornhinweg for being aggressive -- a week ago, he was hailed for his attacking mentality -- but he should dial it back a little when Smith slips into one of his funks. He already has eight interceptions, a season's worth for some quarterbacks. It makes sense to feature the run against the
Atlanta Falcons
, considering wide receivers
Santonio Holmes
(hamstring) and
Stephen Hill
(concussion) are banged up and running back
Mike Goodson
is returning from a four-game suspension.
Cornerback issues:
For three-plus years, Rex Ryan enjoyed the benefit of having two excellent cornerbacks,
Darrelle Revis
and
Antonio Cromartie
. He never had to worry about bad matchups on the outside. Now that Revis is gone, Ryan is experiencing what most coaches go through.
Darrin Walls
became the third player to start at right corner, following
Dee Milliner
and
Kyle Wilson
. The once-formidable secondary doesn't scare anyone anymore. The run-oriented Titans compiled a 129.8 passer rating, beating Cromartie twice for touchdowns and Walls once. I'm not second-guessing the Revis trade, but you can certainly criticize the Jets' post-Revis plan, as Milliner was struggling before he got hurt.
Self-inflicted wounds:
The numbers are damning -- 12 giveaways and 44 penalties. Let's simplify: That's 56 bad things in four games. If you throw in the 14 sacks allowed, it's 70 bad things. It's hard to win football games at that rate. That they have only two takeaways, meaning a minus-10 turnover margin, compounds the issue. It has to get better or else the Jets will be out of the race by Halloween, especially with a tough October schedule. Ryan's team is leaking oil in a lot of places, and it's too late for a full-service oil change.
September, 29, 2013
9/29/13
11:26
PM ET
NASHVILLE -- Can we please postpone the coronation of the
New York Jets
' defense?
Full of confidence after last week's eight-sack beat down of the
Buffalo Bills
, the Jets were sliced and diced by
Jake Locker
and
Ryan Fitzpatrick
, who combined for four touchdown passes in the
Tennessee Titans
' 38-13
victory
at LP Field.
The final indignity occurred with 7:06 remaining in the fourth quarter, when cornerback
Antonio Cromartie
,
Nate Washington
and back judge Billy Smith collided on a 77-yard touchdown pass -- another Jets blooper.
Cromartie said he asked the official, "What the hell are you doing back here?" He said Smith apologized.
[+] Enlarge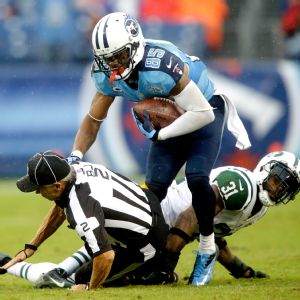 P Photo/Wade PayneJets cornerback Antonio Cromartie, back judge Billy Smith and Titans receiver Nate Washington collide. The result was a 77-yard score for Washington.
That pretty much captured the disastrous day for the Jets.
Truth is, Cromartie was beaten cleanly by Washington, who had to slow down because Fitzpatrick's throw hung in the air like a punt. Once Washington made the catch, the collision occurred with Cromartie and Smith.
"No, he didn't interfere with the play," Cromartie said. "That's on me fully. Me being the number one corner on this team, I need to make sure that I go up and intercept that ball or bat it down."
It was a tough day for the Jets' corners. Earlier, Cromartie slipped on the wet grass and allowed a 4-yard scoring pass to Washington.
Darrin Walls
, who started in the
Dee Milliner
-
Kyle Wilson
slot, allowed a 16-yard touchdown pass to rookie receiver
Justin Hunter
. It was a terrific catch by Hunter, but Walls could've played it better. The Titans use Hunter almost exclusively in the red zone, so it shouldn't have been a surprise that he got the ball -- especially in the final seconds of the first half.
"That's a killer," Rex Ryan said. "There's only one play they can run and that's the shot in the end zone. You know it's coming and everybody in the ballpark knows it's coming. The only time they put that kid in the game is to throw the jump ball, and there's a reason he came down with it."
The cornerback spot opposite Cromartie has turned into musical chairs. Walls started for Kyle Wilson, who last week started for Milliner, the struggling rookie who pulled a hamstring in practice. Ryan is running out of competent corners and, frankly, Cromartie was off his game as well.
Give credit to the Titans; they had a masterful game plan. Recognizing the Jets were focusing on running back
Chris Johnson
, the Titans put the ball in Locker's hands, letting him throw from the pocket. That's what the Jets wanted, but they got more than they expected from Locker, who completed 18 of 24 passes for 149 yards and three touchdowns. The Jets underestimated Locker, not known for his passing exploits.
"Maybe that's why it surprised us," rookie defensive tackle
Sheldon Richardson
said.
The Jets were held to two sacks and produced no takeaways for the third straight game. That's simply not acceptable. By the way, the Titans have yet to commit a turnover. In fairness to the defense, it had to play on a short field throughout the game because of
Geno Smith
's turnovers. The Titans' first three touchdown drives were 18, 26 and 46 yards.
No matter. Linebacker
David Harris
was visibly irked by the performance.
"Just say we lost," he said. "We got our butts kicked by a better team today. Simple as that."
Asked if the Titans might simply be a better team, Harris snapped, "We lost. Did you see the score?"
September, 29, 2013
9/29/13
3:05
PM ET
NASHVILLE -- As expected, rookie cornerback
Dee Milliner
and running back
Chris Ivory
-- both with injured hamstrings -- were among the
New York Jets
' inactive players Sunday against the
Tennessee Titans
.
The Jets announced before the game that
Darrin Walls
will start at cornerback, opposite
Antonio Cromartie
. This doesn't come as a huge surprise, but it doesn't reflect well on
Kyle Wilson
, who started last week for the demoted Milliner. Wilson might have lost the job because of his ill-timed implosion in the fourth quarter, when he lost his poise and committed a penalty on four straight plays.
Wilson is expected to play in the nickel package.
Without Ivory, the Jets went into the game with only three running backs --
Bilal Powell
,
Alex Green
and rookie fullback
Tommy Bohanon
, who is capable of playing tailback in a pinch. The team didn't immediately announce who will replace Milliner, who was used as a nickel back last week after being demoted in the previous game.
The Jets' other inactives are quarterback
Brady Quinn
, guard Will Campbell, tackle
Oday Aboushi
, tackle
Ben Ijalana
and linebacker
Ricky Sapp
.
For the Titans, receiver
Kenny Britt
, the former Rutgers standout, is inactive. He's suffering from a rib injury. He also has fallen out of favor with the coaching staff and, according to ESPN Insider Adam Schefter, is on the trading block.
The Titans' other inactives are former Jets running back
Shonn Greene
, linebacker
Patrick Bailey
, center
Brian Schwenke
, tackle
Byron Stingily
, defensive tackle Sammie Hill and defensive end
Lavar Edwards
.
September, 26, 2013
9/26/13
5:22
PM ET
FLORHAM PARK, N.J. --
New York Jets
defensive coordinator Dennis Thurman offered a piece of advice to cornerback
Kyle Wilson
, who was slapped with four consecutive penalties last Sunday because he let a wide receiver get into his head:
Don't get mad, get even.
Wilson
"The football gods will allow you to get even with a guy, especially if he's wronged," Thurman said Thursday. "It may not happen in that game, it may not happen the next time you play him. But as some point along the line, you'll get a chance -- with a fair, clean hit -- you'll get an opportunity to get him back. You have to wait and be patient.
"Trust me, when guys have been wronged on the football field by someone ... ask anyone if they got a chance to get revenge. They'll tell you yes. It happens that way. That's the way it's supposed to happen."
This stems from a wild sequence in the fourth quarter of the Jets' win against the
Buffalo Bills
, when Wilson was flagged on four straight plays. He got into it with
Stevie Johnson
and came unraveled with an embarrassing display of behavior. Wilson apparently felt he was wronged by Johnson, complaining to an official about Johnson's tactics. That didn't help.
Wilson was penalized for holding (Johnson), illegal contact (Johnson), unsportsmanlike conduct (he shoved Bills center
Eric Wood
) and a personal foul for unnecessary roughness (Johnson). Johnson was called for taunting after the first penalty. Wilson was pulled from the game, but returned on the next series.
"It happens, it's not that big a deal," Thurman said. "It's a teaching moment."
But Thurman didn't disagree with the premise that Wilson, in his fourth season, should know better. His loss of poise allowed the Bills to score a game-tying touchdown. Wilson was penalized more times in 28 seconds than most players get flagged in a season.
Wilson has avoided this media this week during interview periods. His meltdown could have an impact on his playing time. Wilson started last week for demoted rookie
Dee Milliner
, but he probably won't start Sunday against the
Tennessee Titans
. That assignment probably will go to
Darrin Walls
, with Wilson playing the nickel, according to Rex Ryan.
Ryan probably will be forced to shuffle his lineup because Milliner injured a hamstring Wednesday in practice and isn't expected to play.
We'll find out Nov. 17 if the football gods are sympathetic to Wilson. That's when they play the Bills again.
September, 13, 2013
9/13/13
2:40
AM ET
FOXBOROUGH, Mass. -- Rookie cornerback
Dee Milliner
, the ninth pick in April's draft, was benched at halftime of the
New York Jets
' 13-10 loss to the
New England Patriots
on Thursday night at Gillette Stadium. And this was on a night on which
Tom Brady
was human; imagine if he was actually hit.
Milliner
Jets coach Rex Ryan was upset with Milliner because he made a couple mental mistakes and was beaten on an apparent 25-yard touchdown pass to
Kenbrell Thompkins
-- a play that was reversed because the ball touched the ground.
"The young man is going to be a tremendous player, there's no doubt, but I said to him, 'I want you to watch on the sideline,'" Ryan said. "Sometimes when you do that, it's the best thing for you. ... I'm trying to win a game and put in who I think has the best chance to win it. The young man, he's going to be a great player. But at that time, I went with the veteran."
Kyle Wilson
and
Darrin Walls
split the duties at Milliner's spot.
This has been a shaky start for Milliner, the former Alabama standout. In the opener, he allowed a touchdown to Tampa Bay's
Mike Williams
. Milliner missed two preseason games because of a strained Achilles tendon.
Milliner took the benching in stride.
"I was fine with it," he said. "It was a coaching decision. I'll always back him up on any decisions he makes. He just felt like he needed to pull me out and watch."
Milliner said he made "simple mistakes" -- with costly ramifications.
August, 9, 2013
8/09/13
10:54
PM ET
DETROIT -- The
New York Jets
opened the preseason Friday night with
a 26-17 loss
to the
Detroit Lions
at Ford Field. Despite a killer interception,
Mark Sanchez
won the night over
Geno Smith
in the ballyhooed quarterback competition. Smith left in the third quarter after rolling his ankle. It doesn't appear serious, but he can't afford to miss any practice time.
What it means
: As it stands now, Sanchez will be the opening-day starter. He gave as many points to the Lions as he produced for the Jets -- seven -- but he showed greater command than Smith, who delivered a nondescript performance in his NFL debut. Smith is doomed if he misses any practice time; it's almost impossible for a rookie to play catch-up in training camp.


Sanchez's night:
It was the worst possible start for Sanchez, who threw a pick-six on the Jets' first series. Under pressure on a screen pass, he didn't put enough air under the pass and it was intercepted by rookie defensive end
Ziggy Ansah
, who returned it 14 yards for a touchdown. Sanchez has a maddening tendency to turn a safe pass into a calamity. In fact, he almost had another screen intercepted.
To Sanchez's credit, he responded to the disastrous start to finish 10-for-13 for 125 yards with a 26-yard touchdown pass to a wide-open
Jeff Cumberland
. It culminated a seven-play, 80-yard drive, much of which came in the hurry-up offense. It was typical Sanchez -- some good, some ugly. Some things don't change.
Geno's night
: Unlike Sanchez, Smith didn't make any horrible mistakes, but he also didn't bring any spark to the offense. The former West Virginia star, who got two series behind the starting offensive line, generated only one first down on his first three drives -- a 15-yard pass to
Clyde Gates
on his first play. Simply put, Smith didn't look ready to take over the team. He finished 6-for-7 for 47 yards. Smith came out on the first series of the third quarter, when he turned his right ankle on an open-field scramble.
Greg McElroy
came in and did a nice job against the Lions' third-stringers, going 11-for-19 for 145 yards and an 11-yard TD pass to
Zach Rogers
.
Big-play tight ends
:
Dustin Keller
is gone, but Cumberland and
Kellen Winslow
displayed playmaking ability. Winslow made a nice catch and run for 24 yards. Cumberland scored his touchdown on a deep seam, showing his ability to get vertical. It's too soon to say the Jets have two weapons at tight end, but it was a good start.
Another injured running back
:
John Griffin
was carted off with a lower-leg injury. It didn't look good. Already down
Chris Ivory
,
Mike Goodson
and
Joe McKnight
, the Jets can't afford another injury in the backfield. Ivory (hamstring) is expected to return Sunday.
New-look defense
: The Jets opened with seven new starters in the post-
Darrelle Revis
era. All things considered, the defense held up fairly well. Most of the starters played most of the first half, an unusually long stint for the first game, and allowed 10 points. Cornerback
Darrin Walls
, an early substitution for starter
Antonio Cromartie
, got beat on a 15-yard scoring pass. One player who jumped out was nose tackle
Kenrick Ellis
, who deflected a pass and held the point of attack. Safety
Dawan Landry
got beat once in coverage. Keep in mind that Lions quarterback
Matthew Stafford
played only two series.
The rookies:
It was a so-so debut for top pick
Dee Milliner
, who started at corner in the base defense. He didn't have to cover all-world receiver
Calvin Johnson
-- Cromartie drew that assignment -- so that made life easier for Milliner. He had a nice pass breakup in the end zone, but he missed an open-field tackle and allowed a 27-yard reception. Milliner gets some slack, though, because he missed a lot of time and is rusty. It was a relatively quiet night for defensive tackle
Sheldon Richardson
.
The Q report:
Former first-round pick
Quinton Coples
, making the transition to outside linebacker, flashed good and bad on his first two plays. He deflected a pass on an outside rush, but he failed to set the edge on an outside run by
Reggie Bush
. Coples didn't move well in space. This will be an interesting position change.
What's ahead
: The Jets return to Cortland, for four days of practice. They break camp Thursday and return to Florham Park, N.Y., where they will prepare for next Saturday's game against the
Jacksonville Jaguars
.