July, 31, 2010
7/31/10
12:19
PM ET
We'll see what sort of drama the
New York Jets
provide for us when they open training camp Monday.
A
Darrelle Revis
holdout perhaps?
So far, the rest of the AFC East is 3 for 3 with personnel uncertainties.
The
Buffalo Bills
don't know whether two-time Pro Bowl pass-rusher
Aaron Schobel
will retire or return. I
gave my take on that situation Friday night
.
Miami Dolphins
quarterback
Pat White
was a mysterious no-show Friday and the
subject of season-ending reports until arriving Saturday morning
.
And the
New England Patriots
have two players who surprised them with retirement talk.
Outside linebacker
Derrick Burgess
hasn't reported to camp and is said to be contemplating retirement. Then wide receiver
David Patten
went ahead and made his official.
Patten announced Saturday morning that he was done playing.
"I honestly felt like I could still play this game and play at a high level," Patten said. "I felt the competitive spirit and nature was still there, but over the course of the last two days and over the course of the break [before training camp] away from the team, there was a lot of reflection. There was a lot of contemplation.
"I just felt like it was time. It just hit me [Friday]. Camp was going really well. I was still able to go out and be competitive and operate at a high level, but I believe once you get to the point in your career where it's multiple years -- it would be my 13th year -- and you're thinking about it mentally and you're not 100 percent into it mentally wise, it's tough to play this game. I always felt like when I got to that that point, it would be in my best interests to walk away."
Hear that, Schobel?
June, 17, 2010
6/17/10
1:00
PM ET
»
NFC On the Radar
:
East
|
West
|
North
|
South
»
AFC
:
East
|
West
|
North
|
South
A player, coach or issue that should be on your radar as training camp approaches.
New England Patriots
rookie receiver
Taylor Price
has made a big impression on minicamp observers this week at Gillette Stadium.
[+] Enlarge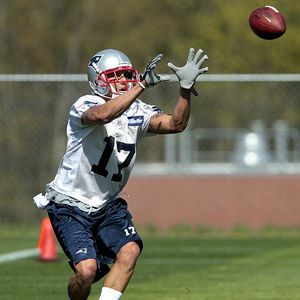 AP Photo/Elise AmendolaRookie Taylor Price is making a name for himself during workouts with the Patriots.
Price, the 90th overall draft selection from Ohio University, was unable to participate in team practices because of an NFL rule that prevents a rookie from reporting as long as his college remains in session. That generally affects schools that use the quarters system, and Ohio happens to be one.
Price was allowed to participate in rookie camp, but had to stay away for organized team activities. Patriots coach Bill Belichick said Price had some ground to make up on the rest of the rookies.
But by all accounts Price has looked sharp
. ESPNBoston.com's Mike Reiss noted quarterback
Tom Brady
seems to have taken a shine to Price.
"It's a good start, but I have a long way to go," Price said. "There is nothing easy to learn out here. I don't know as much as I should know yet, but I'm getting to that point. I'm just learning gradually every day."
Price had 56 receptions for 784 yards and five touchdowns last year for Ohio head coach Frank Solich, the former Nebraska head coach known for his run-dominant offenses.
"He has good hands," Belichick said when the Patriots drafted Price. "He can catch the ball. He's big. He's fast. He can run a variety of routes. ... I think if he had been in a different offense and a more productive offense, he would have had more production."
Maybe it's too soon to think of Price making an impact this year. We know where
Randy Moss
and
Wes Welker
(when healthy) will line up. Beyond that, the Patriots have a few receivers to sort through, including veterans
Torry Holt
and
David Patten
and sophomore
Brandon Tate
.
Then again, backup slot receiver
Julian Edelman
contributed right away despite being drafted in the seventh round out of Kent State, where he played quarterback -- proof that a rookie with a steep learning curve can come out of the Mid-American Conference and impress Belichick enough to get on the field.
May, 10, 2010
5/10/10
4:35
AM ET
Peter King scored a rare and insightful offseason interview with
New England Patriots
quarterback
Tom Brady
to lead off "Monday Morning Quarterback" at SI.com.
Brady
Brady came off as contemplative but unapologetic
in discussing how family is pulling him away from the Patriots' offseason program more than before.
Brady, who will turn 33 in August, has been a sporadic participant in the Patriots' conditioning program thus far, choosing to spend more time with his two sons. Jack, whom Brady had with actress Bridget Moynihan, is 2. Benjamin, whom Brady had with wife, Gisele Bundchen, is five months.
"It's a balancing act,'' Brady told King. "I don't want the next 10 years to go by and to say I wasn't there for my sons. I wish I could be there [at Gillette Stadium over the offseason] the way I was when I was 24, but life is different now.''
Brady admitted that not being around as much isn't ideal for team development.
"I'm not going to have the same relationship with the guys as if I was there every day,'' Brady said. "I hope they can understand. I've seen it handled different ways by a lot of guys on the team in the past, including some of the real leaders. I've seen Willie McGinest and Rodney Harrison when their family lives turned in different directions and they couldn't be in the offseason program every day. Ultimately, what it comes down to is this: We've all got to be ready to play.''
Brady touched on a variety of topics, but the most interesting quote to me was his take on whether the Patriots were a team on the rise or on the decline. They won the AFC East last year, but an embarrassing home loss to the
Baltimore Ravens
in the first round ended the Patriots' campaign with a resounding thud.
"Our fans think just because we're wearing the same jerseys, we're the same team. And we're not,'' Brady said. "Teams change in this league every year, and ours is no exception. Last year was pretty disappointing in a lot of ways, obviously. Losing to Baltimore the way we lost in the playoffs, losing leads late, losing on the road. Every year is so different, and the way we approach this year will be extremely important. We need to see the toughness. We need to see the commitment. Can we take the coaching?''
He said he has been throwing passes to
Wes Welker
, but King said he declined to reveal any details about how Welker is recovering from surgeries to reattach his left knee and to mend a rotator cuff.
Brady also told King he's high on young receivers
Julian Edelman
and
Brandon Tate
and liked the signing of old friend
David Patten
.
As for the
New York Jets
' offseason, here's what Brady had to say:
"They're always a team that gives us problems, and they've sure made a lot of changes this offseason. When your archrivals do as much as they've done, you've got to pay attention. They went to the conference championship game. They've got a great defense. They can run the ball as well as anyone, and they've got a great young quarterback who can make a lot of plays. Our whole division's improved. To win the division, we'll really have to earn it this year.''
April, 20, 2010
4/20/10
2:57
PM ET
The
New England Patriots
have two receivers who rank within the top 11 in career receptions after signing free agent
Torry Holt
to a one-year contract Tuesday.

Holt
The Patriots added depth to a position they failed to bolster last year by trading for
Greg Lewis
and signing
Joey Galloway
. Neither worked out. The Patriots cut Lewis at the end of training camp and cut Galloway after six games.
Adding help at receiver is even more critical for New England this summer with
Wes Welker
rehabbing from reconstructive knee surgery. The Patriots previously signed old friend
David Patten
. Sophomores
Julian Edelman
and
Brandon Tate
also will need to step into greater roles.
Holt, who will turn 34 years old in June, has more left in the tank than Galloway did. Holt caught 51 passes for 722 yards for the
Jacksonville Jaguars
. He didn't have a touchdown for the first time in his 11 seasons.
Holt has 920 receptions, six behind new teammate
Randy Moss
on the all-time list.
February, 26, 2010
2/26/10
5:58
PM ET
INDIANAPOLIS -- It was fitting that Nick Caserio, on the lookout for a remote place to speak with reporters Friday on the Lucas Oil Stadium concourse, gravitated to an ATM alcove.
The
New England Patriots
' player personnel director occasionally leaned on the cash machine while discussing
Vince Wilfork
's contract status, negotiations with unrestricted free agents and ramifications of an uncapped year.
Caserio didn't deliver much news, but he spoke at length about issues facing the Patriots. And you have to admire the man's ability to speak into a microphone for 20 minutes and not reveal anything.
He did say the Patriots will be operating within a self-imposed budget during an uncapped season. But who knows how fat that budget will be? The Patriots are one of the league's wealthier clubs.
"In terms of our process, we go through the same process this year as we did in years past," Caserio said. "We have a budget in place like we do every year. It doesn't really change for us in terms of what we do in terms of spending and player acquisition.
"As far as what the situation is moving forward, I mean, I don't have a crystal ball. You don't have a crystal ball. We're operating under the terms that we have in place and that haven't really changed all that much since I've been here."
For effect, Caserio could've whipped an ATM card from his back pocket, swiped it through the machine and got
Julius Peppers
' agent on the phone to ask how much the Patriots should withdraw. Unfortunately for the gathered reporters, Caserio declined to give us a story.
He also declined to give any meaningful updates on negotiations with Wilfork for a long-term deal, only saying "the communication has been good. It's been ongoing." He declined to put a timetable on when a contract might be finalized.
Caserio touched on
New England's other unrestricted free agents
and how much communication there's been from him or senior advisor Floyd Reese. Their UFA group most notably includes running back
Kevin Faulk
, outside linebackers
Tully Banta-Cain
and
Derrick Burgess
and cornerback
Leigh Bodden
.
"I think you have levels of communication with all your free agents," Caserio said. "You are at different stages. Obviously, all the agents are here [at the combine]. So I would say there is continuous communication amongst all parties. Obviously once we get into free agency [March 5], it goes a little bit further."
On the recent re-signing
of receiver
David Patten
, Caserio said the Patriots aren't living in the past.
"David has been great for us," Caserio said. "He's great off the field. He has an unquestionable work ethic. So we want competitive, tough-minded, hungry football players looking for an opportunity, and I think David Patten kind of falls into that category.
"He has to come and earn his role on the team. Here is an opportunity for him, and whatever he makes of it, that's entirely up to him, but we're certainly happy to have him."
February, 24, 2010
2/24/10
2:17
PM ET
The
New England Patriots
are bringing back an old friend in hopes he can rekindle some magic.

Patten
David Patten
is on the Patriots' roster again.
This clearly is a kick-the-tires signing. The Patriots have needs at receiver. Maybe Patten has something left to contribute even though he'll turn 36 in August and has caught zero, 11, 54 and one passes over the past four years.
Patten played in the four seasons with New England that encompass their three championships. Patten scored the Patriots' lone offensive touchdown -- an 8-yard pass from
Tom Brady
-- to help them win Super Bowl XXXVI.
His career spiraled from there. He was with the
Washington Redskins
for two seasons, then the
New Orleans Saints
for two seasons. The
Cleveland Browns
cut him late in training camp last summer, and he didn't hook on with another club.
If Patten was any kind of answer for the Patriots' third-receiver needs, they would've brought him in at some point last year.