May, 9, 2010
5/09/10
10:58
AM ET
Miami Dolphins
Buffalo Bills
New England Patriots
New York Jets
March, 12, 2010
3/12/10
12:54
PM ET
With the loss of
Benjamin Watson
and
no tight ends who've played in an NFL game
on their roster, the
New England Patriots
have a crater at the position.
In a piece for ESPNBoston.com, Mike Reiss examines the void, pointing out the Patriots don't even have a tight ends coach on their roster.
Writes Reiss:
Consider that back in training camp, Bill Belichick called the competition between Watson, Chris Baker, Alex Smith and David Thomas the best in his 10 years as head coach. Now consider that none of those players are on the current roster.

How does that happen?

In retrospect, they swung and missed at every turn.
What's left for the Patriots are
Rob Myers
and
Robbie Agnone
, a pair of undrafted rookies from last year's practice squad.
The Patriots have held free-agent interviews with three-time Pro Bowler
Alge Crumpler
and
Daniel Fells
. The latter re-signed with the
St. Louis Rams
. Reiss takes a look at the rest of the unemployed, including
Randy McMichael
and
Reggie Kelly
and notes this year's draft class is deep at tight end.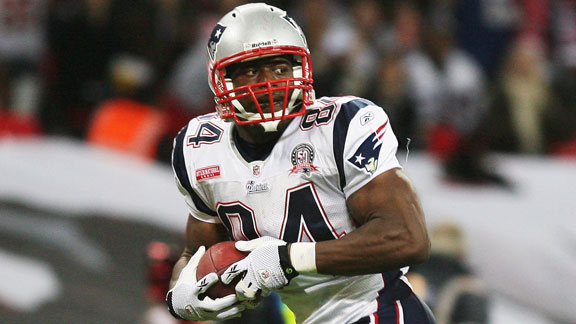 September, 5, 2009
9/05/09
8:16
PM ET

Posted by ESPN.com's Tim Graham

Biggest surprise:
The
New England Patriots
' most startling moves happened long before Saturday. They dropped backup quarterbacks
Kevin O'Connell
and
Andrew Walter
and said goodbye to linebacker
Tedy Bruschi
.

Still, there were some intriguing transactions before the 6 p.m. deadline.
Patriots coach Bill Belichick repeatedly stated the competition at tight end was the best he has seen. But he obviously wasn't satisfied with
Chris Baker
,
Benjamin Watson
,
David Thomas
Alex Smith
.
The Patriots acquired
Michael Matthews
from the
New York Giants
for an undisclosed draft pick and sent Thomas to the
New Orleans Saints
reportedly for a 2011 seventh-round pick. The Patriots released Smith.
Linebacker
Shawn Crable
was assigned to injured reserve a second straight year. The 78th overall draft choice in 2008 has yet to play an NFL game.
Of the youngsters dumped from the roster, the most notable was defensive lineman
Darryl Richard
, the last of a dozen players the Patriots drafted in April.
No-brainers:
The Patriots were forced to keep five running backs because second-year pro
BenJarvus Green-Ellis
had such a great preseason. Every time he has gotten an opportunity, he has produced. Veteran
Sammy Morris
was on the bubble, but was retained.
Undrafted rookie
Terrence Nunn
had a fine camp and preseason, finishing with eight catches for 133 yards. But there simply was no room on the depth chart for him.
What's next:
The most obvious opening on the Patriots' roster is at quarterback, and they need veteran support. The Patriots have only two,
Tom Brady
and undrafted rookie
Brian Hoyer
.
But the Patriots are never set any position. With Belichick running the show, there's never a time for players at the bottom of the 53-man roster to exhale. Belichick will examine every name on the waiver wire for players who can upgrade even the lowest spots on the depth chart. Expect more tweaking over the next few days.
September, 5, 2009
9/05/09
7:38
PM ET

Posted by ESPN.com's Tim Graham
The
New England Patriots
made a slew of roster moves Saturday. They pulled off two trades involving tight ends, put three players on injured reserve and waived 10 others.
New England acquired tight end
Michael Matthews
from the
New York Giants
for an undisclosed draft choice and dealt tight end
David Thomas
to the
New Orleans Saints
for an undisclosed pick.
The following players were put on IR:
These players were released:
May, 13, 2009
5/13/09
10:59
AM ET
Posted by ESPN.com's Tim Graham
New York Jets
Buffalo Bills
Miami Dolphins
New England Patriots
February, 28, 2009
2/28/09
8:25
PM ET
Posted by ESPN.com's Tim Graham
New England Patriots fans must have had two immediate, positive reactions when they learned their club on Saturday dealt Matt Cassel and Mike Vrabel to the Kansas City Chiefs:
A strong assurance that Tom Brady's surgically repaired left knee must be fine, or the Patriots wouldn't have made the trade.
Exhilaration over suddenly having about $19 million to spend in the early stages of the free-agency period.
Two of the ways they can spend it immediately are by signing more free agents or extending contracts of players already on their roster.
A lot of talent still is available on the open market. I hesitate to cobble together a list of the more prominent players still out there because it probably will be outdated within minutes.
Feel free to share your ideas of who you think the Patriots should sign. Enter those names in the comments section below.
Here are some of the Patriots who are entering the final year of their contracts:
February, 27, 2009
2/27/09
11:31
AM ET
If the
New England Patriots
can generate as much production from
Chris Baker
as he delivered two and three years ago, then he will outperform all of their other tight ends combined.
The Patriots are expected to announce Friday they have signed Baker, who spent his first seven NFL seasons with the
New York Jets
.
Baker's numbers faded last year for the Jets, who drafted
Dustin Keller
in the first round and signed veteran
Bubba Franks
. Baker finished with 21 catches for 194 yards and zero touchdowns.
But Baker's previous two seasons were much more effective. In 2007, he had 41 receptions for 409 yards and three touchdowns. In 2006, he had 31 catches for 300 yards and four touchdowns.
The Patriots have wanted more contributions from their tight ends for years.
Last year's duo,
Benjamin Watson
and
David Thomas
, combined for 31 receptions, 302 yards and two touchdowns. Also on New England's roster are
Tyson DeVree
and
Brad Listorti
, prospects with no NFL receptions.
The addition of Baker and running back
Fred Taylor
make an already remarkable Patriots offense even more versatile. Taylor adds depth to the backfield, while Baker could be the target they hoped when they drafted Watson 32nd overall in 2004.
Watson had fine seasons in 2005 and 2006, but he has a history of injuries.
November, 5, 2008
11/05/08
2:33
PM ET
Posted by ESPN.com's Tim Graham
The New England Patriots went into Lucas Oil Stadium on Sunday night and nearly beat the Indianapolis Colts.
Colts general manager Bill Polian, during his weekly interview show on Colts.com, noted two major areas of concern for the Patriots are the absence of running back Laurence Maroney and a hobbled secondary without captain Rodney Harrison.
"They miss Maroney, I think, a lot," Polian said. "Their running backs did a great job. [Kevin Faulk] did a terrific job, but I think they miss Maroney's explosiveness.

"I was really impressed with [quarterback Matt] Cassel. You're always impressed with the way they block on the offensive line and the design of their blocking schemes. They always do a great job with that and it was no different this time around.

"They're very beaten up in the defensive backfield, as are we. So in many respects it was two similar teams and because of that, the game was a different style than fans are used to seeing when these two teams meet. Nevertheless, it was very entertaining and a lot of good plays."
Patriots receiver Jabar Gaffney dropped a would-be touchdown pass and tight end David Thomas committed a silly late hit to put the Patriots out of field-goal range in the fourth quarter. The Colts won, 18-15.
November, 3, 2008
11/03/08
11:39
AM ET
Posted by ESPN.com's Tim Graham
New England Patriots
Buffalo Bills
Miami Dolphins
New York Jets
November, 2, 2008
11/02/08
11:27
PM ET
Posted by ESPN.com's Tim Graham


There's a three-way tie atop the AFC East. The last-place team is only one game back.
The New England Patriots failed to claim sole possession of first place Sunday night, losing to the Indianapolis Colts 18-15 in Lucas Oil Stadium. Ex-patriot Adam Vinatieri kicked a 52-yard field goal for the deciding points.
The Patriots played well enough defensively, but they had little zing on offense.
Matt Cassel completed 25-of-34 passes for 204 yards with no touchdowns and an interception. Kevin Faulk and undrafted rookie BenJarvus Green-Ellis combined for 117 rushing yards. Green-Ellis scored a touchdown to put the Patriots ahead 13-7 in the third quarter.
The Patriots didn't get Randy Moss involved until the second half. He finished with six catches for 65 yards, but 22 of those yards came on the last play of the game with the Patriots trying to run a desperation lateral play.
Patriots tight end David Thomas took them out of field-goal range with 4:45 to play, when he was called for unsportsmanlike conduct, blindside a Colts defender after the whistle. The ball was moved back to the Colts 46-yard line, and the Patriots eventually lost the ball on downs.
Next up for the Patriots are two divisional home games in a five-day span: the Buffalo Bills on Nov. 9 and the New York Jets on Nov. 14.
August, 4, 2008
8/04/08
7:48
AM ET
Posted by ESPN.com's Tim Graham
New England Patriots
Buffalo Bills
Miami Dolphins
New York Jets