January, 25, 2011
1/25/11
12:30
PM ET
Adalius Thomas
admitted "I almost get sick to my stomach" when he sees images of the play three years later.
One of the most magnificent highlights in NFL history was
David Tyree
's miraculous ball-on-helmet catch in Super Bowl XLII. The play, which began with a sack-defying
Eli Manning
scramble, propelled the
New York Giants
to the title and left the
New England Patriots
one game shy of an undefeated season.
ESPN.com has put together "
Inside a Moment in Time" to revisit Tyree's catch
. Patriots fans might feel as nauseous as Thomas when they check out the feature, but the feature is an impressive look back at history.
Editors and reporters began the process in June. They spoke with 12 players and one official involved in the play. It's broken into two photos, Manning's scramble and Tyree's catch.
Patriots defenders
Richard Seymour
,
Jarvis Green
,
Mike Vrabel
and Thomas recall what was going through their minds at the time of the first snapshot, as do Manning and Giants linemen
David Diehl
,
Kareem McKenzie
,
Rich Seubert
and
Shaun O'Hara
.
Patriots defensive backs
Rodney Harrison
and
James Sanders
and back judge Scott Helverson share their on-the-spot memories of Tyree's catch.
The package also includes:
January, 11, 2011
1/11/11
12:29
PM ET
Over a decade of dominance, we can look back on several pivotal New England Patriots moments and wonder "What if?"
What if Bill Belichick hadn't walked away
from the New York Jets? What if the Patriots hadn't taken a late-round flier on Tom Brady? What if Eli Manning hadn't spun his way out of traffic before throwing to David Tyree?
Then there's the Tuck Rule.
What if Brady's incomplete pass had been ruled a fumble?
The Patriots almost certainly would have lost to the Oakland Raiders in the playoffs and would not have won their first Super Bowl. And without that first championship, maybe the course of history is changed throughout the 2000s.
It's something to think about. Mike Pereira is one man has continued to mull the Tuck Rule in the years since.
The NFL's former director of officiating has come out against the rule
that states when a quarterback in the act of passing and loses the ball while making any forward hand motion -- even while bringing the ball to his body -- it's considered a pass attempt.
Pereira, an officiating analyst for Fox Sports, was compelled to write about the Tuck Rule in his weekly column (via Toni Monkovic of
"The Fifth Down Blog" at NYTimes.com
).
Pereira watched Brady's former backup, Kansas City Chiefs quarterback Matt Cassel, benefit from the Tuck Rule against the Baltimore Ravens on Sunday. A video review overturned an apparent Ravens fumble recovery.
Pereira wrote:
This was clearly a correct reversal, but is it time to look at this rule because Cassel was not attempting to pass the ball when it came loose. By instinct, referee Mike Carey ruled this a fumble because that's what it appeared to be.

I think it's time to change this rule. A pass should only be ruled incomplete if the ball comes loose in the actual act of passing the ball. If it comes loose in the tucking motion, then it should be a fumble.

I would support a rule change, although it took me a long time to get to this point. I'm sure it's no consolation to the many Raiders fans around the country.
And I'm sure if the rule ever does get changed the Patriots would hand back their first Lombardi Trophy.
What do you think would have happened with the Patriots had they not caught that break in January 2002?
January, 28, 2010
1/28/10
4:34
PM ET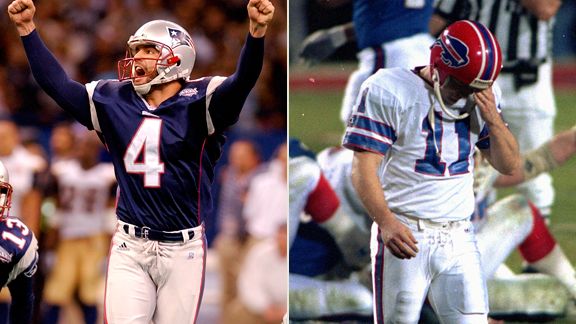 AP PhotoAdam Vinatieri and Scott Norwood played key roles in the best and worst AFC East Super Bowl plays.
ESPN's John Clayton put together his list of the
10 most memorable plays in Super Bowl history
.
AFC East clubs have been involved in many unforgettable moments, and in attempting to put together a list, the heartbreakers seemed more distinguished than the triumphs. Rather than combine them, I've decided to break down the five best plays and the five worst.
Think I missed one or disagree with the way I ranked them? Add your suggestions in the comments section below.
Five best
1. Vinatieri's field goal clinches Patriots' first title:
With broadcaster John Madden advising the
New England Patriots
to kneel out the clock and go to overtime,
Tom Brady
orchestrates a drive against the
St. Louis Rams
that lays the foundation for a Hall of Fame career.
Adam Vinatieri
kicked a 48-yard field goal as time expired to win Super Bowl XXXVI.
[+] Enlarge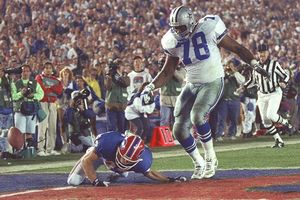 Getty ImagesDon Beebe saved a Dallas touchdown and proved that showboating doesn't pay.
2. Beebe strips Lett:
Super Bowl XXVII was getting out of hand when the
Dallas Cowboys
sacked
Buffalo Bills
quarterback Frank Reich, forcing him to fumble. Leon Lett scooped the ball and rumbled for what should have been a 60-yard touchdown, but he celebrated too soon. Don Beebe racing from behind knocked the ball out of Lett's hand at the goal line to revert possession to the Bills.
3. Law's interception:
In the second quarter and with the favored Rams ahead 3-0, Law made a statement when he intercepted a
Kurt Warner
pass and returned it 47 yards for a touchdown. The Patriots went on to score 17 straight points. The Rams never led again, and the Patriots launched a mini-dynasty.
4. Walker's kickoff return TD:
In a game full of big plays, Fulton Walker returned the first kickoff for a touchdown in Super Bowl history. Walker went 98 yards to give the
Miami Dolphins
a 17-10 halftime lead, but the
Washington Redskins
scored 17 points in the second half to win.
5. Maynard's incomplete bomb:
Speedy receiver Don Maynard was a significant contributor to the
New York Jets
' championship team, but he was shut out in Super Bowl III. "I didn't catch a single pass," Maynard recently told the Bergen Record, "
but I really had a great game
." With no score, Maynard raced behind the Baltimore Colts secondary for what should have been a long touchdown. Joe Namath barely overthrew him, but the play spooked the Colts enough to double- and triple-team Maynard the rest of the game, leaving George Sauer free to catch eight passes for 133 yards.
Five worst
1. Wide right:
So many fates swung on Scott Norwood's right hip socket when he attempted a 47-yard field goal that would've beaten the
New York Giants
in Super Bowl XXV. Norwood's kick sailed wide ride, spoiling what would turn out to be the Bills' best shot to win any of their four straight Super Bowls. The kick also propelled Bill Parcells to legend.
[+] Enlarge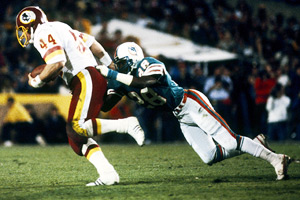 Alan H. Schwartz/Getty ImagesJohn Riggins broke a tackle from Don McNeal en route to a 43-yard touchdown run.
2. Tyree's catch:
Giants afterthought
David Tyree
made the most miraculous catch in Super Bowl history to help ruin the Patriots' pursuit of perfection in 2007. In the final minute and down by four points,
Eli Manning
made an unbelievable scramble and heaved the ball to Tyree, who outbattled Patriots safety
Rodney Harrison
and made the reception by pinning it against his helmet.
3. Riggins' run:
Redskins locomotive John Riggins made an iconic run in Super Bowl XVII that still symbolizes power football at its finest. On a fourth-and-1 play in the fourth quarter, Riggins ran off left tackle and steamrolled Dolphins cornerback Don McNeal on his way to a 43-yard touchdown to give the Redskins their first lead.
4. Howard's 99-yard return:
Desmond Howard
sealed a victory for the
Green Bay Packers
when he returned a kickoff 99 yards in the fourth quarter against the Patriots in Super Bowl XXXI. Howard was awarded the MVP for rolling up 244 return yards.
5. Yepremian's blunder:
The Dolphins were trying to achieve perfection in 1972 and seemed to have everything under control against the Redskins in Super Bowl VII. The Dolphins were ahead 14-0 with about two minutes left, when Garo Yepremian lined up for a 51-yard field goal. The kick was blocked and ricocheted to Yepremian, who comically tried to pass. The ball rolled off his hand and was bobbled. Mike Bass snatched it out of the air and ran 49 yards for a touchdown.
November, 13, 2008
11/13/08
9:31
PM ET
Posted by ESPN.com's Tim Graham
FOXBOROUGH, Mass. -- Thursday night is getting away from the New England Patriots in a hurry.
| | |
| --- | --- |
| | |
| Washington | Cotchery |
A 92-yard Leon Washington kickoff return for a touchdown and two spectacular plays by receiver Jerricho Cotchery have staked the New York Jets to a 24-6 lead with 4:57 left in the first half at Gillette Stadium.
Cotchery made a David Tyree-type catch on a 46-yard Brett Favre heave along the left sideline. Patriots cornerback Ellis Hobbs interfered on the play, but Cotchery used one arm to pin the ball against his shoulder pad while stumbling down and then rolling on the turf.
Two plays later, Favre threw a dart inside the 5 to Cotchery who fought his way through a couple defenders, outstretched his arm and slammed the ball on the other side of the goal line for a 15-yard touchdown.