January, 24, 2011
1/24/11
1:24
AM ET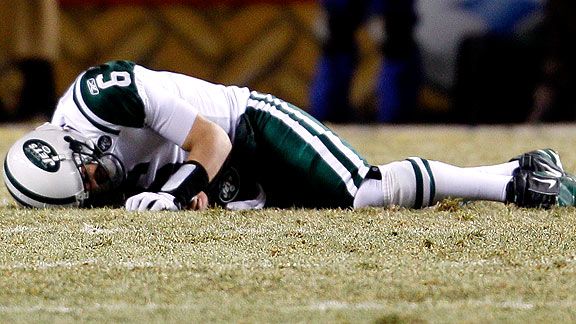 AP Photo/Matt SlocumJets quarterback Mark Sanchez played well but New York was doomed by a slow start.
PITTSBURGH -- A week earlier, the
New York Jets
carried on as though they'd won the Super Bowl.
They went into Gillette Stadium and did the unfathomable. They made
Tom Brady
look average and destroyed the mighty
New England Patriots
a month after losing to them 45-3 on the same grounds.
The Jets jumped into the stands to cavort with their fans, the Patriots' faithful having filed through the exits long before. The Jets ran around with their arms outstretched like airplanes.
Braylon Edwards
did a roundhouse backflip. Patriots receiver
Deion Branch
called them "classless."
You half expected to hear somebody in green and white exclaim "I'm going to Disney World!" to signal the end of the season. Of course, the Super Bowl used to be followed with a carefree exhibition where players revel in their success and go through the motions.
Fittingly, the Jets followed up their personal Super Bowl with a performance worthy of the Pro Bowl -- not in terms of star power, but with a lack of purpose.
For the first 30 minutes of Sunday night's
AFC Championship Game
against the
Pittsburgh Steelers
at Heinz Field, the Jets played like they were still hung over from their victory in Foxborough, Mass.
The Jets were flatter than old champagne through the first half and watched passively as the Steelers scored the first 24 points. The Jets finally snapped to attention at the intermission and dominated the Steelers for much of the second half.
But the Jets couldn't overcome their horrible two quarters and lost 24-19. For the second season under Rex Ryan, they were eliminated one step short of the Super Bowl.
But the Jets sure didn't play like they'd been there before -- not in the first half anyway.
"No determination, no focus in every single phase," Jets safety
James Ihedigbo
muttered.
"It just wasn't us. It wasn't New York Jet football."
Perhaps it's one of those unexplained sports phenomena. The Jets certainly knew the importance of Sunday's game. One more victory and they were headed to the Super Bowl.
But they didn't answer the call. Instead, there was a dial tone.
"We knew what was on the line," Jets linebacker
David Harris
said. "I don't know what to say."
To a man, the Jets were unable to explain their inability to compete in the first half.
Steelers running back
Rashard Mendenhall
left cleat marks all over the defense. Their poor tackling was unforgivable. Mendenhall had 95 yards and a touchdown before halftime. The Steelers dictated time of possession, keeping the ball for 21 minutes, 4 seconds.
Last week, Jets linebacker
Bart Scott
ridiculed the Patriots' defense for not being able to stop a nosebleed. Against the Steelers, the Jets couldn't patch a paper cut with a roll of duct tape.
The Jets' offense, meanwhile, gained 1 rushing yard by halftime.
LaDainian Tomlinson
had two carries for 1 yard.
Shonn Greene
had two carries for 4 yards.
"We didn't step on the field, playing the way we want to play," Harris said. "They jumped on us, had us on our heels."
The Jets played like they were emotionally spent, which is how they prepared for the game, too.
Unlike the first two rounds of the playoffs, the Jets displayed almost none of their distinctive spunk. They went from targeting
Peyton Manning
and Brady and
Wes Welker
to a deferential tone for the Steelers. Jets defensive lineman
Trevor Pryce
said it was an "honor and a privilege to play against"
Ben Roethlisberger
.
There was no edge throughout the week at the Jets' training facility in Florham Park, N.J.
The Jets insisted they'd be ready.
They clearly were not.
Fevered emotions are nearly impossible to maintain week after week, especially against a succession of nasty opponents on the road. That's a reason why it's such a feat when a wild-card team reaches the Super Bowl.
"It's three games to get to the Super Bowl," Scott countered. "It was just one more game."
[+] Enlarge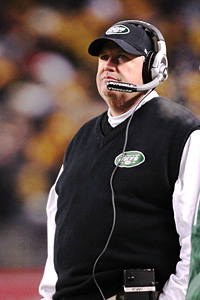 Matthew Emmons/US PresswireRex Ryan and the Jets fell one game short of the Super Bowl for the second straight season.
Scott delivered one of the great postgame interviews after eliminating the Patriots. He was a combination of thrilled and angry. In
reference to the Steelers, he barked "Can't wait!"
But the Jets sure seemed to wait 30 minutes before they got their heads into the game.
Intensity is difficult to tap again and again until the vein collapses. Sometimes it gets demanding to find more villains to despise. You
can't ask Dennis Byrd to deliver the same pregame speech
and have it make an impact.
The Jets did pull themselves together at halftime and cobbled together an admirable effort through the third and fourth quarters.
Mark Sanchez
played another solid road playoff game and outperformed Roethlisberger as a passer. Sanchez completed 20 of his 33 throws for 233 yards and two touchdowns for a 102.2 passer rating. Roethlisberger was 10-of-19 for 133 yards, no touchdowns, two interceptions and a 35.5 rating.
Sanchez, a revitalized ground game and a suddenly conscious defense gave the Jets a chance. They got within a touchdown with 3:06 to play, when Sanchez connected with
Jerricho Cotchery
.
But the Jets frittered away a better opportunity nearly five minutes earlier. The Jets had first and goal on the 2-yard line but couldn't score. A 17-play drive ended on the 1-yard line after two incomplete passes and a pair of stuffed runs. The passes were curious plays called by offensive coordinator Brian Schottenheimer, especially with Green trucking defenders.
A touchdown there and the Jets would have had more wiggle room.
"We had opportunities to make a comeback in the second half," Jets tight end
Dustin Keller
said. "Obviously, everybody's going to look at the first half and say 'If it wasn't for this and that,' but we still had an opportunity to win this game in the second half."
The Jets deserve credit for gathering themselves and not getting totally blown out. They did outscore the Steelers 16-0 in the second half.
But those first 30, flat minutes doomed them.
"It would be nice to take that first half back and come out better than we did and what we showed," Jets safety
Brodney Pool
said. "It just shows you can't come out flat at the beginning of a game like we did an expect to win."
January, 23, 2011
1/23/11
1:00
PM ET
ESPN's "Sunday Conversation" is with former
New York Jets
defensive end Dennis Byrd, who delivered an
emotional speech to his legacy mates the night before
the Jets played the
New England Patriots
in the divisional playoffs.
Byrd recounted the crux of his message:
"A man has a body, a mind and a spirit. There are times in a man's life when his body will tell him it can't continue on. There are times in a man's life when his mind will tell him that the task set for him is too hard to accomplish. Those two don't matter. It's a man's will and his spirit, and in those moments and in those times that will tell him 'You can do it,' and it will make the mind and body follow along."
Byrd suffered a catastrophic injury on the field 18 years ago and was paralyzed when he arrived at the hospital. He walked out onto the Meadowlands turf 10 months later.
February, 16, 2009
2/16/09
9:45
AM ET
Posted by ESPN.com's Tim Graham
After two weeks of polling, the ballots have been counted to determine your picks for the Mount Rushmore of each AFC East team.
To play off ESPN's quest to determine the best sports Mount Rushmore from the 50 states, Washington, D.C., and Puerto Rico, I asked for your thoughts on the four legends who best symbolize the Buffalo Bills, Miami Dolphins, New England Patriots and New York Jets.
Readers mentioned 18 Jets, creating the most eclectic menu of the four clubs. Fireman Ed was nominated. So were former public relations director Frank Ramos and, despite one wildly erratic season, Brett Favre.
But the votes piled up for an unmistakable foursome of quarterback Joe Namath, running back Curtis Martin, receiver Wayne Chrebet and defensive lineman Joe Klecko.
There was a huge drop from Klecko to the fifth-place candidate, old-school receiver Don Maynard.
I was surprised to see Maynard not make the list. He's one of only two Hall of Fame players known primarily as Jets. I included him in the Jets Mount Rushmore I set forth in the original post.
But I do realize Chrebet's popularity and agree he's a symbolic figure in Jets history. It's tough to argue with him being etched into the Jets' Mount Rushmore.
Here is a breakdown of the top 10:
Joe Namath
Curtis Martin
Wayne Chrebet
Joe Klecko
Don Maynard
Weeb Ewbank
Dennis Byrd
Mark Gastineau
Mo Lewis
Brett Favre
Take a look at a few comments from those who voted in the AFC East mailbag and in the comments section of the original post:
The Kid in Staten Island, N.Y., writes: JETS Mount Rushmore: Broadway Joe Namath- that guarantee will live in infamy Mark Gastineau- 22 sacks in a season stood for 17 years until Strahan broke it. Had a swagger. Part of the NY Sack Exchange Wayne Chrebet- the little man that could. Hofstra kid came from nowhere, and was a fan favorite because of his heart. The "Rudy" of the NY Jets Dennis Byrd- temporarily paralyzed, still a role model for Jets fans in the way he perservered.
Mike from Parts Unknown writes: Does it have to be players only? More so than Namath himself I'd say Weeb Ewbank is the most important figure for the Jets of that era. Namath won one with him, but not without. Joe Klecko is a must. He represents an era my father dubs "the weakest golden years in all of pro sports." The NY sack exchange almost brought the Jets back to the Super Bowl twice, but ultimately failed. Curtis Martin represents the best in all of us, and as a Jets fan he is a symbol of our fandom: full of hope but ultimately just a good guy who came up short in his one real chance. Has there ever been a better RB that so many just don't care about outside of his team's fanbase? Finally I believe Chad Pennington needs to be on the Mount Rushmore of the Jets. He was the best QB in franchise history and though he never won the big game like Namath, he simply was so identifiable for us. Joe Willy is like that much older sibling you think of as a second parent. Sure they are your sibling, but you just don't think of them in that way. They are also likely you wish you could be more like. Broadway Joe is such a larger than life figure even today, but the team never lived up to his legacy and as Jets fans I don't think any of us really identify with him very well at this point, though we wish we could.
Mark in Palm Coast, Fla., writes: Hey Tim, There are more than a few names that come to mind here, but if I had to go with just four they would be as follows: 1: Joe Namath (Goes without saying) 2: Wayne Chrebet (3rd down specialist) 3: Leon Hess (Is there any owner who cared more for their team) 4: Fireman Ed (The Ultimate 12th Man) Honarable mention should also be given to Dennis Byrd for his inspiration, and perhaps Curtis Martin.
Chris in Hartsdale, N.Y., writes: Though I think Joe Namath is incredibly overrated I guess he belongs on the Jets Mt. Rushmore. The other 3: -Curtis Martin. Not the most talented RB in Jets history(that was Freeman Mcneil but he was always hurt) but the best overall. -Al Toon. Would have been a Hall of Famer had his career not been cut short. -Joe Klecko. Should be in the Hall of Fame but may never make it. If he was a Steeler and had a lesser career than he had they would have enshrined him 15 years ago.
delfiorio writes: Nothing symbolizes the Jets quite like Ken O'Brien falling on the ball as 4 pass rushers converge on him.
wOoDfOoTbAlL writes: Joe Klecko, Weeb, Curtis Martin, Don Maynard.....forget about Namath he cursed our franchise when he made a deal with the devil 40 years ago. were never going to win another super bowl