December, 10, 2010
12/10/10
4:00
PM ET
»
NFC Final Word
:
East
|
West
|
North
|
South
»
AFC
:
East
|
West
|
North
|
South
Five nuggets of knowledge about Week 14: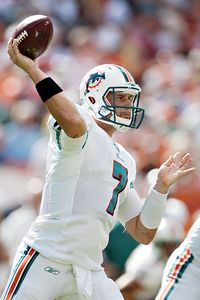 Jonathan Brownfield/US PresswireChad Henne gets another chance to prove he's Miami's QB of the future.
Mark Sanchez and Chad Henne will try to pull out of their tailspins against each other.
One of the more popular topics on the AFC East blog over the past 10 months or so is whether Sanchez or Henne has the brighter future. Readers have been zealous in their stances. But it's safe to say we expected to know a heck of a lot more about these quarterbacks by Week 14. Yet here we are with as many questions as ever about a pair of second-year starters as they prepare to square off Sunday at New Meadowlands Stadium. Both are coming off three-interception defeats and trying to regain a semblance of homestretch momentum. Sanchez is in a more appealing situation. His team is 9-3 and can clinch a playoff berth with a victory against the Dolphins (and a couple other things happening). Henne's team is on the verge of elimination from the postseason race and he has been benched already this year. We might know more about these erratic lads by Sunday evening, but there's also a chance -- with the way they've been playing lately -- the winning team comes through despite its quarterback.
Don't be surprised if the Patriots deliver a letdown game.
ESPN analyst Herm Edwards is known as an excitable guy. He was just as passionate a head coach as he was a player. Nobody ever could accuse him of not giving his all. But even Edwards recognizes a team can't maintain fevered emotion without an occasional dip, which is what he expects from the Patriots this week. The Patriots have been playing with an acute intensity. In the fourth quarter of Monday night's blowout victory against the Jets, running back Fred Tayor entered the game for mop-up duty, and
Tom Brady
screamed:
"C'mon, Freddy, take it to the [expletive] house!"
But that energy is bound to wane, and this week's game against the Bears at Soldier Field offers a confluence of banana peels. The Patriots are coming off a short week after beating a division rival. They're on the road against an NFC team that plays on an atrocious field. And, as ESPN.com columnist Ross Tucker wrote this week, the
rookie wall is looming large for a lot of important contributors
. If the Patriots can leave Chicago with a victory, then it will be an admirably gritty effort.
The weather at Ralph Wilson Stadium should be fitting for the Browns and Bills.
A nasty storm is headed for the Great Lakes on Sunday. Arctic air. ... Snow turning to rain turning to ice turning to misery. ... Wind gusts. ... Should be a hoot. But this Bills-Browns series has been nothing but ugly lately anyway. Last year's 6-3 Browns victory ranks as the worst game I've witnessed. Browns quarterback
Derek Anderson
completed two of 17 passes -- and won. In 2008, the Bills committed four turnovers and lost on a field goal with 1:39 left. Three years ago, the Browns won 8-0 in a Cleveland blizzard. Sunday should be Chan Gailey's first game with Buffalo in its infamous wintery conditions. "I don't know that I'd say I look forward to it, but I know it's going to happen," Gailey said. "You've got to choose to make it a home-field advantage. You can gripe and complain, or you can get excited about the opportunity."
Jason Taylor has something to prove down the stretch.
Taylor goes into Sunday's game against his former team as the Jets' leader with four sacks. But he hasn't recorded any in his past three games and has just two in his past nine games. Jets coach
Rex Ryan accepted blame for their failure to deploy Taylor
more often against the Patriots on Monday night. That admission, plus going up against his old mates, could mean an inspired performance. ESPNNewYork.com's Rich Cimini reported Taylor's 2011 salary is dependent on his sack output. If he doesn't register seven sacks, then his $750,000 guarantee for next year is voided. If Taylor can hit double-digits, then his guaranteed salary will rise to $1.25 million. If he gets to 12 sacks, then Taylor's salary will jump to $2 million. So Taylor better get cracking. One of his sacks this year was against the Dolphins in Week 3. On a semi-related note, Dolphins outside linebacker
Cameron Wake
leads the NFL with 12 sacks.
The best rivalry debate can't be settled by one weekend.
I woke up Tuesday morning to see James Walker declaring "Checkmate" for our debate last week --
which rivalry was better, the Ravens-Steelers or the Jets-Patriots
-- because of what happened in their Week 13 games. What our Lionel Hutz of the AFC North obviously doesn't understand, apparently in addition to the premise of last week's debate, is what happens inside one weekend doesn't make a rivalry. In fact, it can be argued Monday night's 45-3 verdict adds another layer to the Jets-Patriots series because the team that won so handily in the rematch lost by two touchdowns just two months earlier. In 2006, the Ravens beat the Steelers by a combined score of 58-7. In their first meeting the next year, the Steelers won by 29 points. Did those blowouts end that rivalry or enhance it? These division foes will continue to play twice a year and perhaps in the playoffs. Since he declared "Checkmate," maybe somebody should inform Walker his king's exposed.
December, 5, 2010
12/05/10
4:00
PM ET
The
Buffalo Bills
scored the first touchdown and then got swatted in a
38-14
loss to the
Minnesota Vikings
in the Metrodome.


What it means:
After a string of highly competitive games, the Bills suffered one of the their worst losses. The Vikings rolled even with quarterback
Brett Favre
, receivers
Percy Harvin
and
Greg Lewis
and right guard
Steve Hutchinson
sidelined. The Bills are 2-10.
Hero:
Adrian Peterson
thrived against the NFL's worst defense. Bills rookie linebacker
Arthur Moats
knocked Favre out of the game on the third play, but the Vikings didn't need him. Peterson rushed 16 times for 107 yards and three touchdowns.
Goat:
Bills cornerback and kick returner
Leodis McKelvin
had a rough afternoon. Vikings receiver
Sidney Rice
made a scintillating play to outjockey McKelvin and come down with a 31-yard touchdown catch in the first quarter. McKelvin fumbled the ensuing kickoff, helping the Vikings score 28 points in a 5:45 stretch.
Streak extended:
Bills quarterback
Ryan Fitzpatrick
needed almost 56 minutes to lengthen his streak to 13 games with a touchdown pass, finding
David Nelson
for a 12-yarder with the game out of hand. Fitzpatrick also fumbled twice, losing one.
Defensive highlights:
Buffalo's defense had its moments despite the lopsided score. Cornerback
Drayton Florence
had his first multi-interception game and his first interception return for a touchdown.
Donte Whitner
and McKelvin picked one apiece.
What's next:
The Bills and
Cleveland Browns
have played some awful games in recent years. Remember that 6-3 gem last year? Next week's meeting should be livelier, with
Trent Edwards
and
Derek Anderson
long gone. The Browns defeated the
Miami Dolphins
13-10 in Sun Life Stadium.
March, 1, 2010
3/01/10
12:17
PM ET

ESPN's Adam Schefter takes a look at some of the more significant names around the league who will be cut this week. Among them are New England Patriots outside linebacker Adalius Thomas and Miami Dolphins outside linebacker Joey Porter.
October, 28, 2009
10/28/09
4:30
PM ET
| | |
| --- | --- |
| | |
| | Doug Benc/Getty Images |
| | Buffalo rookie free safety Jairus Bird is determined to make receivers beat him to the ball. |
The phone chirped. "
Chicago Bears
" scrolled across the caller ID.
The voice on the other end was buoyant, a rumble of laughter detectable underneath each syllable.
"Hello, this is Gill Byrd.
Jairus Byrd
used to be my son. Now I'm Jairus Byrd's father."
For all of Jairus Byrd's life, he was identified as the younger boy of Gill Byrd, a two-time Pro Bowl cornerback for the
San Diego Chargers
and Bears assistant coach.
As dad acknowledged over the phone, that perception has changed over the past few weeks.
Jairus Byrd, a rookie free safety for the
Buffalo Bills
, has already made a name for himself. He's doing it emphatically.
Through the first seven games of his NFL career, he has been Buffalo's most valuable player.
"Clearly, he's got skills that are not ordinary even for this level," said Bills head coach Dick Jauron, "and he's using them."
Jairus Byrd ranks second in the NFL with five interceptions, one behind
New Orleans Saints
safety
Darren Sharper
. Byrd has snagged all of his interceptions over the past three games and has picked off a pair in two games straight.
Without his interceptions, the Bills wouldn't lead the NFL in takeaways and probably wouldn't have beaten the
New York Jets
or
Carolina Panthers
the past two Sundays. Each of his past three interceptions has set up a Bills touchdown.
In a season that has been rife with letdowns for Bills fans, Byrd has been a revelation.
"I think he can be an All-Pro consistently," said Jairus Byrd's more decorated mentor, eight-time Pro Bowl cornerback Aeneas Williams, a close friend of the Byrd family. "I think he has the ability.
"What makes you an impact player is when that offensive team, going into their game plan during the week, has to account for you. I believe he's definitely one of those guys that -- if they're not already accounting for him -- they're at least acknowledging 'You need to know where 31 is.'"
Jairus Byrd's uniform number is becoming fashionable in Buffalo, and you can already project his jerseys will be popular Christmas gifts.
Buffalo storylines this season have been dominated by
Terrell Owens
' lack of production, disgust over Jauron's continued employment,
Marshawn Lynch
's suspension, two invasions of players' homes, myriad injuries and game-losing fumbles in the final minutes.
Jairus Byrd has given Bills fans a reason to cheer.
"Everything's gone so fast," he said. "I haven't really had the chance think about where I am, what's going on. I try not to focus on that. It's just getting wins and helping the team."
Injuries to safeties
Donte Whitner
and
Bryan Scott
gave him his opportunity to start. When Whitner and Scott both are healthy, it's impossible to imagine the Bills removing Jairus Byrd from the lineup.
He's the first rookie to record five interceptions in a month since Bears safety Mark Carrier in December 1990 and the first rookie with two interceptions in consecutive games since
Dallas Cowboys
cornerback Everson Walls in 1981.
With nine regular-season games to play, Jairus Byrd is three interceptions away from Buffalo's rookie interceptions record (Archie Matsos) and halfway to its overall season record (Billy Atkins, Tom Janik). And he's already within two interceptions of matching his father's best season.
"I'm always trying to compete with him," Jairus Byrd said. "I tell him I'm going to get him."
When informed how close Jairus was to matching him, Gill groaned in near-defeat, "Aw, man."
Few expected Jairus Byrd to make such an immediate impact when the Bills drafted him in the second round out of Oregon. He missed minicamp because of Oregon's quarterly academic schedule. He missed much of training camp while recovering from sports hernia surgery and didn't sign his contract until the end of July.
"They got a first-round talent," Williams said, conceding that his fondness for Jairus might hurt the credibility of his assessment. "The only reason maybe he didn't go in the first round is he's not a blazer as it relates to his 40 time."
Jairus Byrd has phenomenal instincts when it comes to coming up with the ball. He never has had fewer than five interceptions in a season, leaving Oregon a year early with 17 of them. He led or tied for the Pac-10 lead in interceptions his sophomore and junior seasons. He also forced two fumbles and recovered four.
Ask him to explain how he keeps coming up with the ball, and he laughs. Then he delivers a pat answer about how his teammates deserve all the credit. You can sense he has been asked the question so frequently, but he's unable to put his knack into words.
"The guys have done a nice job of getting him ready," said Jauron, himself a Pro Bowl safety for the
Detroit Lions
. "But nobody's making those plays except Jairus. ... He's got qualities -- and a lot of them."
| | |
| --- | --- |
| | |
| | Doug Benc/Getty Images |
| | Former Chargers cornerback Gill Byrd is passing all his knowledge onto his son, Jairus. |
Williams can explain the secret to Jairus Byrd's intrinsic homing skills because Williams learned it from Gill Byrd nearly two decades ago.
Bills teammates claim Jairus Byrd demonstrates advanced football maturity, and it's easy to see why. He's a superb case study in determining whether nature or nurture determines a man's potential.
Yes, he has the bloodlines. Gill Byrd played 10 seasons for the Chargers and is in their Hall of Fame.
Perhaps more importantly, Jairus Byrd's nest was the NFL locker room. His father worked in the
Green Bay Packers
front office and has been an assistant coach for the
St. Louis Rams
and Bears. Gill also credited the "discipline and encouragement" from Jairus' mother, Marilyn, and the drive to compete with Gill Byrd II, the older son by two years who became a star defensive back at New Mexico State.
But it was in St. Louis where Williams took Jairus Byrd, then a high school student, under his wing. The two became so close that Jairus Byrd still calls him Uncle Aeneas.
"It wouldn't just be running and talking football," Gill Byrd said. "It'd be talking life. It'd be talking about what it takes to be a man of God, life lessons. On top of that, he learned football and techniques from one of the best."
Williams' involvement has been critical to Jairus Byrd's development because the rookie has no distinct memories of his father playing and never has seen a frame of game tape. He turned six during his father's final season. Old-school programming on the NFL Network or ESPN Classic haven't presented a glimpse.
The only footage Jairus Byrd has seen of Gill in action was grainy practice film somebody burned onto a DVD for a joke.
Williams' tutelage meant "having someone he did watch play and look up to show him 'Yes, this is what it's all about,'" Gill Byrd said. "As with any child, you need multiple voices to deliver the same message to get things across. That old saying, 'It takes a village to raise a child,' I think it's appropriate even in the athletic arena."
Williams simply is returning the love Gill Byrd showed him for years. Long before Gill Byrd joined the Rams' coaching staff, he'd been teaching Williams everything he knew.
Williams emerged from Southern University in 1991 hungry for information that could give him an edge. He sought out top defensive backs because he wanted to soak in their insight. He flew to Houston to meet Ken Houston, tracked down Michael Haynes and reached out to Gill Byrd.
For the next few summers, Gill Byrd and Williams worked out in San Diego. Soon after they met, Gill imparted some words that changed the way Williams played the game and sent him on his way to a career highlighted by 55 interceptions, 23 fumble recoveries and 12 defensive touchdowns.
Williams called it "that little, subtle change" in his attitude, and he's sure Gill ingrained it in Jairus, too.
"Most defensive backs play with a philosophy of 'I can't get beat,' or 'Nobody can beat me,' " Williams said. "Gill made me understand, no, my philosophy has to be 'They have to beat me,' which sounds like just words, but for me it really catapulted me to another level of understanding.
"Just think of all the defensive backs you see in a game that are right next to the receiver but never turn back to look for the ball. It's because all that guy's life he's been told 'Don't get beat.' "
A thirst for knowledge has splashed Jairus Byrd. He still texts Williams in search of any tip he can get on certain receivers (Williams shared one of
Randy Moss
' big tells) and will wheedle advice from the legends who hang around One Bills Drive. Hall of Fame running back Thurman Thomas already is a big fan.
"I try to absorb everything I can," Jairus Byrd said. "My father taught me how to be a pro in life, how to be man. He's always told me to be slow to speak and quick to hear. That's pretty much the biggest thing I learned from him."
Some might look at Jairus Byrd's interceptions and flick a dismissive wrist. He has been feasting on bad quarterback play --
Derek Anderson
,
Mark Sanchez
,
Jake Delhomme
. Passes have been overthrown. Balls are bouncing off receivers' hands and right to him.
Skeptics would say Jairus Byrd is a lucky duck.
"Is it luck when you study your opponent and know their tendencies?" Gill Byrd asked. "Is it luck when you play hard and hustle? Is it luck when you find the ball, track the ball and have nothing else in sight? Is it luck when you have the hand-eye coordination to catch the ball?
"I would say it's a lot of hard work, a lot of dedication. Not too many guys get lucky that often."
Or so quickly.
October, 11, 2009
10/11/09
8:24
PM ET
| | |
| --- | --- |
| | |
| | Rick Stewart/Getty Images |
| | Terrell Owens has not delivered the stats, or the victories, Bills fans expected. |

Posted by ESPN.com's Tim Graham
ORCHARD PARK, N.Y. -- This isn't a knock on the rest of the men in the
Buffalo Bills
' locker room, merely a fact.
Jon Corto
hurts more than anybody else in there. He's a reserve linebacker, about as deep on the depth chart as a body can get at the end of training camp. He doesn't make game-changing plays or game-breaking errors. As a special-teamer, he usually doesn't have those responsibilities.
But he has invested more of his life in the Bills than any of his teammates. He's from Orchard Park, N.Y., the team's suburban home. He grew up a Bills fan, played for the Quakers of Orchard Park High. He remembers his little brother crying after their Super Bowl losses.
On Sunday afternoon, Corto appeared nearly as emotional as he stood in his locker stall and tried to come up with answers for how to explain what has gone wrong with his team. The winless
Cleveland Browns
bused along the shore of Lake Erie to beat the Bills 6-3 in Ralph Wilson Stadium.
Buffalo lost at home to a team that had dropped 10 straight games. Cleveland's previous victory occurred 11 months ago in Orchard Park.
Buffalo is 1-4, and times when fans have been more disgusted are tough to recall.
"I've been a Bills fan since I was born," said Corto, purple claw marks from the game still puffy on his left biceps. "We felt the pain when we didn't come away with those Super Bowls.
"Some people say 'I just want to see one Super Bowl title before I die.' I hear them. I feel what they're saying. It's tough. I do feel it."
Bills fans are angst-ridden by nature. They're terrified about losing their team to a bigger market some day and are on edge that home games are being exported to Toronto. Many believe there's a finite number of years left to cheer for their team in Orchard Park.
Another precious season is being wasted. This will be 10 straight years without a trip to the playoffs.
The Bills are doormat dreadful. Three straight 7-9 seasons under head coach Dick Jauron had loyalists inching toward revolt until the signing of celebrity receiver
Terrell Owens
, the Pro Football Hall of Fame inductions of owner Ralph Wilson and defensive end
Bruce Smith
and a return to the no-huddle offense distracted them.
Fans, high on hope, purchased season tickets on a level seen during the Super Bowl years. With memories of the glory days flooding back and T.O. on the field, anything seemed possible.
Now, a 7-9 finish would appear to be a miracle season.
The Bills seem to play worse by the week. They blasted the hapless
Tampa Bay Buccaneers
in Week 2, but the Bills' roster has crumbled since. They are playing less and less disciplined. They seem increasingly unprepared each Sunday.
Pro Football Hall of Fame president Steve Perry was supposed to
present Wilson with his ring at halftime
Sunday, but the ceremony didn't happen.
Hall of Fame vice president of communications Joe Horrigan said the Bills called on Friday to cancel. On Sunday night, the front page of the Hall of Fame's official Web site still trumpeted the scrubbed ceremony.
Wilson likely avoided a torrent of boos by not taking the field. Instead, nothing took place at halftime. No band. No Pop Warner football game. No acrobats or dogs catching Frisbees. Not even a tumbleweed. The field was just a green, 120-yard vacant lot, suggesting that something probably was planned and canceled to avoid any humiliation.
Wilson, who was in attendance, also chose not to appear before the game, when former Bills receiver
Andre Reed
received the Ralph C. Wilson Distinguished Service Award in a muted ceremony. Wilson didn't speak to reporters after the game.
At the very least, Bills fans want Jauron gone and fast. Like, yesterday. Jauron pulled down an unprecedented 3 percent in last week's edition of the SportsNation NFL head coach approval ratings.
Bills chief operating officer Russ Brandon was noncommittal when asked about Jauron's status after losing to the lowly Browns.
"I am not commenting on that," Brandon said. "Obviously, this is a low point for all of us. I feel for everyone in the organization and more importantly the fans. This is not where we expected to be right now."
What was left of the crowd at the end of the game booed as loudly as it could.
"They deserve more," Owens said. "Every week, when we practice, the guys are practicing hard. We come out and try to put forth a great effort and try to get a win."
Chances for success were minimal Sunday, even with the Browns on the other sideline.
The Bills were so inept. They lost even though Browns quarterback
Derek Anderson
completed only two of his 17 passes for 23 yards. Anderson had the second-worst completion percentage for a winning quarterback with at least 15 attempts since the NFL-AFL merger.
The Bills perpetrated 14 penalties, all but one of which was accepted. They committed an incredible nine false starts. Every member of the offensive line -- all five starters and replacement
Kirk Chambers
-- committed at least one penalty, most of them two.
"The penalties, you can't do that against anybody," Buffalo center
Geoff Hangartner
said. "We just killed ourselves today. ... We can't even talk about being good on offense if we have that many penalties. It's inexcusable."
Buffalo suffered two more injuries Sunday at thin positions. Middle linebackers
Kawika Mitchell
and
Marcus Buggs
were carted off the field with leg injuries that appeared serious. This after
Paul Posluszny
, the opening night starter at middle linebacker, didn't make it a half in Week 1 before he broke his forearm. Posluszny and Mitchell are the defensive captains.
Corto, undrafted out of Sacred Heart, might be in the starting lineup next week against the
New York Jets
.
Jonathan Scott
, their second right tackle, limped off the field Sunday with an undisclosed injury. Scott replaced
Brad Butler
, who went on injured reserve after suffering a season-ending knee injury in Week 2. Chambers, who couldn't make the team out of training camp and was later re-signed for depth, went in for Scott.
Bills quarterback
Trent Edwards
had another rough outing. He was 16 of 31 for 152 yards and one interception. He had a 52.1 passer rating.
But the offense seemed to have a pulse in the first half. Edwards completed four passes to Owens for 44 yards before the intermission, but none after.
Lee Evans
had two catches for 11 yards.
The alleged 1-2 threat of Owens and Evans have combined for 24 receptions for 361 yards and two touchdowns.
"We're not performing at a high enough level to win, obviously," Jauron said. "We moved the ball some in the first half and got the ball to Terrell, did some things, ran the ball pretty well.
"It's just we're not finishing."
Jauron might not finish the season, and while that might appease the legions of Bills faithful who want him gone oh so very badly, another painful season seems more unavoidable than the noise that probably would have poured on Wilson at halftime.
"I know what it's like to feel frustrated," Corto said in the locker room. "I've been a Bills fan my whole life. I tell some of these guys, 'Man, I feel the pain of the fans' because I'm a fan, too."
October, 11, 2009
10/11/09
8:19
PM ET

Posted by ESPN.com's Tim Graham
ORCHARD PARK, N.Y. -- Not often does a quarterback have such an inefficient performance yet walk off the field a winner.
Cleveland Browns
quarterback
Derek Anderson
completed
two passes on Sunday afternoon
and defeated the
Buffalo Bills
6-3 in Ralph Wilson Stadium.
Anderson's 11.8 completion percentage is the second-worst since the NFL-AFL merger for a winning quarterback with at least 15 pass attempts.
The Browns have been involved in the three most uneconomical-but-triumphant passing performances.
In 1970, Browns quarterback Don Gault was 1 of 16 (6.3 percent) in a victory over the
Pittsburgh Steelers
.
In 1974, Steelers quarterback Terry Hanratty was 2 of 15 (13.3 percent) against the Browns.
Bills legend Jim Kelly has the fourth-lowest completion percentage in a win. He went 4 of 21 (19 percent) to beat the
Carolina Panthers
in 1995.
October, 11, 2009
10/11/09
4:02
PM ET
ORCHARD PARK, N.Y. -- I'm not saying that was the worst football game I've ever seen.


But it's certainly in the conversation.
Thanks to a
Roscoe Parrish
fumbled punt on his own 16-yard line within the final three minutes, the
Cleveland Browns
kicked a chip-shot field goal to beat the
Buffalo Bills
6-3 in Ralph Wilson Stadium on a chilly and windy Sunday afternoon.
What else did anybody expect?
The Bills and Browns went into the game with a combined 1-7 record.
The Browns were winless. In fact, they haven't won since Nov. 17 -- in Ralph Wilson Stadium. They haven't scored a touchdown on the road since that night.
The Bills went into the game a wayward collection of rummage-bin parts with seemingly little direction or discipline. They had several reserves in starting roles. They were second-most penalized team in the league.
On Sunday, their roster got even thinner, losing linebackers
Kawika Mitchell
and
Marcus Buggs
to injuries that required them being carted off the field. Never a good sign. Starting right tackle
Jonathan Scott
also left the game.
But even more exasperating for Buffalo fans has to be the penalties.
Cleveland accepted 13 penalties for 75 yards. Every member of Buffalo's offensive line -- all five starters and Scott's replacement,
Kirk Chambers
-- were flagged at least once, four of them twice.
Buffalo was charged with nine false starts.
Punters
Dave Zastudil
and
Brian Moorman
were the best players on the field, and I'm not saying that flippantly. They really were.
Buffalo lost even though Cleveland quarterback
Derek Anderson
completed 2 of 17 passes for 23 yards.
Trent Edwards
15 of 30 for 135 yards and one interception.
Terrell Owens
had four catches for 44 yards in the first half, zero catches in the second half.
October, 11, 2009
10/11/09
2:37
PM ET

Posted by ESPN.com's Tim Graham
ORCHARD PARK, N.Y. -- This game has been as bad as advertised.
The
Cleveland Browns
are leading the
Buffalo Bills
3-0 at halftime.


Bills owner Ralph Wilson didn't hear boos that might've rained down on him in the stadium that bears his name.
Wilson was to be
presented with his Pro Football Hall of Fame ring
at halftime, but the team's founder, whose 91st birthday is this month, didn't appear on the field -- perhaps as a health precaution. The conditions are windy and frigid. The reception likely would have been chilly, too.
First-half action was dreadful.
Terrell Owens
is on his way to having his best day as a Bill with four receptions for 44 yards, but quarterback
Trent Edwards
has gained 19 yards through any other target and has been sacked twice.
All five starters on Buffalo's starters on the offensive line were flagged in the first half. Cleveland has accepted eight penalties for 45 yards.
The Bills lost their best healthy defender, linebacker
Kawika Mitchell
, to a right leg injury that looked bad. He was carted off the field. Both of Buffalo's captains have been hurt. Inside linebacker
Paul Posluszny
suffered a broken forearm on opening night.
Browns quarterback
Derek Anderson
didn't complete a pass until the final possession of the half. Anderson is 1-of-7 for 16 yards.
May, 22, 2009
5/22/09
3:10
PM ET
Posted by ESPN.com's Tim Graham
While on a lunch run Friday afternoon I caught a bit of Colin Cowherd's ESPN Radio show, during which he went down the list of quarterbacks the New York Jets would face this year.
Cowherd was making a point that regardless of how much coach Rex Ryan ramps up the Jets' defense, they'll probably find themselves in more shootouts than 16-14 games. On those grounds, Cowherd made the case the Jets should use the more experienced Kellen Clemens instead of glamour rookie Mark Sanchez.
That inspired me to put together a rundown of all the quarterbacks each AFC East team will face this year.
On paper, it looks like the Miami Dolphins and Jets will face the scariest lineups. The New England Patriots catch a break because, well, they don't have to face Tom Brady twice like the rest of the division does.
Here's the rundown, alphabetized by AFC East team and in rough order of who'll they face as the season goes on:

Buffalo Bills

Miami Dolphins

New England Patriots

New York Jets
February, 3, 2009
2/03/09
2:29
PM ET
Posted by ESPN.com's Tim Graham
ESPN.com's John Clayton
peers into the future

on several offseason topics Tuesday on "Mike & Mike in the Morning."
The biggest issue they tackle is what quarterback
Brett Favre
will do and what the
New York Jets
' primary options would be to replace him. Clayton thinks
Byron Leftwich
and
Derek Anderson
are possibilities.
Clayton also thinks the
Arizona Cardinals
will trade
Anquan Boldin
. Hear that, Dolfans?
January, 24, 2009
1/24/09
9:00
AM ET
Posted by ESPN.com's Tim Graham
Mack from Waverly writes: Hey Tim I have a couple of questions regarding the patriots defense. Alot of people are counting on the pats to draft a corner high or get one in free agency. I really felt like the defense improved down the stretch after Jonathan Wiilhite was injected into the starting lineup. Do you think he might be the answer at corner? Also do you think the pats might ask Junior Seau back for depth since he has bailed them out for three straight years?
Tim Graham: I'm with you on Jonathan Wilhite. I thought he played well opposite Ellis Hobbs late in the season and may have convinced the Patriots they're OK at cornerback for next year. Junior Seau was an emergency replacement late in the season. He won't be back in 2009 unless disaster strikes -- repeatedly.
---
Brian in Fort Myers, Fla., writes: I do not see Buffalo taking the TE from OSU, he is unpolished and has too many off the field issues in his past. I actually think he could be a bust and we need help at DE and LB, who do you see the Bills looking at with their first two picks. Thanks--Go Bills!
Tim Graham: You're correct that defensive end and linebacker are needs. The Bills also need a center, but that's not a position you take in the top third of the first round unless he's elite, and there are no elite centers in this year's draft class. That said, Bills fans should be happy if Oklahoma State tight end Brandon Pettigrew is the pick.
---
Matthew in Wichita, Kan., writes: There Rumor going on net that Pats hired Romo back to staff. That Pats going after Free agents in nfl as well look at draft because of Jared Mayo.And look at May talking Ray Lewis.
Tim Graham: See what I deal with here? I get about 47 questions like this in my chat every week and another dozen in my mailbag.
---
Mr. Anonymous in Phoenix writes: tim, i seem to be the only bills fan that doesn't blame dick jauron for yet another losing season (bills seem to have a history of it). do you think he can get the bills to 9 wins or should i wait until the team is sold to another town to see a winning season.
Tim Graham: I've written in my chats and mailbags before I think Jauron is a satisfactory coach. Buffalo's problems are systemic, not coach-oriented. When the Bills decided to retain Jauron and make few front-office changes, Bills fans must hope they've at least decided to adopt a new philosophy on spending money and obtaining players.
The free-agency period hasn't begun yet, so it's too early to tell for sure, but fact the Bills went hard after CFL sackmaster Cameron Wake -- they lost out to the Dolphins -- could indicate they'll be active in pursuing free agents.
---
Josh in Norfolk, Va., writes: Mr. Graham -- do you think the Phins will pursue Julius Peppers?
Tim Graham: It wouldn't appear the Dolphins would be hot for Peppers, whose agent recently announced the Carolina Panthers defensive end would like to play linebacker in a 3-4 scheme. The Dolphins already have Joey Porter, and last week they spent a healthy chunk (by CFL standards) on Wake. They also gave an exorbitant sum to Charlie Anderson last year.
---
Doug in Memphis, Tenn., writes: Kurt Warner will QB a second team in the Super Bowl. How many other QB's have done that?
Tim Graham: Kurt Warner is the third quarterback to lead two franchises to the Super Bowl, joining Craig Morton (Cowboys, Broncos) and Earl Morrall (Colts, Dolphins). But Morton was the first to start both Super Bowls. Bob Griese came back from injury in time to start Super Bowl VII in place of Morrall.
---
George in Wilmington, Del., writes: The last time the Jets drafted an offensive weapon in the 1st round was in 2001 (Santana Moss) and before that it was Keyshawn. Do you think this has contributed to gang greens woes? Was sticking with Tannenbaum over Mangini (or sticking with him at all) a bad choice? Is there a roadmap for the Jets to make a play-off run next season? I am not looking forward to another 5 or more years of having my heart broken.
Tim Graham: Great football teams are about the organization, the culture, the system. Mike Tannenbaum has made more moves that contribute to establishing a winner than he has made mistakes.
The Rex Ryan hire was a great one, even though he is another in a line of defensive-minded coaches. That's where their affinity for taking defensive players in the first round stems from.
Ryan will establish his tone and begin to weed out the players who don't fit his mind-set while adding players who do. But the Jets aren't in need of a major overhaul. They won nine games last year and have talent on the roster. If the Dolphins can go from one victory to 11 in one year's time, then the Jets certainly can make the playoffs next year.
---
Mark in Danville writes: With McCoy and Bradford electing to return to school does that increase the potential trade value for Matt Cassel should the Pats look to move him before the draft?
Tim Graham: Fewer available prospects will affect Cassel's value somewhat. It's about supply and demand. But the Patriots won't be able to trade Cassel before the draft because they won't know enough about Tom Brady's rebuilt left knee by then. The primary reason they'll franchise Cassel is to provide insurance in case Brady's not ready.

---
TK in Brooklyn, N.Y., writes:
Hey Tim, this seems like a no brainer to me, but is there any chance the Bills go after former Colts defensive cooridinator Ron Meeks? Buffalo runs that Tampa 2 defense he ran under Dungy, and he would be a great help in improving their defense; plus he knows how to defend Brady and the Patriots. The Bills would be foolish not to try and get this guy on their staff in some capacity or another. Please tell me this is going to happen.
September, 9, 2008
9/09/08
11:23
AM ET
Posted by ESPN.com's Mike Sando
NFL teams rarely lose their starting quarterback to a season-ending injury in the opener. That comes as no consolation to the Patriots as they move on without Tom Brady. But a couple of NFC West teams have changed starters after Week 1, with positive results.
The Rams benched two-time MVP Kurt Warner for Marc Bulger following the 2003 opener. Warner fumbled six times in Week 1. Bulger took over and kept the job. He finished that 2003 season with 22 touchdowns and 22 interceptions before becoming more efficient in subsequent seasons.
In 1997, the Seahawks lost starter John Friesz to a broken thumb during a 41-3 opening-week loss to the Jets. Warren Moon took over and passed for 3,678 yards with 25 touchdowns as Seattle finished the season ranked No. 1 in passing yards.
Current Seattle backup Charlie Frye started the 2007 opener for Cleveland, only to have the Browns trade him to the Seahawks. Derek Anderson took over for Cleveland and earned a spot on the AFC's Pro Bowl squad.
The Patriots will surely tumble in our upcoming power rankings, but it's premature to write them off. The next Bulger or Anderson could already be on their roster. Unfortunately for New England, there's only one Tom Brady.