February, 9, 2011
2/09/11
8:28
AM ET
I once heard Tom Donahoe, the former Buffalo Bills president and general manager, call quarterback Drew Bledsoe a future Pro Football Hall of Famer.
Then again, Donahoe used to say a lot of things.
I was reminded of this when taking a glance at players who will make their first appearance on the Hall of Fame ballot for 2012.
Buffalo News reporter Mark Gaughan, who's on the Hall of Fame selection committee and last weekend was elected president of the Pro Football Writers Association, blogged the
top newcomers to consider the next few years
.
[+] Enlarge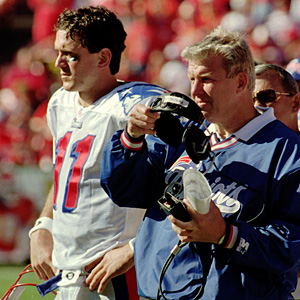 AP Photo/Ed ZurgaBill Parcells and his former quarterback Drew Bledsoe will be on the Hall of Fame ballot next year.
The lists are helpful in speculating when fan favorites such as Andre Reed and Curtis Martin will get their Canton calls. They both were finalists this year -- Reed for the fifth time, Martin for the first -- but
weren't added to the 2011 induction class Saturday
.
Perhaps that development was fitting for Martin because his coach with the New England Patriots and New York Jets will be on the ballot again. They could get in together in 2012.
Bill Parcells has been a finalist twice, but not since 2002 because rules for coaches changed. They now must wait five years from their last game to be eligible for induction, and Parcells returned to the sidelines with the Dallas Cowboys in 2003.
Is Parcells a Hall of Famer? I know Miami Dolphins fans aren't too thrilled with him these days, but he did add to an already remarkable legacy -- two championships, different teams to the Super Bowl, a few organizational turnarounds -- by guiding the Dolphins from 1-15 to the AFC East title as their football operations boss.
Also on the ballot next year will be Bledsoe, running backs Corey Dillon and Tiki Barber, fullback Mike Alstott, guard Will Shields and coaches Bill Cowher and Marty Schottenheimer.
Bledsoe had a fine career with the Patriots, Bills and Cowboys and ranks eighth all-time in passing yards. But he was a Pro Bowler only four times and never was first-team All-Pro. Bledsoe was helpful in getting the Patriots their first championship, so he does have a ring. But that was Tom Brady's team.
Dillon also was a four-time Pro Bowler and won a Super Bowl with the Patriots. He ranks 17th in rushing yards and never led the league in a major rushing category.
Schottenheimer played for the Bills and Patriots before winning 61 percent of his regular-season games as head coach of the Cleveland Browns, Kansas City Chiefs, Washington Redskins and San Diego Chargers. His 200 victories rank sixth all-time, but his 5-23 playoff record will hurt.
That group of first-time candidates -- plus the newcomers for 2013 -- bodes well for Reed. There won't be any new receivers for him to box out. He already has jockeyed ahead of contemporaries Cris Carter and Tim Brown by making the cut from 15 to 10 in the selection process the past two years. Carter and Brown haven't.
Gaughan highlighted first-year players for next few classes.
2013:
Quarterback Vinny Testaverde, offensive linemen Larry Allen and Jonathan Ogden, defensive tackle Warren Sapp, defensive end Michael Strahan.
2014:
Running back Shaun Alexander, receiver Marvin Harrison, linebacker Derrick Brooks, safety Rodney Harrison and coaches Tony Dungy, Jon Gruden and Mike Holmgren -- if they don't return to sideline work.
2015:
Quarterback Kurt Warner, receivers Isaac Bruce and Torry Holt, tackles Orlando Pace and Walter Jones and linebacker Junior Seau.
January, 25, 2011
1/25/11
11:48
AM ET
"Outside the Lines" examines the 2010
New York Jets
and whether a campaign that featured such off-field turmoil yet went deep into the postseason before falling short of the Super Bowl should be viewed as acceptable.
There are two three-minute videos of the discussion with Jets radio voice Bob Wischusen, retired linebacker Derrick Brooks and
New Orleans Saints
fullback
Heath Evans
. When you're done watching this segment, you'll be able to click on the next one.
On Monday, I contacted
three decorated Jets alumni to find out if they viewed
the 2010 season as a success or a failure.
February, 24, 2010
2/24/10
12:40
PM ET
INDIANAPOLIS -- Over the next few days, Mike Mamula and
Vernon Gholston
will be mentioned in tandem as prime examples of how the NFL scouting combine can send teams off beam.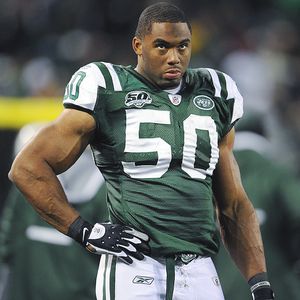 Rich Kane/Icon SMIA strong combine workout prompted the Jets to draft Vernon Gholston at No. 6 in 2008.
Mamula was the original combine-induced false phenom. The Boston College pass-rusher tested off the charts in 1995 and caused the overexcited
Philadelphia Eagles
to draft him seventh overall. Mamula lasted six seasons and remains the poster boy for the dangers of combine giddiness.
Gholston, selected sixth overall by the
New York Jets
two years ago, often gets compared Mamula -- workout warriors who soared up the draft board but didn't perform up to their gaudy measurements.
But with the 2010 combine upon us, here is my plea to end this link immediately.
It's unfair to Mamula.
Gholston -- and Jets fans -- would be ecstatic if he had stats that resembled Mamula's. After two seasons, Mamula started all but three games and registered 13.5 sacks, four forced fumbles, four fumble recoveries and a touchdown.
Gholston has been deactivated for as many games as he has started -- three. He has made 3.5 fewer solo tackles than Mamula had sacks through two seasons. Gholston made one solo tackle as a rookie and nine last year.
Rex Ryan made Gholston a pet project. Neither the extra attention nor the opportunity created when
Calvin Pace
was suspended the first three games helped.
In case you were wondering, Mamula, who missed all of 1998 with a knee injury, finished with 31.5 sacks, eight forced fumbles, six recoveries and one interception -- certainly not the type of production the Eagles expected when they picked him well ahead of Warren Sapp,
Ty Law
and
Derric
k
Brooks
, but a far better career than what Gholston projects.
September, 16, 2009
9/16/09
12:22
PM ET

Posted by ESPN.com's Tim Graham
Jerod Mayo
might get replaced by his idol.
The
New England Patriots
are considering free-agent linebacker
Derrick Brooks
to fill in for Mayo, reports Ian R. Rapoport of the Boston Herald.
"
They're kicking it around
," an unnamed source told Rapoport.
Mayo suffered a sprained right knee in the first quarter of Monday night's miraculous victory over the
Buffalo Bills
and will be out for a few games. The Boston Globe, citing two unnamed sources, reported the reigning NFL defensive rookie of the year
could miss six to eight weeks
.
Adding Brooks would provide Mayo another resource to lean on after losing veterans Tedy Brushi,
Mike Vrabel
,
Richard Seymour
and Rodney Harrison.
Brooks is a five-time All-Pro who hasn't been able to find work after 14 seasons with the Tampa Bay Buccaneers. He started 16 games last year and made his 11th Pro Bowl squad.
Mayo had this to say about Brooks
in a feature story by the Boston Globe's Jackie MacMullen that ran Sunday: "He's a complete player, an impact player. That's what I'm after."
In this case, Brooks would be after Mayo.
June, 22, 2009
6/22/09
3:35
PM ET
Posted by ESPN.com's Tim Graham
DAVIE, Fla. -- Two Miami Dolphins were selected for ESPN.com's all-decade defense.
| | |
| --- | --- |
| | |
| | Gregory Shamus/Getty Images |
| | Jason Taylor, left, was disappointed former Dolphins teammate Zach Thomas, right, did not make ESPN.com's all-decade defense. |
Jason Taylor
believes there should've been three.
Taylor, an easy selection for defensive end, was disappointed to learn Zach Thomas didn't make the cut at linebacker in the honorary squad's 4-3 setup.
"Obviously, I'm biased, but I think Zach is a guy that never got the respect he should've had but was as good as or better than anybody out there," Taylor said after a recent minicamp practice.
Taylor is married to Thomas' sister. They played 10 years together, combining for 12 Pro Bowl selections.
Thomas was voted to seven Pro Bowls. He was a five-time All-Pro. He led the Dolphins in tackles 10 times in his dozen seasons with them.
But Thomas was against formidable competition on the all-decade team, chosen with input from an assembly of NFL general managers, coaches, scouts and players. Derrick Brooks, Ray Lewis and Brian Urlacher boxed Thomas out.
"It's always a disappointing thing when I don't see his name associated with guys like these," Taylor said. "Not to take anything away from these guys, but I just know who Zach was and what kind of guy he was."
Former Dolphins and Buffalo Bills defensive back Troy Vincent made the all-decade team. Also from the AFC East was defensive tackle Kris Jenkins, who joined the New York Jets last year after seven with the Carolina Panthers.
As for his inclusion on the all-decade team, Taylor didn't want to get too excited.
This is a legacy-oriented honor, and a player rarely admits to considering his place in history before he has played his final down. Randy Moss, of course, is an exception.
"I'm flattered, but you don't play the game for things like this," Taylor said. "They're the byproduct of trying to do things the right way and play your [expletive] off for years. It's a great thing, but I never think about it.
"I've always shied away from people talking about things like that or the Hall of Fame because I think those things will just happen. If you talk about them ... maybe I'm superstitious. I just don't want to be jinxed. I haven't rolled up the extension cord yet. I'm still going."

AFC EAST SCOREBOARD
Friday, 8/22
Saturday, 8/23