June, 27, 2014
Jun 27
12:00
PM ET
DAVIE, Fla. -- To a man, there is still doubt within the
Miami Dolphins
' locker room that the high-profile scandal involving former offensive linemen
Jonathan Martin
and
Richie Incognito
was a result of poor leadership. The NFL's investigation detailed in the Ted Wells report only furthered that national view of the team.
That has put leadership as one of the top items that will help make the Dolphins successful in 2014. The roster has talent. But last year's scandal and late-season collapse cost Miami a playoff berth.
According to Dolphins Pro Bowl defensive end
Cameron Wake
, lack of leadership isn't an issue.
"Obviously, it's unfortunate what happened [last season] and we're not going to dive too deep into that," Wake said. "But, as a whole, you look around this team [and] there are guys that may be vocal or guys that maybe do it by example. We have leaders all over the place."
Wake is part of a defensive line that must provide leadership on and off the field. In addition to Wake, arguably the team's best player, Miami's defensive line also has 2013 sack leader
Olivier Vernon
, dynamic second-year player
Dion Jordan
and veteran defensive tackles
Randy Starks
,
Jared Odrick
and
Earl Mitchell
.
On paper, defensive line is the deepest area of the team and will be expected to set the tone on a weekly basis.
"When it comes down to it, the D-line's the heart and soul of the defense and, if we're not doing what we have to do, then things start falling apart," Vernon said. "That's just one thing we're trying to focus on now and make sure it goes into the season."
Many in South Florida and around the country will be monitoring the Dolphins' locker-room leadership this upcoming season. It will still take the team coming together and leadership if Miami wants to end its five-season playoff drought.
"I was never of the impression that [leadership] was lacking. But, just like I don't feel like my strength is lacking or my conditioning is lacking, I'm going to work on that as well," Wake said. "Working on leadership, making it a more prominent part of our organization, I don't see anything wrong with that."
March, 26, 2014
Mar 26
8:00
AM ET
ORLANDO, Fla. -- The
Miami Dolphins
created significant draft-day buzz one year ago when they traded up nine spots in the first round to select former Oregon defensive end
Dion Jordan
. Miami got the highest-rated player in the draft at No. 3 overall, which created high expectations upon his arrival.
But Jordan's first year with the Dolphins was a mixture of injuries, confusion and lack of playing time. Jordan essentially had a redshirt year in Miami and finished with 26 tackles and two sacks. He finished the year as a rotational player who primarily played on special teams. But head coach Joe Philbin is expecting a significant jump in Year 2 from Jordan.
Jordan
"We feel like with a full offseason, with more time devoted to his fundamentals, he will have a better grasp of the position that he's playing," Philbin said. "We do want to do a better job with the numbers and rotating in."
Philbin estimated that Jordan played about 20 snaps per game. The plan is to keep Jordan at defensive end next season. Jordan struggled with his strength following offseason shoulder surgery, and Miami's coaches were not fully comfortable with Jordan stopping the run.
Miami also is deep at defensive end. Pro Bowler
Cameron Wake
and 2013 sack leader
Olivier Vernon
are the starters.
Derrick Shelby
also continues to develop and took reps from Jordan. All of those things limited his playing time.
But it's time to take the training wheels off Jordan in 2014. He must get stronger and healthier in order to become a complete player. A defensive end in Miami's 4-3 defense must be stout against the run and rush the passer. Jordan must develop from a third-down pass-rusher to an every-down player.
There was a report in CBS Sports this offseason that the Dolphins were trying to trade Jordan.
"I'm not sure where that came from," Philbin said. "I expect him to make a significant jump from Year 1 to Year 2. We know this guy has a lot of talent. He loves the game. He plays fast."
The Dolphins need better production from the entire 2013 draft class in order to take the next step. Jordan, second-round pick
Jamar Taylor
, and third-round pick
Will Davis
all missed significant time because of injuries.
October, 10, 2013
10/10/13
1:30
PM ET
The
Miami Dolphins
(3-2) are stumbling into their bye after two straight losses. However, it's a long season and there are plenty of games left.
This bye week is a golden opportunity to self scout and fix some of Miami's issues. Here are five suggestions to make the Dolphins better:
No. 1: Add to offensive-line rotation
Analysis:
The Dolphins' offensive line cannot play much worse after five games. Miami is 28th in rushing and has allowed a league-high 24 sacks on quarterback
Ryan Tannehill
. Miami's coaches are taking the approach that they will stick with what they have, and that's a mistake. There are at least two backups on the bench --
Danny Watkins
and
Nate Garner
-- who should get more playing time. Neither player has to start. But it makes sense to add at least one of these players into the rotation for 10-15 plays a game to provide fresh legs and a rest for the starters, who are underperforming.
[+] Enlarge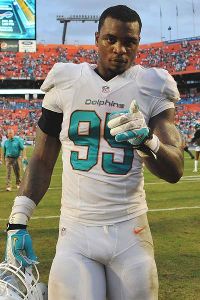 Steve Mitchell/USA TODAY SportsThe Dolphins have used Dion Jordan in a limited role so far this season, as the rookie defensive end has only seven tackles and one sack in five games.
No. 2: Move the quarterback pocket
Analysis:
If the pocket isn't clean for Tannehill, it's time to move it. The Dolphins need to call more designed rollouts to protect their quarterback. Tannehill is a good athlete and a terrific passer on the run. His fourth-down completion to receiver
Brandon Gibson
against the
Baltimore Ravens
was a perfect example. Tannehill usually doesn't lose zip or accuracy when on the move, which is a strong quality for a quarterback. Yet, the Dolphins underutilize this strength. Miami cannot roll Tannehill out every play, but several designed rollouts a game would keep defenses off balance and decrease the amount of shots Tannehill is taking in the pocket.
No. 3: Play Dion Jordan more
Analysis:
It's time for the coaching staff to take the kid gloves off Jordan, who only plays as a situational pass-rusher. Jordan hasn't played a lot. But he is making impact plays in limited opportunities. He had a key tip on Ravens quarterback
Joe Flacco
that caused a pick-six in last week's loss. Miami is afraid Jordan won't hold up well against the run. Therefore, he only plays on third down. But Jordan has more potential and a higher ceiling than fellow defensive ends
Derrick Shelby
and
Olivier Vernon
. The Dolphins' defense will be more dynamic if they raise the rookie's snap count after the bye.
No. 4: Stop stretch plays and plow forward
Analysis:
It's time for Miami to stop running so many stretch plays, which has been a staple in Mike Sherman's offense. Every game that play is getting stuffed for a short gain or negative yards. The Dolphins simply do not have the personnel on the offensive line to consistently run outside. Miami needs to focus more on becoming a power running team after the bye. Guard
John Jerry
and
Richie Incognito
are maulers. They are not guards who can run sideline to sideline. Defenses are beating Miami's offensive line to the spot and tackling the running backs at or behind the line of scrimmage too often. The Dolphins need to use their size to their advantage and plow forward. Basic lead running plays could get Miami four yards more consistently.
No. 5: Give Lamar Miller more carries
Analysis:
Miami's running game also will improve if they give the ball more to Miller and less to backup
Daniel Thomas
. Miami's coaching staff has spilt playing time between the two and continue to wait for one tailback to emerge. The Dolphins' infatuation with Thomas has been a mystery since training camp. He's not dynamic or a powerful back. Thomas is averaging just 2.6 yards per carry. Miller is much more of a home-run hitter and can produce big runs if he gets enough opportunities.
If the Dolphins follow these five steps, they can be a better team after the bye. Miami will host the
Buffalo Bills
(2-3) on Oct. 20 in its first AFC East division game of the season.
September, 25, 2013
9/25/13
2:46
PM ET
DAVIE, Fla. -- The
Miami Dolphins
continue their preparations for Monday's battle of undefeated teams against the
New Orleans Saints
.
Here are some observations from Wednesday's practice:
The most important news Wednesday was Miami Pro Bowl defensive end Cameron Wake (knee) practiced. He dressed and did individual drills in the portion of practice open to the media. However, Wake sat out of team drills and backup Derrick Shelby lined up with the first team defense.
Miami starting linebacker Koa Misi also practiced despite suffering a shoulder injury in last weekend's victory over the Atlanta Falcons. Cornerback Dimitri Patterson (groin) was present but did not practice.
Dolphins starting defensive tackle Paul Soliai's knee is progressing but he still looks a ways away. He worked on the side with trainers and did not do team or individual drills on Wednesday. Soliai will have to make some major strides in the next two or three days in order to play. Randy Starks lined up with the first team for the second week in a row.
ESPN.com will be live from Dolphins camp all week in preparation for this game. Check back here and also follow Dolphins updates on
Twitter @JamesWalkerNFL.
September, 24, 2013
9/24/13
4:30
PM ET
DAVIE, Fla. -- It was the biggest concern I had about the
Miami Dolphins
entering the season: Spending more than $200 million in free agency fixed the starting lineup, but did the Dolphins have enough depth to overcome injuries?
We are about to find out as Miami (3-0) prepares for the
New Orleans Saints
(3-0) on "Monday Night Football" in a battle of undefeated teams. The Dolphins are off to a fast start, but the injury bug has hit this team in a major way.
The status of defensive starters
Cameron Wake
(knee),
Paul Soliai
(knee),
Dimitri Patterson
(groin) and
Koa Misi
(shoulder) are all in question. There is a good chance most of this aforementioned group will not be ready for Monday's game.
This opens the door for Miami's backups. Reserve players like
Dion Jordan
,
Derrick Shelby
,
Randy Starks
,
Nolan Carroll
and
Jason Trusnik
could have bigger roles against New Orleans' high-powered offense. Can the Dolphins keep up the same level of production?
"I honestly can tell you that the whole philosophy is that you never worry about the players that aren't there," Dolphins defensive coordinator Kevin Coyle said Monday. "It's the ones that are there, the ones that are going to play in the game and try and get them in the right spots so you have an opportunity to win the game. I was really pleased with the fact that there were a number of guys that had to step up."
Miami's defense didn't play well in last Sunday's 27-23 win over the
Atlanta Falcons
, but the group survived. In particular, the run defense and tackling wasn't very good.
Injuries are going to take place over the course of a 16-game season. The Dolphins just didn't know when and where they would happen. How Miami's backups respond over the next game or two will say a lot about the Dolphins.
September, 17, 2013
9/17/13
12:00
PM ET
The
Miami Dolphins
are a surprise team off to a 2-0 start after beating the
Indianapolis Colts
and
Cleveland Browns
.
How are the Dolphins doing it? Here are five under-the-radar reasons Miami is undefeated:
Clay
Tight end Charles Clay:
There were questions this preseason of who would step up in the absence of former starting tight end
Dustin Keller
. Clay has done a good job of filling Keller's role in the first two weeks of the regular season. Clay is tied for second on the team with 10 receptions and is second in yards with 163. He had a big game Sunday against Indianapolis with five catches for 109 yards. With much of the focus on receivers
Mike Wallace
and
Brian Hartline
, Clay has been able to do some damage underneath to keep the chains moving.
Third-down defense:
Miami's defense is getting off the field when it matters most on third downs. Opponents are being held to a 27.6-percent conversion rate on third down. By comparison, Miami's offense is converting on 46.7 percent of its third downs. That's a huge difference, especially in close games. The Dolphins have been good so far at creating third-and-long situations and getting to the quarterback on obviously passing downs. Miami has nine sacks and four interceptions in two games.
Sturgis
Kicker Caleb Sturgis:
Sturgis is quietly proving to be a solid draft pick. The rookie fifth-rounder is a perfect 5 for 5 on field goals, including a big 54-yard kick before halftime that tied the score against the Colts. Sturgis also is perfect on four extra points and consistently produces touchbacks. He's quickly made Dolphins fans forget about former kicker
Dan Carpenter
.
Defensive end Derrick Shelby:
In limited playing time, Shelby has contributed a sack in each of the first two games. The backup defensive end started to come on strong in the preseason. He's earned playing time as the fourth defensive before Pro Bowler
Cameron Wake
, starter
Olivier Vernon
and rookie first-round pick
Dion Jordan
.
The Dolphins are getting contributions from both their star players and under-the-radar contributors. It will be key for Miami to continue this trend throughout the season.
August, 7, 2013
8/07/13
5:35
PM ET
DAVIE, Fla. -- The
Miami Dolphins
continued their third week of training camp in preparation for Friday's preseason game against the
Jacksonville Jaguars
.

Here are some notes and observations from Wednesday's practice in full pads:
Miami top receiver Mike Wallace (groin) dressed for practice and fully participated for the first time in more than a week. Wallace also had the most impressive play of the day. He beat Miami cornerback Nolan Carroll deep for a 40-yard touchdown pass. The throw was made by Miami starting quarterback Ryan Tannehill. Wallace said he expects to play Friday against the Jacksonville Jaguars, although head coach Joe Philbin was non-committal. "We'll see how it goes," Philbin said. "We haven't made any final decisions of who is playing and final snaps. We will determine that. We will have a plan."
Tannehill had an average day throwing the ball overall. He wasn't awful like Tuesday, when Tannehill threw four interceptions. Tannehill had the big play to Mike Wallace for a touchdown and made several other good throws. But Tannehill did have one interception in 7-on-7 drills to cornerback Dimitri Patterson. Tannehill's performance in training camp has been up and down. He's thrown five interceptions in the past two practices.
Dolphins owner Stephen Ross was in attendance to watch training camp. Ross met with the media earlier Wednesday and said he's hopeful for a playoff run after spending plenty of money this offseason to improve the team.
Miami defensive coordinator Kevin Coyle had high praise for Derrick Shelby. The backup defensive end has been one of the pleasant surprises in training camp. Shelby led the Dolphins with two sacks in last weekend's 24-20 preseason loss to the Dallas Cowboys. "I'm really pleased with Derrick," Coyle said. "Derrick is a very sound, very technically efficient player. But I see more production out of Derrick, starting the other night. He's always a guy that you can count on to be in the right place. He's very dependable. Yet we saw that playmaking ability the other night and we've seen it throughout training camp. He's been difficult to block."
On the injury front, Dolphins starting running back Lamar Miller practiced but the team was careful with the workload after he was shaken up on Tuesday. Miller's right foot was heavily taped. Dolphins third-string quarterback Pat Devlin (hand) also practiced. The team was without rookie corner Jamar Taylor and fullback Jorvorskie Lane.
There was also a John Jerry sighting in practice Wednesday. Miami's starting guard didn't dress but he's been absent for a while after injuring his knee. His injury sent the offensive line scrambling. Jerry's timetable is unknown. But the fact that he's around the team this week is a good indication that he's making progress for an eventual return.
The Dallas Thomas experiment continues. Miami tried Thomas out at right tackle on the second team for the first time in camp. Thomas has been struggling as the backup left tackle. He was particularly exposed on the left side in the Hall of Fame Game against the Cowboys. Thomas didn't have a strong practice at right tackle either on Wednesday. I think his best position is guard, and it may be time to permanently move Thomas there before the rookie loses confidence. According to Philbin, the team wants to continue to experiment. "He's got to work on his technique and fundamentals," Philbin said. "That's the only way to solve the problem. ... We have to continue to work on leverage, punch, timing of the punch and his feet."
The Dolphins will be off on Thursday so they can travel to Jacksonville. Miami will play its second preseason game against the Jaguars on Friday.
August, 6, 2013
8/06/13
1:05
PM ET
MIAMI -- We are entering Week 3 of training camp for the
Miami Dolphins
, and the team already has one preseason game in the books.
Let's take an updated look at whose stock is up and down in Miami:

Falling
1. Dallas Thomas, tackle/guard:
Sunday's game was not a strong debut for Miami's rookie offensive lineman. He struggled mightily against Dallas in his audition for the backup left tackle spot. From my viewpoint in training camp, Thomas performed better the past two weeks as a guard. However, he has some versatility and Miami is thin at left tackle. So the Dolphins coaching staff wanted to provide Thomas a look in a game scenario. If the first preseason game is any indication, Miami may want to keep Thomas at guard going forward.
2. Dolphins' tackling:
I know it's just the first preseason game, but Miami's defense put on a poor tackling exhibition on all levels. Both the starters and backups showed poor form trying to stop Dallas ball-carriers. That was a major reason why Dallas' starters and backups rushed for 170 yards on 34 carries. The Cowboys averaged 5.0 yards per carry. Perhaps this was just early jitters. But tackling is an area to keep an eye on later in the preseason.
3. Philip Wheeler, linebacker:
Wheeler is having a good training camp, but he struggled in limited playing time in the Hall of Fame Game. On the opening drive, Wheeler was beat by Dallas tight end
Dante Rosario
for 18 yards. Wheeler also displayed some poor tackling and whiffed in the open field against Cowboys tailback
Lance Dunbar
. It almost looked as though Wheeler was playing too fast. But, again, this was a small sample size and there's no need to go overboard. I've seen more good than bad from Wheeler since the spring.
Rising
1. Young defensive ends:
Miami's defensive line from top to bottom has been dominant in training camp. The Dolphins showed some of that depth Sunday against Dallas with backup defensive ends
Derrick Shelby
and
Dion Jordan
both wreaking havoc. Shelby led the Dolphins with two sacks, and he also had two additional hits on the quarterback. Jordan, who played only on third down, also had a pair of tackles and two quarterback pressures. Miami's defensive-end rotation looks very strong with Pro Bowler
Cameron Wake
and
Olivier Vernon
currently the starters, and Jordan and Shelby as the backups. It's early, but Miami's pass-rush definitely looks improved.
2. Chad Bumphis, wide receiver:
I owe Bumphis an apology. He's been making plays with regularity in training camp. But I've mostly looked the other way and ignored Bumphis, because he's done it mostly against the third team. Bumphis showed up against Dallas and led the Dolphins in receiving with five receptions for 85 yards. The highlight was a 45-yard reception. Bumphis did have a big error when a dropped pass led to a pick six. But overall, it was a good night for the smallish receiver. He continues to push for a roster spot.
3. Lamar Miller, running back:
Similarly, Miller had mostly good plays but one big mistake. It was that kind of night for Miami. Miller botched a hand off from quarterback
Ryan Tannehill
on Miami's first offensive play. Tannehill got credited for the fumble, but it appeared Miller deserved most of the blame. Otherwise, Miller had a strong night. He looked explosive in his two carries for 21 yards. That was enough work for Miller, who has an important role replacing former starter
Reggie Bush
.
August, 5, 2013
8/05/13
10:00
AM ET

CANTON, Ohio – The
Miami Dolphins
are still bringing No. 3 overall pick
Dion Jordan
along slowly after February shoulder surgery. His work has gradually increased in training camp, and Jordan played only on third-down situations in Miami's
24-20 preseason loss
to the
Dallas Cowboys
.
But Jordan made the most of his limited reps by impacting Sunday's Hall of Fame Game. He recorded two tackles and two quarterback pressures in his NFL debut.
Jordan was one of the few bright spots in an otherwise sloppy game for Miami.
"I'm practicing my butt off so I will be prepared when the [regular] season and games come," Jordan said in the locker room Sunday night. "As far as when I get out there [more] and timetables, you have to talk to coach. They're letting me know what I have to do to get prepared."
Jordan's best play happened in the third quarter. He sprinted around the edge and forced Cowboys quarterback
Nick Stephens
to move in the pocket and into the arms of Miami teammate
Derrick Shelby
.
On that play, Jordan showed the explosiveness, fluid movement and aggressiveness getting to the quarterback that Miami needs this season.
"I looked like one or two times he got adequate pressure and got around the quarterback a little bit," Dolphins head coach Joe Philbin said. "We will take a closer look at the tape."
Jordan's workload will continue to increase in training camp and the preseason. He's currently behind second-year defensive end
Olivier Vernon
on the depth chart.
Miami's defensive line is arguably the deepest unit on the team. Performances Sunday by Jordan and Shelby (two sacks) further proved that point, but Jordan is looking for more.
"We can be really deep," Jordan said of his fellow defensive linemen. "The front line starts it all off and it works its way to the [backups]. It's good that we got pressure on the quarterback, but we have to finish as a unit. As a defense, we have to do better."
August, 4, 2013
8/04/13
11:16
PM ET
CANTON, Ohio – The
Miami Dolphins
lost to the
Dallas Cowboys
, 24-20, Sunday night in the Hall of Fame Game. It was the first of five preseason games for both teams.
Here is what we learned about Miami:
Lamar Miller looked good in his debut as Miami's feature running back. The second-year player rushed for 21 yards on two carries. Miller was decisive and hit the holes fast for nice gains. Miller also fumbled the handoff on the first play, but quarterback Ryan Tannehill was charged a turnover for the exchange. Otherwise, Miller had a good showing and was even trending on Twitter in the first half.
Miami's defensive line has proven to be arguably the team's deepest unit in training camp. That depth was on further display Saturday as the Dolphins sat out defensive linemen Jared Odrick, Olivier Vernon and Randy Starks. Backup Derrick Shelby and No. 3 overall pick Dion Jordan played well. Shelby led Miami with two sacks while Jordan was aggressive and finished with two tackles and two quarterback pressures. It appears Miami's defensive-line rotation is in good shape.
We didn't see much from Tannehill as he was 2-for-5 for 11 yards in limited playing time. Tannehill had his two completions to tight end Dustin Keller and receiver Brandon Gibson. Tannehill was without his two starting receivers: Mike Wallace (groin) and Brian Hartline (calf).
Overall Miami's tackling was poor. The starters whiffed a few times and the backups were worse. This has to be something that irks Miami's coaching staff. The Dolphins have only practiced in full pads a few times so far in training camp, mostly due new collective bargaining agreement rules. Miami head coach Joe Philbin may have to step up the intensity in practice to improve the tackling.
It was mixed results for Miami starting linebacker Philip Wheeler. Wheeler struggled early in his limited playing time. On the first drive, Dallas tight end Dante Rosario beat him for 18 yards. He also missed a tackle in the open field on Cowboys tailback Lance Dunbar. Although he did read a running back play and had a tackle for a loss on the same drive. Wheeler was a major free agent addition for Miami this offseason when he signed a five-year, $26 million contract.
With the backup receiver spots wide open, Chad Bumphis tried to make a move up the depth chart Saturday night. Bumphis led the Dolphins with five receptions for 85 yards and has made strong plays in training camp. He also showed his inexperience, however, by making a costly mistake on a dropped pass in the second quarter that led to a DeVonte Holloman 75-yard interception return for a touchdown. To make the 53-man roster, players like Bumphis must be consistent.
Miami's left tackle spot continues to be a position to watch. Starter Jonathan Martin and backup left tackle Dallas Thomas both had their issues against Dallas. Martin whiffed on Dallas linebacker Kyle Wilber on one play that allowed Wilber to pressure Tannehill. Dallas backup defensive end George Selvie gave Thomas headaches on the second team. Much of Miami's success on offense this season will depend on consistency at left tackle.
Miami backup quarterback Matt Moore had a pretty good night. He was 19-of-29 for 238 yards, with a late touchdown and an interception on the Bumphis drop. Moore was able to move the offense and showed why he is one of the best backup quarterbacks in the NFL.
A player on the roster bubble who finally showed up was backup tight end Michael Egnew. He had four receptions for 52 yards. Egnew, a third-round pick in 2012, showed some of the things he did in college by getting vertical down the field to make catches. But he also had a drop in this game. Egnew is dangerously close to getting cut this year and must continue to make plays.
Dolphins kicker Dan Carpenter made both of his field-goal attempts of 27 and 45 yards. He also made two extra points. Carpenter is competing with rookie Caleb Sturgis for Miami's kicking job this season.
The Dolphins have a short week of preparation before Friday's second preseason game against the
Jacksonville Jaguars
. The Dolphins will take a day off on Monday and then hit the practice field again on Tuesday.