August, 15, 2011
8/15/11
1:00
PM ET
PITTSFORD, N.Y. --
Buffalo Bills
inside linebacker
Nick Barnett
knew bad news was coming this summer, and he still couldn't fully accept it. Despite his eight seasons with Green Bay, the speculation was that the Packers had to trade or release him this offseason. Barnett had been placed on injured reserve in both the 2008 and 2010 seasons, and his heir apparent,
Desmond Bishop
, already was in place. It was a no-brainer move to most observers, even though Barnett was still thinking about the possibility of helping the Packers repeat as Super Bowl champions. "If you read my tweets," he said, "that's all I kept talking about."

These days Barnett is talking about something different -- how he can help the Bills transform one of the league's worst defenses into a sturdy, reliable unit. No team in the NFL was worse against the run in 2010 (Buffalo allowed 169.6 yards per game), and that was one key reason the team signed Barnett so quickly after the Packers released him in late July. At 30, he still has the quickness and playmaking ability that allowed him to amass 787 tackles, 15.5 sacks and nine interceptions during his Green Bay career. He's also aware that his energy and leadership will be invaluable to a team that lost its top tackler,
Paul Posluszny
, in free agency.
Bills assistant head coach and linebackers coach Dave Wannstedt said Barnett already is the team's best linebacker. Head coach Chan Gailey has raved about his new player's approach. "He brings experience and speed to this defense," Gailey said. "He's a guy who always plays fast." Added Barnett: "I'm just trying to be myself. I haven't played since Week 4 [a dislocated wrist ended his season] so I'm still finding my way. But the biggest thing I wanted to bring to this team was an attitude. I want to help the younger guys relax and have fun out there because that's what I do."
Though Barnett needed some time to accept his release from the Packers -- "I've never been fired from anything before," he said -- he quickly sensed that Buffalo was the right place for him. He liked the team atmosphere, the family environment and the die-hard fans who are the city's trademark. In many ways, Barnett felt like he was going to a place quite similar to Green Bay. "The talent level is there," Barnett said. "But like everything, it's going to come down to communication and attitude. If we do those things, we'll be productive."
THREE HOT ISSUES
1.
Will Ryan Fitzpatrick be better?
Yes. Fitzpatrick was a decent quarterback in 2010 -- 3,000 yards, 23 touchdowns, 15 interceptions -- especially considering that he was basically thrown into the job after the Bills gave up on former starter
Trent Edwards
. Fitzpatrick also has far more advantages coming into this season, despite not having an entire offseason to work with coaches. The major areas that he needs to improve? Accuracy and consistency. What he doesn't have to worry about any longer? Proving to his teammates that he can lead this team and knowing whether the job is his alone. "Last season was interesting, but my whole career has been about being ready to show what you can do when the opportunity comes," said Fitzpatrick, who spent his first five NFL seasons as a backup before getting his shot as a full-time starter three games into 2010. "One of the good things we have as an offense is that we have a lot of guys who've spent an entire season playing together and getting familiar with each other. When you look at the offenses in New England and Indianapolis, that continuity is what makes them so successful, and now we're one step closer to that."
[+] Enlarge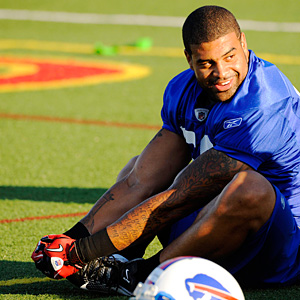 Richard Mackson/US PresswireBuffalo defense is relying on Shawne Merriman to return to Pro-Bowl form.
2.
Can Shawne Merriman return to an elite level?
As long as he's healthy. Right now the three-time Pro Bowl outside linebacker thinks that the strained Achilles that limited him to only three games last season won't be an issue. The bigger challenge for him is finding a comfort level after registering only four sacks over the past three seasons. The Bills are banking on his getting up to speed in a hurry. For a team that tied for 27
th
in the NFL in sacks last season (with 27), having a rejuvenated Merriman harassing opposing quarterbacks would be a much-needed blessing. "I don't feel like I need to respond to people who've been counting me out over the last couple years because all you have to do is watch me practice," said Merriman, who had 43.5 sacks in his first 60 career games. "It's definitely been hard [not playing] but I also feel like I've done everything I've needed to do to get back. I can see good things happening this season."
3.
What role will C.J. Spiller play in the offense
? One of the more disappointing aspects of the Bills' offense in 2010 was the lack of productivity from Spiller. Drafted ninth overall in last year's draft, he was supposed to bring breathtaking speed and elusiveness to the Bills. Instead, Spiller wound up with only 283 rushing yards and 24 receptions in his rookie season. Those numbers should increase now that Buffalo has a less crowded backfield (the team traded
Marshawn Lynch
to Seattle midway through last season) and a greater sense of urgency about involving Spiller. "We need to get him more touches," Gailey said. "We need to find more ways to get him in space so he can use that speed. He's already grown as a runner because he's better at running inside, and he's shown more patience. The one thing I'd really like to see him improve on now is ball security. He had some problems with fumbles last year [Spiller had five fumbles and lost three], and we can't have that."
WELCOME SIGHT
Roscoe Parrish:
The Bills' offensive players know that Parrish has developed into a valuable receiver after being used mainly as a returner early in his career. They realize it even more now that he's healthy. After missing the last eight games of 2010 with a broken wrist, Parrish has been impressing teammates with his trademark speed and quickness. The explosiveness he brings to the offense after sitting out half a year also hasn't gone unnoticed. "Now that he's back, you remember how much he means to this offense," Fitzpatrick said. "He really adds another dimension."
PLAYER TO WATCH
Brad Smith:
Don't be surprised if Smith becomes a more dangerous playmaker in the Bills' offense. He made his name as a kick returner/wide receiver/Wildcat quarterback with the
New York Jets
, and rule changes should allow him to increase his playing time in Buffalo. The NFL agreed to abolish the rule requiring teams to determine a third quarterback on game-day rosters -- that player could participate only in emergency situations, and his presence would prevent the team from using any other quarterback during a game. Now a player like Smith can be used far more often in Wildcat situations. Even if Smith appears as a quarterback in three or four plays a game, his involvement won't limit his coaches' options. "We were going to use him in a similar role anyway, but that rule really helps," said Gailey, who has gained a reputation for finding creative roles for versatile players. "Now you don't have to wonder about whether he needs to be listed as a third quarterback who can only play in emergency situations or if he can be used as a Wildcat quarterback whenever we like. It's going to make a big difference."
OBSERVATION DECK
[+] Enlarge

Rick Stewart/Getty ImagesFirst round draft pick Marcell Dareus has impressed his coaches in training camp.

Rookie defensive end Marcell Dareus hasn't needed much time to make a strong impression on his coaches. Wannstedt called him a "special kid with the right approach to the game," and Gailey thinks it shouldn't take long for Dareus to prove why he was worthy of the third overall pick in this year's draft. "He's a big, physical guy and he's got an edge to him," Gailey said of Dareus, who's 6-3 and weighs 323. "You have to like that about him."
Even though the Bills lost their second-best tackler from last season -- strong safety Donte Whitner -- the loss may not be as troubling as it looks. Though he was a strong presence in run support, the team thinks strong safety George Wilson can help the Bills more in the playmaking department. When Whitner was injured two years ago, the tandem of Wilson and Jairus Byrd gave the secondary a bigger boost with their pass defense skills.
The emphasis on stopping the run is going to put more pressure on the Bills cornerbacks this season. Gailey believes he has the personnel to handle the increased responsibility, and Terrence McGee is essential to this approach. He has spent more time covering slot receivers in training camp, which will allow Leodis McKelvin and Drayton Florence to handle outside receivers when the defense faces three-receiver looks.
Wide receiver Donald Jones is another player worth watching. When asked about teammates who have caught his eye early in training camp, Fitzpatrick said Jones had elevated his game in his second season. An undrafted rookie in 2010, Jones was a nice surprise in camp and finished with 18 receptions. This year he's using his size and strength to make himself a tough receiver to handle at the line of scrimmage.
The Bills recognize that their biggest challenge this season will be learning how to change expectations. Gailey has talked about the difference between hoping to win and expecting to win, and his players believe they can make great strides. Fitzpatrick agreed that last season, too many players were worried about losing their jobs as the team transitioned into Gailey's tenure. This year, there is far more comfort and a sense of purpose on a team that hasn't made the playoffs since 1999. "We definitely need to take the approach that we deserve to win," Fitzpatrick said. "And we have a chip on our shoulders. We hear all the people talking about how tough the AFC East is, and nobody mentions our name. That can be fuel for our fire, and we have to believe we can surprise people."
September, 15, 2010
9/15/10
5:13
PM ET
There has been talk about the
Buffalo Bills
trading
Marshawn Lynch
since he finished last season second on the depth chart behind
Fred Jackson
.
Rumblings got louder throughout the offseason, when the Bills used the ninth draft choice on
C.J. Spiller
and Lynch declined to show up for most workouts.
Turns out, this week's opponents need a running back. The
Green Bay Packers
lost
Ryan Grant
for the year with an ankle injury, and
their quarterback happens to be a huge Lynch fan
.
Aaron Rodgers
and Packers linebacker
Desmond Bishop
played with Lynch at the University of California. When Rodgers was asked Wednesday what his response would be if Green Bay's front office solicited his opinion about Lynch, the quarterback replied "Bring him on."
Rodgers isn't bothered by Lynch's track record of bad behavior. The NFL suspended Lynch for the first three games last year for multiple problems with the law.
"He's a great player," Rodgers said. "And any character issues the team might see, I think in a situation like that, and I think you've seen that with other players across the league, when you give a guy a change of scenery and a guy like that who feels he might have something to prove, and surround him with two guys, Bishop and myself who played with him, I think that can only help him feel comfortable and see a lot of production."
Milwaukee Journal Sentinel reporter Greg A. Bedard blogged Rodgers' comments and added any trade would be "a long shot" and that "even a third-round pick would likely be too rich for [Packers general manager] Ted Thompson."
Earlier on Wednesday, I wrote about how the
New England Patriots
' decision to trade their former first-round back,
Laurence Maroney
, might
impact the market for a potential Lynch trade
.
Bills coach Chan Gailey on Wednesday reiterated his preference to keep Lynch.
"Opinions vary of whether it's too many" running backs in Buffalo's backfield, Gailey said. "In preseason, we didn't have too many. I know Green Bay wishes they had one more.
"Everybody's got opinions on what's right. We feel that having the three that we have right now is a very good situation for us. We've got to continue to get better with each one of them and see how their roles play out as the year goes on. This is a situation in the NFL where you can't have too many good running backs."