AFC East:

Dewayne Robertson
May, 25, 2011
5/25/11
11:03
AM ET
Football Outsiders senior writer Mike Tanier put together his
10 most disappointing trades of the past quarter century
for ESPN Insider.
Forty percent involved AFC East clubs, and in only one case were they not the suckers. In some instances there were no winners on either side of the deal.
The
Miami Dolphins
were indicted twice. Their succession of quarterback trades from 2005 through 2008 ranked eighth. Tanier called them a "series of ill-conceived trades for backups and has-beens."
The Dolphins' 1992 trade of Sammie Smith to the
Denver Broncos
for Bobby Humphrey came in at No. 7. It was "a one-for-one, headache-for-headache deal that turned out to be a waste of everyone's time," Tanier wrote.
Fourth on the list was the
New York Jets
' 2003 draft trade with the
Chicago Bears
. The Jets moved up to fourth in the order and drafted
Dewayne Robertson
. The Bears eventually drafted defensive end
Michael Haynes
(not
Ty Warren
) and quarterback
Rex Grossman
in the first round.
The
New England Patriots
came out ahead in the 2006 deal that ranked 10th. They dealt receiver
Deion Branch
to the
Seattle Seahawks
for a first-round draft choice that became Pro Bowl safety
Brandon Meriweather
. Three seasons later, the Patriots got Branch back for a fourth-round pick.
April, 26, 2011
4/26/11
10:20
AM ET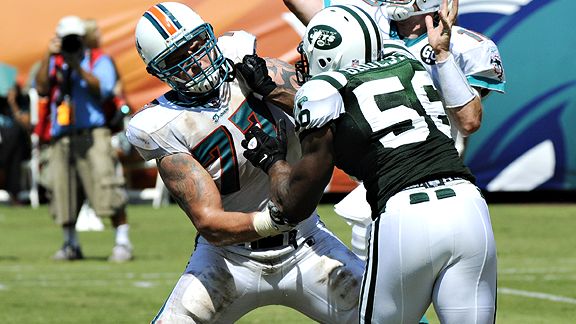 Doug Murray/Icon SMIBoom (Jake Long) or bust (Vernon Gholston), teams have spent plenty on first-round picks since 2000.
Buffalo Bills
general manager Buddy Nix recently said rare circumstances would be required to trade the club's third overall draft choice. He sounded fixed on making that pick, even though he has no idea how much it will cost him.
There's curiosity over what the
New England Patriots
will do with their abundance of draft assets. They have enough picks that they could trade up into the top 10. Yet they don't know how rich that territory will be.
We know the NFL draft will begin Thursday night. Unclear are the dollars it will take to sign those picks.
Rookie cost controls almost certainly will be part of the next collective bargaining agreement, but will that deal be hammered out before the 2011 season?
If not, then teams might operate under last year's rules. That would mean more outrageous guaranteed dollars to prospects who haven't snapped an NFL chinstrap. A league source calculated NFL teams have committed over $3.154
billion
in guarantees to first-round draft choices since 2000.
The Associated Press reported the NFL's proposal for a rookie pay system -- made before the lockout -- included $300 million in diverted funds that instead would go to veteran contracts and player benefits and slow the rapid growth of guaranteed first-round money (up 233 percent since 2000).
The money would be saved by shrinking the already-in-place rookie salary pool system, where the league allocates a certain number of dollars to be spent based on the number of picks and their spots in the order.
Also in the reported proposal: first-round contracts would be capped at five years under the proposal. All other draft picks would be capped at four years. The player's maximum allowable salary would go down if he hadn't signed by training camp, a deterrent to holding out.
Buffalo News reporter Mark Gaughan recently estimated the
Bills would save roughly $15 million on their No. 3 pick
with rookie cost controls. That certainly would make another Aaron Maybinesque pick more digestible.
With all this in mind, let's examine how much guaranteed money AFC East clubs have spent on their first-round draft picks since 2000. Data provided from the aforementioned league source shows the Patriots have spent most efficiently, the
New York Jets
have spent the most total dollars and the
Miami Dolphins
have spent the most per player.
The Dolphins have drafted eight first-rounders since 2000 and spent an average of $12.043 million in guaranteed money. That figure ranks eighth among all NFL clubs, but those players averaged only 37 starts for Miami.
Only the Buffalo Bills averaged fewer starts from their first-rounders at 36.2, but the Bills rank 19th in average guaranteed dollars committed.
Left tackle
Jake Long
's mammoth contract inflates Miami's dollar figure. The top 2008 pick became the highest-paid offensive lineman in NFL history days before commissioner Roger Goodell said Long's name at Radio City Music Hall. Running back
Ronnie Brown
was rewarded with $19.5 million guaranteed as the second pick in 2005.
Those picks were successful, but the Dolphins also committed $13.865 million to receiver
Ted Ginn
, $9.016 million to cornerback
Jason Allen
and $7.133 million to defensive end
Jared Odrick
.
The Jets' massive guarantee total includes left tackle
D'Brickashaw Ferguson
($29.6 million), quarterback
Mark Sanchez
($28 million), outside whatever
Vernon Gholston
($21 million), cornerback
Darrelle Revis
($14.7 million) and defensive tackle
Dewayne Robertson
($14.7 million).
There are a couple royal busts in there, but the Jets still have spent relatively well. Despite picking in roughly the same average first-round slot as the Dolphins and Bills since 2000, the Jets have averaged nearly 61 starts per player.
The Bills' big-ticket items have been running back
C.J. Spiller
($18.9 million), left tackle
Mike Williams
($14.4 million) and Maybin ($10.9 million).
Buffalo's first-round picks ranked 19th in the NFL when it came to average guaranteed dollars.
The Patriots have committed eight figures in guaranteed money to only two of their 10 first-round selections since 2000 because of their penchant to trade back. Their average first-rounder is taken 20.7th overall.
Inside linebacker
Jerod Mayo
($13.8 million) and defensive end
Richard Seymour
($11 million) are the Patriots' lone top-10 picks under Bill Belichick and look like basement bargains compared to other names mentioned above.
April, 22, 2011
4/22/11
2:53
PM ET
While working on
a feature about Tom Modrak's draft record
as
Buffalo Bills
vice president of college scouting, ESPN researcher John Fisher dug up some interesting data.
The Bills actually were the AFC East's most efficient club when it came to drafting starters since Modrak came aboard in 2002.
Several factors certainly play into that from team to team. Importance of the position, holes that allow for immediate contributions and reliance on free agents to fill out a roster all make a difference. So do the number of players drafted.
But, in general, I thought it was an interesting snapshot to share. Because the research was done to put Modrak's tenure in perspective, numbers are from 2002 through the present.

Buffalo Bills
First through third rounds:
28 players; 804 starts (15th)
Fourth through seventh rounds:
45 players; 417 starts (eighth)
Analysis:
Among AFC East teams, only the
New England Patriots
generated more starts within the first three rounds. No other division opponent found more starts from the fourth round and beyond. The Bills have whiffed badly on some early picks, as noted in Thursday's story about Modrak. But they have done well in locating solid help in the later rounds, namely 1,000-yard receiver
Steve Johnson
(seventh round), Pro Bowl defensive lineman
Kyle Williams
(fifth round) and top cornerback and Pro Bowl kick returner
Terrence McGee
(fourth round).

Miami Dolphins
First through third rounds:
25 players; 599 starts (31st)
Fourth through seventh rounds:
43 players; 333 starts (16th)
Analysis:
The Dolphins have done well with their recent first-round picks. Although receiver
Ted Ginn
with the ninth pick in 2007 was controversial, they found keepers with tackles
Jake Long
and
Vernon Carey
and running back
Ronnie Brown
. But the second and third rounds have been a wasteland: quarterbacks
John Beck
and
Pat White
, running back
Lorenzo Booker
, receivers
Patrick Turner
and
Derek Hagan
, linebacker
Eddie Moore
. Miami's best later-round pickups since 2002 have been franchise-tagged nose tackle
Paul Soliai
(fourth round), Pro Bowl safety
Yeremiah Bell
(sixth round) and tight end
Randy McMichael
(fourth round).

New England Patriots
First through third rounds:
31 players; 823 starts (12th)
Fourth through seventh rounds:
50 players; 379 starts (11th)
Analysis:
The Patriots have found their share of gems in the later rounds, including four eventual Pro Bowlers. They picked up cornerback
Asante Samuel
and kicker
Stephen Gostkowski
in the fourth round, center
Dan Koppen
in the fifth and quarterback
Matt Cassel
in the seventh. They've also done incredibly well with their first-round selections. Five of their past six first-rounders have gone to the Pro Bowl. Where the Patriots have been shaky is in the second and third rounds. They've gotten receiver
Deion Branch
, tight end
Rob Gronkowski
, tackle
Sebastian Vollmer
and safety Patrick Chung there, for instance, but they've also misfired with quarterback
Kevin O'Connell
, receivers
Chad Jackson
and
Bethel Johnson
and cornerback
Terrence Wheatley
.

New York Jets
First through third rounds:
24 players; 766 starts (19th)
Fourth through seventh rounds:
32 players; 314 starts (18th)
Analysis:
The Jets' start totals look worse because they haven't drafted as many players as the other AFC East teams. Their early round players average 32 starts, about 5 1/2 more than the Patriots. But the team that accumulated the most starts here -- the
Jacksonville Jaguars
with 1,172 -- averaged an extraordinary 43 per player. The Jets obviously failed with 2008 sixth overall pick
Vernon Gholston
and 2003 fourth overall pick
Dewayne Robertson
, but they've generally identified quality players inside the first three rounds, including All-Pros
Nick Mangold
and
Darrelle Revis
and franchise quarterback
Mark Sanchez
.
March, 26, 2011
3/26/11
1:35
PM ET
In a column for ESPN Insider, draft institution
Mel Kiper listed the 40 biggest non-quarterback busts

since he put out his first draft guide in 1978.
Five AFC East picks made the cut. Here they are along with Kiper's comment:
Linebacker Tom Cousineau, Bills, first overall in 1979: "He was kind of an undersized guy, even in 1979, and his career didn't match his work in Columbus."
Running back Sammie Smith, Dolphins, ninth overall in 1989: "Smith played with a bruising style for FSU but wasn't explosive enough in the NFL."
Tackle Mike Williams, Bills, fourth overall in 2002: "An absolute mammoth at 370-plus pounds, Williams got starts but never lived up."
Defensive tackle Dewayne Robertson, Jets, fourth overall 2004: "Only 16 sacks in his career for a guy we thought would really penetrate and be a menace."
Outside linebacker Vernon Gholston, Jets, sixth overall in 2008: "Finally time to call it what it is. Amazing physical skills, but not even Rex Ryan could save him."
March, 4, 2011
3/04/11
9:31
AM ET
When word got out the
New York Jets
would release defensive end
Vernon Gholston
, I solicited your nominees for the AFC East's biggest draft busts.
These disappointments received the most votes for each club:

Buffalo Bills
Defensive end Aaron Maybin (11th in 2009)
Tackle Mike Williams (fourth in 2002)
Quarterback J.P. Losman (22nd in 2004)
Defensive tackle John McCargo (26th in 2006)
Defensive end Erik Flowers (26th in 2000)
Comment:
Sadly, Buffalo's list suggests readers don't remember the team before the Music City Miracle. Last year's strong safety,
Donte Whitner
, finished sixth. Epic busts Walt Patulski (first in 1972), Tony Hunter (12th in 1983) and Perry Tuttle (19th in 1982) received only one vote each. Nobody mentioned running back Terry Miller (fifth in 1978).

Miami Dolphins
Receiver Yatil Green (15th in 1997)
Receiver Ted Ginn (ninth in 2007)
Running back John Avery (29th in 1998)
Cornerback Jamar Fletcher (26th in 2001)
Receiver Randal Hill (23rd in 1991), Eric Kumerow (16th in 1988), running back Sammie Smith (ninth in 1989)
Comment:
The Dolphins were the most nominated team in this exercise. They led with 16 nominees and the number of votes cast. Green didn't play in his rookie or sophomore seasons because of injuries and lasted eight games his third year. My pick would have been Kumerow, whose career consisted of three seasons, zero starts and five sacks.

New England Patriots
Running back Laurence Maroney (21st in 2006)
Receiver Chad Jackson (36th in 2006)
Receiver Hart Lee Dykes (16th in 1989)
Cornerback Chris Canty (29th in 1997)
Offensive lineman Eugene Chung (13th in 1992), defensive end Kenneth Sims (first in 1982), linebacker Chris Singleton (eighth in 1990)
Comment:
I was surprised Sims didn't receive more attention. He was the No. 1 choice ahead of Marcus Allen, Gerald Riggs, Mike Munchak, Jim McMahon and Chip Banks. Maroney received the most votes, but he also generated the most spirited debate because many readers disagreed he should be considered a bust. Jackson was a second-round pick, but the Patriots traded up 16 spots to get him.

New York Jets
Running back Blair Thomas (second in 1990)
Defensive end Vernon Gholston (sixth in 2008)
Tight end Kyle Brady (ninth in 1995)
Defensive tackle DeWayne Robertson (fourth in 2003)
Receiver Johnny "Lam" Jones (second in 1980)
Comment:
There was a lot of material to work with here. I was satisfied readers emphasized the magnitude of the bust over the freshness of Gholston's release by voting for Thomas. The next running back off the board in 1990 was Emmitt Smith.
December, 8, 2009
12/08/09
3:46
PM ET
No matter what happens to the
New England Patriots
the rest of the year, even if they go down in a screaming ball of fire and don't win another game, they still will be remembered as the best team of the 2000s.
Sports Illustrated has released its choices
for the best teams, players, games, moments and everything else of the decade. Patriots are all over the place.
They were named the best organization. Bill Belichick was named best coach. Scott Pioli was named best personnel man. The 2007 team had the best season.
Randy Moss
from the
Oakland Raiders
was selected as the best trade and
Tom Brady
the biggest draft steal.
On Don Banks' list of
top 10 signature moments of the 2000s
,
Mo Lewis
' hit on
Drew Bledsoe
that opened the door for Brady was No. 1. The Tuck Rule play was No. 7.
Of course, the Patriots also were involved in the biggest upset of the decade, losing to the
New York Giants
in Super Bowl XLII, and the greatest scandal, Spygate.
There were a couple mentions for the other AFC East teams, too.
The Jets were tabbed for the worst trade, sending two first-round draft picks and a fourth-round pick to
Chicago Bears
so they could select defensive tackle
Dewayne Robertson
.
Buffalo Bills
receiver
Terrell Owens
was named villain of the decade. Former Bills defensive coordinator Dick Lebeau was selected coordinator of the decade.
Here are the men with AFC East ties who landed on
Peter King's all-decade team
:
January, 12, 2009
1/12/09
8:35
AM ET
Posted by ESPN.com's Tim Graham
Let's kick off this week's mailbag with some feedback to a post I wrote on former Buffalo Bills receiver Andre Reed's credentials for the Pro Football Hall of Fame.
Shane in Syracuse, N.Y., writes: It's clear that you bring a Bills bias to your ESPN blog, probably over-compensating for your years at the Buffalo News. You're not struck by greatness when looking at Andre Reed? Please. He was a main cog in an almost unprecedentedly efficient offensive machine. Any good reporter knows that when looking at statistics he has to count for inflation. Comparing him to Kennan McCardell is just maddening. Your blog becomes less impressive with each passing month... Hockey/Boxing writer turned ESPN corporate blogging hack!
Tim Graham: Perhaps I failed in my delivery because the entire premise of my post about Reed's credentials was about inflation. And I didn't compare him toKeenan McCardell, Derrick Mason or Larry Centers . I compared Reed's stats to theirs. When people look back on Reed's career, he will be hurt by the fact receptions aren't as hard to come by anymore. Sorry if that offends you, but it's the truth.
---
James in Endicott, N.Y., writes: Sir: Reed was the dominate receiver on the dominate team of his era. While some may equal, nobody has ever bettered his YAC ability. Let's get to the heart of it here--just like making T.Thomas wait, yes, even one year--this is about disrespecting the Bills of that era. And that's just nonsense. I'm not going to get into a deep defense of those teams--let's just start with the NFC teams they beat on the road in that era--and you can go from there. All I saw was greatness, my friend.
Tim Graham: If you're convinced there's a conspiracy by the Hall of Fame electors to make Buffalo Bills wait for enshrinement, then all I can say is I hope you avoid those dastardly alien probes I've been hearing so much about in the Southern Tier.
---
Darren from Parts Unknown writes: > Andre was considered the best RAC receiver in the league behind Jerry Rice. > Defensively teams game planned to stop Andre Reed unsuccessfully every week. > For years the Bills next leading receiver behind Andre Reed wasn't even a WR (Thurman Thomas). > For years Andre Reed didn't have that "second receiver" to take the coverages away from him. (i.e. Rice-Taylor, Irvin-Harper, etc.) Cris Carter was able to get the majority of his catches because he had Anthony Carter, Jake Reed and Randy Moss on the other side. > He is part of the best QB-WR tandem in football history
Tim Graham: I don't disagree. But for a little context -- and to play devil's advocate because I enjoy it -- opponents game plan for Derrick Mason every week, it wasn't uncommon for running backs (Roger Craig, Keith Byars, Ronnie Harmon, Centers, et al) to have a lot of catches back then, and Mark Clayton (not in the Hall of Fame) is half of one of the NFL's greatest passer-catcher tandems.
That said, Reed belongs in the Hall of Fame.
---
Rick in Lowell, Mass., writes: If you're the Detroit Lions and you hold the #1 pick and the 15th pick, and most are saying you are going to spend one of the 2 on a QB, what do you think about taking a stud OT at #1(look at the last two years drafts and tell me the Lions wouldn't KILL to have Joe Thomas or Jake Long) then trade your pick to NE for Matt Cassel. Not a hypothetical "guy like cassel vs. unproven rookie" question. I'm asking you who you'd rather have on your team...Matt Cassel, or whatever young QB in this years draft you like the most? The Lions are in a great spot to trade because they have 2 first rounders, so they could still get the best OT in the draft, and FINALLY have a talented young QB to throw balls to your stud WR. What do you think?
Tim Graham: You've done more Lions draft preparation in one mailbag post that Matt Millen did the past four years. You raise an intriguing possibility. The problem is, the Patriots probably can't afford to trade Cassel before the draft. The main reason to franchise Cassel is to be an insurance policy for Tom Brady. April likely is too soon to know how that surgically mended left knee will hold up. If the Patriots trade Cassel, odds are it will happen over the summer.
---