AFC East:

Dexter McCluster
April, 23, 2010
4/23/10
9:36
AM ET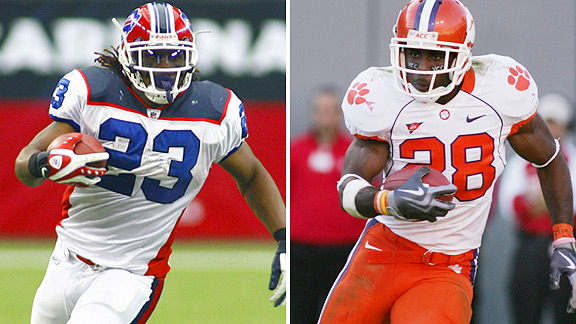 US PresswireDespite drafting C.J. Spiller, right, the Bills insist Marshawn Lynch remains in their plans.
ORCHARD PARK, N.Y. --
Buffalo Bills
general manager Buddy Nix and head coach Chan Gailey haven't lied yet.
That's why we have no choice but to believe them when they suggest
Marshawn Lynch
will remain a part of the team.
The Bills drafted running back
C.J. Spiller
with the ninth pick Thursday night. The decision was mildly surprising because they already had two 1,000-yard backs.
As soon as Spiller's name was announced
, observers saw it as a clear indication Lynch should start cleaning out his locker.
But the Bills remained consistent in their comments about Lynch. Nix reiterated his stance from a month ago and again last week that he wants Lynch on the roster.
I asked Nix what Spiller's addition means for Lynch's status with the Bills.
"Nothing," Nix replied. "Doesn't change a thing. He's still ours. We intend for him to be here."
That's essentially what the Bills have said all along about Lynch. Despite his baggage, his decision not to participate in voluntary offseason workouts after losing his job as featured back and incessant reports claiming the Bills want to move him,
Nix and Gailey have professed their desire to keep Lynch
.
Their comments leading up to the draft weren't misleading about Spiller, either.
At the NFL owners meetings last month, Gailey hinted at the type of player the Bills were targeting when he spoke about the importance of adding a running back that offers a different style than the more physical Lynch and
Fred Jackson
.
"The guys that are coming out now," Gauley said, "there's a bunch of those 5-foot-9, 185-pound or 195-pound, quick-as-a-cat water bugs that are
running backs-slash-receivers that might give you a little bit of a punch
on the field, maybe make a big play."
Spiller is about 5-foot-11 and 196 pounds. Nix confirmed they view him as a running back/receiver by comparing him to
New Orleans Saints
running back
Reggie Bush
and
Minnesota Vikings
receiver
Percy Harvin
.
But to hear Gailey speak about that brand of running back and knowing all of Buffalo's significant needs, it was easy to think
he was referring to a pick in the later rounds
for, say, Mississippi scatback
Dexter McCluster
or Southern Methodist's Shawnbrey McNeal.
Just last week, Nix went out of his way to warn reporters not to assume they were going after any specific position. A high percentage of mock drafts had them selecting an offensive tackle or a defensive lineman.
"Let me try to make this where it won't be a shock come draft day or at the end of the draft," Nix said last week. "You read about all the things we need. We've got to have a left tackle. We've got to have a quarterback. We've got to have this. The way we see our players is probably a little different than the way you guys see them. When somebody writes that you need a left tackle, you've got to have a left tackle, then it just grows and it moves around. It gets bigger.
"This is the point I'm trying to make: When it comes time, if we think there's two left tackles in the draft that can come in at No. 9 and make an immediate impact, can play from Day 1, that's what we expect from a top-10 draft choice. That's what we want. Now, if one of those two are not there, then we would look at the next need we have, which might be quarterback, it might be something else.
"Our philosophy is to put as many good players on this team as we can. We would like to fill a need, but if we can't, we want to make sure we don't compound the problem by putting another one in that position that cannot play."
Thus far, the Bills' new front office hasn't fibbed, and you can't say that about a lot of clubs.
When they say they're keeping Lynch, although it seems counterintuitive, you have to believe them at this point.
April, 13, 2010
4/13/10
9:33
PM ET
According to a report by Yahoo! Sports writer Charles Robinson, the
Buffalo Bills
haven't been actively trying to move running back
Marshawn Lynch
, but they'll entertain offers and are
open to trading Lynch for a package that includes a second-round pick
.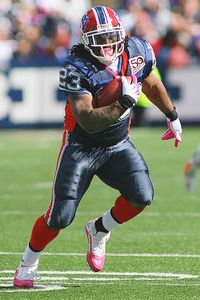 Rick Stewart/Getty ImagesIn three seasons with the Bills, Marshawn Lynch has rushed for 2,601 yards, but he has run into trouble away from the field.
Yeah, good luck with that.
A second-round pick?
Robinson, citing an unnamed sources, reports the
Seattle Seahawks
have had internal discussions about making a play for Lynch.
Lynch has the potential to be elite
. That's why the Bills drafted him 12th overall three years ago. He rushed for over 1,000 yards in his first two seasons and made a Pro Bowl.
But Lynch, much like
Santonio Holmes
, is one misstep away from a long suspension. Lynch began last season with a three-game suspension for repeated misbehavior. He was involved in a hit-and-run incident in Buffalo and made a plea deal on gun charges in California. He has been accused of other transgressions, too.
A second-round pick for a player with Lynch's rap sheet seems expensive.
The Scouts Inc. draft board
projects Cal's
Jahvid Best
and Ole Miss'
Dexter McCluster
as second-round picks in this year's draft.
Talented running backs aren't that difficult to discover. Lynch eventually lost his starting job to
Fred Jackson
, a Division III product who wasn't drafted at all.
Here's a list of running backs who have been drafted in the third round:
Shonn Greene
,
Frank Gore
,
Steve Slaton
and
Jamaal Charles
. In the fourth round:
Marion Barber
,
Brandon Jacobs
and
Darren Sproles
.
If you'll allow me to mix up positions, the
New York Jets
acquired Holmes for a fifth-round choice. There's a belief the
Denver Broncos
will accept a high second-round pick for
Brandon Marshall
.
Buffalo might very well pull the trigger on a Lynch trade, but if the front office can finagle a second-round draft pick out of another team, then it will be a substantial coup.
March, 25, 2010
3/25/10
2:00
PM ET
Rare are the moments when an NFL coach provides specifics on the sort of player he'd like to add through the draft.
Buffalo Bills
coach Chan Gailey let down his guard this week at the owners meetings and sketched out the style of running back he has his eye on. He wants a
smallish, change-of-pace "water bug
" to complement
Fred Jackson
and
Marshawn Lynch
. Gailey even provided the ideal dimensions: about 5-foot-9 and 190 pounds.
I took that information to Scouts Inc. draft analyst Steve Muench for his thoughts.
[+] Enlarge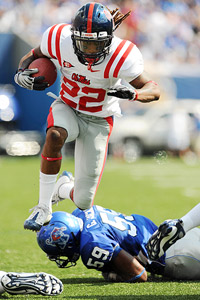 Jim Brown/US PresswireDexter McCluster fits the mold of the running back Bills coach Chan Gailey would like to add to his offense.
As Muench points out, two of the better third-down backs hail from the AFC East. The
New England Patriots
have
Kevin Faulk
(5-8, 202 pounds), while the
New York Jets
plan on having restricted free agent
Leon Washington
(5-8, 195) in their backfield again.
Miami Dolphins
coach Tony Sparano adores
Patrick Cobbs
(5-8, 205), who is on track to return from a season-ending knee injury.
The Bills are missing that player.
"Buffalo is interesting because they have two backs in Fred Jackson and Marshawn Lynch who can carry the heavy workload and catch the ball fairly well," Muench said. "However, they are the only backs on the roster, and Lynch has yet to play in all 16 games of a season. So adding a third-down back to bolster depth and help keep the top two fresh makes sense."
Muench views Mississippi's
Dexter McCluster
(5-8, 172) as the best option in this year's draft class.
"McCluster would be a great fit," Muench said. "He can turn the corner in a flash as a runner, and he's an effective receiver who can produce after the catch. He's also versatile enough to line up in the slot, and the Bills need some help at receiver."
Scouts Inc. forecasts McCluster as a second-round draft pick, and Muench can't envision the Bills going after a running back that soon. The Bills have more pressing needs to address.
Another name to remember is Southern Methodist's
Shawnbrey McNeal
(5-10, 190).
"He appears to lose focus and drop passes he should catch at times, but he has the big hands and agility to develop into a productive receiver," Muench said. "He should be available in the fifth round and could last into the sixth."