AFC East:

Dolphins-Panthers 111909
November, 20, 2009
11/20/09
4:00
PM ET
»
NFC Final Word
:
East
|
West
|
North
|
South
»
AFC
:
East
|
West
|
North
|
South
Five nuggets of knowledge about Week 11:
[+] Enlarge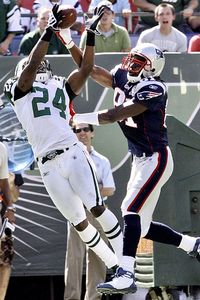 AP Photo/Frank Franklin IIIn the first meeting of the season, Jets cornerback Darrelle Revis held Patriots receiver Randy Moss to four catches for 24 yards.
Forget the percentages, the fourth-down call Bill Belichick made makes no sense to me.
If you type my name into the search field on Pro-Football-Reference.com, you'll notice I've neither coached nor played in the NFL. So who cares what I think about a coaching decision? Apparently, dozens of readers, who have been calling me a
New England Patriots
homer because I didn't demand Belichick be summarily executed for not punting on fourth down from his own 28-yard line against the
Indianapolis Colts
.
I've repeatedly said I disagreed with the decision, but since there seems to be confusion over my stance, here are some other options I would have considered about as long: an 89-yard field goal attempt, the fumblerooski, intentionally miss the front end of a one-and-one and hope for the putback,
Laurence Maroney
throwing a halfback pass to
Nick Kaczur,
a quintuple reverse, and an onside punt.
Unless the Buffalo Bills want to make a point by refusing to play him, we haven't seen the last of Trent Edwards.
I find it difficult to believe
Ryan Fitzpatrick
, with his 49.4 completion percentage and 49.8 passer rating, will take over the starting job and run away with it. Maybe he'll experience a quarterbacking epiphany. And maybe the next time I sit down at a piano I will play Chopin.
The Bills' offense has been a disaster under Fitzpatrick or Edwards. Seven games is too much time to endure watching one quarterback continually look less than mediocre. Unless Fitzpatrick morphs into a different player than we've seen, Edwards will get another shot.
New York Jets cornerback Darrelle Revis will have a tougher time shutting down Randy Moss compared to Week 2.
There has been much talk this week about whether Revis received help in holding Moss to four catches for 24 yards. Revis said he was one-on-one. Jets defensive coordinator Mike Pettine admitted Wednesday that Revis had downfield assistance.
Either way, it's going to be more difficult to limit Moss for a few reasons.
Tom Brady
is much more comfortable now than he was then.
Wes Welker
didn't play in Week 2. Third receiver
Joey Galloway
, who short-circuited many plays because of his inability to get on the same page as Brady, has been cut. And, maybe most importantly, Brady and Moss would love to shut Revis up. If Revis wins this battle convincingly, he'll cement an All-Pro honor.
Don't expect Ricky Williams to carry the Miami Dolphins into the playoffs.
As vital as Williams will be down the homestretch, the most critical contributor will be quarterback
Chad Henne
. The second-year pro, pressed into service sooner than the Dolphins preferred when
Chad Pennington
's shoulder came apart, quietly has evolved into an effective game manager.
Henne's 77.7 passer rating is 25th in the league, but he has thrown only one interception in the past four games, helping the Dolphins win three of them. His touchdown output is low, but the Dolphins have leaned upon two of the NFL's better goal-to-go backs. Henne will need to do increasingly more over the final six games to make sure Williams doesn't get worn out in
Ronnie Brown
's absence.
The Bills will need to put 12 defenders in the box to stop Maurice Jones-Drew from repairing his fantasy relationships.
Jones-Drew snuffed the Jets last Sunday by brilliantly kneeling on the goal line to run down the clock for a game-winning field goal rather than score a touchdown. Jones-Drew apologized to his fantasy owners afterward.
Those owners shouldn't bench him for Sunday. Jones-Drew is going against the NFL's worst run defense. What's more, the Bills announced Friday run-stopping (theoretically) defensive tackle
Marcus Stroud
won't play because of a knee injury. And that's not all. Buffalo's other starting defensive tackle,
Kyle Williams
, is on the injury report with a knee injury. Williams has missed the past three games.
November, 20, 2009
11/20/09
11:59
AM ET
Everybody is singing the praises of
Miami Dolphins
running back
Ricky Williams
for his three-touchdown performance Thursday night against the
Carolina Panthers
.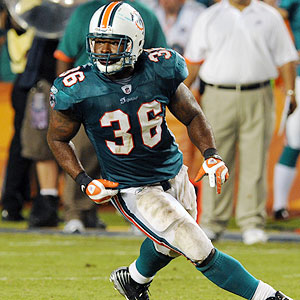 Al Messerschmidt/Getty ImagesLousaka Polite's jarring blocks helped spring Ricky Williams for his big night.
Williams ran for 119 yards and two touchdowns and caught two passes for 19 yards and a touchdown. In his long and sometimes spectacular career, it was his first game with rushing and receiving touchdowns.
Williams is 32 years old, but he recorded two 100-yard rushing games in a span of five days. Highly impressive.
But let's stop for a moment and acknowledge the performance of Dolphins fullback
Lousaka Polite
, who delivered several skeleton-rattling blocks to open lanes for Williams.
With the Dolphins' offensive line crumbling before them -- right tackle
Vernon Carey
, center
Jake Grove
, starting left guard
Nate Garner
and reserve
Joe Berger
all came off the field at some point, and usual left guard
Justin Smiley
played hurt -- Polite was the best hole-puncher on the field.
ESPN Stats & Information tracked every play and found 18 of Williams' 22 rushing attempts came out of a backfield set. He gained 107 of his yards, averaging 5.9 yards a pop, with Polite blocking for him.
Polite, a highly effective option in short-yardage situations, likely will be called upon to carry the ball more with
Ronnie Brown
out for the year with a broken foot. Polite had four attempts for 11 yards Thursday night, but he also fumbled for the first time in his career.
But do yourself a favor the next time you watch the Dolphins. Watch how he plays when he doesn't have the ball.
November, 20, 2009
11/20/09
12:30
AM ET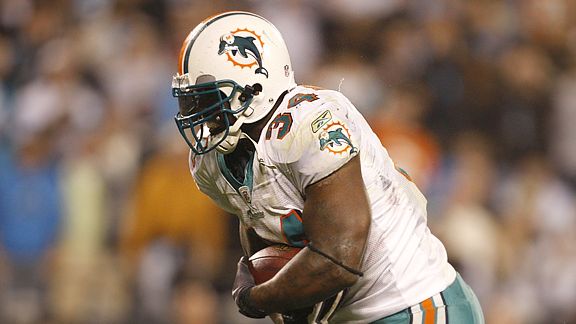 Streeter Lecka/Getty ImagesRicky Williams scored three times to power the Dolphins rushing attack.
The
Miami Dolphins
stayed in the playoff race Thursday night with
a gritty performance
to beat the
Carolina Panthers
24-17 in Bank of America Stadium.
The season sure looked bleak for the Dolphins two months ago. They started 0-3. Quarterback and team MVP
Chad Pennington
was gone to a season-ending shoulder injury.
Yet here the Dolphins are at .500 and with a great shot at a winning record for the first time this year. So what that Pennington's injury threw second-year quarterback
Chad Henne
into the maw and Ronnie Brown's season-ending foot fracture left the workload to 32-year-old
Ricky Williams
?
After banking two victories in a four-day span, the Dolphins will enjoy a weekend off and some extra time to prepare for the reeling
Buffalo Bills
in Week 12.
The Dolphins have won three of their past four games and still are smarting from narrow losses to elite opposition. They failed to close out games against
Indianapolis Colts
(late fourth-quarter lead) and
New Orleans Saints
(up by 21 points late in first half).
In there, the Dolphins can extract plenty of reasons to be confident for the homestretch.
The problem, though, is that there are so many competitive AFC clubs this year. The way it looks at the moment, the only team that will advance from the AFC East will be the team that wins it. The wild-card race appears stacked.
Still, the Dolphins are legitimate wild-card contenders if they can somehow cope with injuries.
As mentioned in
the Rapid Reaction post
, the already tattered Dolphins have gotten even more frayed. Center
Jake Grove
and nose tackle
Jason Ferguson
were the biggest injuries. Their offensive line depth was tested.
"The injuries were tremendous," Dolphins coach Tony Sparano said. "It affected special teams. We had three centers out there. We had guys playing positions they didn't practice.
"They just kept grinding out there."
Ferguson's loss could be mammoth. The Panthers dominated the Dolphins' run defense all night, rolling up 182 yards. Down the stretch, the Dolphins will face the likes of
Chris Johnson
,
Maurice Jones-Drew
,
Marshawn Lynch
and
Rashard Mendenhall
.
It won't be easy, but the Dolphins are pretty good at doing things the hard way.
November, 19, 2009
11/19/09
11:30
PM ET


In previewing Thursday night's game against the
Carolina Panthers
, I noted the
Miami Dolphins
would
have to dig deep to win
without star running back
Ronnie Brown
.
Little did we know they would have to dredge the depths of their roster to pull it off.
The raggedy Dolphins found a way to defeat the Panthers 24-17 in Bank of America Stadium. The Dolphins have fought back to .500 after a 0-3 start and remain in the playoff picture.
Aside from getting shredded by the Panthers' ground game and a harrowing finish, the Dolphins were convincing in light of significant personnel problems.
The Dolphins had only three days to concoct a game plan sans Brown, their leading rusher and Wildcat triggerman.
Ricky Williams
responded with a three-score game. He ran for 119 yards and two touchdowns and caught two passes for 19 yards and a touchdown.
Chad Henne
completed 17 of 29 pass attempts for 172 yards and no interceptions.
Joey Porter
recorded his first multi-sack game of the year.
Even more remarkable than winning without Brown, however, was the Dolphins' ability to survive a series of injuries throughout the game.
Center
Jake Grove
was hurt 70 seconds into the third quarter. Grove's replacement,
Joe Berger
, got hurt with about 10 minutes left in the game.
Nate Garner
, who started the game at left guard for
Justin Smiley
, became the third center. He went down with a leg injury with about five minutes left.
Got all that?
The biggest injury, however, was on defense. Nose tackle
Jason Ferguson
suffered a knee injury on the final play of the third quarter. He was carted to the locker room and didn't return.
Williams mysteriously didn't finish the game.
Lex Hilliard
took the critical carries when Miami tried to kill the clock in the waning moments. Williams appeared fine on the sideline, but was spotted having a serious talk with the team's training staff after his third touchdown. We'll update if there's an issue.
Those injuries could resonate for the rest of the season, but for now -- playing on Thursday gives the Dolphins a weekend off -- they can feel good about staying in the playoff hunt.
November, 19, 2009
11/19/09
10:43
PM ET
Miami Dolphins
nose tackle
Jason Ferguson
was carted to the locker room with an apparent knee injury suffered on the final play of the third quarter Thursday night against the
Carolina Panthers
.
Carolina has been abusing Miami on the run, rolling up 162 yards already. Ferguson's injury will sting. The way he left the field and the expression on his face suggested the injury could be significant.
He's not as good as a
Vince Wilfork
or a
Kris Jenkins
, but he's in that 3-4 mold, a run stopper who can absorb multiple blockers.
The Dolphins went into Thursday's game without backup defensive tackle
Paul Soliai
because of an ankle injury.
November, 19, 2009
11/19/09
9:49
PM ET
The
Miami Dolphins
' offense woke up in the second quarter and looked pretty impressive without
Ronnie Brown
, taking a 14-3 halftime lead over the
Carolina Panthers
in Bank of America Stadium.
The display is surprising given Brown's absence and the fact the Dolphins had only three days to devise a strategy that didn't include their most dynamic player.
Although center
Jake Grove
nearly short-circuited the drive with a pair of penalties, the Dolphins went 81 yards on nine plays for a touchdown with 3:57 left in the half.
The series was dotted by big plays.
Chad Henne
found
Brian Hartline
for 36 yards. On the next play,
Ricky Williams
ripped off a 17-yard run and closed it out with a 14-yard catch and run on third down.
The drive also marked the first NFL touches for
Lex Hilliard
, and he was remarkable. His first NFL carry went for 13 yards, but a Grove holding penalty erased it. But Hilliard contributed maybe the biggest play of the drive when he burst up the middle for 18 yards to convert a third-and-16.
Williams scored his second touchdown out of a Wildcat play. The Dolphins removed Henne from the game and inserted an extra blocker to help Williams make a 1-yard leap to the pylon just before the intermission.
Miami entered the game ranked fourth in run offense, but has leaned on the pass more than usual. Henne has attempted 18 passes, but running backs Williams, Lex Hilliard and
Lousaka Polite
have rushed a combined 11 times.
November, 19, 2009
11/19/09
9:45
PM ET
Miami outside linebacker
Joey Porter
didn't waste any time making his presence felt. A week after head coach Tony Sparano deactivated him, Porter already has five tackles and two sacks at halftime of Thursday night's game against the
Carolina Panthers
.
For the first time in nearly three weeks, he made a tackle. And for the first time since Week 3 he registered a full sack. Both plays came on the game's opening drive. He tackled
DeAngelo Williams
on the first play from scrimmage and dropped
Jake Delhomme
for a 4-yard loss to force a field goal after 11 plays.
Porter, who led the AFC in sacks a season ago, got to Delhomme again in the second quarter. It's Porter's first two-sack game since Week 14 of last season.
Porter was shut out against the
New England Patriots
in Week 8 (even though he faced rookie tackle
Sebastian Vollmer
most of the day) and was benched for Sunday's game against the
Tampa Bay Buccaneers
.
November, 19, 2009
11/19/09
8:59
PM ET
With leading rusher
Ronnie Brown
done for the year, the
Miami Dolphins
aren't acting like the NFL's fourth-ranked rushing team one quarter into Thursday night's game against the
Carolina Panthers
at Bank of America Stadium.
Perhaps the Dolphins have been more tempted to throw because star defensive end
Julius Peppers
has been watching from the sidelines because of a hand injury, but they have passed twice as much as they've run after two possessions.
Ricky Williams
has three carries for 7 yards, while
Chad Henne
has completed four of his six pass attempts for 34 yards.
We have yet to see the Wildcat or any slick plays involving backup quarterback
Pat White
.
The Panthers lead 3-0 early in the second quarter.
November, 19, 2009
11/19/09
4:04
PM ET
A few thoughts about what to consider Thursday night while watching the
Miami Dolphins
play the
Carolina Panthers
in Bank of America Stadium ...


The Dolphins must win to keep their flickering playoff hopes alive.
For any other 4-5 team, I probably wouldn't bother mentioning the postseason as a significant storyline, but the Dolphins are better than most teams with losing records. The Dolphins can make a run. They have a decent chance of heading into December a game over .500 with a win over the Panthers and another next Sunday against the
Buffalo Bills
. The Dolphins' remaining opponents are a combined 32-21. They haven't lost consecutive games since September and came close to knocking off the top two teams in ESPN.com's Power Rankings.
Miami is coming off one of its gutsiest games in recent years and will need to dig even deeper against Carolina.
The Dolphins went into last week's game against the
Tampa Bay Buccaneers
without several key players, including outside linebacker
Joey Porter
, left guard
Justin Smiley
and tight end
Anthony Fasano
. Porter is expected to return Thursday night, but star running back
Ronnie Brown
is done for the year with a broken foot.
Ricky Williams
has been a phenomenal sidekick all year, but can he shoulder the load like it's 2004? The only other Dolphins running back with a carry this year is fullback
Lousaka Polite
.
The Wildcat could get even more creative, or it might disappear altogether.
Without Brown at the controls, the Wildcat won't be the same. Williams has taken a few of the direct snaps, but what makes the Wildcat work is when he's in the high-speed motion role. If the Dolphins put Williams behind the center, then a critical pre-snap component of the formation is eliminated. It's hard to imagine reserves
Lex Hilliard
or
Kory Sheets
getting enough practice reps to make it work, never mind their drop-off in ability. But Miami's staff is imaginative. They could find more ways for scrambly backup quarterback
Pat White
to contribute. Although it's technically not a Wildcat play when White's back there -- a non-quarterback has to take the snaps to qualify -- his running of the option two weeks ago against the
New England Patriots
indicated there might be more surprises we haven't seen yet.
Porter needs to have a big game to back up his big mouth.
Miami's yappy pass-rusher needs to make a statement on the field for a change. Porter has been battling a hamstring problem but didn't play last week because the organization benched him for disciplinary reasons. Last year's AFC sacks leader hasn't recorded a full sack since a Week 3 loss to the
San Diego Chargers
. The last time he was on the field, Patriots rookie left tackle
Sebastian Vollmer
shut him out in tackles and sacks. That was a few days after Porter popped off on the NFL Network, saying the Patriots should have asterisks affixed to their championships and that the league gave
Tom Brady
special treatment. Porter has been quieter, but not silent. On the NFL Network this week, he noted that the Dolphins' defense is good enough that the offense should need to score only 17 points to win.