December, 26, 2010
12/26/10
2:32
PM ET
ORCHARD PARK, N.Y. -- Some halftime thoughts from Ralph Wilson Stadium, where the
New England Patriots
lead the
Buffalo Bills
24-3:
New England has 163 rushing yards. BenJarvus Green-Ellis and Danny Woodhead each have at least 66 yards already.
The out-of-town scoreboard isn't helping the Bills much. The New York Jets lead the Chicago Bears at Soldier Field, maintaining the Patriots' importance for beating the Bills.
The Bills have had their moments, but didn't seize opportunities. On an impressive opening drive, the Bills had to settle for a field goal. Ryan Fitzpatrick made an astute audible call and lobbed a nice pass into the end zone for Steve Johnson, who couldn't get his feet down in bounds. Johnson also failed to come down with what would have been a nice catch on the next play.
Bills running back Fred Jackson has eight carries for 61 yards, with 27 coming on the first play.
Fitzpatrick demonstrated his risk-reward tendencies on the third drive. Rather than take a first-down sack at the Patriots' 20-yard line, Fitzpatrick fumbled while trying to unload a pass. The Patriots recovered and eventually converted the turnover into seven points for a 14-3 lead. Fitzpatrick threw a bad interception right before halftime.
Patriots linebacker Gary Guyton had the strip sack. He's compiling a nice season and has stepped up with rookie starter Brandon Spikes suspended for violating the NFL's policy on performance-enhancing substances.
Rookie tight end Rob Gronkowski knows how to stage a homecoming. The suburban Buffalo native had a 23-yard reception and scored an 8-yard touchdown on a drive early in the second quarter. He should've had a 77-yard touchdown on the Patriots' first play of the game, breaking wide open up the seam. Tom Brady underthrew him for an incompletion. Gronkowski, who played in Pittsburgh his senior year of high school, had three TD catches at Heinz Field in Week 10.
The Patriots are holding off the Bills' pass rush just fine without right guard Dan Connolly (concussion). Brady has 23 seconds to pass every time he's in the pocket.
Woodhead, the greatest player out of Chadron State since former Bills receiver Don Beebe, ripped a 29-yard touchdown run in the first quarter.
Brady avoided throwing an interception on his 15 attempts. He needs three more to break Bernie Kosar's record of 308 consecutive passes without an interception.
January, 28, 2010
1/28/10
4:34
PM ET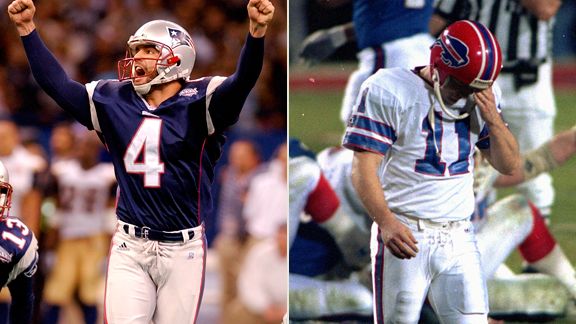 AP PhotoAdam Vinatieri and Scott Norwood played key roles in the best and worst AFC East Super Bowl plays.
ESPN's John Clayton put together his list of the
10 most memorable plays in Super Bowl history
.
AFC East clubs have been involved in many unforgettable moments, and in attempting to put together a list, the heartbreakers seemed more distinguished than the triumphs. Rather than combine them, I've decided to break down the five best plays and the five worst.
Think I missed one or disagree with the way I ranked them? Add your suggestions in the comments section below.
Five best
1. Vinatieri's field goal clinches Patriots' first title:
With broadcaster John Madden advising the
New England Patriots
to kneel out the clock and go to overtime,
Tom Brady
orchestrates a drive against the
St. Louis Rams
that lays the foundation for a Hall of Fame career.
Adam Vinatieri
kicked a 48-yard field goal as time expired to win Super Bowl XXXVI.
[+] Enlarge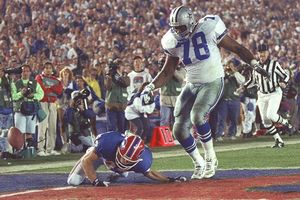 Getty ImagesDon Beebe saved a Dallas touchdown and proved that showboating doesn't pay.
2. Beebe strips Lett:
Super Bowl XXVII was getting out of hand when the
Dallas Cowboys
sacked
Buffalo Bills
quarterback Frank Reich, forcing him to fumble. Leon Lett scooped the ball and rumbled for what should have been a 60-yard touchdown, but he celebrated too soon. Don Beebe racing from behind knocked the ball out of Lett's hand at the goal line to revert possession to the Bills.
3. Law's interception:
In the second quarter and with the favored Rams ahead 3-0, Law made a statement when he intercepted a
Kurt Warner
pass and returned it 47 yards for a touchdown. The Patriots went on to score 17 straight points. The Rams never led again, and the Patriots launched a mini-dynasty.
4. Walker's kickoff return TD:
In a game full of big plays, Fulton Walker returned the first kickoff for a touchdown in Super Bowl history. Walker went 98 yards to give the
Miami Dolphins
a 17-10 halftime lead, but the
Washington Redskins
scored 17 points in the second half to win.
5. Maynard's incomplete bomb:
Speedy receiver Don Maynard was a significant contributor to the
New York Jets
' championship team, but he was shut out in Super Bowl III. "I didn't catch a single pass," Maynard recently told the Bergen Record, "
but I really had a great game
." With no score, Maynard raced behind the Baltimore Colts secondary for what should have been a long touchdown. Joe Namath barely overthrew him, but the play spooked the Colts enough to double- and triple-team Maynard the rest of the game, leaving George Sauer free to catch eight passes for 133 yards.
Five worst
1. Wide right:
So many fates swung on Scott Norwood's right hip socket when he attempted a 47-yard field goal that would've beaten the
New York Giants
in Super Bowl XXV. Norwood's kick sailed wide ride, spoiling what would turn out to be the Bills' best shot to win any of their four straight Super Bowls. The kick also propelled Bill Parcells to legend.
[+] Enlarge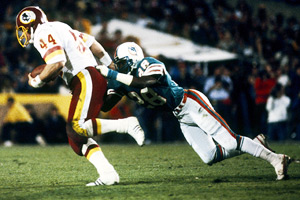 Alan H. Schwartz/Getty ImagesJohn Riggins broke a tackle from Don McNeal en route to a 43-yard touchdown run.
2. Tyree's catch:
Giants afterthought
David Tyree
made the most miraculous catch in Super Bowl history to help ruin the Patriots' pursuit of perfection in 2007. In the final minute and down by four points,
Eli Manning
made an unbelievable scramble and heaved the ball to Tyree, who outbattled Patriots safety
Rodney Harrison
and made the reception by pinning it against his helmet.
3. Riggins' run:
Redskins locomotive John Riggins made an iconic run in Super Bowl XVII that still symbolizes power football at its finest. On a fourth-and-1 play in the fourth quarter, Riggins ran off left tackle and steamrolled Dolphins cornerback Don McNeal on his way to a 43-yard touchdown to give the Redskins their first lead.
4. Howard's 99-yard return:
Desmond Howard
sealed a victory for the
Green Bay Packers
when he returned a kickoff 99 yards in the fourth quarter against the Patriots in Super Bowl XXXI. Howard was awarded the MVP for rolling up 244 return yards.
5. Yepremian's blunder:
The Dolphins were trying to achieve perfection in 1972 and seemed to have everything under control against the Redskins in Super Bowl VII. The Dolphins were ahead 14-0 with about two minutes left, when Garo Yepremian lined up for a 51-yard field goal. The kick was blocked and ricocheted to Yepremian, who comically tried to pass. The ball rolled off his hand and was bobbled. Mike Bass snatched it out of the air and ran 49 yards for a touchdown.
May, 20, 2009
5/20/09
8:00
AM ET
Leon Lett never played in the AFC East, but his two most memorable plays were nationally televised gaffes against the Buffalo Bills in the Super Bowl and the Miami Dolphins on Thanksgiving.
Lett laughs about his blunders in this interview with ESPN's Michael Kim about how he went back to college to get his degree. In speaking engagements, Lett lauds Don Beebe for finishing the play while using his premature celebration to teach a lesson on what not to do.