June, 7, 2011
6/07/11
11:25
AM ET
USA Today reporter Nate Davis, one of my favorite guys to sit next to in a press box because of his appreciation for obscure sitcom characters, showed his keen television eye with a blog entry about the perceived greatness of
New York Jets
cornerback
Darrelle Revis
.

Revis
I missed this snippet, but on the NFL Network's "The Top 100 Players of 2011,"
head coach Rex Ryan predicted Revis would surpass
legends Joe Namath, Don Maynard,
Curtis Martin
and the rest in Jets history.
"One day we're going to say that this is the best Jet in the history of the New York Jet franchise," Ryan said. "I believe that. And I think we're going to also see him in Canton one day."
Davis' article includes a poll, where readers can vote on who they think will be considered the quintessential Jets player 10 years from now.
Namath's symbolism alone will be tough to match. He was a trailblazer who played a substantial role in making the NFL our most popular sport. But purely on a football standpoint, Ryan might be proven correct.
Namath did take the Jets to their lone Super Bowl victory and made the famous guarantee. However, he took the Jets to the playoffs only twice, had a career losing record as a starter, led the AFL or NFL in touchdown passes once and interceptions four times.
Namath was listed 100th on the NFL Network's "The Top 100" players of all-time. It's conceivable Revis could be considered a top 100 player before he's done.
February, 2, 2011
2/02/11
4:30
PM ET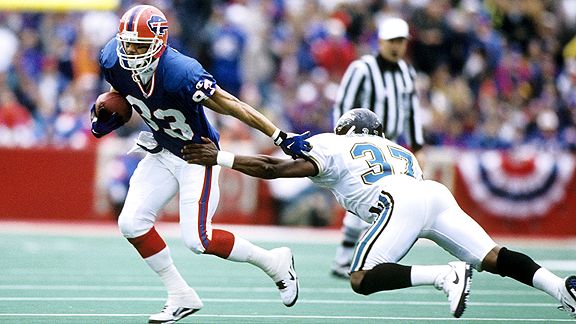 US PRESSWIREFormer Bills receiver Andre Reed finished his career with 951 catches for 13,198 yards and 87 TDs.
Receptions come a lot cheaper these days.
The game has changed, and all you need for proof is a glance at Paul Warfield's career stats. He caught more than 50 passes once. He gained more than 1,000 yards once. In some of his Pro Bowl seasons, his numbers wouldn't have justified a roster spot in your 10-team fantasy league.
Yet Warfield is considered one the most dangerous receivers NFL history, a first-ballot Pro Football Hall of Famer.
"Our game is beginning to resemble baseball in which everyone is looking at numbers," Warfield said this week from his home in Rancho Mirage, Calif. "Numbers tell the story to a degree, but I like to look at one's full body of work.
"I'm from the old-school generation. You might be termed a wide receiver, but you should be a football player first."
Steve Largent is another example of how stats don't quantify a receiver's worth like they used to. Largent retired after the 1989 season as the NFL's all-time leading receiver with 819 catches. He, too, was a first-ballot Hall of Famer.
Twenty-one years later, Largent ranks 20th in receptions behind such names as
Derrick Mason
,
Torry Holt
,
Keenan McCardell
,
Muhsin Muhammad
and fullback
Larry Centers
.
In 1985, only four players had caught 600 passes. The list is 55 players long now.
"It doesn't necessarily undermine a player's ability to get into the Hall of Fame because he had great stats or doesn't have great stats," Largent said Monday from his office in Washington D.C. "You're looking for a guy who was the total package."
With that in mind, you might consider
Andre Reed
's stats if you choose when deciding if he belongs in the Hall of Fame. They're sterling -- if a little outdated and discounted by time.
To both Largent and Warfield and other legendary receivers, Reed qualifies for Canton without even looking at the numbers.
"I saw the value Reed had to that team not only as a receiver, but also as a leader," Largent said. "There are some attributes you don't keep statistics of, but you become aware of as one player watching another play the game."
Reed is Largent's "total package" and Warfield's unequivocal embodiment of "football player."
"It's long overdue for Andre," Warfield said.
Reed is among the 15 Pro Football Hall of Fame finalists who will learn Saturday whether they will be included in this year's induction class.
The star
Buffalo Bills
receiver has been a finalist five times. There's a belief this year offers his best chance yet. In previous years, he has shared the ballot with at least one receiver who took precedence because they were icons (
Jerry Rice
,
Michael Irvin
) or had been waiting longer (
Art Monk
).
Reed could become the sixth Hall of Famer from a team that went to four straight Super Bowls but failed to win one.
Already enshrined are Bills quarterback
Jim Kelly
, running back
Thurman Thomas
, defensive end
Bruce Smith
and head coach Marv Levy. Wide receiver
James Lofton
also is in Canton, but he didn't play on all four Super Bowl teams, and is more closely associated with the
Green Bay Packers
.
"I was a part of something special, and I'll take that to my grave," said Reed, 47. "We were a family. But the Hall of Fame, I don't know how I would react. It would be a validation of your work and what you did.
"Hopefully on Saturday I can be in that fraternity with them, but every year it's a tough ballot."
The other finalists include running backs
Marshall Faulk
,
Curtis Martin
and
Jerome Bettis
, receivers
Tim Brown
and
Cris Carter
, tight end
Shannon Sharpe
, center
Dermontti Dawson
, tackle
Willie Roaf
, defensive ends
Richard Dent
,
Charles Haley
and
Chris Doleman
, defensive tackle
Cortez Kennedy
, cornerback
Deion Sanders
and NFL Films patriarch Ed Sabol.
The Hall of Fame's 44-member selection committee will decide Saturday. The group includes NFL writers, one representative per franchise, 11 at-large voters and one from the Pro Football Writers Association. The committee will pare the group of 15 finalists down to 10 and then to five. At that point, a vote will be held, with 80 percent agreement needed for induction.
Up to five modern-era candidates may be elected each year. First-time nominees Faulk and Sanders are virtual locks to get inducted. That leaves three spots available for Reed and the other finalists to get in.
Buffalo News reporter Mark Gaughan will make the case for Reed's induction. It's a compelling one.
"He certainly had a great career, one of the great clutch receivers," Warfield said. "He was consistent, one Jim Kelly could always go to and always find open in a situation where they're trying to make a big play. He's an all-encompassing receiver."
Reed was third on the NFL's all-time receptions list when he retired after the 2000 season with 951 catches, behind only Rice and Carter. Reed was a seven-time Pro Bowler and a superstar on a team that won four conference championships in a row.
"He was as dangerous a receiver as there is," former Bills quarterback
Frank Reich
said. "Versus press coverage, he was almost impossible to stop, coming off the ball. We always felt if they tried to play tight man on Andre it didn't matter who was guarding him. Any shutdown corner in the league in press coverage, Andre was going to beat him."
Reed was a force on the big stage. In 19 postseason games he had 85 receptions for 1,229 yards and nine touchdowns. He didn't score any Super Bowl touchdowns, but he did have 27 receptions for 323 yards.
In the Bills' epic comeback against the Houston Oilers in the 1992 postseason, he made eight catches for 136 yards and three touchdowns.
Reed is known as tremendously durable. He played 253 games, counting playoffs. He often darted into traffic to make plays in a crowd of defenders.
"No fear," Reich said.
Reed was one the greatest ever when it came to yards after the catch, second perhaps only to Rice.
[+] Enlarge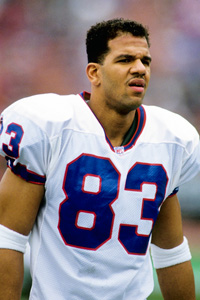 US PresswireAndre Reed, on playing for the Bills: "I was a part of something special, and I'll take that to my grave,"
"Most people that were on that team or played against us will remember how explosive he was in run-after-the-catch," said Reich, now
Peyton Manning
's position coach with the
Indianapolis Colts
. "He rivaled Jerry Rice in that category. Like Jerry Rice, his 40 time was good and probably not great. But there was nobody faster with the ball in his hands."
What put Reed's production in even greater context is a closer look at Buffalo's offense in the 1990s.
Many fans, even those who closely followed the Bills then, recall a prolific aerial attack. They remember Kelly running the no-huddle, K-Gun offense and slinging the ball all over the field to Reed and Lofton.
As Gaughan will point out again Saturday, the Bills ranked 17th in passing offense throughout Reed's career. In Reed's six prime seasons from 1988 through 1993, the Bills passed 51 percent of the time. By comparison, the
Washington Redskins
' famed "Hogs" offense passed 50 percent of the time when Monk was there.
Reed didn't have much receiving help either. He played with Lofton for four seasons, but Lofton was 33 years old when he joined Buffalo. In 1988, for instance, Reed's second and third receivers were Trumaine Johnson and
Chris Burkett
.
So far, the chief impediment for Reed's induction hasn't been his resume, but the other names on the ballot.
A wide receiver has been inducted each of the past four years, and in seven classes out of the past decade.
Gaughan noted there is room in Canton for at least two more receivers from the 1990s. A breakdown of membership shows seven receivers who predominantly played in the 1960s, four from 1970s, four from the 1980s and two from the 1990s.
Reed, Carter and Brown are the worthiest receiver candidates to join Rice and Irvin from that decade.
There's a velvet rope. This is Reed's fifth year as a finalist. Carter has been a finalist four times, Brown twice.
Reed apparently jockeyed to the head of the receiver line last year. In the selection process, Carter and Brown didn't make the top-10 stage, but Reed did.
That development has raised Reed's hopes for 2011.
"I'll be more nervous because of the way the voting went last year," Reed said. "I feel I'm more deserving of it. It was pretty close. The anticipation is enhanced this year."
But there are no guarantees. Several legendary receivers have waited longer than five years to get the Canton call. Don Maynard, John Stallworth and Monk got in on their eighth time as finalists. Lynn Swann was a finalist 14 times. The Seniors Committee was necessary to induct Bob Hayes 34 years after his last NFL game.
Reed admitted he has fantasized about the phone call too many times to count. He's even tried to research the moment.
"I've talked to a bunch of Hall of Famers who say when they get the call they're at a loss for words," said Reed, who plays a lot of golf and sells his own line of barbeque sauce in the San Diego area. "They don't know how to react.
"I'll just have to wait and see."
And hopefully not have to wait some more.
January, 24, 2011
1/24/11
1:19
PM ET
Now that the
New York Jets
' season has concluded, the time seemed appropriate for a "Speed Dial."
I called a few notable former Jets from my Rolodex to get their opinions on this question:
Given all the splashy offseason acquisitions and brash talk from the Jets about winning it all, should their season be considered a failure because they didn't reach the Super Bowl?
Don Maynard, Jets receiver (1963-72), Super Bowl III champ and Pro Football Hall of Famer:
"Any time, to me, you get into the playoffs and they had the record they had, they certainly ought to call it a success. Any time you win more than you lose, I would think that would be a success for sure. You figure there's 32 teams, and you're playing all of them to some degree and finished ahead of 28 of 'em. I know they had me on the edge of my seat.
"When you think back years ago to the Minnesota Vikings and they went to the Super Bowl around four times and lost, a lot of people called it a failure. I said 'Well, to go to the Super Bowl and win second place, that's great.' It depends on who's commenting on the situation."
Richard Caster, Jets receiver and tight end (1970-77), three-time Pro Bowler and loser of back-to-back AFC Championship Games with the Houston Oilers in 1978 and '79 seasons:
"I look at it as a continued process that should be interpreted as successful. Any time a team can equal or do better than the previous year at this level, they've maintained what they had and got better in specific areas. It was a successful season that moved the team forward. If they hadn't gotten to the playoffs, it would have been a failure.
"The team can be a little disappointing at times. There were games in the year where you kind of look at them and think 'Oh, boy. Same old Jets.' In some situations where they should be really excelling, they didn't live up to it, particularly against Miami and Green Bay.
"But, overall, I can live with this as a fan. The team improved their record. There were only four teams still playing over the weekend. Of course, next year, you really have to get over the hump."
Mickey Shuler, Jets tight end (1978-89) and two-time Pro Bowler:
"Success is that you improved. You can't all win the Super Bowl, but if you keep getting closer and closer, you believe the odds are in your favor to make it all the way eventually. If you watch the teams that win consistently -- and I think the Jets are doing that -- you get more guys buying into the system and the concepts and winning. When that happens you keep moving forward, and you have guys playing for each other, and the pieces fit into the puzzle.

"If you're a player on [the current Jets roster], you'll be upset in two weeks when you watch the Super Bowl. You'll be upset at the first minicamp. It'll always be in the back of your mind until you play again.

"That's the only thing I regret about my career: I never had a chance to be in a Super Bowl. I can still remember when we lost the championship game to the Dolphins [1982 season]. That was, I don't know, 30 years ago. It's always going to be there. While you're playing you tend to think 'Let's not repeat that' as a mindset, but when you're done playing and you think about it, it makes you sick."
September, 8, 2010
9/08/10
10:45
PM ET
It was
Tom Brady
's turn to throw bouquets at
Randy Moss
.
On Monday,
Moss said he felt unwanted and underappreciated
by the
New England Patriots
. In the past 48 hours,
coaches and teammates have been heaping praise
on him.
The man who will benefit most directly from a happy Moss had his say Wednesday.
"There's only one Randy Moss that would ever play this game," Brady said. "He's probably the greatest downfield receiver in the history of the NFL.
"I mean, those catches that he makes when he runs 65 yards down the field and you throw it and he just runs and catches it. That's impossible to do. I've asked him 'How do you do that?' And he says 'I don't know, man. I've been doing it for a long time.' He has some special skills that nobody is really gifted with."
Greatest downfield threat in NFL history? That's quite a statement.
With that in mind, I wanted to open the floor for a discussion on the subject in the comments section below.
Here are some alternatives who popped into my head.
Jerry Rice: automatically comes to mind in any receiver debate.
Warren Wells: John Madden calls him one of the greatest players he coached. In 1969, Wells averaged 26.8 yards per catch with 14 touchdowns on only 42 catches.
James Lofton: averaged over 20 yards a catch five times in his Hall of Fame career.
Bob Hayes: Olympic gold-medal sprinter revolutionized the game. He averaged 26.1 yards a catch in 1970 and is said to have been the reason bump-and-run coverage came to be.
Willie Gault: Olympic-caliber sprinter averaged 20.0 yards a catch for his career.
Harold Carmichael: at 6-foot-8, the four-time Pro Bowler was a basketball player in cleats.
Best of the AFC East teams ...
Paul Warfield, Dolphins: averaged a franchise-record 21.5 yards a reception in five seasons.
Wesley Walker, Jets: averaged more than 20 yards a catch eight times, twice as many seasons as Don Maynard did with Joe Namath slinging it.
Stanley Morgan, Patriots: first six NFL seasons had averages of 21.1, 24.1, 22.8, 22.0 and 23.4 yards.
Lee Evans, Bills: aside from Lofton, biggest deep threat in Buffalo of the past 20 years even if the numbers don't show it.
Again, this isn't a definitive list. I've done this off the top of my head to get us going. Maybe Moss is the greatest deep threat of all-time. Maybe not. Let's talk about it.
July, 20, 2010
7/20/10
3:01
PM ET
The
New York Jets
will display a Ring of Honor inside their new stadium, and there are no surprises in their inaugural class.
The Jets announced Tuesday they will celebrate six legends: coach Weeb Ewbank, quarterback Joe Namath, receiver Don Maynard, offensive lineman Winston Hill, defensive lineman Joe Klecko and running back
Curtis Martin
.
An unveiling ceremony will take place at halftime of the Aug. 16 exhibition against the
New York Giants
.
"This organization has always had a deep appreciation for and admiration of those who have worn this team's uniform," Jets owner Woody Johnson said in a statement issued by the club. "These six men span generations of Jets football, all embodying the best of this game and what it means to truly be a Jet. With this new stadium we now have a proper way to salute those who have helped make this franchise what it is today."
The plan for future honorees involves yearly nominations but not minimum or maximum number to be added.
June, 30, 2010
6/30/10
2:00
PM ET
Notable players:
QB Joe Namath, RB Emerson Boozer, RB Matt Snell, WR Don Maynard, WR George Sauer, G Dave Herman, T Winston Hill, DT John Elliott, DE Gerry Philbin, DE Verlon Biggs, MLB Al Atkinson, CB Johnny Sample, K Jim Turner.
[+] Enlarge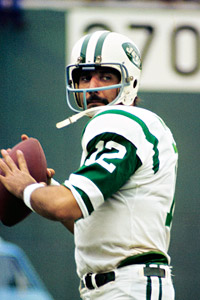 Darryl Norenberg/US PresswireJoe Namath and the Jets stunned the football world by winning Super Bowl III.
Analysis:
To sum up the glory of the season and the agony of being a
New York Jets
fan over the past 40 years, there's only one candidate for the best team in franchise history.
The 1968 Jets are iconic. They transformed the NFL with their landmark 16-7 victory over the Baltimore Colts in Super Bowl III, a result seared more deeply into legend with Joe Namath's renowned guarantee.
Those Jets remain the ultimate "any given Sunday" underdogs. They legitimized the upstart American Football League by knocking off the heavily favored Colts, an NFL institution. You can close your eyes and see the NFL Films clip of Namath wagging his index finger while he trotted toward the Orange Bowl tunnel.
But the Jets were no Buster Douglas fluke. While Namath was the leading man of an offense that averaged 29.9 points a game, the Jets owned the AFL's top-rated defense in yards allowed.
The Colts averaged 28.7 points a game. The fewest points they had scored in a game was 16, but the Jets' defense chased league MVP Earl Morrall from the game and made it easy for running back Matt Snell to hammer out the win.
Most impressive win:
Aside from the Super Bowl, the Jets' biggest victory was avenging their Heidi Game loss to the
Oakland Raiders
. A month and a half later in the AFL title game, the Jets' defense yielded 433 total yards. Still, New York won 27-23.
Broadway No:
The Jets' 1968 season is synonymous with Namath's swagger, but he wasn't always the driving force. Desperate to corral his recklessness, the Jets turned into a running team to the point Namath went 27 quarters without throwing a touchdown pass. Namath threw two more interceptions than he did touchdowns and finished with a 72.1 passer rating, 11th in the NFL.
Honorable mention
1969:
The Jets followed up their championship campaign with a 10-4 record but scored only six points in their first playoff game and lost. They wouldn't have another winning season for a dozen years.
1998:
Two seasons earlier, the Jets went 1-15. Head coach Bill Parcells navigated them to the AFC Championship Game behind the fifth highest-scoring offense and the second-stingiest defense.
1981:
After a 1-3-1 start, the New York Sack Exchange backstopped the Jets to their first playoff berth in 12 seasons. They closed out the regular season with a 7-1 rally.
January, 28, 2010
1/28/10
4:34
PM ET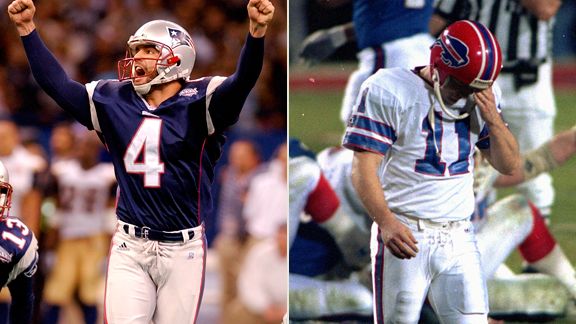 AP PhotoAdam Vinatieri and Scott Norwood played key roles in the best and worst AFC East Super Bowl plays.
ESPN's John Clayton put together his list of the
10 most memorable plays in Super Bowl history
.
AFC East clubs have been involved in many unforgettable moments, and in attempting to put together a list, the heartbreakers seemed more distinguished than the triumphs. Rather than combine them, I've decided to break down the five best plays and the five worst.
Think I missed one or disagree with the way I ranked them? Add your suggestions in the comments section below.
Five best
1. Vinatieri's field goal clinches Patriots' first title:
With broadcaster John Madden advising the
New England Patriots
to kneel out the clock and go to overtime,
Tom Brady
orchestrates a drive against the
St. Louis Rams
that lays the foundation for a Hall of Fame career.
Adam Vinatieri
kicked a 48-yard field goal as time expired to win Super Bowl XXXVI.
[+] Enlarge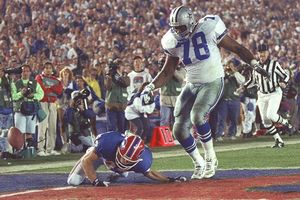 Getty ImagesDon Beebe saved a Dallas touchdown and proved that showboating doesn't pay.
2. Beebe strips Lett:
Super Bowl XXVII was getting out of hand when the
Dallas Cowboys
sacked
Buffalo Bills
quarterback Frank Reich, forcing him to fumble. Leon Lett scooped the ball and rumbled for what should have been a 60-yard touchdown, but he celebrated too soon. Don Beebe racing from behind knocked the ball out of Lett's hand at the goal line to revert possession to the Bills.
3. Law's interception:
In the second quarter and with the favored Rams ahead 3-0, Law made a statement when he intercepted a
Kurt Warner
pass and returned it 47 yards for a touchdown. The Patriots went on to score 17 straight points. The Rams never led again, and the Patriots launched a mini-dynasty.
4. Walker's kickoff return TD:
In a game full of big plays, Fulton Walker returned the first kickoff for a touchdown in Super Bowl history. Walker went 98 yards to give the
Miami Dolphins
a 17-10 halftime lead, but the
Washington Redskins
scored 17 points in the second half to win.
5. Maynard's incomplete bomb:
Speedy receiver Don Maynard was a significant contributor to the
New York Jets
' championship team, but he was shut out in Super Bowl III. "I didn't catch a single pass," Maynard recently told the Bergen Record, "
but I really had a great game
." With no score, Maynard raced behind the Baltimore Colts secondary for what should have been a long touchdown. Joe Namath barely overthrew him, but the play spooked the Colts enough to double- and triple-team Maynard the rest of the game, leaving George Sauer free to catch eight passes for 133 yards.
Five worst
1. Wide right:
So many fates swung on Scott Norwood's right hip socket when he attempted a 47-yard field goal that would've beaten the
New York Giants
in Super Bowl XXV. Norwood's kick sailed wide ride, spoiling what would turn out to be the Bills' best shot to win any of their four straight Super Bowls. The kick also propelled Bill Parcells to legend.
[+] Enlarge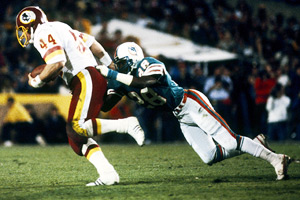 Alan H. Schwartz/Getty ImagesJohn Riggins broke a tackle from Don McNeal en route to a 43-yard touchdown run.
2. Tyree's catch:
Giants afterthought
David Tyree
made the most miraculous catch in Super Bowl history to help ruin the Patriots' pursuit of perfection in 2007. In the final minute and down by four points,
Eli Manning
made an unbelievable scramble and heaved the ball to Tyree, who outbattled Patriots safety
Rodney Harrison
and made the reception by pinning it against his helmet.
3. Riggins' run:
Redskins locomotive John Riggins made an iconic run in Super Bowl XVII that still symbolizes power football at its finest. On a fourth-and-1 play in the fourth quarter, Riggins ran off left tackle and steamrolled Dolphins cornerback Don McNeal on his way to a 43-yard touchdown to give the Redskins their first lead.
4. Howard's 99-yard return:
Desmond Howard
sealed a victory for the
Green Bay Packers
when he returned a kickoff 99 yards in the fourth quarter against the Patriots in Super Bowl XXXI. Howard was awarded the MVP for rolling up 244 return yards.
5. Yepremian's blunder:
The Dolphins were trying to achieve perfection in 1972 and seemed to have everything under control against the Redskins in Super Bowl VII. The Dolphins were ahead 14-0 with about two minutes left, when Garo Yepremian lined up for a 51-yard field goal. The kick was blocked and ricocheted to Yepremian, who comically tried to pass. The ball rolled off his hand and was bobbled. Mike Bass snatched it out of the air and ran 49 yards for a touchdown.
September, 2, 2009
9/02/09
5:53
PM ET

Posted by ESPN.com's Tim Graham

How much would Brandon Marshall's presence mean for the New York Jets?

Adding him would address the Jets' biggest need and, with consistent play from rookie quarterback Mark Sanchez, legitimize head coach Rex Ryan's Super Bowl dreams.

Here's some perspective:

Last year, Marshall played in 15 games for the Denver Broncos. He still caught 104 passes for 1,265 yards and six touchdowns.

That season arguably would be the greatest in Jets receiving history.

The club record for receptions was set in 1988, when Al Toon caught 93 passes.

The last Jets receiver to have as many yards as Marshall did was Don Maynard in 1968. Maynard recorded 1,297 yards with Joe Namath airing it out. A year earlier, Maynard set the record with 1,434 yards.

Marshall's best game last year included 18 receptions for 166 yards and a touchdown.

Clark Gaines set the Jets single-game record with 17 catches for 160 yards in 1980.
February, 16, 2009
2/16/09
9:45
AM ET
Posted by ESPN.com's Tim Graham
After two weeks of polling, the ballots have been counted to determine your picks for the Mount Rushmore of each AFC East team.
To play off ESPN's quest to determine the best sports Mount Rushmore from the 50 states, Washington, D.C., and Puerto Rico, I asked for your thoughts on the four legends who best symbolize the Buffalo Bills, Miami Dolphins, New England Patriots and New York Jets.
Readers mentioned 18 Jets, creating the most eclectic menu of the four clubs. Fireman Ed was nominated. So were former public relations director Frank Ramos and, despite one wildly erratic season, Brett Favre.
But the votes piled up for an unmistakable foursome of quarterback Joe Namath, running back Curtis Martin, receiver Wayne Chrebet and defensive lineman Joe Klecko.
There was a huge drop from Klecko to the fifth-place candidate, old-school receiver Don Maynard.
I was surprised to see Maynard not make the list. He's one of only two Hall of Fame players known primarily as Jets. I included him in the Jets Mount Rushmore I set forth in the original post.
But I do realize Chrebet's popularity and agree he's a symbolic figure in Jets history. It's tough to argue with him being etched into the Jets' Mount Rushmore.
Here is a breakdown of the top 10:
Joe Namath
Curtis Martin
Wayne Chrebet
Joe Klecko
Don Maynard
Weeb Ewbank
Dennis Byrd
Mark Gastineau
Mo Lewis
Brett Favre
Take a look at a few comments from those who voted in the AFC East mailbag and in the comments section of the original post:
The Kid in Staten Island, N.Y., writes: JETS Mount Rushmore: Broadway Joe Namath- that guarantee will live in infamy Mark Gastineau- 22 sacks in a season stood for 17 years until Strahan broke it. Had a swagger. Part of the NY Sack Exchange Wayne Chrebet- the little man that could. Hofstra kid came from nowhere, and was a fan favorite because of his heart. The "Rudy" of the NY Jets Dennis Byrd- temporarily paralyzed, still a role model for Jets fans in the way he perservered.
Mike from Parts Unknown writes: Does it have to be players only? More so than Namath himself I'd say Weeb Ewbank is the most important figure for the Jets of that era. Namath won one with him, but not without. Joe Klecko is a must. He represents an era my father dubs "the weakest golden years in all of pro sports." The NY sack exchange almost brought the Jets back to the Super Bowl twice, but ultimately failed. Curtis Martin represents the best in all of us, and as a Jets fan he is a symbol of our fandom: full of hope but ultimately just a good guy who came up short in his one real chance. Has there ever been a better RB that so many just don't care about outside of his team's fanbase? Finally I believe Chad Pennington needs to be on the Mount Rushmore of the Jets. He was the best QB in franchise history and though he never won the big game like Namath, he simply was so identifiable for us. Joe Willy is like that much older sibling you think of as a second parent. Sure they are your sibling, but you just don't think of them in that way. They are also likely you wish you could be more like. Broadway Joe is such a larger than life figure even today, but the team never lived up to his legacy and as Jets fans I don't think any of us really identify with him very well at this point, though we wish we could.
Mark in Palm Coast, Fla., writes: Hey Tim, There are more than a few names that come to mind here, but if I had to go with just four they would be as follows: 1: Joe Namath (Goes without saying) 2: Wayne Chrebet (3rd down specialist) 3: Leon Hess (Is there any owner who cared more for their team) 4: Fireman Ed (The Ultimate 12th Man) Honarable mention should also be given to Dennis Byrd for his inspiration, and perhaps Curtis Martin.
Chris in Hartsdale, N.Y., writes: Though I think Joe Namath is incredibly overrated I guess he belongs on the Jets Mt. Rushmore. The other 3: -Curtis Martin. Not the most talented RB in Jets history(that was Freeman Mcneil but he was always hurt) but the best overall. -Al Toon. Would have been a Hall of Famer had his career not been cut short. -Joe Klecko. Should be in the Hall of Fame but may never make it. If he was a Steeler and had a lesser career than he had they would have enshrined him 15 years ago.
delfiorio writes: Nothing symbolizes the Jets quite like Ken O'Brien falling on the ball as 4 pass rushers converge on him.
wOoDfOoTbAlL writes: Joe Klecko, Weeb, Curtis Martin, Don Maynard.....forget about Namath he cursed our franchise when he made a deal with the devil 40 years ago. were never going to win another super bowl
February, 3, 2009
2/03/09
12:30
PM ET
Posted by ESPN.com's Tim Graham
Eric Mangini named his newborn son after Brett Favre. At least Mangini didn't set it in stone.
When carving a permanent homage, you better make sure you choose the correct folks because forever is a mighty long time. That's why I have a feeling New York Jets fans will be wiser in selecting four representatives for a Mount Rushmore-style tribute.

ESPN is running an ambitious campaign to determine the sports Mount Rushmore for all 50 states, Washington, D.C., and Puerto Rico.
After 10,000 submissions from ESPN.com readers, each Rushmore has been determined. The list will be narrowed down to the top five before the ultimate quartet is chosen. You can see the list and vote here.
To play off that theme, I'm asking visitors to the AFC East blog to name their favorite team's Mount Rushmore.
We're looking for the four legends you believe best symbolize the Jets.
While I wouldn't name a child after any of them, my choices would be Joe Namath, Don Maynard, Curtis Martin and Joe Klecko.
But this isn't about what I think. I want to know who you would choose. Leave your suggestions in the comments section below or drop a note into my AFC East mailbag.
I'll tabulate the results and deliver your Jets Mount Rushmore on Feb. 16, the scheduled date when ESPN.com will announce the top five finalists in the big poll.
November, 26, 2008
11/26/08
4:55
PM ET
| | |
| --- | --- |
| | |
| | US Presswire |
| | Jets running backs Leon Washington and Thomas Jones have combined to score 18 touchdowns this season. |
Posted by ESPN.com's Tim Graham
The New York Jets are on pace to shatter their 40-year-old franchise record for most points scored in a season.
Through 11 games, the Jets have amassed 323 points for an average of 29.4 a game. They are on pace to score 470 points.
"If you're a defensive coordinator, you're scratching your head, saying 'What do I do?' " Jets quarterback Brett Favre said Wednesday.
"We're going to run it until you stop it, but we'll also mix in the quick-passing game, screens and things like that. You can't just commit to the box, you have to commit to the receivers as well."
In 1968, when the Jets won their Super Bowl, they posted 419 points in a 14-game regular season. Their average was 29.9 points a game with Joe Namath slinging the ball around Shea Stadium.
Both teams are remarkably balanced, although this year's version has generated more defensive point production and doesn't rely on its kicker as much.
All but three of the 1968 Jets' touchdowns were scored offensively. Namath accounted for 17 touchdowns, throwing 10 to Don Maynard. Matt Snell led them with six rushing touchdowns, while Emerson Boozer and Bill Mathis had five apiece.
Jim Turner set club records with 34 field goals and 145 points.
This year's edition has scored four defensive touchdowns and one on special teams.
Favre has thrown 20 touchdown passes to six receivers. Thomas Jones has rushed for nine touchdowns. Leon Washington has four rushing touchdowns, two receiving and one on a kick return.
"The key in all of this is the fact that our running game has really dominated, no different than our defense stopping the run," Favre said. "The fact we've been able to run the football at our discretion has made all the difference.
"For any quarterback, if you can run the football the way we're running it, you can dictate to defenses how they have to play you. Do they bring an extra guy in the box? If they do that, then a slant should be there, a go route or a back-shoulder throw."
Kicker Jay Feely won't challenge Turner's records, but he has 91 points.
August, 18, 2008
8/18/08
1:04
PM ET
Posted by ESPN.com's Tim Graham
| | |
| --- | --- |
| | |
| | Tony Tomsic/Getty Images |
| | Joe Namath was the first to throw for 4,000 yards in a season. |
Readers' pick: Joe Namath, QB
Four decades later, when you think of the New York Jets, you still think of Joe Namath.
Jets fans whose fathers weren't even born when Namath made his famous Super Bowl III guarantee know all about it. They've seen the slow-motion trot into the Orange Bowl tunnel, his finger defiantly wagging No. 1 after beating the favored Baltimore Colts.
Namath received the most votes in our poll, finishing ahead of defensive end Mark Gastineau and running back Curtis Martin, who last year had the team's MVP award named after him. Namath's favorite target, Don Maynard, was a distant fourth.
But there was little doubt Broadway Joe would be chosen the greatest Jet.
His celebrity magnetism and majestic passes drew fans to the AFL and forced the NFL to acknowledge the brazen start-up. Namath helped revolutionize the passing game. He was the first to throw for 4,000 yards in a season -- in 14 games, no less.
"Some guys have had a lot of accomplishments," John Madden said while criticizing Namath's omission from the NFL's 75th anniversary team. "But with Joe, here's a guy who made a league."
Let alone a franchise.