June, 15, 2012
6/15/12
4:00
PM ET

Anytime a
Green Bay Packers
receiver is mentioned as potential trade bait, the first team that comes to mind is the
Miami Dolphins
and rookie head coach Joe Philbin.
First,
Donald Driver
's name came out of the rumor mill. The latest Packers receiver whose
name is being thrown
around is
James Jones
. Green Bay's backup has two years left on his contract and plays behind
Greg Jennings
, Driver and
Jordy Nelson
.
If the rumors are true, the Packers may be willing to move their backup receiver for the right price. Miami isn't a team which likes to give up draft picks. But the Dolphins' receivers haven't impressed this offseason, which is a reason they jumped at the chance to sign 34-year-old
Chad Ochocinco
once he was released by the
New England Patriots
.
Jones, 28, is closer to his prime and played under Philbin last year when Philbin was the offensive coordinator in Green Bay. They know each other well, and it wouldn't be much of a learning curve for Jones.
I don't think Miami will make any trades for a wideout at this point. The Dolphins probably want to go into training camp with the group they have. But if Miami's receivers continue to struggle, Jones could be a name to keep on the back burner.
May, 12, 2012
5/12/12
2:00
PM ET
Let's see what's
in the weekend mailbag
.

Akhilesh from Massachusetts
writes: Why do you think the Patriots drafted
Tavon Wilson
, a low-ranked safety, in the second round? Is it just that Bill Belichick knows something others don't or was it poor drafting?
James Walker:
Wilson was a player Belichick really liked -- apparently more than anyone else. Drafting Wilson that high is certainly a risk. The Patriots might have been able to wait another round or two. This puts some pressure on Wilson to perform. If he turns out to be a solid starter, no one will care where he was drafted.
---
Jorge Garcia from Mexico City
writes: Which Patriots veteran do you see being released when all the final roster cuts are in?
Walker:
You have to look at the deep group at receivers. There's no way the Patriots will keep all 11. I think players like
Chad Ochocinco
,
Anthony Gonzalez
,
Donte' Stallworth
and
Julian Edelman
will all have to fight hard for roster spots.
---

Jim from Toms River, N.J.,
writes: What's the possibility
Donald Driver
lands in Miami and what would that mean for the Dolphins?
Walker:
If Driver is cut by the
Green Bay Packers
, which looks like a possibility, Miami will be high on his radar. For one, a starting job is waiting for Driver in Miami, and that won't be the case in most places. Second, former Packers offensive coordinator Joe Philbin is now the head coach in Miami. There's a comfort level there. But none of this is possible unless Driver is released.
---
Shaggy Lewis from Shreveport, La.,
writes: What are the chances
Terrell Owens
signs with Miami?
Walker:
Zero. Miami is rebuilding and does not want players with character questions in its locker room. Owens would not be a good fit.
---

Ben from Buffalo
writes: It seems to me that the No. 2 receiver spot on the Bills is completely up for grabs. Given the lack of production from the guys they put out there last season, do you think
T.J. Graham
is the front-runner?
Walker:
It's too early to pick a front-runner. But Graham would make it very easy on the Bills if he was ready right away. That was the hope when the Bills drafted Graham in the third round. But that could be asking a lot.
David Nelson
is better in the slot, and if Graham and
Donald Jones
can step in, Buffalo's passing offense could be solid.
---
John from Germany
writes: If you were
C.J. Spiller
, would you be a little upset that you're not the starter? If you are, would you leave the Bills at the end of your rookie contract?
Walker:
Spiller has a gripe. But the reality is that he's not a better running back than
Fred Jackson
at this stage of their careers. Spiller has three more seasons on his rookie contract. By then, Jackson most likely will be ready to step aside. So it's not a certainty that Spiller walks down the road.
---

Chris from MA
writes: I feel like I am beating my head against the wall. But could it make any more sense for the Jets to bring in
Vernon Carey
?
Walker:
I'm surprised Carey hasn't gotten more interest. He's probably going to be one of those veterans who signs after there is a camp injury. The Jets won't sign him because they are pretty tight on salary-cap space.
---
Ben from Baltimore
writes: Do you think
Mark Sanchez
still has the potential, with the right weapons and players stepping up, to have a comeback year?
Walker:
I didn't like what I saw from Sanchez last year. It was my first year in the AFC East, so that was the most I've watched him on a week-to-week basis. Sanchez is in his fourth season, and I don't think his ceiling is much higher than what we've seen. But that doesn't mean Sanchez isn't capable of playing better, or being a better decision-maker, or lowering his fumble and interception totals. These are things the Jets hope he cleans up in 2012. I doubt Sanchez will ever become an elite quarterback, but if he can make those aforementioned improvements, the Jets can win with him.
---
AFC East Homer of the Week
This week's homer is a BIG
Chad Henne
supporter.
Enjoy.
Rick from Miami
writes: James, I don't think you are dumb but please look at the facts before you write something stupid. Henne had played the equivalent of two seasons and has improved each season. He carried a team with no run game or pass defense in 2010 to seven wins and would had more if he had any run support of the defense. Look at the stats. Miami was top 16 in passing ypg with Henne and dropped to 23rd with
Matt Moore
. That shows Miami only won six games because of their D and run game. Stop bad-mouthing players before you read he facts. Henne is better than
Alex Smith
, Mark Sanchez and a whole bunch of current starters. Maybe you should read the facts instead of going with idiotic public opinion. Dan Marino thinks Henne can start in this league. Do you know more than Marino about QBs? I think not. Henne will take the
Jacksonville Jaguars
to the playoffs before Miami wins six games in a season.
Walker:
I'm always shocked by the number of Chad Henne supporters still out there in Miami. Henne had four years with the Dolphins to show what he could do and finished with more career interceptions (37) than touchdowns (31). In fact, Henne has never had a season in which he threw more touchdowns than interceptions. Henne was robotic, a below-average decision-maker and didn't have natural leadership ability. Four years is enough time to see that. But there's still a section of people, like Rick, who defend Henne and think he should have been the long-term solution in Miami. But, Rick, it's the last statement that makes you our AFC East Homer of the Week. Henne will not lead the Jaguars to the playoffs this year. He might not even be the starter, because the team is invested in
Blaine Gabbert
. Congrats on being our Homer of the Week.
---
May, 9, 2012
5/09/12
8:00
AM ET
Here are the most interesting stories Wednesday morning in the AFC East:
Morning take: Buffalo has a shot with recent improvements and an easy schedule. I'm picking the Bills to make a solid jump and contend for a wild card.
Morning take: The names out there don't fit what Miami is looking for. Braylon Edwards and Plaxico Burress have talent, but Donald Driver would be a better fit if he is released by the Green Bay Packers.
Morning take: Fells is a former teammate of Tebow. Opinions of Tebow as a starting quarterback are all over the place, even among players. But no one denies he's a tough football player.
Former Jets vice president of college scouting Joey Clinckscales reportedly is leaving the team for the Oakland Raiders.
Morning take: This is no surprise and appears to be a good move up. But I did find it strange recently when Clinkscales said he expects to stay in New York when this was in the works for a while.
April, 30, 2012
4/30/12
12:00
PM ET

Earlier this morning, NFC North blogger Kevin Seifert caught my eye
with a blog post
detailing the contract situation with
Green Bay Packers
receiver
Donald Driver
. The Packers are unsure about Driver's future in Green Bay and most likely will restructure his contract or release the receiver.
If it's the latter, could Driver land in Miami? There are natural ties to suggest the Dolphins would be interested.
For starters, Miami rookie head coach Joe Philbin was Driver's offensive coordinator for five seasons in Green Bay. Second, Driver is a prototype West Coast receiver, which is something Miami doesn't have on its roster. I detailed some of those issues
over the weekend.
The downside is Driver is 37 and doesn't have much time left. But he would be a good fit in Miami for the short term. Driver is an experienced veteran who knows the offense and can be a good mentor to the younger receivers. If Driver needs a job in several weeks, there's a starting position waiting for him in Miami.
December, 7, 2011
12/07/11
1:12
PM ET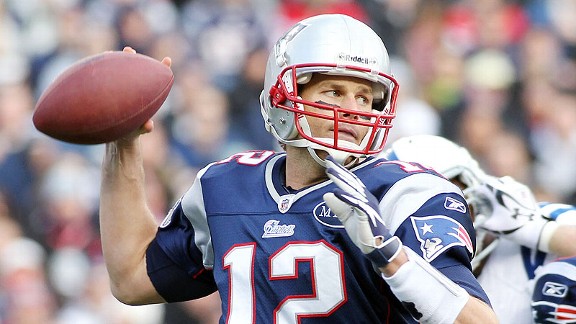 Stew Milne/US PresswireNew England quarterback Tom Brady has thrown 10 touchdown passes and zero interceptions during the Patriots' four-game winning streak.
No. 12 deserves the NFL's Most Valuable Player award this season. But it's not who you think.
Contrary to popular belief,
Green Bay Packers
quarterback
Aaron Rodgers
is not this year's MVP. That distinction, for the second straight year, should go to
New England Patriots
quarterback
Tom Brady
.
Now, before you roll your eyes, open your mind and hear me out.
Brady won the award last year during New England's 14-2 run, and he deserves to be just the second back-to-back MVP since 1998. This is not to discredit Rodgers, who is having a tremendous season. But sometimes numbers and hype get in the way of what the Most Valuable Player award, by definition, actually means.
The award is meant for the player who is the
most important to their team
. Let that sink in, because this is a key element to this debate.
Rodgers has been lights out and putting up great numbers for undefeated Green Bay (12-0). But what happens if you take Rodgers off the Packers? They won't be 16-0, but the defending Super Bowl champs would still keep the ball rolling with highly touted backup
Matt Flynn
and make it to the playoffs.
Green Bay has enough stars on offense (
Greg Jennings
,
Jermichael Finley
,
Donald Driver
,
Jordy Nelson
) and big-time playmakers on defense (
Clay Matthews
,
Charles Woodson
,
B.J. Raji
) to win plenty of games without Rodgers. I think Green Bay could even win the NFC North this year without Rodgers, considering the
Chicago Bears
(7-5) lost quarterback
Jay Cutler
, the
Detroit Lions
(7-5) are inconsistent and the
Minnesota Vikings
(2-10) stink.
In contrast, consider this: Where would the Patriots be without Brady?
With the NFL's worst-rated defense and no true superstars on the roster minus Brady, some believe New England would be similar to the
Indianapolis Colts
(0-12) this year without
Peyton Manning
. I'm not ready to go that far. But New England certainly would have a losing record.
Little-known backup
Brian Hoyer
or rookie quarterback
Ryan Mallett
have virtually no chance of getting this Patriots team to the playoffs. New England is too weak in other areas and couldn't afford poor play at quarterback.
And please do not point to what happened in 2008. That Patriots team had a top-10 defense and was much more balanced. Quarterback
Matt Cassel
is a former Pro Bowler who led the Patriots to 11 wins. Cassel was way more advanced and developed than Hoyer and Mallett.
The "Brady factor" in New England is clearly stronger than the "Rodgers factor" in Green Bay.
Without Brady, the Patriots would be challenging the
Buffalo Bills
(5-7) and
Miami Dolphins
(4-8) for third or fourth place in the AFC East this season. I'm sure
New York Jets
head coach Rex Ryan would be happy about that.
For those who want to focus only on the numbers, Brady's statistics are right on Rodgers' heels. In fact, Brady (3,916) has thrown for more yards than Rodgers (3,844) and is on a faster pace to eclipse
Dan Marino
's single-season passing record of 5,084 yards.
Also, Brady has thrown for 10 touchdowns and zero interceptions in the past month. Brady hasn't thrown a pick since Nov. 6. Rodgers has two interceptions the past three weeks.
The coach of the year award often doesn't go to the coach with the most victories. The award usually goes to the coach who overcomes the most hardship and does more with less. That is why
San Francisco 49ers
coach Jim Harbaugh will most likely get the nod this year over Green Bay counterpart Mike McCarthy.
Just like McCarthy probably will not win the coach of the year, Rodgers should not be the MVP this season. The cupboards are very full in Green Bay, and neither faced much hardship in their quest for an undefeated season and another Super Bowl title.
Brady is doing more with far less talent around him and is much more valuable to New England's success.
So forget that other guy wearing No. 12. Brady is this year's MVP.
October, 22, 2008
10/22/08
3:03
PM ET
Posted by ESPN.com's Kevin Seifert
New York Jets quarterback Brett Favre spoke extensively Wednesday about a September conversation with former Detroit president/general manager Matt Millen. We'll have more on this story as the day progresses, but for now here is a transcript of the applicable questions from Favre's news conference:
Did you share information with the Lions?
Brett Favre: Well the only thing I'll say about that -- and of course I've heard the reports. That week, Matt Millen called me. Matt and I are friends. He invited me to come to his place to hunt. I think he lives about an hour from here in Bethlehem. I'm sure his intentions were to fish me for information. [He] just asked me how we attacked them last year. We attacked them pretty good. I didn't give him any game plans. I haven't been in that offense for over a year. I don't know what else to tell you. It was pretty simple.
Does it anger you?
BF: It wouldn't anger as much as, 'Here we go again.' I wish those guys well in Green Bay. I have a lot of friends, not only as far as teammates are concerned, but coaches and just people in general there. And it's unfortunate the way some of the things went down this offseason. But no hard feelings. It's business. I'm happy to be here. I'm trying to get ready for the Chiefs. Learning this Jets game plan has been difficult, and to be spending whatever amount of time giving away another game plan is totally not true. So once again, it's not anger as much as it's ridiculous from both sides. It's unfair for those guys up there trying to play, too.
So to clarify, did you share information with Millen or the coaches?
BF: I talked to Millen for 15-20 minutes. From the time it takes me to get from here to my house -- which in New Jersey could be 10 minutes, and it could be a little bit longer. It was not a long conversation. We did talk about hunting. He said he had a bulldozer or some tractors if I felt like I needed to go and relieve some tension. And in the process, [he] wanted to know ... more or less the question he asked was, 'Is there anything in particular that you guys did to us last year, or how you looked at us, or whatever.'
I couldn't tell you what Detroit runs this year. I haven't watched them. And I can vaguely remember what they did last year. The only thing that I know about that game last year -- the one in Green Bay didn't really matter late in the year -- the first one, I think I had 22 straight completions. That's about all I can remember. And I know we won the game.
Did you tell them some of the strategy you used in Green Bay to beat them?
BF: We went empty formation and we just kept throwing completion after completion. They study film. They know what type of plays. Once again, I don't want to make this any bigger than it is. I don't know what else to tell you. I haven't sat in their meetings to know what they're calling or how they're going to attack or how they're going to use Aaron Rodgers. I can assure you it wasn't anything. It would almost be embarrassing to say that if I gave more, it was the wrong information. Because I think they beat Detroit rather soundly. And I bet it was pretty much the same things we've run in the past.
Did you talk to Lions coaches also?
BF: If someone was in there, I couldn't tell you. And let me clarify this. I did not call the Lions. Nor did I call Tony Romo, so ... I don't know what else to tell everyone. I'm not calling people.