November, 4, 2012
11/04/12
7:38
PM ET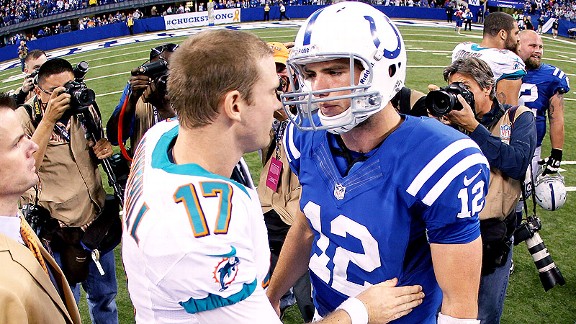 Gregory Shamus/Getty ImagesSunday marked the first of many showdowns between Ryan Tannehill and Andrew Luck.
INDIANAPOLIS -- The future was on display at Lucas Oil Stadium on Sunday.
For three hours, two rookie gunslingers exchanged amazing throws in a back-and-forth shootout.
A pair of rookies in the midst of changing the fortunes of their franchises combined for 723 passing yards.
It was an instant classic between the
Indianapolis Colts
and
Miami Dolphins
-- the first chapter of
Andrew Luck
versus
Ryan Tannehill
.
Nov. 4, 2012 marked the first of many great battles between these talented quarterbacks.
The first installment went to Luck, who threw for 433 yards and two touchdowns in Indianapolis'
23-20 victory
over Miami. Tannehill threw for 290 yards and one touchdown, coming up just a few plays short.
But the outcome of the game wasn't as significant as the big picture.
"I think they're going to be two of the elite quarterbacks in the league for the next 10 years," said Dolphins right tackle
Jonathan Martin
, who played with Luck at Stanford and is now teammates with Tannehill. "For us, we just have to protect a little better as an offense. But Luck was making a lot of plays out there."
Forget about Luck versus
Robert Griffin III
. That pairing was more about hype than substance.
Luck and RG3 were taken Nos. 1 and 2 in April's draft, but they play in different conferences. Indianapolis and Washington will meet only once every four years in the regular season. Tannehill, the No. 8 pick, and Luck will be standing in each other's way much more often in the AFC -- very possibly in future postseasons.
The Colts (5-3) and Dolphins (4-4) appear to have bright futures, but the two teams also are competing for a playoff berth this season.
Luck versus Tannehill could be the closest thing we have to
Tom Brady
and
Peyton Manning
once those veteran stars retire. Brady, 35, and Manning, 36, are in the twilight of their careers after squaring off in many big games in the regular season and playoffs over the past dozen seasons.
"He's just a gifted athlete. … Ryan [Tannehill is] the same way," Colts interim coach Bruce Arians said of the two rookies. "They can move around, and they have a great feel in the pocket. … But I'm just glad [Luck is] our quarterback."
It was difficult to fathom that both quarterbacks are playing in just their eighth NFL game. Luck and Tannehill played like veterans and made a lot of throws first-year quarterbacks usually can't make.
The Dolphins had no answer for Luck. Miami's defense mixed man, zone and blitz coverages, but none of them bothered Luck, who did a good job of extending plays by running and still getting the ball downfield. Luck had completions of 48, 36, 22 and 21 yards in becoming the second rookie quarterback in NFL history to record four 300-yard games in a season. The first was Manning during his rookie year in Indianapolis.
Colts receivers
T.Y. Hilton
and
Donnie Avery
both had 100-yard games and combined for 11 catches. Veteran wideout
Reggie Wayne
also had seven receptions and a touchdown against Miami's struggling secondary.
Many of Luck's best plays came in clutch situations on third down. The Colts were 13-of-19 on third-down conversions.
"He didn't play like a rookie today," Dolphins defensive tackle
Randy Starks
said of Luck. "He was able to get out the pocket and make some good throws. Even when we had him in third-and-long, he was still able to make the play."
Tannehill, playing with a left knee and quad injury, tried to match Luck throw for throw. He produced pass plays of 35 and 31 yards but fell short in the fourth quarter.
The Colts brought defensive pressure with two sacks and six additional hits on Tannehill, who showed toughness in a losing effort. But after a fast start, Miami's offense sputtered with just three points in the second half.
"He's a tough kid," Dolphins center
Mike Pouncey
said. "You can tell Ryan wants to be in that huddle with us. You can tell that he wants to be a starter and a leader on this football team. He's just playing great for us."
Both the Colts and Dolphins are playing solid football and very possibly will be in the playoff conversation late in the year in a watered-down AFC.
But looking beyond this season, Sunday also marked the beginning of the Tannehill-Luck rivalry. There will be plenty more meetings to come between them -- and fans will be the biggest beneficiaries.
August, 27, 2010
8/27/10
2:08
AM ET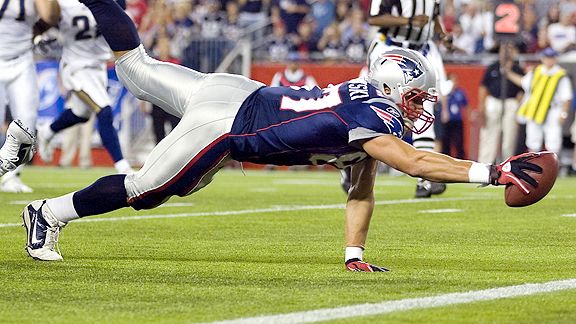 Stew Milne/US PresswireRookie tight end Rob Gronkowski caught three passes for 66 yards and two scores Thursday night.
Some random thoughts from Thursday night, when the
St. Louis Rams
beat the
New England Patriots
36-35 in Gillette Stadium ...
You can say Sam Bradford had a sensational night in his first NFL start, or you can be worried the rookie quarterback of a team that went 1-15 last year had his way against Bill Belichick's defense. The Patriots were undisciplined and seemed a little lost.

The Rams allowed 44 sacks last year, tied for seventh-most in the NFL. With four-fifths of the same offensive line and a rookie left tackle in front of Bradford, the Patriots' defense sacked him once and generally failed to create pressure.

New England was credited with three passes defensed. One of them belonged to nose tackle Vince Wilfork.

St. Louis' second-team offense, led by undrafted rookie quarterback Thaddeus Lewis, did this to New England's first-team defense to open the second half: 76 yards on 15 plays in 9:19. Lewis and Brandon Gibson connected for a 20-yard touchdown.

First-round draft pick Devin McCourty started at left cornerback and had a rough night. He struggled on run support and was beaten deep by Donnie Avery for 32 yards on the Rams' first drive. McCourty got scorched on what should have been a 27-yard Laurent Robinson touchdown at the end of the second quarter, but Bradford's throw carried Robinson out of bounds.

A bright spot for the defense was defensive lineman Ron Brace with seven tackles and a sack. He left the field with an undisclosed leg injury in the second half.

Rookie tight end Rob Gronkowski is going to be a fan favorite if he can A) stay healthy, and B) keep making the kinds of plays he made against the Rams. He caught three passes for 66 yards and two scores. On his 14-yard touchdown in the second quarter, he dragged James Laurinaitis the final 5 yards and lunged at the goal line. Gronkowski capped a long drive at the start of the fourth quarter by leaping to snare a Tom Brady dart from 20 yards away.

Wes Welker's return from reconstructive knee surgery took another positive step. He had two catches, one going for 39 yards to seemingly wake up the sleepwalking offense. But the psychological part of his recovery shouldn't be overlooked. Welker showed concern when Avery suffered a serious knee injury in the second quarter. Reminders are everywhere.

Flat is one thing, undisciplined is another. The Patriots committed nine penalties (two were declined) for 72 yards. The defense was culpable for most. Three Patriots were flagged for roughing the passer: Tully Banta-Cain, Brandon Spikes and Marques Murrell.

How did the Patriots score 35 points while maintaining possession for only 16:14? Brandon Tate returned the opening kickoff 97 yards for a touchdown followed by four straight possessions with a combined one first-down conversion. Then they scored touchdowns on each of their next three series, totaling 20 plays.

That's why Brady and the first-teamers played into the fourth quarter. He finished 18 of 22 for 273 yards and three touchdowns with no interceptions.

Brady's 65-yard bomb to Randy Moss sure looked pretty and got the Gillette Stadium crowd into the game, but you have to wonder if the Patriots' offense would have been better served with a drive. I don't think Belichick went into Thursday night with "Get Moss behind second-string safety Kevin Payne" on the Patriots' to-do list.

So here's what happened on the next series: At the end of the third quarter and into the fourth, New England went no huddle and traveled 98 yards on 10 plays, gaining five first downs before Brady found Gronkowski for a 20-yard touchdown. And it took them just 2:45.

Not sure what to make of running back Laurence Maroney not playing a down for the second straight game. Hard to say for sure, but looks like Belichick has booked him at Chateau Bow Wow. Belichick said it was related to time of possession. Regardless of the reason, no action two straight games is a bad sign for the fifth-year pro.

Sam Aiken is one of the most underappreciated players in the division. He's an adequate receiver who can help out the offense in a pinch, but he's a consistently solid special-teams performer, the kind of player every good team needs. He eliminated a Rams player on Tate's touchdown return and went across the middle for a 5-yard touchdown pass from Brian Hoyer in the fourth quarter.

The Patriots' offense probably would've had the ball longer if Belichick opted to go for it on fourth-and-inches from the 50-yard line midway through the first quarter. The TV showed Brady playfully mocking Belichick for punting. Against the Indianapolis Colts on "Sunday Night Football" is one thing. I guess Thursday night wasn't the right moment to be a renegade.

Forbes estimates the Patriots are worth $1.367 billion. Time to give the Gillette Stadium field some new paint. An on-the-spot official thought Rams tight end Fendi Onobun stepped out of bounds on what should have been a touchdown because the faded white sideline was undefined.