AFC East:

double coverage
March, 12, 2014
Mar 12
8:00
AM ET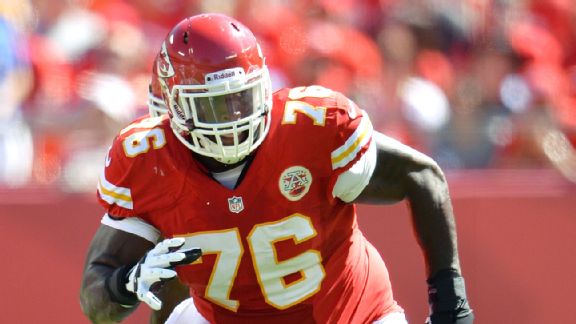 Peter G. Aiken/Getty ImagesThe Dolphins bolstered their O-line by agreeing to a five-year, $46 million deal with Brandon Albert.
NFL free agency kicked off with a bang Tuesday, and Pro Bowl left tackle
Branden Albert
was one of the biggest names to switch teams. Albert signed a five-year, $46 million contract with
Miami Dolphins
. He spent the previous five seasons with the
Kansas City Chiefs
.
One team's loss is another team's gain in free agency.
ESPN.com's Chiefs reporter
Adam Teicher and
Dolphins reporter
James Walker weigh in on both sides of the Albert signing.
James Walker:
Adam, the Dolphins are ecstatic to land a player of Albert's caliber. Pro Bowl left tackles do not grow on trees, and Albert was the highest-rated player at that position on the market. Albert also filled Miami's biggest need on the offensive line, which was torn apart last season with the bullying controversy. The price tag wasn't cheap. But the Dolphins feel it was worth the investment, especially after watching their quarterback get sacked a team-record 58 times last season. Albert will protect
Ryan Tannehill
's blindside. Adam, how are the Chiefs dealing with the loss of Albert?
Adam Teicher
: It's a loss for the Chiefs for the short term without a doubt. Eventually, the Chiefs should be able to handle his departure. The Chiefs and Albert were so far apart on a long-term contract last year that they knew it was never going to happen. So they began preparing for this day last year by selecting a tackle,
Eric Fisher
, with the first pick in the draft. Fisher started as a rookie at right tackle but didn't play well. He was a huge disappointment, but there's no reason to believe he won't eventually become the player the Chiefs envision. He needs a year in Kansas City's weight program. That alone should make him better.
The Chiefs and Dolphins talked about a trade involving Albert last year. How disappointed was Miami they couldn't acquire Albert then?
Walker:
The Dolphins liked Albert last year, but the person calling the shots this year is different. Miami fired former general manager Jeff Ireland and hired new GM Dennis Hickey in January. Ireland liked to acquire picks as opposed to trading them away. So it wasn't a shock when talks with Kansas City failed. It turned out to be a mistake as Miami's offensive line was atrocious, which played a factor in Ireland losing his job. Hickey doesn't want to make the same mistake. It appears he values the perks of a good offensive line and is making it a priority by putting money into Albert.
Adam, the Chiefs' offensive line appears to be in transition with losses of Albert,
Jon Asamoah
and
Geoff Schwartz
. How will they recover?
Teicher
: They've tried to prepare for this. Over the last four drafts, the Chiefs have used five picks in the first three rounds on offensive linemen. Four of them will start next season. They have three developmental linemen and the Chiefs could slide one of them into a starting spot in the middle of the line. Their depth will definitely take a hit, particularly at tackle. They'll have to find some backups and perhaps even a starter through free agency or the draft.
With regard to the offensive line, is anything left for the Dolphins to do or are they set?
Walker
: The Dolphins are far from set, Adam. Unlike Kansas City, Miami has not invested much in the offensive line in the past year. Pro Bowl center
Mike Pouncey
is the only starting offensive lineman expected to return. Last year's starting guards --
Richie Incognito
and
John Jerry
-- will not return due to their involvement in Miami's high-profile bullying scandal. Offensive tackles
Tyson Clabo
and
Bryant McKinnie
are both unrestricted free agents who are long in the tooth. Pouncey and Albert are a solid foundation. But the Dolphins still need two starting guards and a right tackle to play alongside their two Pro Bowlers.
October, 11, 2013
10/11/13
12:00
PM ET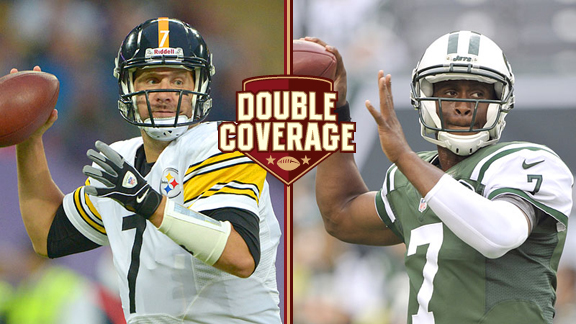 USA TODAY SportsBen Roethlisberger and the 0-4 Steelers take on Geno Smith and the surprising Jets.
Things you didn't expect to see in the standings when the NFL released the schedule last April: The
New York Jets
at 3-2, the
Pittsburgh Steelers
at 0-4.
The rebuilding Jets were supposed to struggle under a coach who already was being called a lame duck, and the Steelers ... well, they were supposed to be the Steelers, a model of consistency.
The two teams meet up Sunday at MetLife Stadium. The Steelers are off to their worst start since 1968, the year of the Jets' only Super Bowl season. If the Steelers lose this game, they're pretty much done in terms of playoff aspirations. The Jets played a similarly desperate team Monday night, and that didn't seem to faze them, as they stunned the
Atlanta Falcons
on the road. The Steelers should be well-rested coming off a bye week.
ESPN.com Jets team reporter Rich Cimini and Steelers reporter Scott Brown break down the matchup:
Cimini
: Scott, I look down the Steelers' roster and I still see a lot of those familiar names --
Ben Roethlisberger
,
Antonio Brown
,
Troy Polamalu
,
LaMarr Woodley
, etc. It's hard to imagine how the Steelers could be this bad. I'm sure you could write 5,000 words on why they're 0-4, but how 'bout a few thoughts on what has gone wrong?
Brown
: Rich, I think I have written triple that amount on everything that has gone wrong. Turnovers have been the biggest problem for the Steelers, and that is on both sides of the ball. The Steelers have committed 11 of them with six coming in the last two games by Roethlisberger alone, and they are still without a takeaway, which is unbelievable when you think about it.
Playing from behind has a lot to do with the Steelers' turnover problem, especially on defense. The defense is at its best when it puts opposing quarterbacks in obvious passing situations and forces them into the kind of mistakes that lead to turnovers. Would you believe the Steelers have had exactly two leads this season and those were 2-0 and 3-0 in the season opener against the Titans and in the second game at Cincinnati, respectively?
Rich, this defense usually confuses and frustrates rookie quarterbacks, but
Geno Smith
has hardly played like a first-year signal-caller. Has his play surprised you, and is it sustainable?
Cimini
: I was surprised by how well he played Monday night in Atlanta because he had been a turnover machine -- 11 in his first four games. All of a sudden, something clicked. I don't know if it was a one-game thing or the start of a trend.
I know the Steelers' defense isn't what it used to be, but Dick LeBeau will have had two weeks to cook up something to confuse the kid. How Smith responds to new looks from the defense will decide this game. The Jets leaned a bit more on the running game last week, taking some pressure off Smith, and I suspect they'll take a similar approach on Sunday. Blitz pick-up will be a key, as will the receivers' ability to gain separation. I remember the Steelers were very aggressive last season in Week 2 with the Jets' wideouts. While on the subject of quarterback play, how would you assess Big Ben's play to this point?
Brown
: It has been fine other than the turnovers, and I think it will get better with tight end
Heath Miller
back and running back
Le'Veon Bell
giving the Steelers a legitimate threat in the ground game. Roethlisberger is on pace to throw for almost 5,000 yards this season, which would obliterate his career-high of 4,328 yards (2009). But Roethlisberger is also averaging just over 40 pass attempts per game. That number is way too high, especially given how leaky the Steelers' offensive line has been through the first quarter of the season.
The emergence of Bell should restore balance to the Steelers' offense. My question for you is, will such balance have to wait a week? The Jets' defensive line looks awfully physical and it is hard to envision the Steelers having much luck running the ball against it.
Cimini
: You're right, Scott, the Jets have been very good against the run. They've faced some good backs --
Chris Johnson
,
C.J. Spiller
,
Doug Martin
-- and they're allowing only 76.2 yards per game and 3.0 per carry. I'd be surprised if the Steelers have much success on the ground.
The Jets' front seven is much improved from last season. They added more athleticism at nose tackle (
Damon Harrison
), tackle (
Sheldon Richardson
), weak inside linebacker (
DeMario Davis
) and rush linebacker (
Quinton Coples
). They're no longer vulnerable on the perimeter, as they were last season. I think they will make the Steelers one-dimensional, which should allow the Jets to get good pressure on Roethlisberger. Speaking of pressure ... four sacks for the mighty Steelers? What happened to that defense?
Brown:
Man, depends on who you ask. The easy answer is to say that age has finally collared a once fearsome defense, but that is not entirely accurate. Defensive end
Brett Keisel
, strong safety Polamalu and cornerback
Ike Taylor
are among the most tenured Steelers, and they have played well this season.
Age has caught up with the Steelers a little bit, and the defense needs to get more out of younger players such as cornerback
Cortez Allen
and outside linebacker
Jarvis Jones
. Jones, the Steelers' No. 1 pick last April, is going to be really good, but he has not made much of an impact as a pass-rusher. The Steelers desperately need Jones to emerge opposite Woodley, who has three of the team's four sacks.
.
September, 20, 2013
9/20/13
12:00
PM ET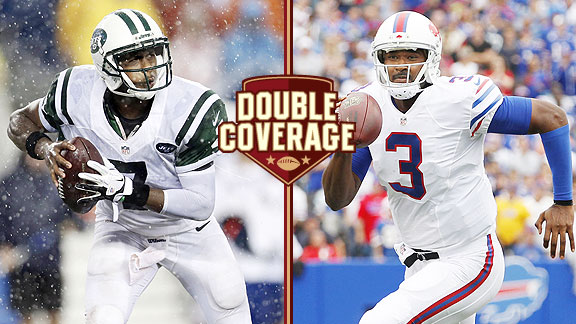 USA TODAY SportsAFC East rookie quarterbacks Geno Smith and EJ Manuel face each other for the first time.
The quarterback situation in the AFC East can be described this way:
Tom Brady
and the young guns. Two of the young guns will face each other Sunday at MetLife Stadium, where the
New York Jets
and
Buffalo Bills
-- both 1-1 -- will be battling to stay out of last place in the division.
The Bills had their choice of any quarterback in the draft, and they selected
EJ Manuel
with the 16th pick. The Jets, who had the ninth and 13th picks, rated
Geno Smith
over Manuel but waited until the 39th pick before taking him. So far, Manuel is off to a better start than Smith, at least from a statistical standpoint, but this rivalry could last years. Both teams are hoping for that, anyway.
This should be a competitive game, as both teams appear to be at similar stages of development. The Bills are rebuilding with a new coach, former Jets assistant Doug Marrone, and the Jets are rebuilding with the same old coach, Rex Ryan. They have other things in common: They both suffered close losses to the
New England Patriots
and they both beat a team from the NFC South -- the Bills the
Carolina Panthers
, the Jets the
Tampa Bay Buccaneers
.
ESPN Jets reporter Rich Cimini and ESPN Bills reporter Mike Rodak discuss the matchup:
Cimini
: Mike, New York is a quarterback-obsessed town, so I think there will be a lot of interest in Smith versus Manuel. If Smith becomes a bust and Manuel a star, the Jets will be second-guessed for passing on Manuel. Hey, that's the way it goes. The old-timers are still ticked off the Jets picked
Ken O'Brien
over
Dan Marino
. Smith has played well in stretches, but the early trend is that he'll hit a funk. In Week 1, it was the second quarter. In Week 2, it was the fourth quarter -- three interceptions. What about Manuel? I know he missed some time in the preseason. What do you like (and not like) about his game?
Rodak
: Rich, I've been impressed with Manuel's demeanor more than anything. He has the walk and talk of a franchise quarterback, and that sense has only grown for me since early in the preseason. The loss of
Kevin Kolb
was unfortunate for him and the Bills, but I think it was the best thing to happen to Manuel. The pressure is off and the job is his, and that's one of the reasons why I said in our ESPN.com preseason predictions that he will be Offensive Rookie of the Year. Here's the caveat for me, though: He needs to keep his bad mistakes in check. I think the most encouraging thing about his performance in the preseason and the regular-season opener was that he didn't commit costly turnovers. But Sunday, he was strip-sacked and threw a bad interception and was lucky to have his defense come up big both times and keep the game close. That might not happen against better opponents or on the road. Other than the quarterbacks, the biggest storyline coming out of this game is the return of Bills defensive coordinator Mike Pettine to MetLife Stadium to face his old team. What's the feeling like between Ryan and his former assistant, and what sort of chess match can you see developing between these defensive minds?
Cimini
: The Ryan-Pettine relationship is interesting. Basically, Ryan gave him his big break in the business, nurtured him for a decade, handed him the defense last season, and suddenly it was Splitsville. It was a curious departure, considering Pettine made a lateral move to the Bills. Deep down, I think they like and respect each other, but I think they both realized the relationship had run its course. As for the chess match, it will be fascinating. Let's put it this way: I wouldn't want to be a rookie quarterback, facing one of these guys. Ryan, the Jets' de facto coordinator, can confuse inexperienced quarterbacks with pressure and simulated pressure. Heck, he confused Brady last week. That Manuel faced a Ryan-like scheme all spring and summer will undoubtedly help him. Of course, the same could be said for Smith. I know this much: Ryan and Pettine are highly competitive, and there's more personal pride on the line than either one will admit. Ryan has a different challenge in that he'll have to face an up-tempo offense. Tell me more about the Bills' hurry-up.
Rodak
: It's been evident that the Bills want to move fast, but I think they still want to speed things up some more. The problem in the first game was not converting third downs. Regardless of how fast they got plays off on first and second downs, they were 4-for-13 on third down, which often took the up-tempo offense off the field quickly. They improved to 6-for-14 on third down in Week 2, but more importantly jumped from 15 first downs to 24 first downs, evidence of a better showing on early downs. Marrone also said Monday that there were problems with the coach-to-quarterback communications system, another factor in the offense not reaching its desired efficiency. So while we've seen glimpses of the pace the Bills want to run, it hasn't always been there.
September, 20, 2013
9/20/13
12:00
PM ET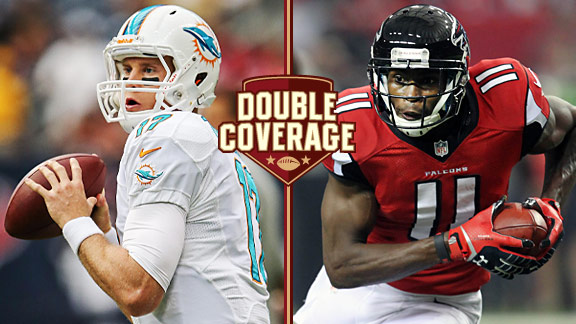 USA TODAY SportsRyan Tannehill and the undefeated Dolphins will try to upset Julio Jones and the Atlanta Falcons.
The
Miami Dolphins
are basking in the light of a 2-0 start while the
Atlanta Falcons
are just trying to find some healthy bodies.
The two teams play each other Sunday in a game that has big implications in the AFC East and NFC South races.
ESPN Dolphins reporter James Walker and ESPN Buccaneers reporter Pat Yasinskas examine this matchup:
Yasinskas:
James, like many, I thought the Dolphins would be an improved team. But it's looking like they might be even better than I thought. They've gone out and started their season with two big wins on the road. What's going right for the Dolphins and, more importantly, how good are they?
Walker:
It's early, Pat, but Miami is already exceeding my expectations. I pegged the Dolphins to be an 8-8 team this year. That still could happen if the team loses focus, but Miami is on pace to do better. I credit two things: improved playmaking ability and the growth of second-year quarterback
Ryan Tannehill
. Miami committed more than $200 million in free-agent contracts to players like receiver
Mike Wallace
, cornerback
Brent Grimes
and linebackers
Dannell Ellerbe
and
Philip Wheeler
. All of those players came up big in last Sunday's win over the
Indianapolis Colts
. When you add in the fact Tannehill has improved in his second year, it's easy to see why the Dolphins are also taking the next step. Atlanta is a team many believe is a Super Bowl contender, but the group is banged up. Pat, how much will injuries impact the Falcons in this game?
Yasinskas:
Atlanta has some major injury problems. The Falcons had to put defensive end/linebacker
Kroy Biermann
and fullback
Bradie Ewing
on injured reserve this week and there are reports that running back
Steven Jackson
will miss a few weeks. The loss of Biermann means the Falcons will have to play rookies
Joplo Bartu
and
Paul Worrilow
at linebacker and second-year pro
Jonathan Massaquoi
at defensive end. If Jackson is out, the Falcons will have to go with
Jacquizz Rodgers
and
Jason Snelling
as their running backs, and that's a sharp drop-off. That probably means the Falcons will pass even more than usual and rely on
Roddy White
and
Julio Jones
. Is Miami's secondary ready for that tandem?
Walker:
I had a good conversation with Miami's top cornerback, Grimes, on Tuesday. He was complimentary of both White and Jones -- and Grimes would know. The former Falcon watched both receivers grow in Atlanta and practiced against them. It will be fun to see who has the advantage between Grimes and White/Jones, depending on the play. Grimes told me they all know each other so well that it's probably a push. The bigger concern for Miami's secondary is the other cornerback spot. Veteran starter
Dimitri Patterson
didn't play in Week 2 due to a groin injury. He's working his way back and could play Sunday. Rookie corners
Will Davis
and
Jamar Taylor
also returned to practice this week, which could provide depth. Similar to the game against Indianapolis, Miami must do a lot of things schematically to cover up its issues opposite Grimes. That includes using the safeties over the top and getting a good pass rush. Speaking of pass rush, the Dolphins have nine sacks in the first two games. Can they exploit the Falcons in this area?
Yasinskas:
Miami's pass rush has to be a major concern for the Falcons. Atlanta revamped its offensive line in the offseason and it's taking some time to come together. The right side of the line is of particular concern with guard
Garrett Reynolds
and
Lamar Holmes
as the starters. Reynolds is average at best and Holmes, a second-year pro, was thrown into the starting lineup when
Mike Johnson
went down with an injury in the preseason. Holmes is very much a work in progress, so the Falcons will have to try to give him some help by getting their tight ends and running backs involved as pass-blockers. Still, Atlanta should be able to move the ball through the air because it has
Matt Ryan
, Jones, White and tight end
Tony Gonzalez
. Has Tannehill developed enough to win a shootout?
Walker:
That's an interesting question, Pat. I'm not sure anyone -- even Miami's coaching staff -- has the answer. I did notice the Dolphins' game plan in Week 1 against Cleveland was fairly conservative compared to Week 2 against Indianapolis. Those are two different teams, and perhaps the Dolphins realized they needed to be more aggressive throwing and take more vertical shots deep to match Colts quarterback
Andrew Luck
. This is a similar type of challenge, because Atlanta's offense is built around scoring points in the passing game. Tannehill is getting better at taking over parts of a game in Year 2. His play in the second half the past two weeks has been terrific. The Dolphins are outscoring opponents 24-6 in the third and fourth quarters, in part because Tannehill is moving the chains, putting points on the board and keeping Miami's defense fresh. I don't expect this game to be all on Tannehill's shoulders. The defense remains the strength of the Dolphins. Keeping Atlanta's scoring around 23 points or fewer, as opposed to having Tannehill throw for 400 yards, is probably Miami's best shot to win.
January, 10, 2013
1/10/13
11:15
AM ET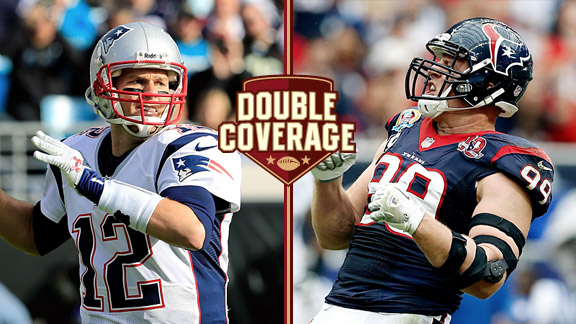 Getty ImagesThe Texans sacked Tom Brady, left, just once in their first meeting with the Patriots. Can J.J. Watt and the front seven do a better job in the rematch?
The Patriots seemingly snickered after they blew out Houston on "Monday Night Football" back on Dec. 10.
The Texans arrived in New England wearing letterman jackets that they thought showed team unity, but instead came off as high schoolish, particularly after they were easily dispatched in what
Andre Johnson
called the biggest game in franchise history.
For the Patriots it was the next game on the schedule.
Before the Texans got on the bus, middle linebacker
Bradie James
said the Patriots had delivered
a lesson
in championship football. The Texans headed back to Houston, humbled and officially in a slump. They lost two of their next three, fumbling away the AFC's No. 1 seed and a first-round bye.
A win over Cincinnati in the wild-card round earned the Texans a trip back to Gillette Stadium.
Can the Texans put up a better fight as major underdogs Sunday? James Walker of the AFC East blog joins me to discuss the game.
Paul Kuharsky:
Tom Brady
shredded the Texans in that regular-season game, James. He threw four touchdown passes in no time, recognizing Houston couldn't keep up with his targets, particularly
Aaron Hernandez
. Now, Brady has
Rob Gronkowski
back.
Do you see any way the Texans can get Brady off his game at home in the playoffs?
James Walker:
The key to stopping Brady is not a secret: You must beat him up. Brady doesn't like getting hit in the face, especially at age 35. The problem is that is much easier said than done. New England is extremely good at self-scouting and schemes very well to keep Brady upright. Houston got only one sack against Brady in the first meeting, so it was no surprise that he threw four touchdowns. I expect New England to once again keep some running backs and tight ends in protection to keep Houston's pass rush off Brady. The Texans will need to throw caution to the wind and blitz more defenders than New England has blockers, and that's where the chess match begins. Brady is tremendous at reading the blitz and rarely gets fooled with coverages. That's why he's so difficult to beat. Speaking of quarterbacks, what do you expect from Houston counterpart
Matt Schaub
in his first divisional-round playoff game?
[+] Enlarge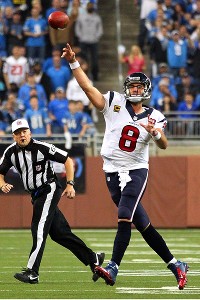 Mike Carter/US PresswireMatt Schaub's ability to connect on big plays downfield could be key for the Texans.
PK:
Schaub finally had his first playoff experience last week and he's now 1-0 in the postseason. But facing Cincinnati at home and New England on the road are two different things. He did fine against the Bengals, but I felt like coach Gary Kubiak was especially careful not to require many throws that were even moderately risky -- especially after Schaub threw that bad pick-six. Schaub has a bit of an unfair reputation for not being good in big games, mostly because he hasn't been in many big games. To spring an upset here, he'll have to supplement the run game with some big plays and, obviously, avoid killer mistakes. To have a chance, the Texans need to really ride
Arian Foster
. He has gone over 100 yards in all three of his playoff games. He had 19 touches in that regular-season blowout. To maximize their chances, I'd say he's got to have close to 30 this time.
JW:
Paul, I agree: Foster is the biggest key for the Texans in this game. He enters with some momentum after rushing for 140 yards and a touchdown last week against the Bengals. Getting Foster 30 or more productive carries would not only wear on New England's defense, it would keep the Patriots' high-scoring, up-tempo offense off the field. New England has thrived this year by getting off more plays and offensive possessions than its opponents. Houston's best chance is to slow down the game and make it ugly. Teams that beat the Patriots this year, such as San Francisco and Baltimore, ran the football well and limited New England's possessions.
PK:
What's the status of the Patriots' run game?
Stevan Ridley
ran fine in the regular-season game, gaining 72 yards on 19 carries. He earned a little doghouse time late in the season because of some fumbling issues. Has he regained the trust of Bill Belichick and the staff? And how much does it matter? It's not as though New England needs to run or is afraid to play a game without handing it off a lot and we know that they will keep throwing it even in a blowout situation. So does it even matter if they can run it?
JW:
Trust is big in New England, and Ridley has yet to earn it in the playoffs. Last year Ridley fumbled in the divisional round and didn't play for the remainder of the postseason. The Patriots do not have the luxury to bench him again this year, which makes Ridley a key player to watch. New England's offense usually passes to set up the run, but the ground game is more important than most people think. The Patriots rarely blow leads because they can run successfully when they need to. That time usually comes in the second half once they're ahead.
[+] Enlarge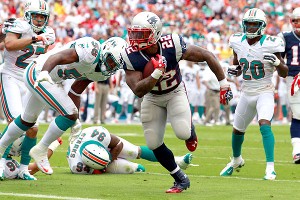 AP Photo/John BazemoreStevan Ridley may not figure heavily in the game plan, but he needs to make the most of his opportunities and limit mistakes.
I don't expect Ridley to be a huge part of the game plan. His carries probably will be in the teens. But he needs to make the most of each carry and take care of the football. If Ridley doesn't step up, look for the Patriots to go to a more dependable and sure-handed option such as
Danny Woodhead
. The Texans' defense allowed 42 points and 419 yards in the first meeting. What adjustments will Houston's defense need to make to be more successful in the rematch?
PK:
The coverage has to be way tighter.
Johnathan Joseph
played in the first meeting but had not been practicing and had missed time with groin and hamstring injuries.
Brandon Harris
was starting for the first time as the nickel after
Brice McCain
's foot injury. The Texans set out to slow
Wes Welker
and they did, then got killed by everyone else. They know they aren't going to get more than a sack or two on Brady because of how he gets rid of the ball and how skilled he is at changing protections. I expect they'll mix it up on Hernandez and Gronkowski but they won't be afraid to treat them as receivers.
The secondary had a bad night in Foxborough and a bad final quarter of the season. Joseph and
Kareem Jackson
and safeties
Glover Quin
and
Danieal Manning
are all better cover guys than they showed that night, when they were even getting beaten by Donte' Stallworth, who had been back in the league for barely five minutes. They simply have to be better if the Texans are going to be in this game.
JW:
I was with you in Houston last weekend, and I noticed the secondary played much better than the last time I saw the Texans in Foxborough. Joseph looked more like himself and did a good job, for the most part, on Bengals Pro Bowl receiver
A.J. Green
. On the other hand, I think an intriguing matchup will be Patriots corner
Aqib Talib
against Houston's Johnson, who had another monster season. Big games and matchups like this are why the Patriots acquired Talib in a midseason trade. He instantly became New England's best cover corner. The Patriots usually play a lot of zone, but they've been able to mix zone and man coverages a lot better in the second half of the season with Talib in the lineup. Houston will have a few opportunities to take shots down the field with Johnson against Talib one-on-one, and I think whoever wins those battles will have an impact on this game.
PK:
It'll be hard for the Texans to pull a surprise if there aren't a couple of big Schaub-to-Johnson connections.
Houston will arrive in New England with an "us-against-the-world" mentality, because the Texans are heavy underdogs. The Patriots aren't invincible. But if they start fast, they may look that way to the Texans yet again.
November, 28, 2012
11/28/12
12:00
PM ET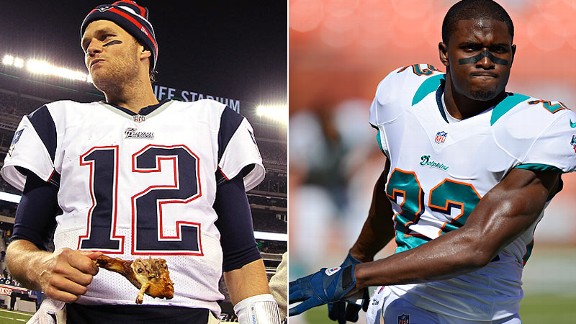 AP Photos, US PresswireTom Brady, left, and Reggie Bush are their respective teams' most potent offensive threats.
Few predicted before the season that Sunday's meeting between the
New England Patriots
and
Miami Dolphins
would have playoff implications for both teams. But New England and Miami each has a lot at stake in this AFC East matchup.
The Patriots (8-3) are fighting for a first-round bye and possibly home-field advantage throughout the playoffs. They trail the
Baltimore Ravens
(9-2) and
Houston Texans
(10-1) in the chase for the top two seeds in the AFC with five games remaining.
Meanwhile, the surprising Dolphins (5-6) want to keep their playoff hopes alive. Miami is only one game out of the final wild-card spot behind the
Pittsburgh Steelers
(6-5) and
Cincinnati Bengals
(6-5).
Something has to give when these two rivals meet at Sun Life Stadium. Our ESPN.com experts weigh in on this matchup.
James Walker, AFC East blog:
Mike, it's no surprise the Patriots are playing meaningful December games. But Miami is a total shock. I thought this would be a rebuilding year for the Dolphins with a rookie quarterback (
Ryan Tannehill
) and rookie head coach (Joe Philbin). But the fact that sports fans in South Florida will still be talking about the Dolphins in December -- and not the Miami Heat -- is a miracle in itself. In terms of the big picture, I think we're seeing the beginning of a new threat developing in the AFC East. The
New York Jets
are no longer a threat to the Patriots, as we saw on Thanksgiving, and the
Buffalo Bills
never seem to have it together. But Miami is a young, up-and-coming team that should be solid in the next year or two. Sunday is a good measuring stick to see where the Dolphins stand against the best team in the division. Mike, how are the Patriots viewing this game?
Mike Reiss, ESPNBoston.com:
James, the Patriots call these type of situations "hat-and-T-shirt games." Our colleague Tedy Bruschi came up with that saying because if the Patriots win, they clinch the AFC East and will have hats and T-shirts waiting for them. They have two difficult games after this one -- back-to-back home prime-timers against Houston (Dec. 10/ESPN) and San Francisco (Dec. 16/NBC) -- but I don't see them overlooking the Dolphins. South Florida has often been a challenging place for the Patriots to play. I think they respect the Dolphins, and specifically the threat that running back
Reggie Bush
can be and how stingy the defense has been in the red zone and on third down. Still, the Patriots have looked lethal the past two games and should be up for the task.
Walker:
Miami's front seven has been solid most of the year. But there is a huge mismatch with Patriots quarterback
Tom Brady
throwing against Miami's secondary. The Dolphins are 26th against the pass and have been short on cornerback depth all season. Opponents have been picking on Miami corners
Nolan Carroll
,
Jimmy Wilson
and
R.J. Stanford
. The Patriots have enough weapons to spread Miami out and take advantage of these matchups. Brady is seeing the field extremely well. He has thrown 14 touchdowns and zero interceptions during New England's five-game winning streak. It will be up to Miami's offense and Tannehill to keep pace.
Andrew Luck
recently struggled against New England. Why do rookie quarterbacks often get embarrassed against Bill Belichick's schemes?
Reiss:
I'm not sure I would necessarily say that has been the case. This Patriots defense has done some great things in recent weeks, but it has also had its struggles at times. The main thing the Patriots have going for them is their amazing turnover differential. They are plus-24 -- easily the best in the NFL. But opponents have moved the ball on them at times. I would envision the Patriots' plan to be centered around Bush. Try to take him away as both a rusher and receiver, and look to create turnovers from there.
Walker:
Miami's running game averaged 6.8 yards per carry last week against Seattle. The Dolphins are at their best then they can run and stop the run. This might be the only way for the Dolphins to beat the Patriots. Miami, in many ways, has to play defense with its offense. The Dolphins have to control the clock and reduce the number of plays for the Patriots' offense. Miami is not the type of team that wins in shootouts. The Dolphins average only 19.2 points per game. This is a plodding, physical team. And if this game gets into the 30s, that probably means the Patriots win.
Reiss:
I'd agree with that, James. It's challenging to control the tempo against the Patriots, but most of the teams that have had success in recent years did so by controlling the ball on offense. The other area that I think is important to focus on is the Dolphins' pass rush against the Patriots' offensive line. The O-line has generally been excellent for the Patriots this season, and last Thursday, they were without starting right tackle
Sebastian Vollmer
and didn't miss a beat.
Cameron Wake
can obviously be a disruptive player, so let's keep a close eye on the edges and if the Patriots can continue to protect Brady, whose name seems be generating some momentum in the MVP discussion. On the other side of the ball, the right defensive end spot bears watching. That's where the absence of rookie
Chandler Jones
(sidelined since injuring his ankle Nov. 18 against the Colts) and top backup
Jermaine Cunningham
(four-game suspension) could create a large void. Jones' status could become more clear in the coming days, and if he plays, that's a one-on-one matchup I don't want to miss -- Jones versus Dolphins left tackle
Jake Long
. If Jones doesn't play, can the Patriots generate enough pass rush without two of their best threats?
Walker:
With huge games looming against the 49ers (8-2-1) and Texans (10-1), normally I would label this a trap game. But as you mentioned, the Patriots are not the type of team that looks ahead. They do a good job of focusing week to week and that should be more than enough to handle the Dolphins. I predict New England wins 31-17. The Dolphins don't have enough horses to compete with the Patriots just yet. But it's a good chance for the Dolphins to see where they are at this stage.
Reiss:
The Patriots are the class of the AFC East and have been for most of the past decade. The question that interests me is which division foe -- Bills, Dolphins or Jets -- is closest to making a run at them. I pick the Dolphins because I think they have the greatest future potential at quarterback. I have always enjoyed conversations with Philbin, who grew up in Massachusetts, and believe he is the right coach for the Dolphins. He's establishing the foundation with the Dolphins and believes in fundamental football first and foremost. They are on their way. But I agree with your thoughts in this game, James, as I see the Patriots on a different level.
January, 19, 2011
1/19/11
1:23
PM ET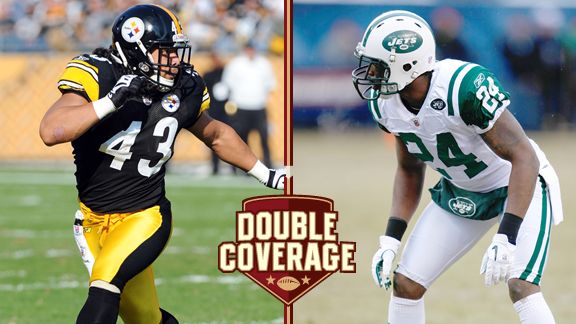 Getty ImagesThe AFC Championship Game should be a hard-fought grudge match featuring two of the league's best defenses, led by Troy Polamalu and Darrelle Revis.
We have an AFC East versus AFC North showdown at Heinz Field to determine who will represent the conference in Super Bowl XLV. The
New York Jets
(13-5) will visit the
Pittsburgh Steelers
(13-4) in a rematch of
the Jets' 22-17 victory in Week 15
.
But this time we're going to narrow our focus to the heart and soul of both teams: the defense. That is what brought the Jets and Steelers this far. The better defense Sunday likely will make the difference in the AFC Championship Game.
So which defense has the best chance to dominate? ESPN.com AFC North blogger James Walker and AFC East blogger Tim Graham break it down.
James Walker:
I like the fact that both of these defenses attack first and often can dictate to the opposing offenses the tempo of the game. But when you start comparing the two teams by the numbers, New York's defense doesn't stack up to Pittsburgh's. The Steelers have the advantage over the Jets in every major statistical regular-season category, including average total yards allowed (276.8 to 291.5), points allowed (14.5 to 19), total sacks (48 to 40) and forced turnovers (35 to 30). Pittsburgh's run defense also was fifth best all-time since the start of the Super Bowl era in 1966, allowing just 62.8 yards per game. The Jets allowed an average of 90.9 rushing yards per game. New York also gave up 72 more points than Pittsburgh in the regular season. And based on their average, that's about five games' worth of points for the Steelers. If you want to compare current numbers in the playoffs, the Steelers are also No. 1 in postseason defense, allowing just 126 total yards in a divisional win over Baltimore. The Jets played in two playoff games and are not in the top six. New York has allowed an average of 342 total yards in the postseason, which is a very big discrepancy of 216 total yards per game.
[+] Enlarge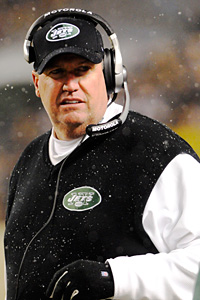 AP Photo/Tom E. PuskarNew York Jets head coach Rex Ryan disrupted Hall of Fame quarterbacks in back-to-back weeks.
Tim Graham:
No, I don't want to compare postseason stats because the Steelers have played one game at home against a wild-card team. The Jets have played two road games against future Hall of Fame quarterbacks and snuffed them both -- in two of the most intimidating stadiums for a visitor to escape in any sport. What the Jets have done the past two weeks would be a remarkable feat even for the "Steel Curtain." The Jets held
Peyton Manning
to 16 points and made inevitable MVP
Tom Brady
appear lost. The Patriots scored 21 points, but the last touchdown came against the Jets' prevent defense in garbage time. But even more significant? The Jets won in Pittsburgh five weeks ago. Steelers quarterback
Ben Roethlisberger
took his shots against the Jets and posted a passer rating almost 20 points lower than his season average. The Jets forced more fumbles than the Steelers that night, had more sacks and even recorded a safety. As for that sterling run defense ranking you quoted, in that contest the Jets' running game surpassed the Steelers' average by 44 yards -- an increase of 59 percent.
JW:
If you want to throw away the Jets' postseason statistics, then Pittsburgh's superior regular-season numbers over 16 games still apply. There is no way to ignore both, Tim, because Pittsburgh's defense was better no matter how you cut it. In terms of Week 15, I think you're conveniently leaving out that the game
was won on special teams
.
Brad Smith
's 97-yard kickoff return for a touchdown was the difference. The Steelers' defense allowed just one touchdown, while Pittsburgh's offense outscored New York's offense 17-13. The Steelers also racked up 377 yards against the Jets' defense, which is worse than the 342-yard postseason average I mentioned earlier. In terms of which defense can dominate the AFC title game, you have to take into account the offenses these two teams are facing. There is zero debate that Roethlisberger is a superior quarterback to New York's
Mark Sanchez
. In fact, if I were ranking the four remaining playoff quarterbacks, Sanchez would be dead last behind Roethlisberger,
Aaron Rodgers
and even
Jay Cutler
. Credit Sanchez for having some success against the Colts and Patriots, but those defenses were ranked in the 20s this season. Even Jets linebacker
Bart Scott
admitted New England's defense "couldn't stop a nosebleed," and he's right. Sanchez has yet to face a defense in the playoffs like Pittsburgh's once it's at full strength with a healthy
Troy Polamalu
, who missed the first meeting. Sanchez threw for just 170 yards in Week 15, and even then Polamalu's absence limited what Pittsburgh could do defensively. The Pro Bowl safety makes a huge difference in coverage, stopping the run and freeing up others to pressure the quarterback. The "Polamalu factor" cannot be overlooked with the Steelers' defense, and I think he's going to be a huge headache for Sanchez, especially since Sanchez didn't get to face Polamalu in the first meeting.
TG:
I didn't ignore either the Jets' regular-season or postseason statistics. We simply cannot compare the Jets' postseason numbers to the Steelers'. The sample size is too small, they haven't played the same number of games, and they've played a different caliber of opponent so far in the tournament. The Jets were road underdogs for both of their games, while the Steelers were a home favorite coming off a bye week. You cannot compare them that way. It's apples and grapefruits. You're right when you say Sanchez has yet to face a defense like the Steelers' with Polamalu on the field. But Polamalu didn't exactly look like a superstar against the Ravens -- two tackles, no passes defensed and a whiffed tackle or two. I'll grant that nobody can expect Polamalu to have two straight subpar games, but he just showed there are no guarantees he's going to take over Sunday's game. Maybe the injury is hampering him. But let me ask you: How is Roethlisberger going to solve a mystifying, multilook defense that Manning and Brady couldn't master in the past two weeks? Oh, and one Roethlisberger couldn't defeat five weeks ago? And if you're thinking about replying with "He's had five weeks to figure it out," remember that Brady had no idea what he was looking at last Sunday, and he played the Jets twice this year.
JW:
Roethlisberger threw for 264 yards and a touchdown in the first meeting with the Jets and the offense notched 25 first downs, compared to New York's 17. Steelers tailback
Rashard Mendenhall
led the game in rushing with 99 yards, one touchdown and averaged 5.8 yards per carry. It's safe to say the Steelers were not mystified in the first meeting after gaining 377 total yards of offense. If anything, I think the Jets' defense needs to make more adjustments to stop what Pittsburgh's offense was able to do well in Week 15. Roethlisberger has played against Rex Ryan's defenses plenty of times when Ryan was the defensive coordinator of the
Baltimore Ravens
. This will have the familiarity of a division game for Roethlisberger, where Sanchez is seeing Dick LeBeau's defense for only the second time in his entire career and the first time with Polamalu in the lineup, which is a huge difference. Plus, here is the key advantage Roethlisberger has over Manning and Brady: Pittsburgh's elite defense. The Colts and Patriots need their quarterbacks to play lights out and take more risks to beat the Jets because they have shoddy defenses. This game isn't nearly as much on Roethlisberger's shoulders. He can simply play sound, complementary football with the Steel Curtain defense, which will do much better holding down the Jets' offense compared to New York's previous two playoff opponents.
[+] Enlarge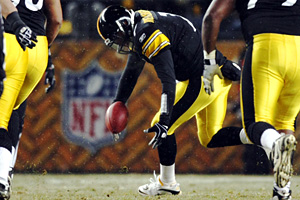 Jason Bridge/US PresswireSteelers quarterback Ben Roethlisberger averaged just 6 yards per attempt in Week 15 versus the Jets.
TG:
If the roles were reversed on this debate and I were asked to state a case for the Steelers' defense, the first words I would've written would be "Troy" and "Polamalu," and then I would have made the point that the last time the Jets played the Steelers, the Jets' offense scored one touchdown -- a fourth-down Sanchez bootleg that totally fooled the Steelers' defense. The rest was a kickoff return for a touchdown, a safety and some field goals. One touchdown surrendered would seem to support the Steelers, right? Well, it does. I'm guessing you hadn't gotten around to making that point yet. But that fact also goes to show that a dominant defense doesn't mean a team will win. The Jets did surrender more yardage, but you omitted that the Jets ran 15 fewer offensive plays and spent the fourth quarter in a prevent defense, giving the Steelers the entire middle of the field. The Steelers had the better defense in terms of yardage and still lost because the Jets' defense kept them out of the end zone when it counted. Last time I checked, a game never has been decided by yardage or league rankings.
JW:
Tim, I really appreciate you repeating my points from earlier about the "Polamalu factor," the Steelers allowing just one touchdown and New York winning the first meeting via special teams on Smith's 97-yard kickoff return. I think you're finally seeing things my way. At this stage of the season the old saying still applies that "Defense wins championships." That is why both teams are here. Since the Steelers have the better defense in the regular season, the better defense in their previous meeting and the better defense in the playoffs, it's safe to say Pittsburgh's defense will be better on Sunday -- and that will be the difference in the Steelers advancing to their third Super Bowl in six seasons.
July, 8, 2009
7/08/09
12:00
PM ET
| | |
| --- | --- |
| | |
| | AP Photo/Reed Saxon |
| | Which rookie quarterback is under more pressure to succeed in 2009: New York's Mark Sanchez or Detroit's Matthew Stafford? |
Posted by ESPN.com's Kevin Seifert and Tim Graham
With nothing better to do during the NFL's dog days of July, two of our division bloggers hopped on the phone this week to debate which rookie quarterback faces more pressure this season: the Detroit Lions' Matthew Stafford or the New York Jets' Mark Sanchez.
Podcast: Football Today
NFL bloggers Kevin Seifert and Tim Graham debate which rookie quarterback faces more pressure in 2009: Matthew Stafford or Mark Sanchez?
Football Today

The NFC North's Kevin Seifert and AFC East's Tim Graham considered the issue from a number of perspectives, including:
The 2009 expectations for each team. (Detroit: Win some games. New York: Win some playoff games.)

The contracts each player signed. (Stafford: Biggest in draft history. Sanchez: Biggest in Jets draft history.)

Each team's alternatives at quarterback. (Detroit: Daunte Culpepper. New York: Kellen Clemens.)

The urgency for each player to start right away. (Stafford: Moderate. Sanchez: Mandatory.)
Graham suggested the Jets will follow the Joe Flacco model that coach Rex Ryan witnessed last season in Baltimore. Seifert questioned whether Sanchez is as NFL-ready as Flacco. To which Graham responded with a vague insult of Flacco's foundation -- constructed mostly at the University of Delaware after transferring from Pitt -- relative to Sanchez's grooming at USC.
Listen to the podcast for all of the spice and color you've grown to love from Double Coverage -- and to discover the surprising conclusion we reached.
ESPN's Marcellus Wiley and Mike Golic also weigh in on the topic.
March, 5, 2009
3/05/09
12:30
PM ET
| | |
| --- | --- |
| | |
| | US Presswire |
| | Matt Cassel and Jay Cutler will face off twice a year in the AFC West. |
Posted by ESPN.com's Tim Graham and Bill Williamson
Tremors rumbled though the NFL after the New England Patriots traded quarterback Matt Cassel to the Kansas City Chiefs. But the actual deal wasn't as startling as the plot lines that emanated from it.
We learned that a three-way trade was possible in which Cassel would have gone to the Denver Broncos, who would have sent Jay Cutler to the Tampa Bay Buccaneers. The trade didn't materialize, but the mere fact the Broncos considered such a swap has caused considerable strain in Denver.
Does Broncos rookie head coach Josh McDaniels really think a breakout backup is a better quarterback than the 11th overall pick in the 2006 draft?
In this edition of Double Coverage, AFC West blogger Bill Williamson and AFC East counterpart Tim Graham debate the merits of Cutler and Cassel in an attempt to determine who the superior option is.
Why would McDaniels prefer Cassel over Cutler?
Tim Graham: Let's go ahead and cut to the chase, Bill. Cutler is one of the worst decision-makers in the NFL. He might be the league's most reckless starter now that Brett Favre has retired. McDaniels was raised within the Patriots organization, which places a premium on efficiency and accountability. McDaniels groomed Cassel from a player who hadn't started since high school into one of the NFL's more trustworthy passers. Cassel had a 2.1 interception percentage compared to Cutler's 2.9, but he rarely killed a drive with a bone-headed play.
Bill Williamson: Tim, there is no doubt about it. Cutler makes his share of mistakes. This guy is from the Brett Favre school of gun-slinging. He is fearless. Cutler has never seen a route he doesn't like. Often, it works in his favor; sometimes it doesn't. He does need to cut down on his interceptions. But the thing that teammates like so much about Cutler is that he tries to make the big play. And he is capable. Cutler has the ability to carry a team on his back. Cassel, again, is a system guy. In the fourth quarter, I'd take Cutler's arm and gumption any day.
TG: Cassel is no slouch late in games. Let's not forget that amazing play at the end of regulation in Week 11. With eight seconds left and the Patriots down by seven points from the New York Jets' 16-yard line, Cassel rolled right and threw a pin-point pass to Randy Moss along the sideline to send the game into overtime. It was a gutsy throw. But he never was tougher than in Week 15. A few days after his father passed away and before the funeral, Cassel threw for four touchdowns against the Raiders. Nobody can question the guy's heart.
BW: Good point, Tim. Cassel has been impressive in a short period of time. Cutler has his share of fourth-quarter magic as well. I think it all comes down to individual talent. Cutler possesses more talent than Cassel. There is a greater chance for Cutler to make a play by himself than Cassel. I think Cutler can freelance a little bit more, and he has the ability to wait out a play more because of his arm. If a play breaks down, Cutler can still make the best out of it because of his arm, field intelligence and scrambling ability.