October, 14, 2010
10/14/10
4:51
PM ET
CBS Sports color commentator Dan Dierdorf considers the
New York Jets
one of the top three strongest Super Bowl contenders at the moment and wonders if they have the best collection of offensive talent in the league.
Dierdorf will be at Mile High Stadium to call Sunday's game against the
Denver Broncos
and shared his thoughts about the matchup and the Jets' championship hopes.
On the Jets:
"Not that any team has ever hoisted the Lombardi Trophy in October, but the Jets are staking their claim by putting themselves in the conversation on that very short list, as of right now, of who is the best team in the league. If you look at the title contenders right now for the crown of 'Best team in October,' I'd have to say Pittsburgh, Baltimore and the Jets."
On the Broncos' defense going up against the Jets' offense:
"On paper, this isn't a very attractive deal for the Broncos. It's not every day that you see five defensive players ruled out of the game on Monday. They're going to need some duct tape and string to keep things together. This is also a defense that lost probably its best player in training camp in Elvis Dumervil, who led the league with 17 sacks last year.
"A lot of creativity is going to have to be going on the defensive side of the ball against a Jets offense that really doesn't have any weaknesses. They have quality at running back, quality at wide receiver, quality at tight end, maybe the best offensive line in football and a young quarterback who is getting better every week. This might be the most talented offense in the NFL."
On the Jets' secondary versus the Broncos' wide receivers:
"This is a fine matchup because everybody knows that Denver can't run the football. They throw because they have to throw. They are dead last in the NFL in running the football, and everybody struggles to run against the Jets. You have to wonder how much time Denver is going to even attempt to run the football, especially when it looks like their primary running back, Knowshon Moreno, who has missed the last couple of games with an injury, may not play in this game either.
"Denver throws the ball out of necessity, but they do it very well. Josh McDaniels is outstanding at designing a passing attack. They have all this talent at wide receiver with Brandon Lloyd, Eddie Royal, Jabar Gaffney and their No. 1 draft pick, Demaryius Thomas, who is questionable to play this week due to an injury from last weekend. And, Kyle Orton is really blossoming into one heck of an NFL quarterback."
August, 29, 2010
8/29/10
9:00
AM ET
ORCHARD PARK, N.Y. -- A year ago,
Roscoe Parrish
wanted out.
The
Buffalo Bills
signed
Terrell Owens
, a move that would squash Parrish at the bottom of a depth chart he already felt was oppressive. Parrish was the NFL's leading punt returner in 2007 and 2008 but couldn't convince the Bills to use him more in their atrocious offense.
[+] Enlarge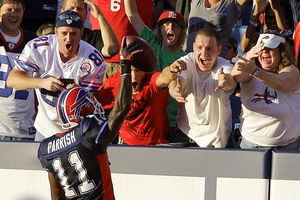 AP Photo/ David DupreyUnder Chan Gailey, Roscoe Parrish figures to be an important aspect of Buffalo's offense.
Parrish went to his agent, Drew Rosenhaus, who also happens to be Owens' agent,
and told him to request a trade
.
The Bills refused. Rosenhaus floated reports that Parrish was on the trade block in hopes of stimulating some action. That didn't help either.
Why the Bills insisted on keeping Parrish isn't clear. He rotted on the sideline. Even more bizarre, former head coach
Dick Jauron named Parrish the third quarterback
.
"In this profession, you can never feel down on yourself," said Parrish, who caught a grand total of three passes for 34 yards last year. "Last year was a tough year for me, and I just had to handle myself like a professional and have a good attitude. You never know what tomorrow will bring."
That's the truth.
Parrish loves playing for the Bills again. In Saturday night's 35-20 preseason victory over the
Cincinnati Bengals
in Ralph Wilson Stadium, he had a team-high four receptions for 56 yards and a touchdown.
"He's a big weapon for this football team," new Bills coach Chan Gailey said.
To be considered a weapon is contrary to Jauron's feelings. But Jauron was offensively unaware, a defensive coach through and through who would always claim he was working on ways to get Parrish more involved but never did.
Gailey, meanwhile, has a respected offensive mind.
"He just likes to get the ball in his playmakers' hands," Parrish said. "I heard a lot before, but that is in the past. Right now is right now. I just have to control my own destiny, and that is to take advantage of all the opportunities that come my way."
Asked if he knows why Parrish wasn't used more in the past, Gailey replied "I don't know anything about that."
The main criticisms of Parrish are that he is 5-foot-9 and sometimes plays small, unable to beat press coverage and unable to get physical. But when I spoke to Parrish last year about the outside perceptions of his limitations, he rattled off a list of receivers who play bigger than their height:
Santana Moss
,
Steve Smith
,
DeSean Jackson
,
Eddie Royal
.
Parrish might finally get the chance to see if he can make an impact, too.
"I've been a punt returner for a while in this league," Parrish said. "My speed and my quickness have been helping me out a lot. I'm just trying to transfer that over as a receiver."
June, 24, 2010
6/24/10
1:00
PM ET
»
NFC On the Radar
:
East
|
West
|
North
|
South
»
AFC
:
East
|
West
|
North
|
South
A player, coach or issue that should be on your radar as training camp approaches.
ORCHARD PARK, N.Y. --
Buffalo Bills
receiver
James Hardy
is opposed to me writing this story.
[+] Enlarge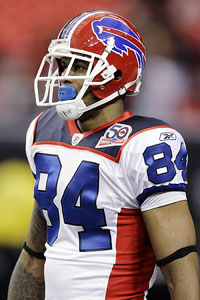 Brett Davis/US PresswireBuffalo Bills wide receiver James Hardy needs to make an impression in his third season.
"My whole thing is, I like to fly below the radar," Hardy told me after Wednesday's double minicamp session. "I know people have their doubts about me. That's OK."
When considering the Bills' offense, Hardy often gets overlooked as the potential No. 2 option opposite
Lee Evans
.
The reason Hardy has been disregarded is that he enters his third NFL season with a scrawny body of work. Injuries have limited him to 16 games, three starts and 10 receptions for 96 yards.
The Bills had high hopes when they drafted him 41st overall out of Indiana University. He was the fourth receiver off the board, taken one slot ahead of
Eddie Royal
and seven ahead of
DeSean Jackson
. Hardy scored 36 touchdowns in 36 games for Indiana, where he also played basketball as a freshman.
He's a good-looking target who would appear to be a dream on third downs and in the red zone. He's 6-foot-5 and 225 pounds.
He got off to a promising NFL start. In Week 2 of his rookie season, he scored a 7-yard touchdown with 4:10 left to beat the
Jacksonville Jaguars
. By Week 5, he was starting. But he lacked the consistency to remain in the lineup and tore a knee ligament in the penultimate game.
Hardy started last season on the physically unable to perform list. He was activated in time for the Bills to fire head coach Dick Jauron. They also had
Terrell Owens
and weren't too interested in rushing Hardy back.
Due to Hardy's work during rehab and extensive community service work around Buffalo and in his hometown of Fort Wayne, Ind., his teammates voted him the Bills' representative for the Ed Block Courage Award.
"Yeah, I have a chip on my shoulder," Hardy said, "and I still feel like a rookie who still has to prove himself in many ways. But my expectations are just as high as when I came out of Indiana. I still plan on big things."
April, 19, 2010
4/19/10
12:32
PM ET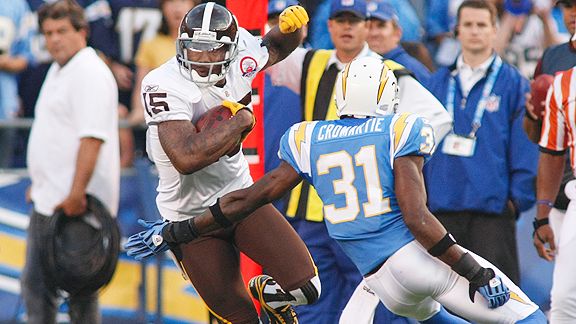 Icon SMIAntonio Cromartie and Brandon Marshall will continue to face each other at least twice a season.
Maybe
Antonio Cromartie
should consider filing for a restraining order.
Part of his excitement over a fresh start with the
New York Jets
had to be sweet relief from further
Brandon Marshall
torment. Cromartie, the former
San Diego Chargers
cornerback, left Marshall behind in the AFC West.
Marshall tracked down his rival last week, when the
Denver Broncos
traded the dangerous receiver to the
Miami Dolphins
. Cromartie's and Marshall's clubs will continue to square off at least twice a season.
While All-Pro cornerback
Darrelle Revis
likely will shoulder most responsibility for removing Marshall from the game when the Jets and Dolphins play, one of the chief reasons the Jets acquired Cromartie was to mix up their coverages so that Revis isn't always on the No. 1 receiver.
ESPN Stats & Information researcher Matt Lyon, with help from
ProFootballFocus.com
play-by-play data, produced some numbers that show Cromartie has had trouble containing Marshall the past two years.
The first game that comes to mind is Marshall's gaudy performance against the Chargers in Week 2 of the 2008 season. Marshall caught 18 passes for 166 yards and a touchdown.
What an awful day for Cromartie. The NFL's official game book from that sunny afternoon had Cromartie on the scene for five Marshall receptions for 80 yards and a touchdown. NFL game books, however, only note the defender who made the tackle. While that often indicates the responsible defender on a pass play, it's not always accurate.
But the game book also reminds us Cromartie committed three accepted penalties against Marshall (unnecessary roughness, facemask, defensive holding) for 22 yards. Another Cromartie defensive holding call was offset.
Cromartie has had better days against Marshall, including Week 11 last season, when Marshall didn't catch a single pass against him. Of course, Cromartie found himself against
Eddie Royal
much of that game.
Over the past two seasons, ProFootballFocus.com's data shows Marshall caught seven of nine passes thrown to him while Cromartie was in coverage, a remarkably high 77.8 percent for 74 yards and a touchdown and a 138.0 passer rating.
Against other Chargers defenders, Marshall caught 32-of-45 passes thrown at him, 71.1 percent, for 296 yards, one touchdown, one interception and an 86.9 passer rating.
July, 28, 2009
7/28/09
4:00
PM ET
| | |
| --- | --- |
| | |
| | Luc Leclerc/US Presswire |
| | Roscoe Parrish wants to be known as more than just a punt returner. |
PITTSFORD, N.Y. -- Not every Buffalo Bill was delighted by the
Terrell Owens
signing.
The bombshell acquisition caused borderline delirium within the organization and among its fans. Before enough time had elapsed for the deal to sink in, receiver
Roscoe Parrish
came to the conclusion it wasn't going to create a favorable scenario for him.
"I asked my agent to let the organization know that I wanted to be traded," Parrish revealed after a recent training camp session at St. John Fisher College in suburban Rochester.
Unwilling to part with him, the Bills declined to honor his offseason request. Now he's hoping to make the most of an undesirable situation.
"I had a lot of issues with the organization in the offseason," Parrish said, "and I don't want to bring those negative issues to training camp."
Parrish, entering his fifth NFL season, is an intensely proud athlete. He's an elite NFL punt returner, but that's not enough for him. He figured he would be an established offensive star by now, not trying merely to be relevant, buried on a depth chart, scrounging for passes.
Owens' arrival pushed Parrish down the receiver pecking order to fourth at best. He's behind
Josh Reed
as the team's slot receiver. If you consider sophomore
Steve Johnson
, whom the Bills are high on, Parrish might be fifth.

Roscoe Parrish
#11 WR
Buffalo Bills
2008 STATS

REC
YDS
TD
AVG
LNG
YAC

24

232

1

9.7

22

77
"It's all good to be one of the best punt returners in the NFL, but I came into the NFL to be a wide receiver," Parrish said. "I wanted to leave that behind with a trade because it's a matter of getting used more at wide receiver. I know what I can do."
Parrish has led the NFL in punt return average the past two seasons -- 15.3 yards last year, 16.3 yards the year before. He has dashed for a touchdown three years running.
But the Bills weren't able to figure out ways to get him offensive touches before Owens joined them. It'll be much tougher now.
Parrish's best receiving season was 2007, when he caught 35 passes for 352 yards and one touchdown. Last year, he had 24 receptions for 232 yards and a touchdown.
For Parrish, that kind of action is trifling. He wants to perform, but he apparently has hit a glass ceiling with Buffalo.
"There's only so much a guy with my competitiveness can take," Parrish said. "You got some guys satisfied with being a role player or just being on a team. You got some guys who want to up their games an extra notch every year and not be complacent. That makes you a superstar.
"Coming into my fifth year, I should be a superstar wide receiver, not a punt returner."
"I feel he's a guy that has all this talent and all these big plays just balled up inside him, ready to explode if given the opportunity."
-- Santana Moss on Roscoe Parrish
Washington Redskins
receiver
Santana Moss
can relate. He has been mentoring Parrish, trying to buoy him mentally. Moss, also a small receiver from the University of Miami, was drafted by the
New York Jets
and started out as a return specialist, depth receiver and gadget guy.
Moss increased his reception total by 150 percent by his third season, catching 74 passes for 1,105 yards and 10 touchdowns. He was a Pro Bowler in his fifth season.
"I feel he's a guy that has all this talent and all these big plays just balled up inside him, ready to explode if given the opportunity," Moss said.
"He's going to get his. He puts in the time. He puts in the work. He works harder than most guys at his level. Whether his team allows him to be the guy that he wants to be, that time's going to come sooner or later."
Shortly after the Owens acquisition, reports circulated Parrish was on the trading block, suggesting the Bills were shopping him around. But that wasn't true, regardless of how badly agent Drew Rosenhaus, who represents both Parrish and Owens, wanted to stimulate some action.
The Bills simply weren't interested in trading Parrish. He skipped voluntary workouts. On the first day of mandatory minicamp, he mostly watched from the sideline with an ice wrap on his leg.
"I'm not a guy that's so outspoken, but there's a time when you just have to voice your opinion," Parrish said. "If you don't, they always think you're satisfied. Maybe it'll open the coaches' eyes. They need to know punt returning isn't the only thing I want to do."
About a month ago, Parrish finally came to grips he wasn't going anywhere. That doesn't mean he won't be looking ahead to the October trade deadline if circumstances don't improve.
"I'm not going to say I'm disappointed because I feel if they didn't trade me they got plans for me," Parrish said. "I'm just staying with a positive mindset and just come out here and do what I can do and take advantage of my opportunities.
"I know if I would get my opportunity in a game, all hell's going to break loose. That's how confident I am."
Buffalo is going to an up-tempo, no-huddle offense this year. One can see how depth at receiver will help, but that type of system makes substitutions difficult.
Bills head coach Dick Jauron acknowledged they're trying to find ways to get Parrish more involved.
"We've all seen what Roscoe can do with the ball in his hands, particularly in the open field," Jauron said. "We just need to keep working to find ways to get him the ball. And we also know he's got speed. If he gets a step on somebody he's hard to catch."
Parrish has felt typecast by his size. Listed at 5-foot-9 and 168 pounds, he has been unable to overcome the perception he can't withstand the rigors of every-down football.
But he rattles off a list of names of top NFL receivers who are closer to Smurfs than Goliaths.
"You got a lot of small guys," Parrish said. "You got
Steve Smith
. You got Santana Moss. You got
DeSean Jackson
. You got
Eddie Royal
. Those guys are just put in a good situation.
"That's the thing that was stressing me out. My situation's not as good as theirs, but I'm not going to say any negative things about it, but I'm just being 100 percent honest with everything. We're in training camp, and I'll just do what I have to do on my end."
Parrish has drawn strength from Moss' story. They work out together in the offseason at the University of Miami campus with fellow Hurricanes such as
Andre Johnson
and
Reggie Wayne
.
"He sees other guys he played with and against in high school and college doing things he can do, and he's not being allowed," Moss said. "That can bring a guy down."
"Any punt returner can be a big playmaker on any offense. If you can elude all those defenders by yourself at times you can get the ball on offense."
Parrish cannot afford to become consumed with the belief the Bills are wasting him as an asset or holding him back from developing all he wants to be.
"If you go out there with a negative state of mind and your opportunity comes, you're not going to seize that moment," Parrish said. "I'll never let anybody break me. If this team doesn't use me, another team down the line one day will use me."
October, 20, 2008
10/20/08
8:43
PM ET
Posted by ESPN.com's Tim Graham
FOXBOROUGH, Mass. -- The NFL's third-ranked pass offense will have to manage without two of their more dangerous targets, but one of them is back.
Eddie Royal, their second-leading receiver with 30 catches and 321 yards, is back on the field after an ankle injury held him out of last week's loss to the Jacksonville Jaguars.
Jay Cutler will not have receiver Brandon Stokley or tight end Tony Scheffler in his huddle. Both are inactive and in street clothes.
Stokley is out because he suffered against Jaguars. Stokley has 16 catches for 161 yards and two touchdowns in his past three games.
Scheffler has a groin injury. He has 16 catches for 259 yards and two touchdowns this season.
Also out for the Broncos with a groin injury is leading rusher Selvin Young, who has 266 yards and one touchdown. But Michael Pittman is coming off a 109-yard performance and has scored a team-high four touchdowns.
October, 19, 2008
10/19/08
12:10
PM ET
| | |
| --- | --- |
| | |
| | Matthew Emmons/US Presswire |
| | New England cornerback Ellis Hobbs knows the Patriots secondary needs to step it up. |
Posted by ESPN.com's Tim Graham
Chad Pennington grabbed the New England Patriots' secondary and ripped it apart at the seams.
Philip Rivers pumped javelins down the sidelines.
Both methods lacerated the Patriots plenty. The Miami Dolphins beat them by 25, the San Diego Chargers by 20.
"Everyone has to realize it's a wound everyone's going to try to keep opening up until we heal it," Patriots cornerback Ellis Hobbs said. "It's there."
The Patriots' defensive backfield has been overwhelmed as much through five games as it was all last season. New England has given up seven pass plays of 30 yards or longer. That equals the number it yielded in 2007.
Its sixth game won't provide any respite.
The Patriots on Monday night will host the Denver Broncos at Gillette Stadium.
New England's beleaguered secondary will be asked to contain a pass attack ranked first in the AFC and second in the league at 279.3 yards a game entering Week 7.
"I don't know what the questions are for us," Hobbs told reporters this week. "I just know there are questions out there.
"We need to go into this game thinking, 'I feel like my back's against the wall.' Our team's back is against the wall, and we have to come out swinging no matter what. It's early in the season. But this is how you get the momentum going."
After Miami came to Gillette Stadium in Week 3 and unleashed a dumbfounding game plan, New England's coaching staff -- a group that includes defensive architects Bill Belichick, coordinator Dean Pees and secondary coach Dom Capers -- had two weeks to strategize for Mike Martz's offense. The Patriots held the San Francisco 49ers to less than 200 total yards.
Last Sunday night, however, the Chargers bombed away.
Rivers, mostly picking on left cornerback Deltha O'Neal, completed passes of 48, 49, 59 and 22 yards. They weren't screen plays.
Hobbs also committed a 32-yard pass interference penalty to put the Chargers first-and-goal at the 1-yard line. Rivers found tight end Antonio Gates for a touchdown on the next play.
"I felt embarrassed," O'Neal said Wednesday. "I felt embattled. I felt like there were things I could have did that could have changed the outcome of the game. I'm my worst critic.
"I sat and thought about it the last couple of days, that whole flight home. I'm over it now."
Patriots fans should hope so.
Thunder-armed Broncos quarterback Jay Cutler has thrown for 1,694 yards and 12 touchdowns, numbers that rank third and fourth in the NFL.
When healthy, the Broncos have the most talented receiving corps. Brandon Marshall leads the NFL with 43 receptions despite being suspended for the season opener. Eddie Royal's 30 catches are tied for 11th even though he missed last week's game with an ankle injury. Royal is probable for Monday.
Cutler's other targets include Brandon Stokley (16 catches and two touchdowns the past three weeks) and tight end Tony Scheffler. Stokley suffered a concussion last week, while Scheffler is dealing with a groin injury. Both are questionable. Darrell Jackson, a three-time 1,000-yard receiver, is getting over a strained calf. He's listed as probable.
"They have a lot of different options and they really stress the defense in a lot of different ways," Patriots coach Bill Belichick said. "They can pack them in and bring in two or three tight ends. They can spread them out and go with four or five receivers, or flex out Scheffler, who is like another receiver.
"They can get as tight as you want to get, and they can get as spread out as you want to spread out, and they do a good job."
The Patriots rank 12th in pass defense, but their first two victories came against opponents who either couldn't or wouldn't throw.
They knocked Kansas City Chiefs quarterback Brodie Croyle out of the game in Week 1 and fended off Damon Huard. The New York Jets still were trying to figure out how to use Brett Favre, who passed for only 181 yards in Week 2.
A lot of factors have played into the Patriots' shaky pass defense.
The most obvious was Pro Bowl cornerback Asante Samuel's departure. The Patriots clearly knew this was a big deal because they signed free agents Fernando Bryant, Lewis Sanders and Jason Webster and drafted two corners in the first four rounds.
Belichick didn't like any of them more than O'Neal, whom the winless Cincinnati Bengals cut because they didn't think he was anything more than a nickelback.
Other developments have left New England's defensive backs fending for themselves more than in recent years. The vaunted defensive line isn't getting as much push as it used to, giving opposing quarterbacks that much more time to work and less time for New England's defensive backs less chance to recover -- or not be detected -- when beat early on a play.
The Patriots won't have an easy time putting pressure on Cutler or forcing him i
nto bad decisions. The Broncos have allowed a league-low two sacks. Only the Kansas City Chiefs and Bengals -- one victory between them -- have recorded fewer sacks than the Patriots, who have seven.
Inescapable is the Tom Brady factor. Even the defense is affected.
Last year, with the record-breaking Patriots offense providing sizable leads before the echoes of "The Star-Spangled Banner" faded out, they had the NFL's seventh-ranked pass defense.
Under replacement Matt Cassel's direction, the Patriots have gone three-and-out on 14 of their 56 drives, sending the defense right back onto the field 25 percent of the time. They went three-and-out on 26 of their 170 possessions last year, a 15 percent frequency.
The longer games remain close, the less defenses can guess what's coming. Last year's Patriots turned loose on the quarterback and defended the pass from the second quarter on. This year's defense can't afford to commit so fully and, therefore, is unable to dictate.
"They've been all over the map a little bit," Cutler said. "You're not sure what you're going to get with those guys. I think they thought they could play man, control Rivers and the receivers and stop [LaDainian Tomlinson]. But they got hit with some big plays.
"It's going to be interesting to see what they do with us."