December, 20, 2013
12/20/13
10:00
AM ET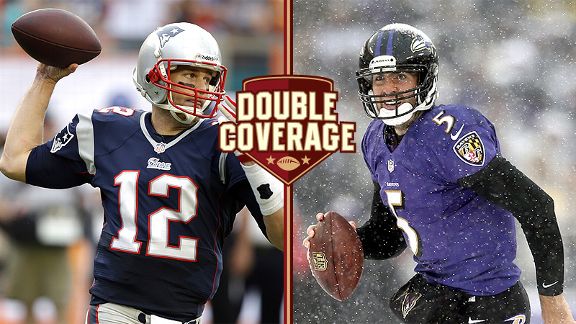 AP PhotoSunday's matchup between the Patriots and Ravens has playoff implications for both teams.
Whenever the
New England Patriots
and the
Baltimore Ravens
meet, there is always something at stake. Sunday's clash at Baltimore's M&T Bank Stadium, a rematch of the past two AFC Championship Games, is no different.
The Patriots (10-4), winners of three of their past four games, can clinch their fifth straight AFC East title with a win or a tie. The Ravens (8-6) can move one step closer to earning their sixth straight playoff berth with a victory, or they could watch their postseason hopes take a severe hit with a loss.
New England is the NFL's best team in December, winning 17 of its past 19 games in that month. The Ravens, however, are one of the best teams at home, posting a 39-8 record (.830) at M&T Bank Stadium since 2008.
ESPN.com NFL reporters Mike Reiss (Patriots) and Jamison Hensley (Ravens) break down the showdown between these AFC powers:
Jamison Hensley
: Mike, everyone knows the impact the loss of
Rob Gronkowski
has had on the Patriots' red zone offense. How will
Tom Brady
and the Patriots turn it around inside the 20-yard line?
Mike Reiss
: Jamison, they were 1-for-4 in the red zone against the Dolphins, and now they go up against one of the NFL's best red zone defenses. That's not a great formula. One way to look at it is that if rookie receiver
Josh Boyce
holds on to one makeable catch in the end zone on third down in the first quarter, and the Patriots cap off the comeback like they had in prior weeks with
Danny Amendola
making a tough catch in the end zone on the final drive, we wouldn't even be talking about this. Instead, we'd be talking about their late-game magic. Then again, if tight end
Michael Hoomanawanui
didn't make a remarkable one-handed grab in the end zone for a 13-yard score, they might have been 0-for-4. So it's just a reminder that the margin for error is thin, which is also what the red zone is all about.
As for the Ravens, how are they doing it? To go from possibly out of the playoffs to a chance to win the AFC North with two wins to close out the season? Give us a feel for how this has happened.
Hensley
: The Ravens have been riding a strong defense, kicker
Justin Tucker
and
Joe Flacco
's late-game heroics to get back into the playoff race. To be honest, I had written off the Ravens after they lost at Cleveland in the beginning of November. But this team has fought back to win four straight and are playing with more confidence than at any point this season. There has been a lot of criticism that Flacco hasn't lived up to his $120.6 million contract. While he'll never put up the elite quarterback numbers, he finds ways to win. His four game-winning drives in the fourth quarter or overtime this season is second only to Brady. And Flacco has led a game-winning drive the past two games. He is banged up right now after taking a hit to his knee in Detroit on "Monday Night Football."
This could lead the Ravens to run the ball more with
Ray Rice
. He has struggled all season but has shown some signs of being more productive over the past two games. The Ravens might want to try to attack the NFL's 31st-ranked run defense as well. What's been the biggest problem for the Patriots in stopping the run this year?
Reiss
: A strong run defense is usually a staple of a Bill Belichick-coached team, but this year is different. A significant factor has been season-ending injuries to starting defensive tackles
Vince Wilfork
(Sept. 29, Achilles) and
Tommy Kelly
(Oct. 6, knee) and every-down linebacker
Jerod Mayo
(Oct. 13, pectoral muscle). That's a direct hit at the heart of a run defense, right up the middle, sort of like a baseball team losing its top pitcher, catcher and shortstop. Since that point, they've had to scheme around things; this staff has been coaching its tails off and the players have been doing their best while sometimes being asked to do things outside of their comfort zone. The other part of it is situational. For example, against
Peyton Manning
and the Broncos on Nov. 24, they played a sub defense the entire game and Denver was content to run against it and put up big numbers. That was a case where the Patriots gave up something (run defense) to gain something (better pass defense), which is what they've had to do this year because of the key losses.
Let's get back to Tucker a little bit, because I think it's a fascinating story. Patriots fans obviously remember
Billy Cundiff
from the AFC Championship in the 2011 season. Tell us more about Tucker and what he's done to become such an integral part of the team in replacing Cundiff the last two years. His postgame interview on "Monday Night Football" was one of the classics.
Hensley
: Tucker has been the Ravens' Most Valuable Player. When you're saying a kicker is the MVP, you're usually not talking about a team contending for the playoffs. And the Ravens wouldn't have the hottest kicker in the NFL right now if not for that memorable -- or is that forgettable? -- miss by Cundiff in the AFC Championship Game. That led the Ravens to have an open competition at training camp the following year. Tucker clearly won the battle and hasn't tailed off since. What separates Tucker from other young kickers is his ability to convert in the clutch. He has six game-winning kicks in 30 career games. His confidence borders on being cocky, and he isn't afraid to show off swagger. Not too many kickers dance after making field goals. But that confidence has been big for the Ravens. Before that 61-yarder on "Monday Night Football," he went up to coach John Harbaugh and said: "I got this."
Speaking of confidence, what's the state of mind for these Patriots compared to past Pats teams at this time of the year? The Patriots are still fighting for a top seed, but there seems to be a lot of doubt nationally because of the close calls with Houston and Cleveland in addition to the loss at Miami.
Reiss
: This Patriots team isn't short on confidence, but as Brady said, it's a club that doesn't have a lot of margin for error. They can beat anyone in the NFL, but also lose to any team in the NFL. To sum it up, this is a resilient team that has been hit hard by injuries to key players, and they fight and claw for 60 minutes, so if a team is going to beat them it's going to have to be a knockout. With two weeks remaining in the season, the Patriots are still in play for a first-round bye but also could face a Week 17 scenario where they need to win to even qualify for the playoffs. That's reflective of how this season has unfolded for them -- a lot of close calls that could have gone either way.
With the amount of turnover on defense, how have the Ravens been able to sustain on that side of the ball?
Hensley
: The defense has been very good this season, ranking in the top 10 in yards allowed (ninth), points given up (seventh), third downs (third) and red zone (fourth). Without
Ray Lewis
and
Ed Reed
, this is a different defense but not an inexperienced one.
Daryl Smith
has played better than Lewis did last season, making an impact against the pass as well as the run. Outside linebacker
Elvis Dumervil
has been an upgrade over
Paul Kruger
. Cornerback
Jimmy Smith
has gone from a first-round disappointment to the team's best defensive back. If this defense wants to be great, it has to find a way to finish better. Over the past three games, the Ravens have allowed four touchdowns in the final three minutes. That challenge is heightened when going against Brady, one of the NFL's best comeback kings.
March, 22, 2013
3/22/13
8:00
AM ET
Here are the most interesting stories Friday in the AFC East: Morning take: The Dolphins are looking at several veteran defensive ends to improve their pass rush. Miami still has money to spend but wants to see who is most affordable.
Morning take: Tebow's future with the Jets is up in the air, so he doesn't have many answers. However, the media would like to know his perspective on the offseason.
Morning take: What Wilson lacks in coverage he makes up for in toughness and big-play ability. Wilson is solid at forcing turnovers and should add an extra element of aggressiveness to New England's defense.
Morning take: Buffalo barely started, with linebacker Manny Lawson its only signing so far. The Bills were big spenders last offseason and can't go that route every year.
January, 17, 2012
1/17/12
12:30
PM ET
Unlike the NFC, the AFC playoff bracket went according to form and has the top two seeds meeting in the conference title game Sunday. The
New England Patriots
(14-3) and
Baltimore Ravens
(13-4) have been the best two teams in the conference from start to finish.
But only one team can advance to Indianapolis to play in Super Bowl XLVI. That is where AFC East blogger James Walker and AFC North blogger Jamison Hensley come in to examine the matchups and pressing issues with the Patriots and Ravens.
James Walker:
Let's start with the quarterbacks, Jamison, because I think this is where the Patriots have the biggest advantage.
Tom Brady
is playing at an unbelievable level. He tied an NFL postseason record with six touchdown passes against a pretty good
Denver Broncos
defense. I'm not sure Baltimore -- or any defense -- has an answer for the Patriots' passing game right now. Behind Brady, the Patriots are averaging 40.5 points in their past four games. New England's offense is peaking at the right time. If New England scores early, that puts an enormous amount of pressure on Ravens quarterback
Joe Flacco
to respond. I doubt a Brady versus Flacco shootout is a game Baltimore wants to play.
[+] Enlarge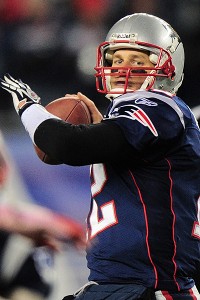 Michael Ivins/US PresswireTom Brady was masterful in the Patriots' playoff rout of Denver.
Jamison Hensley
: You're definitely right about that, James. Flacco has thrown for fewer than 175 yards in his past three games. That's like one half for Brady. Flacco gets a lot of criticism because he isn't consistent -- and that's true. He has flashes when he looks like he's a top-10 quarterback, guiding a last-minute touchdown drive at Pittsburgh and leading the Ravens back from a 21-point deficit against Arizona. Then, there are times when he looks like he is among the league's worst, like when he doesn't complete a pass in two quarters against the Jets. But the Ravens have never had to rely on Flacco in the playoffs. That's the time of the season when the Baltimore defense thrives. There's a huge disparity between Brady and Flacco. But there is an even bigger one between the defenses of the Patriots and Ravens, who are ranked No. 3 in the NFL in fewest yards and points allowed.
James Walker:
We've both watched Baltimore's defense up close for years, and I've always marveled at its consistency. The biggest thing is you know what you're going to get from Baltimore's defense on Sunday. I really have no idea what to expect from the Patriots' defense. I did see with my own eyes last week a group that is capable of playing well. The Patriots actually have the top-rated defense in the playoffs, although it's just for one game. I won't go overboard with the Patriots stopping
Tim Tebow
. Any playoff team not named the
Pittsburgh Steelers
could do that. (I had to jab your AFC North brethren.) But I've seen too many weeks in which New England looked awful defensively and gave up tons of yards. The Ravens' offense should have the advantage as long as they stick with tailback
Ray Rice
, who has killed New England in the past. Speaking of the past, Jamison, how much stock do you put in Baltimore's previous playoff victory against the Patriots in January 2010?
Jamison Hensley
: Just like you can't go overboard on one game for the New England defense, you can't go overboard with that playoff game. Both teams are different from that game two years ago. The Patriots didn't even have
Wes Welker
for that one. The biggest lingering effect is that the Ravens have confidence that they can win in New England. Few teams have ever beaten Brady on his home turf in the playoffs, and
Ray Lewis
and the gang know they can do it, because they did it before. Of course, that game turned on the first offensive play from scrimmage when Rice ran 83 yards for a touchdown. And that's something that hasn't changed for the Ravens. Rice is key to the Ravens winning. Baltimore is 9-0 when Rice carries the ball at least 20 times. He has to be on the mind of every New England defender.
James Walker:
There's no denying Rice is to Baltimore what Brady is to New England. The performance of both players will probably determine the outcome of this game. You astutely pointed out Welker's absence from the January 2010 playoff game. Two additional players not in that game were tight ends
Rob Gronkowski
and
Aaron Hernandez
, who were drafted the following April. Two seasons later, the pair completely change the dynamics of New England's offense. The Ravens' defense is great. But I'm looking down their roster and I'm having a lot of trouble finding linebackers who are fast enough and defensive backs who are strong enough to stop New England's star tight ends. The Ravens might opt to double one -- usually Gronkowski -- but I don't think they have an answer for both. After watching the Ravens' defense all season, Jamison, what strategy do you think they will employ?
Jamison Hensley
: The Ravens played mostly zone against Texans rookie quarterback
T.J. Yates
, but they can't do that against Brady. He would pick them apart. Baltimore has to go to man coverage to be successful. The defender to watch is linebacker
Brendon Ayanbadejo
. He's known as the team's special-teams ace, but he plays an important role in the nickel defense. The Ravens have contained some of the top tight ends they've gone against in San Diego's
Antonio Gates
(two catches for 31 yards) and San Francisco's
Vernon Davis
(four for 38 yards). The problem is, the Ravens haven't faced a team with two quality tight ends like Gronkowski and Hernandez. Baltimore's best bet is to get pressure on Brady. That starts with
Terrell Suggs
, who will test both of the Patriots' offensive tackles.
James Walker:
Suggs has been a monster this season. I also think Brady might be Suggs' least-favorite quarterback, so there won't be any lack of motivation there. But I noticed something important in both AFC divisional games that should be mentioned. Baltimore didn't get a single sack against Yates and Houston, and New England held Denver without a sack, despite facing a defense with two of the league's top pass-rushers in
Von Miller
and
Elvis Dumervil
. Maybe that was more scheme last week on Baltimore's part, because defensive coordinator Chuck Pagano usually gets after it. But New England legitimately stuffed Denver's pass rush for four quarters with an up-tempo offense that used a lot of half-huddle/no-huddle and quick throws to Gronkowski, Hernandez and Welker. I think you're going to see the Patriots speed up the tempo again against Baltimore, especially at home where the crowd is quiet and communication on offense is easier.
[+] Enlarge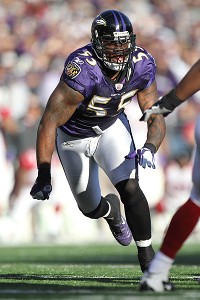 Mitch Stringer/US PresswireKeeping Terrell Suggs away from QB Tom Brady will be a priority for New England on Sunday.
Jamison Hensley
: As we've seen so far in the playoffs, home field has really been an advantage. Only one home team (Green Bay) has lost so far this postseason. The Ravens have had their trouble on the road this season, losing at Seattle and Jacksonville -- teams they should've beaten. But Baltimore has a great track record of winning on the road in the playoffs. The Ravens have won at Miami, Tennessee, Kansas City and, of course, New England under coach John Harbaugh in the postseason. How the Ravens handle the atmosphere on the road will be one of many keys in this matchup.
James Walker:
The Patriots and Ravens played all season for this gigantic opportunity. New England just won one more game to force the road to Indianapolis to go through Gillette Stadium. But I think either club would represent the conference well and has a great chance to win the Super Bowl. Either way, Jamison, just make sure one of us brings that Lombardi Trophy back to the AFC side, where it belongs. I was kind of tired of that "Discount Double-check" thing NFC North blogger Kevin Seifert kept doing in front of us for the past year.
Jamison Hensley
: I hear you. We'll just have to wait until Sunday to see whether Bill Belichick's hoodie or Flacco's Fu Manchu mustache will be advancing. History says this will be a close game. Three of the past four meetings between the Ravens and Patriots have been decided by six points or fewer. For coverage leading up to the AFC Championship Game, everyone can check back to the AFC East and AFC North blogs all week. And, James, it will be just a little colder in New England than Miami, so remember to pack a jacket.
January, 13, 2012
1/13/12
1:30
PM ET
»
Divisional Final Word
:
Saints-49ers
|
Broncos-Patriots
|
Texans-Ravens
|
Giants-Packers
Three nuggets of knowledge about Saturday's Broncos-Patriots divisional-round game:
[+] Enlarge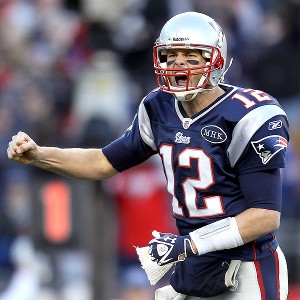 Elsa/Getty ImagesNew England QB Tom Brady is seeking his first playoff victory in four years.
Brady's playoff pressure:
Perhaps no player has more pressure to win Saturday's game than Patriots quarterback
Tom Brady
. The future Hall of Famer hasn't won a playoff game in four years and his window for another championship is closing. Brady was 14-2 in his first 16 career playoff games. That run led to three Super Bowls early in his career. But lately Brady is 0-3 in the playoffs, including two one-and-done years in 2009 and 2010. According to the Elias Sports Bureau, Brady is trying to avoid becoming the fifth quarterback in NFL history to lose four consecutive playoff games. If Brady beats Denver, his 15 playoff victories would be No. 2 all-time behind
Joe Montana
(16).
Gronk or Hernandez?
New England tight end
Aaron Hernandez
had it right. This week he told reporters that the Broncos have to "pick your poison" on which tight end to defend. In Week 15, the Broncos chose to pay a lot of attention to Pro Bowl tight end
Rob Gronkowski
, and Hernandez had a big game. Hernandez torched Denver for nine catches, 129 yards and a touchdown in a 41-23 victory. Gronkowski saw a lot of double coverage and caught just four passes for 53 yards, one of his lowest outputs of the season. The question is, will Denver adjust or keep the same strategy? Hernandez and Gronkowski are both capable of big games, and the pair needs to stay ready.
O-line at full strength:
The Patriots are coming off a bye week and are as healthy as they've been in months. Two key offensive linemen are expected to return for the playoffs. Pro Bowl guard
Logan Mankins
(knee) and starting offensive tackle
Sebastian Vollmer
(knee) both practiced this week. Protecting Brady will be key. New England throws the ball a lot, and the line has to protect him from Denver pass-rushing specialists
Elvis Dumervil
and
Von Miller
.
January, 12, 2012
1/12/12
12:05
PM ET

Fourth-year veteran
BenJarvus Green-Ellis
leads the
New England Patriots
in rushing with 667 yards. Rookie tailback
Stevan Ridley
has the hot hand and is averaging 5.4 yards per carry in his past three games.
Danny Woodhead
also is waiting for his chance to produce.
So which running back will step up in the playoffs?
A lot of attention this week is on Patriots quarterback
Tom Brady
. He will throw the ball a lot and is the biggest key for New England's success.
But Brady still needs some type of running game in the postseason. That is where New England's trio of Green-Ellis, Ridley and Woodhead come in. Each tailback has been successful at different times this season.
New England doesn't need any of these players to rush for 100 yards. But it's ball security and yards per carry that are most important to keeping Denver's defense honest. The Broncos are at their best defensively when they can pressure the quarterback with outside linebackers
Von Miller
and
Elvis Dumervil
.
"The defense is solid. They've been doing good things for them and that's what they really don't talk about that much," Ridley told reporters. "It's a lot about [quarterback Tim] Tebow, but not so much about their defense. But they're playing sound football all the way around and all three phases."
Ridley may have the best chance to shine in the playoffs. The 2011 third-round pick has fresh legs and is coming on strong late in the season. Ridley led the Patriots in rushing the past three games, which includes 65 yards on 11 carries (5.9-yard average) against Denver in Week 15.
But despite Ridley's production, can the Patriots fully trust a rookie running back in the playoffs? Ridley said the key will be keeping his composure in his postseason debut.
"It's going to be a playoff atmosphere," Ridley said. "It's going to be a big-time game and we're going to go out there and just play football and stay calm and go out there and try to play a sound game."
April, 12, 2011
4/12/11
4:19
PM ET
A day after ESPN draft expert Mel Kiper called the
Buffalo Bills
a perfect fit for Auburn quarterback
Cam Newton
with the third overall draft choice, Kiper switched to the defensive side and said the same thing about Texas A&M outside linebacker
Von Miller
.
Kiper broke down the top defensive prospects in this year's draft class by projecting where they would be ideal fits instead of predicting where they will be drafted in the order.
Kiper said the Bills need a pass-rusher because 2009 first-round pick
Aaron Maybin
hasn't worked out.
"They thought he would be that attacker off the edge," Kiper said of Maybin. "Now you've got to get that player in that 3-4 scheme. Von Miller led the nation in sacks two years ago. An ankle injury early on this year prevented that from happening [again].
"For the Buffalo Bills, yeah, they could look at quarterback. But they like Ryan Fitzpatrick a lot. That's why they could go defense in Von Miller."
March, 22, 2011
3/22/11
12:00
PM ET
Seven weeks ago,
I disagreed with the notion some readers supported
, that
Miami Dolphins
outside linebacker
Cameron Wake
deserved to be considered a legitimate candidate for the Associated Press 2010 Defensive Player of the Year Award.
I don't believe he was a complete enough defender for that prestigious accolade. But the one thing Wake does supremely well is rush the passer.
Even so, Wake barely cracked this week's ESPN.com positional power rankings -- for pass-rushers. We didn't rank players based on run-stuffing or pass-coverage. Just pass-rushing.
Wake didn't get as much respect as I thought he should've.
Wake came in 10th in our power rankings because I rated him fourth. Three panelists didn't put him on their ballots at all. One ranked him ninth. Three ranked him 10th.
For the record, this was my ballot:
DeMarcus Ware, Dallas Cowboys outside linebacker
Tamba Hali, Kansas City Chiefs outside linebacker
Clay Matthews, Green Bay Packers outside linebacker
Cameron Wake, Miami Dolphins outside linebacker
Jared Allen, Minnesota Vikings defensive end
John Abraham, Atlanta Falcons defensive end
Julius Peppers, Chicago Bears defensive end
Dwight Freeney, Indianapolis Colts defensive end
Terrell Suggs, Baltimore Ravens outside linebacker
Chris Long, St. Louis Rams defensive end
Wake finished third in the NFL with 14 sacks. He was the most dangerous edge rusher in the AFC East by a big margin. Opponents had to game plan to stop him.
While I don't lean too heavily on stats while putting together my weekly positional power rankings, there are a handful of numbers you want to look for when it comes to pass-rushers. Sacks are the NFL's only official stats that are applicable. Other figures such as quarterback hits and hurries must be tracked by analytical outfits such as Football Outsiders.
Football Outsiders charted Wake third in the NFL with 15 quarterback hits (not counting sacks) and fourth with 38 hurries.
What more can you say?
Other divergences on my ballot included rating Freeney lower than any other panelist, omitting both Steelers outside linebackers,
James Harrison
and
LaMarr Woodley
, and being the lone voter to include Long.
The reason Long made my list was because he was always around the quarterback last year. He had a respectable 10 sacks, but he led the NFL with 41.5 hurries and was tied for sixth with 14 QB hits in the Football Outsiders data.
August, 5, 2010
8/05/10
3:52
PM ET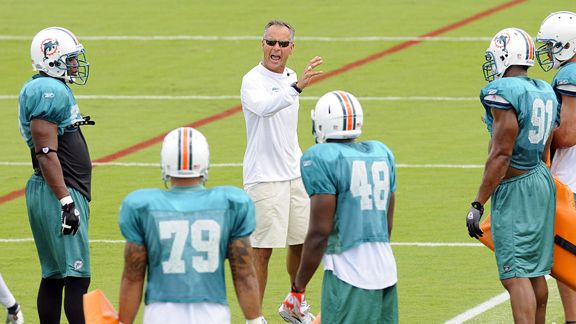 Steve Mitchell/US PresswireThe Dolphins are excited about the aggressive defense Mike Nolan brought to Miami.
DAVIE, Fla. -- The
Miami Dolphins
were compelled to overhaul their defense.
They ranked 22nd in yards allowed last year. Only six teams, most of them scrubby, allowed more points or generated fewer turnovers. They gave up back-breakingly large chunks of real estate almost every week.
Their attitude in training camp, however, isn't about merely improving on defense. The Dolphins plan to be great.
New coordinator Mike Nolan is the primary reason.
"He's going to put a top-five defense on the field," said Dolphins defensive end
Marques Douglas
. "If we don't do that, we're not living up to our potential. Coaches don't play on Sunday, but the scheme is tried and true. If we're not top three at the end of the year, it's on us."
Much of the offseason attention in South Florida -- before LeBron James came along -- was on new receiver
Brandon Marshall
and inside linebacker
Karlos Dansby
.
But the Dolphins' greatest pickup could turn out to be Nolan, the former
San Francisco 49ers
head coach with an impeccable defensive résumé. He's entering his 13th season as a coordinator, coming to Miami
to reinvigorate a unit that receded under Paul Pasqualoni
.
"It's not a stagnant defense," Dolphins linebacker
Channing Crowder
said of the change. "Last year, some of the games you knew what we were going to do. I would know what the coach was going to call before he calls it.
"Mike Nolan has so many different calls and blitzes and ways to attack. He mixes it up. Corners get a chance to blitz. Safeties get a chance to blitz. Defensive tackles and ends are covering people. It's fun to learn and fun to be in because you're always doing something new and not just banging your head against a wall."
Nolan's 3-4 defense is built on all-inclusive aggression. He'll blitz his players from anywhere. He orders them to fly to the football,
create turnovers and have an offensive attitude
. But he also encourages them to shake off calls and make suggestions.
While defense has some inherent reactionary elements, Nolan is more interested in dictating terms.
"We'll establish the foundation and the core of what we do, but what the players do with things will be important," Nolan said in a rare interview at Dolphins training camp. "One thing about our system is everybody gets turns.
"If they're good and playing fast, you're going to enjoy it. When you're good at something, you're having fun."
July, 23, 2010
7/23/10
5:38
PM ET
ESPN's Chris Mortensen appeared on "NFL Live" with an intriguing report about discord between
Tom Brady
and the
New England Patriots
.
Brady is entering the final year of his contract
but has been unable to procure an extension after a year of negotiations. The general belief is that Brady won't stage a holdout when the Patriots open training camp next week, but Mortensen feels a frostiness in the air.
"On a scale of 1 to 10, and this is based on what current players [and] former players who know Tom or have spoken to him, and had some communication with him," Mortensen said, "they say his unhappiness is real, that it's above a 5 on a scale of 1 to 10.
"He's going to make $6.5 million this year. Robert Kraft, the owner, has alluded to the uncertain labor situation. Just as you see with the Broncos and
Elvis Dumervil
, if you want to get a deal done, you can get a deal done. [The Patriots] did one with
Vince Wilfork
.
"I think on principle, Brady is disappointed that they haven't stepped up and done the right thing. We'll see if something gets done. There has been a lot of speculation about whether he'd miss a day of training camp just to make a statement. I don't see that happening. Tom is too competitive. He's very professional. But the relationship has definitely chilled, and I think it has chilled on a business level and on a personal level."
Mortensen predicted Brady would not make a spectacle of the situation by speaking out against the club.
"I know from speaking to enough people that he's unhappy and the Patriots know he's not all that happy." Mortensen said. "Ultimately, he'll show up and play, but I do believe he expects them to show up and do the right thing at some point.
"The right thing, to me, would put him in the $20 million per year range, which I think
Peyton Manning
is going to eventually get."
Thanks to
ESPNBoston.com's Mike Reiss
for transcribing the interview.
February, 10, 2010
2/10/10
9:39
AM ET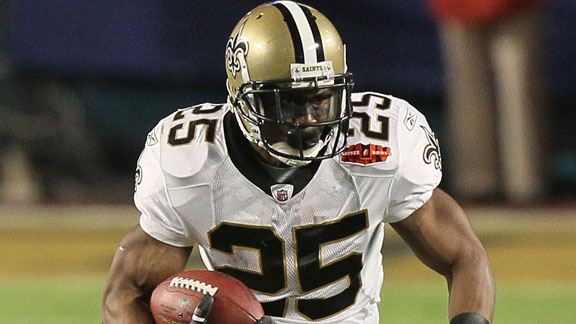 ESPN's John Clayton looks at the major offseason personnel storylines. Three quarterback icons --
Tom Brady
,
Peyton Manning
and
Drew Brees
-- are expected to receive mammoth contract extensions. Any could end up being the NFL's highest-paid player.
February, 3, 2010
2/03/10
8:27
AM ET
FORT LAUDERDALE, Fla. --
Joey Porter
contends he's unquestionably the best outside linebacker on the
Miami Dolphins
' roster.
That might be true.
But when it purely came to generating pressure on opposing quarterbacks,
Cameron Wake
blew Porter away.
| | |
| --- | --- |
| Wake | Porter |
That's what data compiled by the analysts at ProFootballFocus.com shows. Wake was a dominant pass rusher, ranking among the NFL's elite, right there with
Dwight Freeney
.
Porter on Tuesday criticized the Dolphins for
giving too many of his snaps to Wake
, but the numbers indicate coach Tony Sparano was plenty justified.
ProFootballFocus.com breaks down game film and calculates various stats to evaluate the otherwise unquantifiable. One of its
stats is called "pass rushing productivity,"
a measurement of the three main quarterback-chasing elements: sacks, hits and pressures.
The equation adds all three and divides by the player's number of pass-rush snaps to come up with a PRP rating. ProFootballFocus.com credits half sacks as full sacks to not penalize a player for reaching the quarterback at the same time as a teammate. Hits and pressures are assigned a value of .75 apiece.
Now that we've gotten the math out of the way, let's take a look at how Wake and Porter compare.
For ranking purposes, Neil Hornsby and Sam Monson of ProFootballFocus.com explain they consider Wake a 4-3 defensive end based on how the Dolphins used him. Wake dropped into pass coverage three times all season.
Among all NFL players, Wake ranked first with a 19.78 PRP rating. Wake didn't play enough snaps to qualify for the NFL leaderboard, but for comparison,
Indianapolis Colts
defensive end Dwight Freeney led the league with a 13.7 PRP.
Pittsburgh Steelers
outside linebacker
Lamarr Woodley
was second with a 12.4 PRP, followed by
Dallas Cowboys
outside linebacker
DeMarcus Ware
at 12.0, Colts defensive end
Robert Mathis
at 11.2,
Denver Broncos
outside linebacker
Elvis Dumervil
at 10.9 and Steelers linebacker
James Harrison
at 10.8.
Wake's PRP rating was nearly triple that of his closest teammate.
Jason Taylor
led full-time Dolphins with a 7.62 PRP rating.
Admittedly, it's difficult to compare Wake and Porter straight up. Porter is considered a 3-4 outside linebacker because he played against the run and would drop into pass coverage.
But that's the beauty of PRP rating. It measures only snaps in which the defender rushes the quarterback.
ProFootballFocus.com credited Wake with 20 pressures, six hits and seven sacks (5.5 actual sacks) on only 134 rushes.
Porter tallied 11 pressures, five hits and nine sacks (nine actual) on 354 rushes.
Porter had a 5.93 PRP, fifth on the team behind Wake, Taylor,
Kendall Langford
(6.42) and
Randy Starks
(6.34).
"As it turns out Wake was actually generating more pressure, period, than Porter, let alone on a per-snap basis," Monson said. "Given all those numbers, someone might want to suggest to Porter he watch the tape and think himself lucky he wasn't losing more snaps to Wake."
February, 1, 2010
2/01/10
12:33
AM ET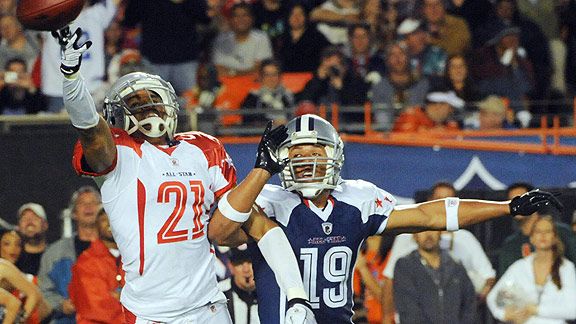 Kirby Lee/US PresswireNnamdi Asomugha (21) says he and Darrelle Revis have talked about playing in the same secondary.
MIAMI -- A few AFC thoughts and observations from its
41-34 victory in Sunday night's Pro Bowl
at Sun Life Stadium ...
I just heard one of the scariest ideas anybody has mentioned to me in a long time.
The AFC's starting cornerbacks,
Darrelle Revis
and
Nnamdi Asomugha
, want to play on the same team. As fantastical as that notion might be, it's frightening to consider.
Oakland Raiders star Asomugha was smiling when he brought up the dream scenario, but insisted he was "dead serious" and has spoken to
New York Jets
coach Rex Ryan about it.
"Me and Revis have been talking to Rex to try to do something," Asomugha said. "You may see us in the future. There's a little bit of talk going on. Either he's coming to Oakland or something else will happen."
Said Revis: "Me and him have talked about it, but I can't really control that situation. I don't know if he can either."
As much of a nightmare as it would be for opposing quarterbacks, it would be just as daunting for a team's capologist to figure out a way to pay them both. Asomugha has two years left on a three-year, $45.3 million contract that made him the highest-paid defensive back in NFL history.
Revis, considered by most to be
the NFL's top cover cornerback
, might make more than that soon.
"That's a lot of money they're going to be pushing around," Revis said, "but that'll be tough for quarterbacks. I'll tell you that."
Revis and Asomugha on the field together would elicit memories of
Mike Haynes and Lester Hayes
for the
Oakland Raiders
in the 1980s.
"In a league where the art of man-to-man has kind of gone out of style, that could bring it back," Asomugha said.
"You always want that as a player, to have that guy on the other side of you that's equally as talented and can make plays. It fuels you a little bit. We'd been joking around with [AFC coach] Norv Turner throughout practices all week, and with [NFL commissioner] Roger Goodell. He said they probably wouldn't allow us on the same team."
Denver Broncos outside linebacker Elvis Dumervil wasn't thrilled
to see defensive coordinator Mike Nolan leave for the
Miami Dolphins
.
Dolfans would love for them to reunite in South Florida.
"It's a possibility," Dumervil said, "but we'll see what happens in Denver."
Dumervil would be an unrestricted free agent if the owners and players hammer out a new collective bargaining agreement by March 5. But an uncapped season seems inevitable, and in that case, Dumervil would be a restricted free agent because he wouldn't have the required number of accrued seasons.
Dumervil led the NFL with 17 sacks in his lone season under Nolan.
"It was great playing with him," Dumervil said. "I only got to play with him one year, but I had fun, I probably had one of my best years. I felt I was productive throughout my career before Nolan, but being able to move to linebacker enhanced my durability and allowed me to be more effective down the stretch."
I asked if other Pro Bowlers have been in his ear, lobbying to get him interested in joining their teams.
"That would be tampering," Dumervil said. "I can't snitch on nobody."
Jacksonville Jaguars quarterback David Garrard went to the Pro Bowl with a chip on his shoulder.
Garrard made the Pro Bowl roster as a bazillionth alternate. But he made it because of a series of injuries and
Peyton Manning
reaching the Super Bowl.
Garrard completed eight of 14 passes for 183 yards and one touchdown for a 125.6 passer rating.
"It's so awesome," Garrard said. "One of my goals coming into the game was to just be relevant and show all of the people who said 'What is he doing in there? The Pro Bowl had dropped off a few pegs,' that I do belong."
Cincinnati Bengals receiver Chad Ochocinco badly wanted to reprise his preseason kicking exhibition
against the
New England Patriots
and kick a field goal or an extra point in the Pro Bowl.
Miami Dolphins kicker
Dan Carpenter
had given his blessing on a final field goal in the waning moments, but the AFC ran out the clock.
"The game was too close for me to go out there and have fun," Ochocinco said. "Usually, if we were up by a little bit, it would've been fun to go do it, but it was too close to even attempt it."