August, 29, 2011
8/29/11
10:37
PM ET
WHAT IT MEANS:
So the
New York Jets
captured the Snoopy trophy as the winner of the first annual MetLife Bowl against the
New York Giants
. Yawn. Based on the way his team played, Rex Ryan should punt the trophy. Forget about the final score,
17-3
; the Jets' starters were badly outplayed in the first half, out gained 209 to 61. The offense was a disaster and the Jets made dumb penalties. Basically, they played like they didn't give a hoot about the preseason.


WOE IS O:
Mark Sanchez
& Co. was brutal. Can you say "regression"? In seven possessions, the Jets' starting offense punted five times, lost a fumble (Sanchez) and, somehow, saved face with a touchdown -- a 17-yard pass to
Santonio Holmes
. They probably wouldn't have scored the touchdown if it weren't for
Antonio Cromartie
, who set up the offense at the Giants' 35 with a 70-yard kickoff return.
Sanchez (8-for-16, 64 yards) was off his game from the outset, appearing indecisive as he made his reads. But this mess wasn't all his fault. The pass protection was shoddy and his receivers, namely
Plaxico Burress
and
Derrick Mason
, couldn't gain separation against the Giants' cornerbacks. That could be something to watch, as Burress and Mason -- 34 and 37, respectively -- aren't the fastest guys around.
The starters won't play in Thursday night's finale against the Eagles, which means the No. 1 offense scored only three touchdowns in 5 1/2 quarters for the preseason. Blech!
DUMB & DUMBER:
The Jets were undisciplined, committing five major penalties. The biggest blunder came from rookie defensive end
Muhammad Wilkerson
, who was ejected in the third quarter after taking a swing at running back
Brandon Jacobs
. Jacobs swung back, so he, too, was tossed. Wilkerson, whom the Jets are counting on to be a starter, deserves an earful from Ryan. That is unacceptable behavior.
But Wilkerson wasn't the only guilty Jet. Right taclke
Wayne Hunter
(unsportsmanlike conduct), safety
Brodney Pool
(chop block on a punt), safety
Emanuel Cook
(facemask) and cornerback
Donald Strickland
(unnecessary roughness) all committed 15-yard penalties. Shame on them.
All told, the Jets had seven penalties for 79 yards, including a holding call on wide receiver
Courtney Smith
that nullified a touchdown run by backup quarterback
Greg McElroy
.
THE PLAX EFFECT:
Burress doesn't need to touch the ball to have an impact on the game. You saw that on Holmes' touchdown reception. Burress lined up in the right slot, with Holmes on the outside, against the Giants' three-by-two coverage. Safety
Kenny Phillips
rolled toward Burress, leaving Holmes in man-to-man against cornerback
Corey Webster
. Phillips tried to get back, but it was too late. Holmes ran a post route and got open in the back of the end zone.
Aside from that contribution, Burress' anticipated matchup against his old team turned out to be a big zero -- as in zero catches. Burress, coming off his sensational debut against the Bengals, was targeted four times. In fact, Sanchez completed only four passes to his wideouts.
OPPORTUNISTIC D:
For a team with a very good defense, the Jets made an alarmingly low number of interceptions last season (12). So far, they seem to be reversing the trend. Safety
Jim Leonhard
and linebacker
David Harris
intercepted two of Manning's passes, giving the Jets six picks in three games (two by Leonhard). Leonhard's interception was set up by Harris, who came on an inside blitz and slammed Manning.
BEND BUT DON'T BREAK:
Aside from the interceptions, the Jets' No. 1 defense did some nice things in one half of play, holding the Giants to 2-for-8 on third down and 0-for-1 in the red zone. But -- and this is a big "but" -- they were pushed around between the 20s. The Jets allowed 209 total yards in the first half, uncharacteristic for a Rex Ryan-coached defense. Their conventional pass rush was nowhere to be found and there were a couple of missed tackles in the open field, including a big one by linebacker
Bart Scott
.
THE NEW BRAD:
The Jets finally unveiled their 2011 version of the Wildcat, with rookie wide receiver
Jeremy Kerley
-- no surprise -- taking the direct snap and playing the role of Brad Smith. The Jets ran it four times, resulting in 39 yards. Kerley ran twice for 13 yards, handed off to
Joe McKnight
for eight and threw a pass -- yes, a pass! -- to Matt Mulligan for 18. That will give the Cowboys a little extra to think about as they prepare for the season opener.
December, 8, 2010
12/08/10
9:05
PM ET
The New York Jets denied Associated Press and Newark Star-Ledger reports that had them offering a roster spot to Keith Fitzhugh, a free-agent safety who
turned them down to keep his job as a train conductor
.
The Jets claimed they invited Fitzhugh to serve on the practice squad, a job which would pay substantially less than being on the 53-man roster. Newark Star-Ledger reporter Jenny Vrentas tweeted
Fitzhugh thought he could be on the real roster
.
The Jets signed safety Emanuel Cook on Wednesday to help them overcome injuries to safeties Jim Leonhard and James Ihedigbo.
Fitzhugh appeared on ESPN via satellite from Atlanta to discuss turning down the Jets.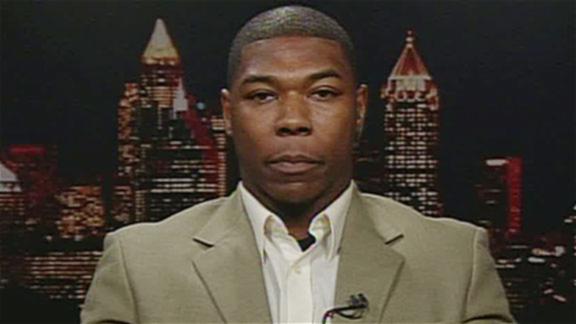 August, 26, 2010
8/26/10
12:02
AM ET
Storylines for this week's episode of "Hard Knocks" focused on the
New York Jets
' fringe players, laying the groundwork for drama on final cutdown day in a couple weekends.
Most revealing from my perspective was the chance to eavesdrop on general manager Mike Tannenbaum and head coach Rex Ryan discussing their roster numbers. On a dry-erase board, Tannenbaum tried to do the math and gave a glimpse of what the 53-man roster will look like, more or less.
Next to the team's official depth chart, Tannenbaum scrawled out the number of players they plan to keep at each position, with the caveat they can adjust for special teams.
Offense (25 players):
Three quarterbacks
Five running backs
Five wide receivers (including Santonio Holmes)
Four tight ends
Eight offensive linemen
Defense (23 players):
Six defensive linemen
Four outside linebackers
Four inside linebackers
Five cornerbacks (I think because I couldn't decipher the abbreviation)
Four safeties (I think for the same reason)
Add a kicker, punter and long-snapper, and that's 51 players, leaving two special-teams spots for everybody else to fight over.
The show suggested the bubble players were running back
Danny Woodhead
, fullback
Jason Davis
, receivers
David Clowney
and
Larry Taylor
, tight end
Matthew Mulligan
and linebacker
Lance Laury
.
Injuries, of course, can impact the numbers. The breakdown was done before defensive end
Ropati Pitoitua
suffered a season-ending torn Achilles tendon in Saturday's preseason game against the
Carolina Panthers
.
Pitoitua's injury was significant for
Rodrique Wright
, who had an "X" next to his name on the depth chart, suggesting the Jets planned to cut him.
"Hey, you going to make this [expletive] team?" Ryan says to Wright on the sideline after learning of Pitoitua's injury. "This kid just tore his [expletive] Achilles. Or do I need to pick somebody else up?"
"Hard Knocks" revealed others with an "X" next to his name or a "PS" to indicate practice squad. For effect, "Hard Knocks" slowly panned all the name plates to set up the scene. That helped determine who'd been labeled in the shots that showed Tannenbaum sketching out the roster.
These were the other "X" players still on the roster I could decipher thanks to the high-def on my big-screen plasma: quarterback
Kellen Clemens
, running back
Chauncey Washington
, center
Robby Felix
, guard
Marlon Davis
and tackles
Dan Gay
and
Michael Turkovich
. An "X" also appeared next to a blank spot at fullback, suggesting Jason Davis.
These were the "PS" players: defensive linemen
Matthew Kroul
,
Ty Steinkuhler
and
Martin Tevaseu
and safety
Emanuel Cook
.
Also notable about the depth chart, rookie
Vladimir Ducasse
was above
Matt Slauson
at left guard.
Shonn Greene
was on top of
LaDainian Tomlinson
in case you were wondering.
Not a lot of surprises, but interesting nevertheless.
Yet based on Ryan's comments about his third-stringers late in the 9-3 victory over the Panthers, there's plenty of room to make an impression over the final couple weeks.
"Guys, we're dead with this group. We have replacements?" Ryan says into his headset to his defensive assistants in the press box. Ryan's voice gets angrier. "Do we have any replacements? Get me the No. Twos out there! I'm not going to lose this [expletive] game! Give me the [expletive] Twos out there. Finish the [expletive] job!
"We're leaving the Twos out there if we have to. Finish the game. I don't give two [expletive]. Some of those guys can't play dead in a B western."
Washington, for example, went from having an "X" next to his name to receiving a game ball for a jarring hit on punt coverage and strong running.
September, 7, 2009
9/07/09
3:28
PM ET

Posted by ESPN.com's Tim Graham
On Monday afternoon, the
New York Jets
named the eight players they've signed to open the season on their practice squad: